Healthy Nut and Seed gluten-free bread has all the nutrition and flavor you need to power through the craziest of holiday seasons. It is simple to make and requires no-kneading, at all!
The Healthiest Nut and Seed Bread
When it comes to any meal, bread always seems to be involved. Whether it's to dip or simply eat with butter, it's hard not to enjoy a proper slice. But, this bread is unlike any other. In fact, it is totally grain-free and yeast-free.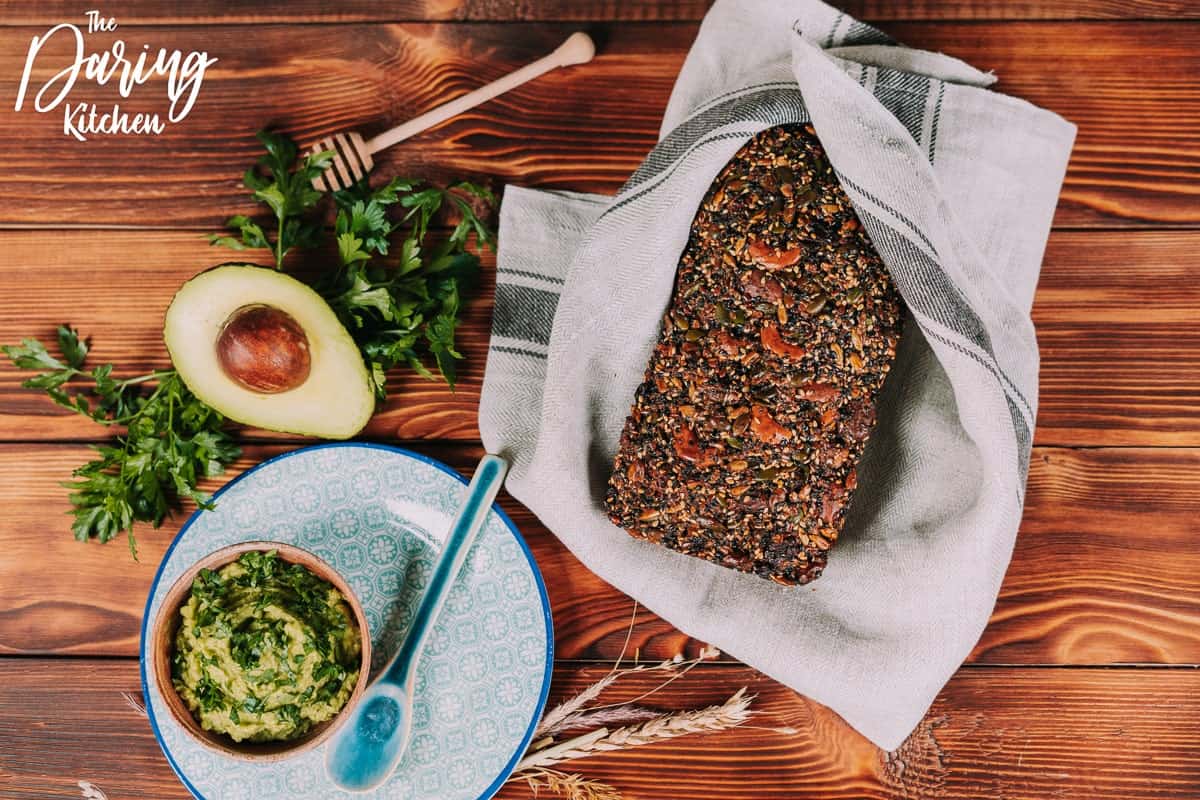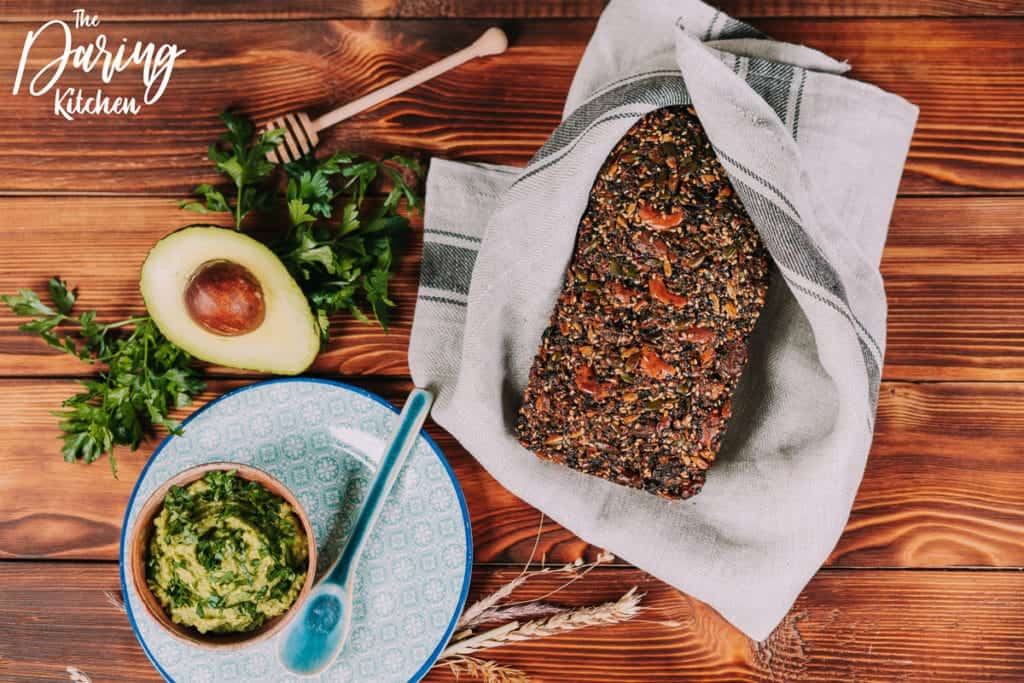 This bread is made almost entirely of nutrient-packed nuts and seeds. There's cashews, sesame seeds, and poppy seeds, just to name only a few. Also, there are dried cranberries for a little natural sweetness and spices for a little kick. These all give this bread a mighty texture and flavor. Most importantly, these ingredients provide you with incredible nutrients! And, it's super diet-friendly.
This bread is:
Gluten free

Paleo

Keto

Vegetarian
Legend has it this bread does have ancient origins. In Nordic countries, a bread very similar to this is commonly made. In fact, it's called 'The Stone Age' bread. This name is incredibly on point. This bread is completely paleo. It is low-carb, with zero grain. Plus, it's chock full of healthy fats, antioxidants, and many other nutrients that fuel your body with energy.
This bread is very easy to make. Once you have all your nuts and seeds organized, the rest is super simple. The bread does not use any yeast or flour whatsoever. That means no need to knead! Everything in this bread stays together with just eggs and olive oil, making this bread totally low-carb. These ingredients also add more protein, healthy fats, and vitamins per serving too.
For me, this nut and seed bread is a no brainer addition to any meal. I personally love it in the morning. It makes a mean avocado toast that will sustain you even through to the afternoon. With our busy lives, that is the energy we need!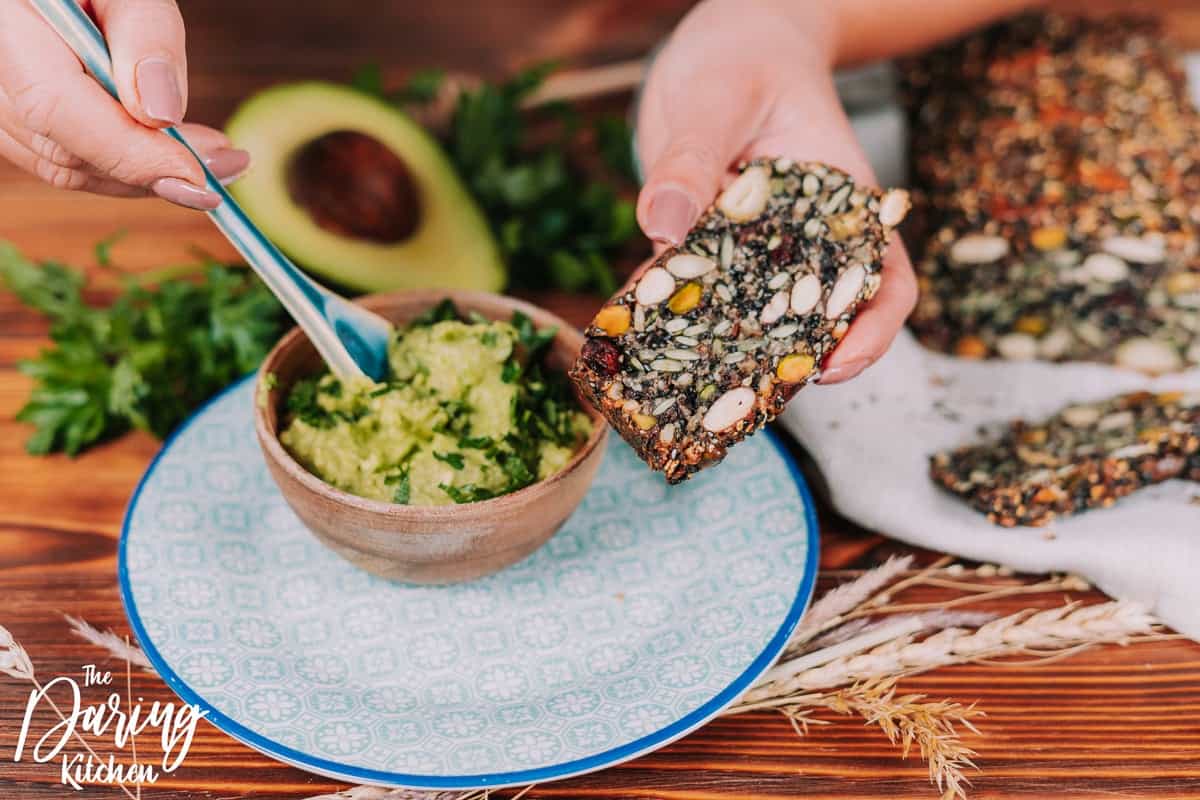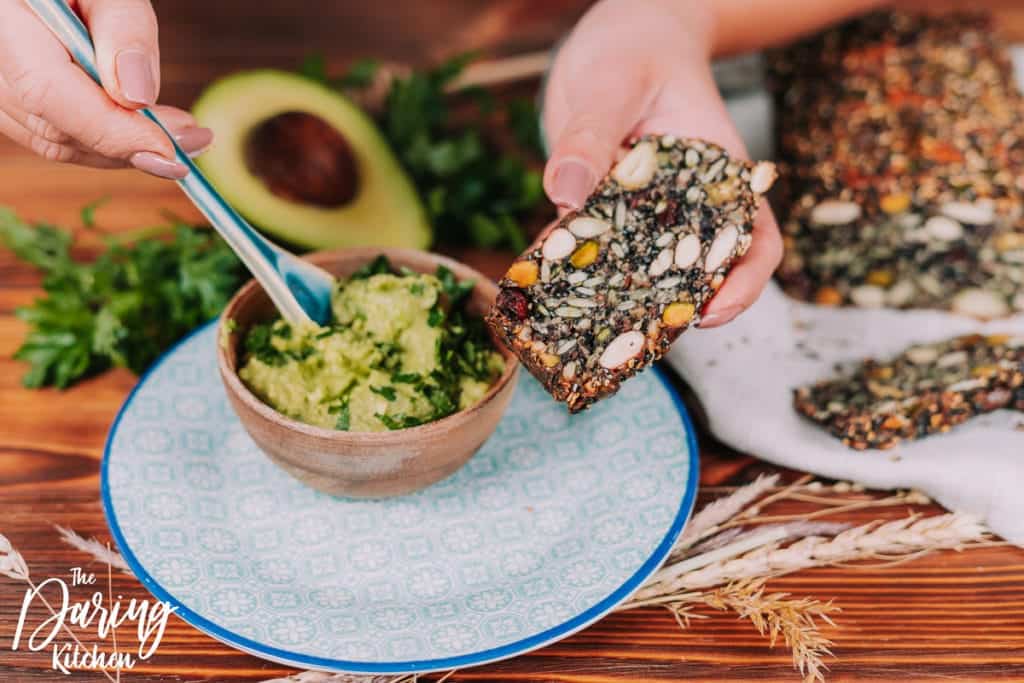 A Fit for any Occasion
What I love most about this bread is how portable and shareable it is. This bread is quite dense - you will not need more than a couple of thin slices of it to feel satisfied. Just one loaf provides many servings, making it a great fit for family breakfasts or parties.
Since this bread does not have any grain, you don't need to worry that it's going to dry out or mold quickly. Instead, you have bread that holds its shape and is easy to store. It is excellent to bring anywhere, especially for holiday gatherings.
This nut and seed bread also make a lovely addition to any appetizer table. It pairs with all sorts of spreads. Butter or jam are classic pairings, while avocado or even guacamole can work as well. This bread also fits in fantastically on any cheeseboard. It's nutty texture easily pairs with all sorts of cheeses and preserves. Whichever way you choose, this bread will disappear quickly at any party. And, if it doesn't, you will have leftovers for a delicious breakfast the following day!
How to Make Healthy Nut and Seed Bread
This bread recipe is very simple and requires only a few kitchen appliances. Apart from your oven, you will need two mixing bowls and a loaf pan.
To start this bread, preheat your 340 degrees F (or  170 degrees C.) Then, line a loaf pan with parchment paper. Set this aside.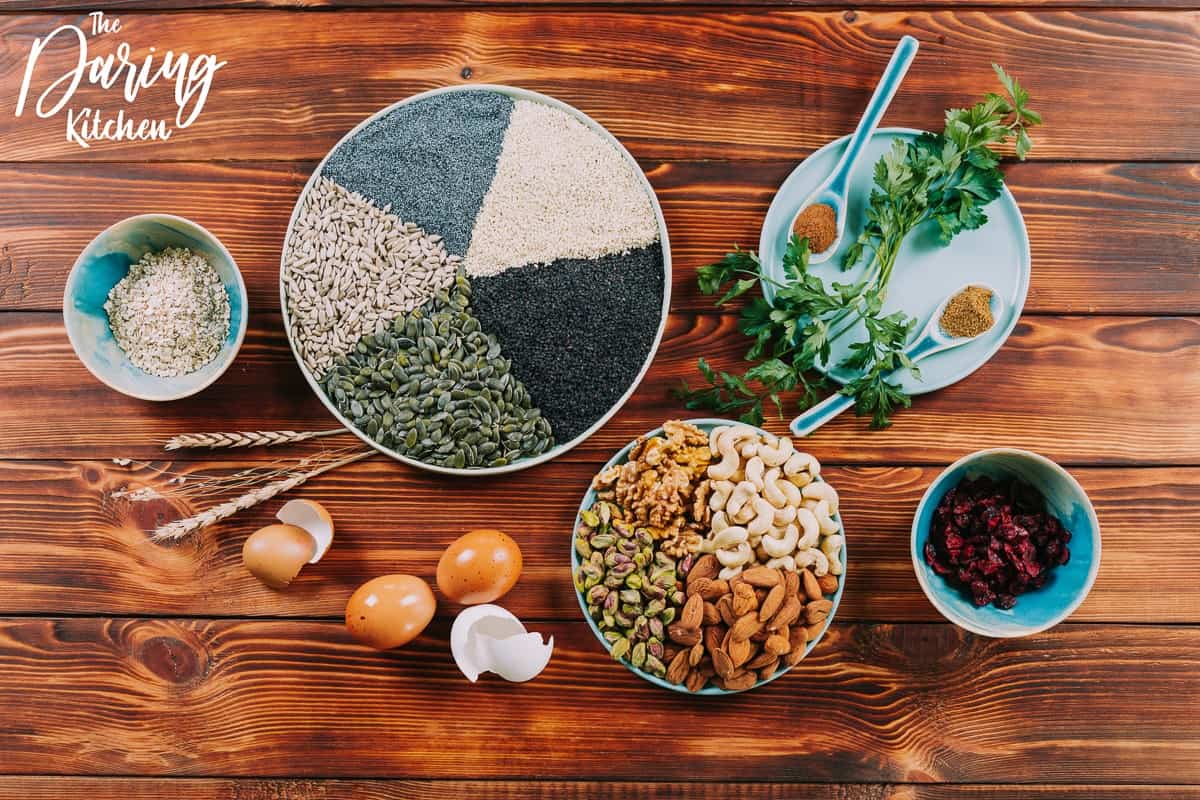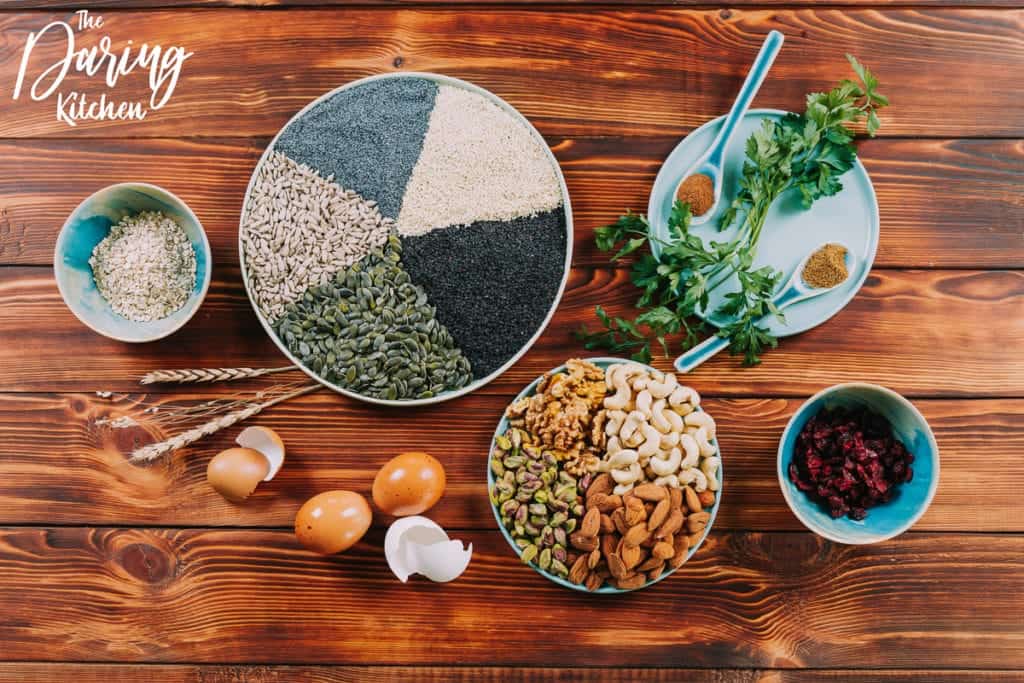 Before getting to mixing, it is always best to measure out all your nuts and seeds. As you can see, there are many in this recipe. I love to arrange them on a plate as they look quite stunning, and make a fabulous photo too. You should also pre-measure your cranberries as well.
Once your nuts and seeds are organized, you can start your bread. In a small bowl, whisk together your eggs. Slowly pour in your olive oil and continue to whisk until it is evenly incorporated.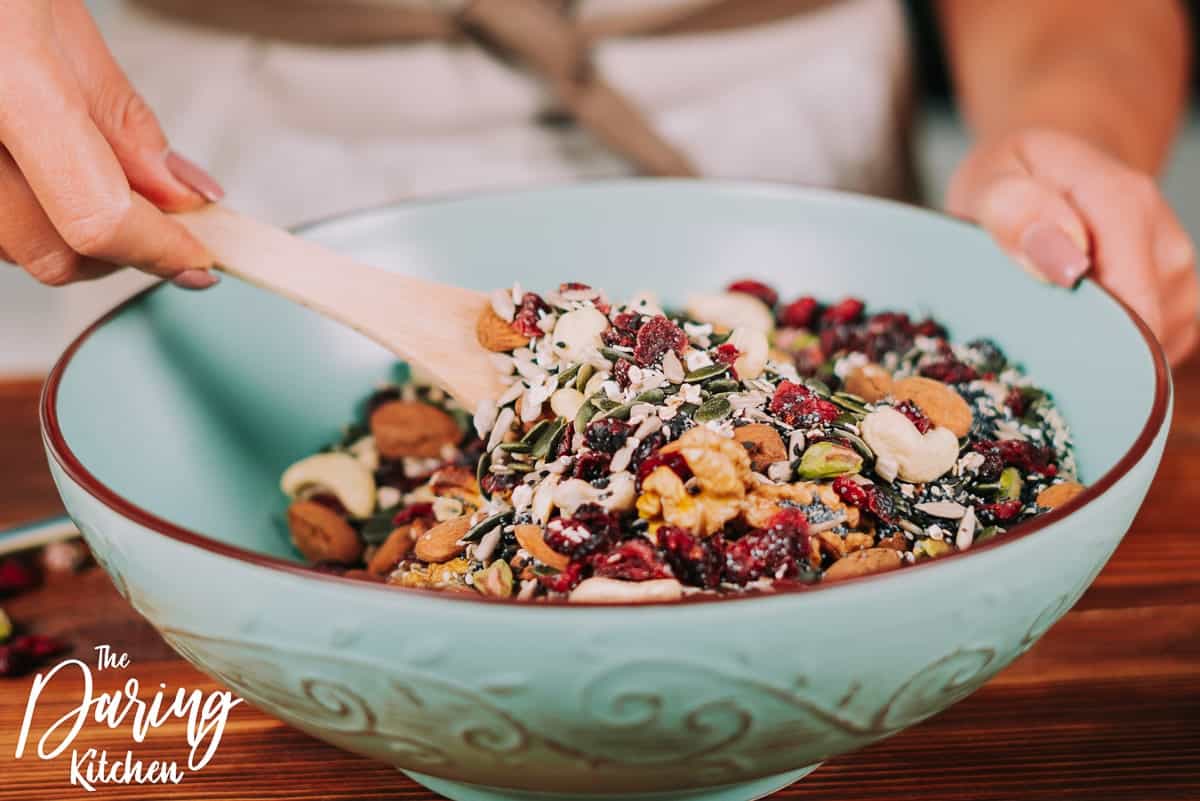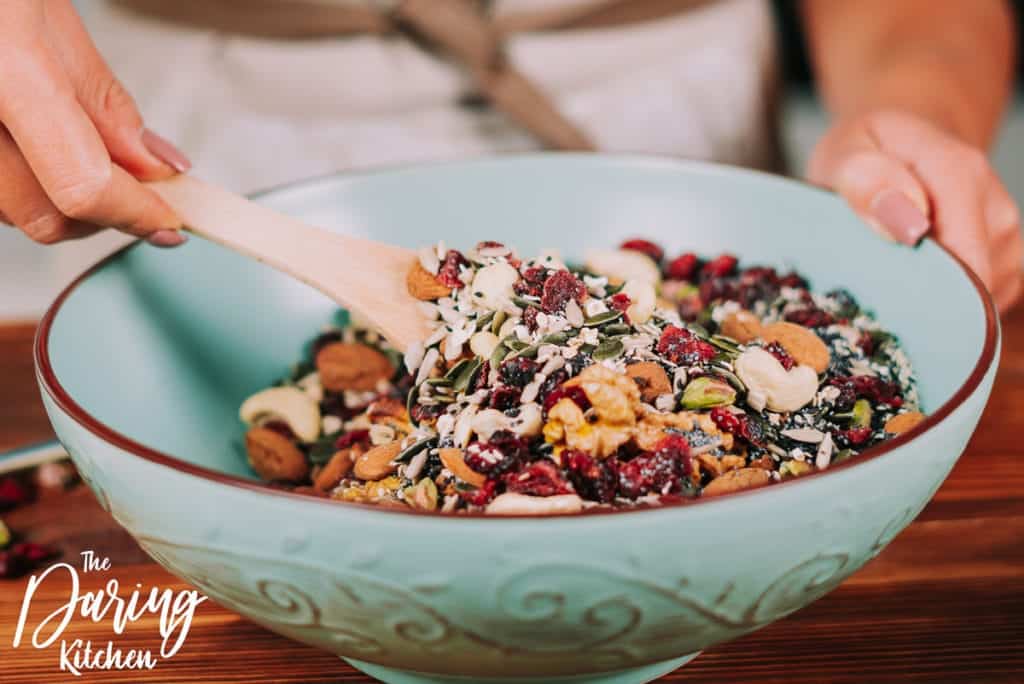 Now, find the biggest mixing bowl you have. Pour in all your nuts, seeds, and cranberries. Then, add in your spices and salt. You want to mix everything so that the spices are well-mixed in and everything resembles a delicious trail mix. When you reach that point, you can then carefully add in your egg-olive oil mixture. Continue mixing as you pour, watching as all the ingredients begin to stick together.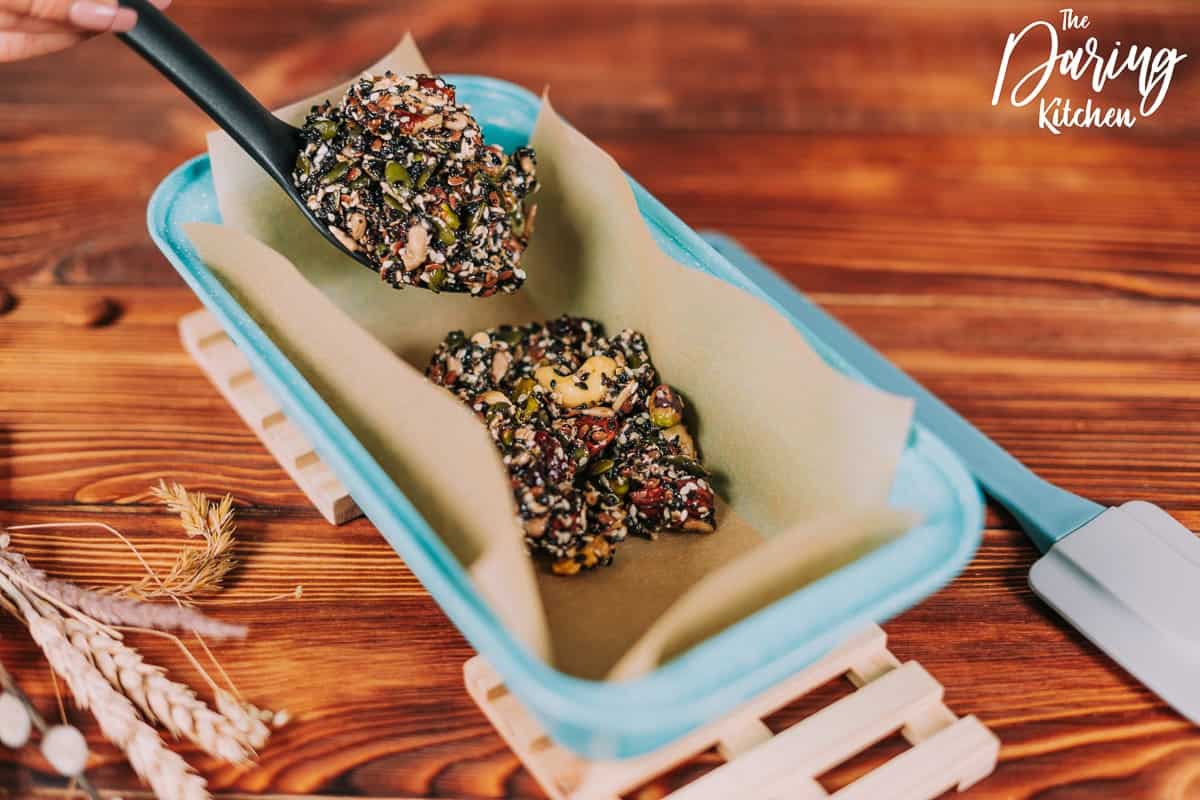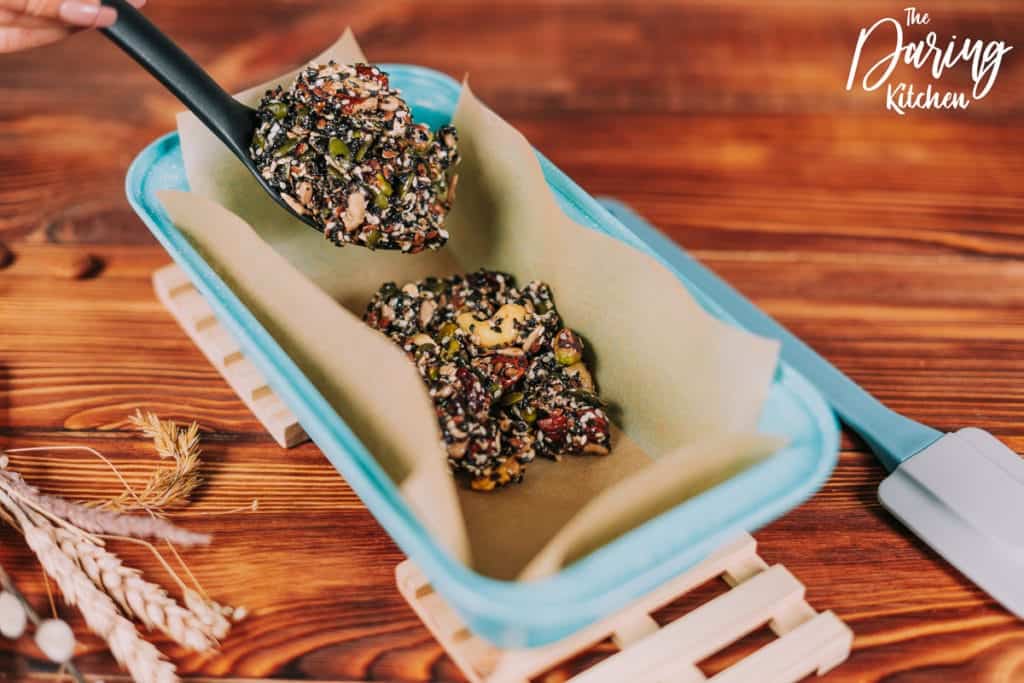 Gently scoop your mixture into your loaf pan. Lightly press down on the top of the mixture to make sure the loaf is completely even. Then, you can place it in the oven. It will need 50 to 60 minutes to bake. Keep an eye on it, though - once the loaf is golden brown on top, it is done!
When the loaf is out of the oven, all it to cool to room temperature. Then, slice and serve with any of your favorite spreads.
If you have any further recipe questions, don't forget to watch our recipe video to watch me make this delicious gluten free bread!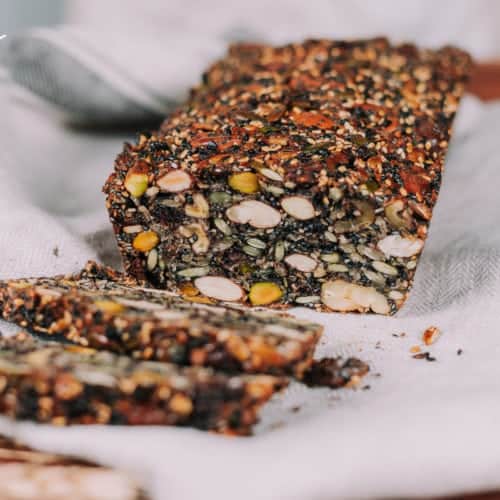 Ingredients
5

Eggs

50

ml

Olive Oil

100

gr

Raw Cashews

100

gr

Almonds

50

gr

Walnuts

50

gr

Pistachios

50

gr

Sunflower Seeds

50

gr

Pumpkin Seeds

75

gr

White Sesame Seeds

75

gr

Black Sesame Seeds

50

gr

Poppy Seeds

60

gr

Dried Cranberries

50

gr

Oats

1

tsp

Cumin

1

tsp

Cinnamon

Salt
Instructions
In a bowl mix the wet ingredients – eggs and olive oil.

In a big bowl mix all of the nuts, seeds, oats, dried fruits and herbs. Mix well and gradually add the wet ingredients.

Line a loaf pan with paper. Pour in the nut and seed mixture and press gently the top. Bake at 170 degrees for 50/60 minutes or until golden brown.

Let cool and slice. Serve with a dip.
Nutrition
Calories:
4574
kcal
|
Carbohydrates:
225
g
|
Protein:
153
g
|
Fat:
370
g
|
Saturated Fat:
51
g
|
Cholesterol:
818
mg
|
Sodium:
374
mg
|
Potassium:
4407
mg
|
Fiber:
69
g
|
Sugar:
59
g
|
Vitamin A:
1396
IU
|
Vitamin C:
4
mg
|
Calcium:
2840
mg
|
Iron:
56
mg