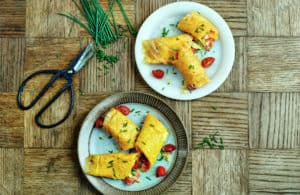 This year, on Food Revolution Day, Jamie launched a competition to find your best twist on his simple cheese omelette recipe. It's a humble, healthy dish – open to all manner of variations and a great way to showcase a bit of culinary imagination!
This week we announced the winner and runners up, and in honour of this we're sharing the stories and inspiration behind them. Here Emily Kerrigan from the UK shares her story from highlife to family life and how she got her children in the kitchen cooking her cheese, chive and tomato omelette (styled and shot above by the Jamie Magazine team) and more with her.
Read about all the winning omelettes here.
Emily Kerrigan's Omelette
"Before starting a family I wrote for glossy food mags and guides, interviewing producers and reviewing restaurants. Under deadline I once researched the pizza chapter of a well-known city guide in one week – more margarita-per-minute than my hips want my brain to remember. Then I had two babies, born 15 months apart, and overnight swapped Michelin stars for milk-spattered bibs. I carried on reviewing anonymously (no-one suspects the gal with the double buggy of having a double identity), all the while naively assuming that because of the 9-5, I would automatically raise two instant foodies, metaphorical bib gourmands tied under their chubby chins, happily guzzling anything and everything.
The reality, of course, is that like Pokemon, kids come in all shapes and sizes, with individual tastes and baffling ideas of what they will or won't eat. My daughter loves raw tomatoes but her brother, as per Lauren Child's spot-on book, will Not Ever NEVER touch one. One loves oranges but refuses satsumas, the other entirely the reverse. There is no logic. I humour the quirks because, from nappies-up, they've eaten a rainbow of fruit and veg but the truth is that without warning they'll turn as fussy as the next kid. 
A leap forward came when I regularly got my kids in the kitchen. In between the broken sleep and bottomless coffee, I'd got stuck in a rut, feeding them pasta pesto or spag bol but rarely reaching beyond familiar standbys. So we started cooking new dishes together, recording our progress on Instagram. I wasn't teaching them to follow recipes independently – they were too young for that. But I started involving them in the daily prep, so that pulling up a stool to the kitchen counter to juice a lemon or rip-up some basil became commonplace and, bit-by-bit, they'd eat the salad I was making rather than regarding it with suspicion. They might only join in for a minute but it's made a lifetime's difference.
We get a weekly veg box so that they can learn to identify an aubergine and – boom! – entertain eating it. We make fish fingers in a little production line from salmon, seasoned breadcrumbs and beaten egg, so that they no longer imagine they're made at the supermarket-under-the-sea – and whenever we can, we eat together as a family. Their favourite at weekends is roast chicken, which they set upon with bare hands like little Henry VIIIs. We'll eat any leftovers in summer rolls, assembled at the table so that the kids can scoop up whatever soft herbs and salad fillings they fancy and Mr K and I can perk up ours with red chilli. Forget the Golden Arches, these are real happy meals at home. For weeknights, I'm developing an arsenal of almost-instant recipes: a 5-minute fresh tuna burger with lime mayo – and pesto, yes, but made from superfood greens, and freezable so it's always on standby.
My omelette
We're often in London and soak up the city's food scene on each visit, from Chinatown's crispy duck pancakes to a sushi train. But home these days is Oxfordshire – the eggs we used to make our Food Revolution omelette came from the happy hens that roam the farm a few doors away and the other ingredients were my four year old's favourite cherry tomatoes, including golden baby plum ones from Cambridgeshire and chives from our garden (lucky us – talk about real food fast).
Few things make me more content than seeing my kids enjoy home cooking. And if they keep it up, maybe one day they'll end up manning the stoves at one of those restaurants their mum once reviewed – not learning to stand in line for a Big Kahoona Burger instead."
Follow Emily's family food journey on Instagram @modernfamilyfood and check out the August edition of Jamie magazine to see all the winning omelettes in all their glory!