Sure, they might not be the sexiest pieces of apparel you own - but if you've ever tried to take hot food out of the oven without a set, you know just how essential a good pair of oven mitts truly is. 
Oven mitts are necessary no matter how often you cook. Whether you are just the occasional baker whipping up a batch of store bought cake mix or you regularly make five-course meals every night for dinner, oven mitts will protect your hands and prevent you from injuring yourself as you move hot pans. 
Finding the best oven mitts can be a challenge, particularly if you are looking for a pair that is not paper thin and will hold up to the rigors of daily kitchen activities. Not sure what to look for? Don't worry. You've come to the right place. 
7 Best Oven Mitts 
1. HOMWE Extra Long Professional Silicone Oven Mitt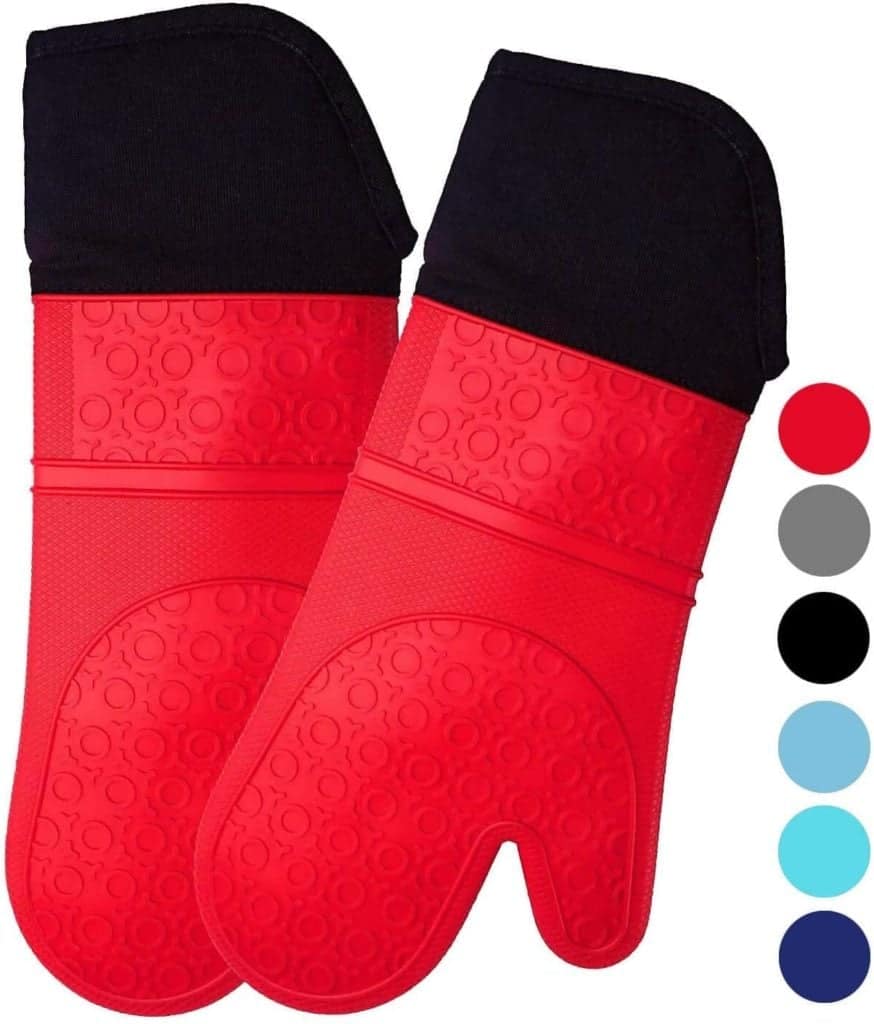 First on our list of the best oven mitts is this pick by HOMWE. Available in a variety of colors, including red, turquoise, gray, and black, these oven mitts are also found in two separate lengths - 14.7 and 13.7 inches.
They are flame retardant and heat resistant to 450 degrees.they have a quilted cotton lining to give you a superior level of comfort while you are cooking. Not only that, but they can help protect your sensitive forearms from burns, which can happen at any time your grill experiences a flare-up.
When used near an open flame, you don't have to worry about these oven mitts catching on fire or melting. They are extra-long to protect your hands, fingers, and wrists from burns and have a non slip grip so you can grip any kind of pot with ease.
Steam-resistant and waterproof, these mitts don't absorb liquids so you won't burn yourself with obliging hot water. They have a textured grip and are easy to clean. Since they are machine-washable gloves, they don't take long to wash up. Just toss them in the washing machine or dab them with a bit of warm water and soap. You won't have to worry about them tearing, fraying, or thinning. 
What We Liked: 
Extra long protection keeps your forearms safe

Textured surface offers a non-slip grip

Inside is cotton so it's more comfortable to wear
What We Didn't Like:
Can be too big for some people with small hands 
2. Grill Armor Extreme Heat Resistant Oven Gloves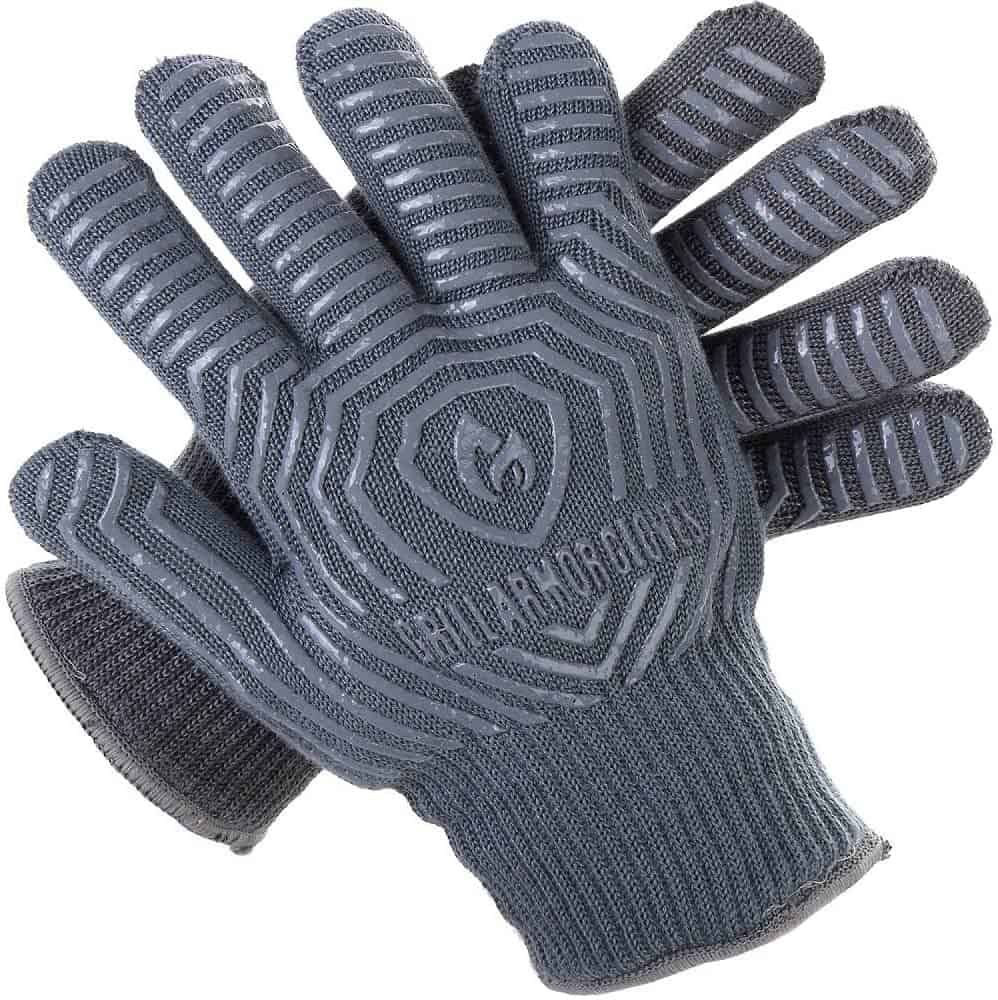 If you want all the protection of armor when you're working around a hot plate, stove or grill, you should consider the Grill Armor Oven Glove. This glove comes in a one-size-fits-all style but there is a smaller lady size and an extra long cuff version available, too.
It offers the highest level of heat resistance, able to withstand temperatures up to 932 degrees Fahrenheit. Not only that, but these gloves are easy to clean as they are machine washable. They come with a helpful hook for hanging and are made out of the highest-quality materials that are built to last.
With each push, you'll get a free eBook that will provide you with some of the latest and greatest grilling tips and techniques as well.
These oven mitts are all-purpose mitts, barbeque gloves, and potholders. They are thick without being bulky, lightweight while still flexible. You can easily grab a cast iron pan handle or a heavy pizza stone without having to worry about burning your fingers. They're available in several colors, including gray, red, blue, and black. 
What We Liked: 
Has a long cuff for additional forearm protection

Machine washable design

Has hooks for drying and storage
What We Didn't Like:
Not the best for steam or hot liquids 
3. 'Ove' Glove Oven Mitt/Grilling Glove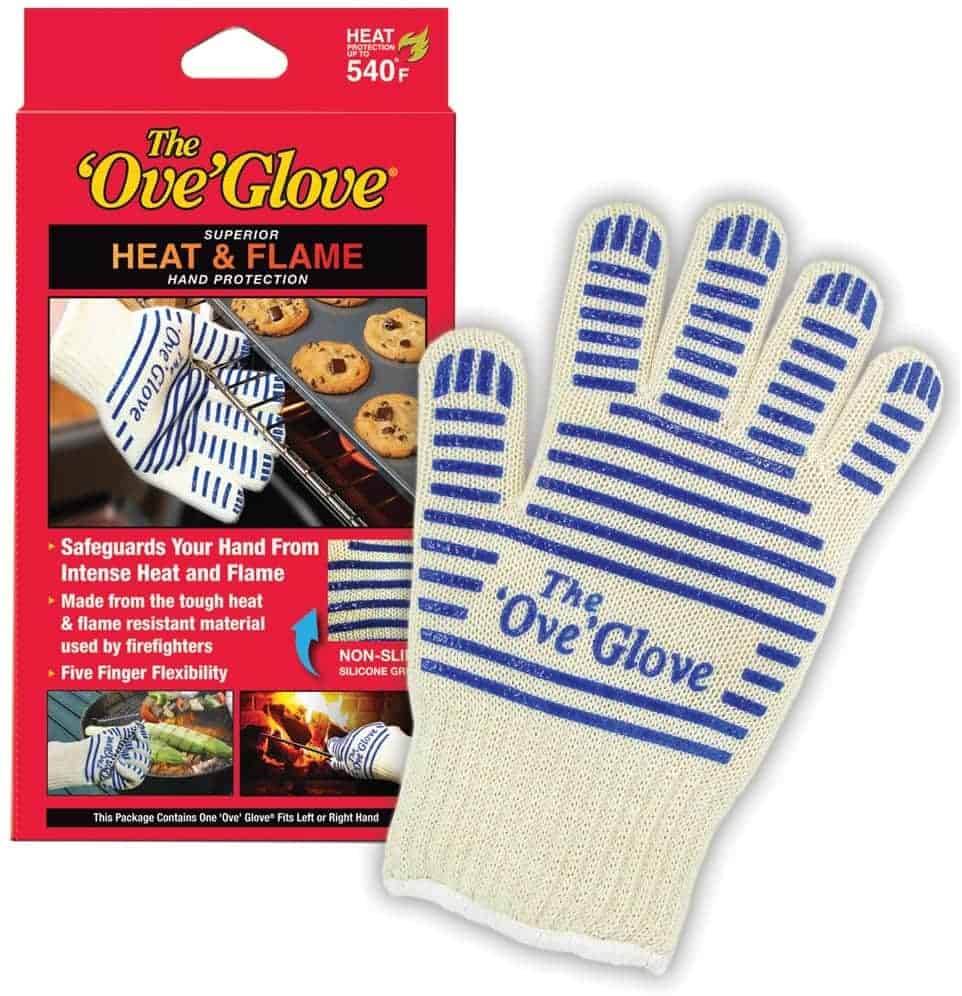 The 'Ove Glove' is another one of the best oven mitts you can buy. When you buy, you'll get two machine-washable gloves made in the United STates. They are not only flame resistant, but they're also able to withstand hot temperatures up to 540 degrees Fahrenheit.
This is because they are made out of durable Kevlar. Each glove comes with a silicone grip that is non-slip so you don't have to worry about dropping one of your favorite pans as you take it out of the oven. 
Because these gloves are styled as gloves rather than mitts, you don't have to worry about an awkward feel or grip. They offer a comfortable,secure hold that will give you five-finger mobility and full flexibility. 
What We Liked: 
Offers maximum gripping and flexibility 

Inner layer is made out of twice-knit cotton

Resistant to temperatures as high as 540 degrees
What We Didn't Like: 
Not totally waterproof, so it's not the best for hot liquids 
4. Big Red House Oven Mitts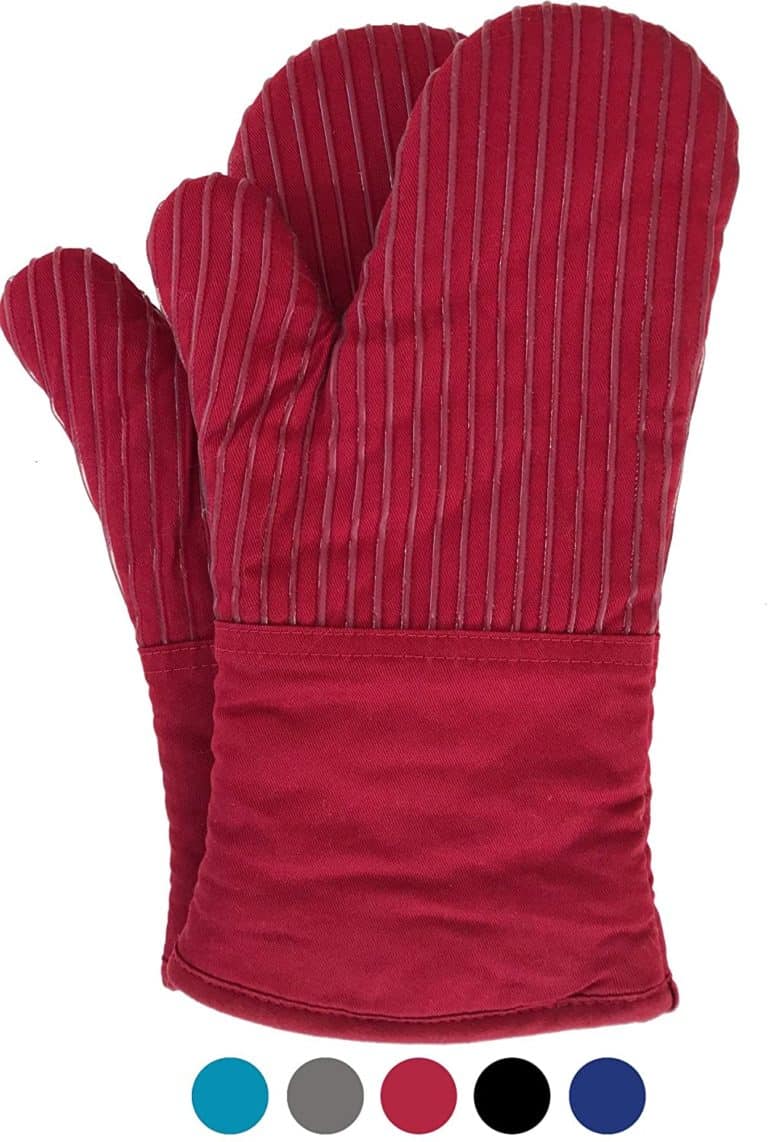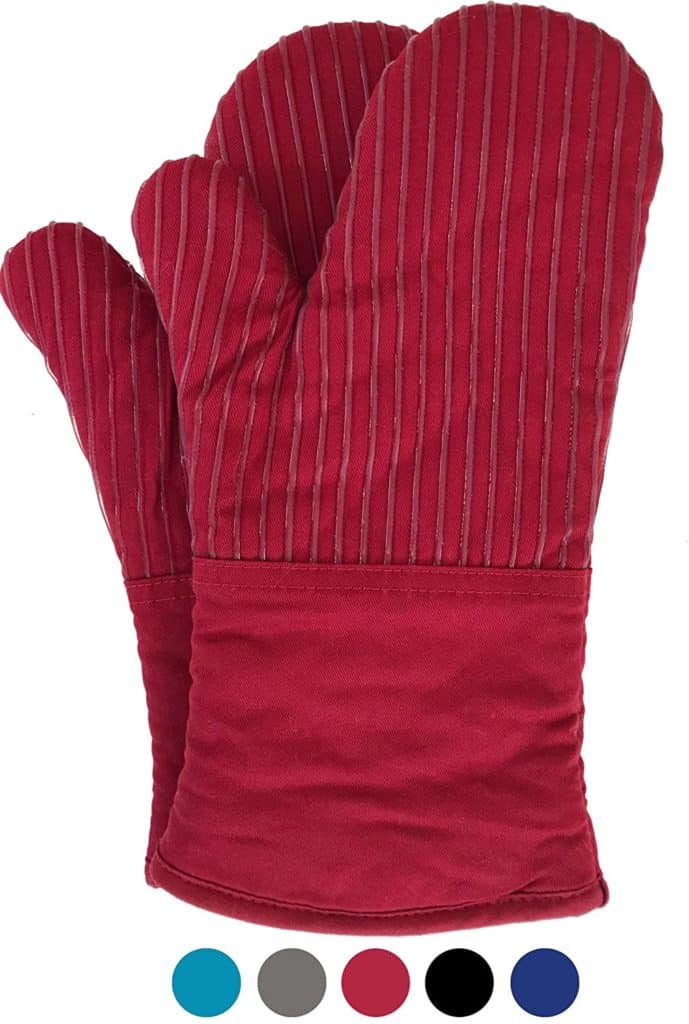 These mitts by Big Red House are some of the best oven mitts you will find. They are versatile and stylish, available in colors like red, blue denim, black, gray, and turquoise. Attractive and comfortable, you won't mind leaving them on display in your kitchen.
They are heat-resistant to 480 degrees. Whether you're picking up a pan from the oven, minding a hot grill, or working with steaming pots on your stovetop, you won't have to worry about burning your hands. These oven mitts will offer you all the protection you need.
At 12.5 inches, these oven mitts are long enough to protect both your wrists and your forearms from the heat in addition to your hands. They have a soft, comfortable interior made out of terry cloth and have a delightful non-slip grip. You don't have to worry about your bowl of hot soup slipping out of your hands when you're taking it out of the microwave! 
What We Liked: 
Commercial grade heat resistance up to 450 degrees Fahrenheit

Available in six different colors 

FDA approved for safety and durability 
What We Didn't Like:
Only two colors come in extra long - the rest are only regular length 
5. OrkaPlus Silicone Oven Mitt 

Available in several colors, including green, blue, rd, and charcoal, these oven mitts by OrkaPlus are some of the easiest to clean. Not only are the mitts themselves dishwasher-safe, but the removable lining can be tossed in any washing machine.
The oven mitts are heat resistant to 480 degrees Fahrenheit, which is all you'll need to stay safe and comfortable. The mitts have a removable cotton lining and a 100% silicone exterior. They are waterproof even in boiling water and offer users a non-slip surface for a sure grip each and every time. 
What We Liked: 
Safe for both the dishwasher and washing machine

Comes with a removable lining

Five colors that are fully waterproof and stain resistant
What We Didn't Like: 
6. San Jamar KT0215 Oven Mitt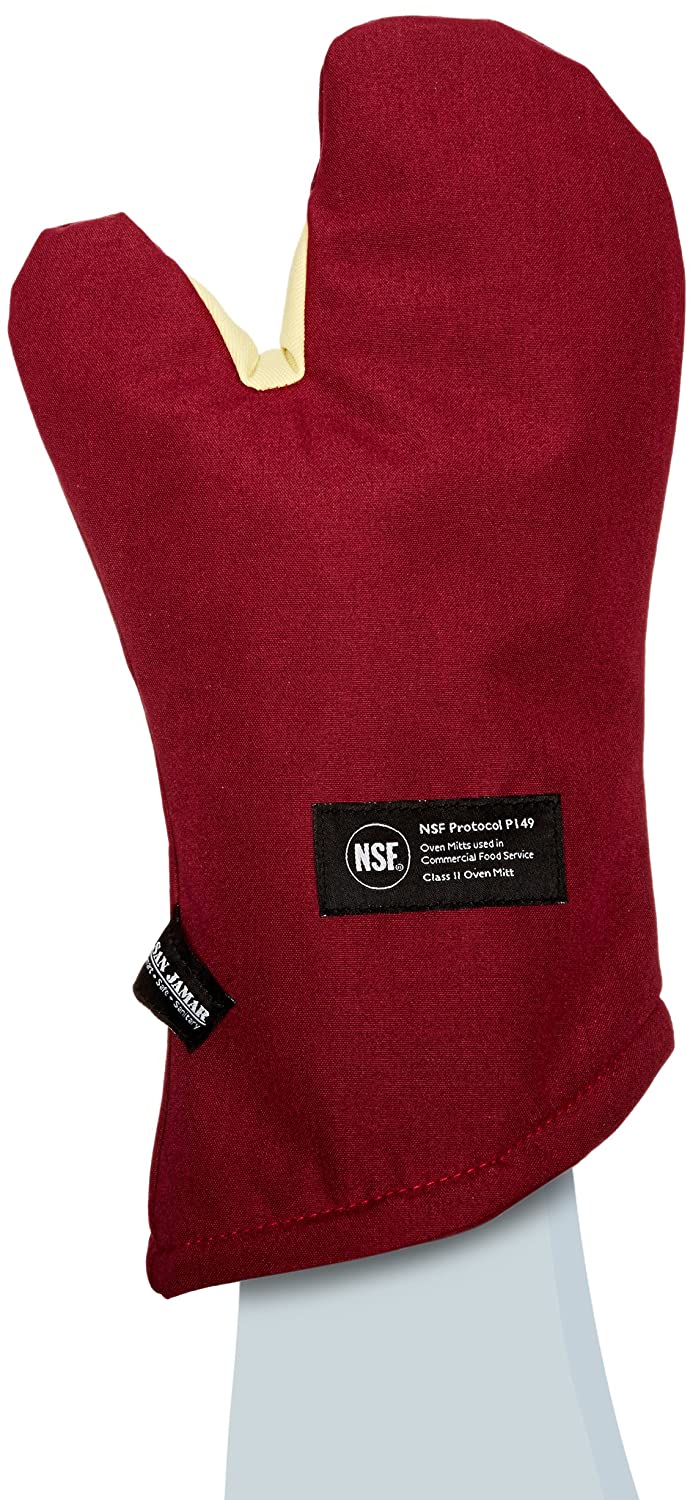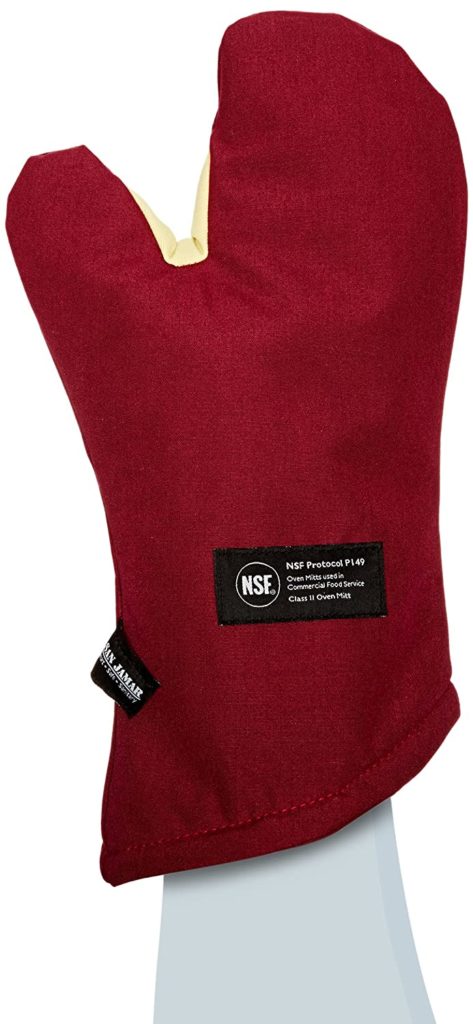 San Jamar offers a variety of oven mitts to suit hands of any size - and shape as well. These mitts are available in both conventional and "puppet" designs. The conventional design has a thumb so that you can easily grip any kind of pan as you're pulling it out of the oven, while the puppet design has no thumb. 
The benefit of this is that the gloves are totally ambidextrous - if you accidentally lose one of the gloves, it's not a problem, since both can be worn on either hand. They're also incredibly dexterous to make it easier for you to pull hot pans out of the oven.
Both kinds of oven mitts are designed with durable Kevlar stitching for maximum protection against heat and steam. They have built-in hanging loops and magnets for convenient storage and offer exceptional heat protection up to 900 degrees Fahrenheit! That's something you just don't find every day. 
What We Liked: 
Can withstand temperatures up to 535 degrees for 30 seconds

Not sold as pair but as single items - making it easy to buy replacements

Very flexible oven mitt
What We Didn't Like: 
Does not have any non-slip features
7. Frux Home and Yard Oven Mitts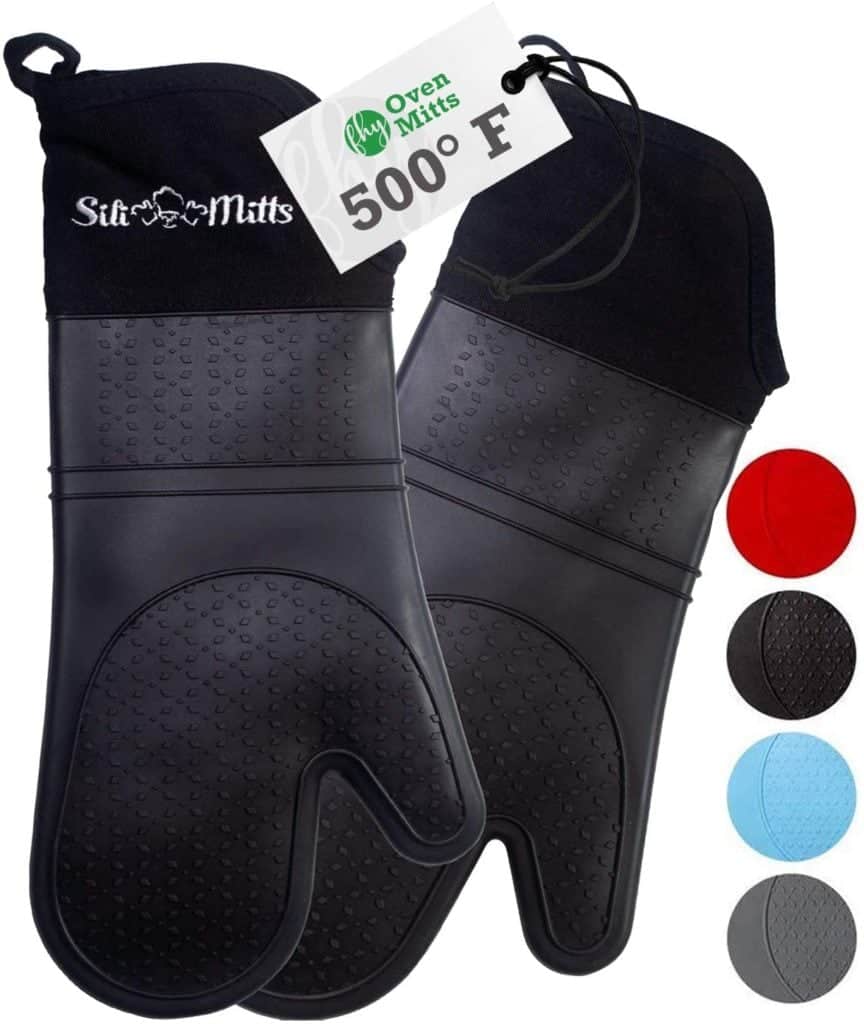 Last but not least are these oven mitts by Frux Home and Yard. made out of cotton and silicone, they are available in both black and charcoal gray.
They can resist temperatures of up to 500 degrees Fahrenheit and offer the durability and protection you need to prevent burns while using your grill or oven.
They're safe and easy to use, made out of  100% BPA-free waterproof silicone. The inside of the mitts are lined with a blend of cotton and polyester for added comfort and easier dexterity. 
With a lifted pattern,these oven mitts are textured for a non-slip grip. You don't have to worry about dropping a hot roasting pan as you're taking it out of the oven. Not only that, but these mitts are easy to keep clean. The silicone contusion means that you can easily wipe them down with a bit of soap and warm water. The inner quilted liner can be pulled out to clean, too, and has hanging loops for easy storage.
What We Liked: 
Comes in four colors

Excellent heat resistance

Chemical free
What We Didn't Like: 
Not the best for using on pots and pans, since it is hard to bend the thumb area around a handle 
How to Find the Right Pair of Oven Mitts for Your Sensitive Hands: A Buying Guide 
Material
Oven mitts are usually made out of some kind of fabric, such as cotton or silicone. Some consist of a combination of the two. While cotton is no doubt easier to wear and wash in a washing machine, silicone is often more durable and will give you a better grip.
However, there are oven mitts made out of less traditional materials, too - such as Kevlar! You can also find oven mitts made out of neoprene and poly-cotton, which is a blend of cotton and polyester. 
Silicone is advantageous in that it is waterproof, while both poly-cotton and cotton are quite comfortable. Neoprene might look cool, but be careful, as it can melt at high temperatures. 
Comfort and Sizing
How comfortable is your selected pair of oven mitts to wear? You need to make sure they aren't too bulky so that they get it the way when you try to grasp a pot lid. You should also look for a pair that fits your hand well. For maximum coverage, find a set of oven mitts that can fit hands between 14 and 17 inches long. 
Style
Oven mitts can generally be found in three different styles. The most common  - and likely the one you are most familiar with - is the style that looks just like an oversized mitten. This kind of oven mitt is meant to be a one-size-fits-all design that lets your hand naturally fall open. Unfortunately, it does restrict your hand movement a bit as you try to maneuver the hot pan around your kitchen.
Another option, and one that will give you a bit more dexterity, is an oven mitt that is shaped like a glove. While a glove will be harder to fit all hand sizes and shapes into, it will give you more room to maneuver. 
However A glove mitt doesn't look that attractive, either, and you won't usually find oven mitts made out of silicone in the glove fashion. 
You can also purchase an oven mitt that separates the thumb from the rest of the fingers. This is one of the best styles to consider. You'll be able to reach out and grab the pans and dishes as normal but you won't have to worry about the sizing issues mentioned above. 
Ease of Cleaning
Believe it or not, your oven mitts are going to get grimy - and fast. Look for a pair that is easy to wipe clean or is, ideally, dishwasher-safe or machine-washable. That way, you can wipe them down with ease. 
Storage
Many oven mitts come with a helpful hanging loop. This is hugely beneficial, particularly if you have a small kitchen. If you can hang your oven mitts near the stove, you'll always have a set at the ready - no more digging around in a messy drawer when it's time to remove the cake from the oven! 
Heat Protection
Consider the level of heat protection offered by your selected pair of oven mitts. You want a pair that will protect you from high temperatures (of at least around 400 degrees Fahrenheit) for a minimum of ten seconds - but ideally longer. 
Do I Really Need a Pair of Oven Mitts?
When you're shopping for gear to keep your hands protected from scalding hot pans, you might be wondering whether you even need oven mitts to begin with. After all, can't you just use pot holders? 
Oven mitts are superior to pot holders since they're bigger and they'll protect both the back of your hand and part of your arm. Although they are less clunky than oven mitts and easier to grab in a hurry, they won't give you the same level of protection.
Besides, oven mitts are far from expensive, and with all kinds of colors, styles, and designs out there to choose from, there's no reason not to pick up a pair (or several pairs!) today. Consider this list of the best oven mitts to help you get started in your search - that way, you know you won't be getting burned.