Hello dear fellows, I am Inma from la Galletika, I am really happy to be your host this month. I am a Mexican girl who loves food, I think that cooking or baking is the perfect excuse to be with your friends, family, with the people you love. Despite I am Mexican, I have been raised in a double culture, my mother is from Spain. Since I was a child, it was really a pleasure the smells and flavors coming from the kitchen. I am convinced that food evokes moments of our lives, most of all, happy times. Today I want to share one of those dishes that bring back home, Paella.
Paella is a Valencian rice dish that is originated in its modern form in the mid-19th century near lake Albufera, a lagoon in Valencia, on the east coast of Spain.
Download printable file HERE
Many non-Spaniards view paella as Spain's national dish, but most Spaniards consider it to be a regional Valencian dish.
Paella is a Catalan word which derives from the Old French word paella for pan which in turn comes from the Latin word patella for pan. The pan used to cook the perfect Paella, traditionally made of iron, tends to be large and circular with low edges and two wide handles. The iron itself adds that distinctive texture and flavor to the rice, hence, any attempt to cook paella in a typical frying pan would provide less than perfect results.
Colman Andrews explains that Catalan authors described the Catalan food, in particular the paella as a polychrome or as Nestor Lujan says, it is heterodox, they are trying to express that the paella is a dish whose main purpose seems to be to display the riches of the orchards and mountains, while rice becomes mere background music.
Recipe Source:
The Paella that is done at home is a familiar recipe that is similar to the one published by Colman Andrews in his book: Cocina catalana, el ultimo secreto culinario de Europa
For the Vegetable Paella: Lourdes La March, Cocina Mediterránea, Alianza Editorial
Blog-checking lines: Our Daring Cooks' September 2012 hostess was Inma of la Galletika. Inma brought us a taste of Spain and challenged us to make our very own delicious Paella!
Posting Date: SEPTEMBER 14, 2012
Notes:
Some Paella´s recipes call for adding onion, my family does not use it because they say onion agglutinate the rice.
You can add all the vegetables you want to the paella, only remember that you have to follow the rule: first the hardest then the softer
You can let the rice from the bottom of the paellara burn a little bit, this part is called "Rosejat" and it is very appreciated by some people.
You have to move the paella constantly but only before you add the rice, after that point you just move and turn the paellera in order to get the heat to the entire pan. It is much better if you have a heat spreader.
Calculate rice is easy, ¼ –½ cup of rice apiece (as main dish)
If you are going to add shellfish and seafood you sauté them first and add it to the paella at the end of the boiling.
Adding some lemon drops at the end of boiling helps to separate the rice.
If you do not use par boiled rice, in a separate pan you have to fry a little bit your rice with olive oil in order to seal the grain.
If you do not have saffron you can use a little bit of paprika, the flavor it´s going to be a little bit different and the color of the rice a little less yellow but it works out fine.
Mandatory Items: You have to do Paella.
Variations allowed: You can try different recipes, seafood paella, mixed paella, vegetables paella.
Preparation time: 3 hours
Equipment required:
•Paellera or any frying pan
•Measuring cups
•Cooking shovels
•A mortar or a Coffee grinder or something to crush
•Heat spreader (optional)
Paella:
Servings: Approximately 10-12 servings (considering it as a main dish)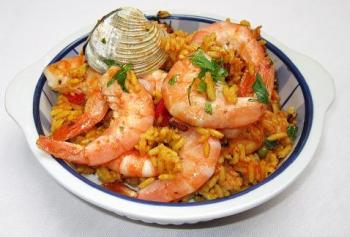 Ingredients
2¼ pounds (1 kg) jumbo shrimp (prawns), cleaned & deveined.
1 pound fresh clams (any size)
1 pound (½ kg) pork loin, diced
2¼ pounds (1 kg) chicken breast, diced
2¼ pounds (1 kg) long grain rice (par-boiled)
5-6 Saffron threads *
4 garlic cloves
16 oz. crushed tomatoes
9 oz (250 gm) fresh green beans **
1 bell pepper (capsicum) cut into strips
9 oz (250 gm) peas **
Olive Oil
Salt to taste
3 springs of parsley
Water or chicken broth to boil rice in – ratio is 1 cup of rice = 3 cups of liquid
1 can of sweet pepper (pimientos or roasted red peppers, peeled and sliced), a bunch of parsley and lemons cut into quarters (For garnish)
*Note: You can substitute saffron with "paellero carmencita" or another brand of paellero, you can find it in special stores and it costs much less than saffron. If that option is not easy, you can use paprika but in that case the broth must be excellent.
**Note: All vegetables are recommended to be used fresh, although you can use frozen or canned. If using frozen, add to the Paella at the end of cooking, say 10 minutes. If using canned, add at the very end before serving, just long enough to heat through – maybe 5 minutes.
Directions:
1.-Mise en place, maybe this is the most important of all the steps, you have to wash and chop all the vegetables and cut all the meat and remove the skin.
2.-In the paellera heat the olive oil, add two garlic cloves diced and remove.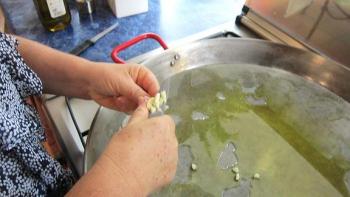 3.-Add shrimp, sauté and when it turns pink remove it and set apart.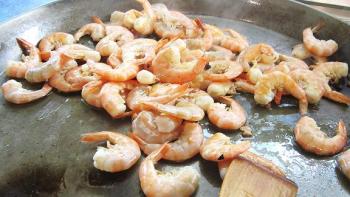 4.-Fry the chicken and the pork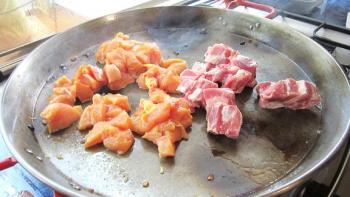 5.- In another saucepan boil the clams in salted water. Bring water to just over the clams. Once clams have cooked, remove from water and discard any clams that did not open. Strain the clam broth and set aside.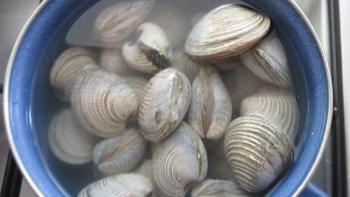 6.- Add pepper to the chicken and pork, sauté. Add salt to taste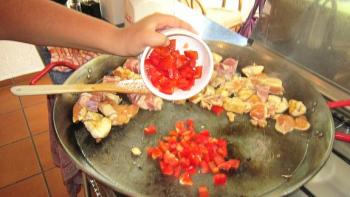 7.- Add crushed tomato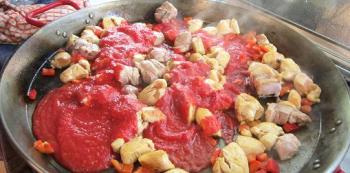 8.- Add broth (or water) to cover the chicken and pork, boil for 30 minutes.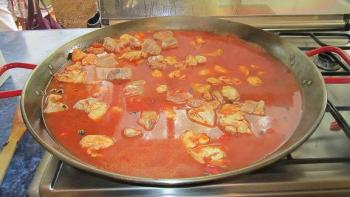 9.- Add the strained clam broth. Add the fresh green beans too.
10.-At the same time you have to make: "la picada". In a mortar or a home coffee grinder crush 2 garlic cloves, parsley and saffron. Add a little bit of paella´s broth. Pour it into the Paella.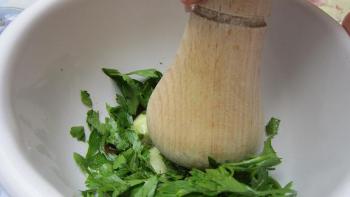 11.- Spread the rice through all the paellera.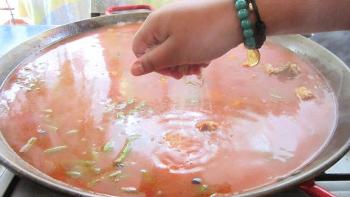 12.- Add water (per cup of rice add 2 cups of water)
13.- Add peas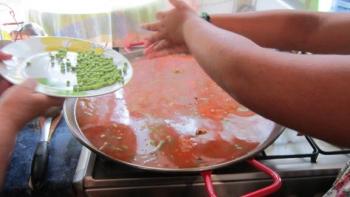 14.-The paella must continue boiling until the rice is dry. Add some lemon drops. Add the shrimp.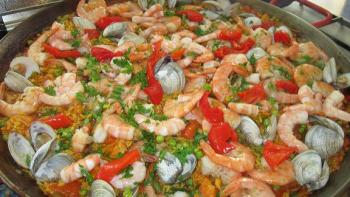 15.-You have to wait until the broth or water is consumed
16.-Turn off the heat and cover with some clean cloth towels. Let rest for 15 minutes.
And voila, the Paella is ready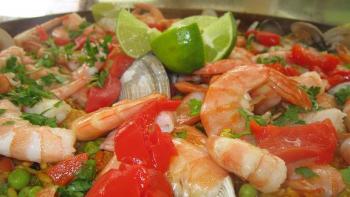 Vegetable Paella:
Servings: 4 people
Ingredients
9 oz (250 gm) cauliflower
2 red (bell) peppers (capsicums)
3½ oz (100 gm) green beans
2 oz (50 gm) shelled peas
3½ oz (100 gm) shelled tender beans
A bunch of tender garlic
2 natural artichokes
1 eggplant (aubergine)
2 medium potatoes
2 ripe tomatoes
4 garlic cloves
14 oz (400 gm) of rice
1¼ cups (300 ml) oil
saffron, paprika and salt
12 cups (3 liters) of water
Directions:
Cut the cauliflower in pieces, wash and rinse it.
Wash the peppers, cut them, remove seeds and stem.
Cut both edges of the green beans, wash them and chop them.
Peel and chop the garlic
Clean the hard leaves of the artichoke, cut the edges and chop them soaking in water with lemon juice.
Peel and chop the eggplants and potatoes.
Peel and mince the tomatoes and garlic.
In a paellera heat the oil and fry in the following order:
The eggplant and peppers, remove and reserve
Then the potatoes, cauliflower, artichoke, green beans, beans, peas, garlic and finally the tomatoes and the chopped garlic.
Add 1 teaspoon of paprika and 3 liters of hot water.
Add a pinch of salt and a pinch of saffron.
Cook over medium heat for 30 minutes. Add the eggplant and the peppers. Cook 15 additional minutes.
Add the rice, distribute it in the paellera.
Cook over high heat for 10 minutes and gradually reduce the heat to medium and cook for other 8 to 10 minutes.
Remove from heat and let stand for 5 minutes and it will be ready to serve.
Storage & Freezing Instructions/Tips:
You can store it in a sealed container in the refrigerator up to 3 days.
Freezing is not allowed.
Additional Information:
Video on how a similar Paella is made – kids in it are really cute
http://www.youtube.com/watch?v=T-eDbjeTA3E
Interesting video on a Japanese version of Paella:
http://www.youtube.com/watch?v=xwk9Z1Wi1kM
Video on how to make a vegetarian Paella:
http://www.youtube.com/watch?v=9FdOab4trX0