Do you love pancakes? We do, too! And so do many other people across the world.
These delicious morning favorites can be made in a surprisingly vast number of ways, depending on the individual's taste. But one thing that must stay constant in all pancakes is the cooking utensil. A griddle is simply not optional when it comes to delivering a perfectly cooked pancake.
Good-quality griddles are made to spread heat evenly across their cooking surfaces by design, allowing for well-cooked hotcakes and keeping them warm before dishing out. Good griddles are also versatile, which means they can also be used to fry slices of bacon, warm toast, cook hamburgers, scrambled eggs, and a host of other dishes.
In other words, investing in a good-quality griddle eliminates the need to buy multiple frying pans for different dishes. To make your shopping easy, we've outlined the 9 best pancake griddles you can invest in. Any of these will make an excellent addition to your kitchen and make you want to churn out delicious pancakes for your family!
1. OXO Good Grips Non-Stick Pro Square Griddle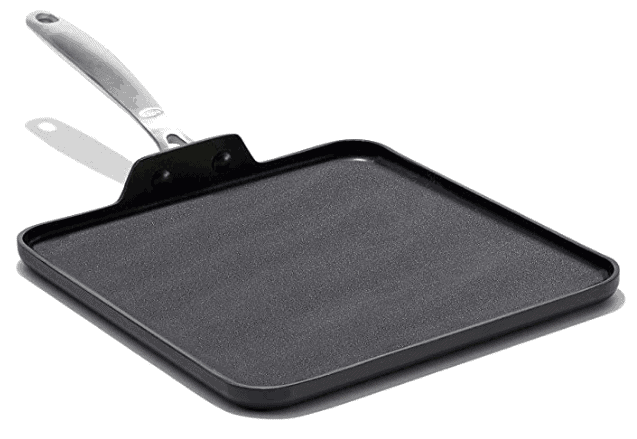 The OXO Good Grips Non-Stick Pro Square Griddle is arguably the best pancake griddle for electric stoves. This griddle is built from hard-anodized aluminum, giving it excellent heat-retention capabilities. The cooking surface has non-stick coatings that allow for making great pancakes and flipping them easily.
The rolled edge of the griddle minimizes grease spill and mess during the cooking process. And washing the griddle after cooking up delicious breakfasts is quite easy. You can keep it clean using a dishwasher. Don't have a dishwasher? That's not a problem. Check out this review of the best dishwashers you can use for your kitchen utensils.
But this griddle isn't called Good Grips for nothing! It comes with a contoured handle that fits into your hand, eliminating any chance of a slip. Plus, the handle stays cool throughout cooking, so you don't have to worry about getting burnt.
This German-engineered product is made to be a versatile griddle. So it is safe for use in the oven and can be heated up to 430oF (221oC) if you want to cook up any advanced dish. But if you want to stick to simple breakfast dishes besides pancakes, you can use it to make burgers and grilled cheese, too.
What We Like
Durable construction
Handles stay cool during the cooking process
Dishwasher safe
Oven safe
Rolled edges prevent mess during the cooking process
What We Don't Like
Not ideal for gas, induction, and other cooktops except electric stove
2. Cuisinart Double Burner Griddle

With nearly three decades in the cookware industry, Cuisinart is not new to producing high-quality kitchen appliances. And the Double Burner Griddle is further proof of the company's durable cookware construction.
The burner is designed to have a 10 x 8 inches cooking surface, large enough to sit on double burners at the same time with the heat spread out evenly. The size of the griddle gives you ample cooking surface to make several pancakes at once. But that's not all; you can also cook different breakfast items inside the same griddle at the same time! That means you can fry some bacon and eggs on one side while making pancakes on the other. Isn't that neat?
But this griddle pan is not just about large size or cooking surface. That's simply not enough reason to include it on this list, right? So, what makes this griddle unique? The Double Burner Griddle is constructed by bonding three layers of metals together (not just one as is obtainable many similar products). This is known as a tri-poly body – a technology that allows heat to distribute uniformly on the entire surface, thereby preventing burnt parts on foods. In a nutshell, if you are in the market for the best pancake griddle made from stainless steel, this might be your best option.
The non-stick interior ensures that pancakes don't stick to the surface and can be flipped easily. While Cuisinart's griddle pan comes with a base that stays properly heated during use, the handles don't get heat up. This allows for a safe and comfortable grip while cooking.
The Double Burner Griddle is suitable for use on both gas stoves and induction cooktops, so you are not limited to only one type of heat source.
What We Like
Can sit on both burners simultaneously
Spreads heat uniformly across the surface
Suitable for cleaning in a dishwasher
Non-stick surface
Stainless steel handles not heated during cooking, allowing for a comfortable grip
Suitable for more than one heat source
Durable construction featuring 3 layers of stainless steel and hard-anodized aluminum
What We Don't Like
Not suitable for small induction cooktops and single burner
3. Nordic Ware Silver Dollar Waffle Griddle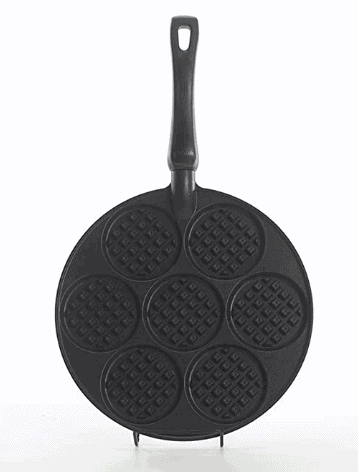 Looking for the best pancake griddle that has a similar look to a regular frying pan? Perhaps, you are not too comfortable with the modern designs of most griddles and want to keep things more traditional. That's perfectly okay because not everyone has the same taste.
But with many companies dishing out more modern designs, it might be a bit challenging to find a griddle that resembles a traditional frying pan. This is where you need companies such as the Nordic Ware, manufacturers of high-quality kitchenware, including the Silver Dollar Waffle Griddle that comes in a classic frying pan look.
Of course, the griddle comes with a long non-slip handle. The handle allows you to easily maneuver the griddle just as you would a frying pan without stress. This is important, as you need a firm grip when flipping the waffles on the griddle.
This special griddle comes with seven wells of 3-inch diameter each that adds waffle grids to your pancakes. The wells allow you to make identical pancakes each time without guesswork since all the wells are the same size. This gives your final products a professional touch.
The griddle is constructed from cast aluminum, which helps it retain heat for longer periods and gives the pancakes a golden brown color. The non-stick interior allows for smooth flipping of pancakes on the griddle. And most importantly, cleaning up this special waffle griddle is easy-breezy!
What We Like
Excellent option for making same-size pancakes repeatedly
Suitable for pancakes and waffles
Durable cast aluminum construction
Long handle allows for a comfortable and firm grip
Non-stick finish
PFOA-free coating
Easy to clean up after use
What We Don't Like
Not dishwasher safe
Metal utensils can damage non-stick coating
Fixed well size does not allow for making bigger pancakes
4. Calphalon Contemporary Hard-Anodized Aluminum Nonstick Cookware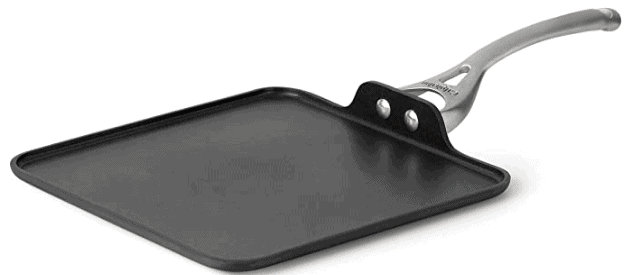 Very few griddles match the modern and stylish design of the Calphalon Contemporary Hard-Anodized Aluminum griddle. But that shouldn't come as a surprise considering the name says "contemporary," right? This could be the best pancake griddle for those who want to adorn their kitchen with something chic.
The pan is made from heavy-gauge aluminum that allows heat to spread uniformly across its 11-inch cooking surface. The hard-anodized material makes it very durable, even when used in ovens. But not all hard-anodized aluminum griddles can withstand the high-temperature level this model is designed to handle. You can put it in an oven and set it the temperature to as high as 450oF (232oC) without affecting the resilience of this contemporary griddle.
The long stainless steel handle offers a comfortable and firm grip during the cooking process and when moving the pan from your cooker to a countertop. The handle comes with a hole for hanging the griddle after washing. And because the griddle is made from durable materials, it can be safely cleaned in a dishwasher.
The griddle comes with a non-stick surface that makes for cooking with less fat. It also means cleaning up is quite easy. Investing in this product comes with a full lifetime warranty, so you don't have to worry about functionality issues or faulty manufacturing.
What We Like
Stylish modern design
Triple-layer construction improves durability
Evenly distributes heat
Handle stays cool while cooking
Non-stick surface
Oven safe
Dishwasher safe
What We Don't Like
The size might be too small for some users
5. Morning Star - Crepe Maker Pro Electric Griddle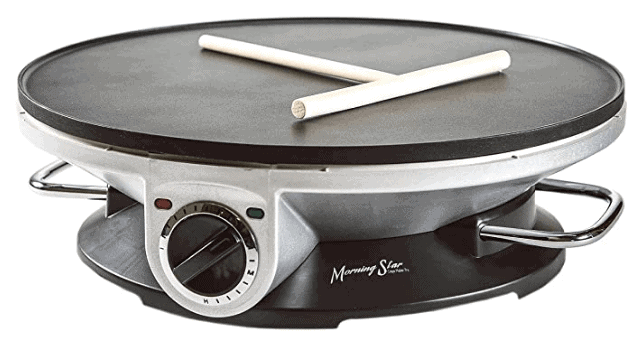 The Crepe Maker Pro from Morning Star is an electric griddle designed to suit the modern kitchen. Although the name says "crepe maker," this griddle is a versatile appliance that works perfectly for making crepes and other delicious breakfast dishes, including tortillas and eggs.
The electric griddle is powered by a 1,000 watts power output that ensures its 13-inch non-stick aluminum cooking surface is heated up very quickly.
It is nearly impossible to ignore the temperature control dial and the LED indicator on this appliance. These are two huge pluses of the Crepe Maker Pro, as it allows users to set the temperature of the appliance and wait for the LED indicator to signal when the griddle has reached the desired temperature.
Here's the thing, even if your pancake-making skill is not so great, placing the batter on the cooking surface when the temperature is right can make a lot of difference. And that's where the LED indicator comes in handy. It is a really useful feature, making the Crepe Maker Pro the best pancake griddle in the electric griddle category.
What We Like
Non-stick plate
Great design
Cooking surface is wide enough for a variety of dishes apart from pancakes
Includes a batter spreader for making thin pancakes or crepes
Features a temperature control dial
Sturdy handles allow for ease of transportation
Rubber covering at the base protects countertops from scratches and prevents the griddle from slipping
What We Don't Like
Requires power supply to work
Cleaning requires great care because of its electrical components
Not dishwasher safe
6. Ecolution Non-Stick Griddle Pan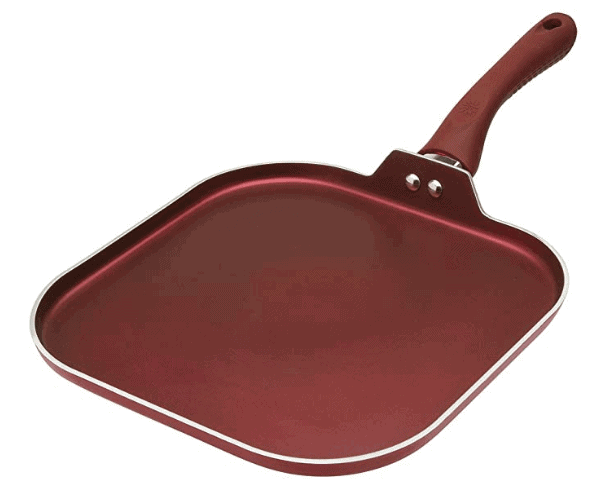 If aesthetics is your thing, this Non-Stick Griddle Pan from Ecolution might as well be the best pancake griddle for you. It comes in a strikingly, elegant design with an outstanding crimson color that immediately gives your kitchen a beautiful outlook.
But this griddle goes way beyond gorgeous looks. It is constructed with thick-gauge aluminum, which makes it a durable pan and equally allows heat to spread evenly across its cooking surface. And that's not all. The bottom of the pan features special grooves that improve heat conductivity and distribution.
The silicone handle has an ergonomic rubber covering that makes for easy handling as you move the griddle from stove to countertop. For further comfortability, the handle design comes with dots to ensure a firm grip. And it stays cool throughout the cooking process. You can safely clean the griddle in a dishwasher are hang it from the hole in the handle.
Being conscious of the environment, Ecolution designed this and all of their cookware with environmentally friendly materials. This griddle comes with a water-based, eco-friendly Hydrolon coating that is free of PFOA. So you can fry, sauté, sear in the non-stick griddle pan without worry for your health.
While the design is eye-catching, investing in this griddle ensures healthy eating as well as beautifully made pancakes and other foods.
What We Like
Elegant design
Durable construction
Hydrolon interior finish is non-toxic, water-based, and eco-friendly
Dishwasher safe
Thermal conductivity is maximized due to grooves in the base
Handle stays cool while cooking
What We Don't Like
Not suitable for induction cooktops
7. Farberware High-Performance Nonstick Griddle Pan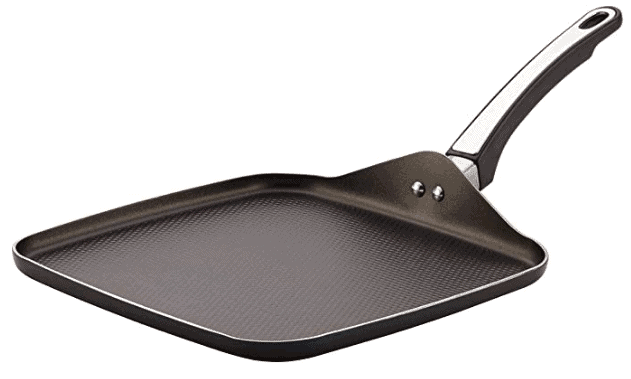 This Nonstick Griddle Pan from Farberware combines two important qualities, namely, efficient performance and simplicity. Faberware has been in the business of making quality kitchenware since 1900, so you can rest assured that this simple-looking griddle will deliver the results you want.
Its aluminum construct ensures quick and even heating across its 11-inch cooking surface. This griddle is surprisingly lighter than similar griddles of the same size. But more interestingly is the fact that it is very durable and can withstand high temperatures of up to 350oF (176oC) in the oven regardless of its lightweight.
Here's something unique about this simple griddle. Its non-stick cooking surface is designed to have small air pockets, giving it a slightly rough feel instead of a smooth surface. This neat feature maximizes heat conductivity and, in turn, lets food cook uniformly and quickly.
The griddle comes with a handle that stays cool while cooking your favorite breakfast dishes. It is designed to allow for a comfortable grip so you can work with the griddle without any safety concerns. The griddle is dishwasher safe, so you can clean it in your dishwasher without worrying about damaging your investment or spending time and effort in hand-wishing it. You can also hang it to dry using the hole on the handle.
What We Like
Simple and efficient design
Handle doesn't get hot even when the griddle is on the stove
Uniform heat distribution across the surface
Lightweight, portable, and durable
Oven safe
Dishwasher safe
What We Don't Like
Smaller space on the cooking surface might not allow for making many pancakes at the same time
8. Vremi 20 inch Large Nonstick Cast Iron Griddle for Kitchen Stove Top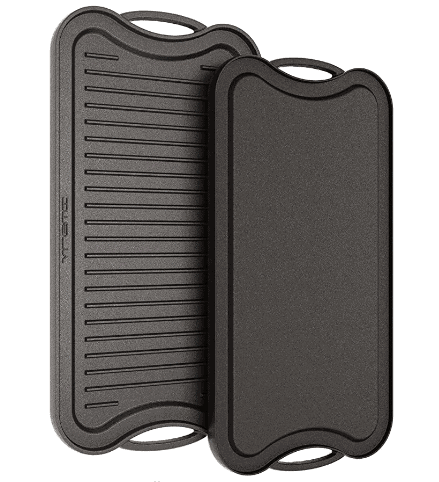 Many griddles come in sizes suitable for making a few medium-sized pancakes. While that is okay, it can take an awfully long time to make enough pancakes for large gatherings, such as having family and friends over for a picnic. That's one situation where an extra-large griddle like the Vremi Nonstick Cast Iron Griddle comes in handy. This griddle comes with a 20-inch long and 10-inch wide surface for making plenty of hotcakes and other foods quickly.
This is not just the best pancake griddle when it comes to size, but it is also an ideal griddle for heavy-duty purposes. That means it is constructed from materials that can withstand heat for longer periods without getting damaged.
While many griddle models can be used for lots of dishes, it is rare to find one that is versatile enough to cook with both sides! The Nonstick Cast Iron Griddle from Vremi fits that bill perfectly. It is so versatile you can make your delicious breakfast favorites on the smooth side, and then flip it over to cook mouth-water grilled treats on the reverse side. And as if that's not enough, Vremi made sure this large griddle traps excess fat and grease on both sides with the grease slopes. This feature helps with healthy eating.
Two sturdy handles ensure that you can move this griddle about easily, whether you are using it on a double burner inside your kitchen or making barbecue outdoors. Additionally, you can safely use this griddle in an oven. The cast iron material ensures that heat is evenly distributed across the 20-inch wide surface of the pan, as well as retaining sufficient heat to give pancakes a beautiful golden brown texture.
What We Like
Reverse side can be used as a grilling pan
Oven safe
Comes seasoned right out of the box
Can be used on two burners at the same time
Slopes on the griddle's edge remove excess grease from food
Cast iron construction helps to retain heat for a longer period
Sturdy handles allow for easy, comfortable carrying
Large cooking surface suitable for making pancakes for the entire family or large gathering
What We Don't Like
Periodic re-seasoning is required because it is made from cast iron
Needs to be cool before washing
Hand-washing is required
Washing with abrasive detergents can cause damage
9. Presto 07061 22-inch Electric Griddle

Last on our list, but by far not the least, is this stylish-looking Electric Griddle from Presto. Okay, before you write it off as one of those typically small electric griddles that are difficult to clean because they can't be immersed in a dishwasher, here are a few things pleasant surprises with this model.
First, it is not small. In fact, it is the largest griddle on this list, with an overall 22-inch length and a 321 square inch cooking area. That is big enough to make stacks of pancakes all at once for a large family.
Secondly, the electric griddle is designed with detachable components. The electrical parts are located at the base, which can be removed. This makes it easy to fully immerse the griddle in water with those parts removed. Cleaning up this griddle is a lot easier and convenient than most electric griddles.
The handles of this griddle are also detachable. This makes it easy to store the griddle in most standard kitchen cabinets. And the best part? You don't need any special tools to remove the handles. All you need to do is to open the latch clips on the griddle, and the handles will come off easily.
The thick-gauge cast aluminum build ensures that the electric griddle serves you for a long time. The griddle comes with a non-stick cooking surface for making perfectly cooked hotcakes. The removable temperature dial feature can be used to set and control the griddle to the desired temperature.
What We Like
Features a temperature control dial
Highly durable
Non-stick plate
Detachable cooking surface, drip tray, and handles
Non-slip design due to large handles
What We Don't Like
Requires power supply to prepare food
Some components are not dishwasher safe
Conclusion
Investing in the best pancake griddle does not only add a modern look to your kitchen, but it also helps you churn out perfectly cooked pancakes and other breakfast dishes. The right griddle is a boost to your pancake-making skills, as you'll be delivering mouth-watering pancakes as quickly as possible. So, pick one out of these excellent options, as long as it suits the cooker in your kitchen.