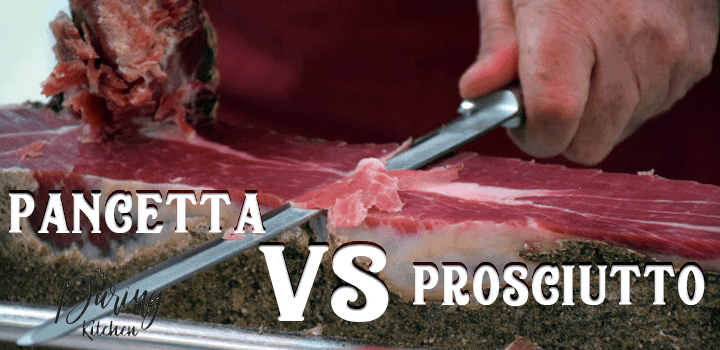 Pancetta vs prosciutto: both of these salty delicious, cured pork products have an Italian origin and a big reputation, but they often look so similar that it's difficult to tell the difference.
Despite their similarities though, several characteristics set them apart. Keep rolling down the page and you'll find out.
What Is Pancetta?
Pancetta is a type of salt-cured meat made of pork belly. The meat of the pork's belly is rich in fat and muscles, which gives pancetta a unique flavor.
There are two types of pancetta according to the way you cut it:
Rolled pancetta is cut in thin slices and is eaten raw in a sandwich or as a part of antipasto (an Italian first-course dish).
Flat pancetta is cut in thick strips or cubes and used in soups, pasta, or grilled recipes.
Pancetta can also be found in a salt-cured dried form or a smoked form (similar to bacon).
What Is Prosciutto?
Prosciutto is the dry-cured hind leg of the pig (or else ham). Etymologically, the word means something that has been dried thoroughly. It is usually served uncooked and in thin slices while its rich flavor and velvety texture make it a real delicacy.
The name prosciutto is generic (not protected designation) and can be used to describe a variety of hams similar to the Italian prosciutto.
How Is Pancetta Made?
Once the pig's belly is cleaned and smoothed, the meat gets salted and spiced with black pepper or other spices. It can also be subjected to brining. The brine mixture usually contains salt, sugar, garlic, spices, and nitrates (preservatives).
After brining, it's time to roll the pork with outside layers of fat surrounding the meaty core so it takes a shape. Then, it is tightly packed into casings and left to mature for 50-120 days depending on how big the piece is.
Smoked pancetta undergoes a slightly different production process.
How Is Prosciutto Made?
The procedure of creating Prosciutto is quite fascinating and it involves excellent craftsmanship and skill on behalf of the experts who undertake this task.
Everything starts from the animal's thigh which is perhaps the most important part of the pig. The leg is cut at the right height and the skin is removed. At this point, the meat is left to rest for a few days and when the time comes, it gets salted. This prevents or reduces microbial growth during the months of storage.
No or very low quantities of preservatives are used unlike other types of cured meat. This makes prosciutto a more natural product. At this stage, the salted ham is left to rest in a cold room until completely dry. Then, it is hung to the air under certain environmental conditions for 12-18 months.
Finally, prosciutto is ready but there is still one more and probably the most important step in the process since it determines whether the whole procedure has been successful.
A skilled employee has to insert a long needle into the meat and sniff it. The slightest production error will have caused bacterial fermentation which at this point can only be traced by the smell since you can't slice the meat. So, for hygienic reasons and ultimately the future of the business, the role of this expert is very important.
How To Eat Pancetta
Italian pancetta is usually eaten raw as a cold cut but have you tried it adding it in a carbonara pasta? You can also crisp it in a frying pan after dicing it in small cubes and add it to salads, sandwiches, pasta, soups, or any other recipe you feel it goes well with.
How To Eat Prosciutto
Cut into thin slices, prosciutto can be wrapped around breadsticks, fresh juicy melon and other fruits and veggies such as asparagus or sweet potato. It can be used in sandwiches, salads, meat stuffings, pasta sauces, or even as a pizza topping.
And Now What: Pancetta Or Prosciutto?
To accompany a glass of wine, I would go for the delicate deliciousness of Prosciutto whereas, due to its higher fat content, Pancetta feels like an attractive option as a winter comfort food.