Hi dear DB Friends! I'm Marcella aka Marcellina from Marcellina in Cucina. I joined DB in June 2009 to learn my about my favourite pastime – baking! Since then I have felt as though I have been learning at a patisserie school with some of the world's best teachers. From macarons to croissants, puff pastry to bombe Alaska, I never know what each month will bring.
This month I am your host. I can't believe it either! I'm not sure how qualified I am but this month I'm going to challenge you to make Panettone – a traditional Italian Christmas Bread. I live in a little town in far northern Australia which is known as "Little Italy" due to its predominantly Italian heritage and culture.
Download the printable .pdf file a HERE
Being born of Italian parents in this very Italian town, Italian food was and still is, just part and parcel of my life. Every Christmas the commercially prepared panettone took pride of place on the table and was enjoyed with dipped into our Asti Spumante. Leftovers are eaten for breakfast with our morning coffee and I always buy an extra one to have on hand when visitors drop in.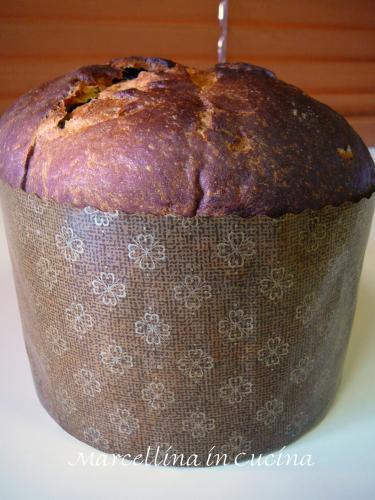 So how was the Panettone born? Traditionally it is eaten by the Milanese but now it is available all through Italy and in many parts of the world. There are many stories and legends of the Panettone but the one recounted by Carol Field, whose recipe I have favoured, is that of a rich young Milanese noble who fell in love with the daughter of a poor baker whose name was Tony (Antonio). The nobleman wanted to marry the baker's daughter so he ensured the baker had at his disposal the very best ingredients – eggs, butter, flour, candied orange peel, citron and sultanas. The baker created a wonderful bread which became known as pan di Tonio (Tony's bread). The baker found his fame and fortune and the nobleman honorably married the baker's daughter.
There are lots of different types of Panettone now available – some with chocolate or vanilla fillings or coated in chocolate but the traditional Panettone is my favourite. Traditionally, the Panettone is made with wild yeasts but I'm never very good with sourdough breads so even though I tried a traditional recipe I settled on this one with commercial active dry yeast. If you have had success with sourdough Panettone I would welcome your version. This recipe may seem a little complicate but let me assure you, taken over a two day period (resting in the refrigerator overnight) it is quite simple, only time consuming as all yeasted products are, but even then it's inactive time waiting for the dough to rise. Also, not to worry if you don't like dried or candied fruit, simply substitute with chocolate chips, nuts or some of the wonderful flavoured chips you lucky guys have in the US. Think about using dried date and walnuts or dried cranberries and white chocolate. Flavour it however you like – soak your fruit in rum or brandy. Mmmm.. what about coffee flavoured? Maybe certain types of candy might work. And then if you are like me, a Panettone fan, you will find that this recipe comes quite close to the commercial variety. Adding the Almond Glaze simply gives the Panettone another dimension and it really is very tasty.
I hope you enjoy the challenge of making your very own Panettone in the flavours custom made for you and your loved ones.
Recipe Source:
Panettone slightly adapted from The Italian Baker by Carol Field
Almond Glaze slightly adapted from La Cucina Italiana http://lacucinaitalianamagazine.com/recipe/hazelnut-glaze_3
Candied Orange Peel from The Italian Baker by Carol Field
Blog-checking lines: The December 2012 Daring Bakers' challenge was hosted by the talented Marcellina of Marcellina in Cucina. Marcellina challenged us to create our own custom Panettone, a traditional Italian holiday bread!
Posting Date: December 27, 2012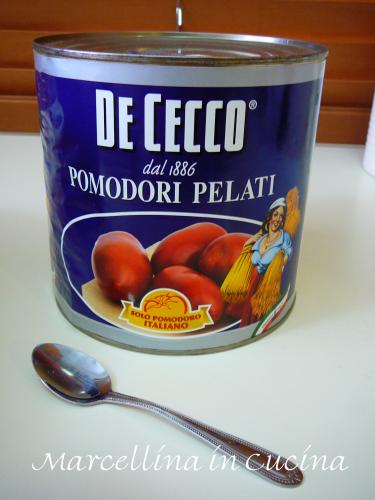 Note: For me the hardest thing was to find traditional Panettone papers in my part of the world. I found them online at a New Zealand store but I know they are available at Amazon (P & P was exorbitant to Australia). Failing that an empty can, 6 inch (15 centimeter) diameter lined with paper works. Or a small 6 inch (15 centimeter) cake pan with paper lined card extending the rim would also be fine as would a charlotte mold or soufflé dish. I tried homemade panettone papers which were also quite successful if none of the above are suitable. *Note: See photo instruction in the "Additional Information" section below.
Mandatory Items: Make a panettone in the traditional tall cylindrical shape using the recipe provided with or without the almond glaze. It is optional to make your own candied orange peel.
Variations allowed: You can substitute the golden raisins, candied citron, candied orange peel, grated lemon and orange rind with other dried or candied fruits or nuts or chocolate, use different flavours or whatever you like. If you have a recipe you love using the traditional wild yeast it would be great if you could make that recipe and share it with us.
Preparation time:
Sponge
35 minutes
First Dough
mixing 15-20 minutes
rising time 1 -1 ¼ hours
Second dough
mixing 15-20 minutes
Rising time 2 ½ – 4 hours or overnight in a cool place
Final dough and rise
preparing and mixing 1 hour
rising 2-4 hours
Baking 40 minutes
Cooling 30 minutes
Almond Glaze extra 15 minutes
Candied Orange Peel
Prep time about 1 hour
Cooking time 3 hours plus resting time
Equipment required:
Small bowl (for the sponge and soaking the raisins)
Spoon
Stand mixer with paddle and dough hook or wooden spoon, medium large bowl and arm strength
Measuring cups, spoons and scales
Plastic wrap
Large bowl for rising the dough
Paper towel to dry the raisins
Grater
Medium bowl for mixing filling
Panettone papers or pans as above
Food processor and spoon for Almond Glaze
Cutting board for candied orange peels
Knife for candied orange peels
Saucepan for candied orange peels
Wooden spoon for candied orange peels
Panettone:
Makes 2 Panettoni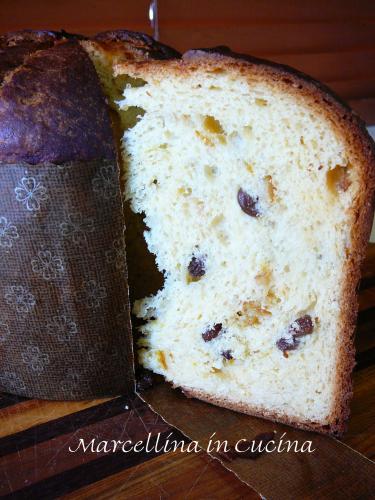 Ingredients
Sponge
1 satchel (2¼ teaspoons) (7 gm) active dry yeast
1/3 cup (80 ml) warm water
½ cup (70 gm) unbleached all purpose flour
First Dough
1 satchel (2¼ teaspoons) (7 gm) active dry yeast
3 tablespoons (45 ml) warm water
2 large eggs, at room temp
1¼ cup (175 gm) unbleached all-purpose (plain) flour
¼ cup (55 gm) (2 oz) sugar
½ cup (1 stick) (115 gm) unsalted butter, at room temp
Second dough
2 large eggs
3 large egg yolks
2/3 cup (150 gm) (5-2/3 oz) sugar
3 tablespoons (45 ml) honey
1 tablespoon (15 ml) vanilla extract
1 teaspoon (5 ml) lemon essence/extract
1 teaspoon (5 ml) orange essence/extract
1 teaspoon (5 ml) (6 gm) salt
1 cup (2 sticks) (225 gm) unsalted butter, at room temp
3 cups (420 gm) (15 oz) unbleached all-purpose (plain) flour; plus up to (2/3 cup) 100 gm for kneading
Filling and final dough
1½ cups (250 gm) (9 oz) golden raisins or golden sultanas
½ cup (75 gm) (2-2/3 oz) candied citron ( I didn't have this so I made it up with candied orange peel)
½ cup (75 gm) (2-2/3 oz) candied orange peel (try making your own; recipe below)
Grated zest of 1 orange
Grated zest of 1 lemon
2 to 3 tablespoons (30-45 ml) (15-25 gm) unbleached all-purpose (plain) flour
Directions:
Sponge
Mix the yeast and water in a small bowl and allow to stand until creamy. That's about 10 minutes or so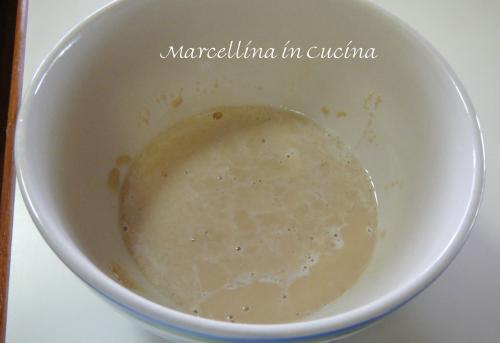 Mix in the flour.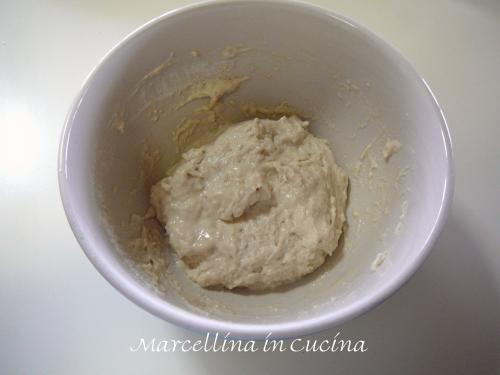 Cover with plastic wrap and allow to double in size for about 20 to 30 minutes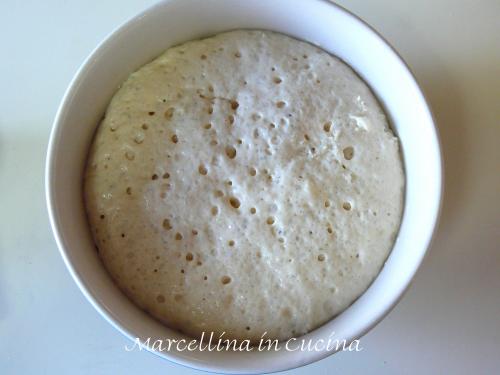 First Dough
By hand:
Mix the yeast and water in a large bowl and allow to stand until creamy. Again, about 10 minutes or so
Mix in the sponge and beat well with a wooden spoon
Stir in the eggs, flour and sugar.
Mix in the butter well
This should only take about 5 – 6 minutes
Cover with plastic wrap and allow double in size, about 1 – 1 ¼ hours
By Mixer:
In the mixer bowl, mix together the yeast and water and allow to stand until creamy. Again, about 10 minutes or so
With the paddle attached mix in the sponge, eggs, flour, and sugar.
Add in the butter and mix for 3 minutes until the dough is smooth and even.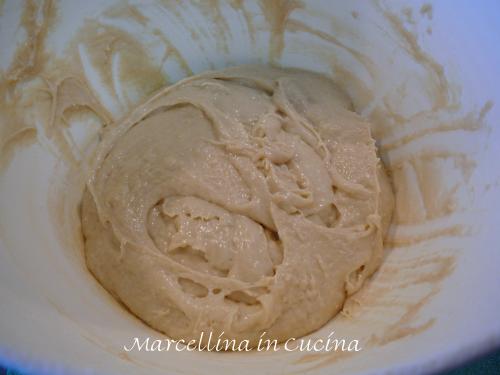 Cover with plastic wrap and allow double in size, about 1 – 1 ¼ hours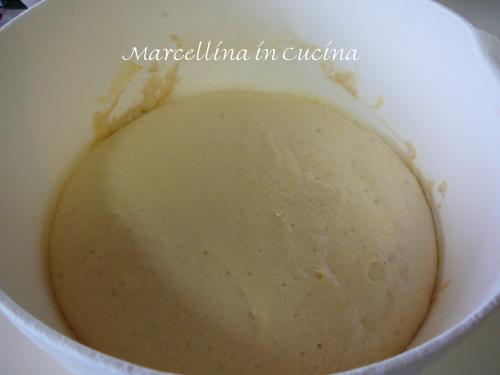 Second dough
By Hand:
Be sure to have your dough in a large bowl as above.
With a wooden spoon mix in eggs, egg yolk, sugar, honey, vanilla, essences/extracts and salt.
Mix in the butter.
Then add the flour. Stir until smooth.
At this stage the dough will seem a little too soft, like cookie dough.
Turn it out and knead it on a well-floured surface until it sort of holds its shape. Don't knead in too much flour but you may need as much as 2/3 cup (100 gm). Be careful the excess flour will affect the finished product.
By Mixer:
With the paddle mix in thoroughly the eggs, egg yolks, sugar, honey, vanilla, essences/extracts, and salt.
Mix in the butter until smooth.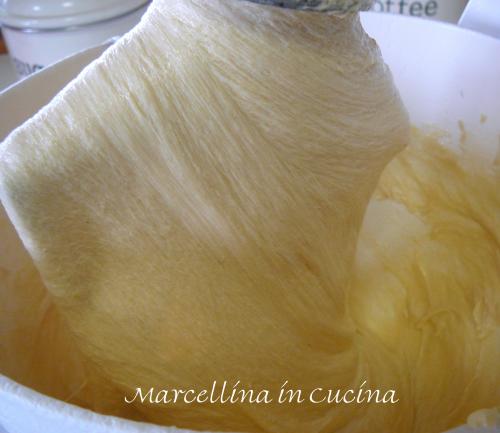 Add the flour and slowly incorporate.
At this stage the dough will seem a little too soft, like cookie dough.
Replace the paddle with the dough hook and knead for about 2 minutes.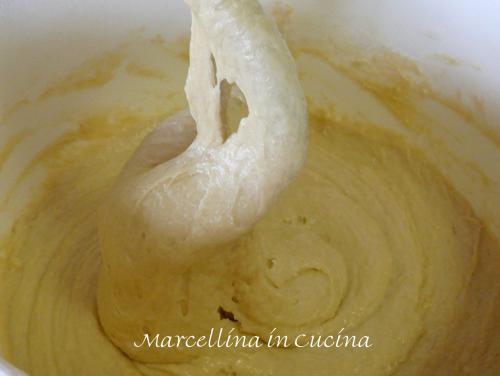 Turn out the dough and knead it on a well-floured surface until it sort of holds its shape.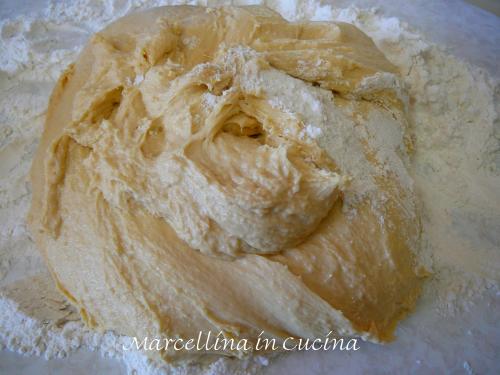 Don't knead in too much flour but you may need as much as 2/3 cup (100 gm). Be careful the excess flour will affect the finished product.
First Rise
Oil a large bowl lightly, plop in your dough and cover with plastic wrap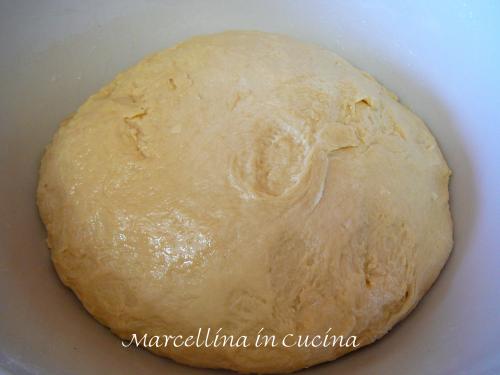 Now we need to let it rise until it has tripled in size. There are two ways to go about this.
Rise in a warm place for 2 – 4 hours
Or find a cool spot (64°F -68°F) (18°C – 20°C) and rise overnight
Or rise for 2 hours on your kitchen bench then slow the rise down and place in the refrigerator overnight. If you do this it will take some time to wake up the next morning but I preferred this method.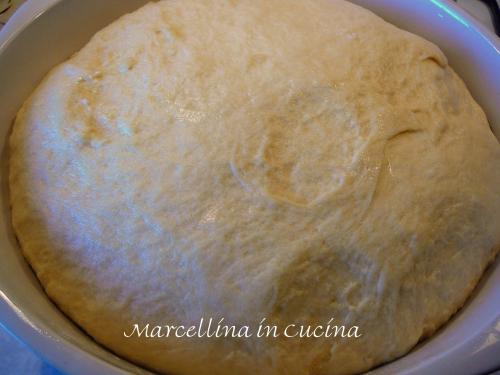 Filling and Final Rise: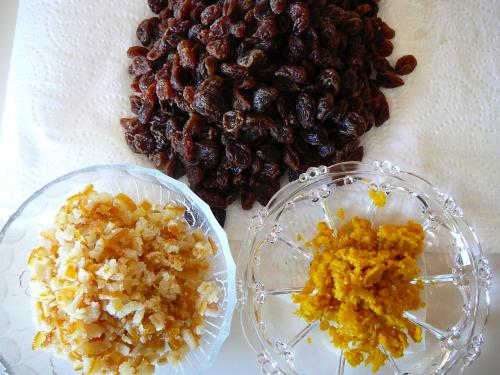 Soak the raisin/sultanas in water 30 minutes before the end of the first rise. Drain and pat dry with paper towels.
Now take your dough and cut it in half. Remember we are making two panettoni.
Combine all your filling ingredients and mix well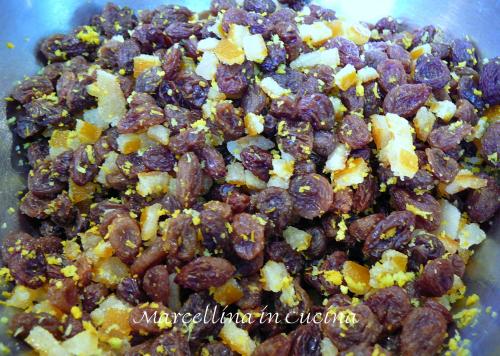 Press out one portion of dough into an oval shape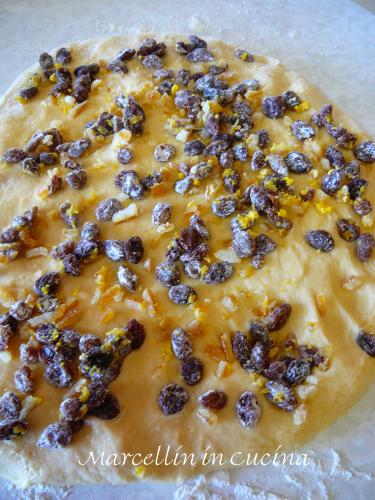 Sprinkle over one quarter of the filling and roll up the dough into a log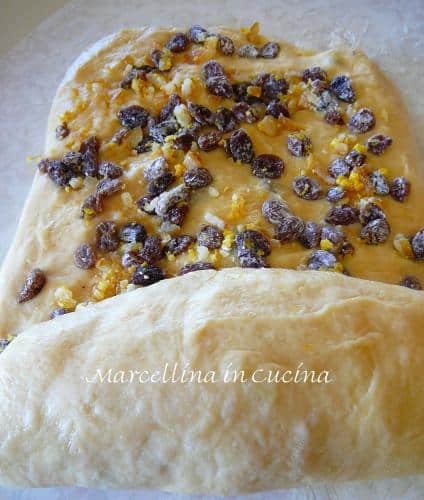 Press out again into an oval shape and sprinkle over another quarter of the filling
Roll into a log shape again.
Repeat with the second portion of dough
Shape each into a ball and slip into your prepared pans, panettone papers or homemade panettone papers.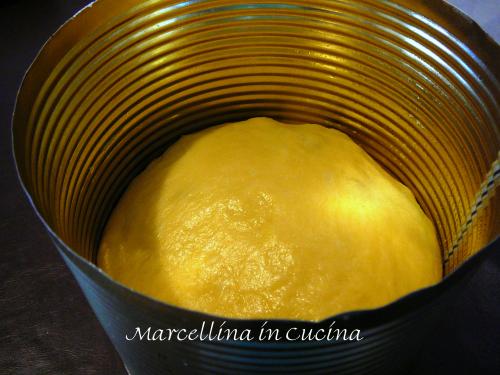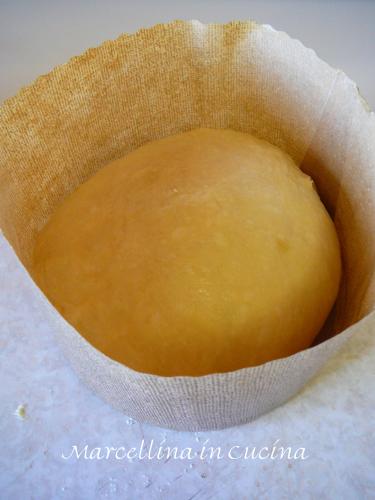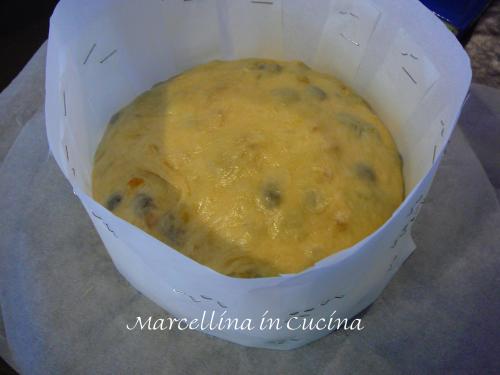 Cut an X into the top of each panettone and allow to double in size.
Rising time will vary according to method of first rise. If it has been in the refrigerator it could take 4 hours or more. If it has been rising on the kitchen bench in a warm place it should be doubled in about 2 hours.
Baking
When you think your dough has only about 30 minutes left to rise preheat your oven to moderately hot 400°F/200°C/gas mark 6 and adjust your oven racks
Just before baking carefully (don't deflate it!) cut the X into the dough again and place in a knob (a nut) of butter.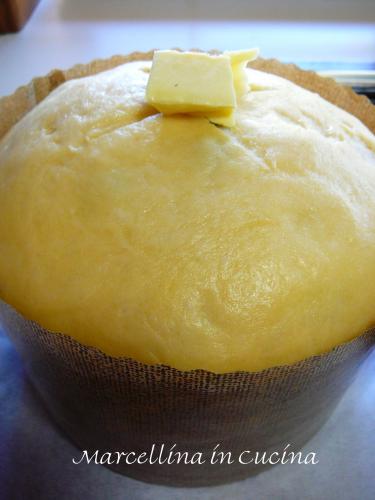 Place your panettoni in the oven and bake for 10 minutes
Reduce the heat to moderate 350°F/180°C/gas mark 4 and bake for another 10 minutes
Reduce the heat again to moderate 325°F/160°C/gas mark 3 and bake for 30 minutes until the tops are well browned and a skewer inserted into the panettone comes out clean.
Cooling your panettone is also important. If you have use papers (commercial or homemade) lie your panettoni on their side cushioned with rolled up towels. Turn gently as they cool. If you have used pans cool in the pans for 30 minutes then remove and cushion with towels as above.
Panettone can also be cooled suspended. How to do this? Firstly you need to use papers (commercial or homemade), insert clean knitting needles into the bottom of the panettone in a X shape. Flip over and support the knitting needles on the edges of a large saucepan with the panettone suspended within the saucepan. Yep, a lot of trouble and I didn't really find that much difference – maybe I took too long to insert the needles.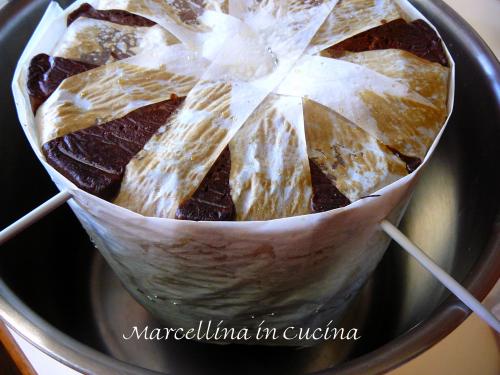 Almond Glaze for Panettone
Ingredients
1 cup (140 gm) (5 oz) whole blanched almonds
1 cup (125 gm) (4 ½ oz) confectioners' (icing) sugar
2 tablespoons (18 gm) (2/3 oz) whole wheat flour
3 large egg whites
3 tablespoons (45 ml) good quality extra virgin olive oil
Few drops of almond essence, to your taste
Pearl sugar, flaked almonds or demerara (course crystal) sugar to decorate
During the final rise, prepare the almond glaze. Process almond, confectioners' sugar and flour until the nuts are finely chopped and well blended. Mix in the egg whites, oil and essence. Process to combine. It is meant to be thick and glue like. All is well! When the panettoni are well risen carefully spread half the mixture over the top. Don't worry about spreading it to the edges, in fact keep well away from the edges because the glaze will melt and spread. Bake as per the panettone recipe above.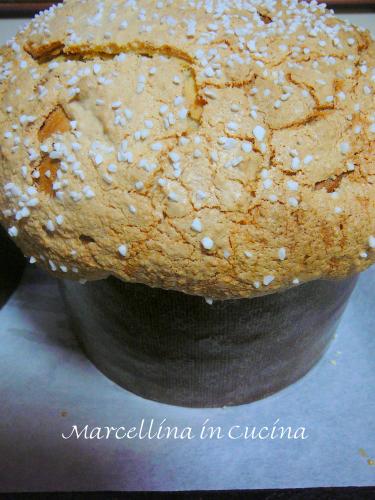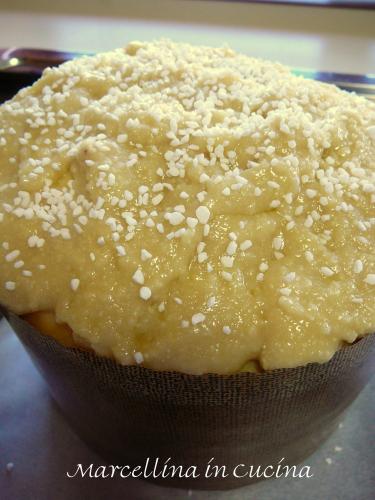 Candied Orange Peel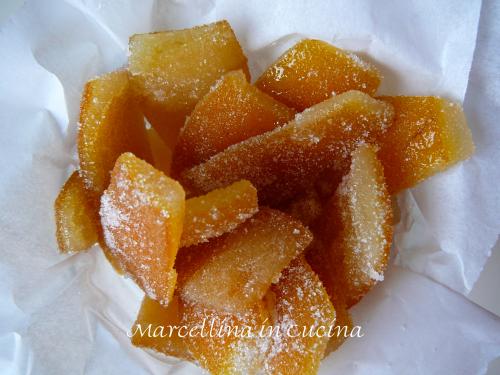 Ingredients
9 thin skinned oranges
3½ cups (800 gm) (28 oz) sugar
¼ cup (60 ml) corn syrup (If corn syrup is not available you can use a dash of lemon juice or cream of tartar.)
Water as needed
Granulated sugar
Directions:
Wash and dry oranges then cut the tops and bottoms off.
Cut into 6 or 8 pieces vertically
Remove the flesh with a sharp knife and reserve for another use (or just munch on it)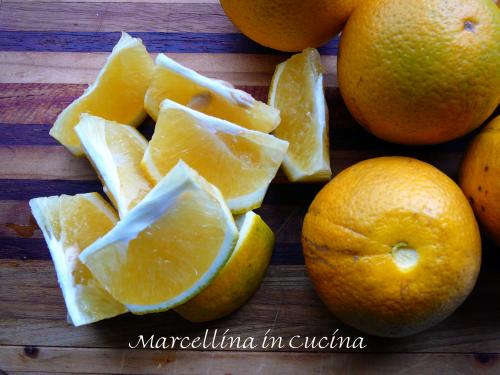 Put the peels in a large saucepan and cover with water
Cook slowly over gently heat until the peels are tender – about ¾ hour to 1 hour
Drain and cover with fresh water. Sit for an hour or up to overnight. Drain
Into another large saucepan pour 2 cups of water. Mix in the sugar and the corn syrup.
Bring mixture to boil then add peels. Partially cover the pan.
Reduce heat to very low and using a candy thermometer adjust the temperature so that (212°F to 222°F) 100°C to 105°C is maintained. You may need to add extra water – I didn't
After 2 hours has passed remove the lid and rise the temperature to (235°F) 110°C so that it boils and the water evaporates
Turn off the heat and wait until the bubbles subside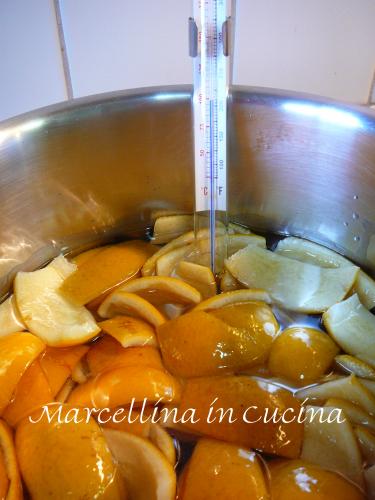 Scoop out the peels with a slotted spoon and place on a rack to cool and dry.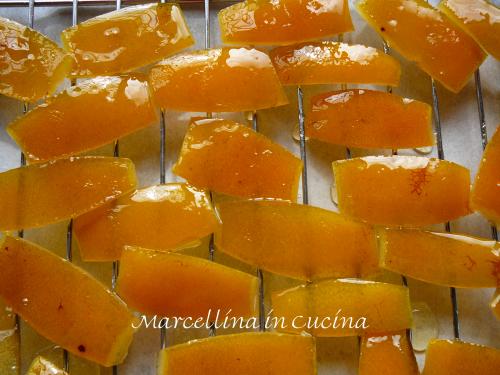 After a couple of hours the peels are ready to roll in sugar and store in a glass jar in the refrigerator. These will keep well for a few months in the bottom of your fridge.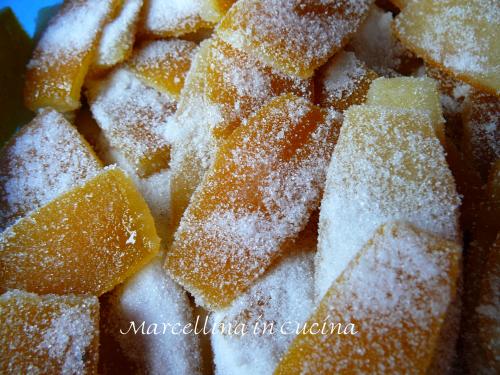 Freezing/Storage Instructions/Tips: Once your panettone is thoroughly cooled, place in a large plastic bag or container and it will keep quite well maybe for a week. At first the panettone is soft and tender but after a day or two it becomes dry like the commercial variety. I found that the glaze kept the panettone a bit more moist. I didn't freeze mine but I have frozen the commercial variety for a month or two.
Additional Information: http://www.youtube.com/watch?v=liGQB0B6OzM Video on making Panettone
How to make homemade Panettone papers: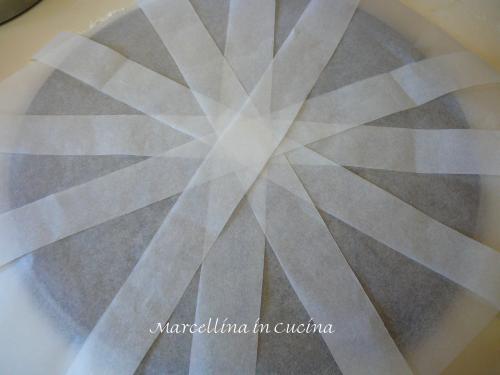 Cut 6 long strips on baking parchment and arrange in a star pattern on a baking parchment lined oven tray. Staple the middle.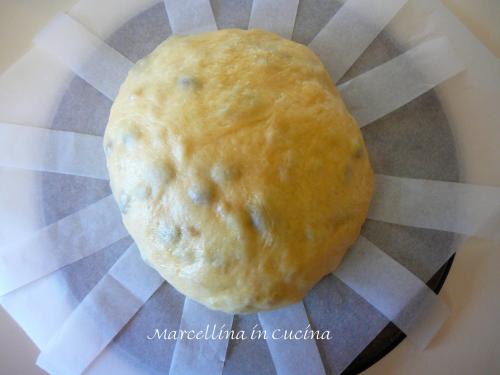 Place the Panettone dough in the middle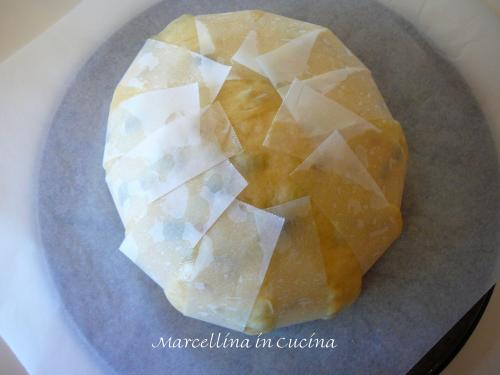 Wrap strips around the dough.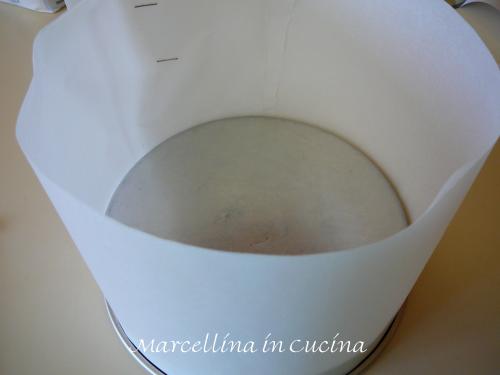 Make a collar out of baking parchment using a cake pan or saucepan to give the shape and staple in place.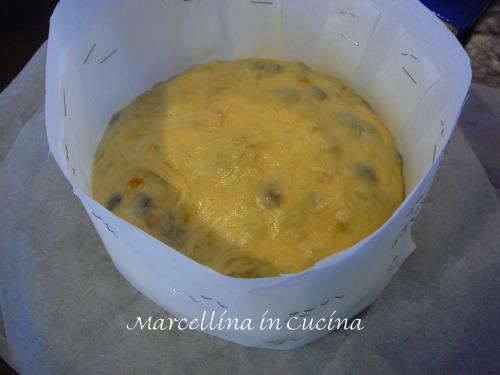 Remove the collar from the cake pan and slip over the dough. Attach the strips of paper which cover the dough to the collar with staples.
Bake as directed without removing from the oven tray.
Looks rough but it works. Takes a bit of fiddling.