From making delicious sandwiches in the comfort of your home to grilling up or reheating various foods and ingredients in a matter of minutes, panini presses are all about versatility today.
It's not only that these super handy kitchen tools can toast your panini type of bread such as ciabatta, focaccia or baguette to golden crispy perfection. If you opt for a panini grill press instead of the common pan-style press, you can up your cooking game by creating fast easy meals and desserts that are fully customizable to your taste and dietary needs.
But what are the differences between these two types of panini presses and how can you choose the best panini press for your needs? Let's find out!
Top Panini Presses Reviews
Cuisinart Panini Press 5-in-1 Griddler, GR-4N
Cuisinart GR-4N does so much more than toasting paninis. First off, the 5 in 1 griddler makes great panini sandwiches, yummy quesadillas, and open toasties with those perfect looking grill marks. But there's a lot more to it.
By turning it into a full griddle, you can cook eggs, bacon, and pancakes all at the same time but separately so you don't combine flavors. This comes handy especially when preparing breakfast for two people or a big family.
Lunch and dinner preparation is not a problem either for Cuisinart GR-4N. The contact grill quickly and simultaneously prepares various types of foods from thin boneless chicken to vegetables and fish while the full grill is great for doubling your cooking surface and using it to grill anything from burgers to sausages and steaks.
Plus, if you worry about consuming too much fat through your diet, there is a grease trap that allows all the extra fat to drain off the base making clean up super easy. This panini maker has a solid construction with a sturdy handle and a hinge that helps the floating cover adjust to the thickness of the foods and close evenly on top.
When you use the contact grill, make sure that the thickness of the different items is the same so that they can all be cooked at the same time. The non-stick cooking plates are removable and easy to clean, but also dishwasher safe.
Important Specs
Weight: 8 pounds.
Cooking surface in inches: 200 open / 100 closed.
1500 Watts.
Temperature controls and indicator lights that signal ready to cook and power on.
Stainless steel housing.
BPA free cooking surfaces.
Cleaning tool and panini press recipes included.
3 years limited warranty.
Hamilton Beach Panini Press Grill & Gourmet Sandwich Maker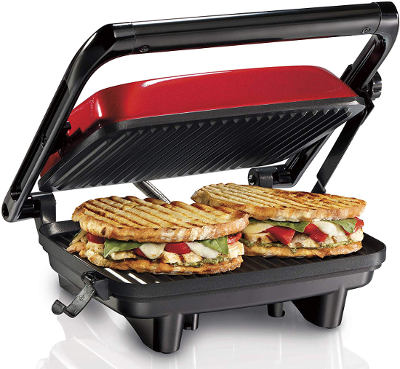 If you are looking for a small panini press for easy storage, this red compact Hamilton Beach sandwich press is a great option. It's lightweight and can be stored in an upright position. From dorms to offices and small houses, this is a handy device to use for quickly made snacks and grilled sandwiches.
From making paninis to open-face sandwiches and bruschetta, the functional floating lid adjusts to the thickness of your bread and locks according to the desired height so it hovers over your food and does not come into contact with it. This way, it won't smash your bread and it's quite useful when you are making cheese quesadillas and you need the lid to be adjusted to a pretty tight position.
Besides, Hamilton Beach does not come with a griddle, a slanted surface or a drip pan to drain off the grease, so grilling fatty meat may not be a good idea. This is mainly a sandwich grill press. Its non-stick surface area can easily accommodate two sandwiches and it does not open flat.
Like in most of these devices, there is not an automatic shut off feature. A red light goes on when you plug the device and turns into green once it reaches the right temperature.
Important Specs
Weight: 5.8 pounds.
1400 Watts.
It comes with a storage lid latch.
8" X 10" cooking surface.
Manual comes with a few recipes.
Cuisinart Grill And Panini Press GR-5B Griddler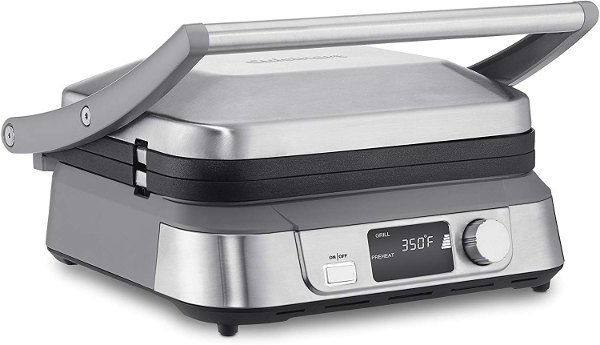 Cuisinart GR-5B is a redesign of the Cuisinart gr-4n griddler. With a sleek contemporary design, an LCD screen display and some improved features, the gr-5b model has been attracting a lot of positive reviews.
It comes with those very handy 5-in-1 cooking features which made it so famous. Being able to use it as a contact grill, full grill, griddle and panini press is what makes it so versatile. From grilling steaks to making waffles, eggs, and sandwiches, everything (or almost everything) is possible for this tool. A lot of people use it as a barbecue alternative, too.
So, what has changed?
The new model looks more modern but it's also more user-friendly. A large and easy to read LCD screen displays the cooking functions (griddle or grill) as well as the temperature, the timer, preheat, preheat bars and sear.
There is also an on/off button as well as a dial to select the desired function and set the temperature and the timer. The plates are not only removable as in the older model, but they are also reversible so you can save space by storing those extra plates. In addition, the little scoop that was previously used to trap the extra fat has been replaced with an enclosed drip tray.
Also, the latch that releases the plates seems to be better designed and makes removing the plates a bit easier. On the downside, the metal parts of the grill-except for the handle-get very hot. Also, some users have found that grilling in the corner areas is less intense.
Important Specs
Weight: 11.33 pounds.
Temperature: 175-450 degrees in 25 ̊ increments.
Stainless steel handle, top cover, and control panel.
The cover opens flat.
Dishwasher safe.
Non-stick plates.
BPA free.
Cleaning tool included.
Gourmet recipes and food temperature guide included in the manual.
Breville Duo Electric Panini Press 1500-Watt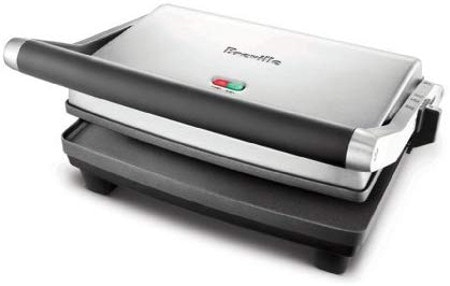 For nicely browned and crunchy bread, Breville Duo is one of the best panini presses out there. It heats up very quickly and it's powerful enough to prepare panini sandwiches in a couple of minutes (4 open toasties or two large sandwiches.)
The bottom surface is smooth and flat, allowing for thorough even cooking while the top plate is ribbed so it creates those pretty grill marks on any type of bread. The surface's coating is non-stick and reinforced with titanium particles, which makes it more durable and scratch resistant. It's also said to be free of PFOA.
The floating hinge features four height settings and easily adjusts to the thickness of your cooking materials, maintaining even pressure. From pancakes to open sandwich melts, eggs, and hash browns, this electric panini press can be used for a variety of foods. It doesn't come with a grease tray and the plates are non removable. However, the bottom smooth surface is easy to wipe clean.
We like that the cord can be easily wrapped and stored in an area below the device. The plates can be locked for safe and compact upright storage.
Important Specs
Weight: 8.38 pounds.
Stainless steel housing with die-cast arms.
'Power On' and 'Ready to Cook' lights.
Nonslip feet.
The manual includes cooking recipes.
George Foreman 4-Serving Grill and Panini Press With Removable Pates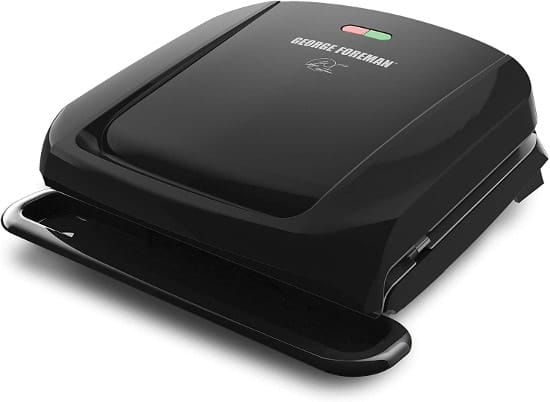 Another very popular panini press and grill, George Foreman GRP1060B is often used to prepare quick lunch or dinner such as grilled meat, fish and veggies. It heats up quickly and cooks evenly. The 60-square inch grilling surface is enough for two or three people depending on the size of the servings.
We like the sloped surface which is designed to direct all the excess grease away from your cooking item and into the drip tray. However, the tray is not part of the device so you need to place it correctly and avoid moving the unit while your meal is getting cooked.
The 1-inch hinge adjusts to the thickness of your food and the lid is heavy enough to compress it evenly eliminating splatter if you are cooking hamburgers or meat. The plates are non-stick, removable and dishwasher safe.
Overall, this is a very affordable product that users find durable and easy to use. What they don't like though is that it does not come with a safety on/off button.
Important Specs
Weight: 9.9 ounces.
1150 Watts.
It comes with power and preheat indicator light.
PFOA free.
Cooking guide chart included in the manual.
Lodge LPP3 Cast Iron Panini Press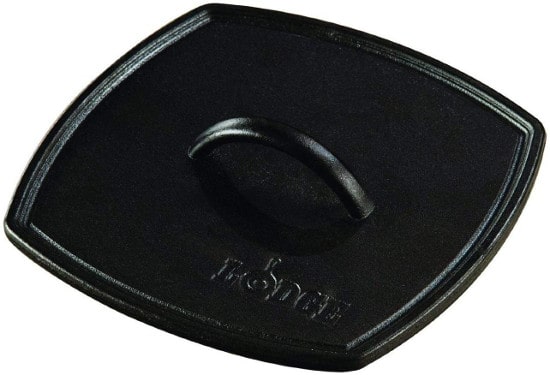 For fabulous grilled paninis, juicy meat, veggies or seafood, this heavy-duty cast iron panini press is an affordable option that will last for years and will only improve with time. If you are looking for a healthy alternative to those Teflon coating presses, iron cast is the way to go. The fact that it does not contain Teflon makes it safe for both humans and animals alike.
This ribbed square panini press sandwich maker is 8.25 inches and fits a square 10.5-inch skillet and round skillets of 12 inches or bigger. Apart from using it in a skillet, you can also use it on griddles or outdoor grills to reduce cooking time and help release extra fat for a healthier dish.
It comes pre-seasoned with soybean oil and can be used in the oven as well. Cast iron is a durable material that takes a little more time to heat up but its main advantage is that it has superior heat retention and the recovery time is better so the temperature does not drop down so easily. This is very important especially if you are searing meat.
The main purpose of this press is to hold down the food so that it is firmly and evenly pressed against the cooking surface. If you lay the press in the pan while preheating, it will give a boost to the cooking process but it won't cook the food as such.
It will create those nice sear marks and deliver good weight on the bread, but you may still need to flip your sandwich, bacon or steak once to finish it off. Make sure that you wear oven gloves when lifting it up because the press is hot and heavy. This product is great for campers. It does not easily get damaged but you should avoid leaving it outside as the rain can lead to rust.
You can hand wash it using some hot water and a cleaning tool but avoid using harsh detergents and letting it soak in the sink for long because it can rid of the seasoning.
Important Specs
Weight: 4 pounds.
Made in the USA.
Imusa Panini Press 80102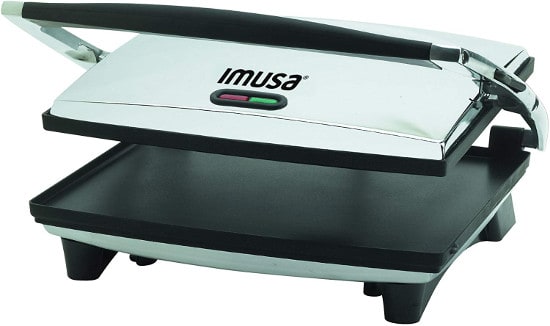 Imusa 80102 is a multi-functional press gourmet sandwich maker with a sleek stainless steel design that will look attractive on any countertop. Its cooking surface (12" x 10") is perfect for preparing big sandwiches. Both cooking plates have a flat smooth surface without ridges so you get more even and consistent cooking on both sides of the toast.
Imusa heats up very quickly and is easy to use for a variety of foods such as pancakes, hash browns, grilled cheese, burgers and more. The floating hinge easily adjusts to thicker or thinner types of bread but some users have found that the lid is heavy and can squash the sandwich flat if the bread is too soft. Therefore, you may want to use thick bread which won't get crushed.
The plates are non removable but, due to their smooth non-stick feature, they are very easy to wipe down with a damp paper towel or a soft sponge. Besides, the lid lock comes handy when storing it upright and the cord reel below the device makes it even easier to store.
On the downside, the top of the unit gets hot. However, the handle stays cool to the touch.
Important Specs
Weight: 9.7 pounds.
1400 Watts.
On & Ready indicator lights.
Non-slip rubber feet.
Oster DuraCeramic Panini Press and Indoor Grill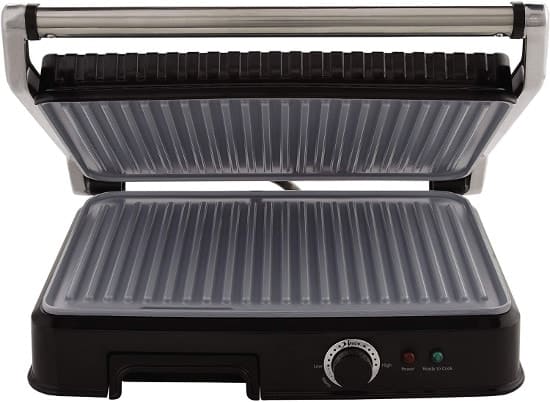 For an environmentally friendly and healthy alternative to Teflon coating, this Oster panini maker and grill comes with titanium infused ceramic coating that is free of Teflon and PFOA. It's also non-stick and more resistant to scratches, peeling or flaking. With proper care, it is more long-lasting and durable than Teflon.
Oster panini press is lightweight, sturdy and reasonably priced. It features a large surface that can easily accommodate 3 sandwiches or 6 open toasties at a time. It also opens up to 110 degrees so it can be used as a grill.
For low-fat meat, you can use the slanted feet to help direct the juices to the front side of the plate and into a drip tray which is removable.
In addition, there is a floating hinge that adjusts to different bread thicknesses. On the downside, some users have found that cleaning up is cumbersome when you are grilling greasy foods because the plates can't be removed.
Important Specs
Weight: Approximately 6.5 pounds including the cord.
It comes with temperature controls.
Power and ready to cook indicator lights.
Foot extenders.
De'Longhi CGH800 Contact Grill and Panini Press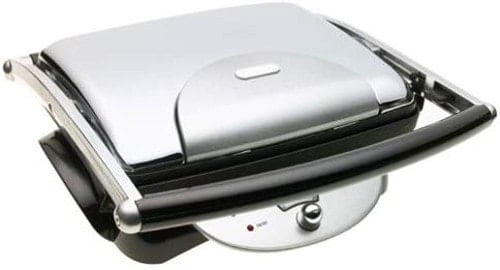 De'Longhi CGH800 is a stylish panini press that can easily turn into a contact grill. It heats up fast on both sides and comes with a grooved surface that is slightly tilted so that the oil drains away into a plastic drain cup.
The hinged top plate adapts to any food or bread thickness. This unit quickly brings 4 bread slices or two sandwiches to crispy perfection and has a solid construction.
Clean up may take a little more time because the plates cannot be removed. However, the grooves are easy to clean in between because they are not so close together. For easy folded storage, this product comes with a lock and it can conveniently sit upright in your kitchen cabinet.
Important Specs
9 pounds.
1500 Watts.
Comes with an adjustable thermostat.
Opens at 90°.
Cool-touch handle and handgrip.
'On/Off' and 'Ready' indicator lights.
Cooking indicator.
Cord wrap.
Cooking guide included.
Panini Press Grill vs Pan-Style Panini Press – What Is The Difference?
As the name implies, the pan-style press looks like a pan. It is made of cast iron and consists of a skillet grill and a ribbed top plate that goes on the top of the food items and looks like a regular pan lid.
The function of this utensil is easy and very similar to a waffle iron. A heat source such as a campfire, barbecue or a stove is needed to warm the fillings of your sandwich and make the bread crispy. You just need to heat up the press on the heat source for 5-10 minutes before adding your panini.
This manual press comes very handy if you are a camping enthusiast who likes to feast on paninis. However, it may not cook as many sandwiches as the press grill due to its smaller surface and it takes more time to heat. It's also harder to clean because of the extra oils remaining in the pan. On the bright side, it costs less than a panini grill and you can take it wherever you go.
On the other hand, if you are ready to sacrifice mobility in the name of versatility, speed, and ease of use, then buying a panini press grill is a better investment.
Unlike the pan press, the grill needs to be plugged into a source of power to turn on. From heating sandwiches to grilling vegetables and thin boneless pieces of meat to reheating pizza and other foods, the options are endless as long as you let your creativity flow.
It also heats up more quickly (3-5 minutes) and you can better control the temperature. It has a bigger cooking capacity so you can cook more of the same item at once.
Plus, you can opt for a model with a drain-off feature which allows you to reduce some of the fat in the foods you consume. Less fat also equals less clean up time-don't forget! Most of these products come with removable plates that are dishwasher-safe.
Top Features To Look For In A Panini Press – Buying Guide
Purpose Of Use
If you are planning to use your press only as a panini maker and you don't want to pay the extra cost of those additional features that turn a press into a grill, then the best choice is to find a press that delicious panini is what it does best.
On the other hand, if you like preparing different types of food all in one appliance, choosing a multi-functional panini press that can be used as a grill or a griddle should better match your cooking needs.
Cooking Plates
There are various options here. If you like ridges on both sides of your bread, choose a press that features ridges on both of its plates.
If you like grooves only on one side of your sandwich, you can go for a model that features a griddle as the bottom plate and a grooved plate as the top. The griddle provides more even cooking and is a little more versatile than the ridged surface. For example, you can prepare pancakes and other types of food that are better grilled on a flat surface.
If you don't like to be restricted by one option or the other, you can opt for a multi-versatile appliance such as the Cuisinart Griddler. This product has plates that are not only removable for easy clean up but they are also reversible.
By reversing the plates, you have the option to turn your appliance into a grill, griddle or panini press depending on your specific needs.
Size Of The Cooking Surface
This is an important feature to keep in mind before buying your press for obvious reasons. Another feature you may need to check is whether the appliance opens flat so you can double your grilling surface in case you need it. This is useful if you are entertaining or have a big family.
Floating Hinge
To adjust to the different thicknesses of the bread, you will need a floating hinge. Some of these hinges apply even pressure to your sandwich whereas others are heavy and may flatten your sandwich more than what you would desire.
There are also options that the hinge can be locked so that the plate does not come into contact with the food item.
Temperature Options
Checking how high the temperature goes is especially important if you are planning to use your press to sear meat.
Teflon Non Stick Coating Or Not?
If you are looking for a healthy and environmentally friendly non-stick coating that is free of Teflon, safe choices are ceramic and iron cast panini presses.
Drain Cup Or Dish
This is a handy solution for keeping your countertop clean. Drain dishes are integrated in the appliance whereas the drain cups come separately.
Cleanup
Most of these presses are easy to clean as they are non-stick and they have removable plates that you can put in the dishwasher. The griddles are also easier to clean than the grooved surfaces.
Ease Of Storage
Storing your press in an upright position can save you some valuable space. To make storage easier and safer, a lot of these panini presses come with locking features and a cable storage area at the bottom of the unit.
The Bottom Line
For all sandwich enthusiasts out there or anyone who seeks for easy practical meal solutions, panini presses are great kitchen tools and they are quite affordable, too.
Ready to panini? Matching your needs with the features of these appliances will help you make the best buying decision.