Introduction: Hi! I'm Luisa from Rise of the Sourdough Preacher. I'm so excited for my first time at hosting a Daring Bakers Challenge. It was a very difficult task, but since my favorite challenges are those involving pastry skills my choice fell on the Paris-Brest.
Paris-Brest is a fairly new entry in the French Pâtisserie Pantheon. The recipe was developed in 1910 by Louis Durand, a pastry chef of Maisons-Lafitte, to commemorate the Paris-Brest bicycle race. The circular shape, made with pâte à choux, is representative of a wheel. The dessert is usually cut in half, filled with an almond and hazelnut flavored crème mousseline, decorated with slivered almond and powdered sugar but in my research online I have seen all sorts of versions. Not only a delicious dessert but a stunning one too, which requires patience (choux pastry and crème mousseline have been my nightmares for a while) and a firm hand (piping comes easier after some practicing and failures). But don't be scared, the file is filled with all the tips I learned through my journey. What I can suggest is to bake for a special occasion, maybe inviting some friends over for a tea or a dinner, because the recipe is quite rich and the yield is about 6 small Paris-Brest!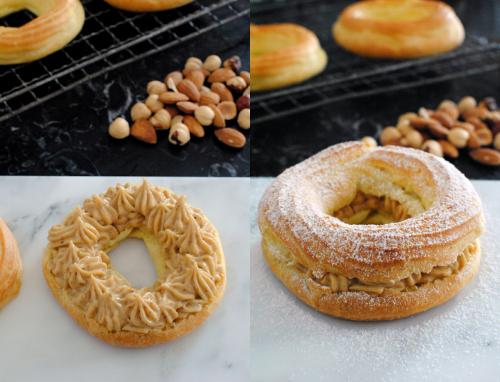 Recipe Source:
Pâte à choux: BperBiscotto blog by Annamaria
Crème mousseline: Oh la vache! blog by Luca Marchiori
Praliné: La cuisine de Bernard blog by Bernard
Blog-checking lines: The November Daring Baker's challenge took us for a ride! Luisa from Rise of the Sourdough Preacher challenged us to make Paris-Brest, a beautiful pastry celebrating the Paris-Brest bicycle race.
Posting Date:
November 27, 2014
Notes:
If you're not familiar with pâte à choux and piping I warmly recommend you to give it a try at least once before you try making the whole recipe. The ingredients must be well combined and the resulting dough must be dense and not runny. The most important ingredient for this recipe – both for pâte à choux and crème mousseline – is butter, so please buy the best quality butter you can (I use European-style butter, made from cream, with 83% fat content).
If you have issues with your cooking top producing too much heat I highly recommend you to use blanched almonds and hazelnuts for the praliné, as the skin can burn quickly. In any case do always keep an eye while cooking the nuts with the sugar because if they burn they will become bitter.
Same thing for the oven. I haven't sprinkled my Paris-Brest's with slivered almond because my oven is often unpredictable, sometimes developing a lot of heat, slightly burning my bakes. Some recipes call for egg brushing too, but for the same reason I skipped this step, as egg wash helps coloring breads and pastries along with giving them a shinier look.
Mandatory Items:
You must make pâte à choux, a cream (of your choice) to fill the Paris-Brest, the praliné if you choose to make a nut flavored cream filling (same as for the cream, you can flavour the praliné with any nut of your choice, macadamia, pistachios, pecan, be creative!).
Variations allowed:
Only restriction is on shaping. The Paris-Brest must be of a circular shape or else it wouldn't have any sense, would it? I am looking forward to be impressed by your creativity! Small Paris-Brest's, big ones (keep in mind the oven temperature and timing will be different for a bigger shape, stick to a fool-proof recipe not to see your creation dramatically sag!), filled with any kind of cream (play with flavors!). Amaze me!
DOWNLOAD THE PRINTABLE FILE HERE.
Preparation time:
I would recommend doing the pâte à choux first. While the Paris-Brest bake in the oven you can make the praliné and the cream filling.
1. Pâte à choux: 15-20 minutes prep, 5 minutes piping, 23-25 minutes baking
2. Praliné: 25-30 minutes
3. Crème mousseline: 1 hour to allow the butter to soften at room temperature, 15 minutes to make the cream
Equipment required:
small heavy-bottomed pan
medium pan
non-stick pan
bowl for the cream
bowl to mix butter and praliné
whisk
mixer
candy thermometer (optional)
baking sheet
silpat mat or baking paper
wooden spatula
pastry bag with plain and star tip nozzles
mixing glass or any kind of tall glass
cling film
cooling rack
standup mixer (optional)
fine mesh sieve
Paris-Brest
Original recipe in metric. Servings: 6 small Paris-Brest
Pâte à Choux Ingredients
1/3 cup (80 ml) water
6 tablespoons plus 2 teaspoons (100 ml) whole milk
1/3 teaspoon (2 gm) salt
1 teaspoon (4 gm) caster sugar
1/3 cup (80 ml) (2-2/3 oz) (75 gm) cold butter
¾ cup plus 4 teaspoons (200 ml) (3.5 oz) (100 gm) cake flour
3 medium eggs, beaten
two handfuls of slivered almonds
egg for the brushing
Directions:
1. Preheat oven to moderate 350°F/180° C/gas mark 4 and sift the flour.
2. In a nonstick saucepan pour in the milk, water, sugar and salt. Add the butter in small pieces and put on medium heat. Stir with a wooden spoon and bring to a boil. Add the flour in one shot to the boiling liquid. Stir vigorously with a wooden spatula. Cook on the stove on a very low heat for a few minutes, until the dough becomes firm, smooth and homogeneous. The dough must be dry and detach from the bottom of the pan easily.
3. If you have a standup mixer pour the mixture into its bowl. With the K beater stir the mixture on low speed for a few minutes, until it cools down a little. Add the eggs, one at a time, beating well on medium speed. Before adding the next egg make sure that everything is well blended. This way, the air will be incorporated into the dough and when baking it will make puff the Paris Brest which won't deflate out of the oven.
4. If you don't have a standup mixer proceed mixing the eggs directly in the pan where you cooked the dough, after allowing it to cool down. Work the egg with the wooden spatula until all the egg is incorporated before adding the next one. The dough should be smooth, like a thick cream.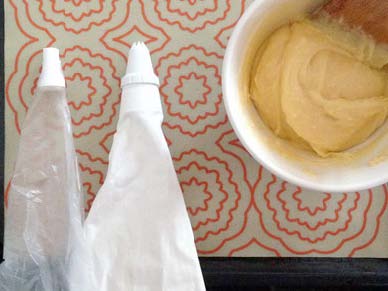 5. Cover the baking sheets with baking paper or a silpat mat. If you use baking paper you can trace some circles of 4¾ -inches (12 cm) to help you out piping the circles. I use a silpat mat that already is specially designed to help out piping, that could be helpful too. To pipe the Paris-Brest use a pastry bag with a 3/8-inch (10 mm) plain nozzle and pipe two circles, the outer one of the diameter of the circle you drew. Pipe a third circle on top, using the star-shaped nozzle. If you don't have one use a fork to trace some lines on its surface, this will help the choux pastry to rise properly. Brush with the beaten egg and sprinkle with slivered almonds.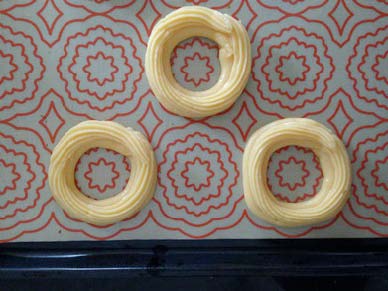 6. Bake in a moderate oven 350°F/180° C/gas mark 4 for about 23-25 minutes, in a static oven. To get rid of any moisture in the oven you can keep the door slightly open. This way the dough will dry out completely during baking. The Paris-Brest should be golden brown, with a uniform color. Let cool completely on a rack before slicing and piping with the crème mousseline.
Praliné Ingredients
1/3 cup (80 ml) (2 oz) (60 gm) whole almonds
1/3 cup (80 ml) (2 oz) (60 gm) whole hazelnuts
6 tablespoons (2¾ oz) (80 gm) caster sugar
1 tablespoon (15 ml) water
Directions:
1. Put the sugar into a non-stick pan, over medium heat. Add water and bring to a boil.
2. When the sugar reaches 250°F/121° C (without thermometer you will need to reach the stage at which the sugar begins to boil and the syrup starts to become more and more dense), add the nuts all at once. Mix well with a wooden spoon to coat all the nuts in the sugar. At this point, the sugar will start to sand, i.e. crystallize again. Continue to stir. The sugar will melt a second time, this time caramelizing.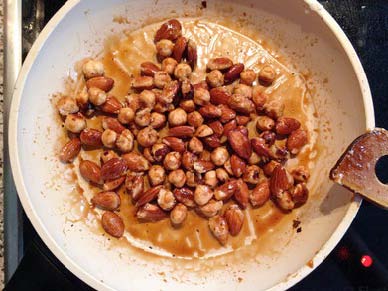 3. Once all the nuts caramelize, remove the pan from the heat.
Pour the entire contents of the pan on a heat-resistant silicone mat or on a marble slab lightly oiled with vegetable oil.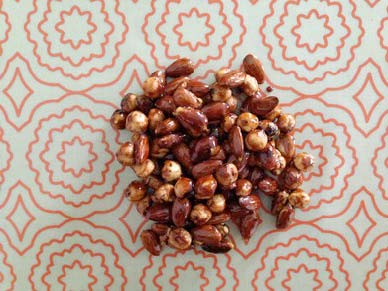 4. Let cool completely. Break into smaller pieces and grind with a mixer until you have a thick paste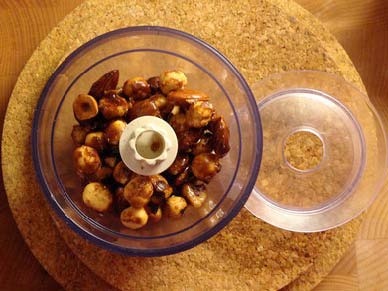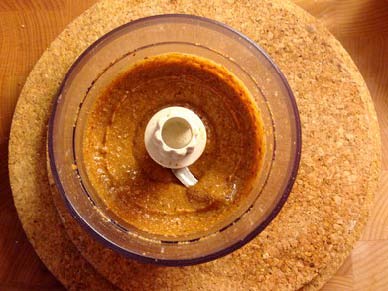 Crème Mousseline Ingredients
1 cup (250 ml) whole milk
2 egg yolks
¼ cup (60 ml) (2 oz) (55 gm) caster (superfine) sugar
3 tablespoon (45 ml) (2/3 oz) (20 gm) cake flour, sieved
½ cup plus 1 tablespoon (135 ml) ( (4.4 oz) (125 gm) European-style butter, made from cream, with 83% fat content
3 oz (80 gm) praliné
1 vanilla pod, sliced open length wise
Directions:
1. In a small saucepan bring the milk to a boil with the vanilla pod. Put aside and let cool for about 10 minutes. In a bowl whisk the eggs yolks and sugar until they become white.
2. Add the flour and whisk until all mixed through.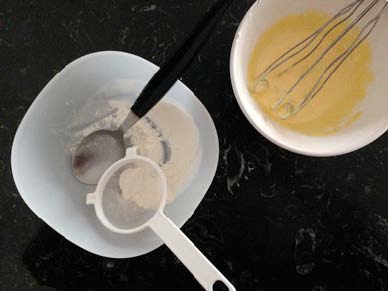 3. Mix half of the milk in the egg, until all uniform. Pout into a small pan and put on medium heat. Cook until the cream thickens, stirring the cream continuously. When thick transfer into a bowl and cover with cling film touching the cream. Let cool.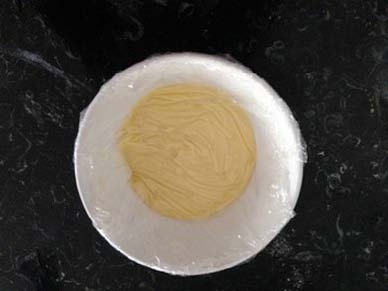 4. In a bowl mix the softened butter with the praliné. Add to the cooled cream until homogeneous.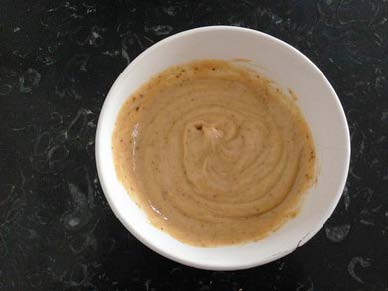 Storage & Freezing Instructions/Tips:
The baked Paris-Brest can be kept for several days in an airtight tin or can be frozen. The cream must be eaten on the same day, due to its un-pasteurized egg content. The praliné keeps several weeks, stored in a glass jar in the fridge.