Crispy parmesan roasted cauliflower is the appetizer or side dish you've been searching for. I have to say - this is one of the most delicious roasted cauliflower recipes ever. Each bite is better than the next! Did I mention it only takes about 30 minutes to make?!
The Easiest Parmesan Roasted Cauliflower Recipe
I love roasted veggies. There are so many ways to make them. The best part? They are full of vitamins and all the healthy nutrients you need.
Italian food is also one of my favorite cuisines. Anything with parmesan cheese, I absolutely adore. This cheese has so much flavor that you barely need to pair it with much else. Thinking about classic eggplant parmesan and chicken parmesan, I became curious about how I could make a similar, vegetarian version!
Using parmesan, garlic powder, and olive oil, I was able to do just that! You will be surprised - there is no tomato sauce in this dish. That's because I wanted to make it a little simpler and easier to eat. It also cuts the recipe time in half!
This roasted cauliflower recipe is great for any time of the week. You can enjoy the cauliflower florets as a side dish or pair them with a yummy dip or sauce (like pesto!) I love eating these parmesan roasted bites with any of my favorite Italian entrees too.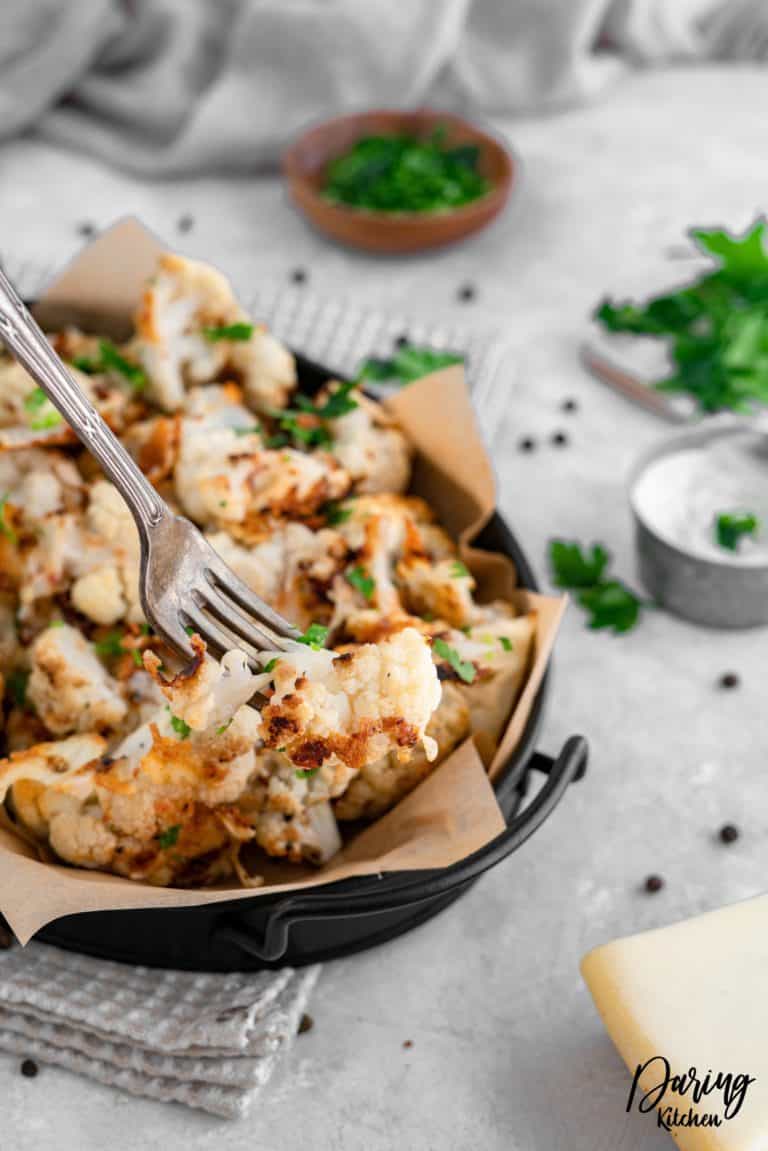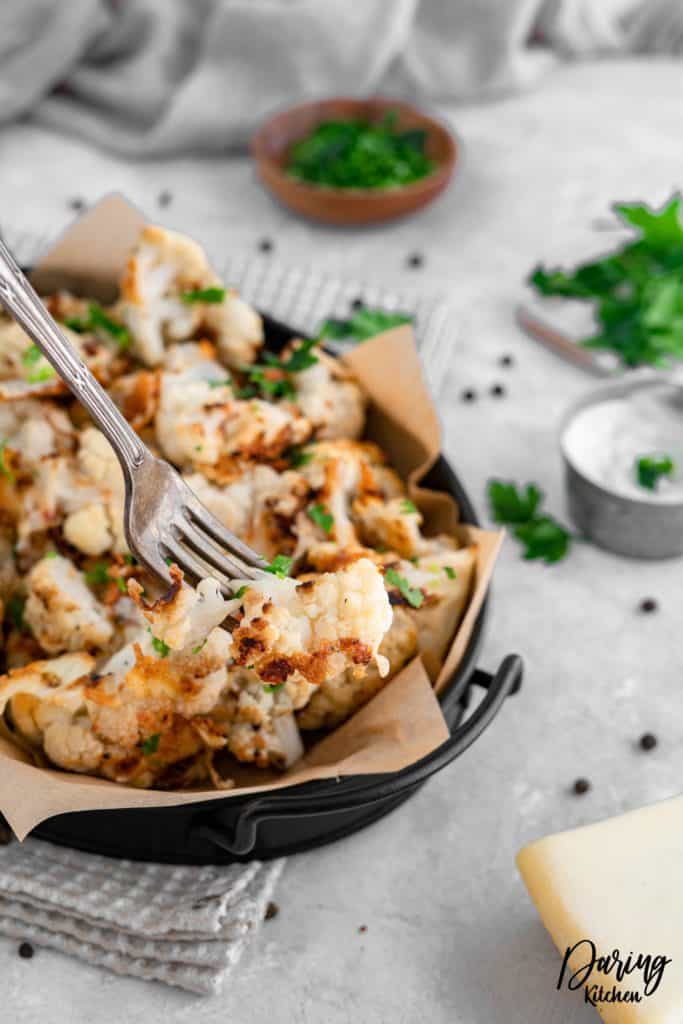 Why I Love Parmesan Roasted Cauliflower
I could go on and on about why cauliflower is such a delicious vegetable. It is chock full of so many nutrients too... it's hard not to adore it!
It is probably my favorite vegetable to bake. I swear, something magical happens when you roast cauliflower. It becomes golden, crisp, and delicious. Plus, roasting cauliflower is incredibly easy. All you need is a preheated oven, baking sheet pan, and some olive oil.
But, when you top cauliflower with parmesan and Italian seasoning, this roasted cauliflower transforms into something even more delicious. Add in some bread crumbs and watch your tastebuds explode!
The reason this is the best-roasted cauliflower recipe is because of freshly grated parmesan cheese. This makes the whole difference. The flavors are the most potent when parmesan cheese is freshly grated. It makes each bite more delicious than the next.
Ingredients in Parmesan Roasted Cauliflower
This parmesan roasted cauliflower only has 6 ingredients - that's it! Every ingredient is vegetarian and gluten free. That's what makes this dish recipe so stellar.
Let's break the ingredients down!
1 cauliflower head - You will need the whole head for this recipe. Trust me, cauliflower florets go fast!
parmesan cheese - It is super important that you use freshly grated parmesan cheese to get the best flavor.
chili flakes - These add a little heat to the veggies. You can omit them if you like
garlic powder - This is at the center of your Italian seasonings. I can't think of a parmesan without garlic!
kosher salt - You only need a little, as parmesan cheese adds a ton of salty flavor already. You can also add black pepper if you like, but I do not find it necessary.
chopped parsley - This adds color and freshness to this dish, Italian style!
Non stick cooking spray or olive oil - To ensure your cauliflower doesn't stick, you need to use oil on your sheet pan. If you aren't too worried about nutrition facts, drizzling olive oil on your cauliflower will make it more crispy and golden.
All of these ingredients are super easy to find in your local grocery stores. If you like, you can also add panko bread crumbs to this dish too. I love how the breadcrumbs add a little more crunch to the entire dish.
When it comes to tools and appliances, you really only need an oven and a prepared baking sheet, lined with parchment paper. I suggest also spraying your sheet with cooking oil or rub it with olive oil. The goal is for your roasted cauliflower NOT to stick.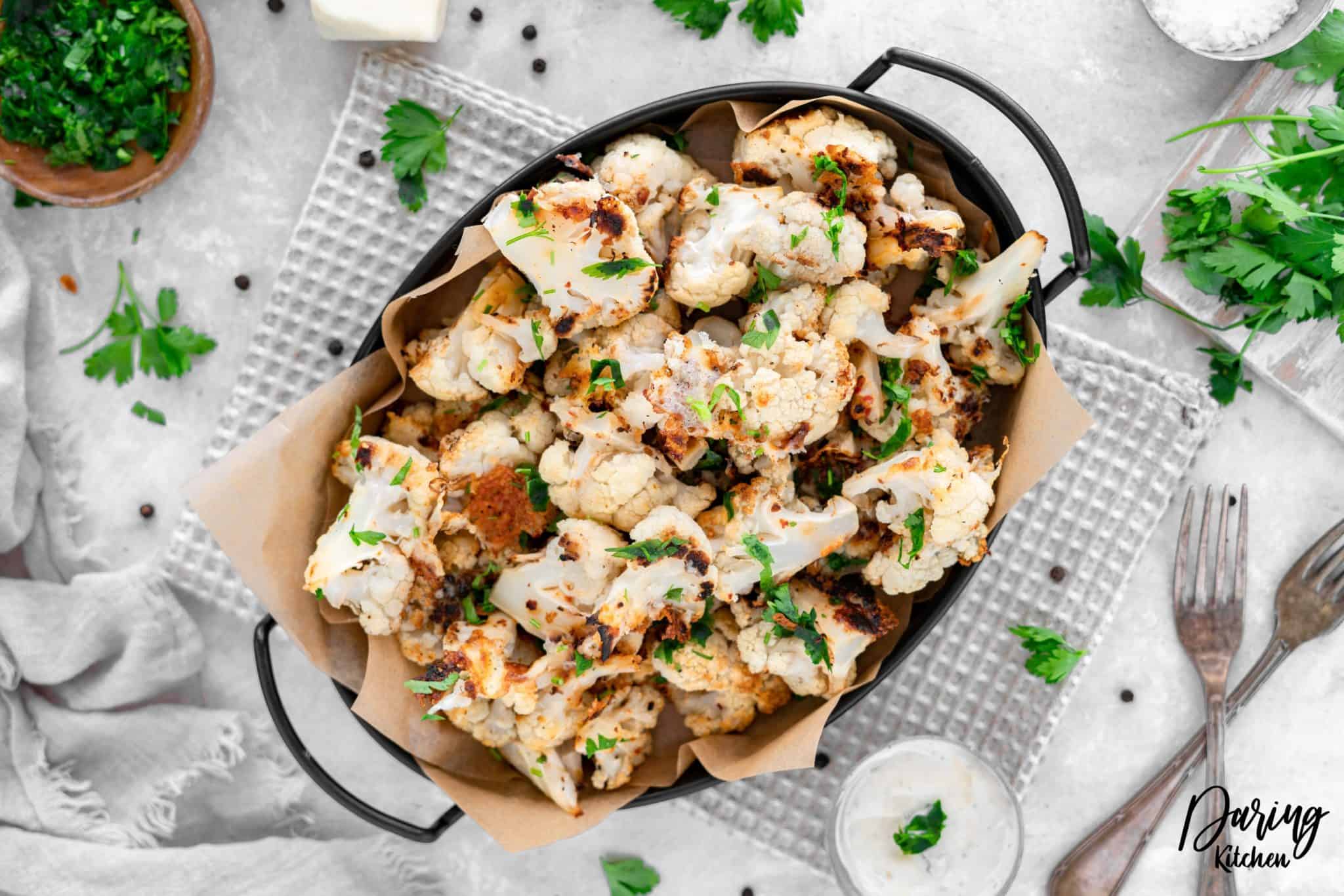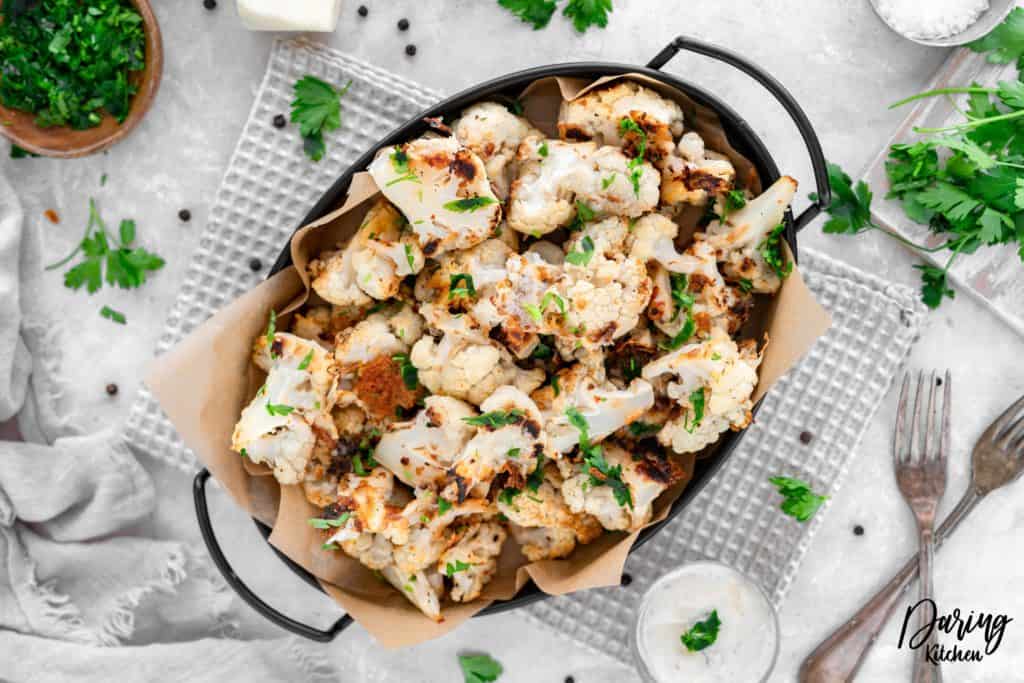 How to Make Parmesan Roasted Cauliflower
You have your ingredients and your appliances - you're now ready to roll! Set your timers - this parmesan roasted cauliflower dish will take you no more than 35 minutes.
First, preheat your oven to 425 degrees Fahrenheit. While you wait, prep your baking sheet. Line it with parchment paper. Then, grate your parmesan. You will need a cup grated parmesan cheese.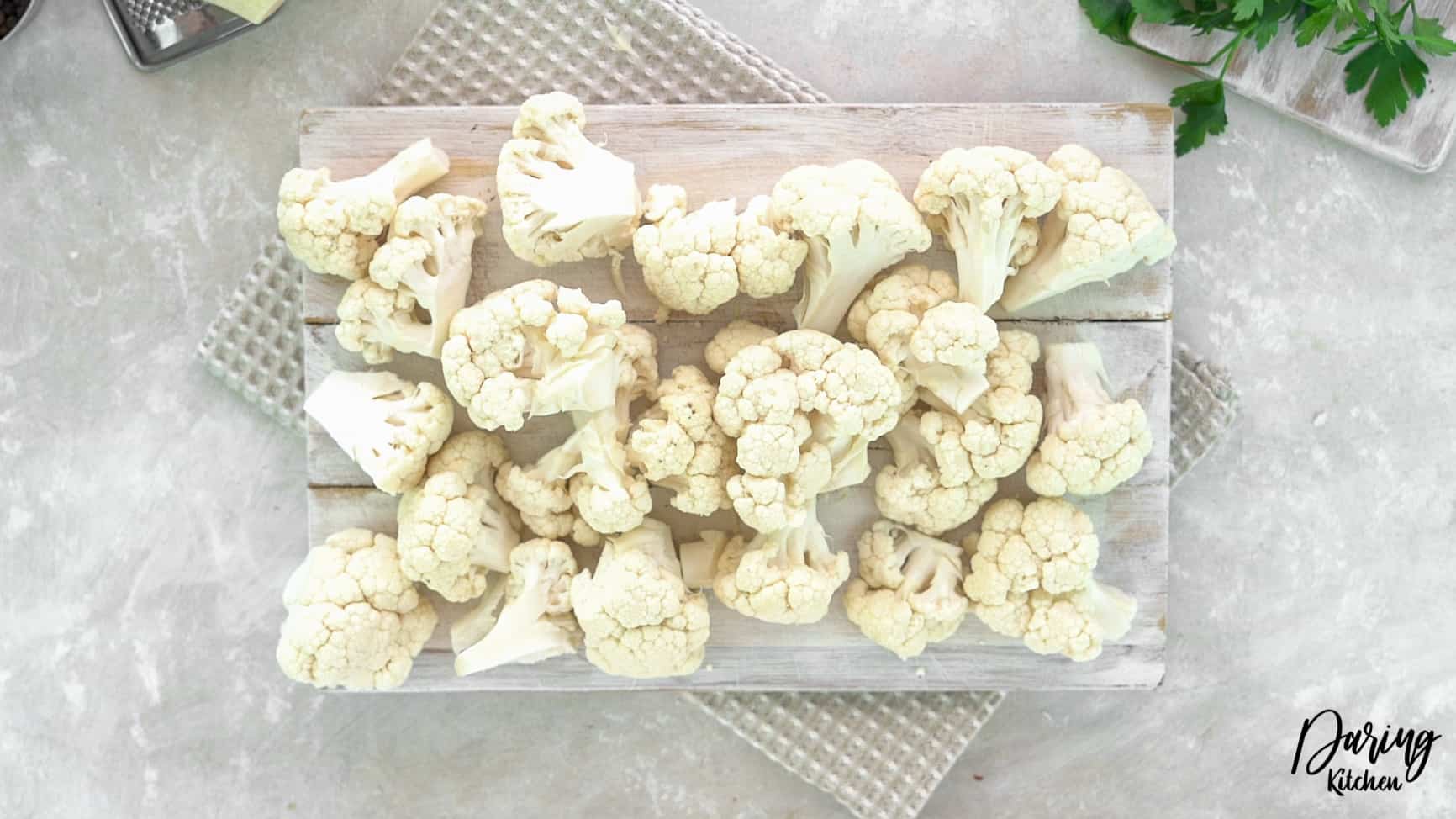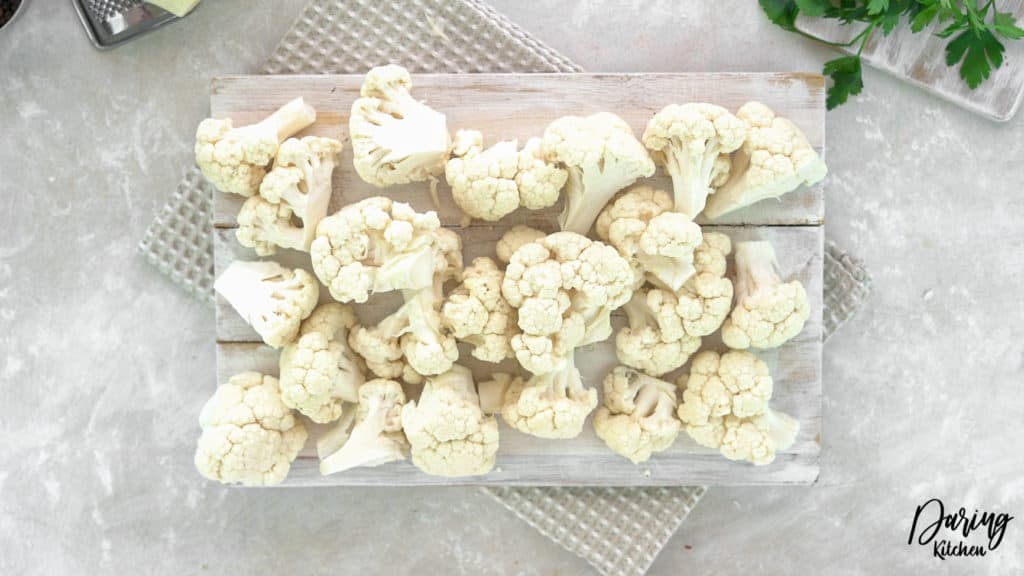 Now, prep your cauliflower. Using a cutting board, remove the core of your cauliflower. Then, chop the whole head into bite-sized florets. Scatter the florets on a baking sheet evenly, coating them with cooking spray or olive oil.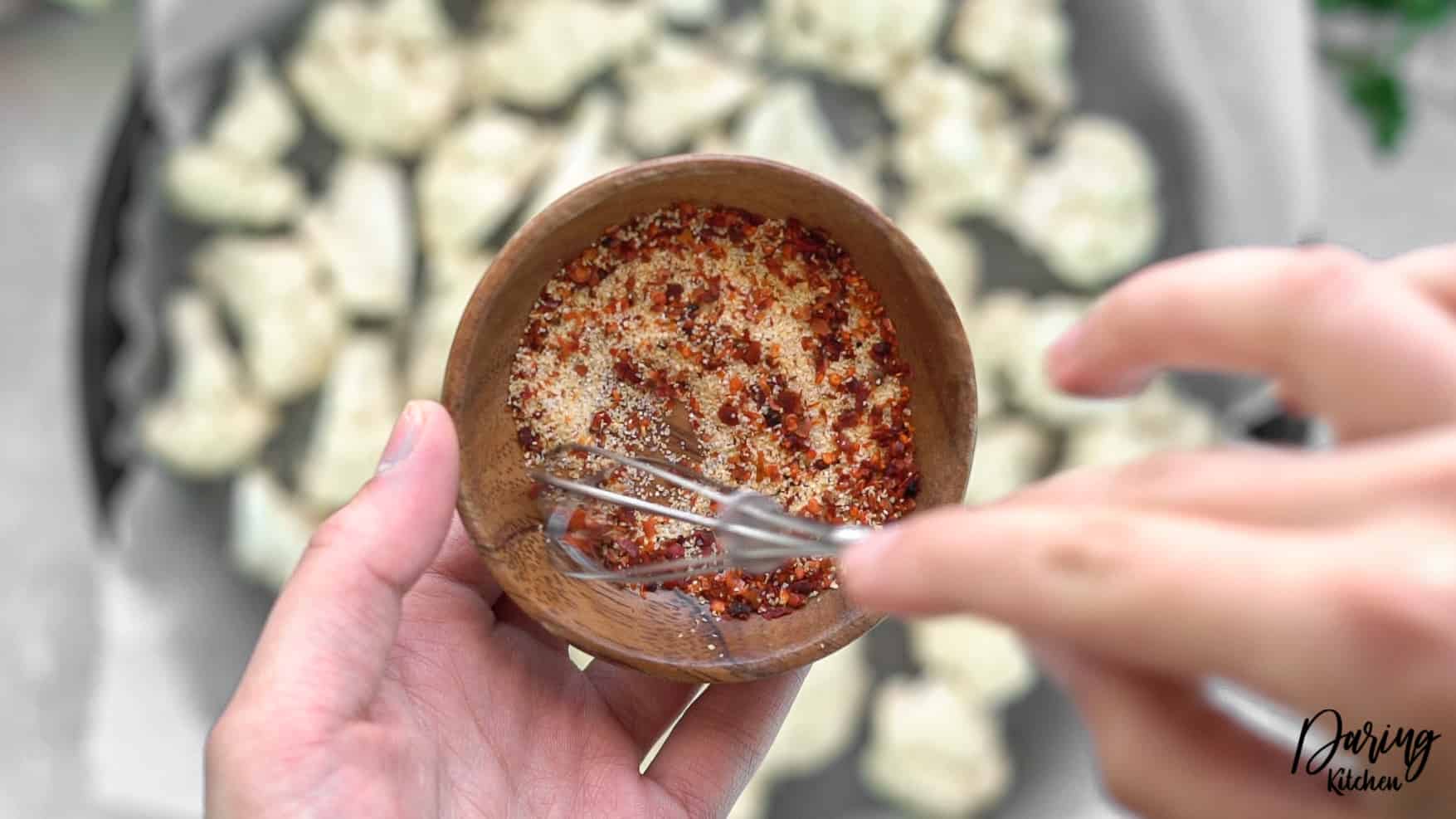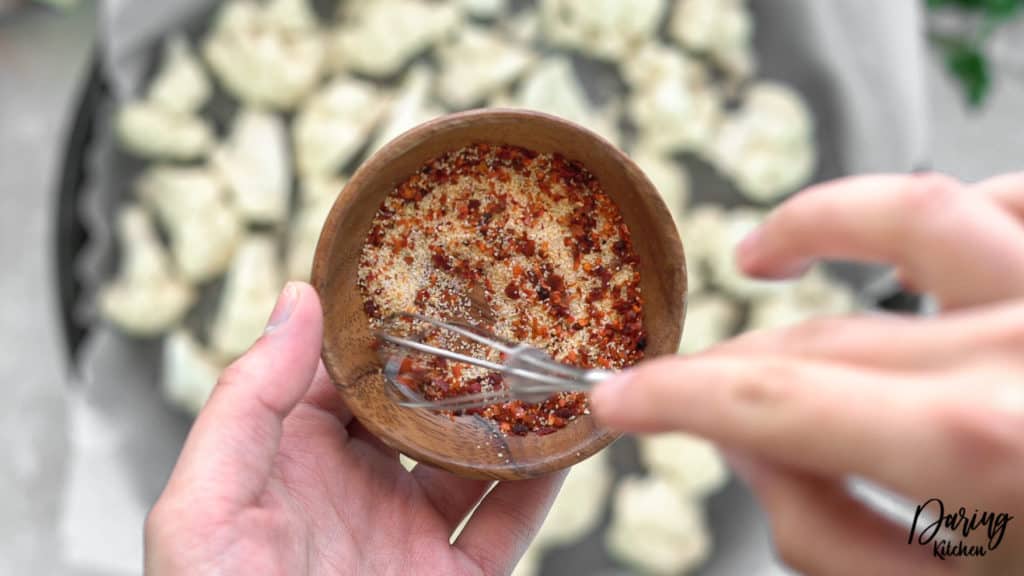 Time to prep your seasonings. On a plate, mix your chili, garlic, and salt together. Make sure everything is mixed evenly. Then, sprinkle it over your florets. Now, it's time to sprinkle your cauliflower in delicious parmesan cheese. Make sure all the florets about the same amount of cheese.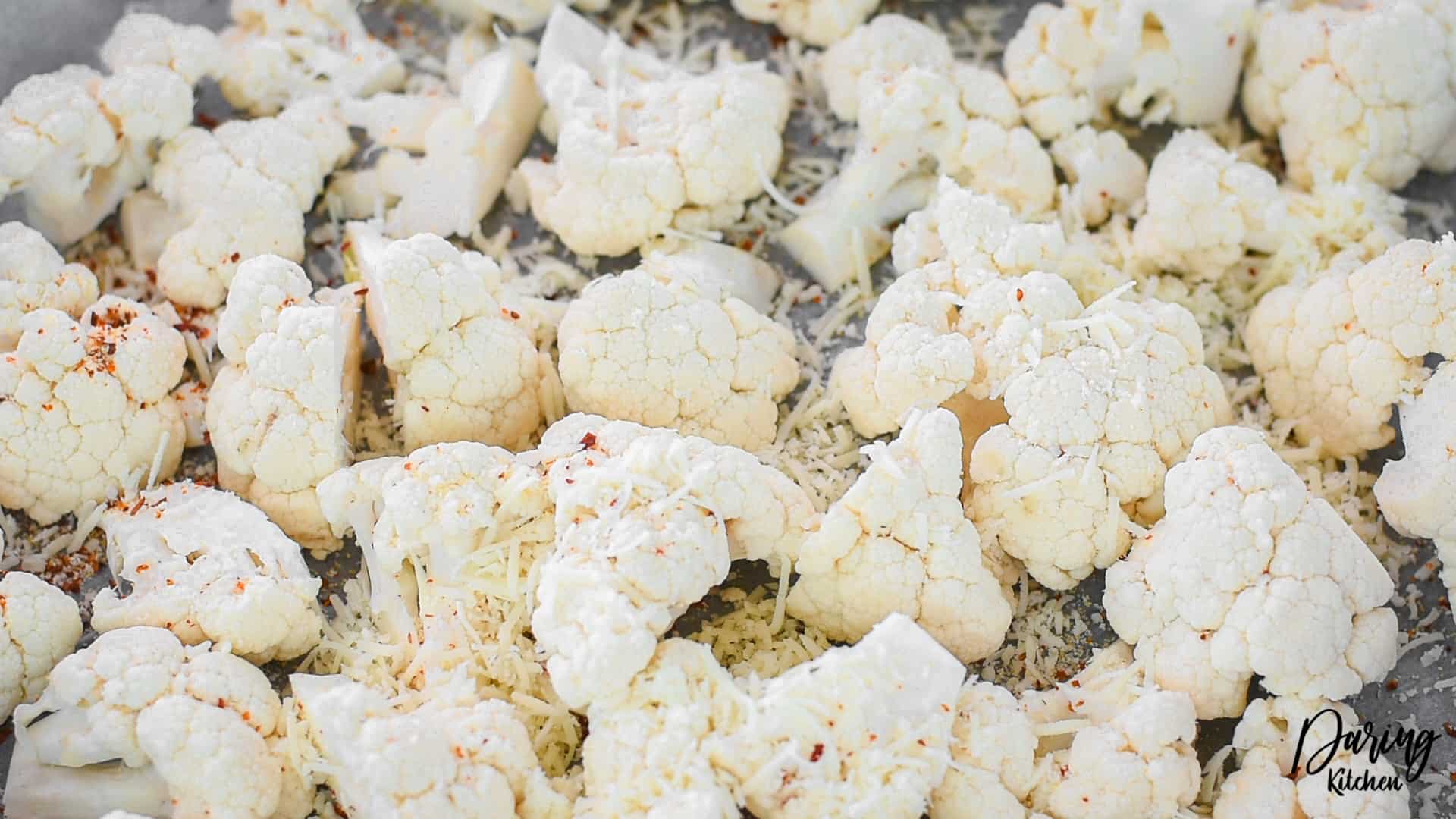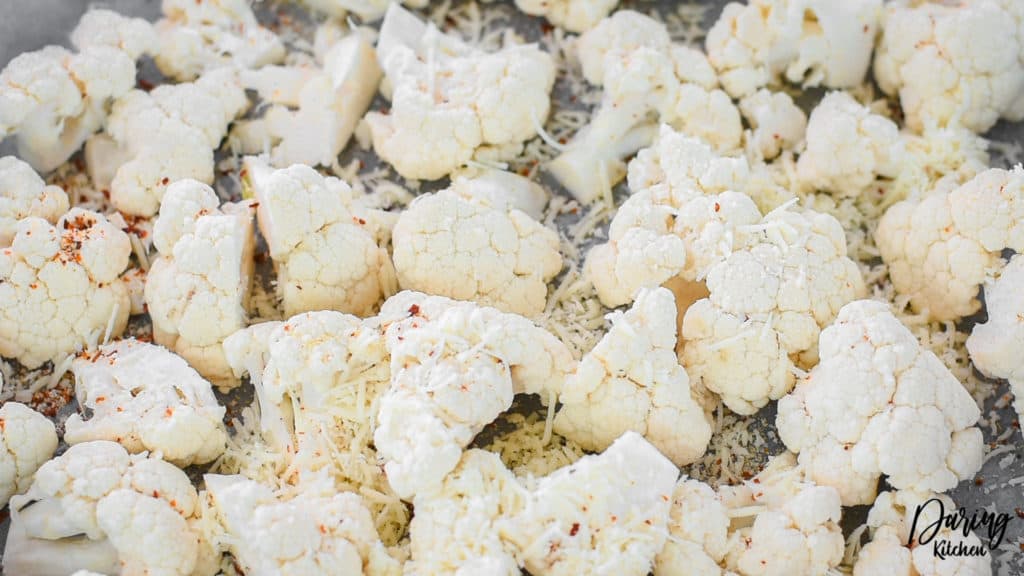 Bake your cauliflower for 25 to 30 minutes. Around 15 minutes, mix up your cauliflower so that they brown evenly and do not stick.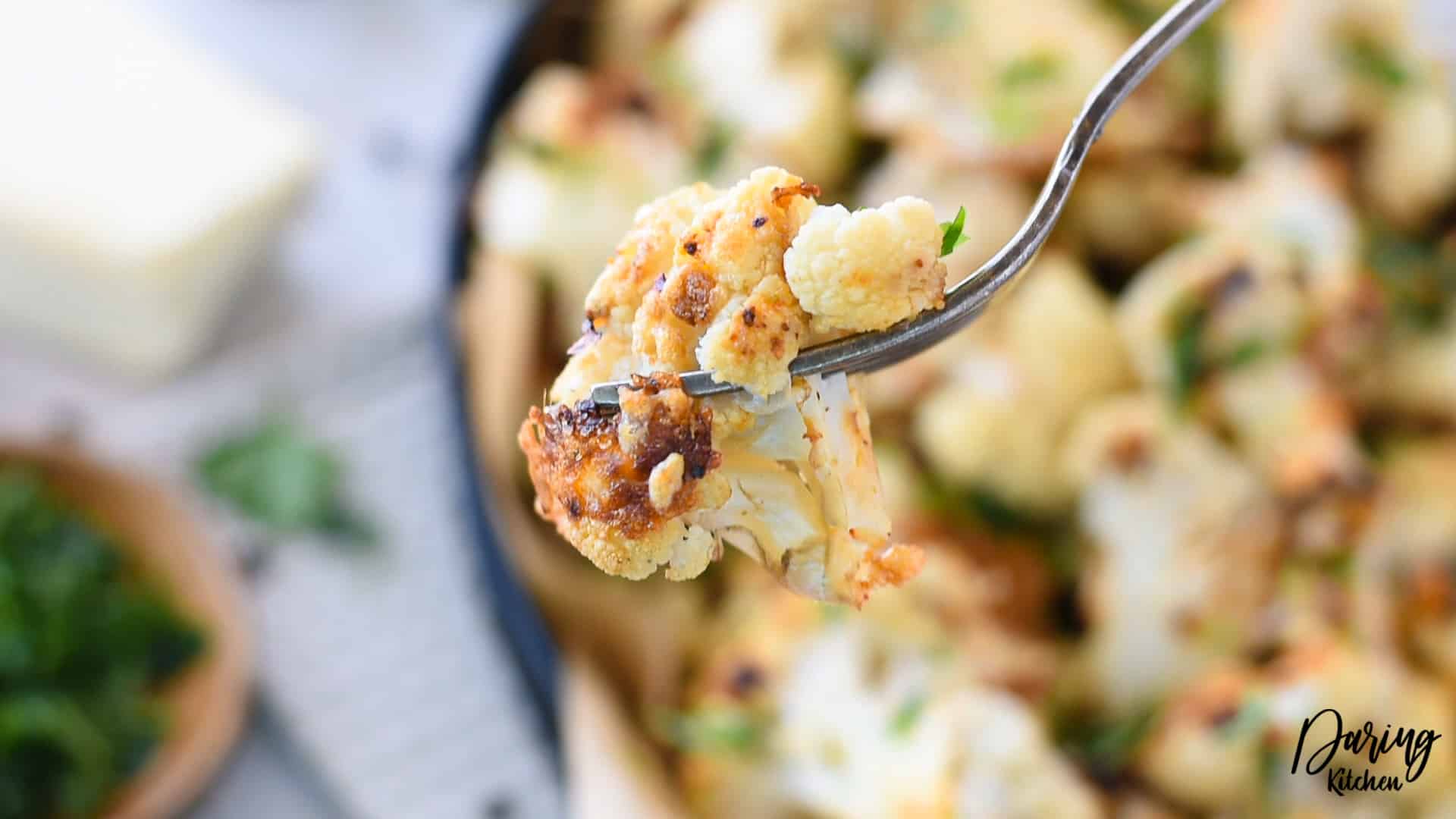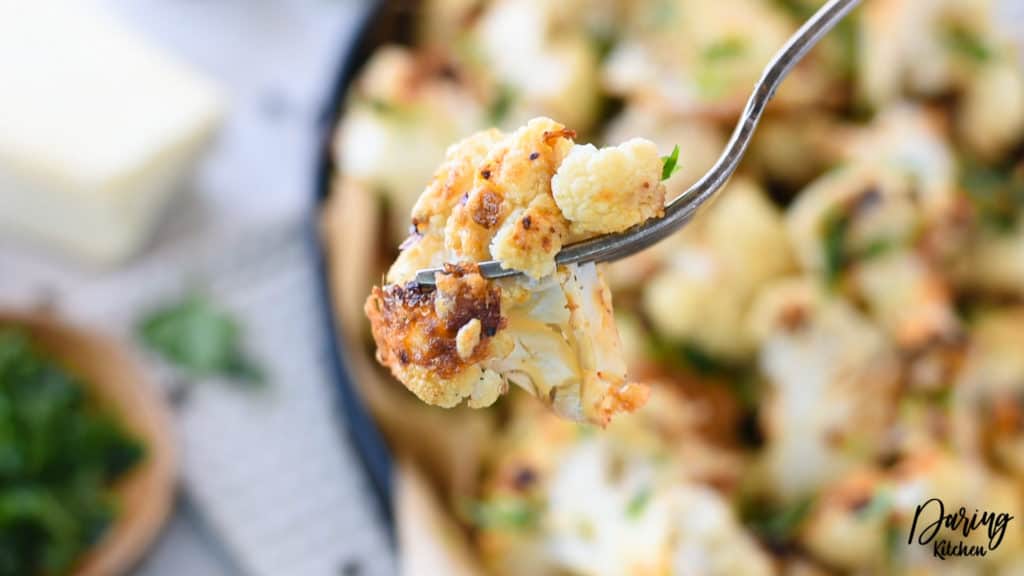 Your veggies are done when the florets are tender and golden brown.
Serve your parmesan roasted cauliflower in a long bowl, garnished with an abundant amount of parsley. Eat it as a side dish with your favorite dip or to accompany an awesome main course.
Do you love cauliflower and Italian food like I do? Then, please let me know all your thoughts on this recipe in the comments below!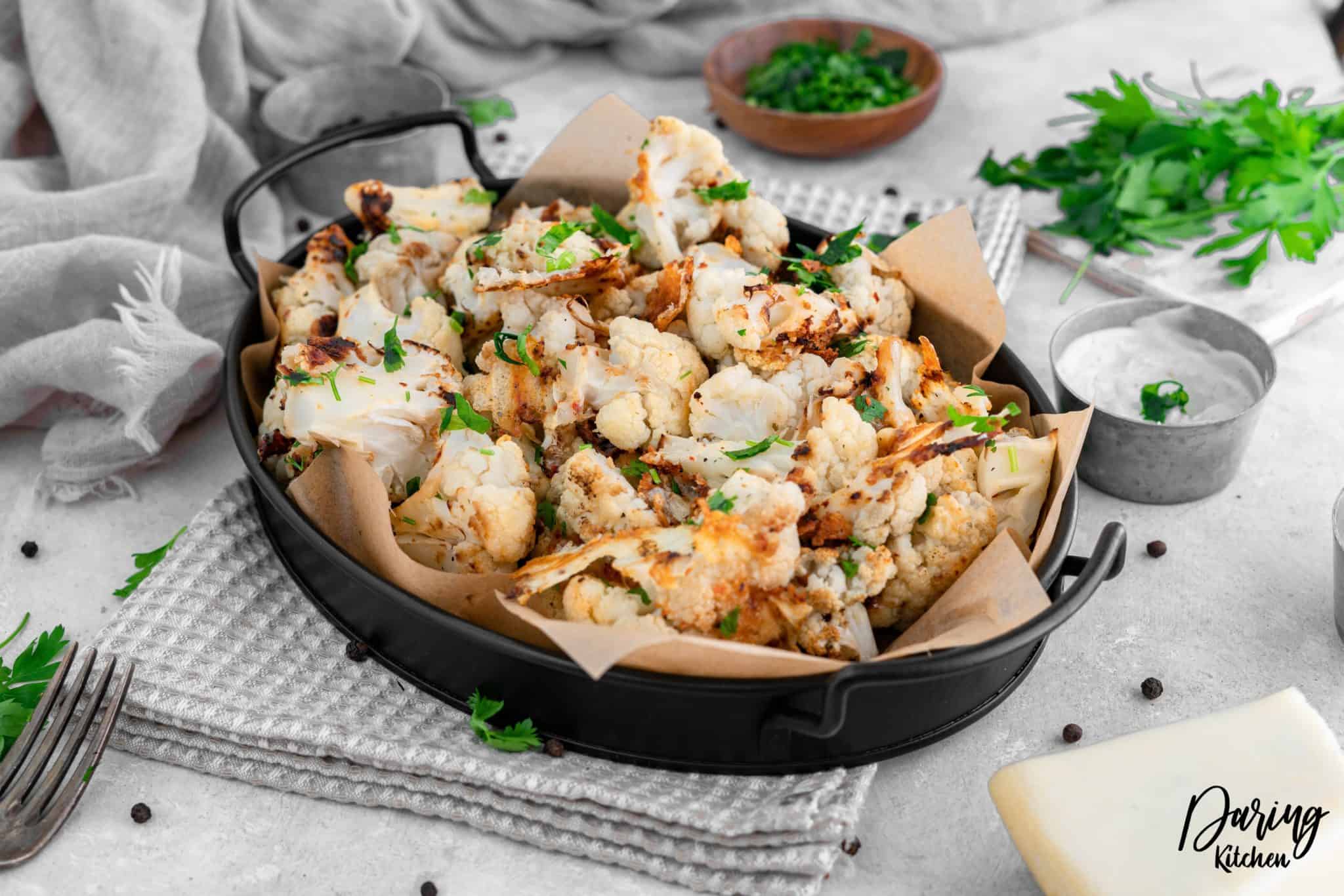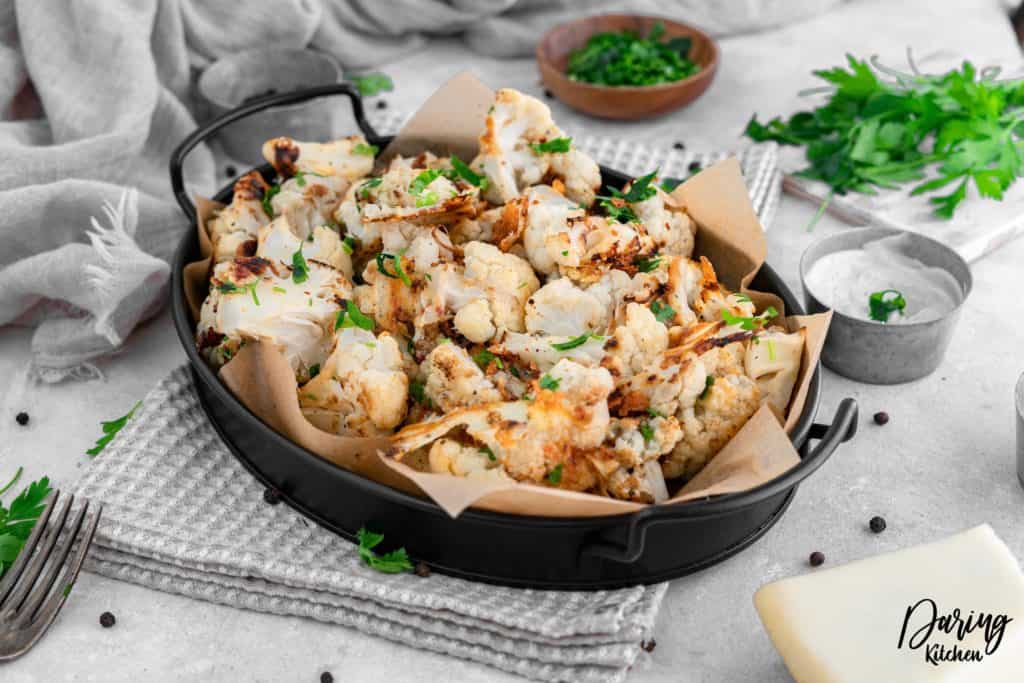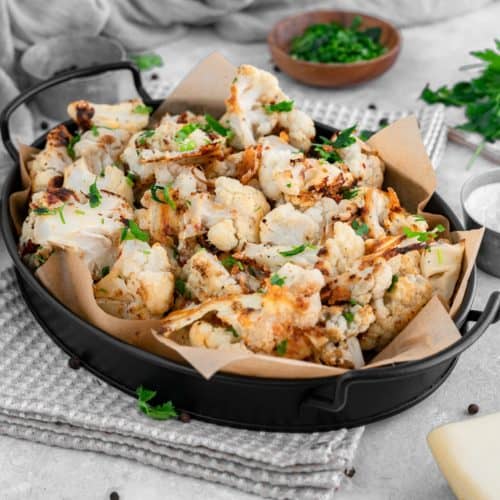 Parmesan roasted cauliflower
Golden, crispy, and unbeatably delicious, these parmesan roasted cauliflower bites will have everyone hooked!
Print
Pin
Rate
Equipment
Parchment Paper

Baking sheet

Knife

Oil Spray
Ingredients
1

medium cauliflower head

(about 17- 20 oz. )

½

cup

freshly grated parmesan

( 2oz.)

1

tsp

chili flakes

1

tsp

garlic powder

½

tsp

salt

1

tbsp

fresh chopped parsley
Instructions
Preheat oven to 425 Fahrenheit. Line a baking sheet with parchment paper, set aside.

Remove the core of the cauliflower head, and cut it into bite-size florets.

Transfer them into the lined baking sheet, and spray with oil.

In a small plate, mix the chili flakes, garlic powder and salt together. Sprinkle on the cauliflower.

Evenly sprinkle the parmesan cheese as well

Bake for 25-30 minutes total, taking out the tray and mixing the cauliflower halfway through.

The cauliflower is done when the florets are tender, but crispy and golden on the outside

Garnish with freshly chopped parsley, and serve with your favorite dip!
Nutrition
Calories:
159
kcal
|
Carbohydrates:
32
g
|
Protein:
12
g
|
Fat:
2
g
|
Saturated Fat:
1
g
|
Sodium:
1370
mg
|
Potassium:
1794
mg
|
Fiber:
12
g
|
Sugar:
11
g
|
Vitamin A:
593
IU
|
Vitamin C:
277
mg
|
Calcium:
136
mg
|
Iron:
3
mg