Pea and Pistachio Cake - Vibrant, moist, and delicious! This cake is The ground pistachios offer an exquisite nutty flavor that complements the green peas in this light and moist cake. The sweet cream cheese frosting provides a delicious contrast. You'll be amazed at just how good this cake tastes until you try it for yourself.
Is there anything better than a slice of cake? Especially one that's made with fresh, seasonal ingredients and is packed full of flavor. This pea and pistachio cake is the perfect example. The sweetness of the peas is offset by the salty pistachios, making for a delicious, well-balanced dessert.
The cake itself is light and moist, with a delicate crumb. It's not overly sweet, so the frosting really takes it to the next level. The cream cheese frosting is rich and velvety, and it pairs perfectly with the nutty flavors of the cake.
If you're looking for a delectable dessert that's sure to impress, look no further than this pea and pistachio cake. Trust me; it's worth every minute of prep time.
Why You'll Love This Pea And Pistachio Cake Recipe
Unique-

Pistachios and peas are uncommon, but they go great together. The pistachio's distinctive earthy flavor compliments the sweetness of the peas, and the cream cheese frosting ties it all together.

Colorful–

Pistachios contribute to the green hue of this cake, but it's the peas that give it its beautiful vibrant color.

Simple–

Although it might seem like something you'd only get at a high-end bakery, it doesn't require any special equipment and the ingredients are easy to find, making this lovely eye-catching cake easy to make at home.

Delicious-

I know what you're thinking- a pea and pistachio cake? That sounds strange. But trust me when I say that this cake is absolutely amazing.
Equipment Needed To Make Pistachio Cake
Two 9-Inch Cake Pans

Parchment Paper

Food Blender

Two Mixing Bowls

Whisk

Piping Bags

Spatula

Measuring Cups

Measuring Spoons

Cake Plate

Ingredients For Your Sweet Pea And Pistachio Cake
Cake:
Peas

Buttermilk

Butter

Vanilla or Lemon Extract

Sugar

Eggs

All-Purpose Flour

Baking Powder

Pistachios
Frosting:
Cream Cheese

Heavy Cream

Powdered Sugar

Food Color Gel - Optional

How To Make Pea And Pistachio Cake
Begin making the cake batter while the oven is preheating. Blend cooked peas and buttermilk in a food blender. In a mixing bowl, combine butter and sugar, then add the pea mixture. Stir in dry ingredients until everything is well combined, then divide the batter between the prepared cake pans and bake.
In a medium mixing bowl, combine all of the frosting ingredients and thoroughly mix all ingredients until you have a creamy frosting. Take about ¼ of the frosting and divide to add food coloring and store in piping bags to decorate later.
After baking, allow it to cool. When the cake has cooled completely, begin to assemble it. Top one sponge cake with frosting and place another sponge cake on top of the frosting. Cover the whole cake with frosting and decorate as desired. Create colorful designs on top of the cake using colored frosting set aside earlier. Serve and enjoy!
What to Serve/Pair with Pistachio And Pea Cake?
This cake is perfect for Springtime gatherings, Easter celebrations, or any time you're looking for a show-stopping dessert. It's also an excellent choice for those who are looking for something a little different. Serve it with a glass of cold milk or a cup of hot tea, and you'll be in for a real treat.
If you're looking to really impress your guests, try pairing this cake with a glass of sparkling wine or champagne. The sweetness of the cake will perfectly offset the acidity of the wine, making for a truly heavenly experience. So whether you're serving it up at a party or enjoying it as an after-dinner treat, this pea and pistachio cake is sure to please.

Popular Substitutions & Additions 
If you're not a fan of cream cheese frosting, feel free to substitute it with your favorite frosting recipe. Vanilla, chocolate, or pistachio are all great choices.

Add chopped pistachios to the cake batter for an extra nutty flavor and crunch.

Try using green food coloring in the frosting; this will give the cake an even more vibrant color.

To make a 3-tier cake, prepare three 6-inch cake pans. The cooking time and ingredients will not differ.

Vanilla or lemon extract can be replaced with almond extract or maple syrup.
How To Reheat & Store Pistachio Cake
What Is The Best Way To Store Sweet Pea And Pistachio Cake?
An airtight container is the best storage choice for this pea and pistachio cake. This sweet pea cake will last up to three days if stored at room temperature.
How Long Will Pea And Pistachio Cake Last In the Fridge?
Pistachio cake may be kept in the refrigerator for up to 6 days if stored correctly in an airtight container.
Can I Freeze Pistachio Cake?
Yes. To freeze, wrap the pea and pistachio cake in plastic wrap, then store it in an airtight container for up to three months in the freezer.
How To Reheat Pistachio And Sweet Pea And Pistachio Cake?
This pea and pistachio cake is best served chilled or at room temperature. To defrost frozen cake, leave it in the fridge overnight to thaw.

Pea And Pistachio Cake FAQs
Do I use salted pistachios for this cake?
You may use either salted or unsalted pistachios for this cake. I prefer to use salted pistachios because they add more flavor without overpowering the sweetness of this dessert.
Do I have to use food coloring gel for this cake recipe?
The food color gel is entirely optional. It's used to create a more visually appealing cake, but it will still taste great without it!
Can I still make this pea and pistachio if I don't have buttermilk?
Of course! If you don't have buttermilk, you can make your own by adding ½ tablespoon of vinegar or lemon juice to ½ cup of milk and sitting for 5 minutes before using it in the recipe.
Is there a way to make this recipe without vanilla or lemon extract?
Yes. Almond is an excellent alternative if you don't have lemon or vanilla extract. Maple syrup is also a fantastic option.
Can I use a nut besides pistachios for this recipe?
No. I would not recommend it. The pistachios give this cake its unique flavor that can't be replicated with another nut.

Other Dessert Recipes You'll Love
Don't Forget To Come Back And Let Me Know How Your Sweet Pea And Pistachio Cake Turned Out!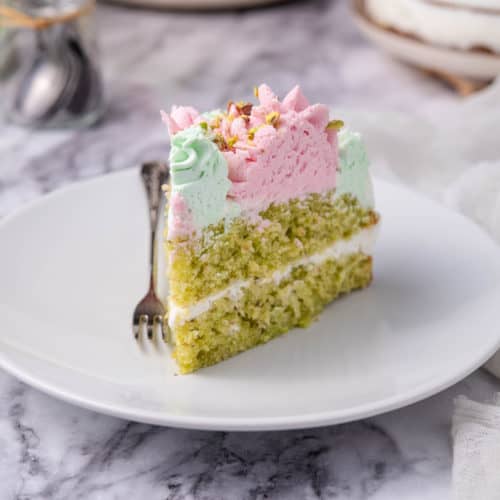 Pea and Pistachio Cake
A bright, moist sponge cake made from sweet peas and pistachios, topped with rich cream cheese frosting makes a dessert delectable enough for the record books!
Print
Pin
Rate
Ingredients
2

cups

cooked peas

½

cup

buttermilk

½

cup

butter

room temperature

1

tsp

vanilla or lemon extract

optional

1

cup

sugar

2

eggs

2

cups

all-purpose flour

1 ½

tsp

baking powder

¼

cup

ground pistachio nuts

12

oz.

cream cheese

¾

cup

heavy cream

½

cup

powdered sugar

Food color gel, red and green

optional for décor
Instructions
Preheat oven to 350F. Line 2 9-inch cake pans with parchment paper, and make sure to butter the sides of the pan.

In a food blender, add cooked peas and buttermilk.

Beat butter and sugar in a mixing bowl until fluffy. Add in eggs.

Fold in flour, baking powder, and ground pistachios.

Whisk until you have a smooth batter. Divide the batter between prepared cake pans.

Bake the cake sponge for 25-30 minutes or until cooked through. Make sure to rotate the pans halfway during the baking.

Once baked, cool the sponges completely before use. If they are warm, the cheese frosting will melt.

Make the frosting; beat cream cheese, heavy cream, and powdered sugar in a bowl.

Take around 5 tbsp of the mixture and color half of it with red, then the second part with the green food color.

Fill the piping bags with the colored cream cheese frosting and set them aside.

Place one sponge on a serving plate.

Top it with half of cream cheese frosting. Place the second piece of the sponge over the cream cheese.

Take the remaining cream cheese frosting to cover the cake entirely.

Pipe out the colored cream cheese frosting on top of the cake, making small rosettes or whatever you like.

Chill the cake for 1 hour before serving.
Nutrition
Calories:
670
kcal
|
Carbohydrates:
72
g
|
Protein:
13
g
|
Fat:
38
g
|
Saturated Fat:
22
g
|
Polyunsaturated Fat:
2
g
|
Monounsaturated Fat:
10
g
|
Trans Fat:
1
g
|
Cholesterol:
141
mg
|
Sodium:
344
mg
|
Potassium:
367
mg
|
Fiber:
5
g
|
Sugar:
37
g
|
Vitamin A:
1357
IU
|
Vitamin C:
1
mg
|
Calcium:
143
mg
|
Iron:
3
mg