Who doesn't love ice cream? Now, did you know you could enjoy ice cream without all the sugar, additives, and dairy? Yup! it's called banana nice cream. It's not only super delicious but incredibly easy to make! You only need 4 ingredients - that's it!
The Best Banana Nice Cream Recipe
I am an ice cream lover. It might be my favorite dessert. You can eat ice cream alone, with toppings, or as a side with more dessert!
Today, there are tons of vegan ice creams on the market. I think I might have tried them all. While there are some great ones out there, vegan ice creams aren't the most affordable desserts. Also, they're often filled with a TON of sugar.
So, I got to thinking - how can I make my own vegan ice cream? That's when I came across banana nice cream.
Nice cream is one of the greatest inventions. It's "nice" because it's healthy and easy on your tummy, as compared to traditional ice cream. More importantly, it only takes 4 ingredients to make!
Bananas are a miracle fruit. They are full of nutrients like potassium and vitamin B. More importantly, ripe bananas have the dreamiest consistency. Plus, something extremely wonderful happens when you freeze bananas...
With a handy food processor, frozen bananas become just like soft serve ice cream. It's pretty amazing! The best part is that you do not even need to add any sweeteners. The natural sugars in bananas are just enough to make your nice cream delicious.
I took this nice cream recipe a little further. I love peanut butter and banana together. It is one of the most nostalgic combinations! With a good dose of chocolate chips too, this nice cream will bring you straight back to childhood.
To be honest, I make this nice cream recipe super awesome. That's because it is an ice cream recipe everyone can enjoy. It's vegan, lactose-free, and gluten-free. Above all, it's straight-up delicious!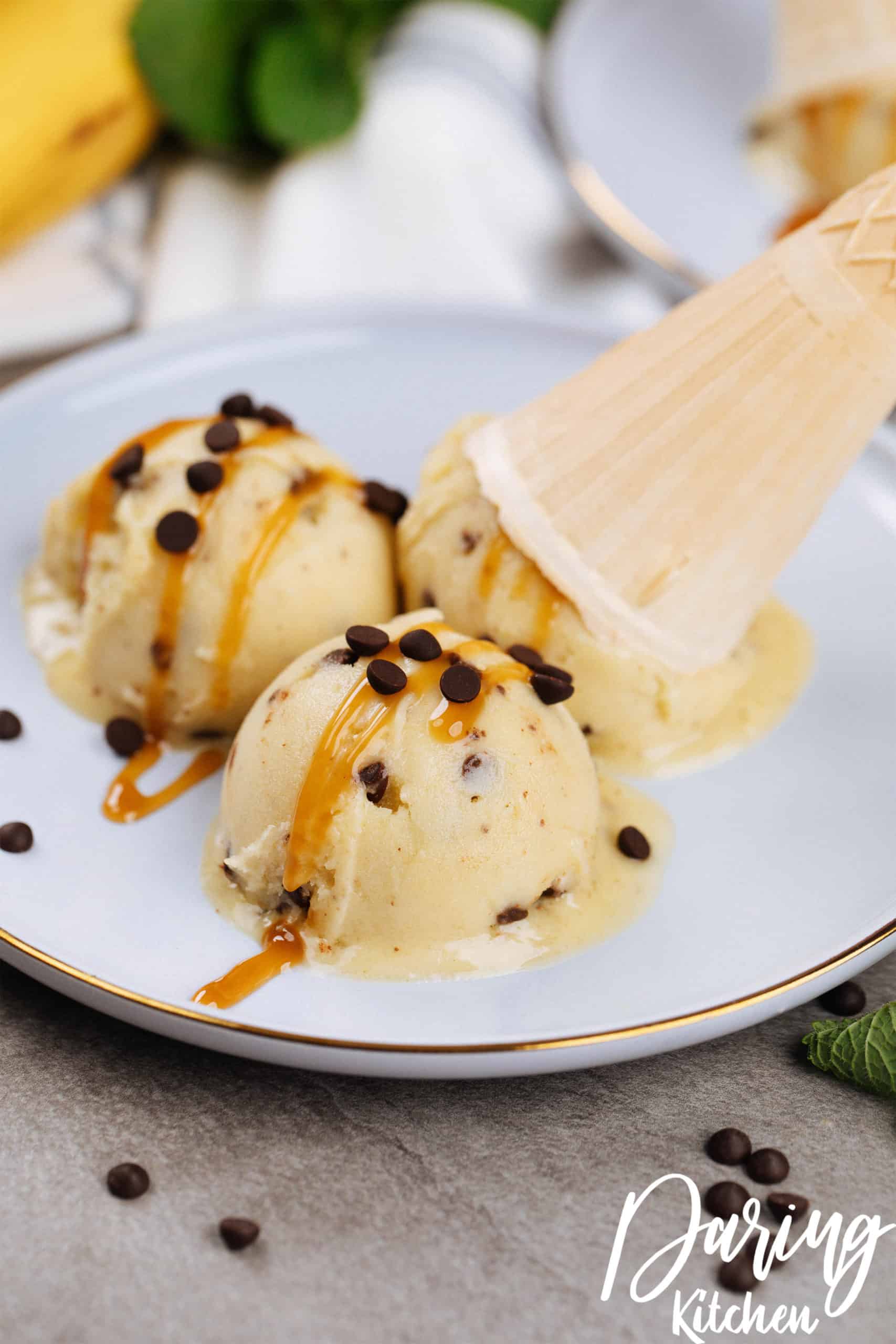 Banana Nice Cream Flavor Options Galore
Nice cream recipes are just so versatile. Once you have your base down (which is essentially just two parts: banana and plant milk,) you can have fun with the flavors. I added peanut butter and mini chips. But that's optional - especially if you or someone in your family has a nut allergy!
There are plenty of ways to flavor your nice cream! Here are a few of my suggestions:
Classic Vanilla: Add in a teaspoon of vanilla extract or vanilla bean paste
Berries and mint: Add your favorite frozen berries into the food processor, along with some mint.
Chocolate: Add two teaspoons of cocoa powder (and melted chocolate if you like!) along with your frozen bananas
Coconut: Add in a tablespoon of coconut flakes along with a teaspoon of coconut oil
No matter which you choose, you will create a dreamy nice cream with an incredible ice cream texture. You will not be disappointed!
How to Make Peanut Butter Banana Nice Cream
Making banana nice cream is very simple. You have 4 ingredients to work with (unless you add in more delicious flavors or toppings!) Whatever you choose, this ice cream recipe's prep time is very short. It also makes enough to serve 6 people!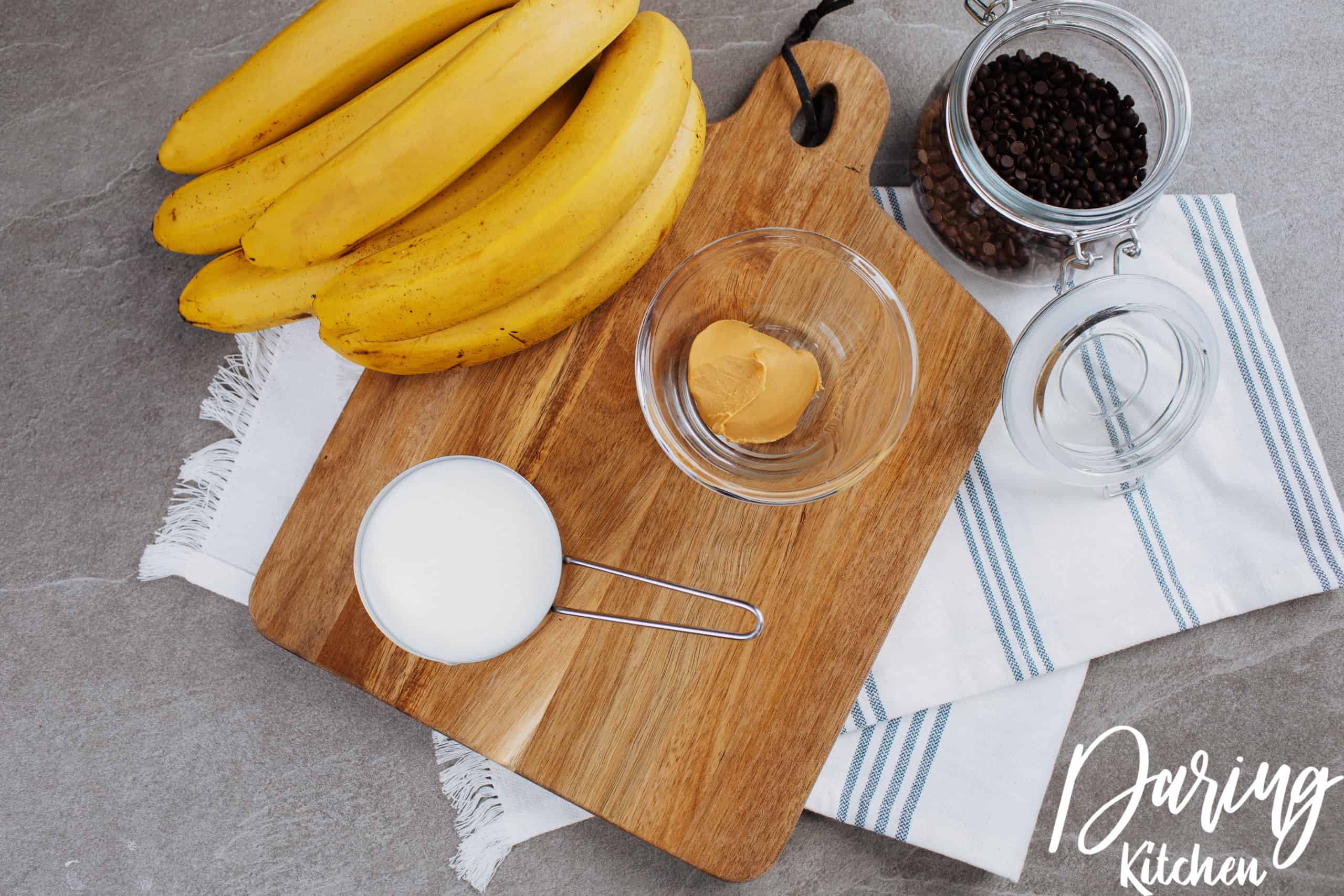 First, make sure you have ripe speckled bananas. The riper the banana, the more sweet your nice cream will be. If you use underripe bananas, the consistency will not be as smooth and the flavor will be more tart.
Peel and slice your bananas. Then, wrap them in plastic wrap or place in an airtight freezer bag. Put the bananas in the freezer for 1-2 hours, or until frozen.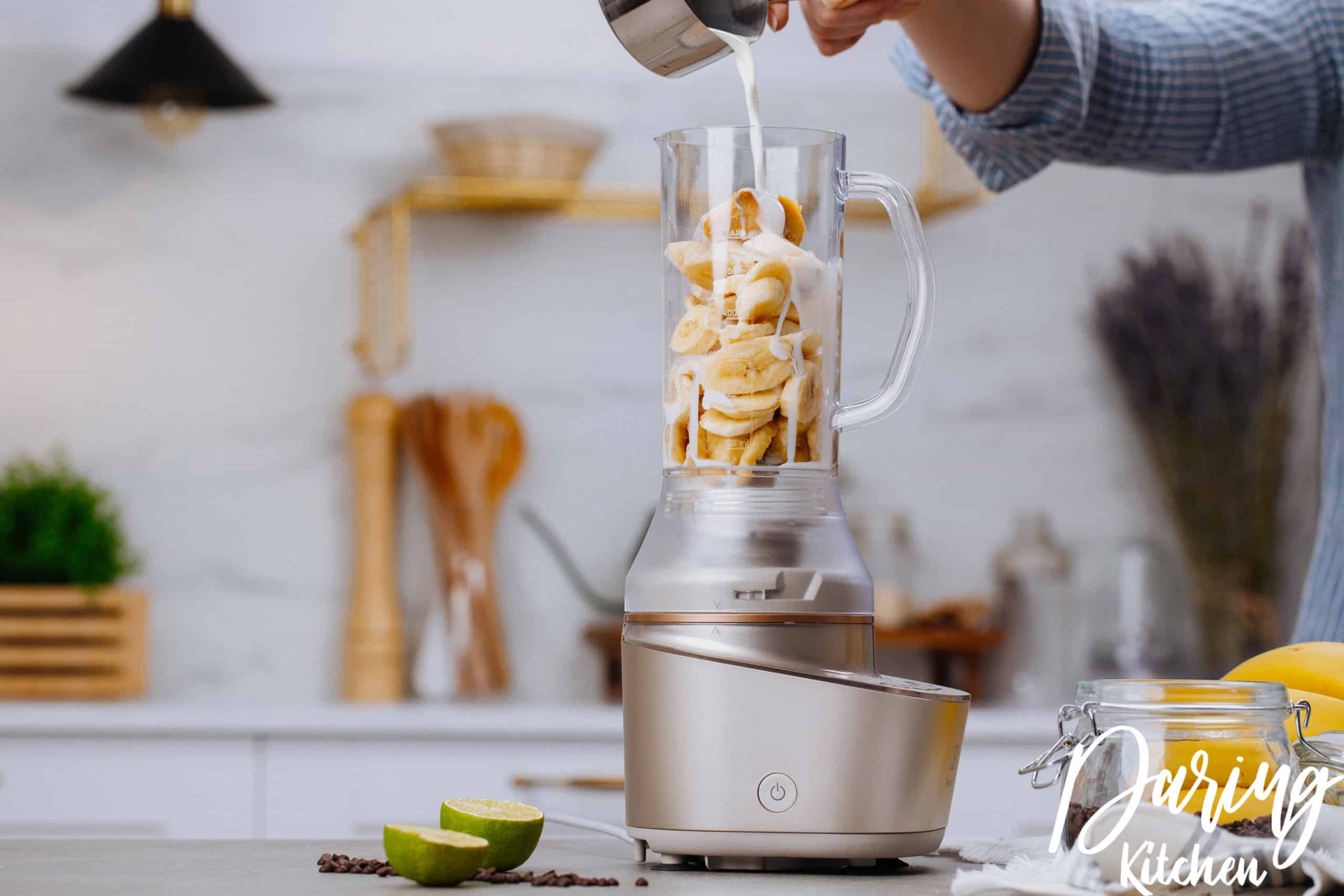 Now, it's time to make your nice cream! Using a blender or food processor, add in the bananas along with ¼ cup of peanut butter and ½ cup of almond milk. You can use different plant milk if you like, such coconut, macademia nut, or even oat milk. Whatever you prefer! Just make sure you do not add your chocolate chips yet!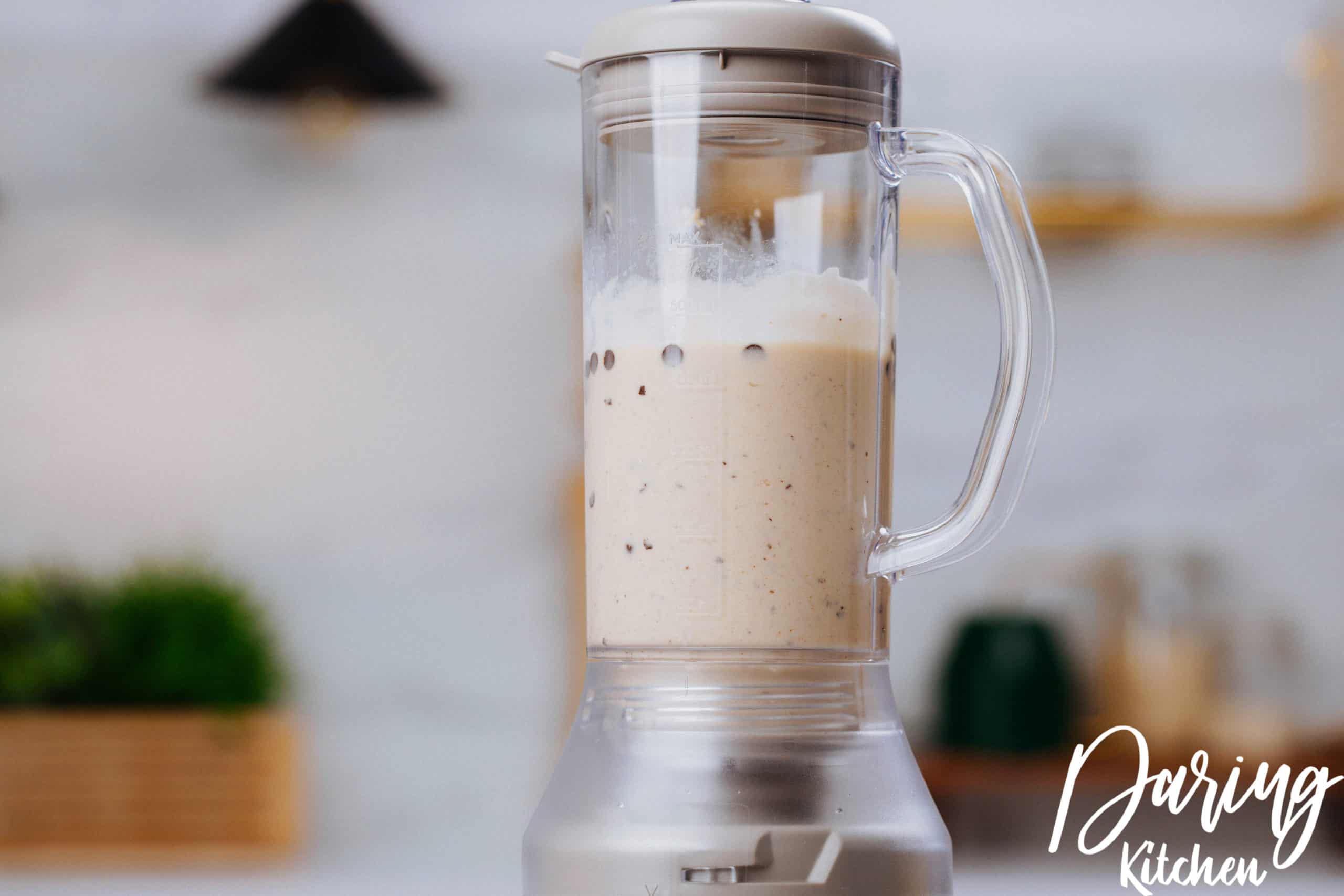 Blend all your ingredients on high until you reach a velvety ice cream-like consistency. If you find your nice cream is way too thick, then add more almond milk.
Once you reach the appropriate consistency, then you can throw in your chocolate. I use ⅓ cup of mini chips, but you can use whatever you like. I also prefer to use dark chocolate, as it's more plentiful in nutrients and sugar. If you have more of a sweet tooth, semi-sweet works just fine! Remember, this is your nice cream!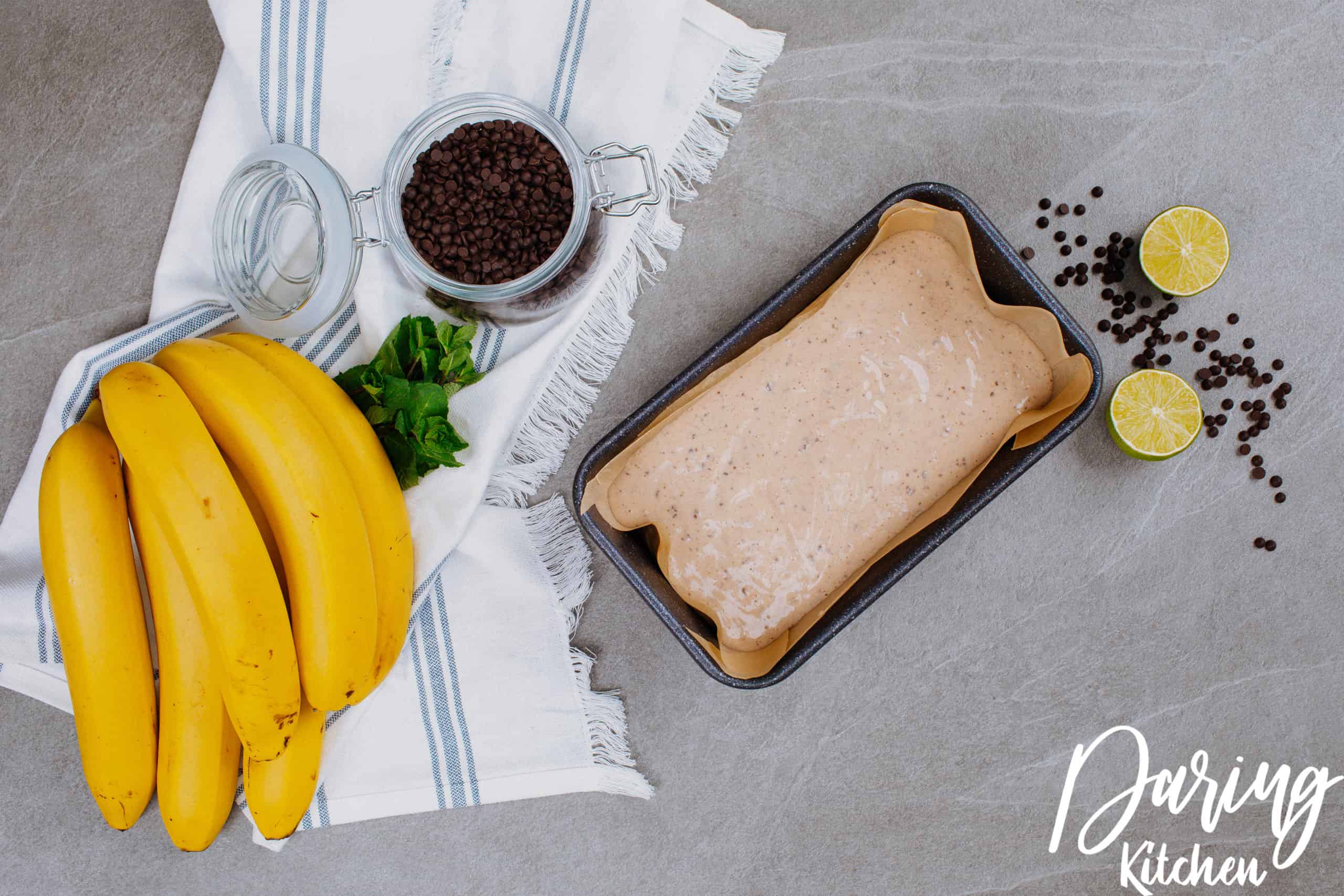 Now, line a bread loaf pan with parchment paper. Gently pour your newly created nice cream into it. Place in the freezer and allow it to freeze for at least 1-2 hours.
In the meantime, think of all the extra toppings you'd like to add to your nice cream. I love it just by itself. But, sometimes I get a little fancy by adding coconut flakes and vegan cookie crumbles!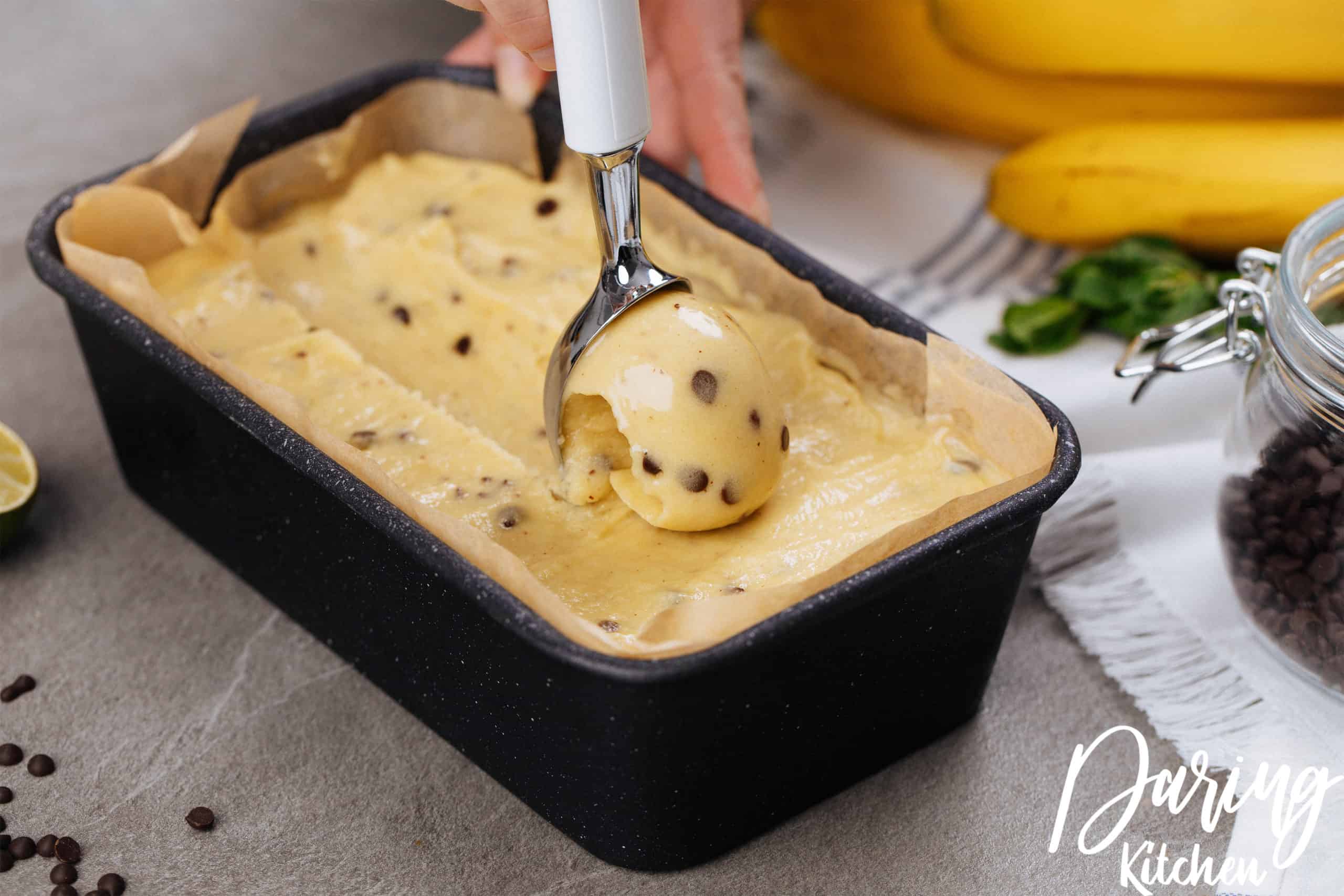 When your nice cream is ready, scoop out your desired portion into a bowl. Add toppings as you please and enjoy! You won't even realize the difference between ice cream and NICE cream!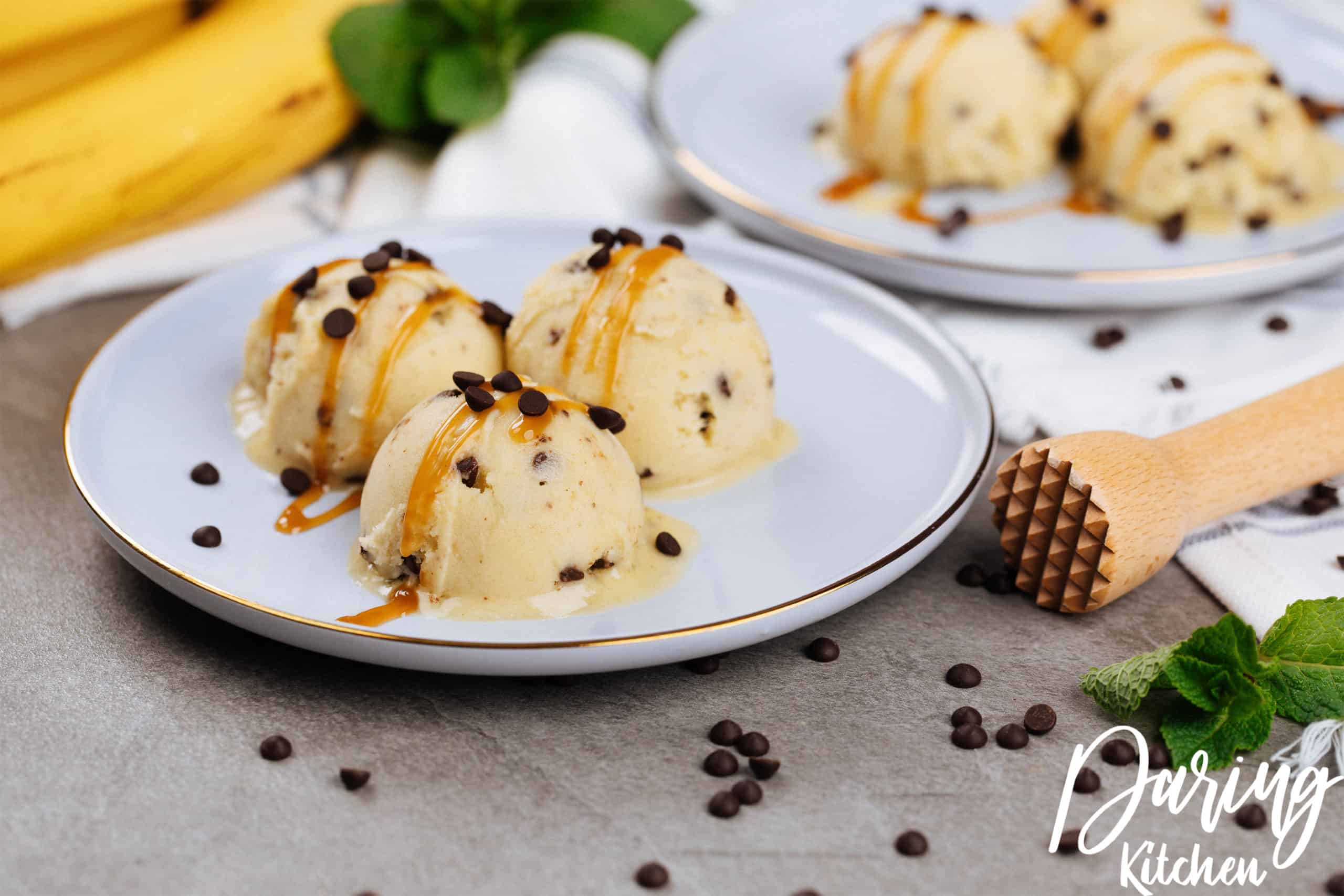 Let me know how your nice cream came out in the comments below! I love to hear how you got creative with this unique ice cream recipe!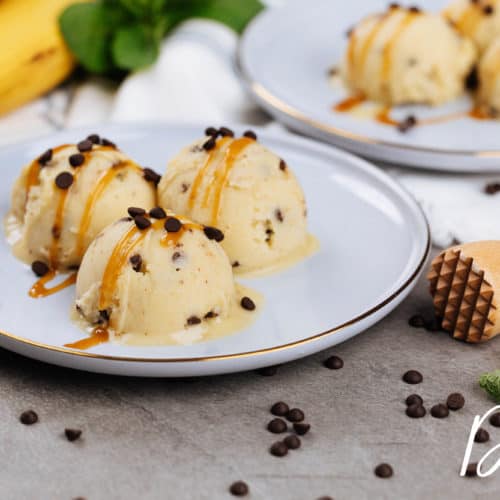 Peanut Butter Banana Nice Cream
The creamiest banana ice cream recipe you will ever try. With peanut butter and mini chips, you won't be able to stop at just one bowl!
Print
Pin
Rate
Equipment
High-speed blender

Ice cream spoon
Ingredients
4

cups

frozen sliced bananas

¼

cup

all-natural peanut butter

½

cup

almond milk

unsweetened

⅓

cup

mini chocolate chips
Instructions
Slice about 4-5 bananas and freeze it covered with plastic wrap for at least 1 hour.

Place frozen bananas, peanut butter and almond milk in a high-speed blender, blend on high until a smooth consistency has formed. If the mixture is too thick, add a little bit more almond milk, add chips and blend one more time to combine.

Transfer it to a parchment-lined bread pan and freeze for about 1-2 hours.

Serve it with peanut butter and chocolate chips.
Nutrition
Calories:
53
kcal
|
Carbohydrates:
7
g
|
Protein:
1
g
|
Fat:
3
g
|
Saturated Fat:
1
g
|
Trans Fat:
1
g
|
Cholesterol:
2
mg
|
Sodium:
34
mg
|
Fiber:
1
g
|
Sugar:
6
g
|
Vitamin A:
22
IU
|
Vitamin C:
1
mg
|
Calcium:
37
mg
|
Iron:
1
mg