You never knew breakfast could taste this good until you try this peanut butter banana oatmeal. It helps you power through your morning, with potassium-rich bananas, healthy fats, and energy-boosting, omega 3 powered chia seeds. Plus, it is 100 percent dairy-free and vegan!
The Best Peanut Butter Banana Oatmeal
Breakfast is such an exciting meal of the day. I mean, it's the first! Shouldn't it be absolutely delicious then?
I always struggled with it came to breakfast. I wanted something nourishing and filling. But, I didn't want anything that would weigh me down. There are so many breakfasts out there that seem healthy but are loaded with a ton of empty calories.
The best example? Bagels. They are so quick to grab and eat on the go. The problem is these kinds of carbs don't sustain you with energy. Instead, they leave you feeling hungry in just a couple of hours. I wanted to find a better breakfast option that could also be enjoyed to go.
I adore oatmeal. It is the carb of my dreams! Not only is it a complex carb, but rolled oats have a boatload of healthy fiber, helping you stay full longer.
My love for oatmeal fueled this awesome peanut butter banana oatmeal recipe. I wanted to combine all my favorite breakfast flavors together. The combination of bananas and peanut butter is unbeatable. For years, I just ate this on toast. Then, I realized: how much better would it be on oatmeal!
These thoughts created a superpowered peanut butter banana oatmeal recipe I am so excited to share. Hint: it has a few sneaky delicious and nutritious ingredients!
What is in Peanut Butter Banana Oatmeal?
This isn't your boring old oatmeal recipe. What I mean is that you are not just boiling oats on the stove and hoping they come out delicious. This peanut butter banana oatmeal recipe is 100 percent flavor approved.
So, what makes me so confident about this peanut butter banana oatmeal? It's quality and healthy ingredients.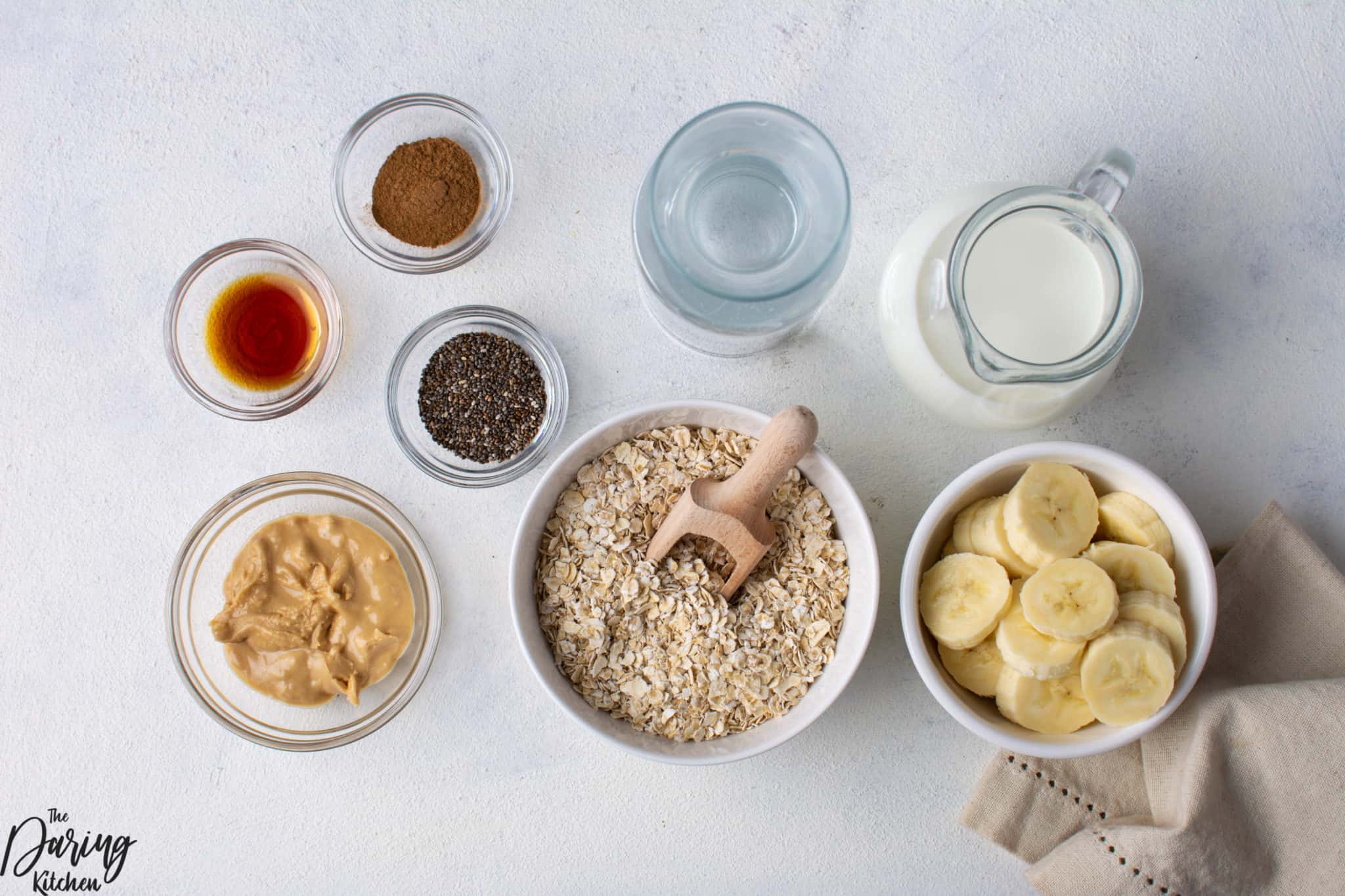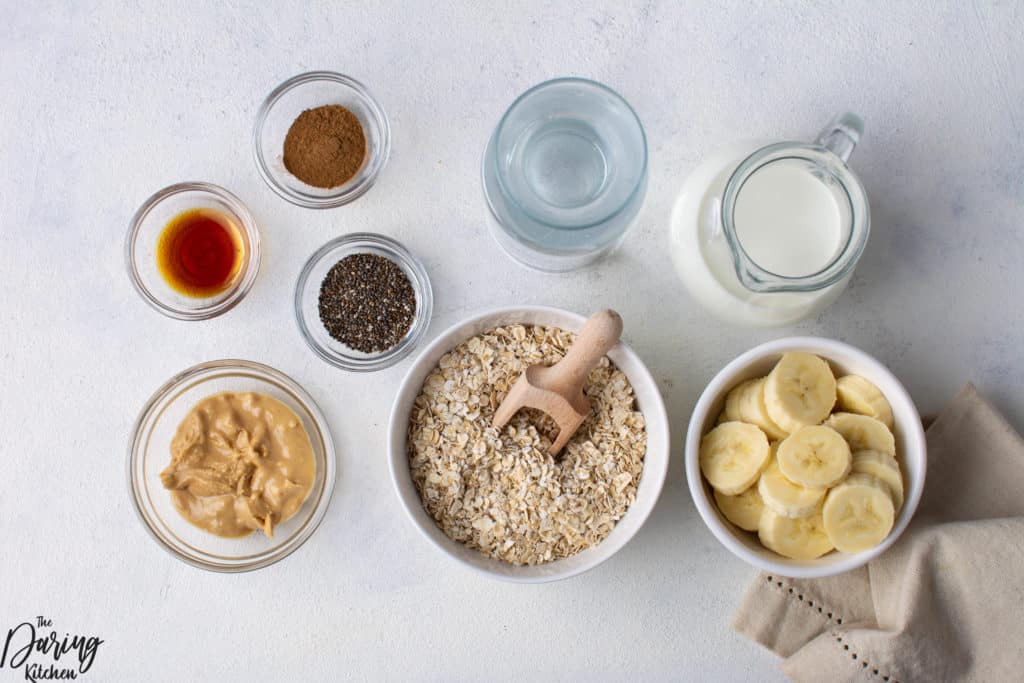 Here are the ingredients you will need for this peanut butter banana oatmeal recipe:
Old fashioned rolled oats (gluten free or quick oats work too)
Chia seeds
Peanut Butter
Almond milk
Water
Cinnamon
Vanilla extract (or vanilla bean, if you like!)
These ingredients are super easy to find at any grocery store. You probably already have them at home. If you do have all the ingredients, then this recipe just got even more simple!
What makes this recipe extra energizing for the morning is chia seeds. These omega 3 rich seeds give you an extra dose of protein, something we often miss in our morning meals. It also helps combine the oatmeal and enhance its texture too. You can even go the extra mile and add in ground flax for extra omegas.
When it comes to flavor, you got to highlight your peanut butter and banana! What better way than cinnamon and vanilla?
Oftentimes, we neglect to add any additional spices to oatmeal, leaving it super plain. Cinnamon and vanilla extract give more full and bold flavor to this awesome breakfast recipe, helping you to eat it up quickly and fast. This makes this peanut butter banana oatmeal a great option for the workweek, as it can be eaten quickly before heading out or easily at your desk too!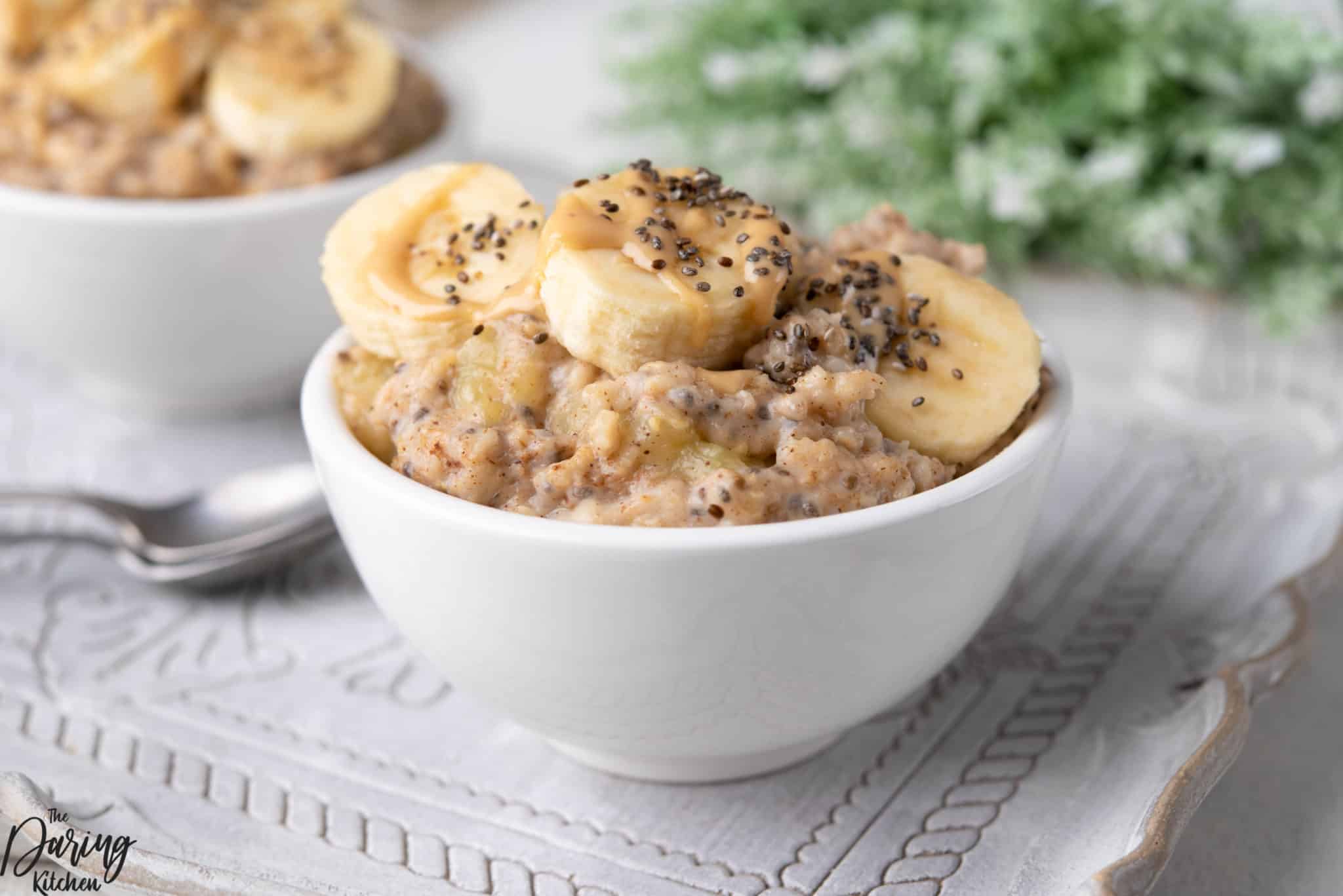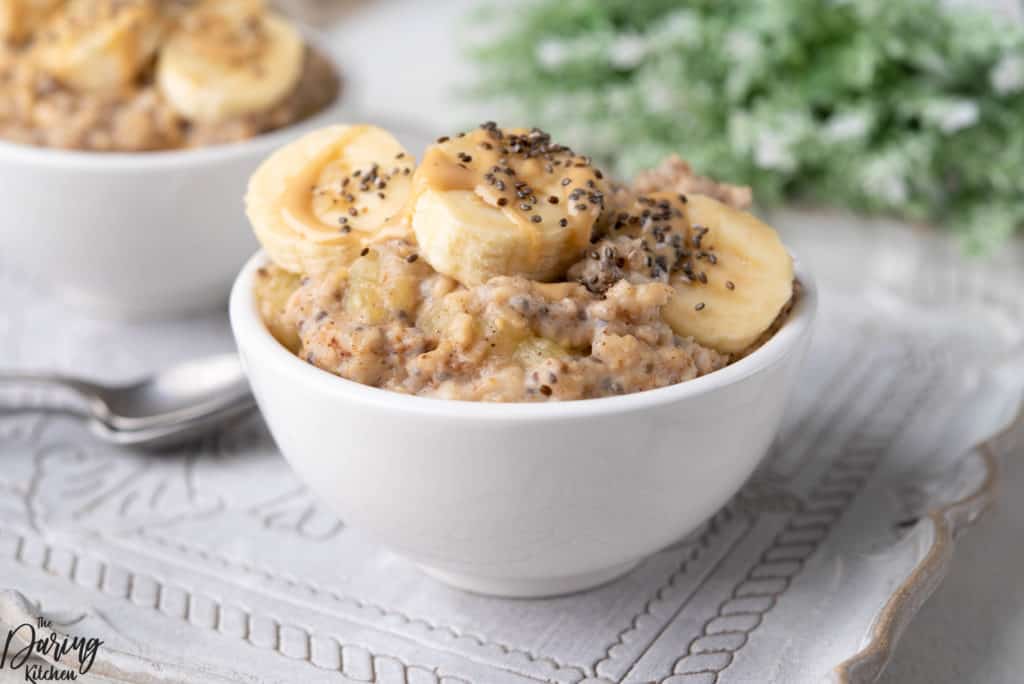 Substitutions in Peanut Butter Banana Oatmeal
I always like to note the possible substitutions in any recipe. Many have allergies or different preferences. So, I always aspire to make my recipes flexible with their ingredients.
If you are not a peanut butter fan, you can easily make this recipe with almond butter, pumpkin seed butter, or another nut butter option. I would experiment, as nut butters all have different consistencies. My go to substitute is always almond butter for this recipe.
One other note is that if you want to make this recipe gluten free, that is absolutely possible! There are plenty of gluten free oats out there to use. They cook almost exactly the same as regular rolled oats, making gluten free oatmeal an easy substitute in this recipe.
The substitutions are super easy when it comes to toppings. It's the best way to keep your breakfast oatmeal recipe from getting boring.
So, have some topping fun! In this banana peanut butter recipe, I recommend changing up the fruit, nut butter, or spices on top. You can even sweeten it a little bit with maple syrup, coconut sugar, or even more bananas. The choice is really up to you.
How to Make Peanut Butter Banana Oatmeal
This peanut butter banana oatmeal takes around 15 minutes to make. That may sound long for the morning, but, trust me, when you taste this oatmeal, you will get up earlier just to make it. Or, you can just meal prep it. This oatmeal does taste great reheated or even eaten cold (I am not kidding!)
Whatever you choose, this banana peanut butter oatmeal recipe is so worth it. Also, this recipe calls for 2 servings. You can either share the oatmeal or save the rest for the next morning. If you are saving it, do not add your toppings (especially your bananas, they will brown rather quickly.)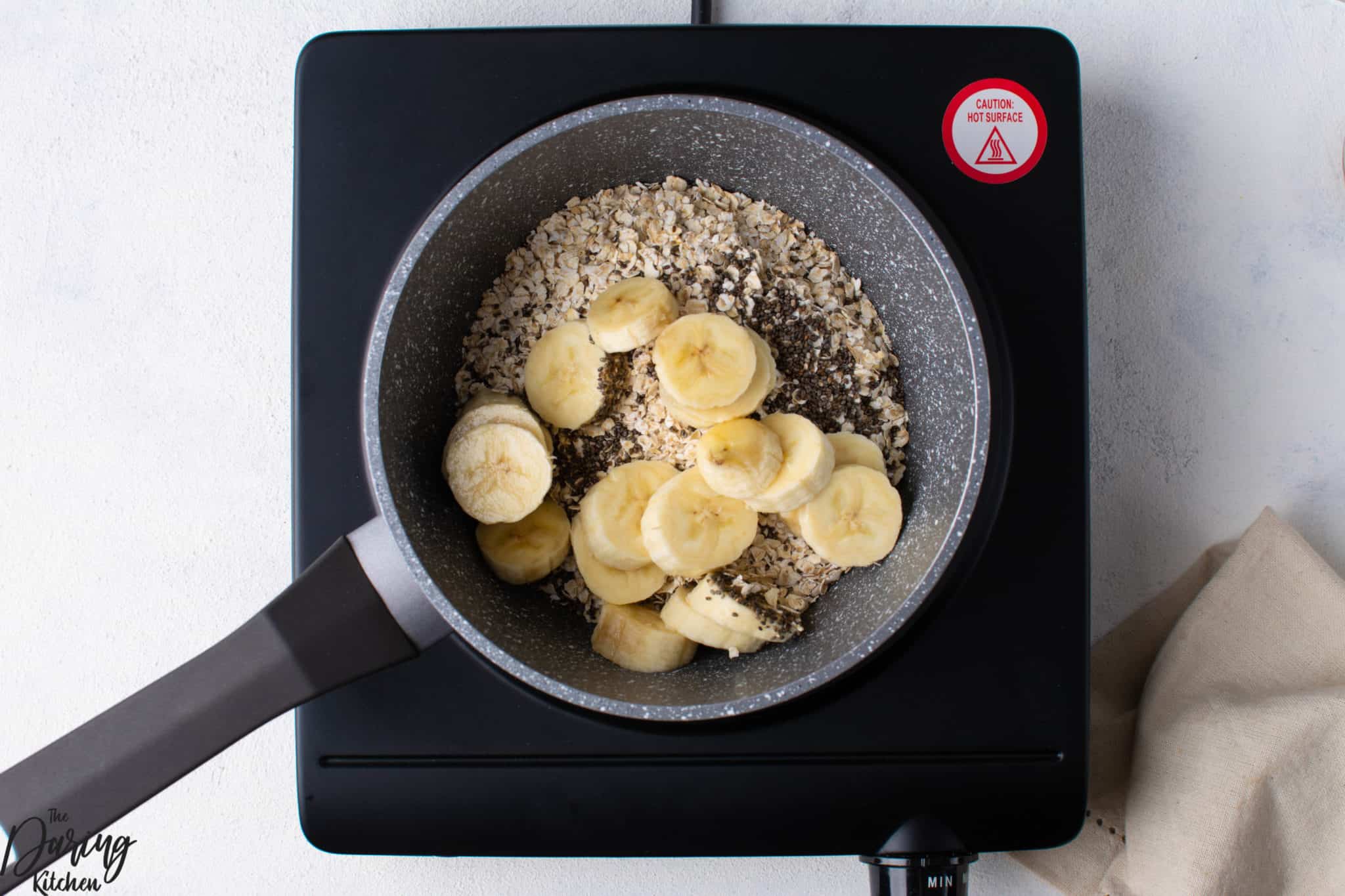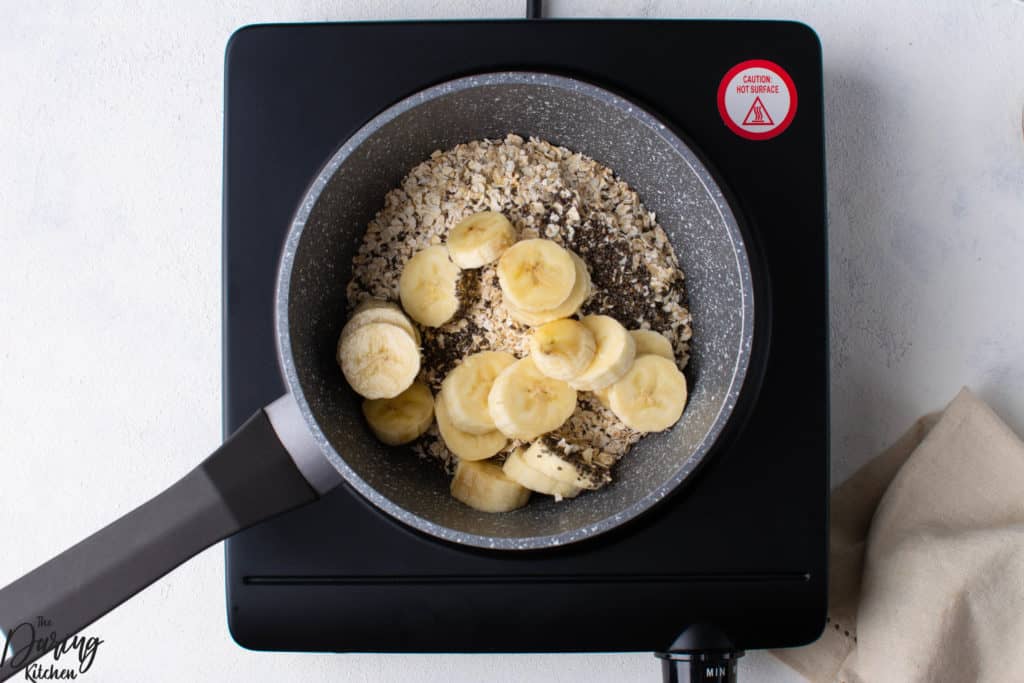 To start, grab a small saucepot. Add in your rolled oats, chia seeds, and banana slices. Make sure you save some of the bananas for your topping later.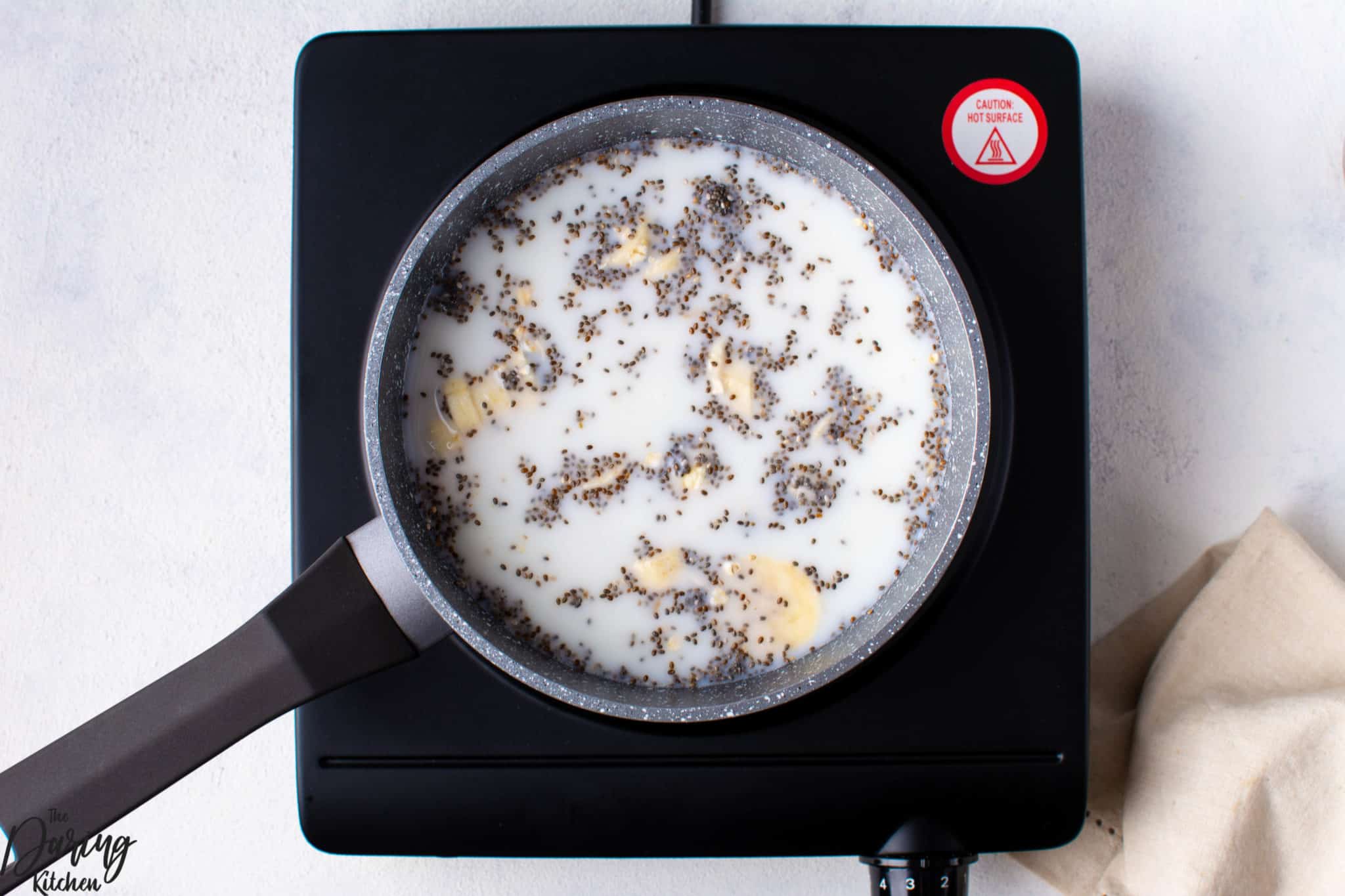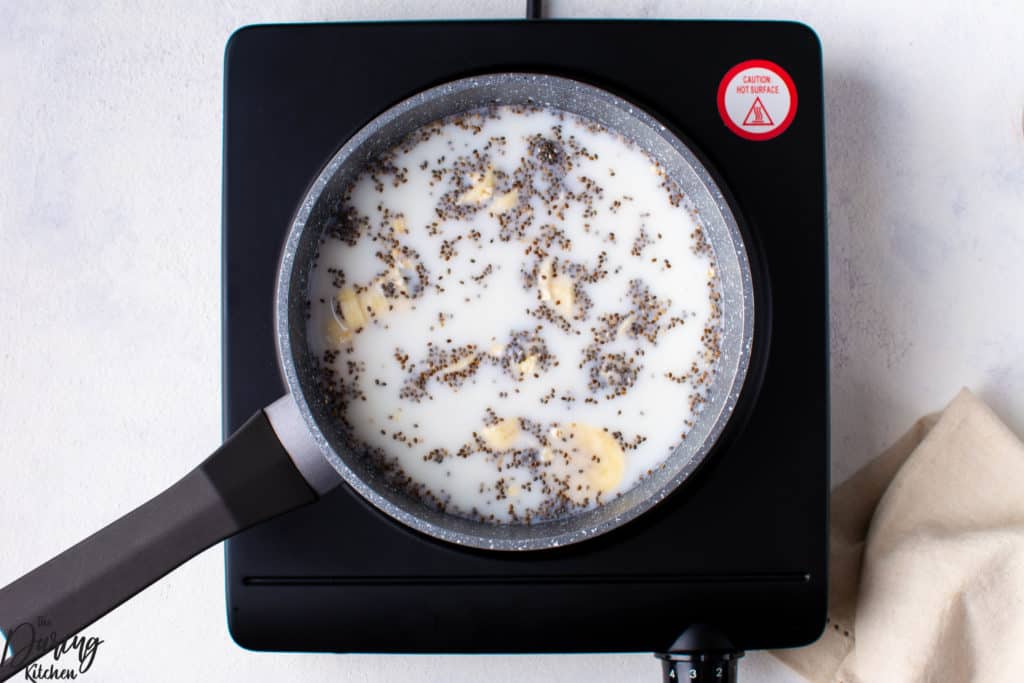 Heat the saucepot over medium high heat. Pour in your almond milk and water, mixing everything together. Make sure the peanut butter doesn't stay in one glob.
Cook the mixture for 8-10 minutes over low heat. You will know that the oatmeal is done when all the liquid is absorbed.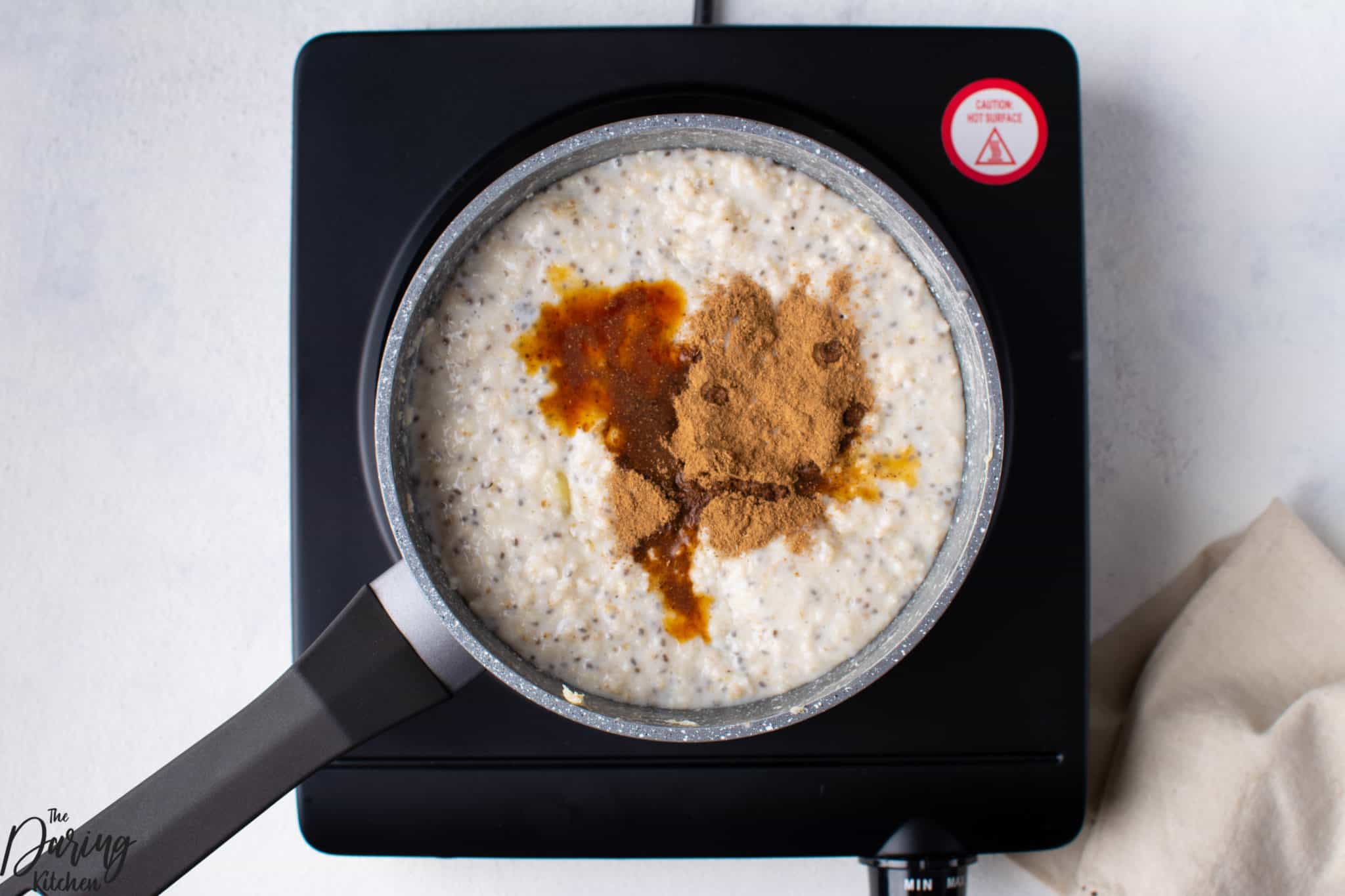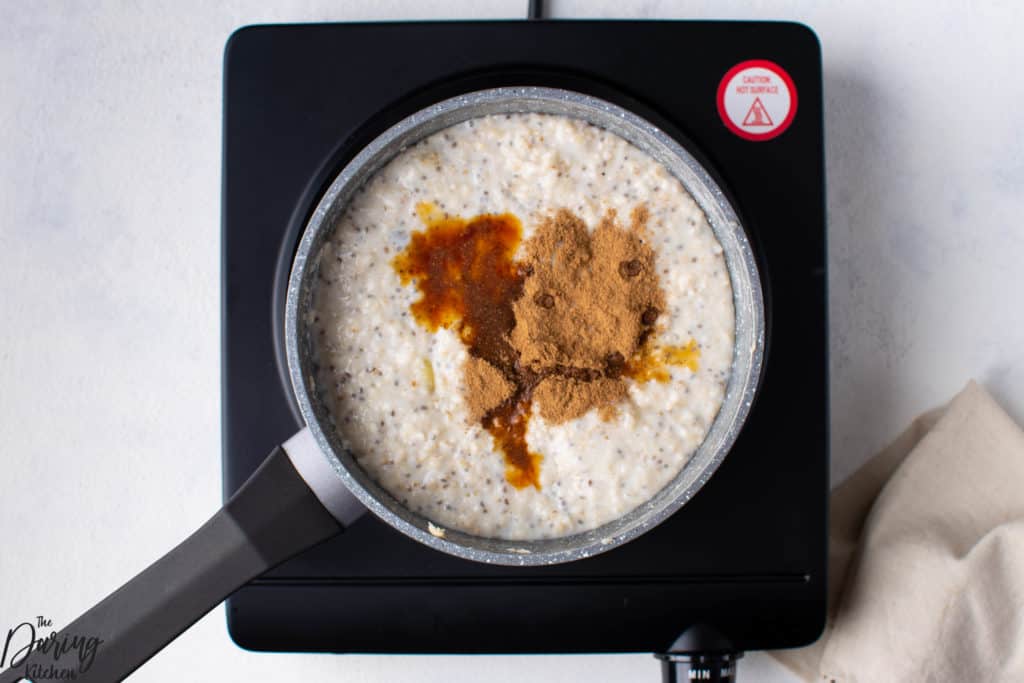 Once your oatmeal is cooked, add in your cinnamon and vanilla extract. Stir everything so that the spices are mixed in evenly.
Now it's time for serving! Pour your oatmeal into two bowls. When it comes to garnishing, you can get as creative as you like. I typically top each bowl with leftover bananas and a scoop of peanut butter. To get a little fancier, I will add a dash of chia seeds and/or cinnamon!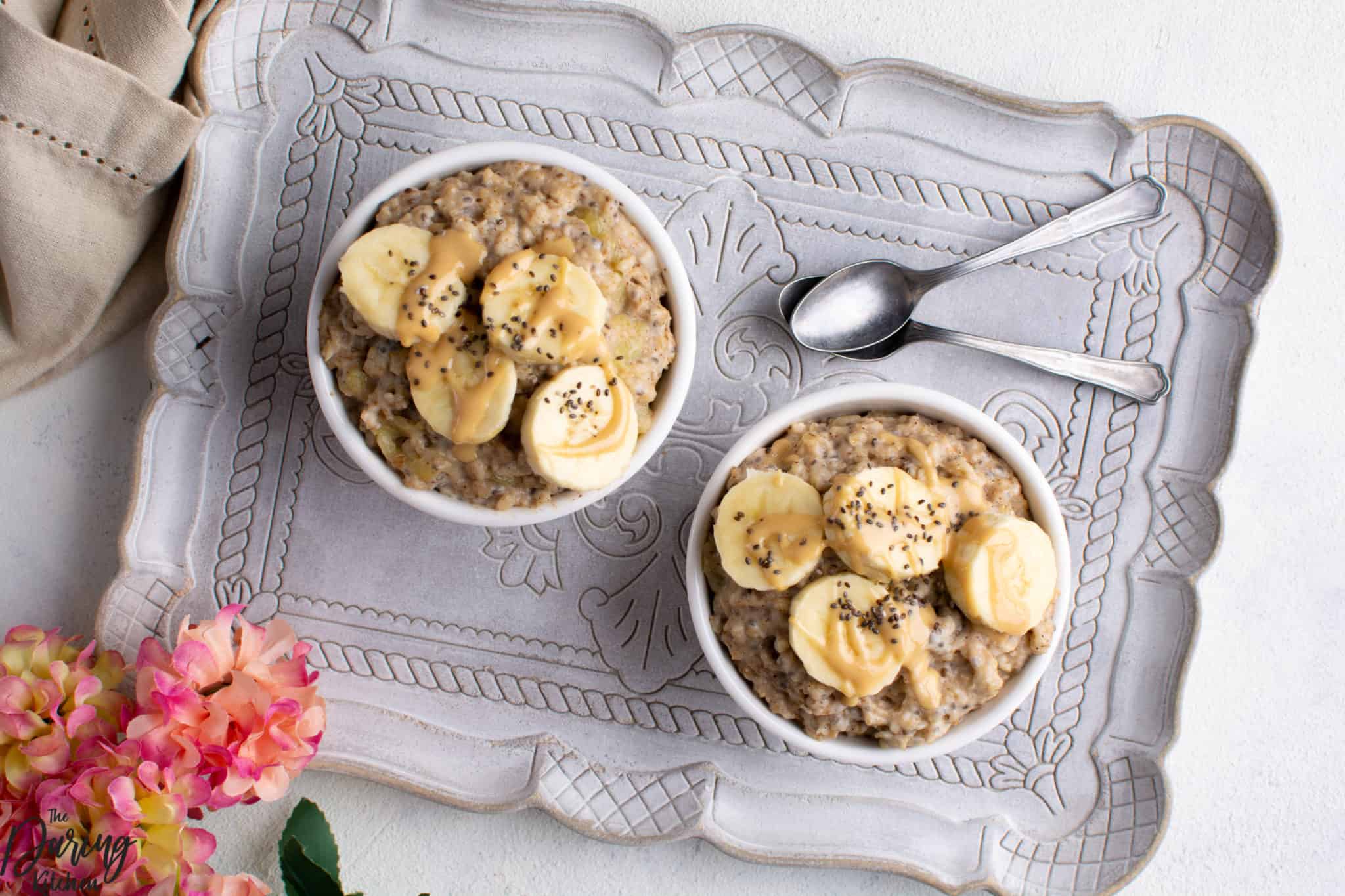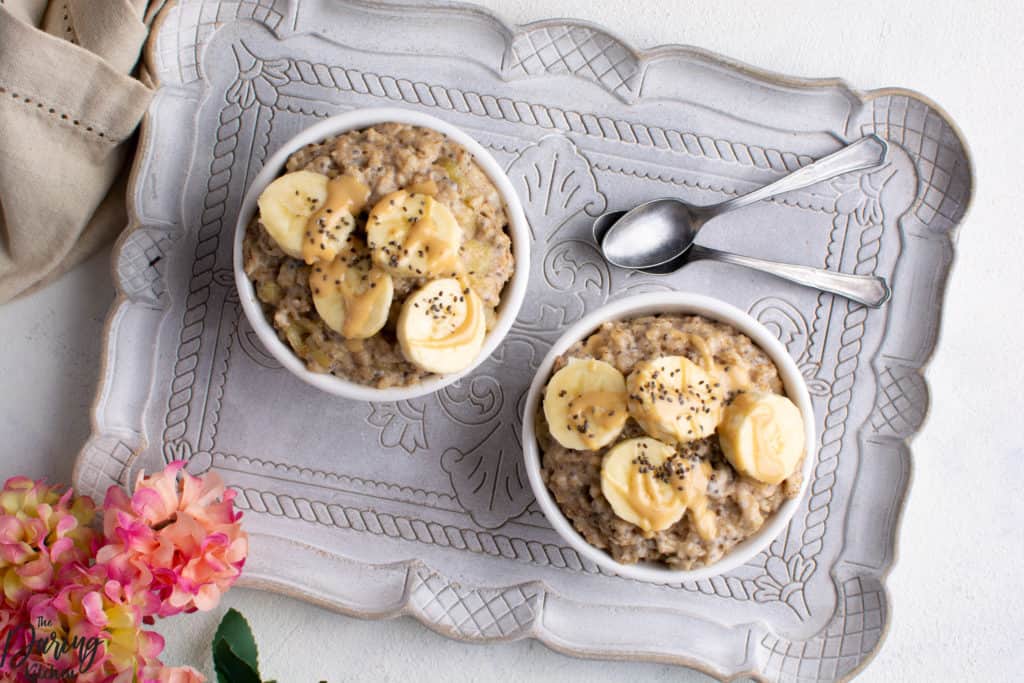 Some other great add ins are crunchy nuts, like almonds or walnuts, chocolate chips, or different spices. Nutmeg, maple syrup, or coconut sugar works great too. Of course, whatever you choose depends on the flavors you like and how hungry you are in the morning!
Whatever you do, I'd love to see how your peanut butter banana oatmeal turned out. Don't be shy to share a photo or comment. I hope this breakfast recipe turned your morning around like it does mine every day of the week.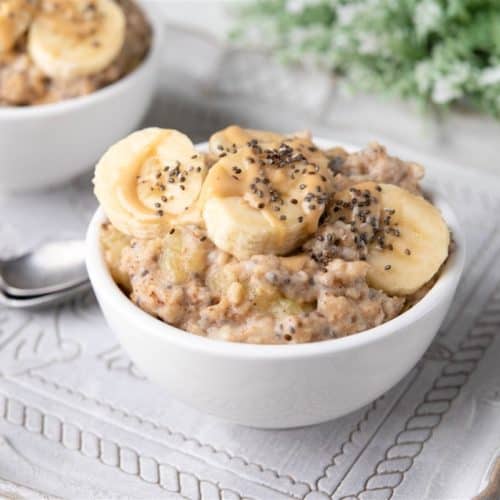 Peanut Butter Banana Oatmeal
Easy to make or meal prep, this banana peanut butter recipe is a breakfast staple for any day of the week.
Print
Pin
Rate
Ingredients
1

cup

old-fashioned oats

1

tbsp

chia seeds

1

banana sliced

reserve few slices for topping

1

cup

unsweetened almond milk

2

cup

water

1

tsp

cinnamon

1

tsp

vanilla

1

tbsp

peanut butter

for serving
Instructions
In a saucepot, combine oats, chia seeds, and banana.

Set the saucepot over medium-high heat.

Add almond milk and water.

Cook the oats for 8-10 minutes or until the liquid is absorbed.

Stir in cinnamon and vanilla and remove from the heat.

Divide the oats between two bowls. Top the oats with banana slices and peanut butter.

Additionally, sprinkle the oats with more chia seeds.
Nutrition
Calories:
255
kcal
|
Carbohydrates:
33
g
|
Protein:
9
g
|
Fat:
10
g
|
Saturated Fat:
1
g
|
Trans Fat:
1
g
|
Sodium:
215
mg
|
Potassium:
230
mg
|
Fiber:
8
g
|
Sugar:
2
g
|
Vitamin A:
6
IU
|
Vitamin C:
1
mg
|
Calcium:
230
mg
|
Iron:
2
mg