An In-Depth Comparison
You don't have to be a health nut to appreciate the protein packed and perfectly crunchy bites we know as nuts! Pecans and walnuts are two of the most popular nuts, as seen on restaurant menus and grocery store shelves everywhere. These nuts are highly versatile, super healthy, and have a wide range of availability, making them a pantry staple for households everywhere.
Despite their prevalence, there's still a lot of mystery surrounding these two nuts. How do you tell the difference between pecans and walnuts? Is one healthier than the other? How can nuts be used in recipes?
Buckle up! We're going to answer these questions and more as we take a deep dive into the world of pecan vs. walnut.
What Makes a Nut...a Nut?
The whole nut classification system can be a confusing one at best. Many times, something we call a nut (such as the Brazil nut) is actually an edible seed, and then in another corner we have peanuts, which are actually legumes!
Some people have begun to find it easier to categorize the world of nuts and edible nut-like foods into two main groupings: botanical nuts and culinary nuts. Botanical nuts are those foods which meet the botanical specifications of a nut, whereas culinary nuts are those foods which we think of as nuts and that share nut-like taste and texture characteristics.
Are Pecans and Walnuts Actual Nuts?
Unfortunately, the jury is still out on these two. Pecans and walnuts are most certainly culinary nuts as their crunchy texture and high fat content puts them at the top of the list of foods we consider to be nuts.
However, their botanical specification remains a bit fuzzy as they each possess characteristics that align with true nuts and another fruit family known as drupes. Since walnuts and pecans both meet criteria to be classified as both drupes and nuts, they are often referred to as "drupaceous nuts".
Don't worry though, there will be no science exam at the end of this article, and we think the simple term of "nuts" will do the job here!
How to Distinguish Pecans from Walnuts
Regardless of what they are, pecans and walnuts are both wonderful and well worth getting to know! As they are from the same family, these two bear many resemblances to one another. However, there are certainly some key differences that will help you to determine exactly which nut is in that bag of snack mix you picked up or is decorating those cupcakes you've been eyeing at the bake sale.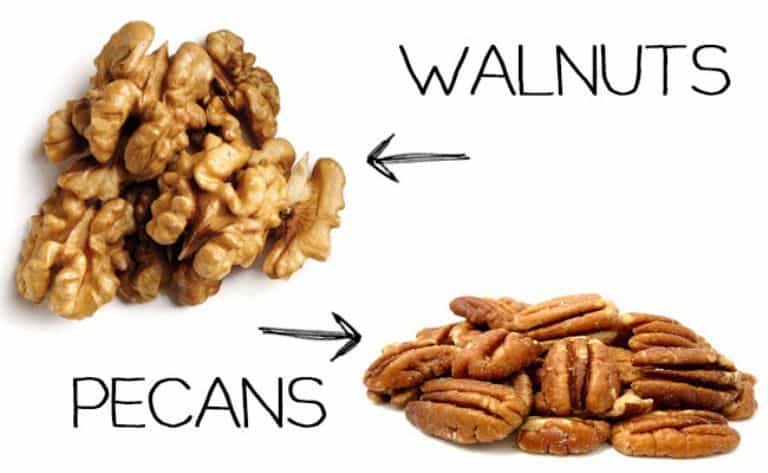 Pecan vs. Walnut: Taste
Let's get right to the most important distinction between pecans and walnuts, how do they taste? Pecans have a slightly sweeter taste with a somewhat chewy texture. Walnuts taste a bit more bitter, with a deeply nutty flavor and creamy consistency.
Most walnuts consumed in the US are of a variety referred to as the English walnut, but there is another variety known as the black walnut. Black walnuts have a darker, thinner shell and a bolder flavor than English walnuts.
Pecan vs Walnut: Appearance
Both nuts have a light brown shell, however the shell of a pecan nut is smooth while a walnut shell will have prominent ridges. The shells of pecans may also have some dark brown streaking or spots and walnut shells remain a more uniform color.
Once cracked, the shells reveal nuts that have clear differences as well. Pecans are more oblong, as you might expect from the shape of their ovular shells, and walnuts are more round. Pecans have a richer brown color and smoother features, whereas walnuts are a pale light brown and have plenty of intricate ridges and curls.
Pecan vs. Walnut: Trees
The trees of these two nuts have some major differences as well. Pecan trees and walnut trees originate from the family Juglandaceae, which is more commonly referred to as the walnut family. This group also includes hickory trees, which do produce nuts that are edible, but are more often prized for their excellent timber.
Where do Pecan Trees and Walnut Trees Grow?
The US is a top producer of both of these important crops. Pecan trees grow in warmer regions of the country, with states such as Georgia, Texas, Arizona, and New Mexico being top producers. Pecan trees grow in Mexico as well, as they are the world's second highest producer of these nuts.
Walnut trees grow more readily in cooler, drier climates, with top production from the state of California, as well as China and Europe. The trees of black walnuts, mentioned previously, are native to eastern North America, and continue to grow wildly in most states east of the Mississippi River.
Walnut and Pecan Tree Leaves
Not surprisingly, the leaves of pecan trees are strikingly similar to those of walnut trees. Both trees produce pinnate leaves, referring to a central stem with pairs of leaves branching off in symmetrical rows, often culminating in a single leaf at the tip. The key difference is that pecan tree leaves are more elongated and narrower, whereas the walnut tree leaves are broader and more round.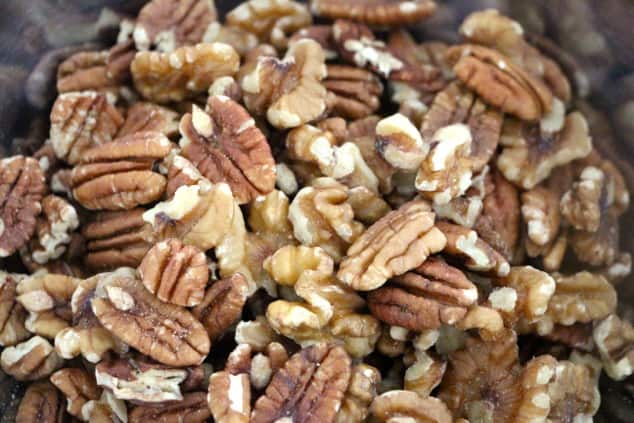 Pecan vs. Walnut: Nutrition
Nuts have a long history as a key food source for human beings. They are chock full of nutrients, calorie dense, portable, long lasting, and delicious at that! It's no wonder trail mix tends to be a go-to snack for us when we find ourselves on the move--the reliance on nuts as a source of fuel as we move through our day is one that is deeply ingrained in us.
While high in healthy fats, nuts remain low in sugar, meaning they don't raise blood sugar levels. This doesn't mean they don't offer plenty of energy though. Walnuts and pecans have a very similar nutritional makeup and are actually very close in calorie content. Walnuts come in at 185 calories per ounce and pecans are slightly higher at 196 calories per ounce.
Despite these similarities, there are some key differences to note, as each type of nut offers some unique nutrients that are essential to overall health. Therefore, rather than picking out your favorite nut and sticking with it, it's wise to incorporate a variety of nuts into your diet so as to gain the individual benefits each one has to offer.
Key Nutrients in Pecans and Walnuts
Polyunsaturated Fats and Monounsaturated Fats (A.K.A. Healthy Fats!)
Both pecans and walnuts have high levels of unsaturated fat, which are much healthier for the human body than saturated fat. We could go down a rabbit hole on the types of unsaturated fat and exactly why they're healthier than their saturated counterparts, but we'll spare you the chemistry lesson.
Let's stick to the main points!
Pecans are higher in a type of fat known as monounsaturated fat. Monounsaturated fats are important to the human body for balancing cholesterol levels and maintaining good cardiovascular health. Walnuts, while having an overall lower amount of fat, do contain fats known as omega-3 fatty acids, which fall into the category of polyunsaturated fatty acids. Omega fatty acids are especially vital for brain function and cognitive health.
As a society, we previously experienced the phase where fat was the enemy of health and healthy weights everywhere. In recent years thankfully, it's come to light that when consumed in moderate quantities and healthy varieties such as those found in nuts, fat is actually vital to overall health.
Vitamins and Minerals
In addition to healthy fats, pecans and walnuts are rich sources of essential vitamins and minerals. Pecans are rich in vitamins, especially several types of A and B vitamins. They are also an important source of copper, a trace mineral which is necessary for the body to make red blood cells. Walnuts are an important source of vitamin E, folic acid, and magnesium.
Aside from these key nutrients, Walnuts are unique in that they also contain tannins. That slight bitter taste and astringent mouthfeel associated with walnuts are due to the presence of these tannins. Tannins, also found in foods such as chocolate and wine, are beneficial to the human body as they work to fight free radicals and thus reduce inflammation throughout the body.
Protein
Protein is one of the three macronutrients, and therefore one of the most key factors to consider when evaluating a food's nutritional value. Protein is essential for cellular health, muscle and tissue repair, immune system function, and a whole host of other crucial functions. Walnuts outperform pecans when it comes to protein content, as they contain 4.3 grams of protein per ounce, while pecans contribute only 2.6 grams per ounce.
Pecan vs. Walnut: Cooking
If all of this talk about how good nuts are for you is making you anxious to get them into your diet, we don't blame you! Thankfully, walnuts and pecans are both highly useful in the world of culinary endeavors, as their flavors and versatility lend them both to a variety of savory dishes and sweet recipes alike.
Cooking With Pecans
Pecans taste milder as compared to walnuts, therefore they lend themselves well to light dishes and desserts. Lightly toast pecans in a skillet over medium heat and then sprinkle on top of a salad for a satisfying crunch. Or turn them into amazing desserts like this autumn inspired cheesecake, or classics such as pecan pie or pecan pralines!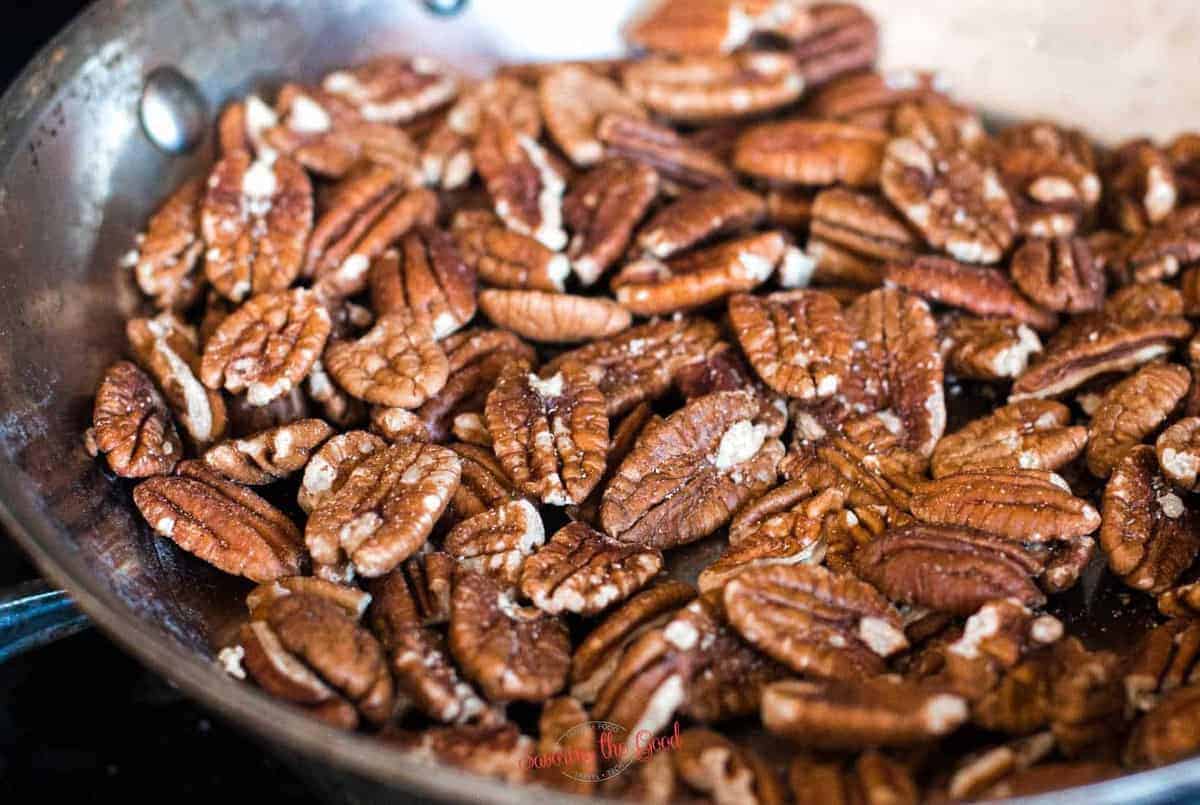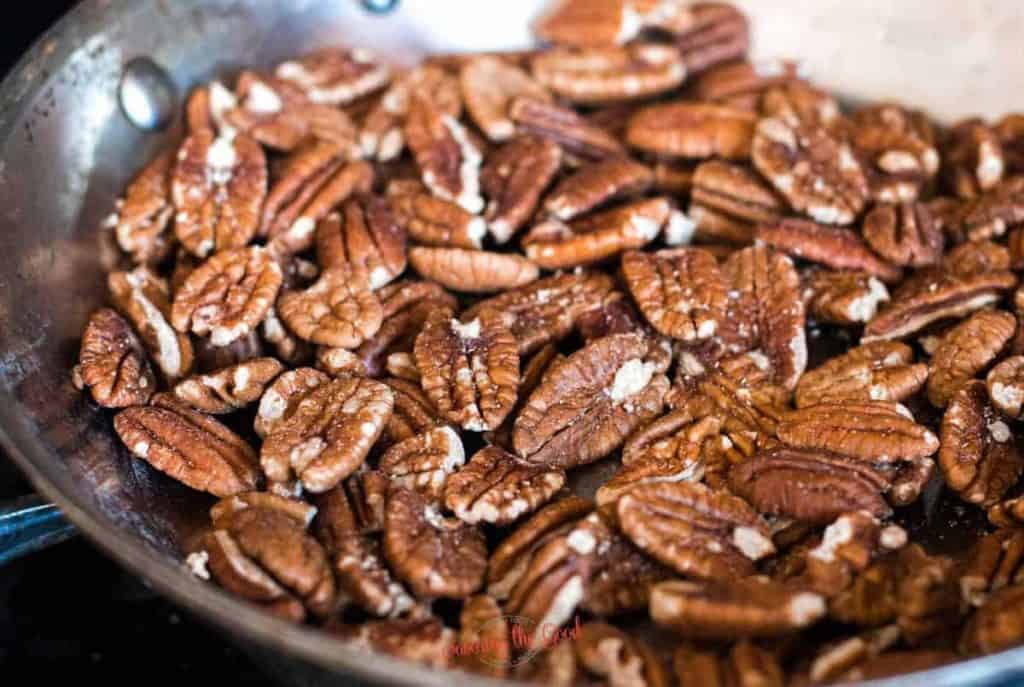 Cooking with Walnuts
Walnuts are excellent in stuffing or as part of a cheese board, as their tannic bitterness pairs wonderfully with rich ingredients such as meats and cheeses. Would you rather take that bitterness down a notch? Just arrange the walnuts on a baking sheet lined with parchment paper and roast in a preheated oven for 5-7 minutes. Then allow the walnuts to cool before rubbing with a clean kitchen towel--the skins will mostly fall away, greatly reducing the bitterness.
Pecan vs. Walnut: The Wide World of Nut Products!
Nut Flours/Nut Meal
If eating an entire cup of nuts is rough on the ol' belly, you're not alone! Nuts are notoriously tough for the body to break down, sometimes discouraging people from working these healthy options into their diets. If you find yourself in this crowd, go ahead and give nut flours a shot. Nut flours deliver all of the nutritional benefits of whole nuts, but in a pre-ground form that is much easier to digest.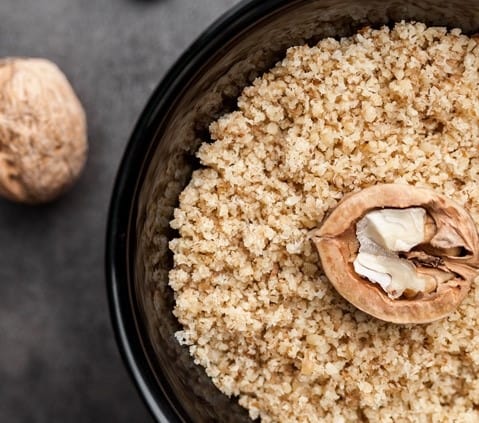 Both pecans and walnuts are available in flour form and may also be packaged as "nut meal". Nut flours can be used to make breakfast (pecan pancakes anyone?), casseroles, as a savory crust on fish or chicken, or in all kinds of sweet treats.
Nut Oils
The fat content walnuts and pecans possess make them both excellent sources of oil. Pecan oil has a lighter taste and a high smoke point, making it excellent for cooking. Walnut oil is better used as a finishing oil or for dressing, due to the fact that it will turn bitter when cooked. Pecans don't yield as much oil as walnuts do, therefore it tends to be a bit more expensive.
Using nut oils in place of animal fats when cooking is an easy way to introduce more polyunsaturated fat and monounsaturated fat into your diet. Try picking up a bottle and swapping it in for your next salad dressing, you won't regret it!
Nut Butters
The healthy fats we love nuts for are just as prevalent in everyone's favorite creamy treat: nut butters! As you might expect, walnut butter can have a bitter twang. Salt will help offset the bitterness, so be sure the jar you pick up is salted or add a bit of salt to your dish. Sweetness will greatly help too, and honestly, what sounds better than walnut butter and honey on toast?
Pecan butter doesn't come with the bitterness problem, it is perfectly delicious straight out of the jar. The sweet and nutty taste of pecans butter is ideal for pairing with cozy flavors such as cinnamon and maple. For a special breakfast, spread pecan butter atop waffles or pancakes and drizzle with real maple syrup!
Pecan vs. Walnut: Other Topics
Diets
One of the most wonderful characteristics of nuts is that they can fit into most types of diets and eating plans. Nuts are typically suitable for vegan, vegetarian, paleo, and whole30 diets just to name a few.
One common question these days: are walnuts and pecans keto friendly? Yes! At just over 1 gram net carbs per 1 ounce serving, pecans are actually one of the most keto friendly nuts. Walnuts are not too far behind, at about 2 grams net carbs per 1 ounce serving.
Nut Allergies and Food Safety
It goes without saying that one diet that nuts will just never fit into is a nut-allergy diet. As we all know, nuts are one of the most common food allergens, with sometimes severe consequences for those afflicted. In fact, walnuts are the second most common nut allergy experienced in the US. Pecans are less likely to be an allergen but are still very much on the list, and therefore all types of nuts should be clearly stated and handled with care when preparing food.
Is it Safe for Pets to Eat Nuts?
The fact that nuts can pose such a health risk for humans often has people wondering, "Should I be worried if my cats or dogs eat walnuts or pecans?". Those of us with furry family members know all too well how in the blink of an eye, food can be stolen from the kitchen table or counter, leaving you worried!
The good news is that a stolen snack here and there is unlikely to harm your beloved pet. However, it's worth noting that some types of nuts are especially dangerous for pets, including the aforementioned black walnut, as well as any nuts that have developed mold growth. You should always consult with your veterinarian if your pet has ingested something you aren't sure about.
Cost and Availability of Pecans & Walnuts
Generally speaking, nuts tend to be an expensive food item. This is due in part to the fact that nut trees require a great number of resources to grow and produce, and that the yield from nut trees is smaller than other crops. Pecans are typically more affordable than walnuts, but this relationship is in constant flux as factors like weather affects crop yields from year to year and demand plays an important role as well.
Thankfully, most nuts are widely available across the US, and usually takes nothing more than a trip to the local market or grocery store to find pecans or walnuts. There are also plenty of online outlets that specifically sell various nuts, and a web search will often lead you directly to nut farmers themselves!
Pecan vs. Walnut: The Takeaway
If you take nothing else away from this article, we hope you know this: nuts are delicious, healthy, and an important component of a well-rounded diet! As members of the same family, walnuts and pecans are two excellent nut choices and can be worked into your dishes in a wide variety of ways.
These two little nuts are nutritionally sound from shell to shell, and while pecans boast slightly fewer calories, walnuts are a bit richer in essential vitamins. Both are low in saturated fat but will surely give you that much-needed boost of energy you seek next time you find yourself reaching for a snack!
If you'd like to experience the joys of nuts in a whole new way, don't be afraid to try out some new products such as nut flours, oils, and butters. Go on already, get cracking!