Hi everyone, Ruth here. I blog at http://makey-cakey.blogspot.co.uk and I've been a Daring Cook since June 2011, and a Daring Baker since October 2009. I live in Edinburgh, Scotland, and this month I'm bringing you another Scottish staple (but don't worry, it's a lot easier than haggis this time!). It's time to perfect your porridge.
Porridge is a staple breakfast food in Scotland, and many countries around the world. In fact, most culinary cultures have their own version of porridge – the grain may vary, as can the cooking method and flavorings, but the essential principle is the same: something cheap, filling, warm and nutritious to start the day.
Every October, Scotland celebrates the World Porridge Making Championship (http://www.goldenspurtle.com), and in October 2014, the 21st annual champion was crowned. Dr Izhar Khan, a renal consultant from Aberdeen Infirmary lifted the title, proving that porridge is something that anyone can excel at making – you don't need to be a top chef to do it well. This is one challenge that shouldn't prove too technical for anyone out there! The real challenge is to experiment with techniques and flavours to find your perfect personal porridge preference.
I'm providing a few basic recipes and techniques, but encourage you all to experiment with flavours, proportions and cooking methods to suit your taste and ingredient availability.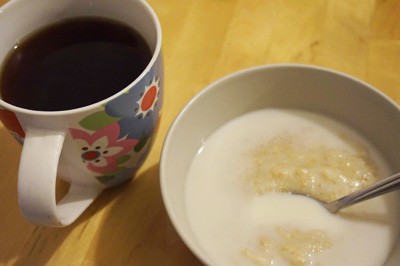 But first, a few more porridge facts:
There is debate – often heated – amongst porridge lovers as to how it should be cooked. Purists extol the virtues of porridge made with oatmeal (rather than oat flakes) cooked with only water and pinch of salt added, and stirred with a "spurtle" – a special wooden porridge stirring stick. Others prefer it sweetened or made with milk. It's amazing how such small variations can make such a big difference to taste, texture and consistency.
My own preference is made with 1/3 milk to 2/3 water, served with a sprinkle of brown sugar and a splash of cold milk on serving to make "islands" with the sugar. That's the taste of childhood breakfasts for me! However I've also eaten and enjoyed it cooked in an empty coffee tin over a bonfire, stirred with a stick and served complete with bits of ash and pine needle; I've made it on camping stoves half-way up hills, or in giant catering sized pan to serve 40 people at a youth camp; I've been served it so runny, you could almost drink it, or cooked it so thick that you could eat it with a fork, after forgetting to take spoons on holiday with us, and whilst at university my flatmates and I used to sometimes make porridge with Baileys chocolate cream liqueur for dinner(!). However you have it, it's always nutritious and warming.
Looking back a few decades into Scottish history, it was common for rural homes in the Highlands to have a porridge drawer. This was a wooden drawer in a dresser, normally lined with tin or paper, in which fresh porridge was poured in the morning, and set, ready to be sliced and eaten cold later in the day, sometimes with a smear of jam, or fried on the griddle. Apparently an elderly relative of mine had a particularly penchant for sliced cold porridge and pickled beetroot sandwiches, although I've not been quite daring enough to try that one out.
Recipe Source:
Basic/microwave porridge: "Traditional Scottish Cooking" published Lomond Books
Baked oatmeal: personal recipe
(Many recipes for additional variations can be found by searching online, e.g.:
Barley Porridge – http://honestcooking.com/nordic-cuisine-for-the-home-cook-velvety-barley-porridge-recipe/
Rye Porridge – http://www.saunalahti.fi/marian1/gourmet/10_6.htm
Rice Porridge – http://www.justonecookbook.com/recipes/rice-porridge-okayu/)
Blog-checking lines: For the March Daring Cooks' challenge, Ruth from Makey Cakey invited us to start the day with something filling, warm and nutritious. We got to experiment with different techniques and flavorings to create our own perfect personal porridge.
You can find the challenge PDF here
Posting Date:
[March] 14, 2015
Notes:
See this link for details on the different types of oatmeal that can be used. Pinhead (steel-cut) oats are traditionally used in porridge.
Mandatory Items:
Make porridge at least twice, adjusting the recipe second (and subsequent) times based on your preferences.
(If you're feeding several people at once, why not make a porridge buffet like we did – try a few versions and see which comes out top)
Variations allowed:
Any to suit dietary requirements.
Porridge can be successfully made with rolled oats, oat flakes, oatmeal, barley flakes, rye flakes, millet flakes, rice and probably many other grains/pulses.
Water, cow's milk or any non-dairy milk substitute can be substituted.
Preparation time:
Preparation time less than 5 minutes (if preparing any fruit or additional ingredients).
Almost zero preparation time for basic porridge
Equipment required:
Measuring cup or scales
Saucepan
Wooden spoon
Fork
A microwaveable jug or bowl (for microwave version)
A small baking dish (for baked version)
Recipe 1: Basic Porridge
Servings: 4
Ingredients:
1 cup (250 ml) (90 gm) (3 oz) pinhead (steel-cut) oatmeal (or rolled or flaked oats)
3 cups (750 ml) water
pinch salt
Milk/sugar/toppings of your choice (fruit, nuts, seeds, sugar, syrup, jam, honey, spices – the list is endless)
Directions:
Put all of the ingredients in a small saucepan and bring to the boil over a low heat, stirring frequently until the porridge thickens. Add a little more liquid if needed to achieve your preferred consistency. Serve when thick and creamy, topped with your choice of additional ingredients.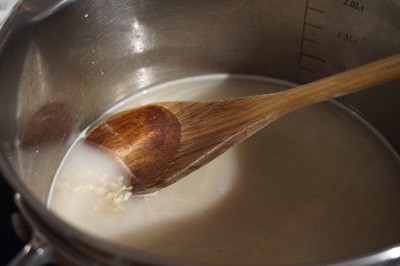 Some people prefer to substitute some or all of the water for milk, when cooking
Recipe 2:Microwave Porridge
Servings: 2-3
Ingredients:
½ cup (125 ml) (45 gm) (1½ oz) pinhead (steel-cut) oatmeal
1½ cups (375 ml) liquid (water, milk or combination)
pinch salt
Directions:
Mix all of the ingredients in a microwaveable bowl. Microwave, stirring frequently, for around 3 minutes. Watch it carefully, as it is prone to boiling over and it makes a lot of mess! If you are using non-dairy milk, it is likely to boil over sooner due to the higher sugar content.
Recipe 3:Baked porridge with Jam
Servings: 2-3
Ingredients:
1 cup (250 ml) (90 gm) (3 oz) rolled oats
3/4 cup (180 ml) milk
2 heaped (40 ml) tablespoons jam of your choice
1 small banana
1 heaped tablespoon (20 m) ground flax seed
Oil/butter for greasing
Directions:
Lightly grease a small casserole dish, and preheat the oven to moderate 350°F (315°F fan)/180°C (160°C fan)/gas mark 4.
Mash the banana in the bottom of a medium mixing bowl.
Mix in the milk and jam.
Add the oats, flax seeds and spice and mix thoroughly until well combined.
Pour the mixture into the prepared dish, and bake for about half an hour until firmed to the touch, and browned on top.
If you'd like a firmer more cake-like texture, beat in an egg along with the milk and jam.
Storage & Freezing Instructions/Tips:
You can successfully keep porridge in the fridge and re-heat it. It will keep for around 3 days. It will thicken as it cools, so if you plan to do this, cook it to a slightly runnier consistency. Reheat in the microwave.
Additional Information:
You can easily increase or reduce the quantity of porridge you want to make as long as you keep the oat/liquid ratio of around 1 part (oats) by volume to 3 parts (water) by volume. The easiest way to do this is to use the same measuring container to measure both things.
Here is a link to many oatmeal inspired recipes.