If you're like many Americans, Friday night might happen to be pizza night.
What's not to love about pizza night? Whether you make your own pizza or order in, a hot, cheesy slice of pizza is a great way to celebrate a long week of work - and to relax at the end of the work day. From sausage to pepperoni, peppers to onions, anchovies to pineapple, there's no shortage of ways to make a slice of pizza truly all your own.
However, buying pizza (whether it's delivery or frozen) can quickly become expensive. Not only that, but store bought pizza isn't' always the healthiest option, as it's loaded with extra sodium and calories.
If you want to really up your pizza game, it's time that you go shopping for your very own pizza stone. That way, you'll be able to create restaurant-quality pizza right in the comfort of your own home.
Not sure what to look for? Here are the best pizza stones you can buy - and a buying guide to help you make sure your pick makes it possible for you to satisfy any pizza craving. 
Consider These 8 Best Pizza Stones to Take Pizza Night to a Whole New Level 
1. Lodge Pre-Seasoned Cast Iron Baking Pan With Loop Handles


Cast iron is the preferred cooking material of choice for many people. Whether you're frying up some fish or baking bread, cast iron is a durable, resilient choice that will last you for decades. 
Why not consider a cast-iron pizza stone? This option by Lodge offers all the versatility and strength of cast iron yet isn't so heavy and cumbersome that it's difficult to use. It has large handles that offer superior control while the cast iron offers unprecedented levels of heat retention.
Your pizza stone will heat up quickly and evenly with this pan, which is pre-seasoned with 100% natural vegetable oil. You can use it to make your favorite pizza pie, or you can use it to broil, bake, sear, grill, or fry any dish of choice. It can be used in the oven, in a pizza oven, on the stove, on the grill, or even over a campfire. It can even be used on an induction cooktop!
Coming in at 14 inches, it's just large enough to fit a family-sized pizza but not so large that it won't fit inside most ovens. It's offered by one of the leading names when it comes to cast iron production and is easy to clean, too - all you have to do is wipe it with a paper towel and rub a layer of vegetable oil on the surface. It's as simple as that! 
What We Liked: 
Strong and durably built

Heats evenly and relatively quickly

Made in the United States
What We Didn't Like: 
Gets very hot and takes a long time to cool down 
2. Wilton Perfect Results Non-Stick Crisper, 14-Inch Pizza Pan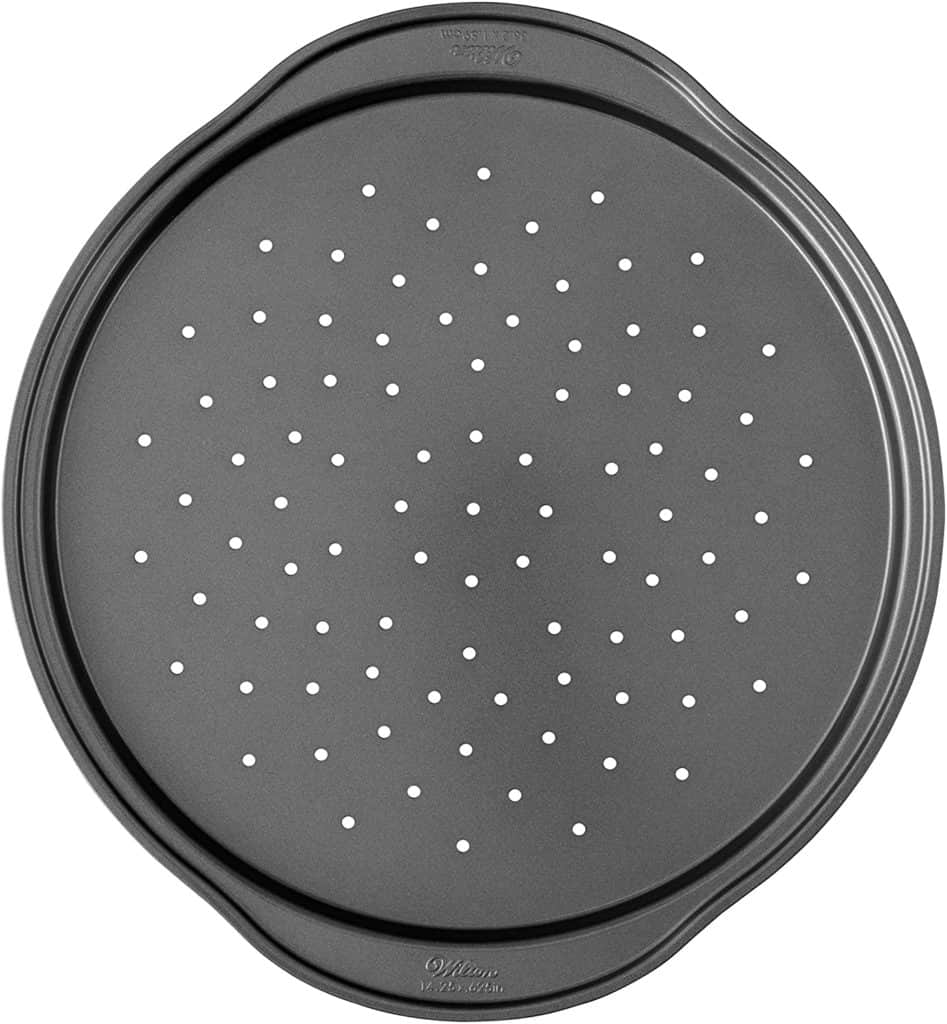 This pizza pan by Wilton claims to give you "perfect results" - and we have to say, we agree! You'll love the pizza you can prepare with this non-stick pizza pan, which is made out of durable steel.
As a nonstick pan, it is dishwasher safe (the manufacturer does recommend rinsing it in warm, soapy water after each use, though). It is backed by an industry-leading ten-year warranty and has perforated holes to allow air to move through. Its side handles help it slide into the oven quickly and easily and also allow grease to leave the pie for a non-soggy finish. 
It works great in a convection or standard oven and is rated to maximum temperatures of 450 degrees Fahrenheit. 
What We Liked: 
Lightweight and easy to maneuver

Has perforated air holes for a crispier crust 

Reinforced nonstick coating prevents cheese from sticking
What We Didn't Like: 
Nonstick surface is delicate and tough to clean 
3. NerdChef Steel Stone - High-Performance Baking Surface for Pizza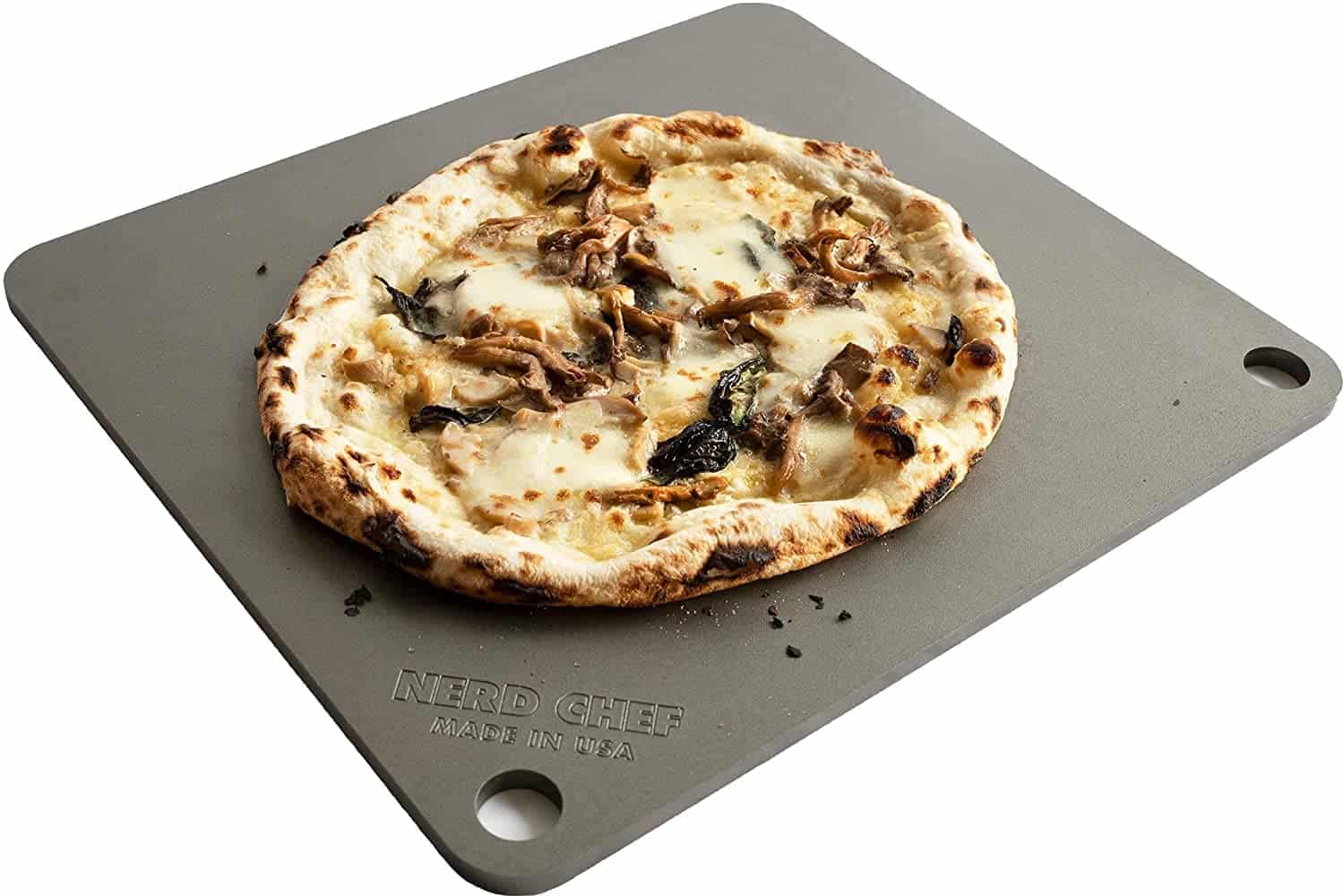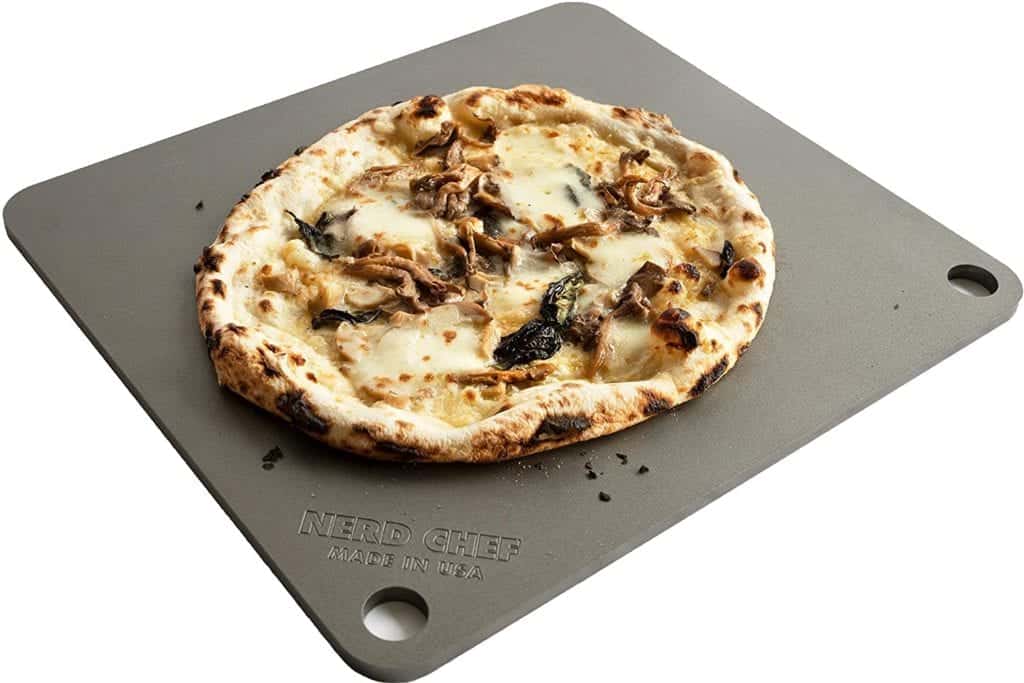 This steel stone by NerdChef is one of the best and highest-performing surfaces you will find. It has twenty times the conductivity of regular ceramic pizza stones. You'll cook your pizza much faster without having to wait for the stone to build heat.
Not only that, but when you're able to cook pizza at this level, you'll get lovely crusts that resist burning and crisp up nicely as well.
These pizza stones are low-friction and textured. Made out of solid steel, they are unbreakable and guaranteed for life. They are seasoned with flaxseed oil for the perfect shine and nonstick finish. 
At 16" x 14.25" x 3.75", this stone is the perfect fit for most ovens. It is, however, quite heavy! 
What We Liked: 
Cooks quickly and evenly

Produces excellent crispy-crust pizzas

Easy to clean and reseason 
What We Didn't Like: 
Very heavy and cumbersome to lift 
4. Unicook Heavy Duty Ceramic Pizza Grilling Stone


This ceramic pizza stone by Unicook is made out of cordierite stone. It can withstand temperatures up to a whopping 1,450 degrees Fahrenheit and has superior thermal shock resistance. It's perfect for cooking both frozen and fresh pizza, both on the grill and in the oven. You can also use it to bake pizza, cookies, and bread.
Measuring 14.9" x 11.8", it only weighs about six and a half pounds and distributes heat evenly for perfect cooking. Ti comes with a free multipurpose plastic scraper that you can use to cut dough and to scrape off any residue that's stuck to the stone. 
This pizza stone never needs to be seasoned and also requires no use of detergent or soap to get it clean. To prevent the pizza from sticking to this pizza stone, all you need to do is apply a light dusting of flour or cornmeal. 
What We Liked: 
Heavy-duty and heat safe up to 1450 degrees Fahrenheit

Comes with a free plastic scraper

Made out of durable Cordierite stone
What We Didn't Like: 
Porous nature of the stone can make it tough to clean  
5. Solido #1 Pizza Stone - Baking Stone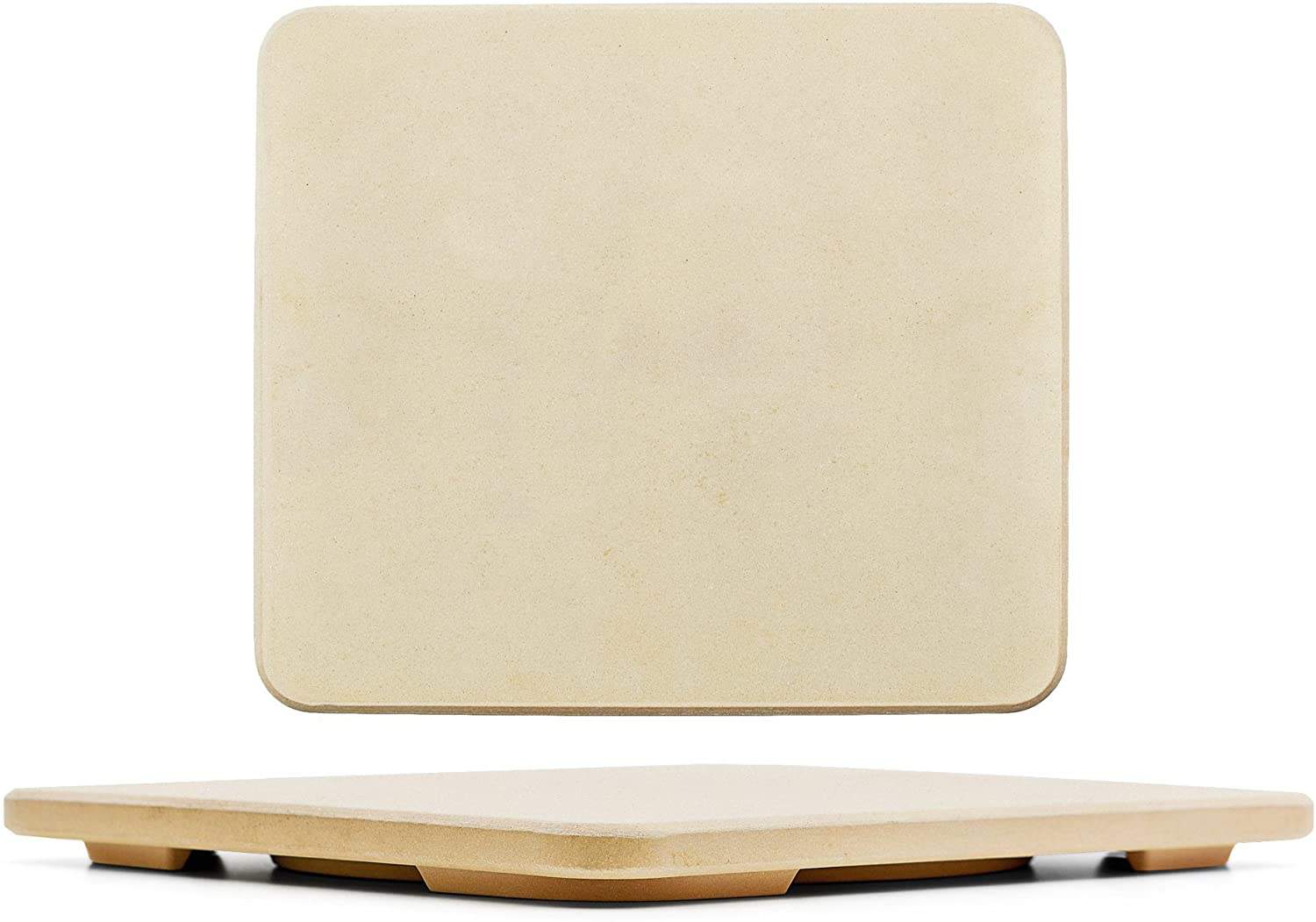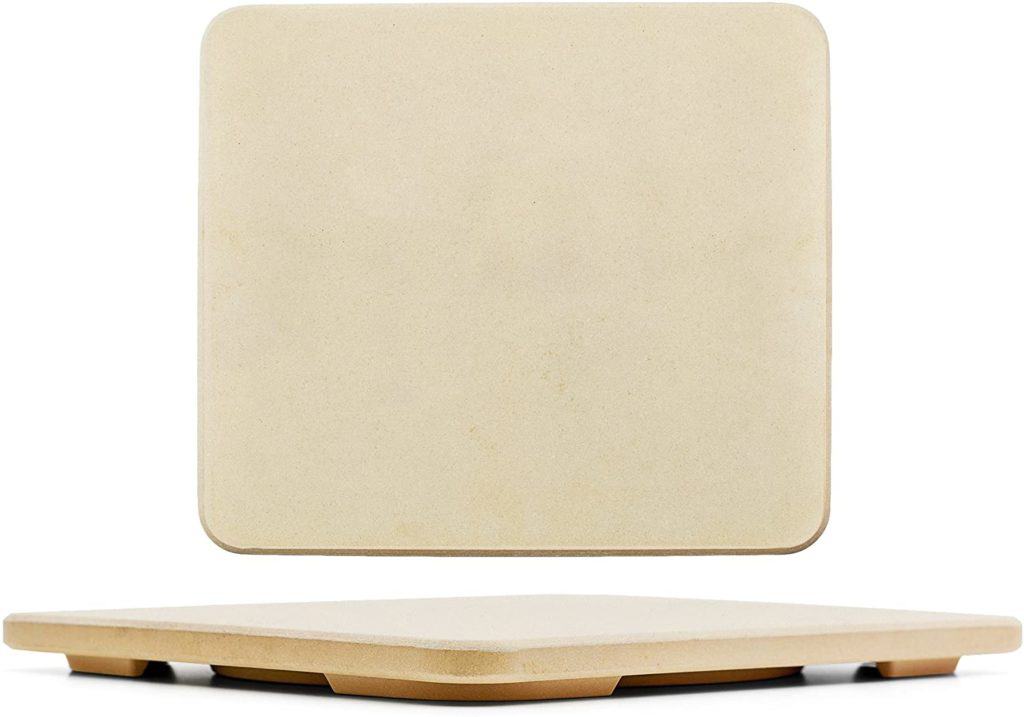 Another one of the best pizza stones is this option by Solido. It is perfect for all kinds of pizza along with bread, cookies, and other treats. 
The perfect match for any oven,grill, or barbecue, it is versatile and has a unique heat spiral so that your stone will be heated faster (and stay hot longer, too). Unlike other pizza stones that cause the outer edges of your pizza to crisp up while the inside toppings stay raw, this pizza stone heats evenly and efficiently.
It has a gorgeous finish and overall appearance, providing you with a piece of kitchenware that is not only functional but is pleasing to the eye as well. At just 14" x 16", this pizza stone is the perfect size for most standard ovens. 
What We Liked: 
Has heat serial technology for excellent heat transfer

Ideal measurements of 14" x 16"

Has feet on the bottom to prevent slipping 
What We Didn't Like: 
6. Heritage Black Ceramic Pizza Stone ​Pan ​and Pizza Cutter Wheel ​Set​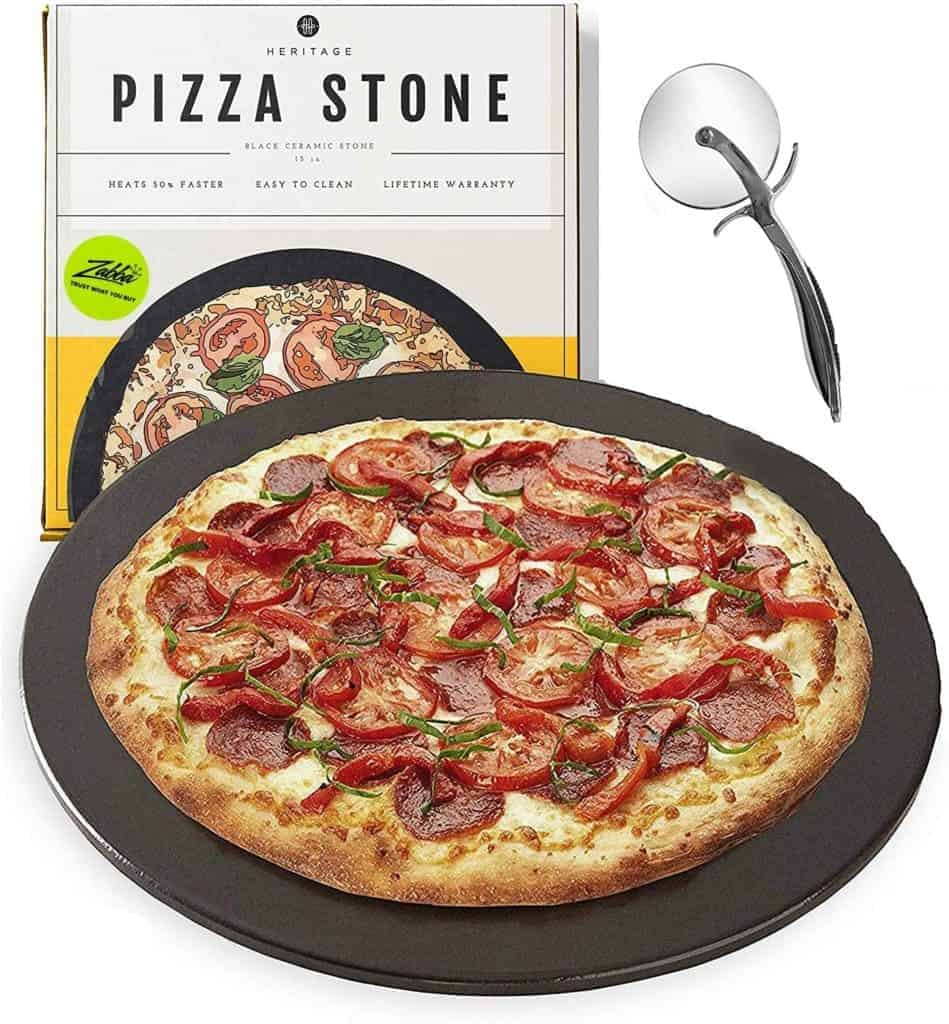 This ceramic pizza stone by Heritage Products looks a lot like your average conventional pizza stone, but it has the features you need and want for great-tasting pizza each and every time. It does not smoke and will help your pizza taste great every time.
Furthermore, it will not stain from grease, nor will it burn your crust. It rinses off easily and can be washed for a like-new finish with ease. 
This pizza stone also resists cracking so you don't have to worry about it getting damaged inside your oven. It preheats twice as fast as similar pizza stones and is designed specifically for people who want an easy-to-use and easy-to-clean stone.
What We Liked: 
Preheats twice as fast as other pizza stones

Does not smoke

Reduces grease build-up and the likelihood of burned crusts
What We Didn't Like: 
Not the most stylish option
7. CastElegance Pizza Stone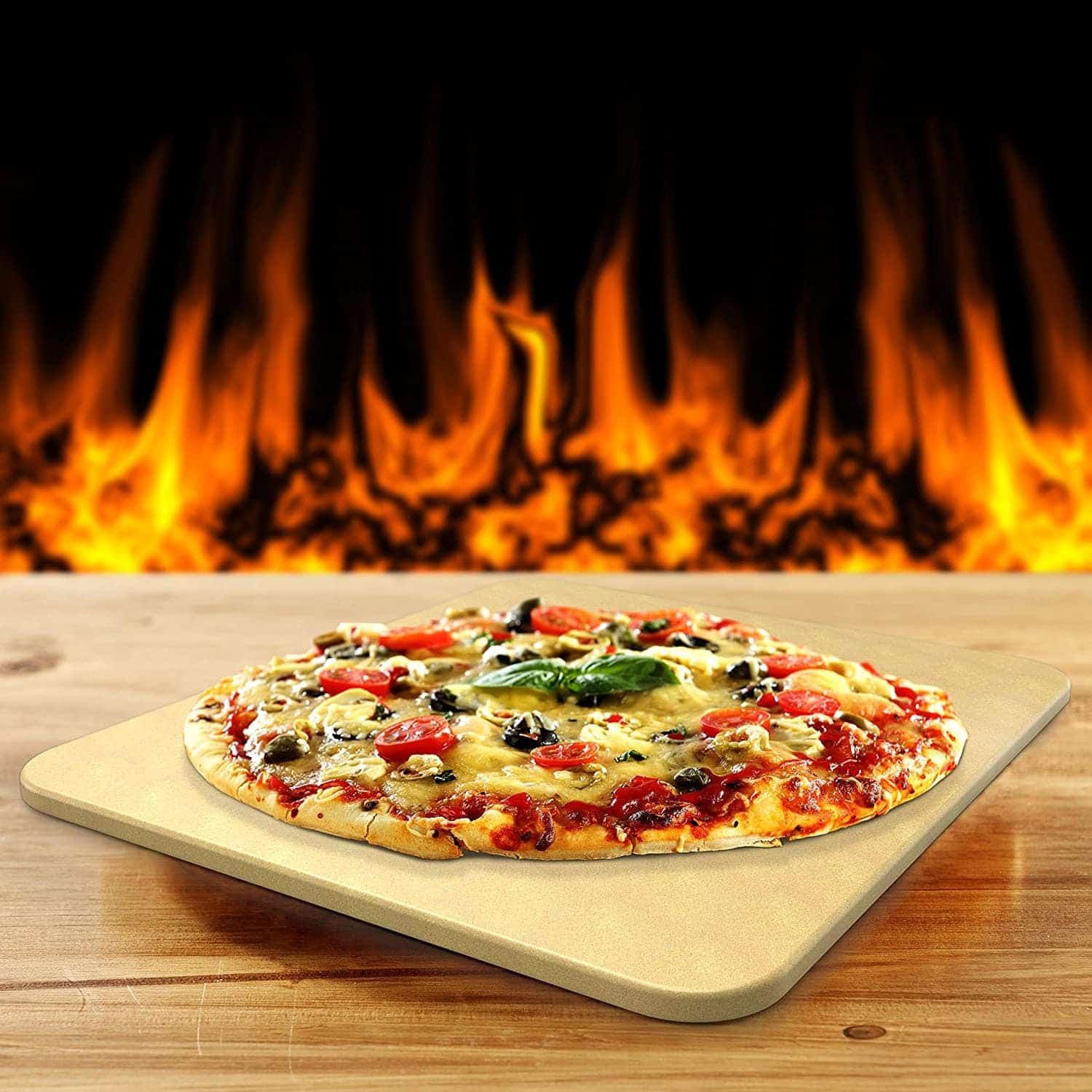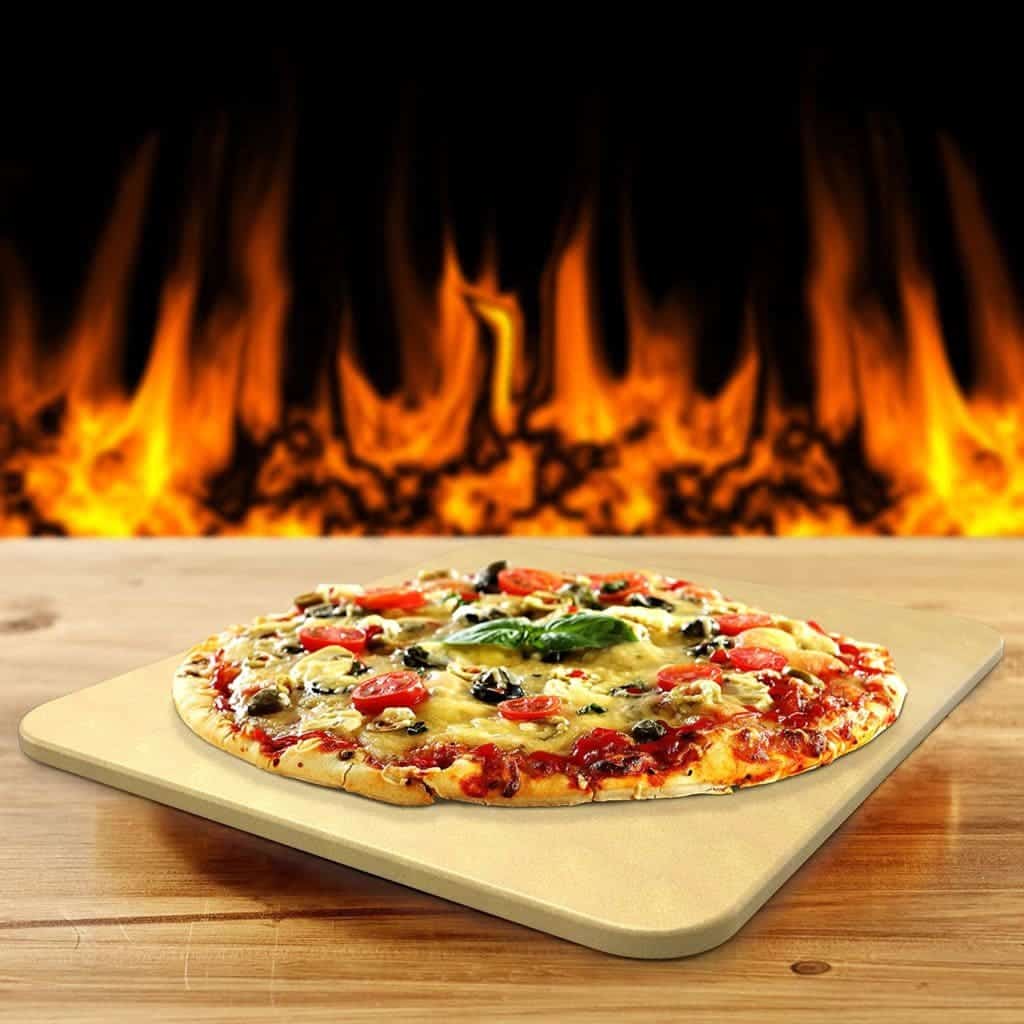 This pizza stone by CastElegance is another one of the best. It offers a superior crispy crust and absorbs more moisture so that your crust will never be soggy but instead will be perfectly crisp at all times. 
It also supplies superior heat retention, transferring heat from your oven to the crust in no time (and keeping it there!). This is great if you plan on cooking multiple pizzas at once. It can be used both on an oven and a grill, as the Thermarite material (which is technically engineered tough cordierite) is meant to protect the pizza from the intense heat of the grill.
Unlike some pizza stones that produce odd smells as they heat up, this one produces no odors and won't stink up your house. It measures 14" x 16" and is a rectangular shape, meaning it can fit most types of family-sized pizzas with ease and slide comfortably inside most ovens, too.
It comes with a ton of free features as well. Not only will you get the pizza stone and the accompanying care and use instructions, but you'll also get a bonus scraper and a free recipe eBook. If you're new to making homemade pizza, these recipes will prove to be absolutely invaluable as you are learning the ropes! 
What We Liked: 
Built to last as a durable, strong option

Can be used on grills and in ovens

Produces no odor when heated
What We Didn't Like: 
Can be a bit difficult to clean 
8. Outset 76176 Pizza Grill Stone Tiles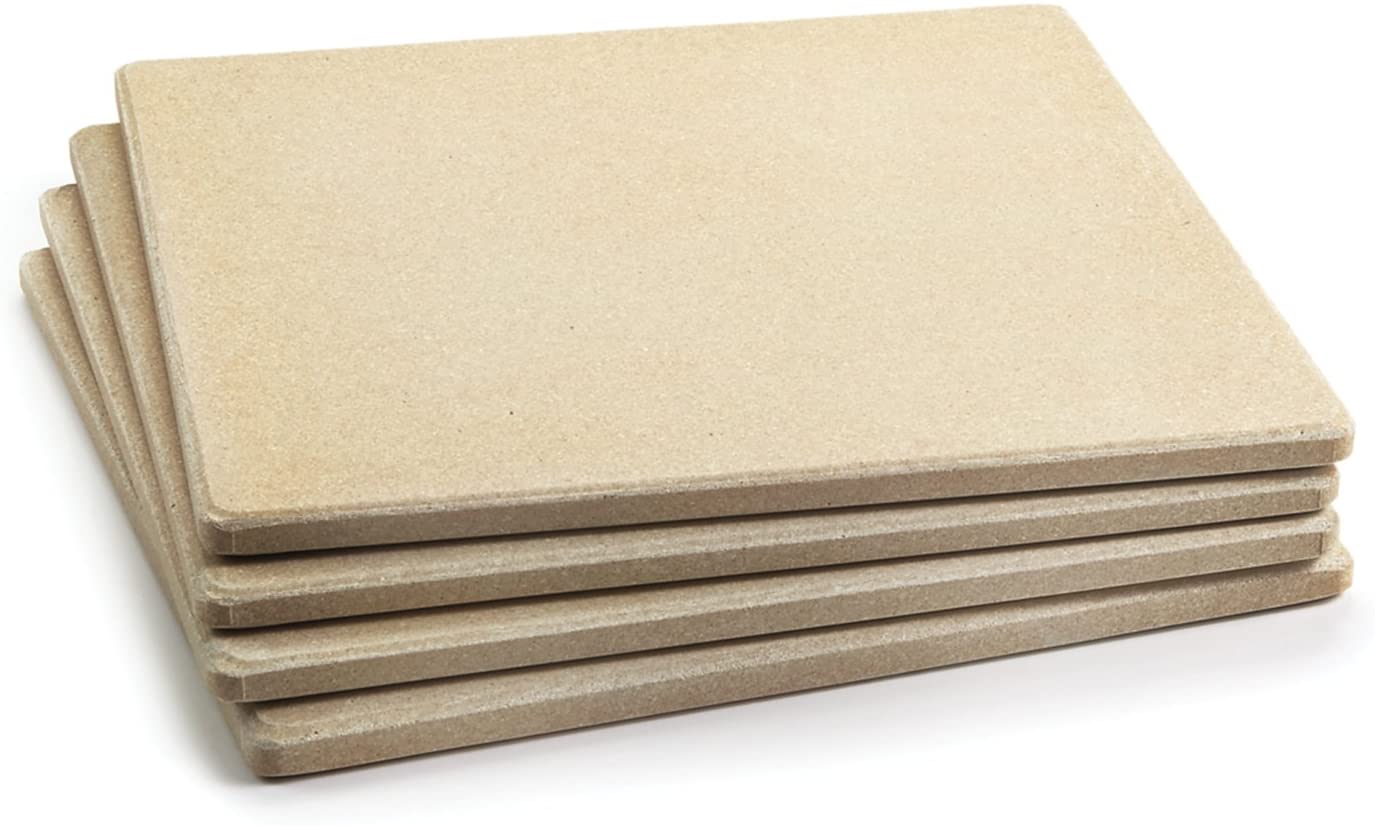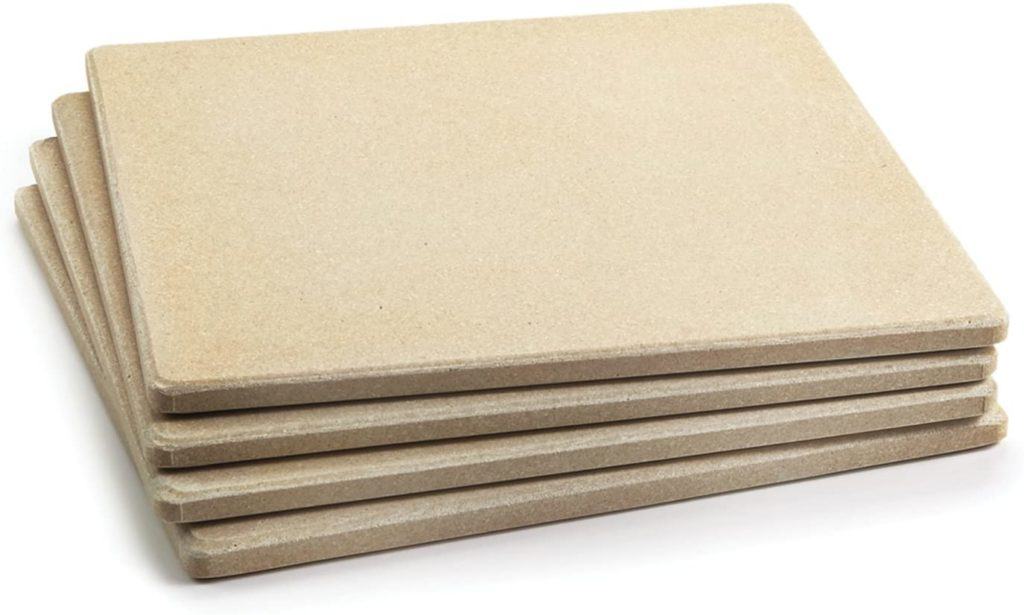 Last on our list of the best pizza stones is this option by Outset. Outset manufactures a wide array of pizza-making equipment, including an acacia pizza rocker, a pizza stone cleaning brush, and various pizza peels, tiles, and stones. Available in a number of sizes and materials, these products by Outset are guaranteed to be some of the very best. 
This set of four pizza grill stone tiles is one of our favorites, since it comes with everything you need to make personal pizzas for the entire family. When you buy, you'll get four square stones at 7.5 inches each. They are less than half an inch thick, which is perfect for optimal heat transfer without taking too long to cool down or heat up. 
These stones are heat-safe to 1450 degrees Fahrenheit and safe for both the oven and the girl. Since they are individual tiles, you can use them to make all kinds of personal pizzas, calzones, French loaves, and more. You've never seen pizza stones quite as versatile and customizable as these!
What We Liked: 
Made from tough, durable materials

Attractive and trendy 

Can be used for other versatile purposes, such as making bread or calzones
What We Didn't Like: 
What to Look for in a Pizza Stone: A Handy Buying Guide
Material
There are generally a few materials out of which you'll find pizza stones made. The most common are steel and ceramic. One type of ceramic you might find is cordierite ceramic, which is often used in commercial bakery ovens since it is so insensitive to changes in temperature (this means it can prevent cracking). 
A ceramic stone is ideal if you plan on baking pizza along with bread, tarts, cones, or biscuits on your surface. They transfer heat moderately so you won't have to worry about burning the bottom of your baked goods. 
Baking steels, usually made out of solid steel, offer more intense heat. They generally cook faster and are ideal for proper browning and oven spring. However, they aren't as versatile as ceramic pizza stones because they will provide a quick blast of heat that often proves too much for buttery pastries.
Other options include stone and clay; these are both great for baking, as they can absorb moisture and prevent your crust from becoming soggy. 
Cast iron is one other option. Cast iron is not very common, since it's so heavy. It generally isn't very heat-resistant, either, which can make the warm-up and cool-down process take seemingly forever. 
Versatility 
There are plenty of other features you should look for when shopping for a pizza stone, too. Just about all other kinds of pizza stones can be used to cook other foods, like breads and pastries, but that's not always the case.
You may also want to look for a pizza stone that will enable you to cut pizza directly on it. Other pizza stones are dishwasher-safe while some can be used to serve cold foods or frozen, too. 
Shape and Size
Almost as important as the material your pizza stone is made out of is the shape and size. You want a stone that is as large as possible while still allowing for airflow around the stone.
A rectangular stone will be much more versatile than a round one. However, you'll still want a baking stone that is the right size for your oven. Usually, a 30 inch stove will fit a stone that is 15 by 20 inches, but it's important that you measure thoroughly before you buy. You will want to maintain a one-inch gap between the stone and the oven walls, which will allow for airflow on all sides. 
Temperature Ratings
When you buy your pizza stone, check to see what kind of temperatures it can handle. Most pizza stones will need to withstand temperatures of at least 550 degrees Fahrenheit, but it's important to check the rating provided by the manufacturer, especially if you intend to use your pizza stone on a barbeque grill or in a hot pizza oven. 
Thickness
Mind the thickness of your pizza stone and know that thicker isn't always better. If the pizza stone is too thin, it will fail to hold heat, particularly important if you plan on baking back-to-back pizzas. If it's too thick, though, it will take forever to preheat and be cumbersome to move.
You will ideally want a pizza stone that is somewhere between ½ and ¾ of an inch (you can get away with a ⅜ inch stone if you are using one that is made out of steel). 
Texture
This is the least important feature to consider but certainly one that's worth mentioning. Pizzas that are baked on stones with coarse surfaces tend to be much crisper, puffier, and browner than those made on smoother stones. The texture of your pizza stone can, as you might expect, affect the crust texture and quality. 
Is a Pizza Stone Truly Necessary? 
You don't have to pay an arm and a leg for good pizza! You can easily find a quality pizza stone for less than $50, and while there are some that certainly surpass this price range, it's not difficult to find a pizza stone that falls right in the sweet spot of your budget.
No matter what, though, understand that a pizza stone can really take your culinary game to the next level. Sure, you could bake a frozen pizza on a regular old cookie sheet. But is that going to give you restaurant-quality pizza? Hardly.
If you eat pizza on a regular basis - once a month or more often - a pizza stone is well worth the investment. Not only will the best pizza stone save you time from ordering pizza in, but it can also save you tons of money, too. 
So is a pizza stone truly necessary? If you like pizza, it absolutely is.