Your nutritionist called, and the word on the street is that you're not eating enough fruit.
You're not alone. According to a startling number of nutritionists, a large majority of people these days are not getting enough fruits & vegetables, and the consequences are actually quite startling. In fact, a recent study found that inadequate fruit intake was a direct cause of a significant amount of heart-related illnesses and even deaths worldwide.
But who has time for fruit? The hustling pace of the modern world doesn't always allow for a thoughtful meal of mixed berries and cantaloupe before work. In addition, fast, on-the-go snacks like granola bars and snack mixes have driven many of us away from fruit and vegetables altogether.
Hands down, the best way to re-introduce fruit into your diet is to turn it into a smoothie. They are convenient, easy to prepare, and stunningly delicious if you do them right, and best of all, you can get an entire day's serving of fruit without even sitting down. But we're not here to tell you about smoothie blenders. We're here to talk about portable blenders ... the most recent incarnation of the smoothie phenomenon that takes the power cord out of the equation (in most cases), allowing you to get your fruit on no matter where you are.
The best portable blenders are not only comparable to full-size blenders when it comes to performance, but they also utilize a whole host of innovative design elements and ideas that, in many cases, make them even better.
We've scoured the market for the best personal blenders to narrow it down to the top ten absolute best, listed below. When you get to number 10, keep scrolling for a detailed look into how these models secured their spot on the list.
Diwenhouse Portable Blender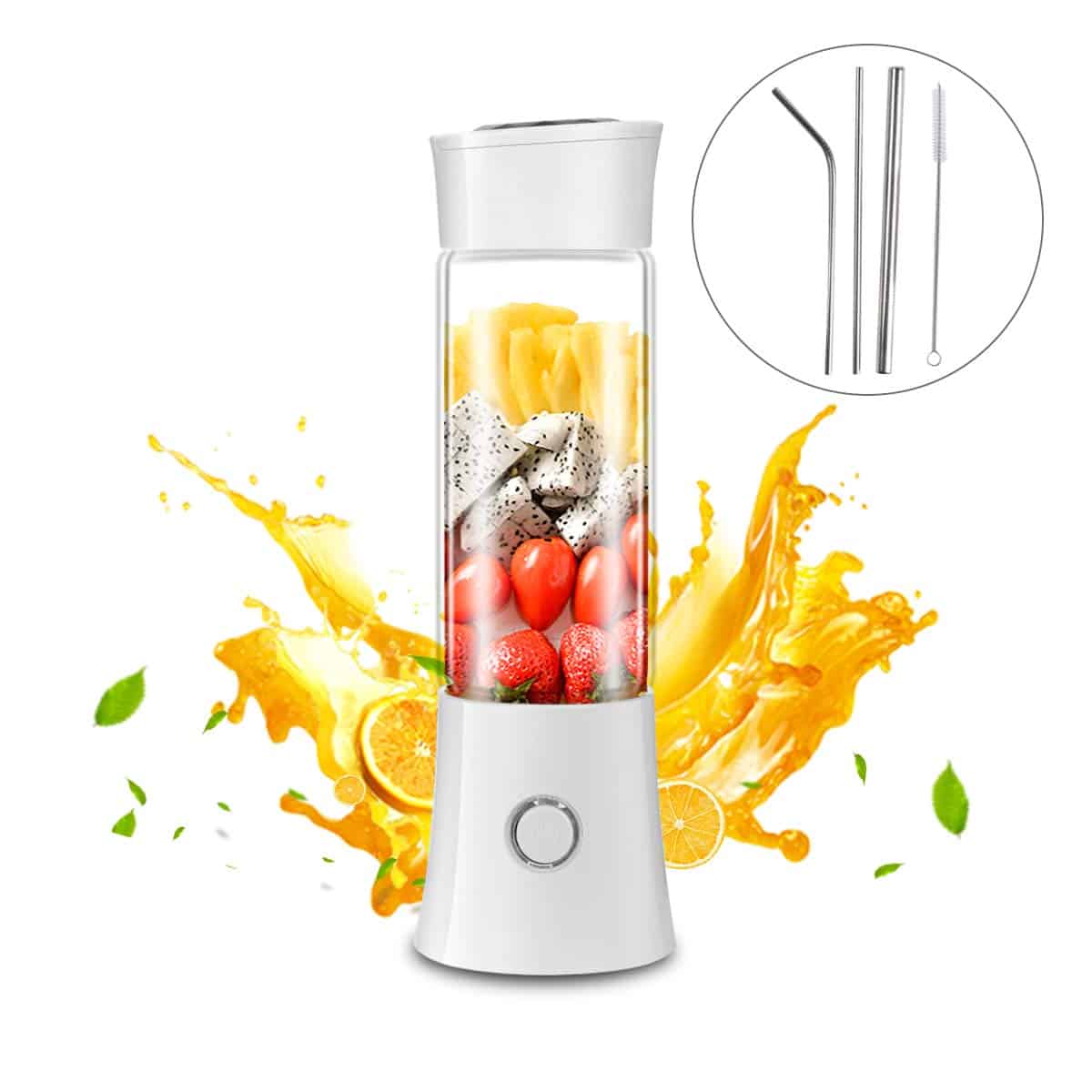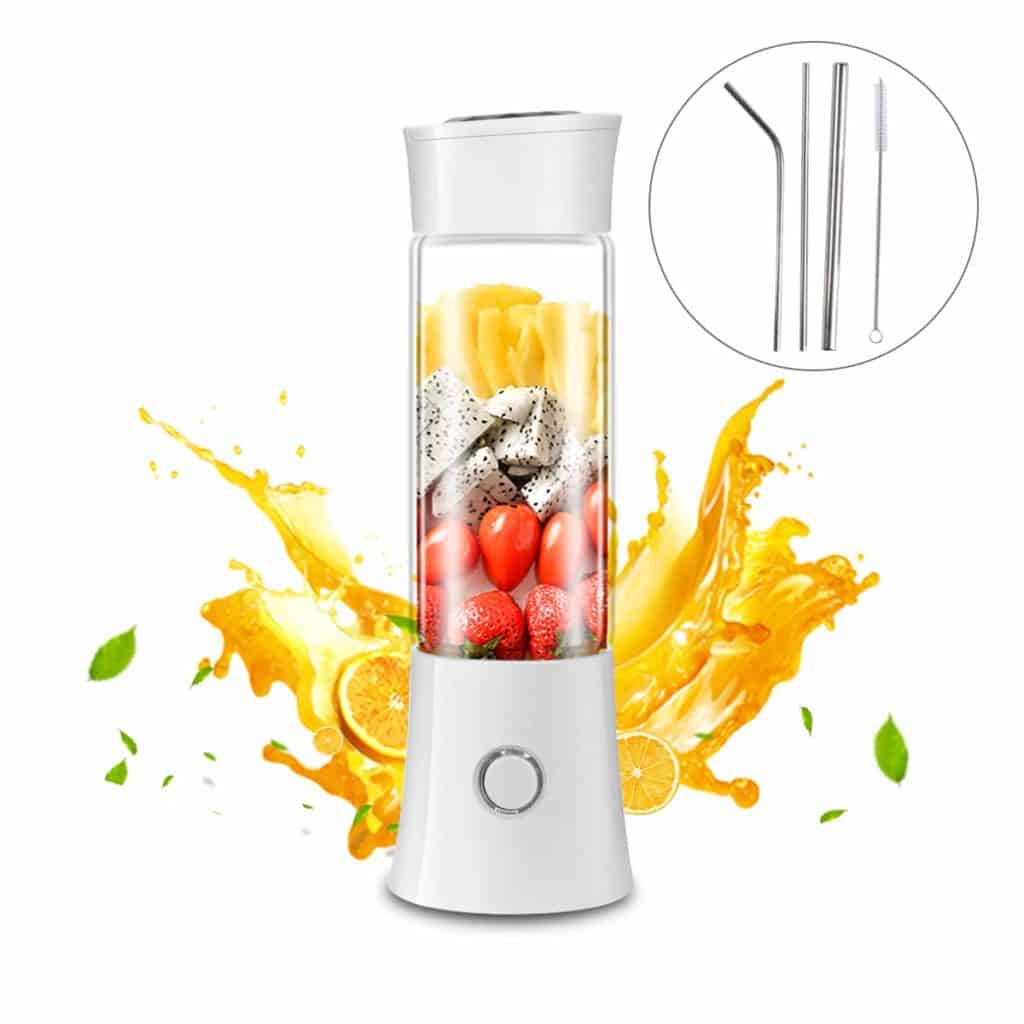 As if having your very own mini blender isn't convenient enough, the folks over at Diwenhouse have decided to go the extra mile with a few features that were no doubt intended to separate this blender from the competition. While this kind of feature-packing is often little more than a scheme to push a few extra units in online sales, the Diwenhouse actually succeeds for a large part in this respect. This blend of high performance and tightly integrated features are no doubt what has allowed it to become one of the most highly rated blenders on the market.
An LED battery indicator built into the power switch is something that other manufacturers will likely try to emulate from here on out. The inclusion of three metal straws as well as a cleaning brush are a welcome bonus that significantly increases the value of this little unit. We're not sure how much use we will get out of the lid-installed flip mirror, however, it could be the perfectly placed accessory for those using their blenders for that after-workout energy boost.
The blades are both strong and fast, so the lack of variable motor speeds can be safely overlooked. This thing is powerful enough to break down frozen fruit and ice cubes without adding a bunch of liquid. After all, there is liquid in the fruit. All we need is a blender that is effective enough to access it.
Critical Specs
Juicer Cup Capacity: 16 ounces
Blade Type: 6x PCS 304 stainless steel
Motor Speed: 15,000-25,000 revolutions per minute
Power Supply: USB-rechargeable 4000mAh lithium battery
Top Feature: LED charge level indicators built into the power button
Hamilton Beach Personal Smoothie Blender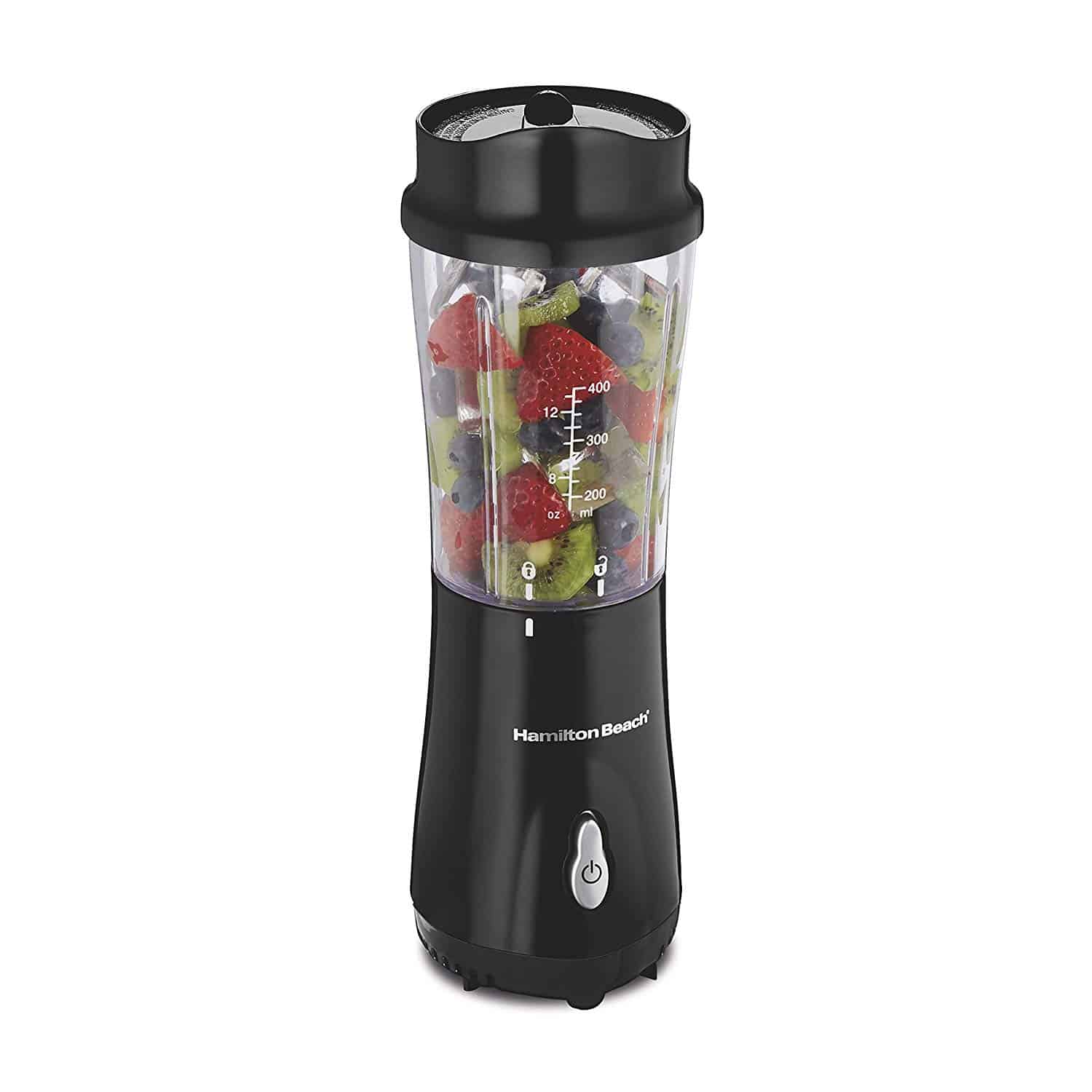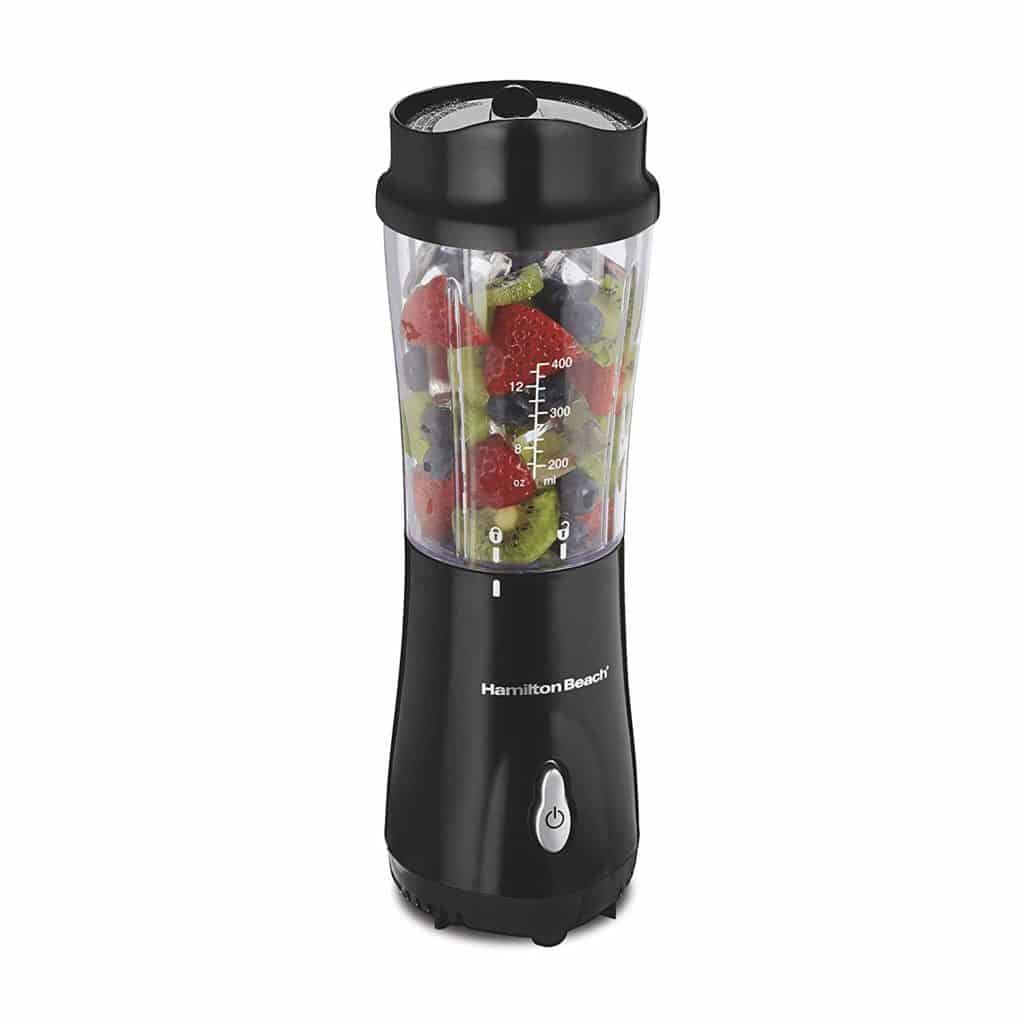 Well, we weren't going to get through an article on blenders without having to talk at least a little  bit about Hamilton Beach. After all, they are one of the most well-recognized brands in kitchen appliances, specifically small appliances like blenders and bread makers. It makes sense that they would be one of the first manufacturers to get into the portable blender market, but in fact this model is a relative newcomer among its peers.
The first thing that you will likely notice upon unboxing the Hamilton Beach blender is that there is an old-school power cord attached, as opposed to the more common dual rechargeable battery bank. Whether or not Hamilton Beach is ever going to release a rechargeable blender is hard to say. but it is clear to us (as well as a significant number of reviewers) that the plug-in stye is anything but a drawback on a machine like this.
The truth is that AC power is simply more reliable and constant. That is to say that you will be getting a steady flow of electricity as opposed to a varying flow based on how much battery power is left.
Critical Specs
Juicer Cup Capacity: 14 ounces
Blade Type: 4x  stainless steel
Motor Speed: ~ 15,000 rpm

Power Supply: Traditional AC power supply
Top Feature: A durable, well-made blender from a reputable brand
La Reveuse Smoothies Blender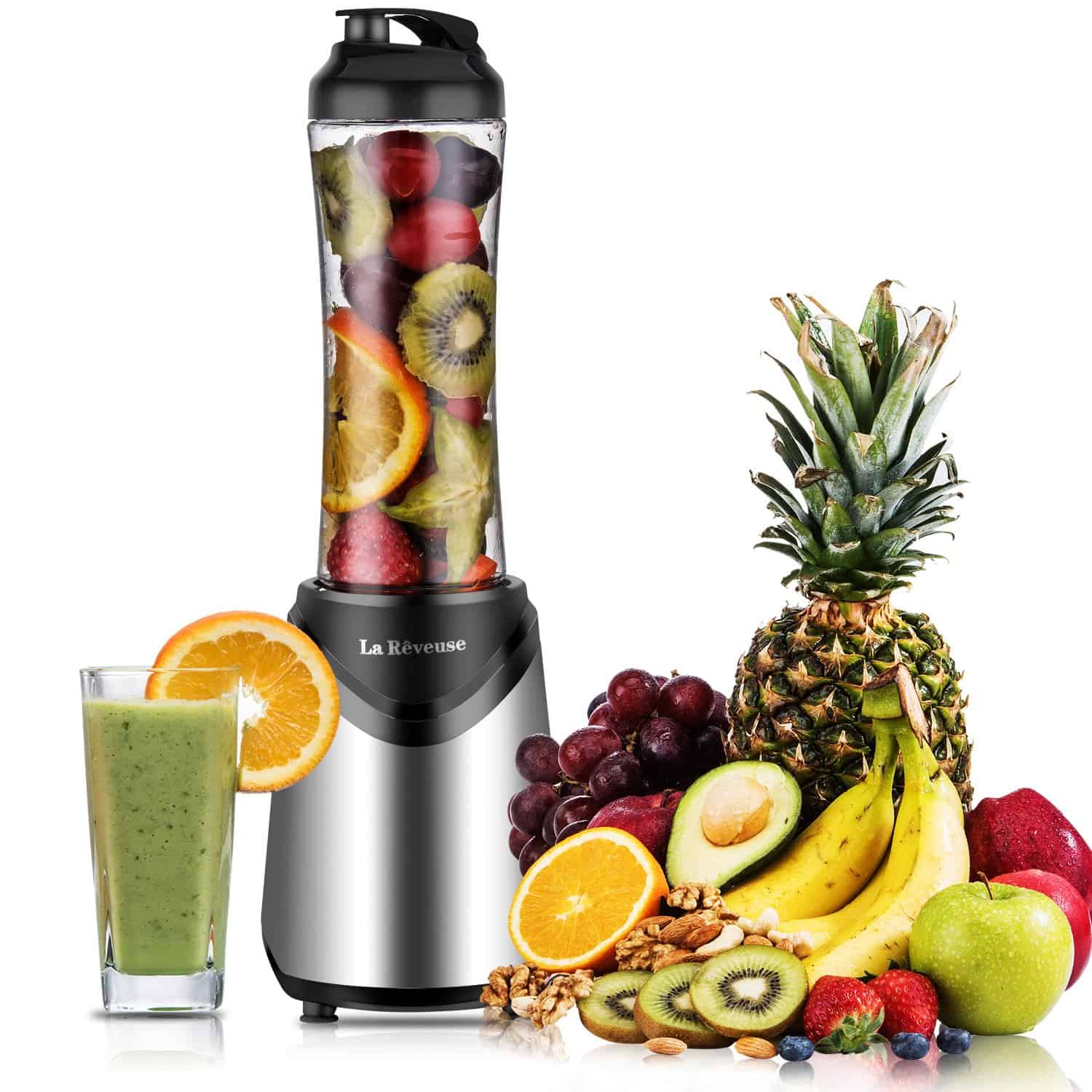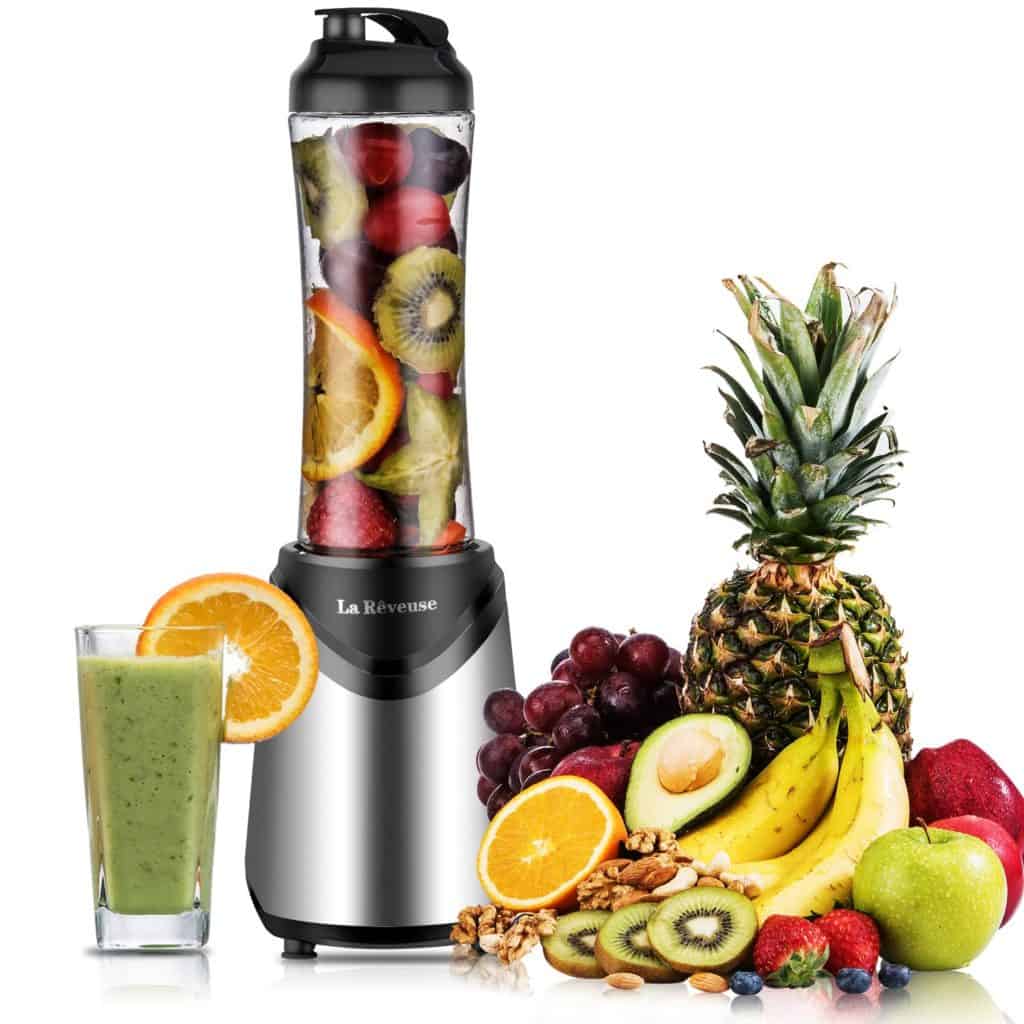 We have to admit that we did not immediately recognize the name of one of the most talked about blender manufacturers while scouring the web for product reviews. "La Reveuse" didn't mean anything to us, but after checking out their stuff, we have a feeling that we are only going to be reading about them more and more.
First things first, we have respect for companies that know exactly what market they want to be in, and then target it. La Reveuse at the time being only makes blenders and food processors (as well as a line of accessories for these machines). What this says to us is that they are a dedicated operation that wants to perfect this specific type of kitchen appliance before branching out into other products.
So how are they doing? For a portable blender, this one stacks up pretty well. At 12,500 RPMs, it certainly isn't the most powerful unit that we looked at, but it's no slouch, either. It lacks an internal rechargeable battery, which could be a turn off for some folks, but honestly, the thing is so solid and durable that it's probably worth it.
The only thing we don't like? No power button. That means that this blender will turn on the moment you plug it into a power source, so make sure your ingredients are ready and in the cup at that point.
Critical Specs
Juicer Cup Capacity: 18 ounces
Blade Type: 4x stainless steel
Motor Speed: 12,500 rpm

Power Supply: Traditional AC power supply
Top Feature: Big 18oz sport blender cup
Homgeek Personal Mini Blender Smoothie Maker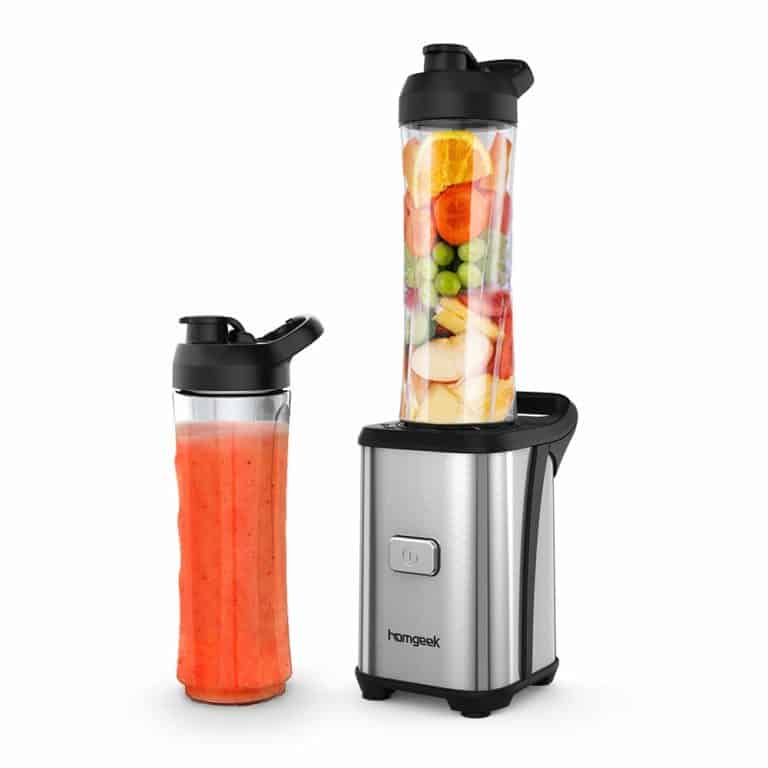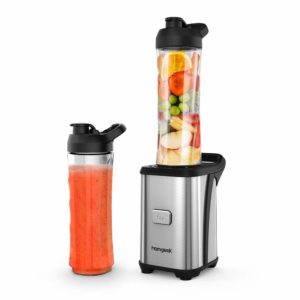 Here is a personal smoothie maker that is built for power, speed, and ultimate durability. With a larger motor and bigger base, the Homgeek can tackle even the most stubbornly frozen fruit, like those strawberries that have been sitting in your freezer for an embarrassing amount of time. With a guaranteed 25,000 rpm blade system, it might be in the top 2 or 3 most powerful travel blenders that we had the opportunity to investigate.
Here's the skinny. Many blender manufacturers will claim that their product performs at "up to" a certain level. Such as "up to 25,000 RPMs" or "Between 15,000 and 25,000 RPMs". What this actually means is that their product is not actually hitting those upper level revolutions per minute, either due to a weaker motor or a tougher smoothie consistency. The Homgeek, in our own experience, is hitting this level of rotations with ease.
All this power comes at a price if you want to consider it that way. Unlike most portable juicers and blenders, the Homgeek does not feature onboard rechargeable batteries. Instead, it uses a more traditional AC power cord, so it must be plugged into a wall. On the other hand, this easy access to abundant electricity is undoubtedly one of the primary reasons for this unit's remarkable pulverizing performance.
So can you take your Homkgeek into the wilderness for a weekend of lakeside smoothies? Not so much. But for a small blender that can quite easily follow you to the office, this is going to be the one that you want.
Critical Specs
Juicer Cup Capacity: 20.28 ounces
Blade Type: 4x stainless steel
Motor Speed: 25,000 rpm
Power Supply: Traditional AC power supply
Top Feature: 1 year satisfaction guarantee
VersionTECH Personal Blender & Travel Juicer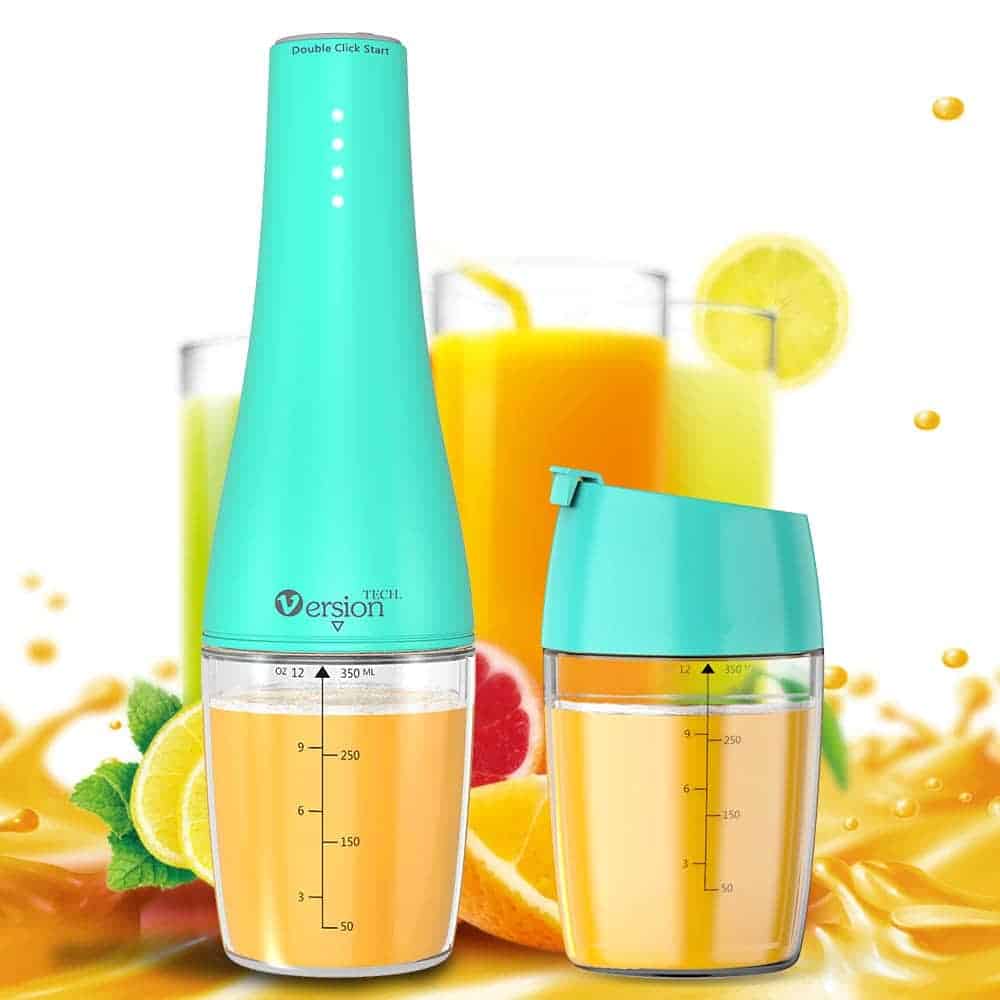 This sleek and chic portable blender is not only one of the most striking products on our list but also one of the best values you can find when you factor in performance, durability, and price. It's a few bucks cheaper than most of the blenders we looked at, and while that doesn't seem like a whole lot, it comes out to, at the very least, the cost of a few organic fruit smoothies. So yeah. It's kind of important.
The VersionTECH blender is significantly smaller than its competitors. While nearly everyone in the industry seems to have looked at one another and agreed upon a 16oz(ish) ounce juice capacity, this one seems totally content with a smaller juice up. The result is increased portability. The VersionTECH blender can fit in most backpack water bottle compartments and is short and narrow enough not to take up much room in your bag or backpack.
One might consider the reduced blades (4x instead of the more standard 6x) to be a drawback. According to our observations, it is true that more blades generally mean more blending power. However, the VersionTECH portable juicer can handle average ice and frozen fruits with about a 5 ounce addition of liquid to get things moving.
The motor is not as robust as some other models. The manufacturers don't recommend using it concurrently for more than 3 or 4 times to avoid overheating the components. Then again, if you need to use it more than that in a short period of time then it might be time to invest in a full-size blender.
Critical Specs
Juicer Cup Capacity: 11.83 ounces
Blade Type: 4x leaf-style metal blades
Motor Speed: 22000rpm
Power Supply: USB-rechargeable 2000mAh lithium battery (2x)
Top Feature: Very sleek & compact; easy to travel with
KACSOO Single Serve Glass Personal Blender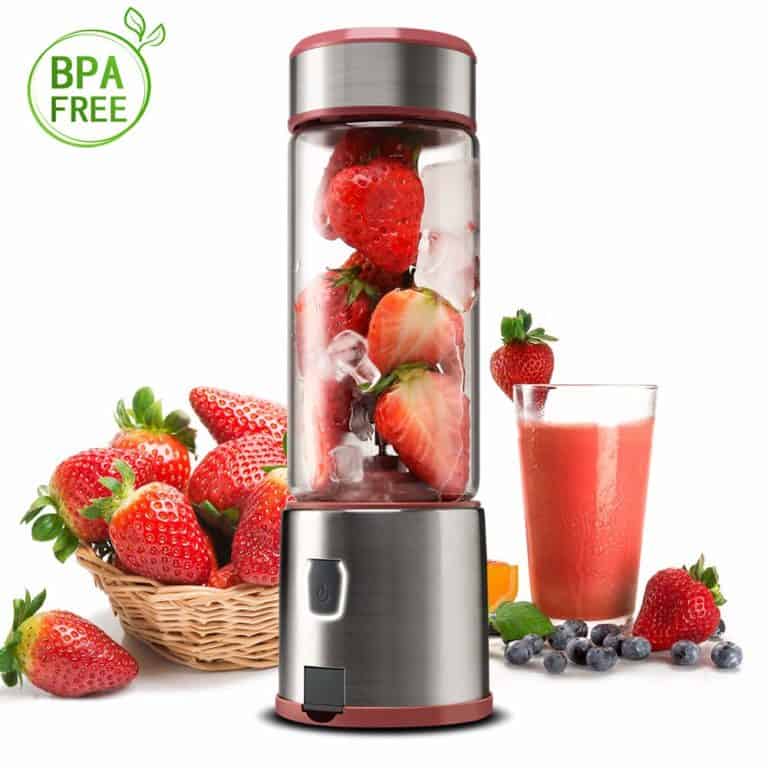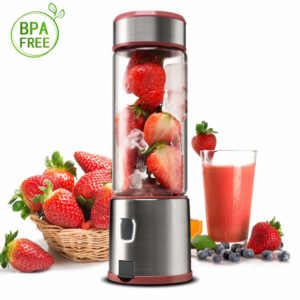 It's a bold move, making your blender cup out of high borosilicate glass when nearly every other manufacturer uses a much cheaper and more traditional plastic material. After all, what's the point in using more expensive materials when your rival companies are getting away with cheaper components?
There are a few answers to this. Number one, the BPA free glass cup is far easier to clean than plastic. Users will find that even dried out smoothie remnants can be cleaned from the surface with ease, no doubt due to the far smoother surface nature of glass over plastic.
A lot of people might tell you that glass is healthier than plastic from a drinking perspective. You might have heard about how harmful chemicals can leech from plastics into your drink. This certainly is the case with cheaper plastics, but it is worth pointing out that manufacturers became aware of this pretty quickly and switched to BPA free plastic containers, which have been confirmed to be completely safe for human consumption.
The second reason we think this glass is superior is because it might have something to do with how delightfully quiet this blender is when it's on.
Critical Specs
Juicer Cup Capacity: 15.5 ounces
Blade Type: 4x PCS 304 stainless steel
Motor Speed: 16,500 RPMs
Power Supply: USB-rechargeable 5200mAh lithium battery
Top Feature: Remarkably quiet operation; perfect for the early waker
TTLIFE Small Smoothie Blender Single Serve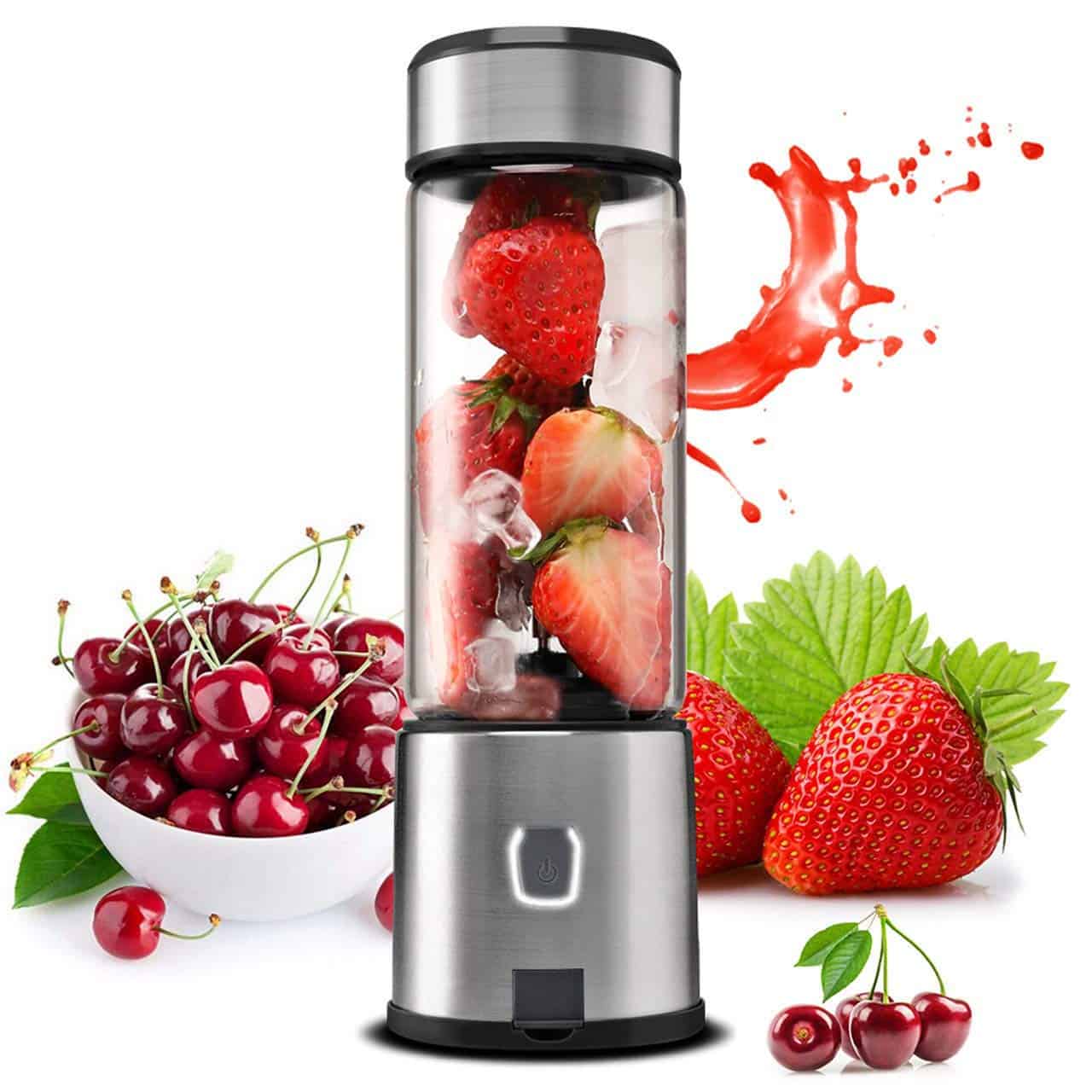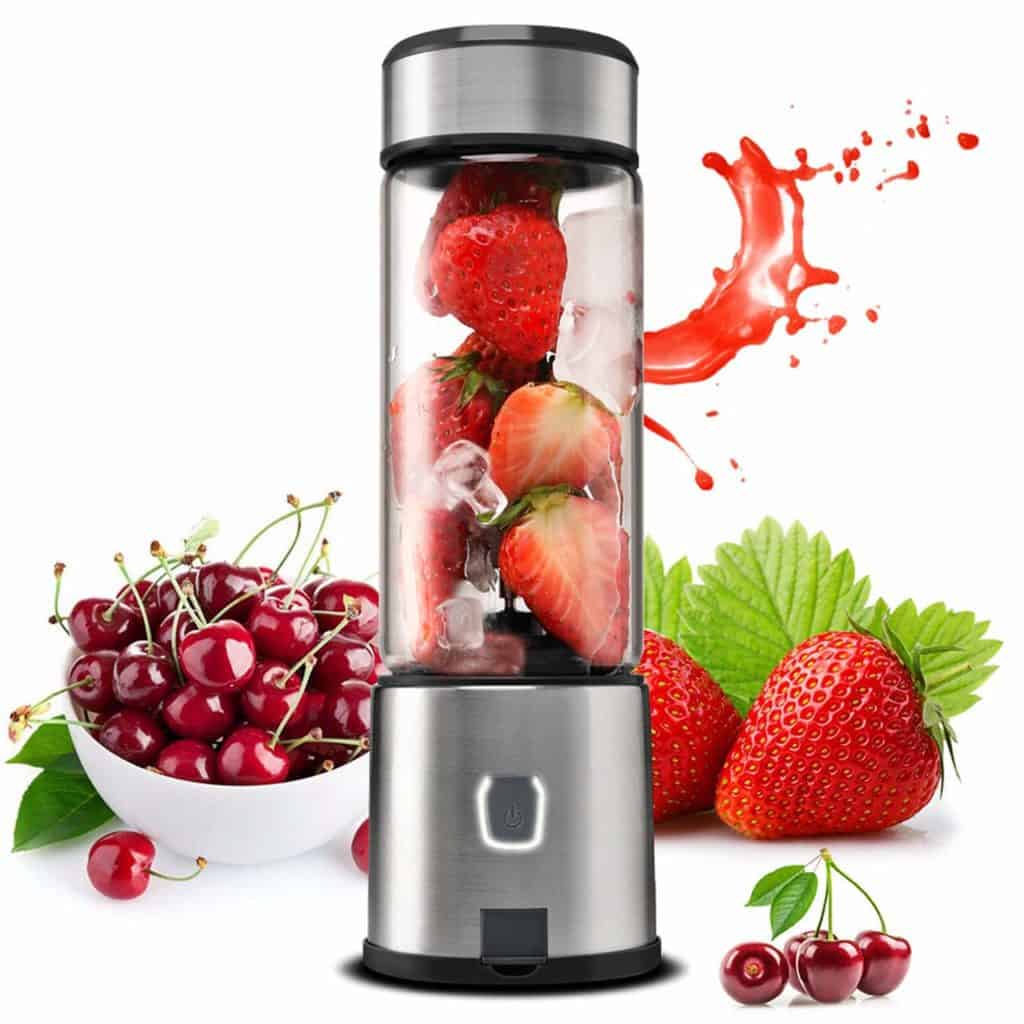 At just under 16 ounces, the TTLIFE Blender juice cup is the perfect size for a personal serving of your favorite blended beverage, whether its at the office, the gym, or even first thing in the morning in your very own home. While not quite as powerful as some of the more expensive models on our list, the TTLIFE unit manages to hit largely the same consistency with even fewer RPMs. The upside of this is that you can actually get more uses out of it before having to recharge.
In fact, most estimates put the number of full blends between 15 and 20 times depending on what exactly you are blending. This means that you can easily have just as many smoothies before having to put it on the charger. However, with the built in USB port, charging this thing up is going to be anything but a burden. Even a standard laptop is capable of charging the TTLIFE blender. This means you aren't likely to run out of your favorite strawberry banana protein breakfast anytime soon.
Top feature is easily the well-sealed electronic components. Invisible beads of industrial silicone protect both the power switch and the USB input mechanisms from water damage. While we wouldn't call the unit totally waterproof, we were certainly impressed with how easy to clean it is for these very reasons. And if we're being honest, cleaning up after a smoothie is the only real chore in the whole process.
Critical Specs
Juicer Cup Capacity: 15.21 ounces
Blade Type: 4x 204 stainless steel
Motor Speed: 7.4V dual power 16,500 rpms
Power Supply: USB-rechargeable dual 2600 mAh lithium batteries
Top Feature: Silicone-sealed switch and charging port make this a remarkably easy to clean blender
Ayyie Rechargeable Portable Blender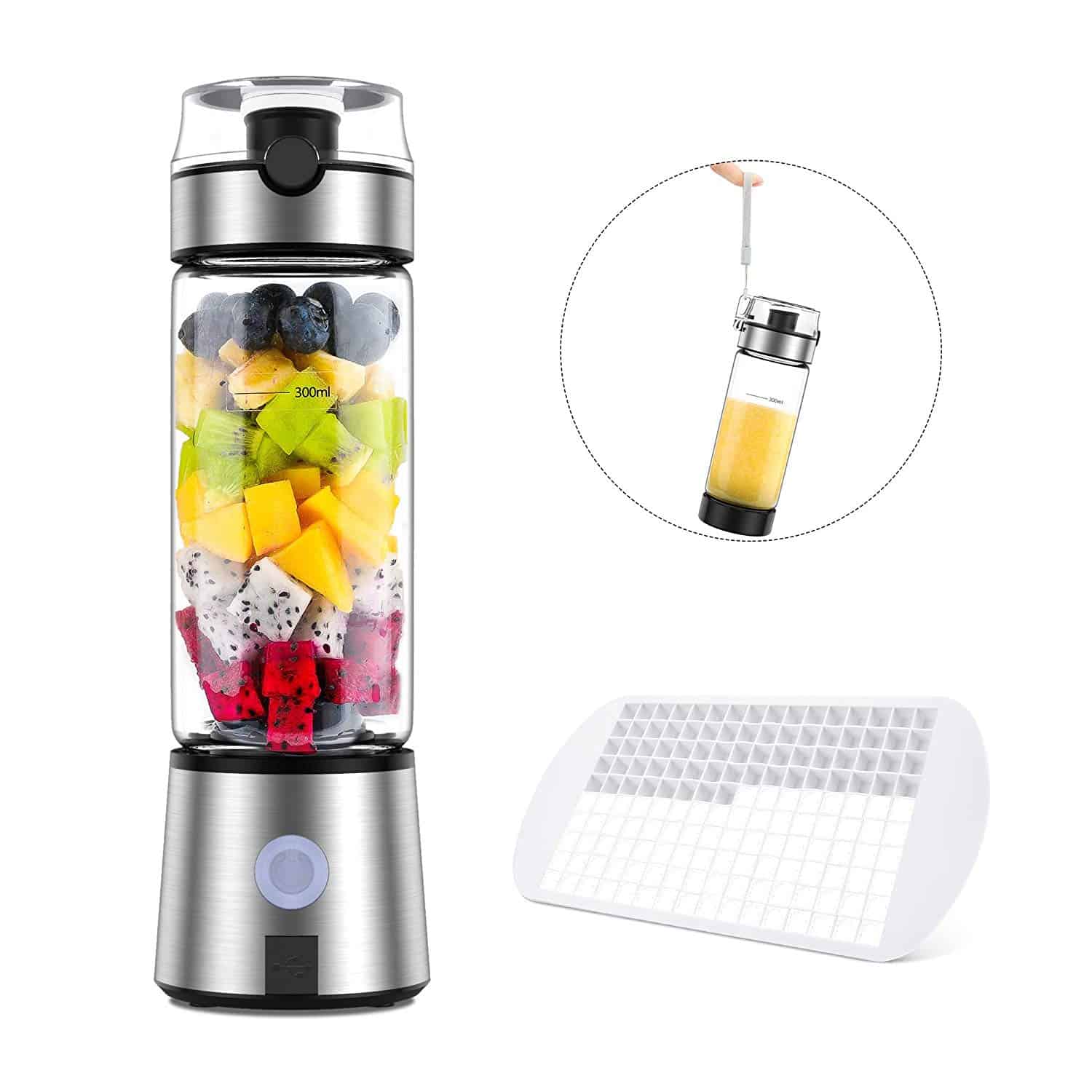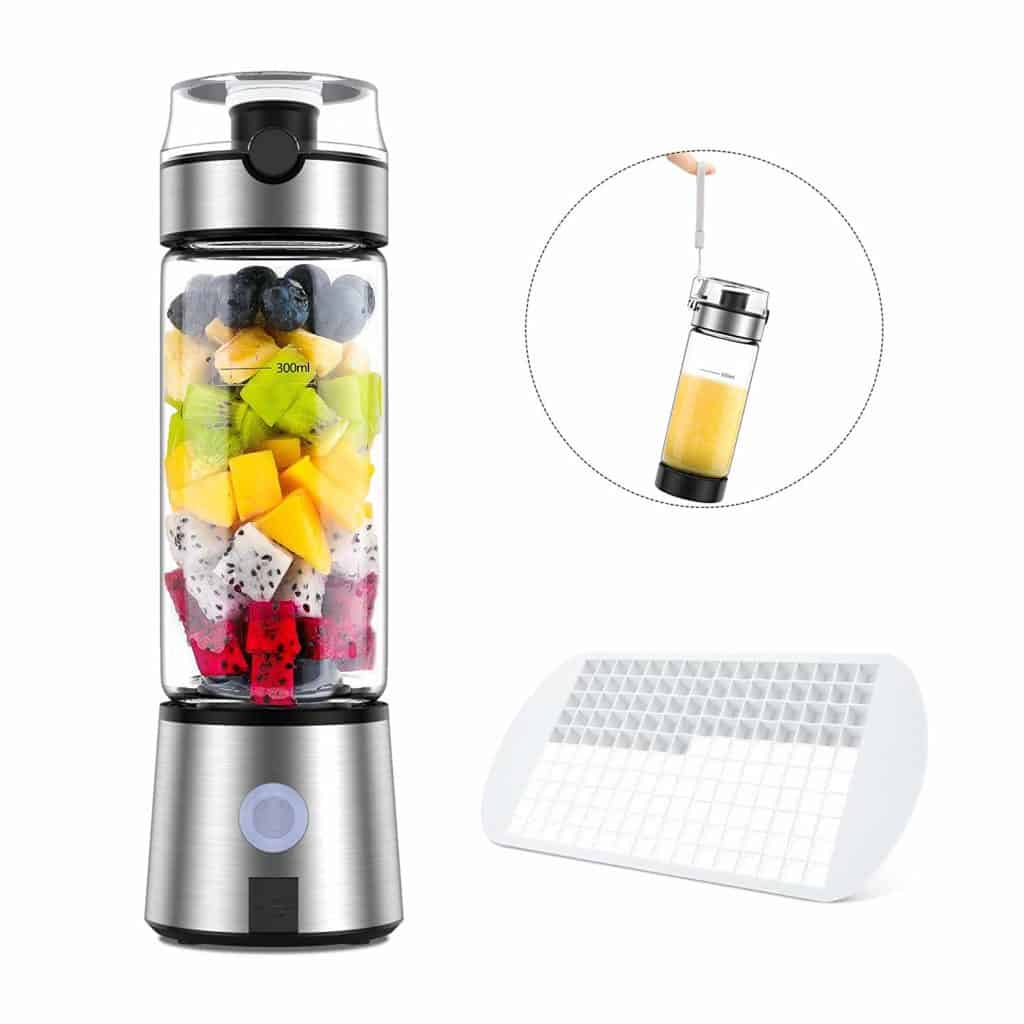 There is certainly not a whole lot of information online about AYYIE, the electronics and gear manufacturer that is behind this sleek, powerful, and charming travel blender. It sits right in the middle of the common price range for this type of blender, and to be honest it has most of the same features that you might see from one of the more well-known blender and portable juicer companies. There are however a few things that set this particular model aside.
Firstly, they absolutely nailed the ready-to-drink-from blender lid. It screws tightly onto the blender cup, and when you have blended to your desired consistency, the top cap simply flips open, converting the whole unit into something that looks more like a fancy coffee cup that a blending unit. While this is no means a feature that is exclusive to Ayyie, we simply happen to like this lid a lot more than others. The flow is generous and the latching mechanism is totally reliable.
It seems like everyone is adding little exclusive bonus "gifts" to their portable smoothies. Some, like the Diwenhouse that we looked at above, choose to go with reusable metal straws. The folks over at Ayyie went instead with a custom-sized smoothie ice template, allowing the user to make ice cubes that are perfectly sized for a smaller blender. It's one of those neat little bonuses that can really make a product stand out.
Critical Specs
Juicer Cup Capacity: 15 ounces
Blade Type: 6 PCS SUS304 stainless steel
Motor Speed: 20000rpm
Power Supply: USB-rechargeable 4000mAh lithium-ion battery
Top Feature: Included ice cube tray makes smoothies even easier
iFedio Personal Portable Blender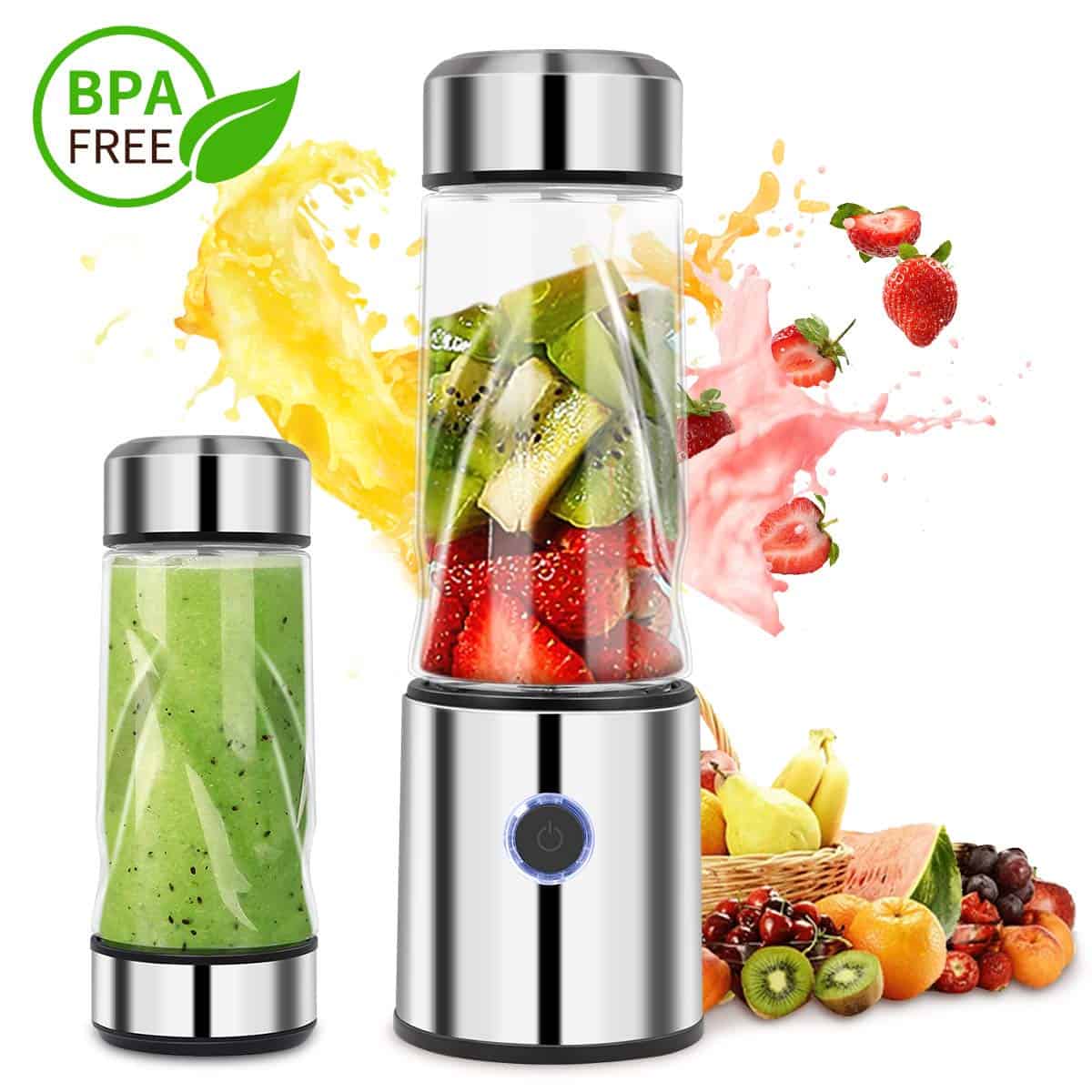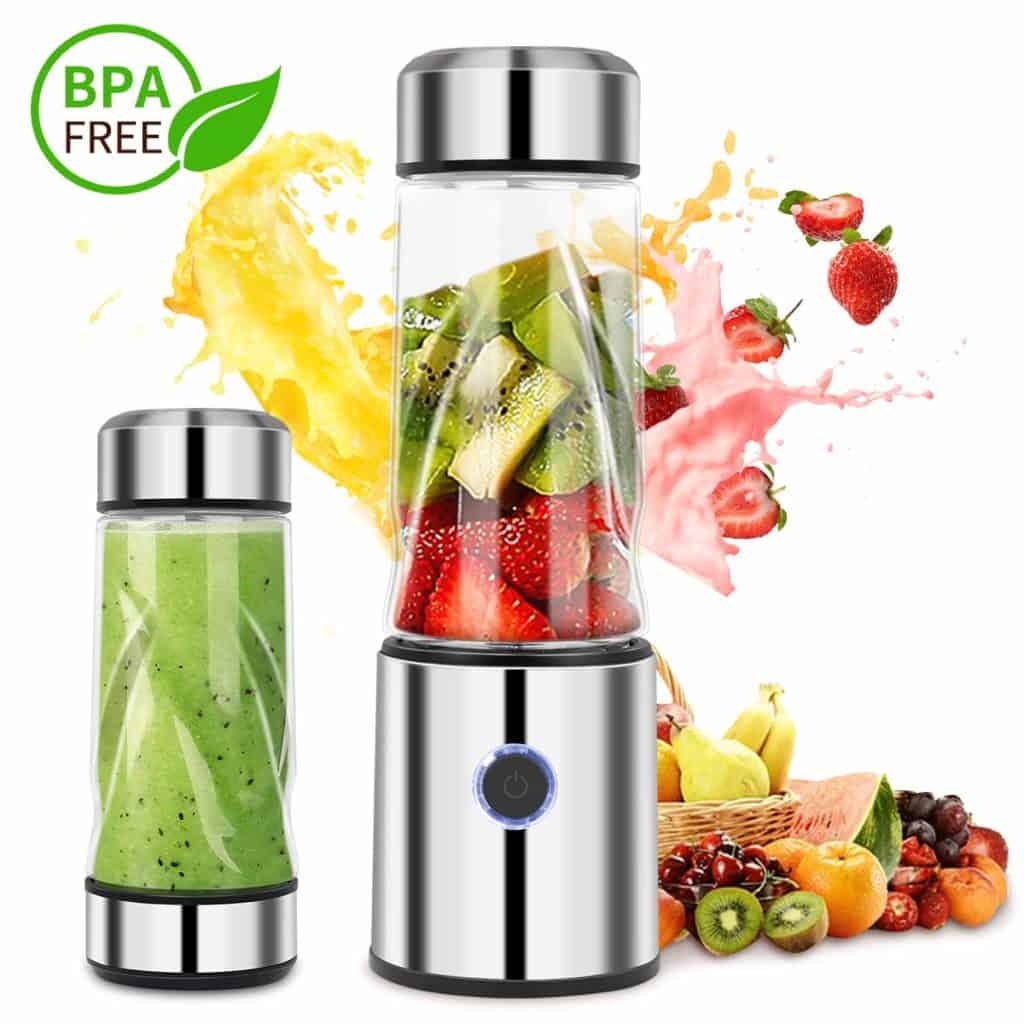 We're not sure how they did it, but the juice-lovers over at iFedio (or whoever actually manufactures the unit, it's hard to find a whole lot of information about this particular company) has managed to make a great little blender that performs as well as it's closest competitors while managing to be even more affordable by a significant margin.
Charge time on this bad boy is at about 3 hours, which is comparable with the other models that we looked at.
The only design element that caught us off guard was the bottom-mounted charging port. Not only can this be difficult to locate if you don't know where to look, but it means that the unit needs to be on it's side in order to charge. In turn this means that the cup and base unit should be both clean and dry before you charge so you don't make a mess.
However, the unit is sealed against internal water damage, so other than the slight inconvenience, it doesn't seem to make much of a difference.
Critical Specs
Juicer Cup Capacity: 14 ounces
Blade Type: 4x 304 stainless steel
Motor Speed: 15,000 rpm

Power Supply: USB-rechargeable battery
Top Feature: Most affordable personal portable blender on our list
Granbest Portable Blender for Protein Shakes & Smoothies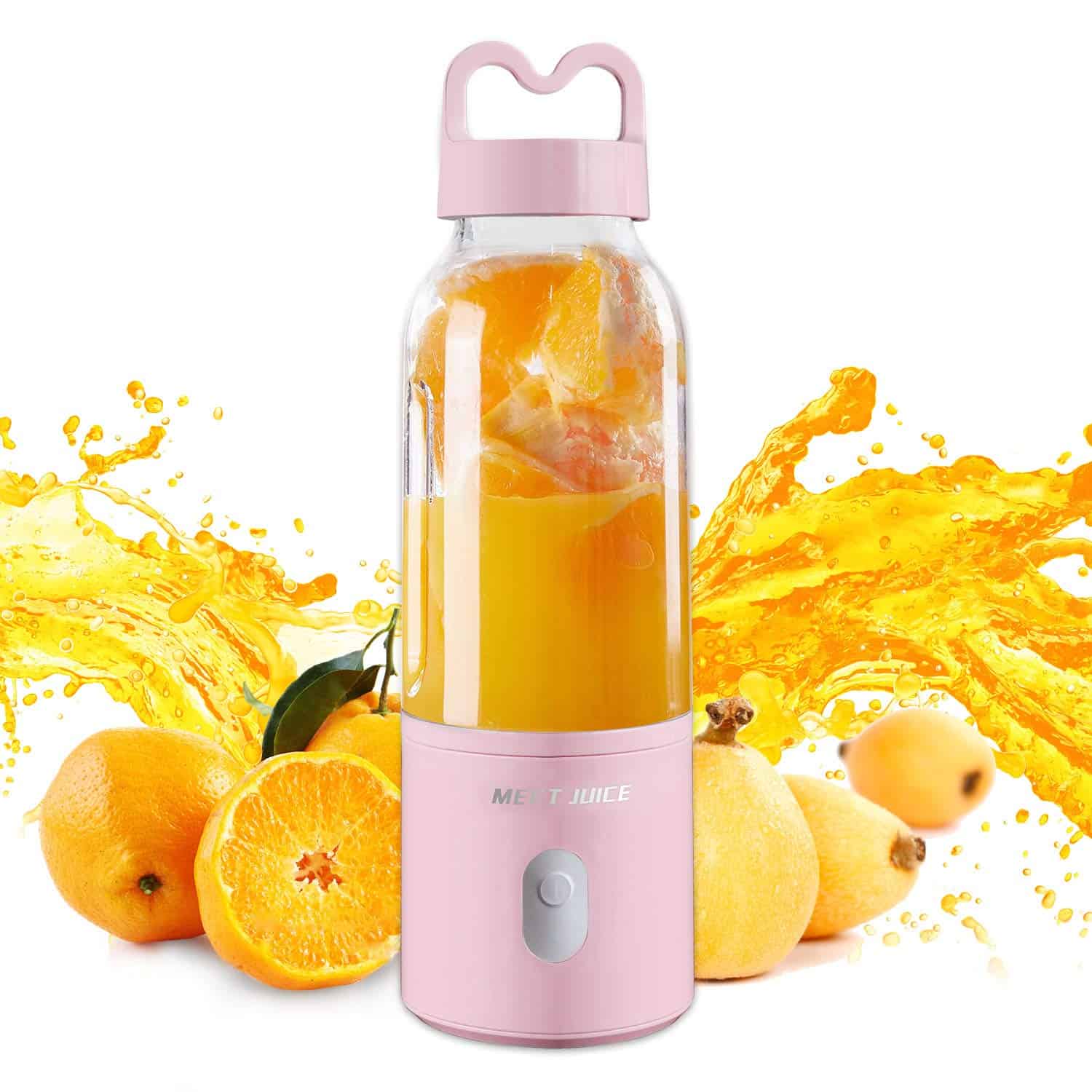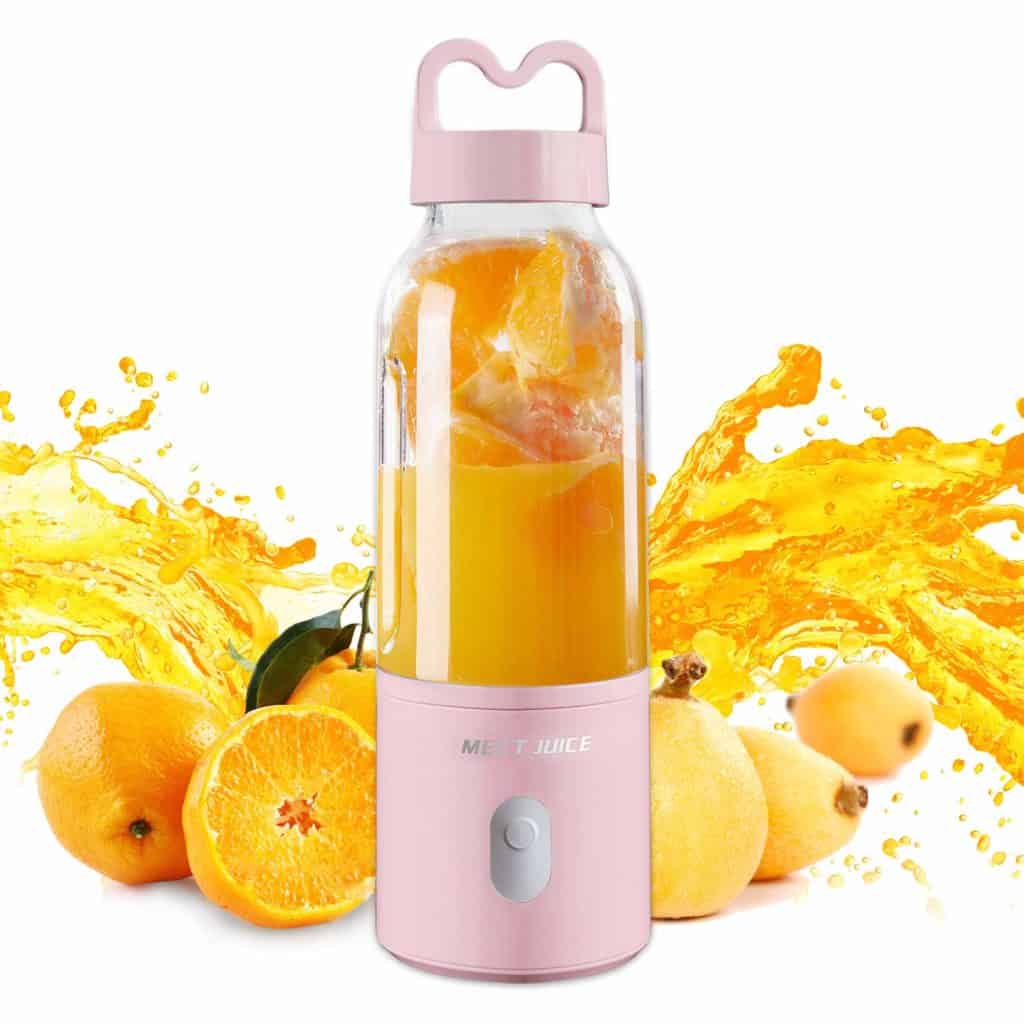 To start things off, we should mention that the Granbest portable blender is available in more colors than just pink. Whether it's pick, blue, or white, you are still getting one of the most well-designed blenders on the market. Baseline performance is above average due to a few important construction choices, and a few smaller yet significant design ideas really take this blender to the next level.
For one thing, it is one of only two or three of the top ten portable blenders that features a full 6 steel blades. The added power and ferocity means that this blender will have no problem blasting through a whole pile of fruit and ice, allowing you to make a fresh smoothie for everyone in the yoga class if you so choose. It also means that you don't have to use as much liquid, or really any liquid at all, to get the perfect consistency from your smoothie or shake.
A powerful, but more importantly reliable motor achieves 25,000 rpms even when blending a full batch of ice. This is pretty strong for a rechargeable unit, but not entirely unheard of. What is unheard of, however, is a motor of this size that is able to handle as many blending sessions before requiring a charge. The manufacturer says it can be used up to 30 times without recharging, though some accounts have put that at slightly less. Still, it's impressive nonetheless.
Those smart design elements that we mentioned include one of those flip-out dust covers for the USB charging port and a series of small ventilation slits on the bottom of the unit that help keep the motor cool.
Critical Specs
Juicer Cup Capacity: 15 ounces
Blade Type: 6x 304 stainless steel
Motor Speed: 25,000 rpm

Power Supply: USB-rechargeable 4000 mAh lithium battery
Top Feature: Overall smart design features like dust-proof USB cover and heat dissipation vent
Buying Guide: What to Look For in a Portable Blender
It's no secret that the smoothie craze has really taken off worldwide, and as a result, there are more portable travel blenders on the market than ever before. Navigating the crowded waters doesn't have to be a challenge. The following is a detailed look into what exactly makes for a good on-the-go personal blender.
Size & Capacity
The largest and most obvious component of any blender is the pitcher, or in the case of travel blenders, the "juice cup". This is the total capacity that the blender can handle measured in ounces or milliliters. While this capacity might suggest that it is the size of the final product, the reality is that the amount of fruit, ice, and liquid that you put in are going to affect how much you get out of it, and not in the way you might think.
Because water expands as it freezes, ice cubes will loose a significant amount of volume when they are exposed to rapidly rotating steel blades. This means that a blender with an advertised 16 ounce juice cup might only be producing between 12 to 14 ounces.
So what's the ideal capacity for a personal blender? The general rule of thumb is that 1 cup of frozen fruit is about one serving, or just under. So a 16 ounces smoothie with a cup and a half of fruit and a half cup of ice will ensure that you are getting just over one full servings of fruit and/or vegetables in a single juice cup.
To be honest, the size of the juicer cups are not really that different than what you might find on a Magic Bullet juicer ... it's just that the base component is much smaller, creating the actual portability that makes these products unique.
Construction Material
There isn't a whole lot of variance when it comes to what these blenders are made out of. Most of them feature metal motors and electrical components housed in a hard plastic case, above which sits a plastic (BPA free) or sometimes glass juice cup.
BPA free plastic is healthy, inexpensive, and durable, so it is no surprise that it is by far the most popular material choice for the juice cup.
Glass is more fragile and more expensive, but it has a few unique benefits that make an attractive choice in some cases. For one thing, it is far more easy to clean than plastic due to it's smoother surface. It also does a better job of nullifying sound, which leads to a quieter blender that has less a chance of waking up the whole house.
Revolutions Per Minute (RPM)

Almost every portable smoothie blender that is currently on the market is being advertised with an "RPM" measurement. In this case, revolutions per minute refer to the blender blades and how many times they complete a circle within a minute. In other words, this is simply how fast the blades are moving, and therefore how well they can crush ice.
The first implication of RPM is how much blending can be done within the operating period before the blender temporarily deactivates (see the Safety Features section below for a more detailed explanation of Anti-Idle shutoff mechanisms). More blending means finer textures and decreased wait time, so it's generally agreed that higher RPMs are a good thing.
You can expect RPMs to range from 10,000 to 15,000 on the low end and about 35,000 on the high end, though there are exceptions for both extremes.
Blade Shape & Material
You're going to want a good set of durable steel blades to stand up to the rigors of daily smoothification, and you are in luck. Just about every model of compact blender on the market is using steel these days, though the actual grade of the steel might vary in both origin and strength.
What is more pertinent however is the amount of blades. This aspect of blenders is just as important as RPMs in determining how finely blended your drink can be within a certain amount of time. Additional blades also make it easier to handle larger pieces of crush ice and frozen fruits.
Power Source:  Battery or Plug-In
The obvious benefit to having a travel blender is being able to operate it wherever you are, whether it's on a desolate beach with a bowl of fresh fruit or in the office break room hankering for mid-day protein shake. So it is no surprise that a blender that operates off of internal rechargeable batteries is going to be more valuable to the juice-hooked traveler than one that requires an electrical socket.
Yet there are some reasons that things like the traditionally powered Ninja Blender still exist. Firstly, the source of power is much steadier in it's output, as opposed to lithium batteries that will start to lower their output as the battery level goes down.
Secondly, wall-powered units don't even have batteries that than lose their charging capacity over time, which means that there is just one less thing that you might have to replace down the line.
Battery Capacity & Milliamperes (mAh)
Blenders that come with rechargeable batteries will usually indicate the milliampere rating in the marketing material or on the package. The mAh rating is another way of measuring units of electrical charge, but in the case of lithium batteries, it is used to measure capacity.
To summarize, batteries with larger mAh ratings are capable of lasting longer than those with smaller mAh ratings.
However, that doesn't mean that batteries with low mAh ratings are necessarily worse. There are a lot of elements that come together to determine how long a battery will last, including usage patters.
Safety Features
Gripping Suction Cups - A few of the larger models on our list, such as the one from Homgeek, feature miniature gripping suction cups on their base. While there is little danger of injuring yourself with the blade of a travel smoothie maker, there is significant danger of having the blender slip out from under you, sending your delightful banana blueberry almond butter smoothie flying through the air and onto the office floor. So yeah, we're going to call this one a safety feature as well.
Automatic Anti-Idle Shutoff - With portable blenders, the motors are usually too small to handle continuous operation without incurring some heat-based mechanical or electrical damage. For this reason, almost every one of them has a built-in "anti-idle" feature that will automatically turn off the motor after a set period of time, such as 45 seconds. This prevents the unit from overheating, and is often indicated with a flashing red light somewhere around the power button.
Silicone-Sealed Electrical & Mechanical Components - Smoothies & protein shakes can be a real mess maker if not prepared carefully, and the manufacturers of these compact blenders are well aware of it. That's why most of these blenders utilize some kind of silicone-based sealing process to protect the delicate electrical components from unwanted water damage. You can safely assume that just about any travel blender will be at the very least water resistant, but there are some that are advertised as being completely waterproof.
Exposed Blades vs. Enclosed Blades - This is more of a general safety element that is true for all travel blenders as opposed to a specific thing that you will only find on some but not others. While traditional blenders use blades that might be exposed, thus increasing the chance of accidental injury, travel blenders have the blades enclosed inside the drinking vessel. So unless you are sticking your hand in there all willy-nilly, you wont have to worry about accidentally brushing against the blade.
The Frequently Asked Questions about Portable Smoothie Blenders

Q: How many smoothies can you make off of one charge?
This is going to depend entirely on what kind of battery that your unit has inside it. Generally speaking, blender batteries with higher mAh ratings will be able to blend more fruit on one charge than those with smaller mAh ratings.
Though it will vary, some units can make as many as 30 smoothies, while others will top out at 15 to 20.
Q: Are travel blenders safe for making baby formula & baby food?
If you are going to be using one of these blenders to prepare dried baby food, the only thing that you need to pay attention to is what the juice container is made out of. Look for glass of BPA free plastic to make sure that you are not introducing your baby to any harmful chemicals. It's also a good idea to make sure that your juice up is thoroughly cleaned and promptly dried to prevent the buildup of bacteria that can threaten your baby's immune system.
Q: Can I make hot drinks in a portable blender?
It is not a good idea to introduce your blender to hot liquids, as this can cause the motors to overheat  and in some cases, the electrical components to fail. Warm liquids are acceptable, but super hot liquids like coffee and tea should be avoided.
The Verdict: Best Portable Blender for Smoothies & Protein Shakes
After all this, you might still be wondering what the best portable blender is. Or maybe you are just looking for a trusted recommendation so you can pull the trigger on a new blender right away.
For our money, it doesn't get much better than the Granbest Portable Blender. It's got everything you need to start making on-the-go smoothies like a pro, including good power, six steel cutting blades, and a good collection of smartly designed features that can only be found in piecemeal on other blenders.
We wouldn't be doing ourselves justice if we didn't give a shout out to the Homgeek Mini Blender. It is the only product on our list to offer a complete 1-year satisfaction guarantee, so consumers who are even a little unsure can have the opportunity to test out what could be the best travel blender for them, without any risk.