Cooking is fun and necessary for life, but it can also be somewhat challenging as it consumes time and money. It may also involve a certain amount of risk if you have young kids around.
Induction cooktops solve many of those cooking challenges a lot faster than traditional electric or gas cooktops, and that is why many call them' the future' of the cooktops.
In this article, you will find all about the benefits of induction cooking and how it works, its pros and cons as well as other details relating to the proper use of these appliances.
Finding the best portable induction cooktop vs a built-in induction cooktop is a more versatile and affordable option. For example, it is ideal to use in a dorm, in an RV, on a boat or even in the garden.
Keeping the food warm on the dining table or using it as an extra cooking surface if you often host large gatherings and parties are useful options, too.
How Does An Induction Cooktop Work?
Let's get a little sciencey now, hopefully not a lot! Induction cooking is a two-part system. The first part is a spiral of wire that is made of copper. When the electric current passes through the spiral, it creates an electromagnetic field of energy.
This energy passes through the cooking unit into the pot causing its iron molecules to vibrate tens of thousands of times in a matter of seconds. The friction between these molecules is what creates the heat very fast.
In a few words, the induction cooktop transfers heat through electromagnetic energy directly into the cookware with almost no heat on the burner itself.
The Best Portable Induction Cooktop Reviews
1. Duxtop 9600LS Portable Induction Cooktop With LCD Sensor Touch – Best Overall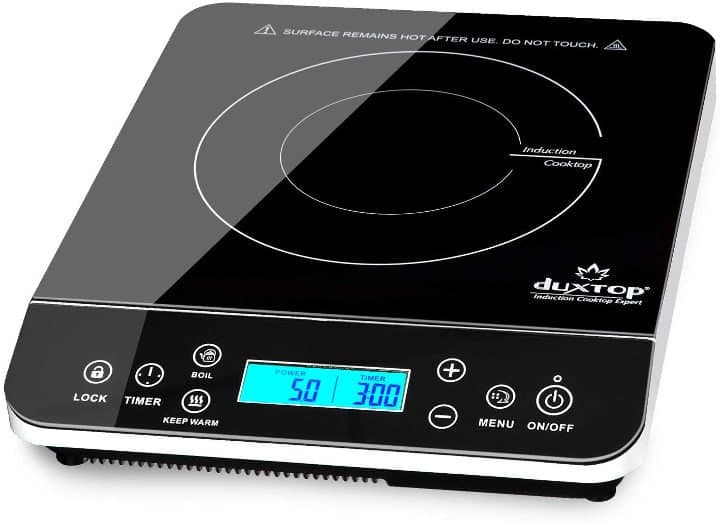 Duxtop is one of the two name brands the Securacompany (a leading manufacturer of induction cooktops) sell their products under.
If you are looking for a high power portable device that is efficient and functional, Duxtop 1800 Watt Portable Induction Cooktop 9600LS is the best choice.
It does not only have a lightweight compact design that is suitable for small places, but it is probably the best in terms of heat control and regulating the temperature. It takes literally seconds to go from a rolling boil to a gentler simmer and back to a boil, which is a great feature and similar to that of a gas range.
By minimizing the temperature fluctuation, it prevents delicate foods from burning and it's ideal for melting chocolate or making delicate sauces and puddings.
The company recommends using induction-ready cookware that has at least 5-inch diameter to ensure a large heated area that can provide even cooking. If you use big pans, just make sure that you start with a low temperature so you give adequate time to the pan to evenly distribute the heat.
Important Specs
Size and weight: The dimensions are 11.4″X14″X2.5″ and the weight is 5lbs. The weight limit of the cookware should not be more than 25 pounds.
Settings and timers: There are 20 power levels (100W-1800W) and 20 temperature settings (100°F-460°F). The 'fast boil' button raises the power to the highest with a 10-minute timer setting while the 'keep warm' button sets the temp at 140 and the timer to 30 minutes. There is also a 10-hour timer.
Ease of use: The angled control panel and the LCD display facilitates reading. The sensor touch feature makes it easy to adjust the power or temperature and turn on the timers.
Safety: The child lock prevents any change in the cooking settings or the timers once they are set. There is also an overheat function, a setting that shuts off the cooktop if it does not detect a pan on and a system that warns you about high or low voltage.
2. Secura – Duxtop 9100MC 1800W Portable Induction Cooktop Countertop Burner – Best Budget Friendly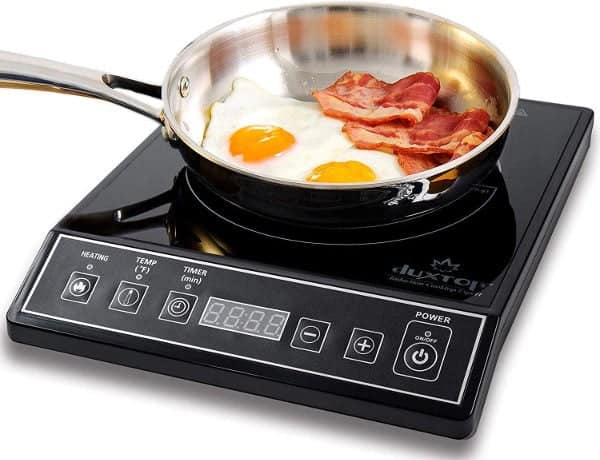 Manufactured by Secura, Duxtop 9100MC induction burner is a time saver for meal preparation, providing a fast and even cooking performance. Its sleek design and smooth glass surface look great on any countertop, table or buffet.
We like the angled control panel versus the flat one of the 8100MC Duxtop model which has been redesigned in order to protect the control screen from the heat of those larger pans.
Those of you who are not huge fans of touch-on settings would be happy to know that the control buttons are covered with a plastic film that offers a more tactile sense of touch.
The diameter of the biggest circle marking on the top is 8.5 inches and people have used 12 inches cast iron skillets without any issues whatsoever. However, remember that the consistency of the temperature and the evenness of your cooking can vary depending on the shape, size and material type of your cookware bottom.
For better results, use flat cookware with a suitable diameter and a thick base that has enough ferromagnetic material to absorb the waves of electromagnetic energy.
This energy-efficient appliance plugs in a standard 120V outlet but as an extra precaution and as it is 1800W, you can avoid using it at the same time with other appliances that are connected to the same plug or even circuit.
It features an easy to read control panel with an intuitive LED display and an On/Off button. The weight limit of the cookware should not be more than 25 lbs. In addition, the cord is quite long and convenient.
On the downside, the fan is a bit noisy and keeps cooling the unit for 2 to 3 minutes after your cooking is done.
Important Specs
Dimensions:12.5 x 3.5 x 16 inches.
Weight: 6.8 pounds.
Heating settings: 15 power levels (200-1800 Watts).
Temperature settings: 15 temperature settings (140°F-460°F).
Digital timers: There is one count-down timer with 1-minute increments up to 170 minutes.
Safety: Although there is no child lock in this model, there are other safety features including overheat protection system, auto-pan detection as well as high and low voltage warning.
2 Year Warranty
3. NuWave PIC Flex Precision Induction Cooktop With Fry Pan – Best Energy Efficient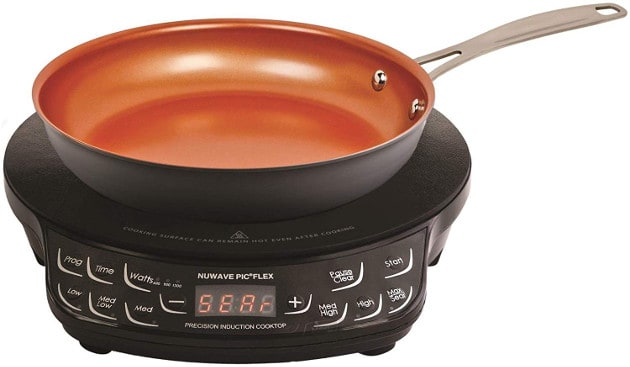 Small, lightweight and portable, NuWave Pic Flex induction cooktop is a great choice for tight spaces, buffets or even countertops that are crowded. Due to its small footprint and low energy consumption, it is a favorite of RV enthusiasts who run on electric or exclusively on solar energy.
Different power settings provide heat control and even cooking of different foods in a variety of ways including grill, rice-cooker, vegetable steamer, or programmable slow cooker. However, the maximum 1300 watt setting of this device may not be suitable for deep frying enthusiasts so you may need to check the NuWave PIC Platinum or Gold models, instead.
If you are not familiar with induction cooking, you may not know that only compatible cookware should be used with this type of cooker. Aluminum, ceramic, glass or copper won't work.
Induction-compatible cookware is iron, cast-iron, stainless steel or steel items that have an iron base. However, if you are not sure about the suitability of your skillets or pots, you can perform a simple test using a magnet. Put the magnet close to the base of your pot and if it gets stuck to it firmly, then the material is induction-friendly.
In addition, the NuWave comes with a 9-inch ceramic fry-pan that is non-stick and can cook without adding any oil or fat to it. It is also dishwasher safe.
Important Specs
Dimensions: 6 x 16 x 13 inches.
Weight: 4.25 pounds.
Power and temperature settings: There are 3 wattage settings that cook your food at 600, 900 and 1300 watts. The temperature can be adjusted in increments of 10 degrees between 100°F and 500°F and you can set a timer so you don't have to pan watch anymore!
Safety: The 'pause' control button is great to use if you are interrupted by someone calling so you can start cooking when it's convenient. There is also an automatic shut off if you remove the cookware from the cooking surface.
Noise: As most induction hot plates, this device can be a little noisy due to the integrated fan but, unlike other models, the fan stops working once you finish cooking.
4. Max Burton LCD 1800 Watt Induction Cooktop Counter Top Burner – Best Value For Money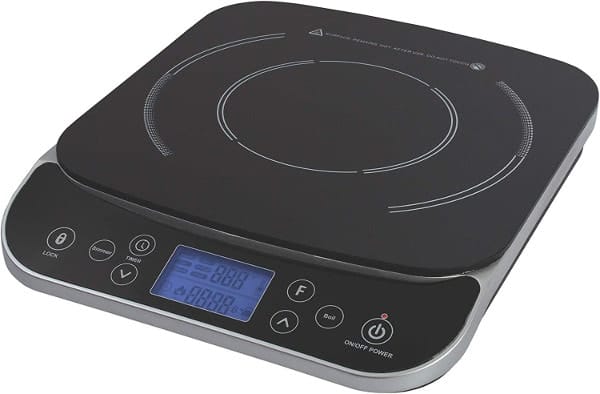 If you need a powerful compact induction burner that won't break the bank, Max Burton #6450 digital induction countertop burner is a great choice.
This appliance is faster than a gas stove, and due to the electromagnetic induction, the heat goes only to the pan and not to the surrounding air. If you are familiar with gas cooking, you know how uncomfortable it can be due to high temperatures and poor air quality.
Not to mention the high electric bills due to ventilation fans or air conditioning especially during those summer months.
Max Burton can be used everywhere from dorms and offices to boats and gourmet kitchens. It would be no surprise if it becomes the center of the attention at your parties! It can be plugged in a standard 120 V household outlet but it produces a loud beeping sound when you turn it on and off or when you make changes to the settings, which some people find annoying.
We particularly like that the product comes with a small magnet to check if your kitchen cookware is induction-compatible. If not, you can use the Max Burton 6010 induction interface disk the company offers, which is a useful option.
The 6450 model is a newer and more improved version of the 6400. It is quieter and lighter in weight. A glass panel control area with an LCD screen has replaced the plastic, making it more resistant to damage.
Important Specs
Cooktop Dimensions:9.1 x 9.1 x 9.1 inches.
Weight:6 pounds.
Digital settings: The power of the heat goes up to 1800 watts with 10 settings available. There are 15 temperature control settings (100°F – 450°F) in increments of 25°F and a 180-minute digital timer.
One-touch buttons: The one-touch boil and simmer buttons make it easy to boil or simmer, providing nice temperature control.
Safety features: A screen lock prevents setting changes and there is an automatic shut-off after 3 hours of non-stop use. The cooktop shuts off in cases of over-voltage, short circuit, overheating or non-suitable cookware being detected.
5. Secura- Duxtop 8100MC 1800W Portable Induction Cooktop Countertop Burner, Gold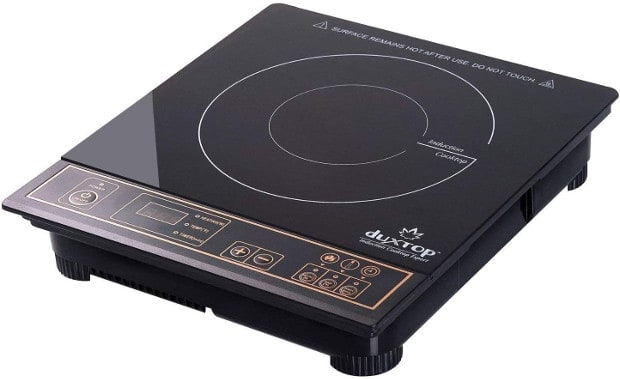 Super affordable, powerful and lightweight, Secura 8100MC is one of the most popular portable cookers out there.
It reaches boiling temperature fast and the 1-minute increments offer good heat control and reduce cooking time and energy costs in the long run. To ensure even cooking, your pan should have a diameter of at least 5 inches and should not weigh more than 25 pounds.
Unlike some models that people complain about the fan being annoyingly noisy, this one has a relatively quiet fan. Overall, it is easy to use and even easier to store and clean.
As the control panel is flat and plastic, you may need to be a bit extra careful when you are using large pans. Cast iron pans should also be enamel coated to avoid abrasions by dragging or rubbing the items on the surface.
Induction cooktop surfaces are the safest to cook on as they only work with induction-suitable items, which means that even if a piece of towel paper or cloth touches the surface, nothing will happen.
However, there is one precious item that you would want to keep away from an induction stove and strictly in your wallet, your credit card! It is magnetic-sensitive and it can get damaged.
Important Specs
Dimensions:11.4″X13″X2.5″.
Weight: 5lbs.
Heating power: 10 power levels (200-1800Watts)
Temperature range: 140°F- 460°F.
Automatic timers: There is a 170-minute timer that can be used with the power or the temperature mode. Once the time expires, the timer starts beeping and the cooktop shuts off.
Safety: There is no child lock, but there is a warning sound if you place unsuitable or no cookware at all onto the surface once you switch the device on.
Other specs: Cord length of 6 ft.
6. Copper Chef 853 Casserole & Induction 5 Piece Set &1300W Copper Induction Cooktop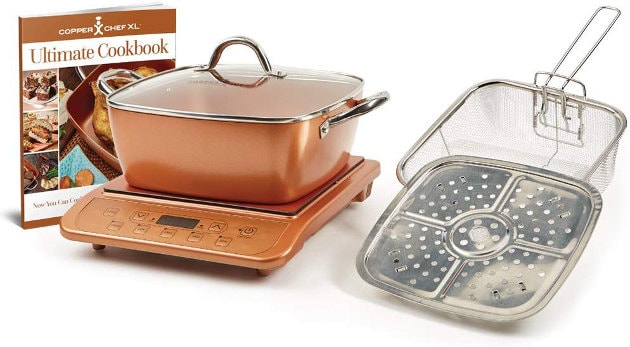 Copper Chef pans and pots are well known for their versatility, non-stick coating, and special shape. For example, the square shape pans provide extra cooking space that is a handy feature when cooking for a big family.
This 5 piece set includes a 1,300W copper induction cooker that matches beautifully with the other pieces of the set.
You also get an 11″ square shape casserole pan with an oven-safe lid. It is 7-quart capacity and more spacious than common round shape pans. It can easily be used for a variety of cooking tasks including cooking rice, frying, baking and roasting. Additionally, the set comes with a steamer rack, a fryer basket and a recipe cookbook.
All this lightweight cookware is induction-compatible but can also be used on electric, gas or glass top stoves. They allow cooking with little to no added oil or butter and they are free of PFOA& PTFE. In addition, they are very easy to clean and dishwasher safe but beware not to use any metal utensils as they can scratch the coating.
The ceramic glass induction cooker that is included in the set is lightweight and portable. The angled control panel offers improved visibility and the buttons are easy to see and press.
However, the 5-degree increments may not provide the best heat control you can get, which is important for certain cooking methods such as deep-frying.
Important Specs
Dimensions:17.2 x 15 x 10.7 inches.
Weight:12 ounces.
Temperature range &settings: The temperature range is 100°F-500°F. There are also 5 preset temperature buttons. The 'low' sets the temperature at 100°F, 'warm' at 175°F, 'medium' at 275°F and 'high' at 425°F. The 'sear' mode is for setting an even higher temperature. By pressing the up and down arrows, you can set the temperature that you like by 5-degree increments.
Timer: The timer can be set in minutes (up to 150 minutes) and in hours. The device automatically shuts off once the time expires.
Safety: Automatic turn off if you keep the pot away from the surface for 60 seconds.
Other specs: LED display, On/off button.
7. Hamilton Beach 34104 Single Induction 1800 Watt Cooktop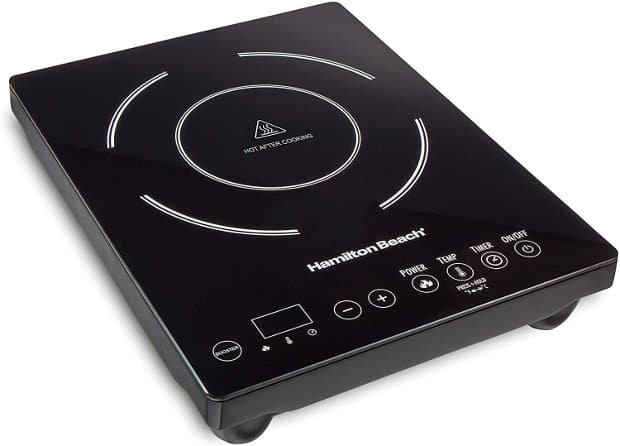 Whether you are running out of cooking space in your kitchen or you need an easy to transport induction hot plate for your road trips, Hamilton Beach 34104 single stove is a good option.
Available at a surprisingly low price, functional and easy to use, this cooker is a great addition to any kitchen as a primary or extra burner. Bringing 1.5 quarts of water from zero to boiling temperature in 7 minutes is a handy feature especially when you have hungry stomach sounds reaching your ears.
It is also versatile as you can use a variety of saucepans, stockpots and frying pans with it (4-10 inches in diameter). The displays are easy to read and understand. There is a 'booster' button that allows you to use a high temperature for 30 seconds after which you can automatically switch to your normal setting.
This product is sturdy and super easy to clean. It also comes with a magnet so you can check whether your cookware is induction-ready.
Important Specs
Dimensions:14.2 x 11 x 2.5 inches.
Weight:6.9 pounds.
Power settings:10 settings reaching up to 1800W.
Temperature range: 180°F- 450°F.
Timer: 150-minute timer shuts off the cooker automatically when the timer expires.
8. Fagor 1800 Watt Portable Induction Cooktop – 2-Piece Induction Set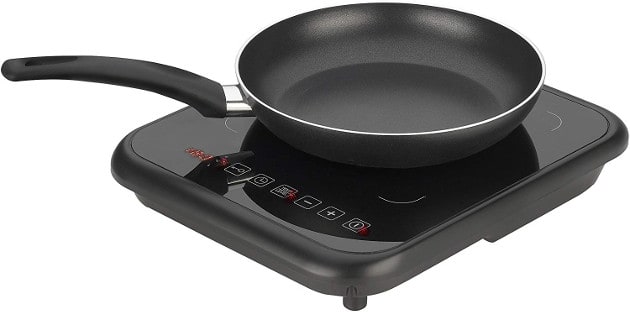 Making sure that you don't buy a portable induction cooker that you can't use because your pans are not induction ready, Fagor offers this 2X induction set that will have you covered.
This is a nice sleek appliance that will look good as a warmer on a buffet or as a fast and energy-efficient cooker in any place from dorm rooms and studio apartments to campers and kitchens.
We find that the control panel menu is easy to follow and that the control buttons are not as touch-sensitive as other screens in household appliances. This is good in terms of safety as it can prevent kids from turning the device on easily and it also allows you to wipe the spills without making changes to the settings.
The set includes a 9.5" aluminum skillet that is induction-ready but is not oven or dishwasher safe. The coating is PFOA free and non-stick. If you are planning to use other cookware as well, remember that the diameter should be at least 5 inches.
This product comes with a user's manual that contains recipes.
Important Specs
Dimensions:11.8 "(L) x 15" (W) x 2.3" (H)
Weight:5.9 lbs.
Power range: 8 power levels up to 1800W.
Temperature:140°F – 465°F. The temperature can be increased or reduced in 10-degree increments.
Timer: The 180-minute timer can be set according to the duration of your cooking and then, the device automatically shuts off.
Safety features: Child lock and overheating-protection. The 2-hour shutdown can be overridden by setting the timer.
Other specs: ETL approved.
9. Duxtop 9620LS LCD Portable Double Induction Cooktop 1800W – Best Double Portable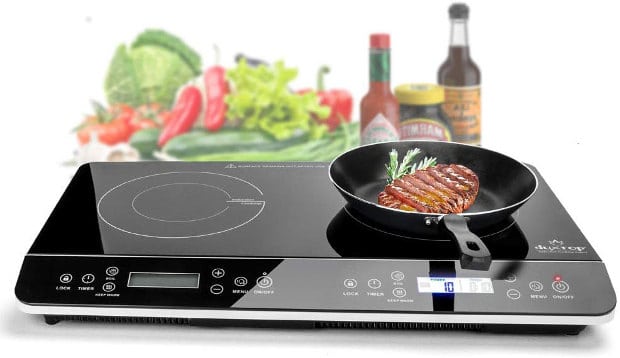 Single induction stovetops are more popular among users because they take less space and they are easier to carry, but this doesn't mean that the double induction stovetops lack in portability or lightweight.
This Duxtop 9620LS has a sleek attractive design that is too difficult to ignore no matter where you place it. It has 2 independent cooking zones and touch screen control panels that are easy to see even from a distance. The angled surface provides protection against the heat deriving from larger pans.
As the heat is produced only within the pot and not on the surface of the cooker, there is absolutely no danger of catching fire. Also, spills won't burn or get stuck to the cooking surface which makes cleaning effortless.
The appliance responds to the increase or decrease of the temperature in seconds and boils water very quickly. There is a power mode function, which is suitable for boiling water, heating milk or cooking sauce as well as a temperature mode function that is recommended for deep frying, frying or sautéing.
The 'Boil' and the 'Keep warm' buttons are also handy to use.
The only disadvantage, though, is that you can't run both burners at maximum heat because they are designed to share the amount of total available heat (1800 watts). This is common in double cooktops but worthwhile noting nevertheless. For safety reasons, there is an automatic shut-off function.
Important Specs
Dimensions: 23.9″X14.2″X2.4″
Weight: 12lbs.
Left Burner Power settings:100-1800W (20 settings).
Right Burner Power settings:100-1800W (10 settings).
Temperature settings:100°F- 460°F.
Safety features: There is a child safety lock. An automatic shut off with a beeping sound gets activated under certain circumstances.
Cord length: 5 ft.
Power source: 120V.
Other specs:10-Hour Automatic Timer.
Is Induction Cooking Better than Gas Or Electric and Why?
Induction cooktops are in many ways superior to the traditional electric cooktops (smooth tops or coil element cooktops) and even gas burners. Let's see why:
Speed
Induction and portable induction stovetops are 40% faster than electric and gas ranges. While a portable induction hot plate can bring water to a boil in almost 1 and a half minutes, a gas burner may almost take one minute more to do the same job.
The speed becomes even better when comparing induction to electric cooking.
Heat Control
The heat control is one of the biggest advantages of induction. Whether you raise or lower the temperature, the response you get with an induction burner is almost instant whereas an electric appliance takes a lot longer to react.
This is one of the reasons why an electric cooking surface stays hot long after you switch it off, making it risky to leave it unattended when there are small kids around.
Better heat control also means a reduction of cooking time (great gift especially when you or your family members are super hungry) and saving of energy, which is good for your overall electric bill consumption.
Gas countertops are also more precise than electric stoves in terms of heat control as the flames easily and quickly respond to the changes you make.
Safety
Induction cookers are the best in terms of safety because the glass surface itself does not get as hot as on traditional electric appliances. This is due to the induction of transferring heat directly to the cookware without causing heat production on the burner itself.
Therefore, the residual heat is very little to almost none and it dissipates quickly, which makes the cooker safe to touch even a few seconds after switching it off. However, placing your hands on a source that generates heat is never recommended.
Another great safety feature is that the cooker will not start unless you have a pot on and it will produce a beeping sound if you remove the pot while the device is still on.
Energy Efficiency
Induction reduces cooking time as it is almost instantly responsive to the changes in heat, which translates to more economic performance as compared to electricity.
Cooking on propane can also raise energy consumption, especially during those warmer months, because you may need to run the air conditioner to counteract the rising of the room temperature. Not to mention the expenses to run a gas line or the plumbing and remodeling costs.
Induction may consume around 10% less electric energy than typical electric tops and almost half gas energy.
Portability
Portability is a nice feature of induction tops. They are easy to carry and store, and this is why they are very useful for RV camping, boating and other types of outdoor entertaining.
These devices plug into a 120-volt outlet but if you are outdoors, you can use a portable generator or an inverter with a battery bank. You could even connect a solar panel and a car battery to a small size inverter.
Easy To Clean
The smooth and flat glass surface is simple to wipe using a damp towel as there are no crevices and grooves for debris and oil to stick in.
What To Know Before Buying A Portable Induction Cooktop
Induction Cooktops Only Work With Induction Compatible Cookware
Induction cookers only work with induction-suitable cookware that has a base which is iron, cast-iron, stainless steel or steel. Aluminum pans with magnetic steel bottoms may not be suitable as there has to be an adequate amount of magnetic material in order to absorb the electromagnetic energy.
The thickness of the iron base is another good indication. Do you want to know how you can find whether your home cookware is induction-ready or not?
Take a magnet and check whether it sticks firmly to the bottom of your pan. If it does, then it is induction-ready (phew, you saved some bucks).
Diameter, Surface And Thickness Of The Pan
For even and fast induction cooking, you need to have pans that are flat (forget all about woks). Thick base pans also conduct heat much better and more evenly than pans with a thin base.
In addition, the diameter of the pan should not be less than 4 inches, otherwise, it may not connect. This is why some brands recommend using cookware with a diameter of at least 5 inches.
Size And Weight
For ease of storage and portability, check out the product dimensions, size, and weight.
Child Safety Features
If you have a family with small kids, you may need to go for a product that comes with child safety features including child lock or other handy features such as buttons that are not sensitive touch.
Noise
All induction cookers produce a buzzing or humming noise and some are louder than others. This is due to the ventilation fan function which may continue for a couple of minutes even after you turn off the cooker. This helps the device cool down.
Some pans that do not have a heavy or flat base may also produce more buzz. However, the noise is, most of the time, not annoying and easy to ignore.
Induction Cooktops And Pacemakers
According to a study published in PubMed, patients with cardiac pacemakers are at risk if they stand extremely close to an induction cooktop. There few other factors that may increase the danger. To ensure your good health and safety, always consult with your doctor.
The Bottom Line
If you are looking for a versatile, energy-efficient and fast way to up your cooking game, finding a portable induction cooktop that best suits your needs and fits your budget is a great choice.