While not exactly an everyday ingredient in most kitchens, potato starch is a highly useful product, playing an especially important role in gluten free recipes. Sometimes, potato starch will pop up as an ingredient in recipes where you least expect it, leaving you to wonder what other options you have besides running out to the store when you're trying to get cooking!
Just to save you the trip (and hopefully a few bucks!) we've compiled a list of the best substitutes for potato starch and will discuss the unique characteristics of each. There are many options to choose from, and whatever the reason behind your need for a replacement happens to be, you're sure to find a potato starch substitute that works for you.
What is Potato Starch?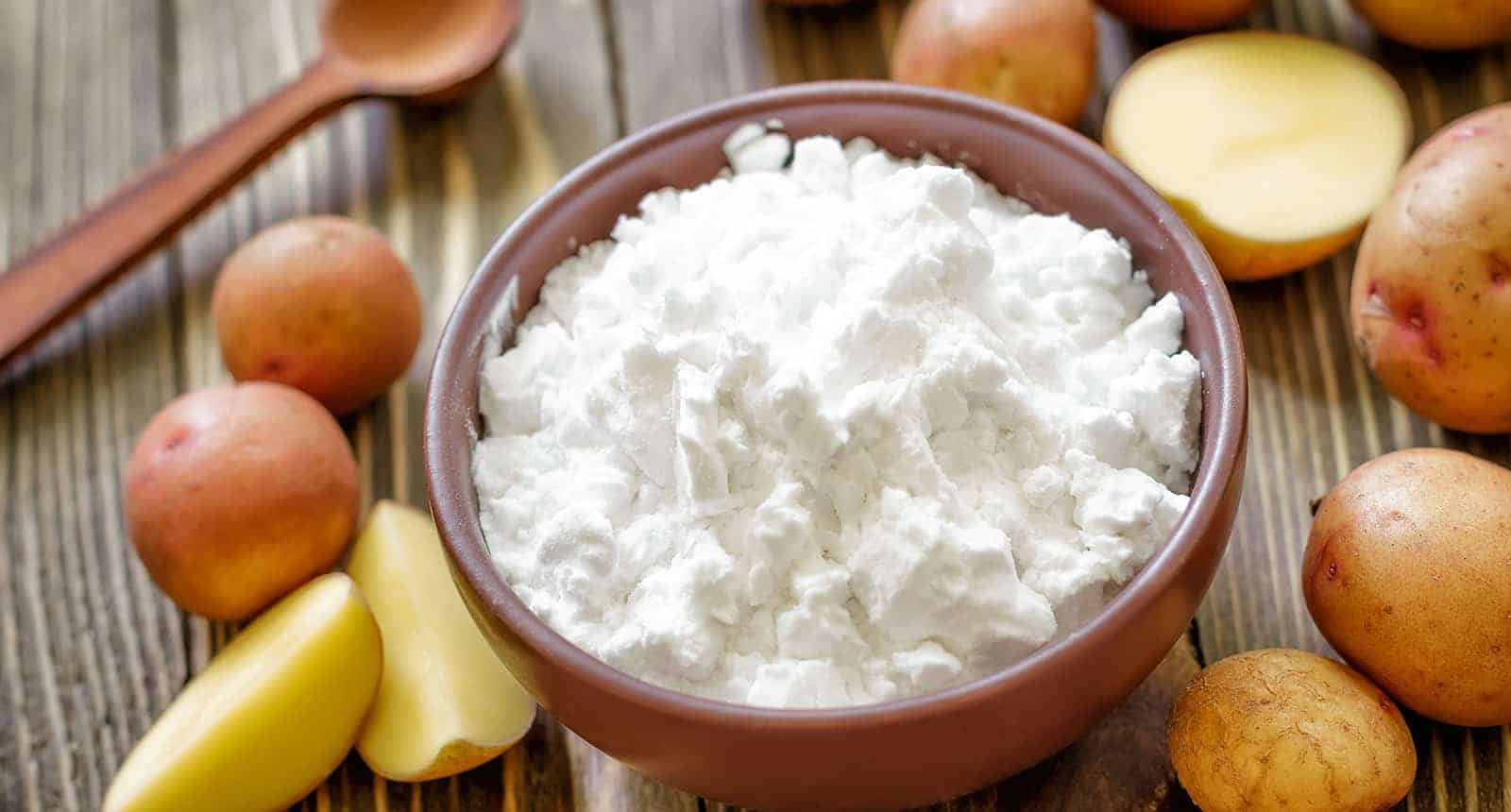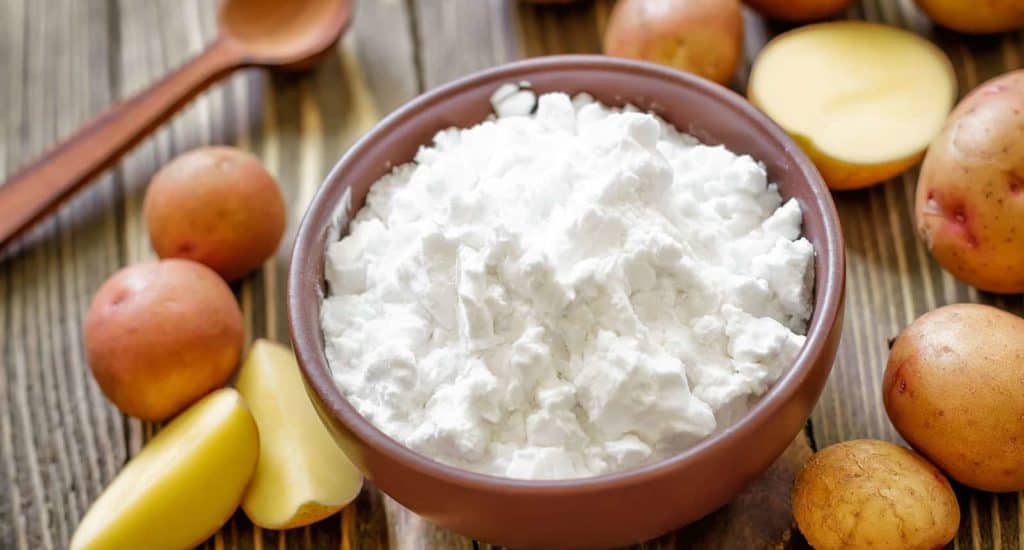 If you've ever over stirred a pot of mashed potatoes, you know firsthand just how glue-y they can get. The culprit behind such a gummy mess? Potato starch of course!
While unpleasant in excess quantities and not at all the texture you're looking to achieve in any dish, this sticky quality of potato starch is exactly what makes it so useful in a number of different culinary applications.
How is Potato Starch Made?
So how do the starch grains go from hidden within the thick flesh of a potato and get transformed into the dry, fine powder you see packaged on the grocery store shelf? The process is a bit complicated!
Cleaned and processed raw potatoes are crushed, thereby extracting the starch grains. This crushing can't be done all willy-nilly, it must be done carefully and in a way that effectively expels the starch, making it available for collection while the potato solids are moved away. The starch is then dried and finely ground, and the resultant texture is light and powdery, much like that of other flour and starch products. Potato starch has a neutral taste and soft texture which makes it an ideal ingredient in a wide range of recipes and baked goods.
In many cases, potato starch is a byproduct created as other potato products are made on a large scale, such as with commercial potato chips or frozen French fries. Rather than waste it, many factories opt to capture the starch extracted during the processing and package it themselves or send it off for processing.
Is Potato Starch the Same as Potato Flour?
Nope, not quite! There is one key difference between potato starch and potato flour. Unlike potato starch, which is made from just the starch that is released from crushed potatoes, potato flour is made using the whole potato.
In order to make potato flour, whole potatoes go through a process of cooking, drying, and grinding. The result is a powder, which while not quite as fine as potato starch, has a very strong potato flavor. These differences in flavor and texture are quite distinct, therefore it is not recommended that you substitute potato starch with potato flour as in most cases it will greatly affect the outcome of the dish.
What is Potato Starch Used For?
Potato starch is quite easy to incorporate into many different recipes and baked goods, due to the fact that the starch grains readily bind with water molecules. This unique property makes potato starch ideal for use in any of several purposes:
Is an ideal thickening agent in liquid recipes such as chowders, hearty soups, stews, gravies, fillings, and sauces.
Can be used as a coating when frying foods such as chicken, seafood, and vegetables. Using potato starch is a great alternative to all-purpose flour or batter, giving foods an extra crispy coating, which happens to be gluten free!
Adds crispness and structure when used in baking recipes such as cookies, cakes, and crackers.
8 Best Potato Starch Substitutes
As we discussed, potato starch serves many purposes in the culinary world, from baking and thickening to coating and crisping. This variety of effects means that some of these options will work better under certain conditions as opposed to others. So, be sure to think through the role that potato starch is meant to play in your recipe in order to ensure that you are choosing a compatible substitute.
Most of these replacements are gluten free and will be suitable in gluten free recipes, however there are a couple which do or may contain gluten, which we'll be sure to make note of.
Cornstarch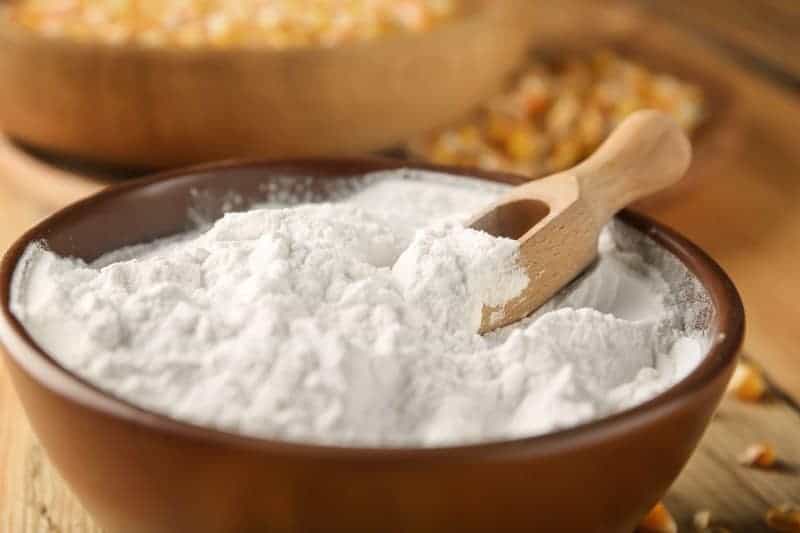 Cornstarch is quite comparable to potato starch in all aspects, from flavor and texture to versatility of use. Therefore, cornstarch makes a name for itself as an excellent potato starch substitute! This powdery substance is made by a very similar process to that of potato starch, but instead of being made from the starch of potatoes, cornstarch is the isolated and dried starch grains of corn.
The resulting product is a gluten free starch which has a neutral flavor and can serve all of the same purposes–from thickening agent to baked good ingredient. If you opt to replace potato starch with cornstarch in a recipe, there should be virtually no distinguishable difference in the resulting texture or flavor of your dish.
How Much to Use:
Use a 1:1 ratio–whatever quantity of potato starch your recipe calls for, you can sub in an equivalent amount of cornstarch.
Tapioca Starch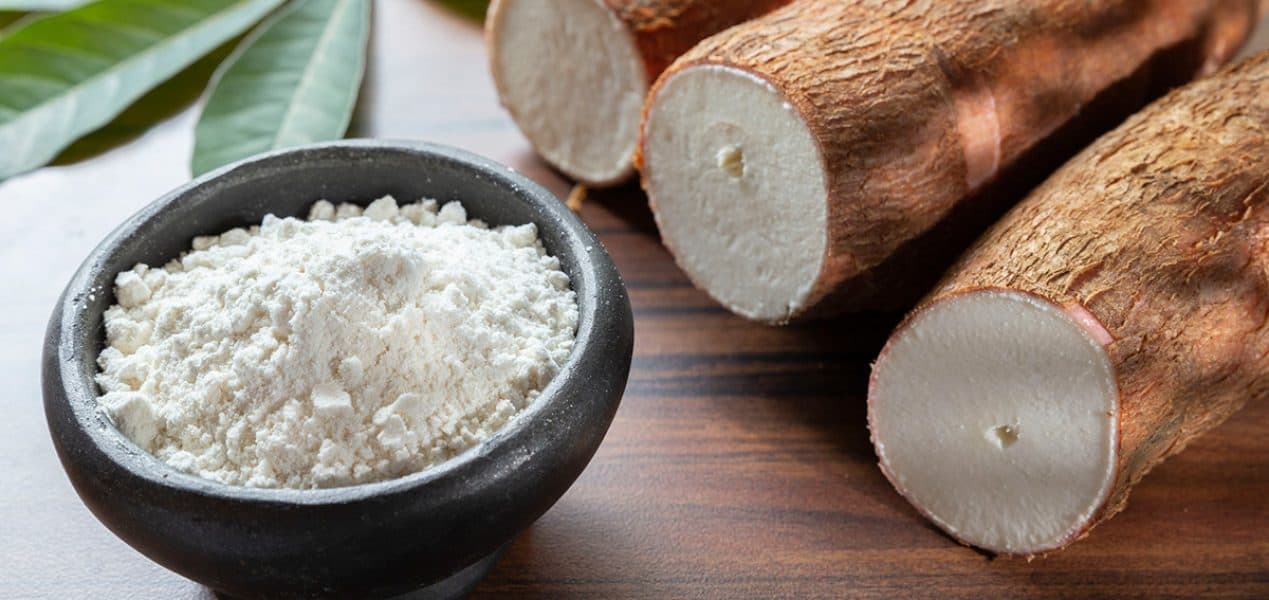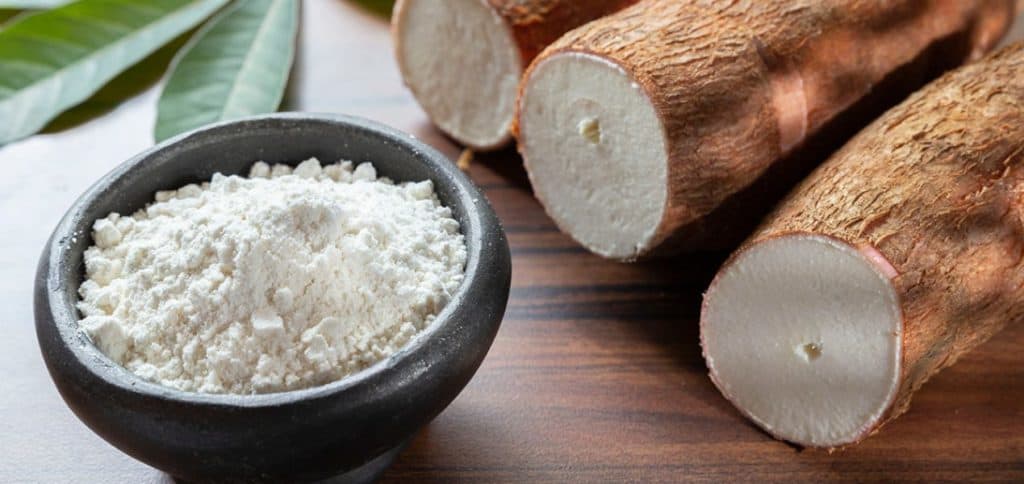 Tapioca starch is also a great choice as a potato starch substitute as it is yet another gluten free, flavorless starch product which can be used to thicken liquids and bake with. Made from cassava root (an extremely starchy root vegetable), tapioca starch may also be packaged as "tapioca flour". These two terms are interchangeable and generally refer to the same product. However, if you come across a product labeled "cassava flour", this is likely a different formulation and you should steer clear of this one in your search for a potato starch replacement.
Tapioca starch is especially great for thickening liquids that are at cooler temperatures, such as custards, ice creams, and smoothies, but it can certainly be used in heated recipes as well. When using tapioca starch as a thickening agent, tread lightly at first and be sure to measure carefully, as too much can give the liquid a gummy texture.
How Much to Use:
Tapioca starch is more lightweight than potato starch, therefore you do need to use more of it. When thickening liquids, use 1½ times the quantity of potato starch called for. When baking, you can use up to 2 times the amount of potato starch the recipe calls for.
Arrowroot Powder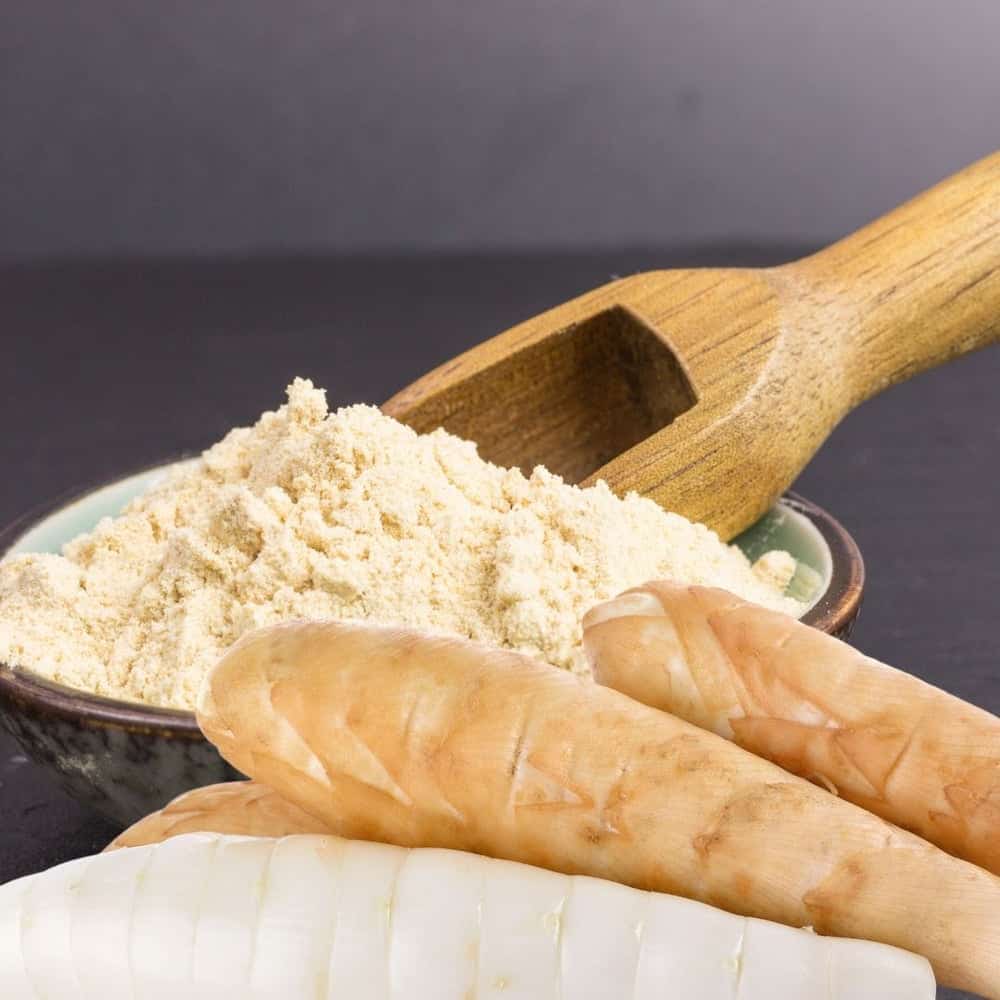 Also called arrowroot starch or arrowroot flour, arrowroot powder is the extracted starch of several different species of tropical tubers. Just like cornstarch, tapioca starch, and potato starch, this sticky stuff is dried and powdered and has just about an identical appearance to that of the other starches as well.
Arrowroot flour has the added benefit of being gluten free and can be used to replace potato starch in most recipes. However, arrowroot powder has a unique reaction when it comes into contact with dairy ingredients, resulting in a slimy texture, therefore it's best to avoid this option when making recipes that have any milk ingredients.
How Much to Use:
You can use about 2 teaspoons of arrowroot powder for every 1 tablespoon of potato starch a recipe calls for.
Rice Flour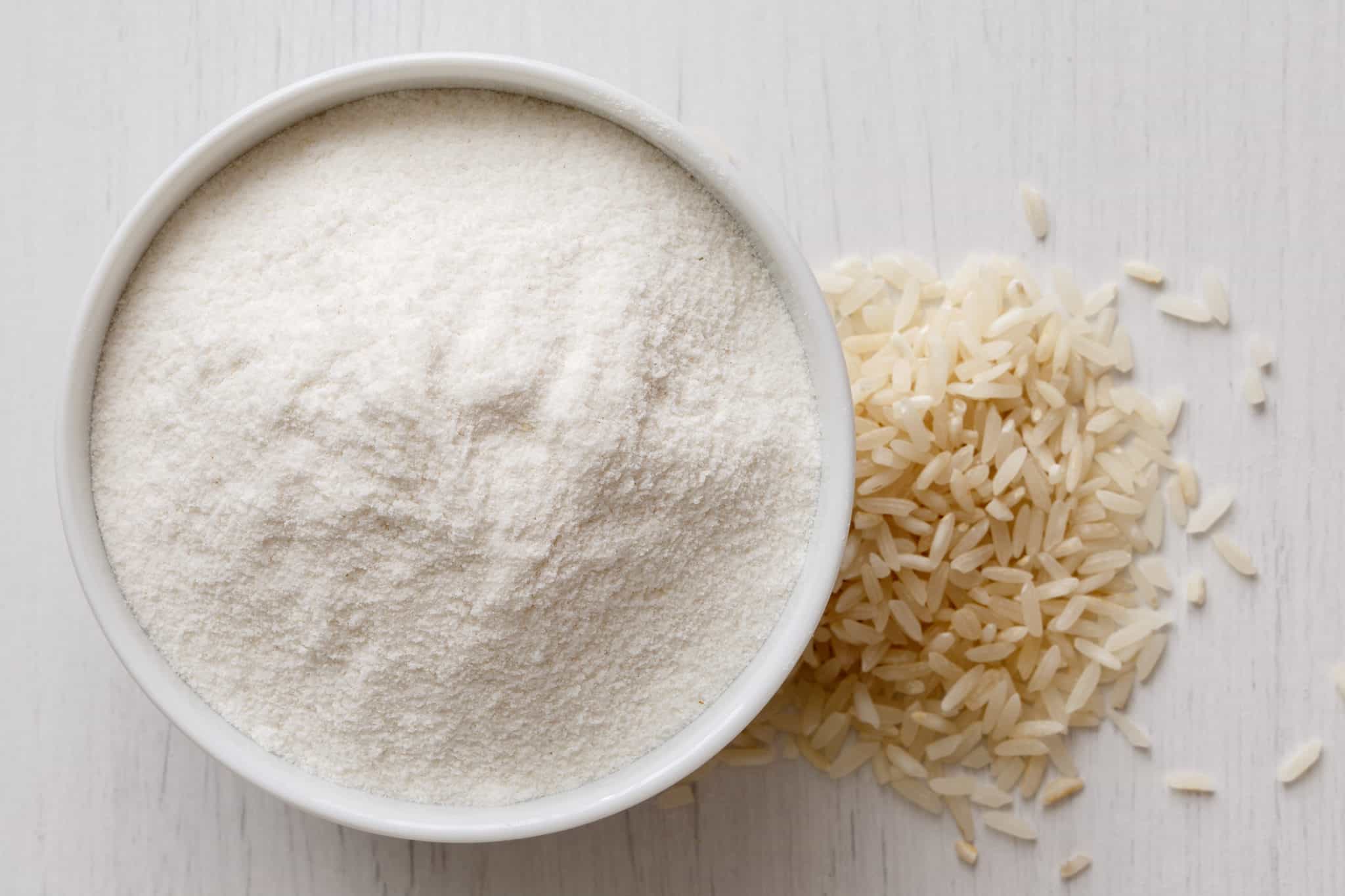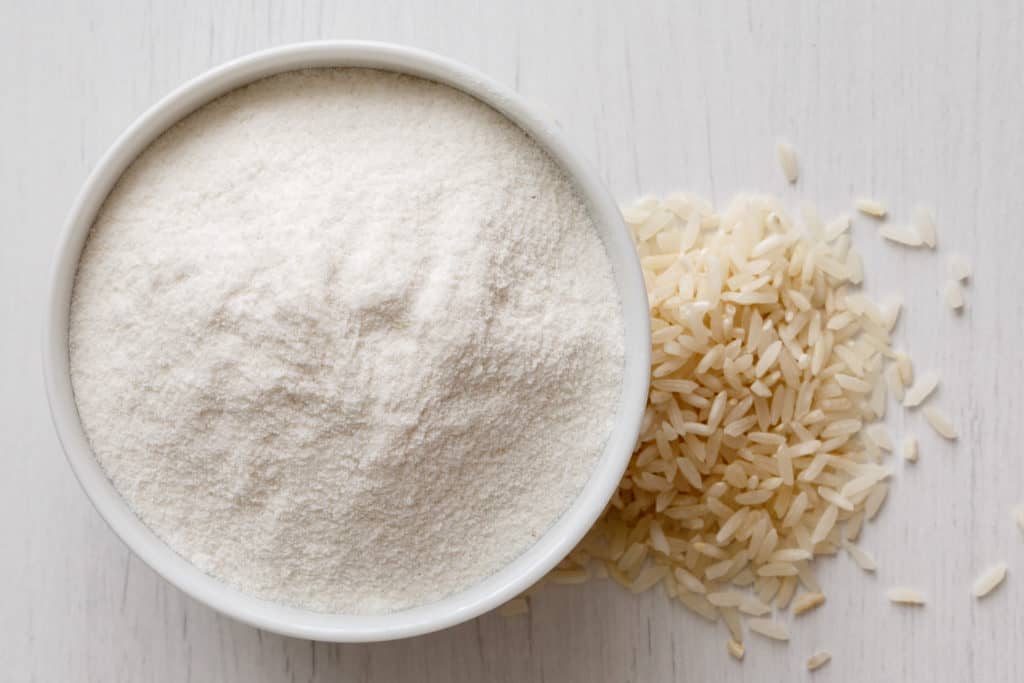 One walk down the baking aisle will make you realize just how many types of rice flour there are out there! Not all of these are your friends in a potato starch substitution situation though. When seeking a substitute for potato starch, your best choice will be sweet rice flour, which is also known as glutinous rice flour. Despite having the word "glutinous" in the name, this type of rice flour is completely suitable for gluten free baking.
While it can be used as a thickener, sweet rice flour will work best as a substitute in baked goods. As this product is made from sticky white rice, which contains more starch than other types of rice, you can expect it to add an extra layer of chewiness to your recipe. Perfectly soft yet chewy cookies coming right up!
How Much to Use:
Easy, peasy--1:1 ratio here!
Coconut Flour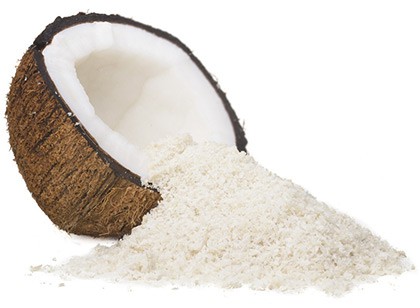 Made from dried and ground pure coconut meat, coconut flour has a texture more comparable to nut flours, such as almond flour, rather than potato starch. Nevertheless, it is one of the most useful alternative flours you'll find! Coconut flour can be used in place of potato starch so long as you keep a couple of things in mind.
For starters, the coarser texture of coconut flour will certainly have an impact on the final texture of your dish, and it does not bind with water in quite the same way as potato starch and other starches. Secondly, the addition of coconut flour to your recipe will likely introduce coconut flavor into your dish. Not a bad thing if you ask us! Just be sure to consider whether or not the slightly sweet flavor of coconut will play nicely with the other flavors in your recipe.
How Much to Use:
You should use slightly less coconut flour than potato starch. So, use 2½ teaspoons of coconut flour for every 1 tablespoon of potato starch your recipe calls for.
Wheat Flour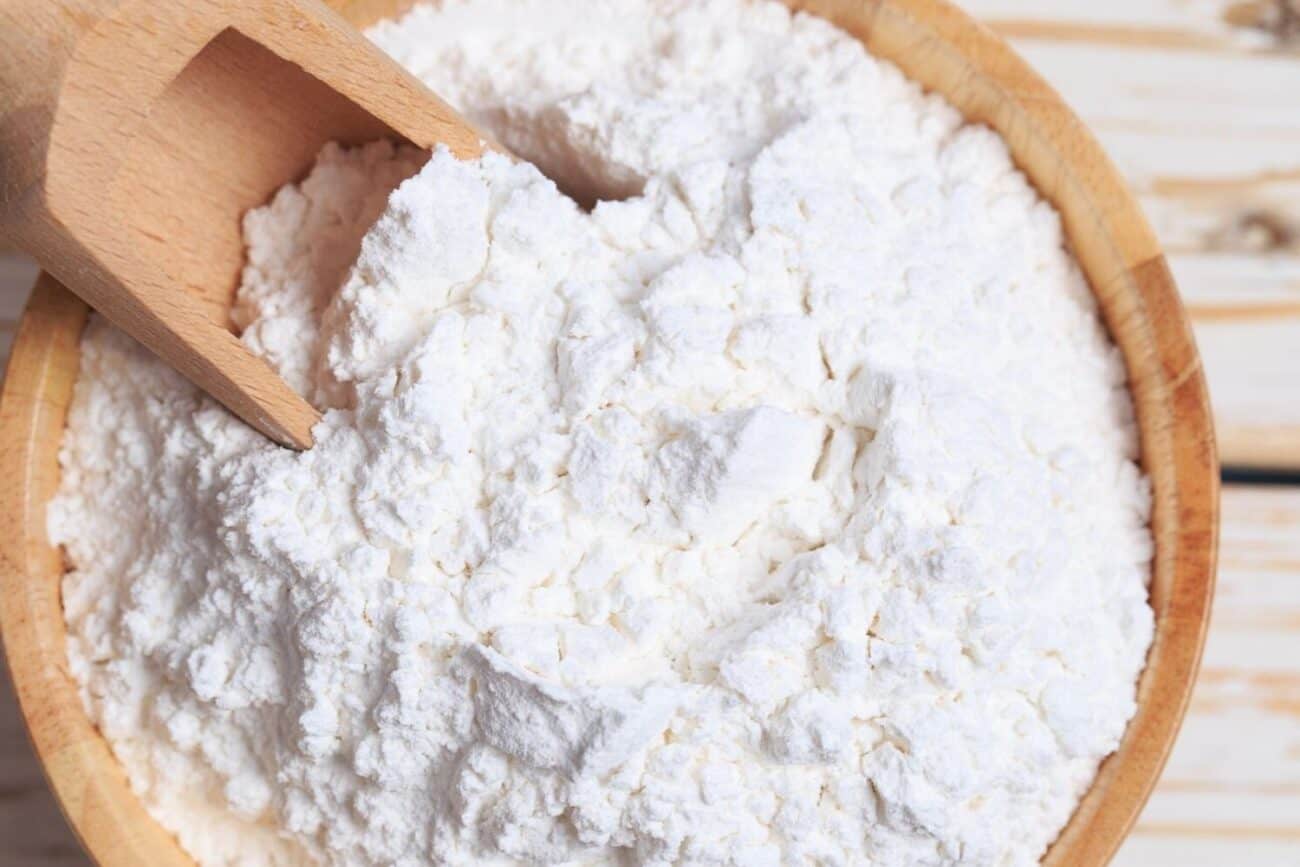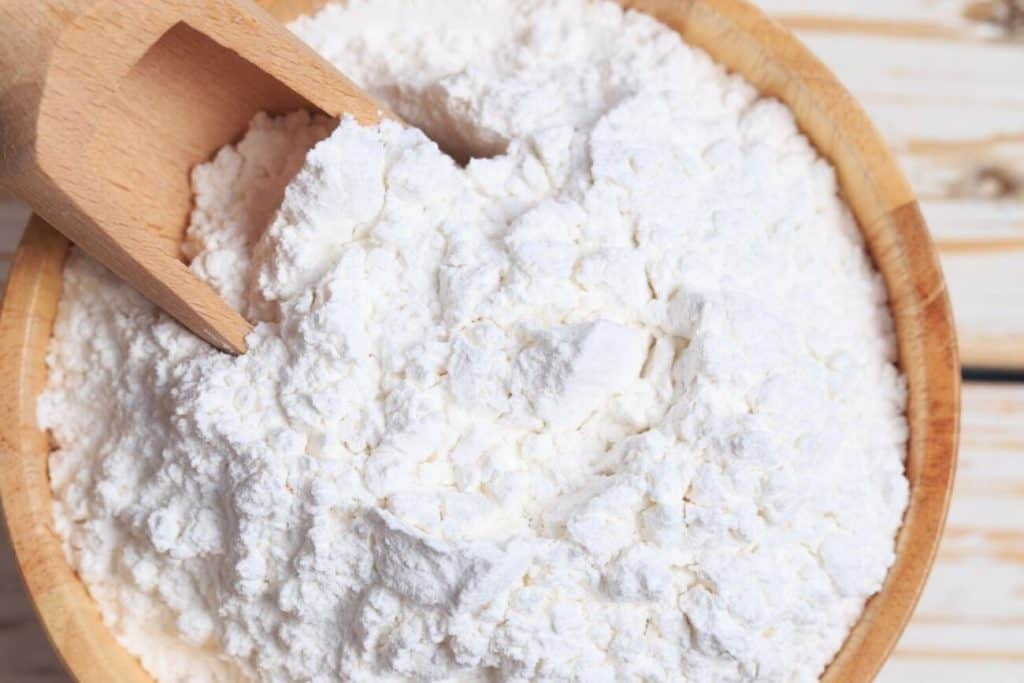 There are many types of wheat flour out there, from whole wheat to cake flour to self-rising flour and so many more! The best wheat flour to use as a potato starch substitute is luckily also the one you're most likely to have hanging around your kitchen pantry: good ol' all-purpose flour.
If your recipe calls for potato starch as a thickening agent, such as in soup or stew, you should avoid stirring the flour directly into the liquid as it will surely clump up. Go ahead and make a roux (as you would to start a gravy or white sauce) and then slowly add a portion of the liquid to the roux. You may then add this thickened liquid back into the main recipe, where it will then be able to incorporate much more easily.
If you are using wheat flour as a substitute in baked goods, you'll have an easier time! Wheat flour can be mixed right into the dry ingredients for cakes, breads, and cookies just as if it were potato starch. And, it likely goes without saying that wheat flour is definitely not a gluten free substitute.
How Much to Use:
You'll need to use more wheat flour than potato starch to achieve the same effect, so go for a 2:1 ratio of wheat flour to potato starch.
Oat Flour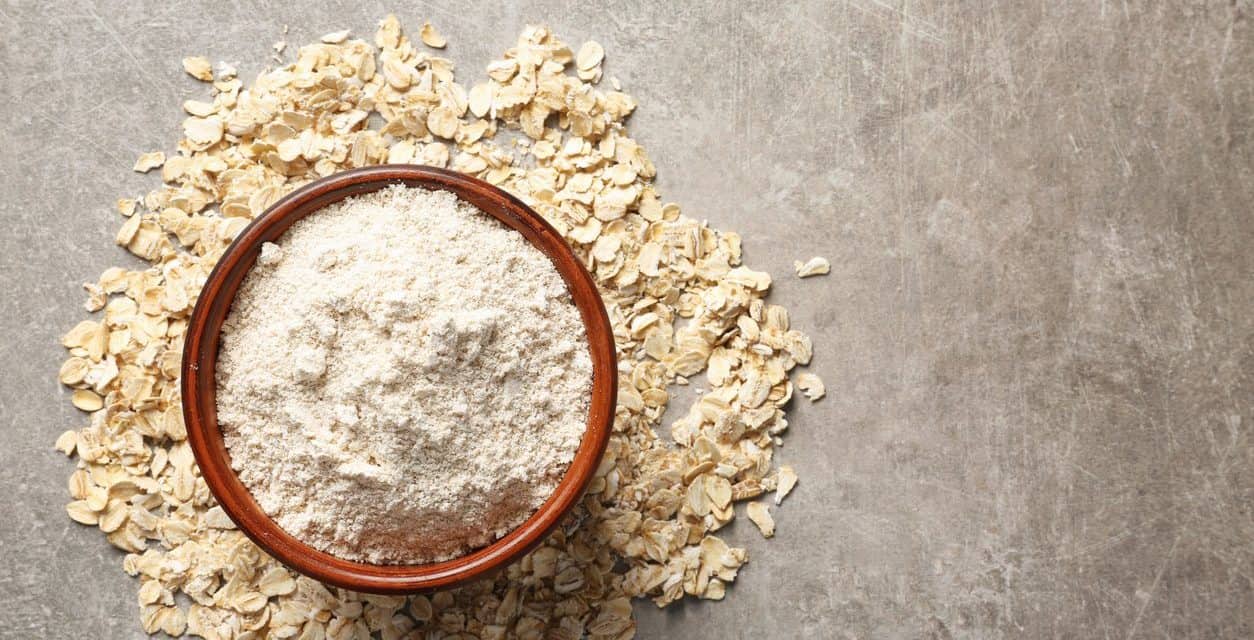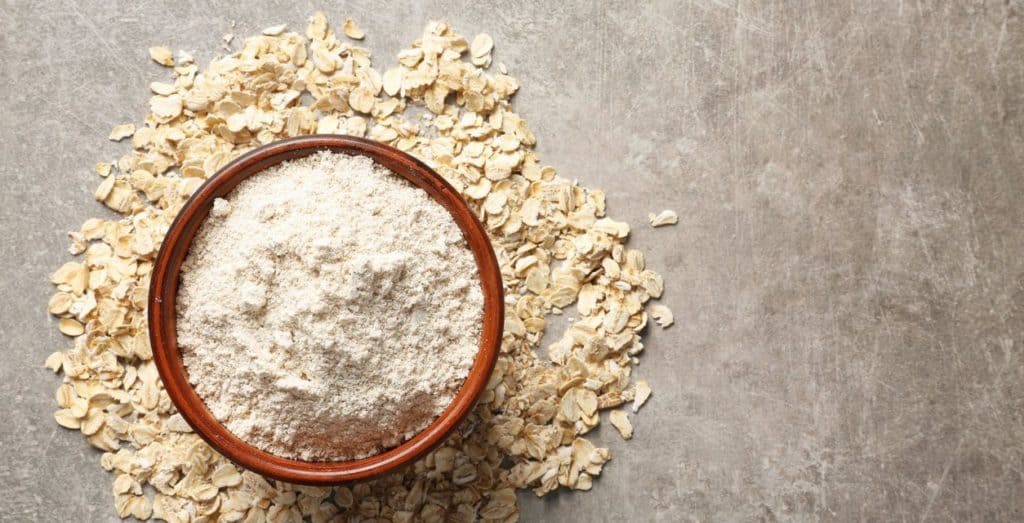 You won't be surprised to hear that oat flour will behave quite differently in a recipe as compared to potato starch, other starches, and other, more lightweight flours like rice flour. This is due to the fact that oat flour is a whole grain and is therefore more fibrous (and nutritious!) than pure starches. The heft of oat flour may cause it to have a more difficult time incorporating into some recipes, so take your time and stir the oat flour into liquid ingredients nice and slowly. Despite these differences, oat flour will perform brilliantly in baked goods, especially when there are other types of flour in the mix!
If you only have rolled oats on hand, no worries! You can easily blitz these into your own homemade oat flour using a food processor or high-speed blender. Just don't try this with instant oatmeal or steel cut oatmeal, the result won't be the same.
It is worth noting that oat flour may not be suitable for gluten free baking and cooking. While pure oats themselves are indeed gluten free, they often come into contact with gluten during processing. If gluten intolerance is an issue, be sure to check the package carefully to see if there are allergen warnings or if the oat flour is designated as being processed in a cross-contamination free facility.
How Much to Use:
When baking with oat flour as a potato starch substitute, you can use a 1:1 ratio.
Instant Mashed Potatoes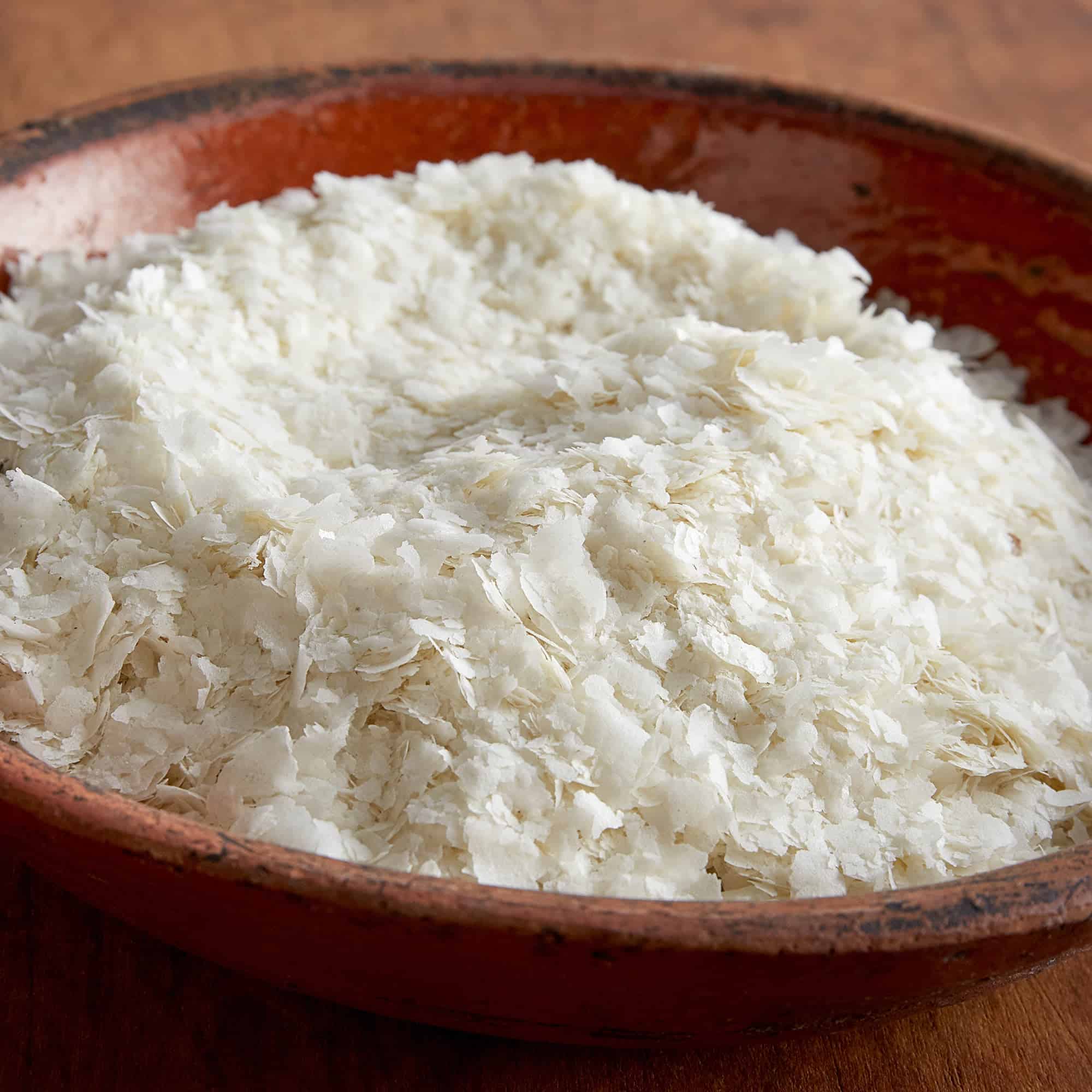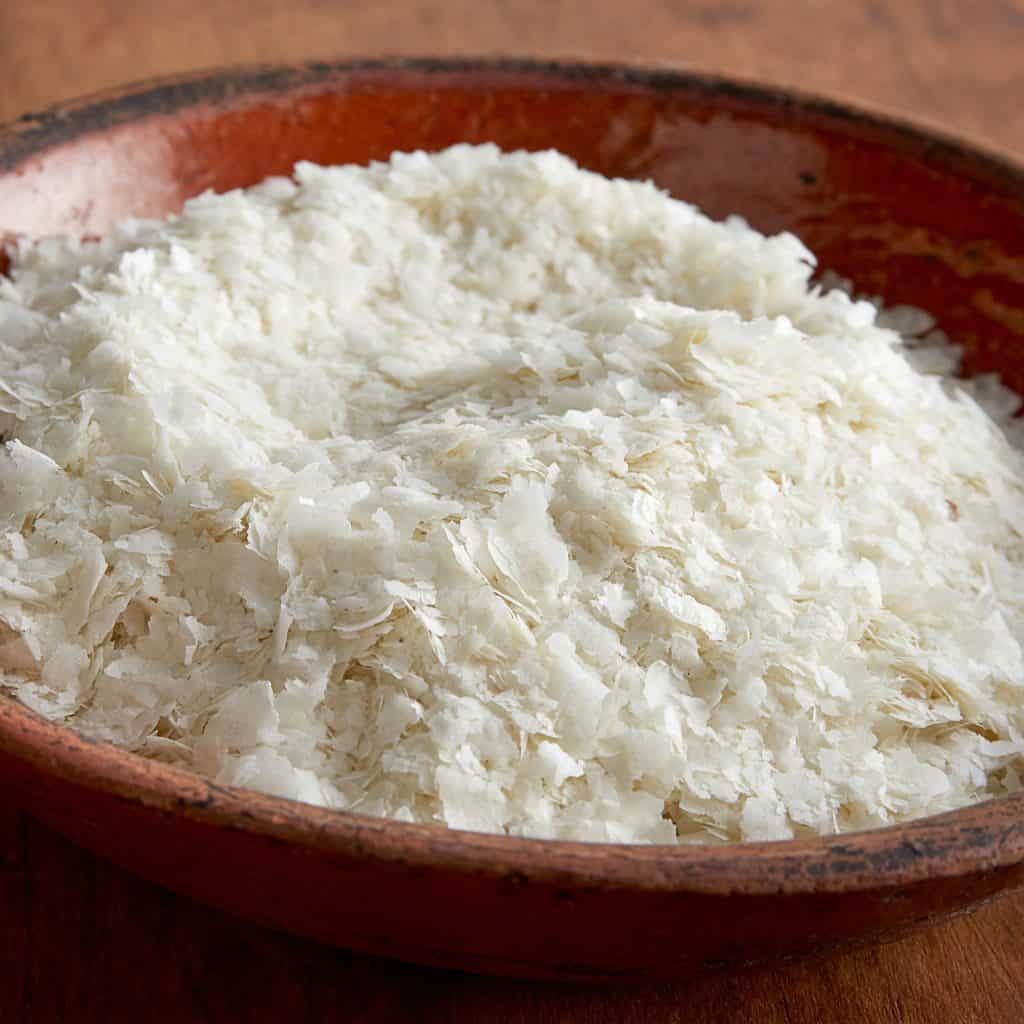 While they are neither a starch nor a flour, instant mashed potatoes are one out of the box solution to your potato starch predicament! They work surprisingly well when used in place of potato starch, due to the fact that dried potato flakes and granules have such a high potato starch content by nature.
To achieve a more uniform texture, you can pulse the instant mashed potatoes in a food processor or blender until they have a fine and powdery feel, similar to that of potato starch. While they will result in a more potato-y flavor in your final dish, the thickening and baking properties of instant mashed potatoes will be right in line with those of potato starch.
Keep in mind that many instant mashed potatoes may already have salt added or may even be flavored with other dried ingredients in the mixture. Be sure to check the ingredients panel carefully so that you don't wind up with overly salty food and can avoid winding up with garlic flavored mashed potatoes in your dessert recipe!
How Much to Use:
Once the instant mashed potatoes are ground to a fine powder, you can measure them just the same as you would potato starch.
Best Potato Starch Substitutes: The Takeaway
If you find yourself lacking potato starch right when you need it most, there are plenty of options that you likely already have in the pantry which can get the job done!
For thickening liquid recipes such as soups and stews, your best choices will be one of the other starches: cornstarch, tapioca starch, or arrowroot starch. These powders are also easy to incorporate into baked recipes and are gluten free as well.
Flours such as rice flour, coconut flour, wheat flour, and oat flour are great ingredients to use while baking but are much more difficult to incorporate into liquids therefore you should only rely on them as a thickening agent in a pinch and at your own risk. Some of these items are gluten free by nature, while others contain gluten or are commonly exposed to it during processing, so be sure to read that package carefully!
And don't forget to consider that box of instant potato flakes! It may seem like a crazy solution, but all things considered, those dehydrated potatoes aren't all that different from the light and fluffy potato starch you're lacking.