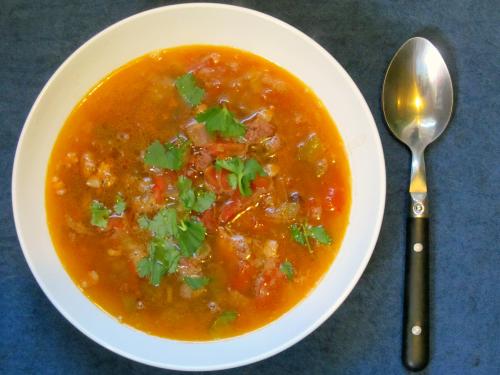 I am not the type of cook to prefer, require or create precise recipes. More controversially, the same goes for my methods of baking. My "cup" or "tablespoon" may just get plucked from the cupboard or more likely the rack of clean dishes forever piled in the right-side basin. I'm one of those that scoops, dumps and mixes in a manner that causes fellow bakers to cringe until I get the "feel." This basically sums me up (and for this I blame my parents-who else?). Not everyone would enjoy to live this way, but I find this attitude in cooking and in life makes for easy adventures and a general pleasantness. This may sound decidedly European of me though I am, at times unfortunately, all-American.
I grew up in central Minnesota in a land thick with mixed forest, streams and lakes and I was raised by what I would deem "old world hippies." This type of hippie grows and cans the fruits of big organic gardens, most likely raises chickens and in our case also rabbits, for meat. They make things like clothes, candles and wooden toys with moving parts. They play a plethora of musical instruments for fun and dress more like gnomes than they do flower children. Convention in the modern and progressive sense is not a given with my people. It's something to consider and in most cases, carefully reject. While the course of my upbringing was a source of adolescent humiliation for me, it has made for a great appreciation of hard work, unconventional wisdom, folky music and very good eating.
Many Friday nights my family loaded up the wagon with a fragrant dish to attend a local folk dance at a town hall about halfway to town. The gathering always included a potluck with an incredible assortment of hand-made crocks filled with exotic home cooked foods that I inhaled deeply and devoured with no indication as to what exactly I was eating. Where I come from, when preparing for a potluck, you try something totally new for the adventure of it, scan your recipe box of tried-and-trues, or you bring your standard best-loved dish. You never call the host and ask "What should I bring?!" or worse, search frantically for the sign-up sheet. The fact that this has become conventional potluck protocol in order to avoid any mishap that may arise irks me. Given my upbringing and the joys that come with it, I find myself out stomping for the benefits of several odd things and the idea of bringing back the good old-fashioned potluck is one of them. I am aware I am losing the battle.
With that said, you have a pretty clear sense of who I am and may be surprised to hear that I found my equal in another human being. His name is Steve and he, too, is in to: having fun as often as possible, learning, eating good food, talking about food, living happily on very little money, and being himself always even if that compels others to consider him strange. By some miracle he fell for me, then fell for the banjo music on my iPod, acquired a banjo and learned to play me silly love songs. Music, food and smiles occupy the majority of our waking hours. I am in heaven.
Steve and I went quickly from "Nah we don't need to get married" to "Maybe, if we didn't have to plan or participate in a wedding" to "How 'bout we slip in a quick little surprise at our upcoming birthday party?" Steve's 30th was last week and we had planned a low key lawn party. My girlfriend, Ellen, a great believer in love, agreed to obtain a minister's license to officiate the union, and there we have it! The only rules were: The ceremony can be no longer than a toast (Ellen started her editing process). The weather will not ruin our day (we got a tent). There must be music (I made a 10 hour playlist and previewed it for "toe-tappedness" at work for a month). There will be a good old-fashioned potluck (this was hard for people). I graciously accepted and/or deflected the many inquisitions as to what to bring ("A dish to pass!"). Steve practiced all week on a pretty little banjo piece to strum while my girls threw lilacs at people as they made their way to the backyard. And while the weather prediction was thunder and torrential rain all day, the clouds parted to reveal total sunshine precisely at the time that our loved ones gathered at our home. In our casual haste and true form, we ignored the blooming shrubs and beautiful birches to our right and parked our little ceremony right in front of some dirty old tarps covering our wood pile.

But this day wasn't about precise planning, fear of things "working out" or perfect snapshots. It was about love and playfulness, friends, family and music, and a beautiful excess of good food and drink.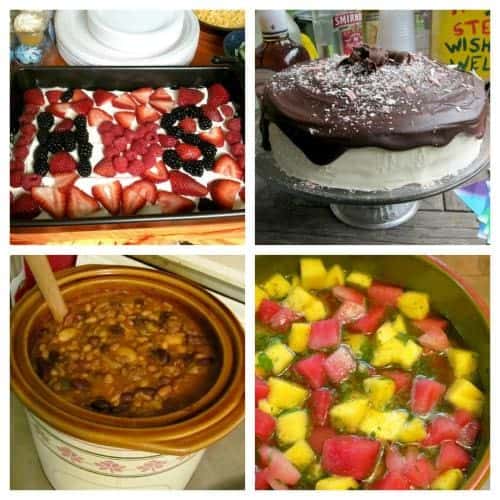 We spent the last few days cleaning and recovering and living on cake while the leftover savory foods waited patiently in the fridge. Hearing their call (and my body's craving for vitamins), I threw open the fridge and pulled out every container with bits of party food we didn't quite polish off. I pride myself on my soups and the Potluck Soup I made today was as good as it gets. The perfect marriage of friends' and families' dishes of choice for our perfect wedding.
Potluck Soup:
You might find this soup at small town cafes in Minnesota under the name "Kitchen Sink." This is the perfect soup to recover from eating nothing but leftover desserts for days.
Approximate ingredients:
Chopped remnants of a veggie platter (celery, carrot, broccoli, green onion, etc)
1 onion, chopped
½ green pepper, chopped
3 strips bacon, chopped
2 cups chopped tomatoes (I used leftover diced tomato; skin, juice and all)
Broth (2 to 4 cups depending on desired thickness)
Juice of one small lime
1 cup starchy casserole (such as party beans, pasta or a baked rice dish)
1 cup ground or chopped meats (taco, sloppy joe, fried chicken or whatnot)
½ cup cilantro, chopped
¼ cup spicy salsa plus more to taste
Shredded cheese, sour cream and crushed corn chips
In a wide-bottomed soup pot, brown chopped veggies in bacon until they are getting some really good color on them. Add chopped tomatoes with juice and cook down to a thick and fragrant sauce on medium-high heat, stirring often. Add broth and lime and simmer for 5 minutes or until all the veggies are nice and tender. Add starchy casserole and meat and return to a simmer. Add salt, pepper and salsa to taste. Stir in cilantro. Serve with cheese, sour cream and crushed corn chips.