With our busy schedules and desire to spend less time in the kitchen, the power quick pot comes so much in handy. It will save you time, energy, and money. With it, you can whip up a 5-15-minute meal and get about other activities.
If you are keen on healthier eating, the power quick pot makes it so much easier for you to make healthy meals. As such, you will avoid take-out, which saves you money and keeps your diet on a much healthier side.
The Power Quick Pot Review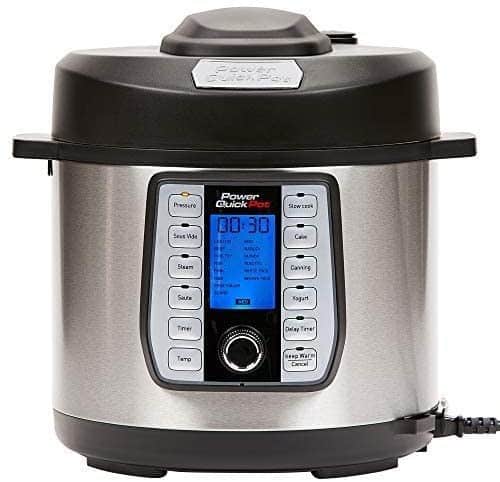 There is a wide range of pressure cookers to choose from in the market, but this article gives you a detailed overview of the best, quickest and safest multi-cooker, the Power Quick Pot by Tristar. It is affordable and easily accessible on Amazon.
This smart, multifunctional cooker is designed to make your cooking so much easier with a cooking speed that is up to 70% faster than traditional cooking appliances. It has more cooking functionalities than any other cooker in the market so far.  Below is a detailed review of the Power Quick Pot.
Features
Multifunctional. The manufacturer indicates that Power Quick Pot can carry out up to 37 programmable functions. You can use it to steam, sauté/ sear, make custard, make yogurt, cook rice, boil eggs, sous vide meat, warm food, serve food on the table, etc.
It serves as a:
Slow cooker
Sous vide
Stovetop
Rice cooker
Digital pressure cooker
Steamer
Canner
Yogurt maker
Hot pot
Warmer
Egg cookers
Mini-oven
Steamer
Sautéing cooker
High-quality, food-grade material. Its body is made of PTFA & PFOA-free stainless steel, which is chemical resistant, corrosion-resistant, and rust-resistant for enhanced durability. It's also the safest compared to plastic cooked nonstick pots, which emit toxic chemical when overheated.
Glass lid, which enables you to monitor your food while it is cooking.
Splatter guard. This prevents your food from splattering all over the place while it's cooking.
High Cook IQ technology. This appliance incorporates the latest cooking technology. It has a built-in high-IQ advanced microprocessor that monitors and regulates temperature, time, and heat intensity for the various cooking functions.
Built-in-safety features.  This appliance offers an option for delayed cooking for 12-24 hours.  Its design also incorporates a wide range of safety features, including a lid positioning sensor, lid safety lock, anti blockage guard, pressure controller, pressure release valve, float valve, and a cool to touch handle.
High power rating. The Power Quick Pot has a 1200watts power rating. It comes with a 36-inch power cord that should be connected to a 120v/60Hz power source.
A wide range of programming options. It has a large LCD digital display that changes color based on the operation (shows if it's on standby mode, preheating, or high heat mode).
Its control panel has 14 functional buttons that help you operate and adjust settings for your food. You can regulate cooking temperature from as low as 95°f to as high as 360°f. This feature helps you avoid overcooking or burning your food.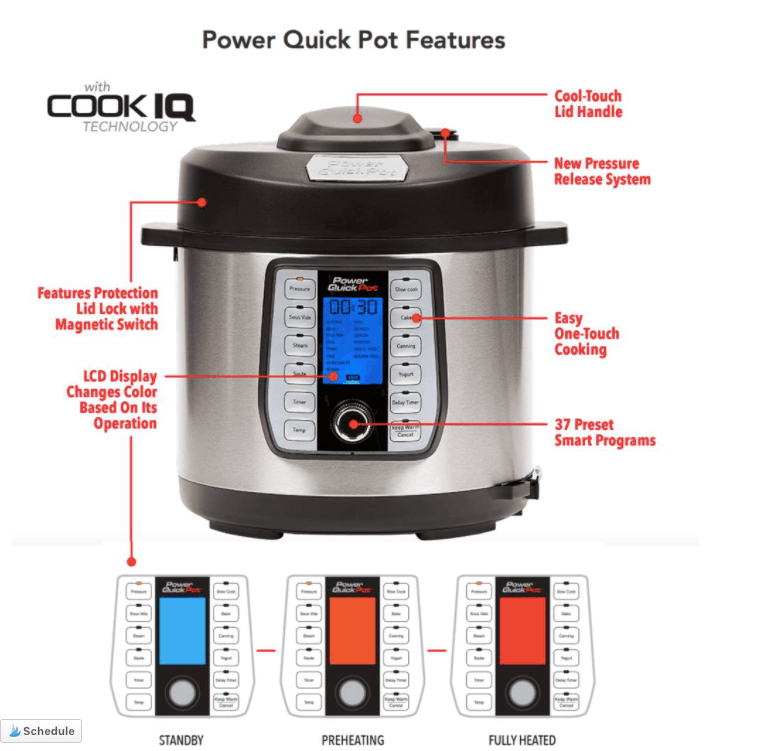 Operations
Once you connect it to a power supply, the LCD digital display on the pot lights up in blue, which indicates it's on standby mode.
The display normally has different color lighting that indicates the state it's in during the pressure cooking task. After putting in your settings, at first, it lights orange to indicate that it's preheating. Finally, it turns red to indicate that's it's fully heated up.
 Different sizes. The device comes in 4 different sizes 4-quart, 6-quart, 8-quart, and 10-quart sizes. This depends on the number of people you are cooking for. The bigger the crowd, the bigger the pot size.
Pros
Wide range of programming options
Easy to use control panel
70% faster than traditional methods of cooking
Newest high IQ cooking technology
Cool to touch handle
Numerous safety features and settings
Easy to clean
Dishwasher safe
Long power cord for convenient positioning
Available in different sizes
Comes with a manual that has recipes for you.
Cons
High consumption due to the high-power rating
It does not have the option to adjust pressure, always cooking under high pressure
Short warranty period of 60 days
Conclusion
The power quick pot pressure cooker, among other multi-cookers, is our top pick. It offers numerous cooking functions and programming options at an affordable price. Although it provides the option to can foods, the USDA recommends against food canning using pressure cookers. While deciding which multi-cooker is best for you, consider the options it offers, affordability, warranty period, maintenance, and durability.
Top Tristar Power Quick Pot FAQ
This section answers some of the most commonly asked Power Quick Pot FAQs.
How to use a Tristar Power Quick
Here is a step by step process for using a Power Quick Pot:
Open the lid. Slide the release switch to your left and twist the lid clockwise until the lid position mark aligns with the open mark. Lift the lid.
Insert the removable inner pot to sit on the base of the pot.
Add your ingredients without exceeding the full line on the inner pot.
Replace the lid and ensure it is properly closed. Align the lid position mark with the open mark, then twist the anticlockwise until the release switch automatically closes.
Choose your cooking presets and type of food on the Digital display. Confirm the temperature and time on the center dial and start the cooking process.
While covering, remember to attach the inner lid to the outer lid. Make sure the knob is facing out. If you install the inner lid inside out, it's likely to prevent the pot from coming to pressure.
How different is the power quick pot from other multi-cookers on the market?
The quick pot has the highest cooking IQ (newest technology and smarter) compared to other multi-cookers. It also has more functions than other multi-cookers.
How is the Power Quick Pot different from an Instant Pot?
The two have some similarities in design and functionalities. The following are the main differences between an Instant Pot and a Power Quick Pot: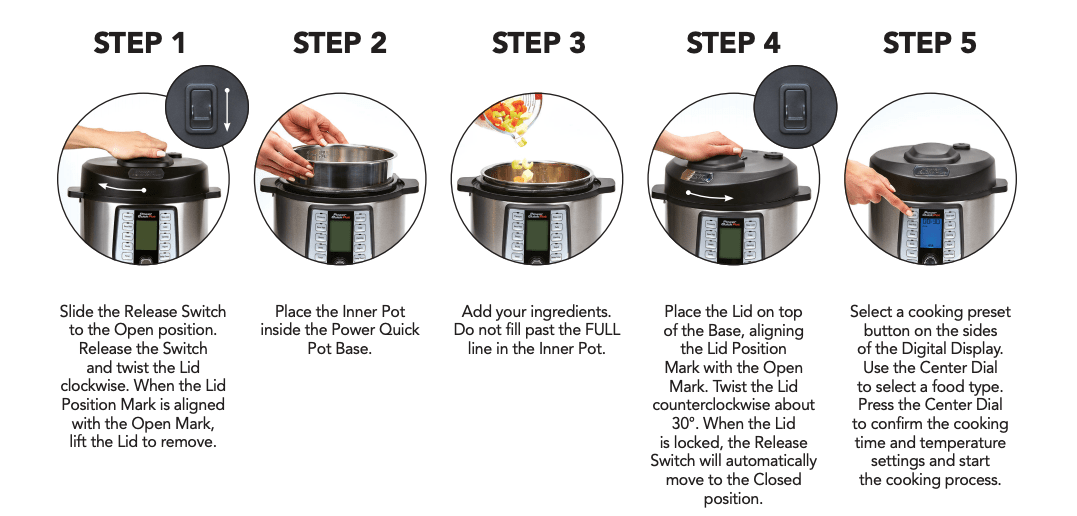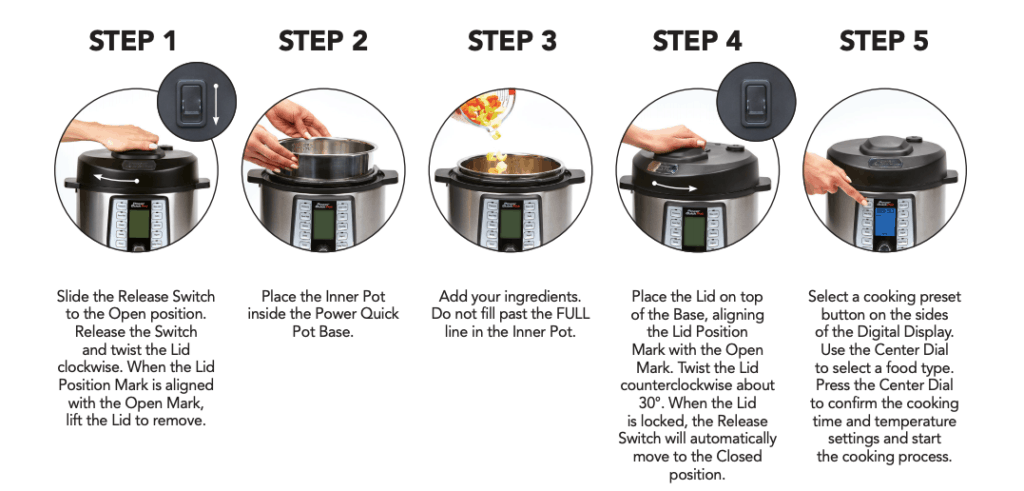 The quick pot has more functions compared to an Instant Pot.
It doesn't have a heat regulator, while the instant pot has one. The Power Quick Pot always cooks under high pressure while you can set lower pressure ranges in an instant cooker.
The Power Quick Pot's inner lid opens in the opposite direction compared to that of the instant pot.
The Power Quick Pot comes with a longer power cord than that of the various Instant Pot Cookers.
You get a longer guarantee with the instant pot (12 months) than the Power Quick Pot (60days)
Is it safe to can foods using the Power Quick Pot Pressure Cooker?
The National Center for Home Food Preservation under USDA (united states department of agriculture) states that even if there are instructions for pressure canning in the manufacturer's directions, they do not recommend canning in the electric, multi-cooker appliances that now contain "canning" or "steam canning" buttons on their front panels.
The temperature in the pot hasn't proven to meet the needed pressure and temperature levels for safe canned food.