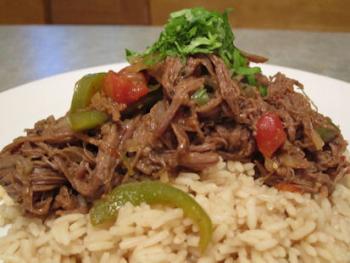 I have a pressure cooker that I bought years ago and have only recently started using again. We all know the horror stories from when we were kids and there was the inevitable explosion of a pressure cooker, hissing steam, sauce everywhere. And a great big mess! Ah, the good old days…
Thankfully, over the years, pressure cookers have improved and I feel confident using them. I have also changed my approach and use it now only as a tool, as opposed to as a pot to cook my entire meal. Let me explain. Think of the pressure cooker, like a slow-cooker, but at warp speed. Pieces of meat that will take several hours to become fork tender in a slow-cooker, will take about one third of the time in a pressure cooker. In the end, they accomplish the same thing, but I can decide to do a dish on the fly, rather than having to plan for it before I leave for work in the morning.
So, how is this using it like a tool rather than a pot? Well, I just use the pressure cooker to add a little bit of flavour, but its main goal is tenderizing. Once the meat is cooked in the pressure cooker, I take it out, then the fun begins. I decided to make Ropa Vieja – a Puerto Rican dish which translates to 'old clothes', which is how the beef looks once it's been shredded. The bonus here, is saving some time by using a pressure cooker, then adding some great flavours to finish off the dish.
I find sometimes with a slow-cooker that by the time the dish is finished, although it tastes great, the aromatics have given up all their goodness and the flavour can be a little homogeneous. Not a criticism of slow cookers, I have one myself, but I do find the flavours get muddled – great for chilli, not great for other dishes.
Using the pressure cooker allows adding bright flavours at the end – flavours that might have been more muted from longer cooking times. Give it a try, make sure you follow the manufacturer's recommendations for your pressure cooker, and go for it! It's a great way to start baked beans (in lieu of soaking them overnight), or a quick(er) way to tenderize a typically tough piece of meat.
Here are some step-by-step photos on how I prepared the Ropa Vieja: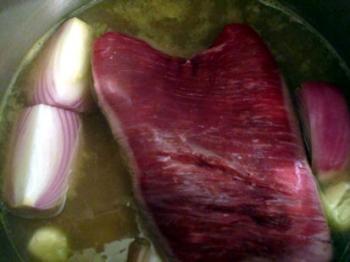 1- Place a seasoned flank steak, beef broth and aromatics (onions & garlic) in the pressure cooker.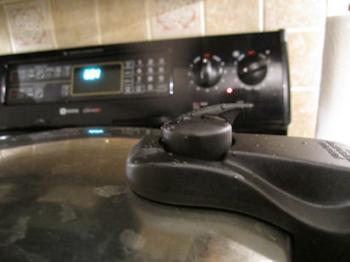 2- Following manufacturer's instructions, tighten the lid of the pressure cooker, set on high pressure and place over medium-high heat. Then allow it to do it's steamy thing. Once it's at its full pressure, reduce heat to medium and cook for 45 minutes.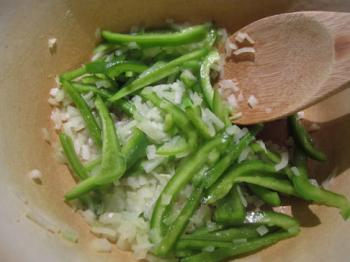 3- While meat is cooking, in a separate skillet or dutch oven, saute onions & green pepper until tender, about 7 minutes. Add minced garlic and saute another 2 minutes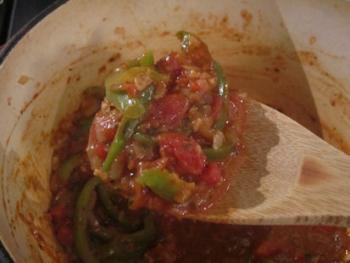 4- Stir in remaining 1 teaspoon salt, diced tomatoes, lime juice, hot sauce, ground cumin, and pepper; cook, stirring occasionally, 7 minutes or until most of the liquid evaporates.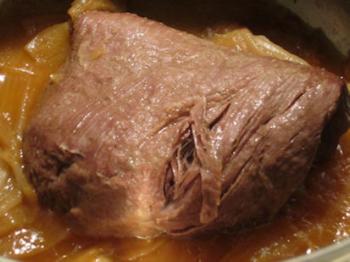 5- Remove the pressure cooker from heat, release pressure, following manufacturer's directions. Carefully remove lid away from you so steam escapes away from you. Marvel over the hunk of juicy, tender and delicious flank steak that took a fraction of the time a slow cooker would have taken.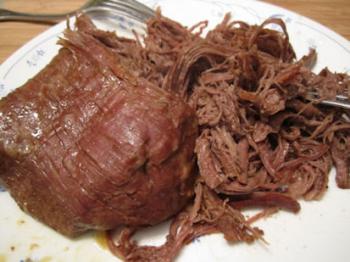 6- Shred beef, and coarsely chop; add to tomato mixture.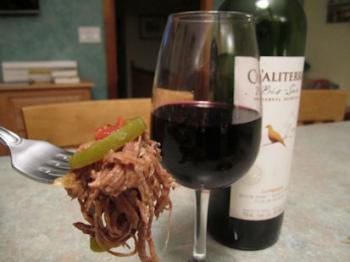 7- Serve over rice (pictured above) or on rolls (Hawaiian bread rolls are suggested). Pair your Ropa Vieja with a good red wine.
Recipe sources: