If there's one thing the health and fitness world has taught us is that we need to be drinking protein shakes after a workout. But it's easy to forget to drink that all so important smoothie when you don't have the right bottle. And while you'd imagine that a protein shaker bottle is nothing more than just plastic it can also be a breeding ground for bacteria and gunk that appears if you forget to wash it clean after use. This means you could be in the market for the best protein shaker bottle sooner than you think.
However, while it may seem like a fairly simple item, finding the right one with so many options to choose from can be overwhelming. That's why in this review, we have rounded up the best protein shaker bottles on the market right now. So if you're reading this because you are in the market for a new cool protein shaker bottle, keep reading! We've got plenty of great picks for you.
1. BlenderBottle Justice League Superhero Shaker Bottle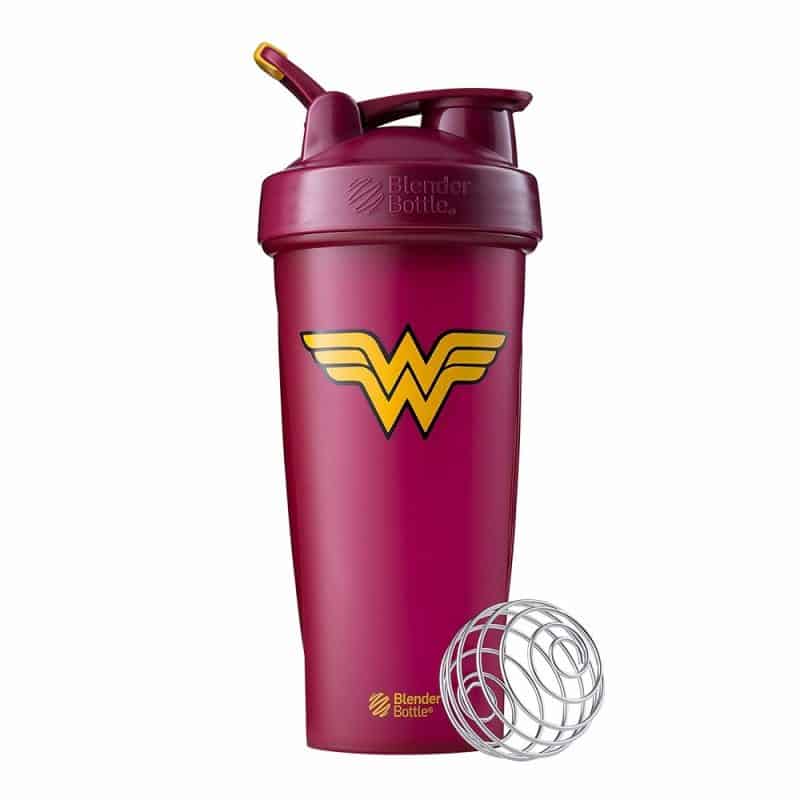 The Blender Bottle Superhero shaker bottle is the best of the best. Perfect for protein shakes, pancake batter, bat-drinks, and smoothies, this BPA free bottle includes a blender ball wire that moves inside the bottle shaking and mixing the protein powder and a wide mouth that facilitates easy mixing. It also has embossed markings that measure both milliliters and ounces and is dishwasher safe to make clean up an easy and seamless task.
Additionally, it has a secure screw-on lid to make sure that the contents of your bottle are safe and secure and a carry loop that makes it easier to take the bottle with you when you're going to the gym. Plus it's fun to look at given that it has a superhero makeover that's both attractive and alluring.
Best Features
Stainless steel shaker with a mixing system that uses 316 surgical grade stainless steel
Dishwasher safe to ease up clean up
Carry loop top for better portability
Leak-proof construction
Secure screw-on lid that ensures the contents of your bottle don't pour out
Superhero logos that make it a fun cup to use
Large enough capacity of up to 28 ounces
2. Bottled Joy Protein Shaker Bottle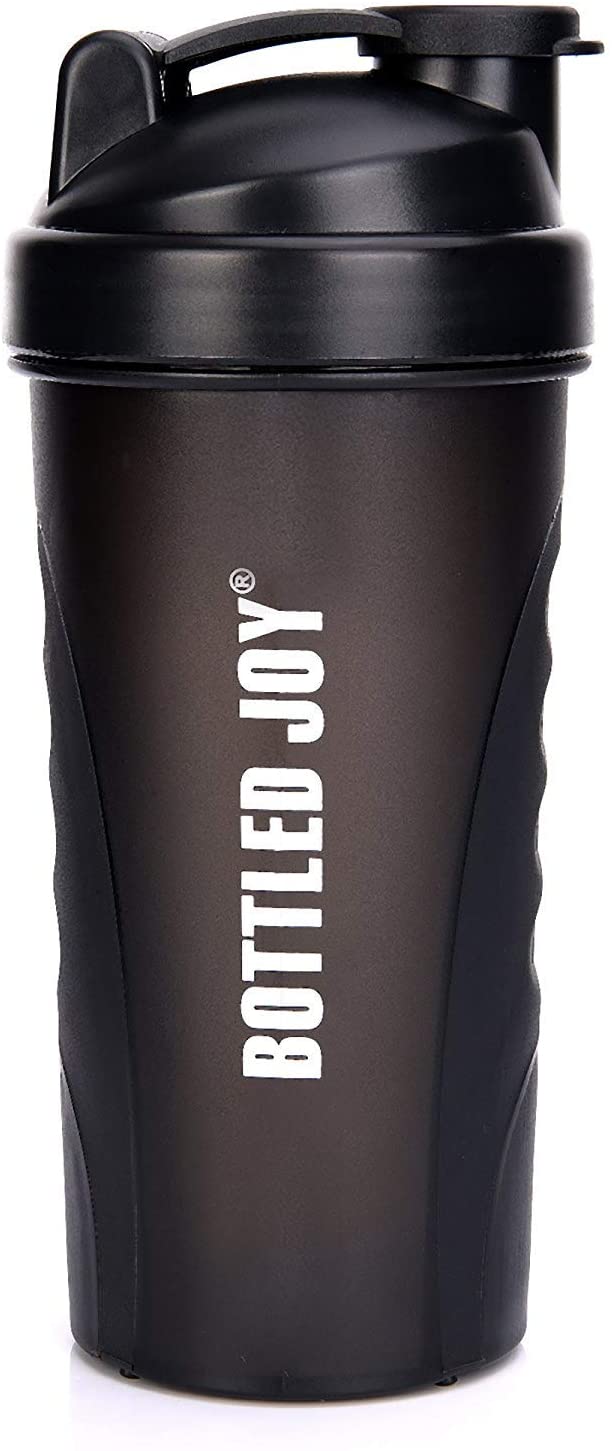 If you are looking for simplistic yet elegant protein shakers, it certainly doesn't get any better than the Bottled Joy protein shaker bottle. Despite being one of the best affordable models on our list, it's also one of the most useful.
The Bottled Joy shaker bottle features a scientific design that incorporates a slip-free bottom that ensures that the bottle doesn't easily slip when placed atop the countertop and a silicone ring integrated and a stainless steel shaker ball that ensures all the contents are well mixed. It also has a large enough mouth that facilitates easy mixing. The bottle is also constructed from 100% BPA-free plastic material that is free from toxic chemicals.
Best Features
It is comfortable on the hand
It is suitable for both hot and cold water
Dishwasher safe to make clean up a breeze
It has a capacity of 22 ounces
It fits perfectly in the hand
It is constructed from BPA free non-toxic material that's safe for drinking
Leak-proof to protect your protein shakes, pancake batter, smoothies, and fiber drinks from spilling and leaking
Secure screw-on lid that prevents your protein shake from pouring
It includes a polypropylene mixer ball whisk that mixes the ingredient in the bottle
3. BlenderBottle Classic Shaker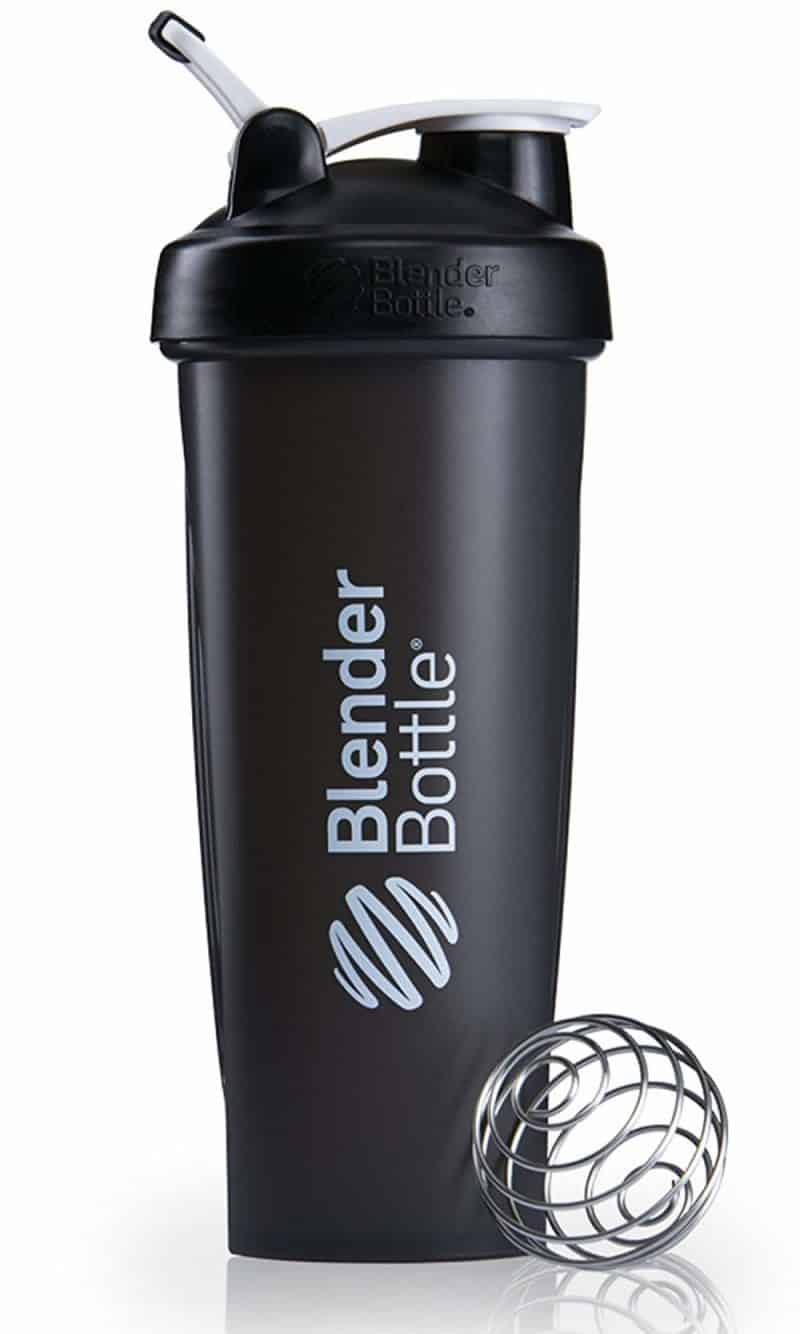 Once you look at the price, design, and functionality of this bottle more in-depth, you'll understand why this is probably the best-selling protein shaker bottle available today. It's amassed amazing feedback from customers, and we'll have to agree with them on every point they've made.
Featuring an iconic design, it's not hard to see why this could be the best shaker for anyone looking for a blend of functionality and style as it gives the best of both worlds. Even if black isn't your color, you have fifteen other colors to choose from. Talk about versatility.
In addition, it also features a stainless steel wire whisk ball that delivers unparalleled mixing of the contents of your bottle to make it easier to drink. Not to mention an adjustable carry loop that makes it easier to carry both your bottle and other items on the go.
Highlights of the BlenderBottle Classic Shaker
Secure screw-on lid that keeps your protein shakes from spilling
Dishwasher safe BPA-free plastic parts that make cleaning up a breeze
It has a wide mouth that makes it easier to add ingredients
Gripper bars that make it easier to hold
It is a relatively small bottle which makes it perfect for those who don't need a large bottle
4. Hydra Cup 36-Ounce Protein and Pre-Shaker Bottle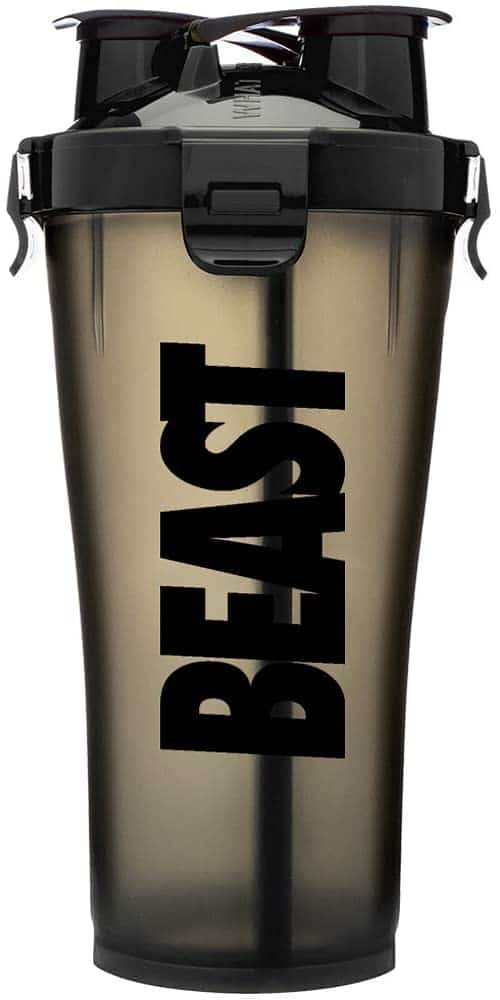 In terms of intuitive design and versatility, it's hard to get anything that beats Hydra. Boasting of pre-workout energy and post-workout hydration, this personalized protein cups from Hydra separates itself not only with its amazing features but also with its sleek and elegant design.
Best Features
Dual mixing grids that deliver perfectly blended drinks
Custom colors and slogans made exclusively for you
Hiking loop for securing to your backpack or attaching your keys
It fits perfectly on car cup holders
It is pre-workout and post-workout friendly, which means you can finally stop carrying two bottles
Dishwasher safe BPA-free plastic, to ease clean up
Leak-proof seal that prevents the contents of your bottle from spilling or leaking
5. Critical Vitality Protein Shaker Bottles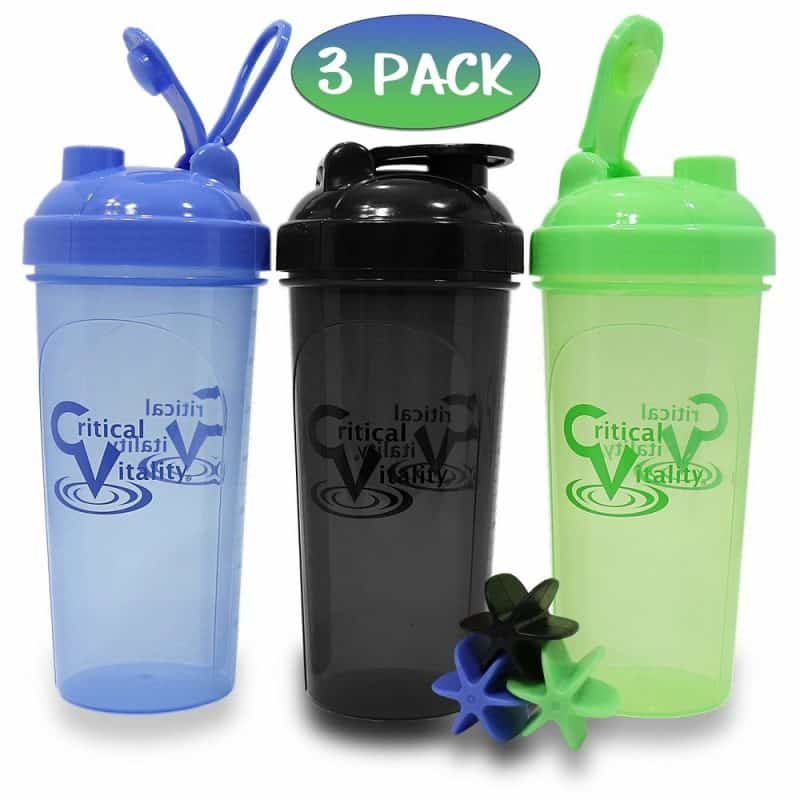 Available in green, blue, and black, the Critical Vitality shaker bottles are certainly no stranger in the protein bottle world. They are great for mixing up meal replacement and protein powder and pre-workout and post-workout drinks.
The bottles have a patented design that includes a leak-proof lid that ensures that the contents of your protein bottle don't leak or spill, embossed volume markings that tell you how much liquid you've poured into the bottle, a flexible mixing ball that mixes the ingredients together and a carrying loop that makes it easy to carry the bottle around with you.
In addition to that, each bottle is made from BPA-free materials that are completely safe to drink from and suitable for both hot and cold beverages.
Best Features
Dishwasher safe to ease clean up
They can be used to mix up and store salad dressings, whip up scrambled eggs and easy pour a pancake mix, as well as being used as a protein shake cup
They are convenient and durable
They fit most cup holders
6. Blender Bottle ProStak System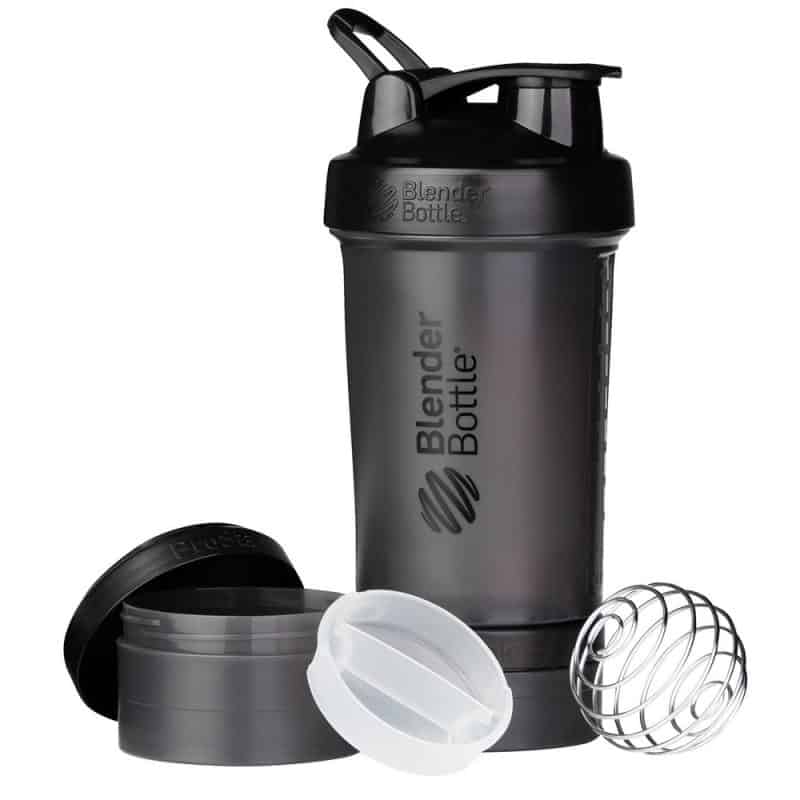 Boasting of hundreds of reviews and a plethora of remarkable features its certainly no surprise that the Pro Stak protein bottle made it to our list today. Whether you are simply trying to get some muscle or competing at the tournament or just simply want to shed off some weight, the Pro Stak makes a superb choice any day at any time.
This innovative and intuitive bottle ensures that you have enough protein shake with you to keep you hydrated and energized throughout your workout and a stainless steel mixer ball wire whisk that mixes up the contents of the bottle into a smooth mixture.
It features a twist and lock that keeps the contents of your bottle from leaking or spilling and a carry loop design that makes it easier to carry the bottle with you wherever you are going.
As an added perk, the bottle also features a space-saving pill organizer where you can safely place your pills and take them later. It's a 2-in-1! It is arguably the best protein drink shaker bottle you'll find out there.
Best Features
Unique interlocking jars with individual lids that make it possible to carry both your pre- and post-workout protein intake
Has a built-in pill organizer that helps you keep track of your medication and supplements
It has a screw-on lid that snugly fits the bottle to prevent your ingredients from spilling
Stainless steel whisk ball that mixes the ingredients into a smooth and fine drink
It has a capacity of 22 ounces
7. Blender Bottle Sport Mixer Tritan Grip Shaker Bottle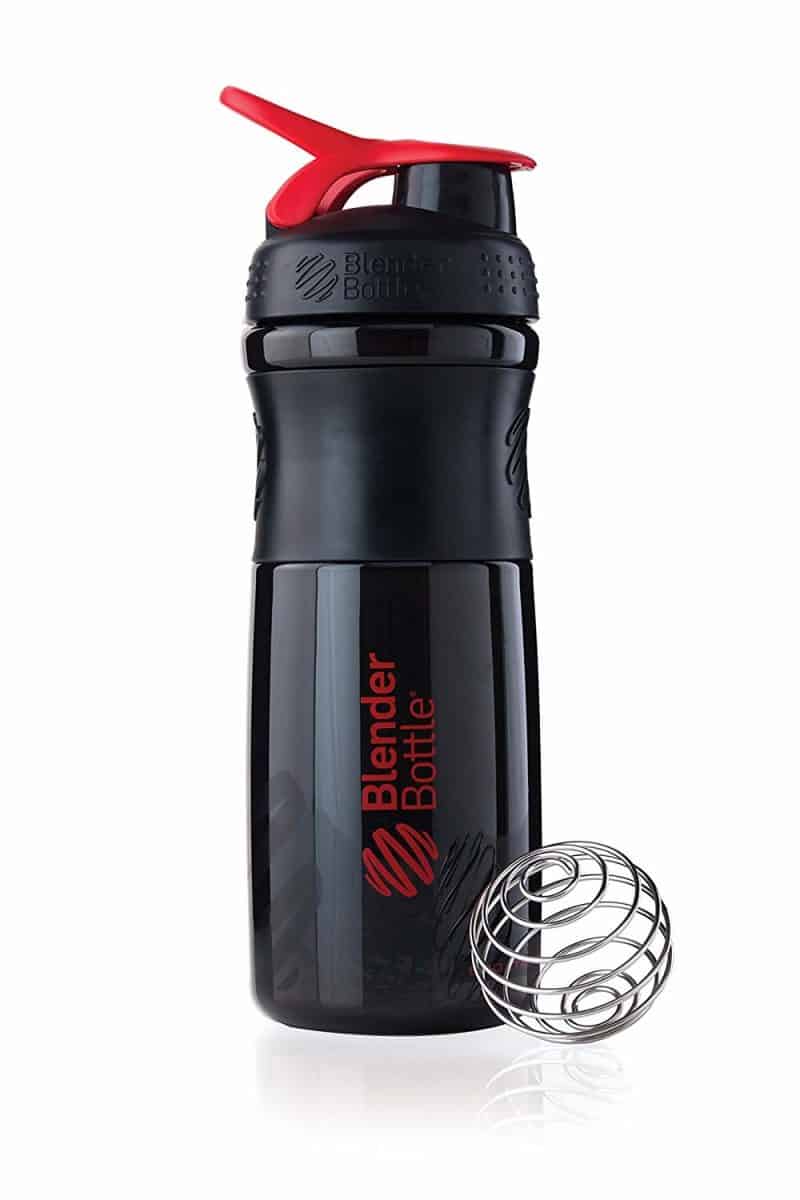 If you are looking for a 2-in-1 bottle that doubles up as a shaker cup and a water bottle, then the Sport Mixer bottle is certainly one that you should have in your arsenal. Designed with premium materials and feature-rich design, Sport Mixer is not only a functional bottle but also the perfect companion.
It has a stylish rubberized grip that offers a firm hold and a carry loop that makes it easy to carry. You can also easily slide it into the side pockets of your gym bag or backpack.
Another great perk this bottle comes with is its construction. The materials are odor-resistant, meaning your bottle won't develop that funky smell so characteristic of protein shaker bottles. Plus, the inside of the bottle won't get discolored with use.
Best Features
It is available in 20 ounce and 28-ounce bottles
It is versatile and beautiful which makes it the perfect companion
It is available in 29 different hues
Rubberized non-slip material for an extra tight grip
It has a leak-proof lead that prevents the ingredients from spilling
Stay open flip cap that makes it easy to drink your protein beverage without interference
It is constructed from BPA free and phthalate free materials hence safe to drink from
8. Perfect Shaker Hero Series Shaker Cup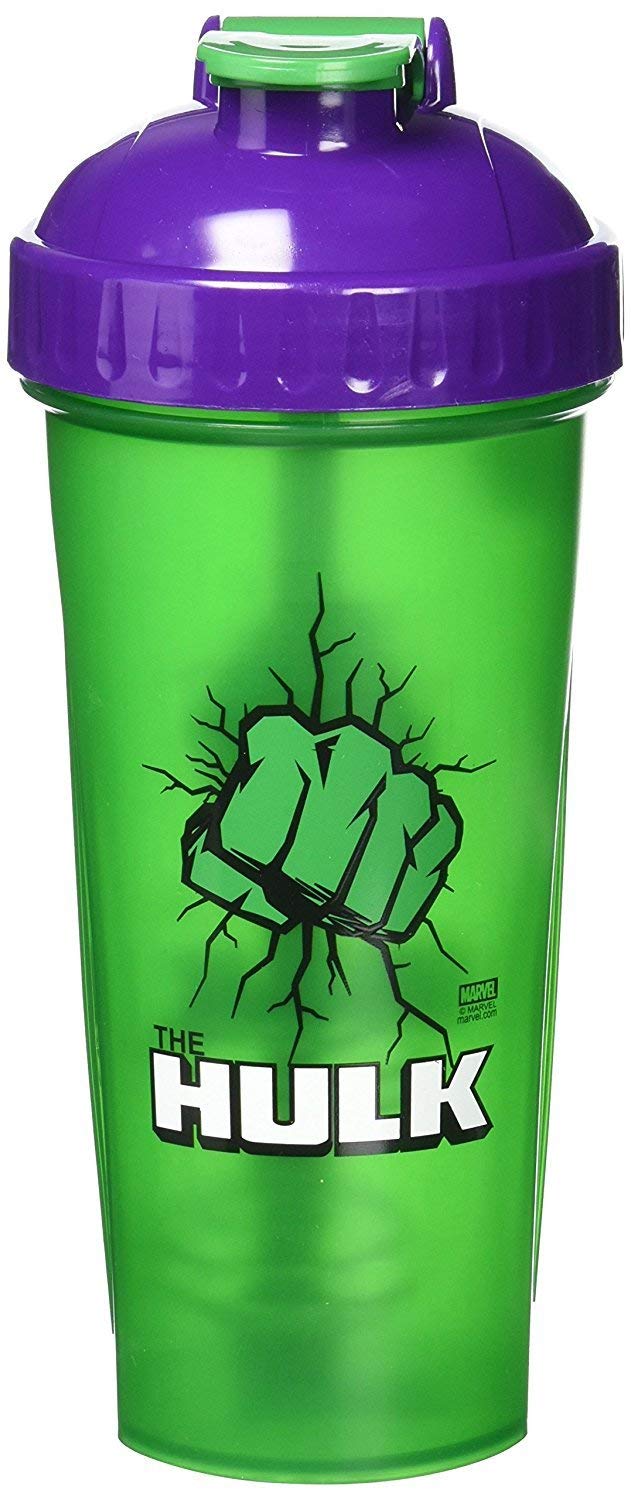 The Perfect Shaker bottle is a cheap protein shaker bottle that is intuitively designed to produce a perfectly blended drink every time.
At first glance, this shaker protein bottle might not look like much but it sure packs a punch in as far as the features and design go. It features a sliding action rod technology that blends the drink to a soft consistency and top-quality performance.
Additionally, it also has an elegant design that makes it a handy companion. Not to mention a wide enough mouth that makes it easier to pour ingredients into the bottle.
Best Features
Leak-free lead that ensures that your protein beverage doesn't spill or leak
It is dishwasher safe which makes cleaning up a seamless task
It is lightweight making it easier to carry around
9. Blue Peak Protein Shaker Bottle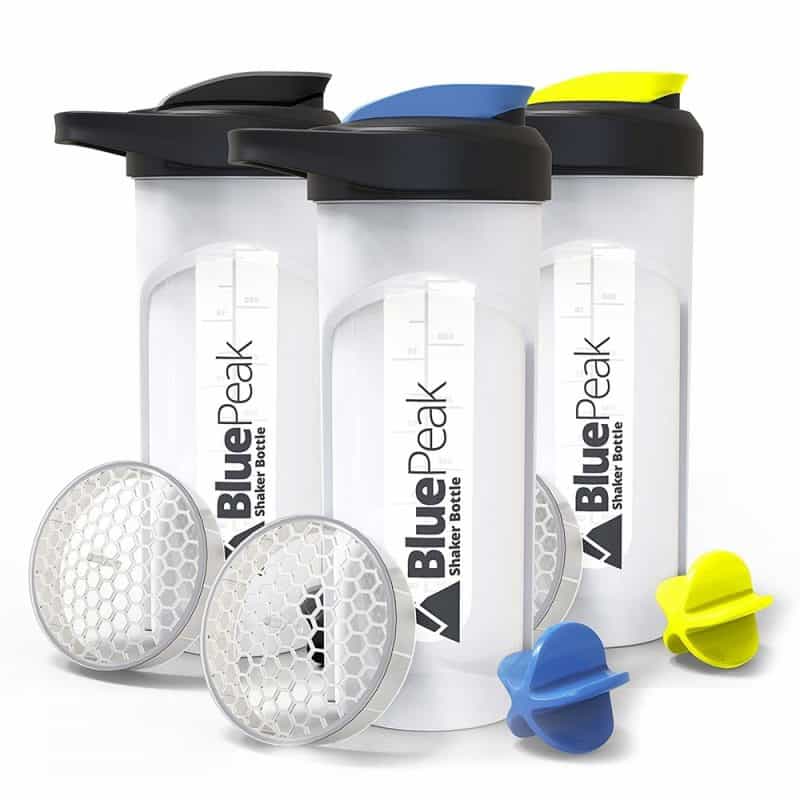 The Blue Peak Protein Shaker is one of the few cool shaker bottles with a dual mixing technology. It has a strong carrying loop that makes it easier to hold in your hand and embossed markings that show just how many milliliters and ounces you have poured into the bottle.  It also has a tight-fitting lid that tightly seals the bottle to ensure that there are no accidents and is constructed from BPA-free materials that are safe to drink from.
Best Features
It fits seamlessly in most cup holders
It is made from durable materials that last long as long as you carefully take care of the bottle
It has a capacity of 28 ounces
It is dishwasher safe
It features a dual mixing technology that includes a mixing grind and a shaker ball that break the protein powder lumps in your drink
How to Find the Best Shaker Bottle for You: Buyer's Guide
First-time buyers can often have a hard time choosing the best shaker bottle for their needs. So much so that they'll often start out by choosing the first bottle they lay their eyes on. They'll only realize afterward that it's not up-to-par with their expectations. Then, they spend more money upgrading for a better one that they could have bought in the first place.  Here are some things you should consider to avoid getting a bad deal when buying a new bottle.
Price Tag
Protein shakers don't exactly cost top dollar. So you shouldn't be worried about having to break the bank to get yourself a decent protein bottle shaker. In fact, you can get one for as little as $10. However, for a fancier bottle, you're likely to pay around $30 to $40.
Where You'll Be Using It
One of your top priorities as a buyer is identifying where you'll be using your bottle. If you're exercising outside, a flip cap is far more convenient for you. But if you are just going to do an indoor workout on the treadmill, the screwtop is the best bottle for your needs.
Durability
The whole point of buying a protein shaker bottle is so that you can carry it around with you when heading out for a workout.  Therefore, you need a bottle that has a strong and sturdy build to withstand being placed on the floor and possibly getting kicked around and being tossed in the bag. And while plastic seems like the logical economical solution, it is quite brittle and breaks extremely easily. Check to see that the bottle you are buying is built with strong and sturdy materials that can stand the test of time.
Ease of Cleaning
If you don't want your bottle to deal with a bad stench that completely throws you off each time you have a sip of your protein drink, your best bet would be to get an easy to clean protein shaker bottle. Additionally, you could get one with odor-resistant materials in its build.
That said, since leaving a few spots untouched is not completely unheard of especially if you are handling a bottle with a rather complex design, you'd be better off buying an easy-to-clean bottle that won't give you too much trouble.
Storage
Transporting a bottle full of protein smoothie from the house to the gym and back can be a daunting process. You might, therefore, want to consider buying a bottle with storage for safer portability. Alternatively, you could pick a shaker bottle that fits seamlessly in your gym bag.
Capacity
The capacity of the bottle will depend on the amount of protein powder you take on a daily basis. However, most bottles have a capacity of up to 28 oz which is considered enough.
Design and Color
Today's bottles come in a myriad of amazing hues and remarkable designs. So depending on your tastes and preferences, you can pick a bottle that best suits your fancy.