Puff pastry cheese straws - Crisp, cheesy, and delicious. These parmesan cheese twists are incredible! Whether you prefer to call them twists or straws, one thing is for sure they are a delectable work of art! Made with parmesan, Italian seasoning, and flakey puff pastry, it's the perfect flavor combination! Serve these cheese twists as an appetizer at your next party and watch them disappear!
If you're looking for a super easy appetizer or snack that will wow your guests, look no further than this puff pastry parmesan cheese twist. It only takes four ingredients and a few minutes to put together, but it's sure to impress! Plus, it's the perfect way to use up any extra puff pastry you may have lying around. So give it a try and see for yourself just how delicious they are!
Why You'll Love These Parmesan Cheese Twists
So easy-

This recipe is perfect for people who don't have a lot of time to dedicate in the kitchen but still want to enjoy a great-tasting snack. It only requires four ingredients, so it can't get any simpler.

Minimal preparation-

The fewer things you have to do to prepare a dish, the better! These puff pastry cheese sticks require little preparation and will be ready to eat in under 30 minutes!

Crowd pleaser –

People will go crazy for these delicious cheese twists! So don't be surprised when there are no leftovers to take home. Who doesn't enjoy a crispy and cheesy puff pastry twist?
Equipment Needed To Make Puff Pastry Cheese Sticks
Baking sheet

Parchment paper

Pastry brush

Knife

Rolling pin

Measuring spoons

Serving dish

Ingredients For Your
Parmesan Puff Pastry Straws
Egg

Parmesan Cheese

Italian seasoning (optional)
How To Make A 4-Ingredient Puff Pastry Parmesan Cheese Straws
To make these cheese straws start by preheating your oven and rolling out your puff pastry dough. You'll want to use an egg wash to help give your puff pastry that beautiful golden hue. Sprinkle your parmesan and Italian herb seasoning on half of the puff pastry sheet and fold in half. Roll out your puff pastry and cut it into strips. After that, you just twist, bake and enjoy!
What to Serve/Pair with Your Parmesan Cheese Twists
Puff pastry cheese twists are a cheesy, delicious treat. They can be served as an appetizer, used to liven up a charcuterie board, an afternoon snack, or even served with a warm bowl of  Lasagna Soup for dinner.
Popular Substitutions & Additions
The greatest feature about this dish is its flexibility! Have fun with it. Experiment with different cheese combinations. Try adding meat like pepperoni or prosciutto. Switch up the herbs and spices to create a cheese twist entirely on your own. 

How To Reheat & Store Puff Pastry Parmesan Cheese Straws
Either an airtight container or a freezer bag is the best way to keep leftover pastry puff cheese twists. To prevent moisture from accumulating in the container, allow your cheese twists to cool completely before storing them. Excess humidity in the container will cause the puff pastry cheese sticks to get soggy.
How Long Will Parmesan Puff Pastry Cheese Twist Last In the Fridge?
If stored in an airtight container, a batch of parmesan cheese twist will last for up to 3 days in the refrigerator. If left out at room temperature, it will also last about a week.
Can I Freeze Puff Pastry Cheese Sticks?
Yes! Leftover homemade chocolates may be kept in the freezer. They will last up to a month if kept in an airtight and freezer-safe container.
How To Reheat Parmesan Cheese Straws
To reheat parmesan cheese twists, place them back in the oven for 4 to 8 minutes at 350F. They will crisp up nicely without burning. If you have an air fryer, place cheese twist in the air fryer basket for 3 to 4 minutes also at 350F. I wouldn't recommend reheating leftovers in the microwave because it tends to make the cheese twist soggy and chewy.

Puff Pastry Parmesan Cheese Sticks
FAQs
Can I make these parmesan cheese sticks ahead of time?
Yes. Follow the recipe through step 10 and refrigerate until ready to bake. I wouldn't recommend refrigerating more than 24 hours in advance. Once you are ready to cook, preheat the oven to 350F and follow the recipe again, starting at step 11. You will need to allow a little more time for cooking if cheese twists are refrigerated ahead of time.
Can an air fryer be used to make these parmesan cheese twists?
Yes! The air fryer is actually an excellent way to cook your cheese twist—Preheat the air fryer to 375F. Once preheated, add cheese twist to air fryer in a single layer. Cook puff pasty parmesan cheese sticks in the air fryer for 8 to 10 minutes. Depending on the size of your air fryer, you may need to cook cheese twist in batches.
Why is my puff pastry dough tough?
The most common reason that the puff pastry would turn out tough after cooking is because it was too warm when you were preparing it into the twist. The puff pastry should always be cold or cool, never warm to the touch when handling it. On the other hand, frozen or extremely cold pastry sheets will break and fall apart when handled.
Do I thaw my puff pastry before using it?
Yes, If the puff pastry that you are using is from the freezer section, it will need to be thawed overnight in the refrigerator before it can be used. Do not try to thaw on the counter or heat the puff pastry from frozen. 
Why didn't my puff pastry puff up?
The most common reason for a puff pastry not to puff is that the oven was not sufficiently heated. Always preheat your oven before putting your parmesan cheese twists in, and never put them in until it's completely preheated.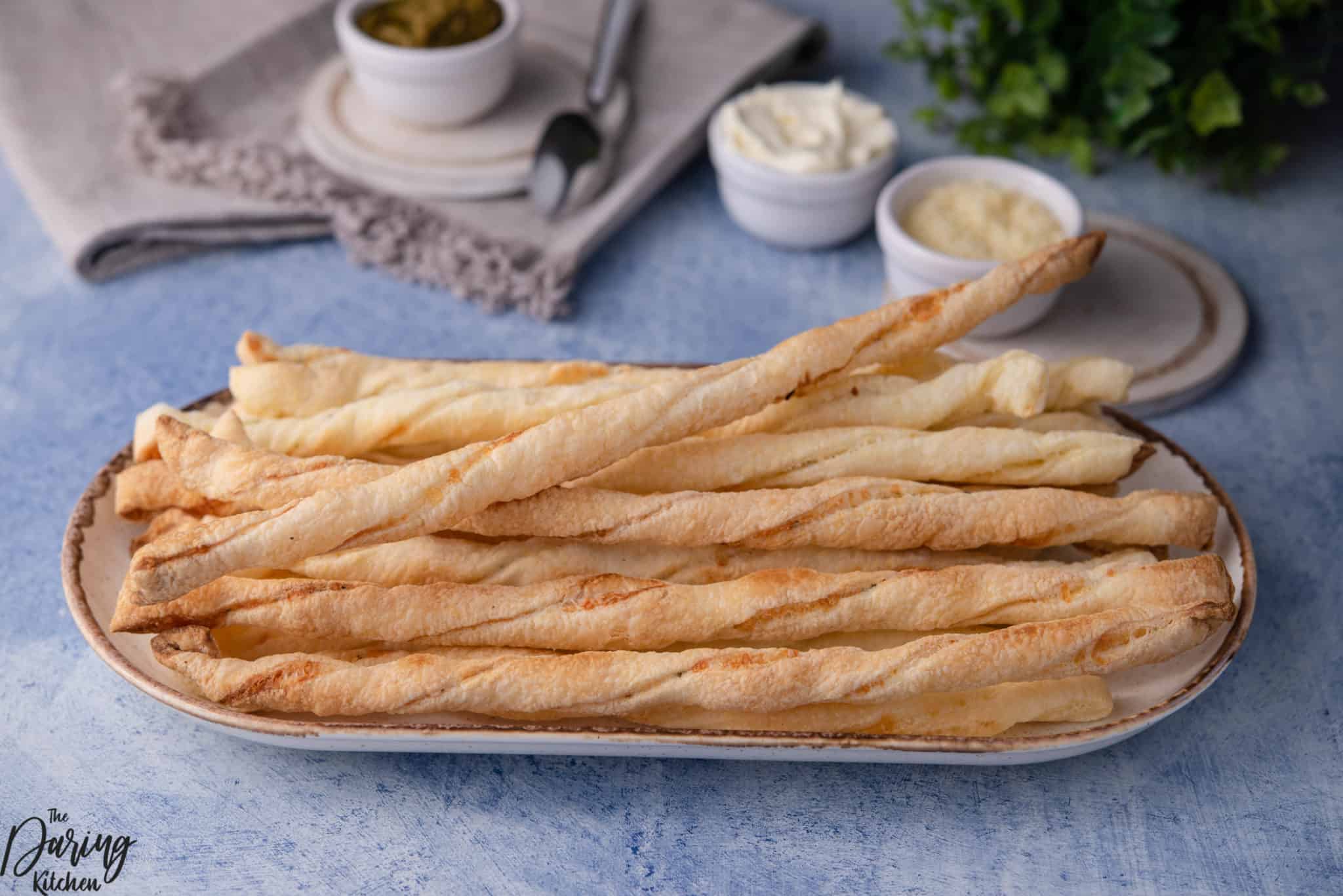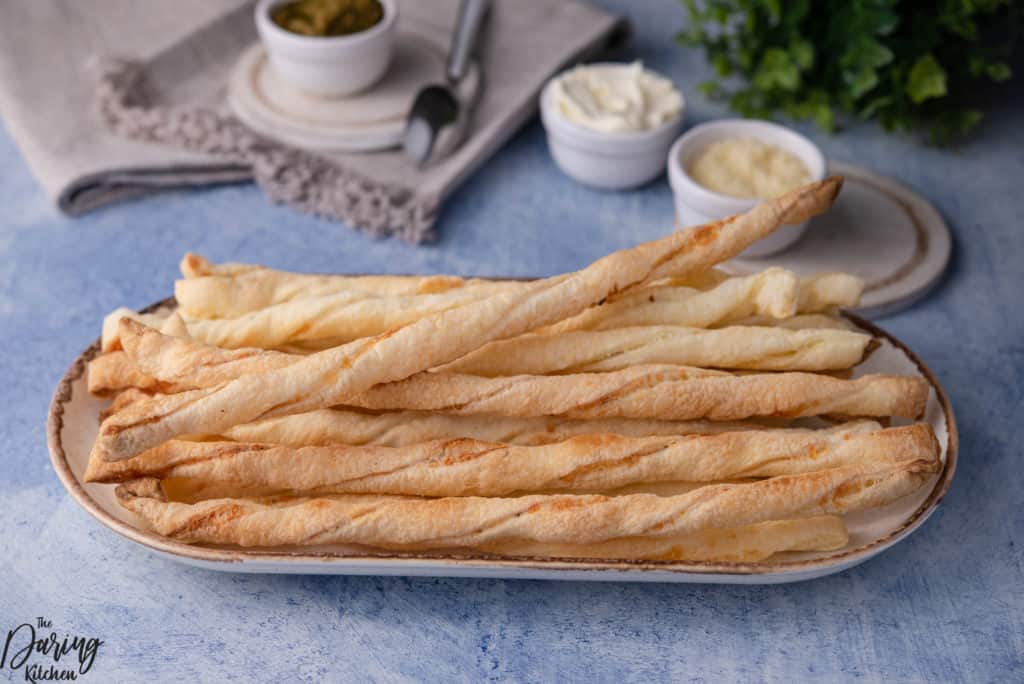 Looking for more appetizer ideas? Check out some of my favorites here!
Don't Forget To Come Back And Let Me Know How Your Parmesan Puff Pastry Cheese Sticks Turned Out!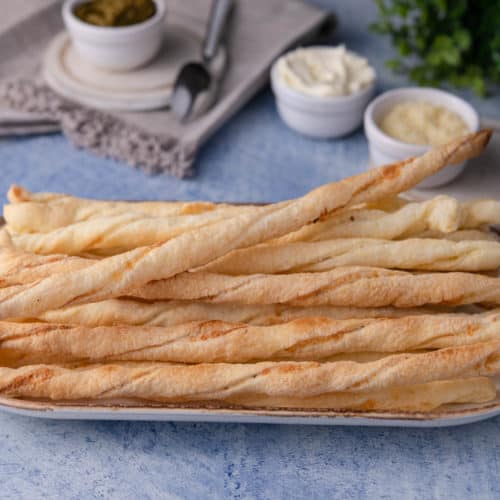 4-Ingredient Puff Pastry Cheese Straws
Crispy baked puff pastry cheese straws made with parmesan cheese and seasoned with an Italian spice blend makes the perfect snack or appetizer!
Print
Pin
Rate
Ingredients
1

sheet puff pastry

1

egg

beaten

4

tbsp

parmesan

1

tsp

italian herbs

optional
Instructions
Line a baking sheet with parchment paper.

Roll the puff pastry on a floured kitchen surface to ⅛-inch thick rectangle.

Brush the puff pastry with an egg.

Spread the parmesan on one half of the pastry. Sprinkle the Italian herbs (if using).

Fold the uncovered piece of puff pastry over the cheese part. Press to flatten.

Roll the puff pastry again to ¼-inch thick.

Cut the pastry into ½-inch thick strands. You can use a ruler or a cutting board to get them straight.

Gently twist each strand (in the opposite sides) and place on a baking sheet. Press the ends so the strands stay in place.

Bake the cheese sticks for 12-14 minutes.
Nutrition
Calories:
125
kcal
|
Carbohydrates:
9
g
|
Protein:
3
g
|
Fat:
9
g
|
Saturated Fat:
2
g
|
Polyunsaturated Fat:
1
g
|
Monounsaturated Fat:
5
g
|
Trans Fat:
1
g
|
Cholesterol:
15
mg
|
Sodium:
83
mg
|
Potassium:
21
mg
|
Fiber:
1
g
|
Sugar:
1
g
|
Vitamin A:
36
IU
|
Vitamin C:
1
mg
|
Calcium:
26
mg
|
Iron:
1
mg