Homemade Puff Pastry Dough Step by Step - layered, flaky, buttery baked pastry dough sheets perfect for turnovers, french onion soup tops, a brie appetizer ring, and even beef wellington! This recipe makes a puff pastry so good that you'll never want to buy pre-made sheets from the freezer section again.
Puff pastry is one baked good that many people shy away from. The general consensus seems to be that it's too hard to make from scratch. Well, I am here to debunk that! When you try this puff pastry recipe, that will all change. You'll never go back to pre-made again! Plus, it's actually a lot of fun to make!
I'll teach you, step by step, how to make puff pastry at home from scratch. You'll be amazed at the difference in flavor that your puff pastry dough has. One of my favorite things about this puff pastry is how versatile it is.
It can be used to top French onion soup, as the base of an apple galette served stuffed with breakfast foods, tossed in sugar and served with ice cream, used for turnovers, or even enjoyed on its own.
Why You'll Love This Puff Pastry Dough Recipe
All you need to make puff pastry sheets is 5 staple pantry ingredients that you probably already have on hand.
It has so many different uses - it pairs well with just about everything, and the filling options are endless, especially if you are a fan of turnovers!
It's so delicious that you'll never use store-bought puff pastry again!
It's stacked with light, buttery layers. How could you go wrong?
Equipment Needed To Make This Puff Pastry Dough From Scratch
Baking Sheet
Bowl
Spatula
Ingredients For Your Homemade Puff Pastry Sheets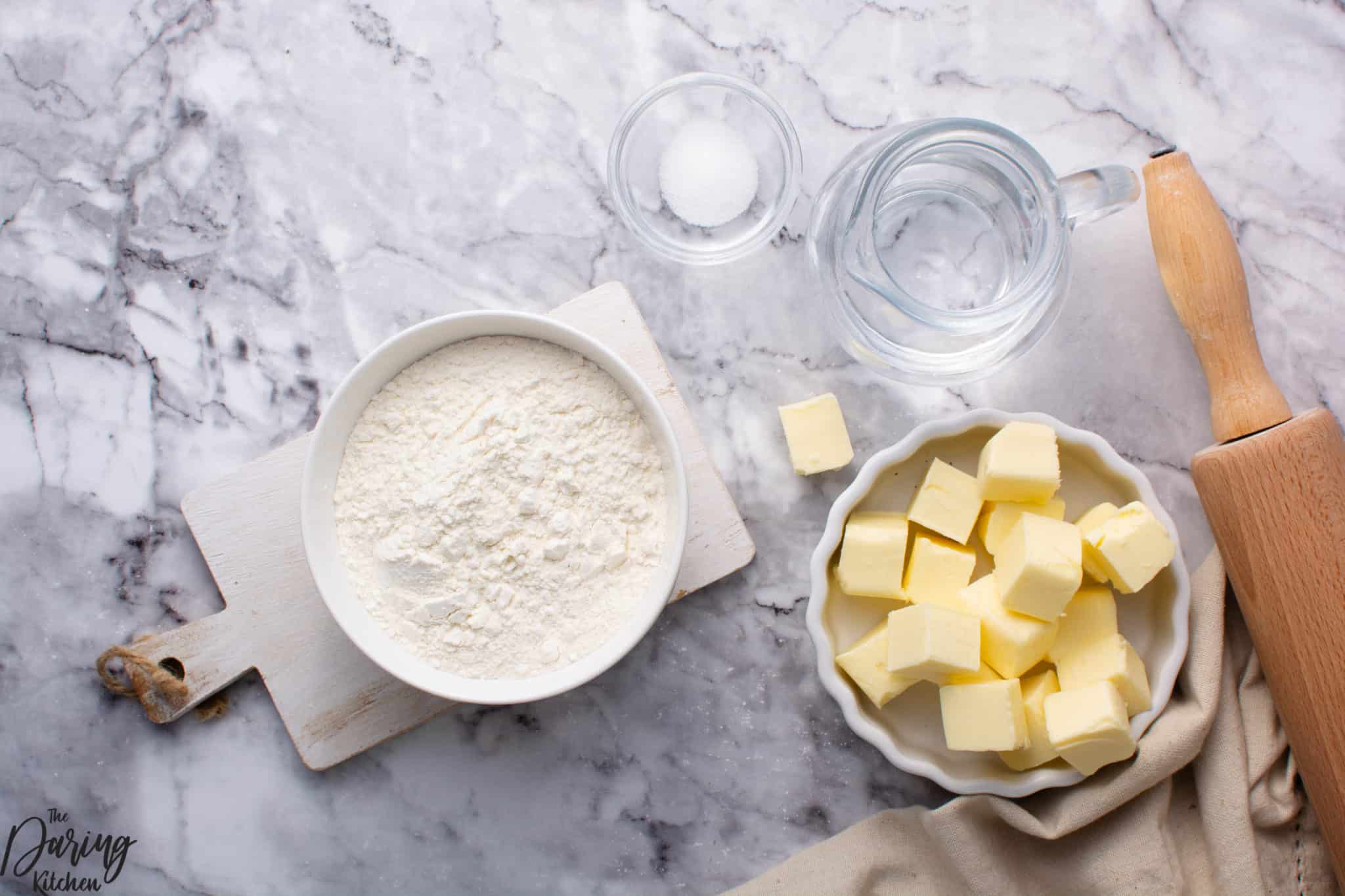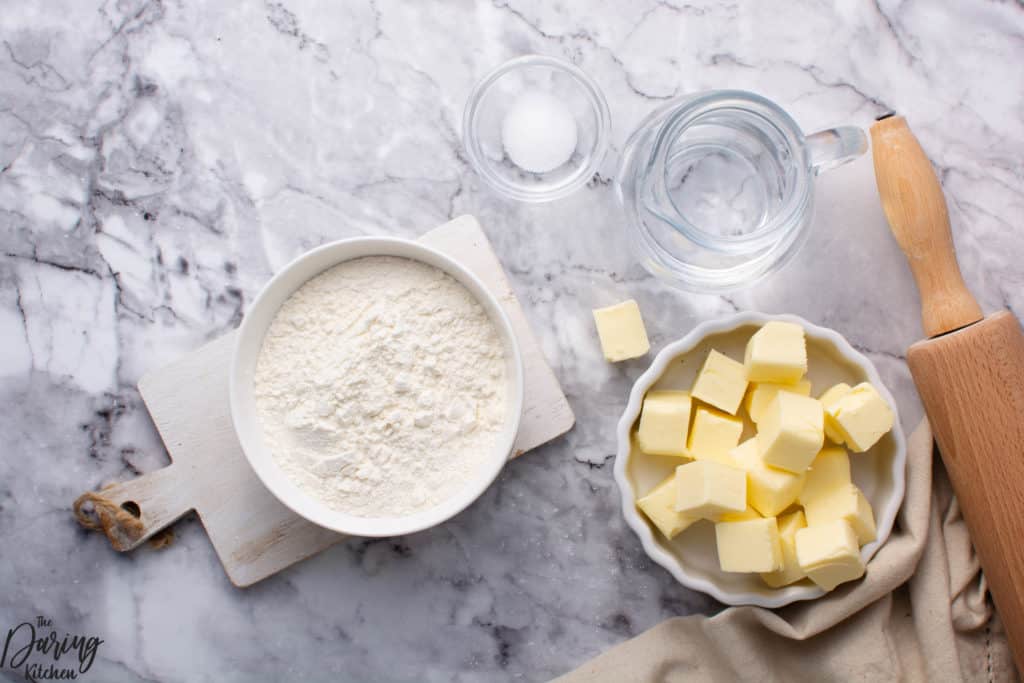 All-purpose flour
Salt
Cold butter
Ice cold water
Egg
How To Homemade Puff Pastry Step by Step
To make puff pastry sheets just mix together flour, salt, and butter. Incorporate the butter until the mixture looks similar to bread crumbs, and in your cold water, stir. Knead your dough. Once kneaded, take a rolling pin and roll it out into a rectangle. You'll then want to fold the edges towards the center, layering on top of each other. Repeat this process several times. Wrap the dough and refrigerate for an hour. After your dough is chilled, roll it back out and cut it into squares. Brush with egg wash and bake.
For the full, step-by-step breakdown on how to make this puff pastry dough from scratch, check out the recipe card below.

Storage
This puff pastry dough can be stored (BEFORE you bake it) tightly wrapped in the fridge. The raw dough will last for up to two months if it is stored in the freezer. Once your puff pastry dough is baked, it will not refrigerate well. The texture just isn't as good when it's reheated. Try to enjoy it the day of.
Depending on the humidity level inside your home, you can leave it at room temperature for up to 3 days. To reheat and re-crisp puff pastry, you'll want to bake it in an oven or toaster oven at 350 for 5-10 minutes.
What To Make With This Homemade Puff Pastry Recipe
One of my favorite things about this Puff Pastry is very versatile - it can be used for so many things! Anywhere from turnovers, to a savory hand pie for a main dish, to an appetizer, or by itself, there are many ways to enjoy this puff pastry.
Here are some of my favorite recipes that include puff pastry:
Puff Pastry Dough Recipe FAQs
Why do I have to add ice-cold water?
Adding ice cold water to your puff pastry dough will make it rise higher and give it an overall better texture. You want to make sure to do this between folds.
Does it matter what type of butter I use?
You'll want to use a high-quality butter for this puff pastry dough recipe. You technically can use regular sticks of unsalted butter, but I promise that a higher quality butter will make a HUGE difference.
Here's a tip: the more yellow the butter is, the higher quality it is. Plugra butter is a fine European butter that has less water and makes the most amazing pastries and candies. I highly recommend it.
You can use vegan butter if you want, but it most likely won't turn out with that rich buttery flavor that puff pastry is known for.
Can I use other types of flour?
I don't recommend it, at least not for this recipe. To make sure that the ratios are correct, you'll need to use all-purpose flour for this recipe. Changing the flour can impact how your puff pastry turns out and while you're welcome to experiment, it's not something I'd recommend with this specific recipe.
Can I use an egg substitute?
Yes, for this puff pastry recipe, you can use an egg substitute for the egg wash. The egg wash helps brown and give your puff pastry that enticing shine, but it won't make or break the recipe.
Be sure to come back and tell me how your Homemade Puff Pastry Dough turned out!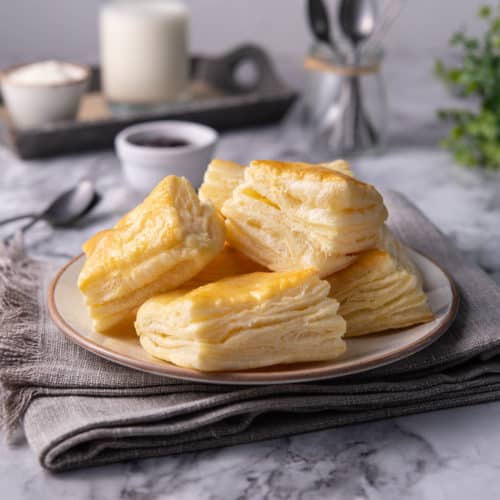 Puff Pastry
Want to make puff pastry dough at home? This step-by-step recipe is easy and fun to make and only call for 5 ingredients!
Print
Pin
Rate
Ingredients
2

cups

all-purpose flour

½

tsp

salt

1 ¼

cup

cold butter

½

cup

ice cold water

1

egg

beaten for egg wash
Instructions
In a mixing bowl, whisk together flour and salt.

Add butter and coat it with the flour.

Start stirring the butter with the flour and pressing gently to it is combined. For this you can also use the butter cutter.

Once you have a mixture that resembles breadcrumbs add ice cold water.

Stir with a fork and then continue stirring with a spatula until the dough comes together.

Dust the kitchen surface and place the dough on the flour. Knead few times until it comes together.

Shape the dough into a square and roll out to a rectangle, about 7x12 inches long. Bring the edges toward the center and fold over each other.

Roll the dough again in the rectangle and bring the edges again together.

Repeat rolling and folding the dough for another 5-6 times.

Wrap the dough and chill in a fridge for 1 hour.

To bake: roll the dough to ¼-inch square. Cut into the squares.

Brush each square with an egg wash and bake for 15 minutes.
Nutrition
Calories:
3007
kcal
|
Carbohydrates:
191
g
|
Protein:
34
g
|
Fat:
237
g
|
Saturated Fat:
148
g
|
Polyunsaturated Fat:
11
g
|
Monounsaturated Fat:
61
g
|
Trans Fat:
9
g
|
Cholesterol:
774
mg
|
Sodium:
3262
mg
|
Potassium:
397
mg
|
Fiber:
7
g
|
Sugar:
1
g
|
Vitamin A:
7329
IU
|
Calcium:
135
mg
|
Iron:
12
mg