Pulled Mushroom Tacos - Warm tortillas are filled with fresh mushroom pieces pan-fried with garlic, fragrant spices, and a twist of lime. Garnished with chopped radishes and cilantro for a delicious pop of color. These pulled mushroom tacos are easy to make and can be enjoyed as a main dish or as a fun appetizer. So whether you're hosting a party or simply looking for a quick yet delicious dinner, these tacos are sure to please!
Taco lovers, you are in for a real treat. Pulled mushroom tacos aren't your average tacos. No, these are tacos with a twist! They are hearty, flavorful, and perfect for the taco lover looking for something different. So, whether you follow a vegan diet, are looking for a new meatless Monday meal, or just want to add something new and unique to your taco routine, these tacos are perfect for you! 
If you ask anyone why they love tacos, you're likely to get a wide range of answers. Some people might say it's because tacos are delicious and versatile. Others might say it's because tacos are an easy way to eat something somewhat healthy on the go. And still, others might say it's because tacos just make them happy. No matter what the reason you love tacos, there's no denying that tacos are one of the most loved foods ever made.
Why You'll Love This Mushroom Taco Recipe
Full Of Flavor- Made with mushrooms, onions, garlic, and a variety of spices, these tacos are packed with delicious flavor.
Crowd-Pleaser – These pulled mushroom tacos are so delicious that everyone loves them, regardless of their dietary preferences!
Versatile– You can experiment with different varieties of mushrooms, seasonings, and toppings every time you make these tacos.
Simple To Make- This dish does not need any specialized equipment, complex techniques, or culinary experience. These pulled mushroom tacos are simple to make and can be cooked by anyone.
Equipment Needed To Make Pulled Mushroom Tacos
Knife

Cutting Board

Skillet

Measuring Cups

Measuring Spoons

Ingredients For Your Vegan Mushroom Tacos
Garlic Cloves

Mushrooms

Onion

Lime

Avocado Oil

Bay Leaves

Smoked Paprika

Salt

Lime Zest

Tortillas

Radishes

Cilantro
How To Make Pulled Mushroom Tacos
Pulled mushroom tacos are really simple to make. Shred the mushrooms in the same manner as you would shred chicken or pork using 2 forks. Pan-fry the mushrooms with freshly chopped veggies and spices in avocado oil. To serve, heat tortillas and spoon mushroom mixture down the middle. Garnish with cilantro, radishes, and your favorite toppings as desired. Enjoy!           
What to Serve/Pair with Vegan Mushroom Tacos
Whether you're making these pulled mushroom tacos for a party or simply for the family, they'll be a hit. While these pulled mushroom tacos are certainly the main attraction, having a selection is always a brilliant idea. Black Bean Tacos, Vegetarian Tacos With Quinoa, or even Mexican Quinoa Stuffed Sweet Potatoes pair perfectly with pulled mushroom tacos. For a delicious side dish, try this Mexican Quinoa Salad!
Popular Substitutions & Additions
Mushrooms: Don't write this recipe off if you're not a fan of mushrooms! In place of the mushrooms, eggplant, jackfruit, and other plant-based meats can be used.
Tortillas: Lighter options than tortillas include lettuce-wrapped tacos or a beautiful taco salad with pulled mushroom taco filling.
Toppings- These pulled mushroom tacos can be enhanced with toppings such as
Corn

Peppers

Pico de Galo 

Avocado

Lettuce

Tomatoes

Beans

Tahini Sauce

How To Reheat & Store Pulled Mushroom Tacos
Best Way To Store Mushroom Tacos?
To store pulled mushroom tacos, store mushroom filling separate from the tortillas. Keep the mushroom filling in an airtight container. The tortillas should be kept in a separate airtight container or resealable freezer bag.
How Long Will Pulled Mushroom Tacos Last In the Fridge?
If stored correctly in an airtight container, vegan mushroom tacos will last up to 3 days in the refrigerator. 
Can I Freeze Mushroom Tacos?
Yes. The mushroom "meat" filling for your tacos can be frozen. When freezing the filling for your tacos, store it in an airtight container for up to 3 months.
How To Reheat Pulled Mushroom Tacos?
When reheating mushroom taco filling from the refrigerator, it takes only about a minute in the microwave. If you're heating frozen filling, use the stove or microwave to reheat until the filling has achieved the desired temperature.

Vegan Pulled Mushroom Tacos
FAQs
What is the best type of mushroom to use for these tacos?
Mushrooms of any kind may be used in these tacos; however, I suggest using king oyster mushrooms. King oyster mushrooms can be shredded effortlessly with two forks in the same way that chicken or pork may be shredded.
Can mushrooms be sliced instead of pulled apart?
Yes! Not all mushrooms can be shredded with ease. In this instance, you can either chop the mushrooms into tiny pieces or cut them lengthwise.
Will hard taco shells work for this recipe?
Of course! Hard taco shells are perfect for this pulled mushroom taco recipe. The hard shell's crispiness adds a delightful crunch! Keep in mind to always read the labels on the taco shell's packaging before purchasing if you're following a vegan diet.
Can this recipe be made ahead of time?
Yes, the mushroom "meat" filling may be prepared up to three days in advance. Warm the filling either on the stovetop or in the microwave, heat your tortillas and add whatever toppings you like before eating.
How can I spice up this recipe?
To add a little more punch to your pulled mushroom tacos, try adding a little chili powder, cayenne pepper, or green chilies to the mushroom mixture while they're cooking. Before serving, add a hot salsa or diced jalapenos on top of the pulled mushroom mixture for an extra kick of heat.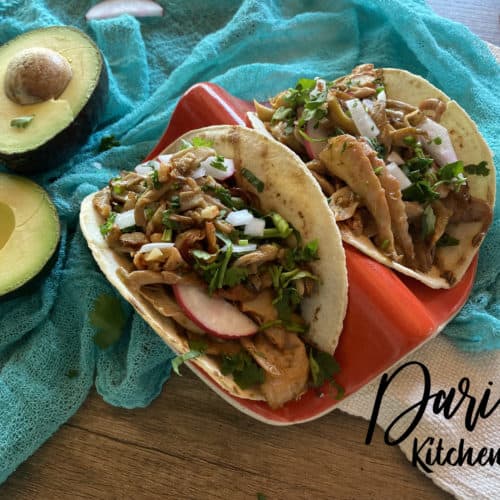 Pulled Mushroom Tacos
Warm tortillas filled with mushrooms seasoned with garlic, spices, and a twist of lime. Garnished with chopped radishes and cilantro for a lovely pop of color.
Print
Pin
Rate
Ingredients
2

garlic cloves

chopped

1

lb

mushrooms

½

onion

1

lime

1

cup

avocado oil

1

tsp

bay leaves

1

tsp

smoked paprika

salt

to taste

1

tbsp

lime zest

3-4

tortillas

6

radishes

cilantro

for garnish
Instructions
Fry garlic and bay leaves with the mushrooms.

Season the mushrooms with paprika, salt, and lime zest.

Garnish with radishes and cilantro.
Nutrition
Calories:
591
kcal
|
Carbohydrates:
19
g
|
Protein:
6
g
|
Fat:
57
g
|
Saturated Fat:
7
g
|
Polyunsaturated Fat:
8
g
|
Monounsaturated Fat:
39
g
|
Sodium:
175
mg
|
Potassium:
459
mg
|
Fiber:
3
g
|
Sugar:
4
g
|
Vitamin A:
258
IU
|
Vitamin C:
10
mg
|
Calcium:
51
mg
|
Iron:
2
mg