Inspired by Starbucks' Pumpkin Cream Cold Brew, this recipe uses cold brew and pumpkin spice foam made of pumpkin pie spice and cream. Skip the line and make a simple cold brew with syrup and a pumpkin spice whipped cream. 7 ingredients and 10 minutes are all you need to make a wonderful drink bursting with the flavors of fall!
Starbucks' pumpkin spice cold brew is my favorite. It's one of those seasonal beverages that I look forward to every year. Unfortunately, Starbucks only produces this drink during the fall season. That's why I developed a copycat recipe of Starbucks' signature Pumpkin Cream Cold Brew so I could enjoy it at any time of year.
The best thing about this recipe is that it yields a pumpkin cream cold brew that tastes just like the originals. Made with only 7 ingredients, you can brew this delicious beverage in just 10 minutes! Make your own homemade pumpkin cream brew with my easy-to-follow recipe.
Why You'll Love This Pumpkin Spice Cold Brew
Saves you money: Drinking pricey coffee will have a significant impact on your finances. Starbucks pumpkin spice cold brew ranges in price from $4 to $6, depending on the size of your order. With my copycat recipe, you don't need to spend much to enjoy a beverage that you can easily brew at home.
Easy to Make: My pumpkin spice cold brew recipe is easy to make. You can buy all seven ingredients in your local grocery store. Not only does it save you money, but it also helps you save time because it is so easy to make.
No Waiting: You don't have to wait till autumn to enjoy a glass of pumpkin cream cold brew. This homemade recipe will satisfy your craving no matter what time of year it is. Try this recipe right away and enjoy this drink filled with fall spices.
Equipment Needed To Make Pumpkin Cream Cold Brew Recipe
Glasses

Saucepot

Milk frother

Measuring cups (wet and dry ingredients)

Measuring spoons

Whisk

Ingredients For Your Pumpkin Cold Brew Recipe
Half Cream

Pumpkin Pie Spice

Brown Sugar

Cold-brew Coffee

Vanilla Syrup

Ice Cubes
How To Make This Homemade Pumpkin Cream Cold Brew
To make this cold brew recipe, you must first add some heat to your cream! Combine the cream, pumpkin pie spice, brown sugar, and pumpkin puree in a pot and bring to a simmer. Remove from the heat and let cool. Once cool, froth the cream. Add ice and coffee to a glass followed by the frothed pumpkin cream mixture.
What to Serve/Pair with Your Homemade Pumpkin Cold Brew Recipe
Cold brew coffee is often a fantastic match for nutty pastries or dark chocolate, and vice versa. Here are some suggestions for snacks and pastries to pair with pumpkin cold brew:
Dark Chocolate chip cookies with almonds

Almond Cheesecake

Dark Chocolate Cheesecake

Nut Tart

Chocolate nut donuts

Apple Pie/ Apple Peace Cobbler

Mascarpone donuts

Lemon Bars

Almond Croissant/ Butter Croissant

Cinnamon Buns
Popular Substitutions & Additions
Brown Sugar: Replace the brown sugar with maple syrup or a sugar substitute that contains no calories.
Hot Version: Don't bother with the iced coffee. Instead of iced coffee, make a pumpkin spice latte with hot brew.
Cinnamon: If you are unable to get pumpkin spice, you may certainly make your own or use cinnamon.
Salt: When used sparingly, a pinch of salt can truly bring out the fall flavors.
Tips For Making the BEST Pumpkin Spice Cold Brew At Home
You may also prepare the pumpkin sweet cream in a blender if you don't have a milk frother. It can, however, produce a loose foam that still tastes great, even if it doesn't hold up well.

It is recommended to serve this pumpkin cream cold brew as soon as it is ready.

Do not use pumpkin pie filling. Adding that will make the beverage too sweet! Just stick with the ingredients and instructions provided in this recipe.
Pumpkin Spice Cold Brew FAQs
Can I make this pumpkin spice cold brew recipe dairy-free?
Yes! If you'd like, you can substitute the cream for a plant-based version. You'll want to go with something a little thicker in constituency than your traditional almond milk.
Do I have to heat the cream with the spices and sugar?
Yes, in order to incorporate the spices into the cream, you must heat it. If you don't want to heat the cream, then simply omit the spices and sugar from the recipe.
What is cold brew?
Cold brew coffee is made by steeping ground coffee in cold water for an extended period of time (overnight).
Can you make it ahead of time?
This pumpkin cold brew is best enjoyed as soon as you've made it. That being said, if you want to make the cream mixture ahead of time, you can. You'll need to bring the cream up to room temperature before frothing, which you can do quickly in the microwave.

Other Pumpkin Recipes You'll Love
Don't Forget To Come Back And Let Me Know How Your Pumpkin Cold Brew Recipe Turned Out!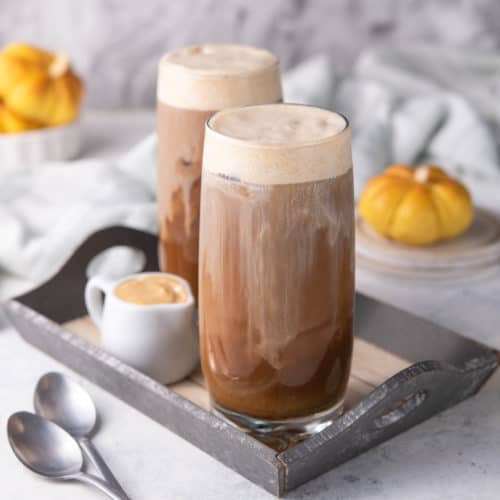 Homemade Pumpkin Cream Cold Brew
Pumpkin cream cold brew made at home with cream, pumpkin pie spice, brown sugar, and frothed to pumpkin spice bliss without the hefty price tag.
Print
Pin
Rate
Equipment
Glasses

Saucepot

Milk frother
Ingredients
¼

cup

half cream

½

tsp

pumpkin pie spice

2

tsp

brown sugar

2

tbsp

pumpkin puree

2

cups

cold brew coffee

1

tsp

vanilla syrup

1

cup

ice cubes
Instructions
In a saucepot, whisk together half cream, pumpkin pie spice, brown sugar, and pumpkin puree.

Cook stirring until starts to simmer.

Remove from the heat and allow it to cool down.

Pour the mixture into a glass and froth using a milk frother.

Fill two tall glasses with ice and coffee.

Pour the frothed pumpkin mixture on top of the coffee.

Drizzle with vanilla syrup and a pinch of cinnamon if desired.
Nutrition
Calories:
143
kcal
|
Carbohydrates:
18
g
|
Protein:
3
g
|
Fat:
7
g
|
Saturated Fat:
4
g
|
Polyunsaturated Fat:
1
g
|
Monounsaturated Fat:
2
g
|
Cholesterol:
22
mg
|
Sodium:
52
mg
|
Potassium:
392
mg
|
Fiber:
1
g
|
Sugar:
12
g
|
Vitamin A:
4886
IU
|
Vitamin C:
2
mg
|
Calcium:
102
mg
|
Iron:
1
mg