Pumpkin empanadas- Homemade empanada dough is kneaded, rolled out, and cut with an empanada press, then stuffed with a savory filling made of softened leeks, pumpkin puree, and a hint of feta cheese. These little handheld pies are crispy, flakey, and baked to perfection. If you are looking for a new appetizer to wow guests, look no further than these pumpkin empanadas.
Pumpkin empanadas are a warm, cozy, and delicious way to enjoy the chilly weather months! These lovely little pastry pockets are filled with a delicious leek and pumpkin mix, then baked until golden brown and crispy. They're ideal for an on-the-go snack or as an eye-catching party dish that no one will be able to resist.
Move over pumpkin spiced lattes and pumpkin bread; there's a new pumpkin treat on the block! Pumpkin empanadas are delectable little handheld pies that are not only vegan-friendly but are also easy to make and far superior to anything you can buy in a store. These pumpkin empanadas are sure to be your new favorite pumpkin dish!
Why You'll Love These Savory Pumpkin Empanadas
Simple-

Empanadas look complicated to make, but they really aren't. Follow a few simple instructions, and you are sure to impress guests with your culinary skills.

Fits in your hand-

These homemade empanadas are little handheld pies that are great as an appetizer or a main course.

Unique-

Leeks, pumpkin puree, and feta cheese are not a combination you hear of often, but they taste so good together. You won't be able to have just one.

Versatile-

Mix and match fillings for a savory or sweet empanada.

Easy to find ingredients-

This recipe uses common ingredients, most of which you probably already have at home.

Equipment Needed To Make Empanadas de Calabaza Recipe
Skillet

Stirring spoon

Reserve bowl

Mixing bowl

Whisk

Rolling pin

Empanada press

Pastry brush

Baking sheets

Measuring cups and spoons

Ingredients For This Pumpkin Empanada Recipe
Filling-
Olive oil

Leeks

Salt

Black pepper

Pumpkin puree

Feta cheese
Dough-
All-purpose flour

Instant yeast

Sugar

Salt

Water

Olive oil

Egg
How To Make Pumpkin Empanadas
To make homemade savory pumpkin empanadas start by cooking the leeks in a skillet with olive oil, salt, and pepper. Once cooked, move cooked leeks into a reserve bowl, add pumpkin puree, and set aside. To make the dough, add flour, yeast, sugar, and salt to a mixing bowl, then add the water and olive oil and stir until smooth. When the dough is ready, roll out the dough and cut out circles with the empanada press. Fill each circle, and use the empanada press to close each one. Arrange filled empanada on baking sheets and bake. Once empanadas are done, serve warm.

What to Serve/Pair with Your Pumpkin Filled Empanadas
Pumpkin empanadas are a delicious treat that can be eaten by themselves or served with sides such as corn on the cob, Mexican Quinoa Salad, or even traditional rice and beans.

Popular Substitutions & Additions
If pumpkin isn't your thing, there are a variety of other sweet fillings to try. Using jam, such as blackberry, strawberry, or your favorite jam of choice is a good idea. Chocolate pudding, apple butter, or even Vegan Mashed Sweet Potatoes are also wonderful options. 
For a heartier empanada that the whole family will love, try stuffing the empanada dough with plant-based chicken, turkey, or beef and vegetables for a filling meal.
Storage
The filling for pumpkin empanadas can be made up to a week in advance and kept in the refrigerator in an airtight container. Simply pull the filling out of the fridge and stuff the empanadas as needed. Pumpkin empanadas may be refrigerated for up to three days after cooking. To reheat, simply bake or microwave the empanadas. The empanada shell might become soft and soggy when used in a microwave, so I suggest using the oven to keep the crust crisp and flakey.


Savory Pumpkin Empanada FAQs
Can I freeze pumpkin empanadas?
Yes, you can freeze pumpkin empanadas. For best results, I would suggest making the empanadas then freezing them before baking. When you are ready to eat them, simply pop the empanadas in the oven to cook. Pumpkin empanadas can also be frozen from being baked, but they will lose their crispy, flakey texture during the freezing process. Frozen empanadas for good for about 2 months in the freezer.
Will frozen empanada dough circles sold at the grocery store work for this recipe?
Yes! You may make this dish with premade frozen empanada dough. When you're in a hurry, the premade dough circles are really handy. Keep in mind that if you have any dietary restrictions, you'll need to check the labels to be sure the premade dough is acceptable for you.
Can I use a food processor to knead the ingredients for the empanada dough?
Yes, empanada dough can be prepared in a food processor. Process the dough as directed until it forms into a dough. Don't overmix the dough, or it won't be flakey and will rise incorrectly.
Is canned pumpkin puree ok to use in this recipe?
Yes, canned pumpkin puree can be used in this pumpkin empanada recipe, especially if you are short on time. Homemade Pumpkin Puree always tastes better, but it is more time-consuming than canned.
Do I have to have an empanada press to make these pumpkin empanadas?
No, you do not have to have an empanada press to make these empanadas. If you don't have an empanada press, you can use a fork, knife, or even fold and press the edges of the empanadas together. 

Other Pumpkin Recipes You'll Love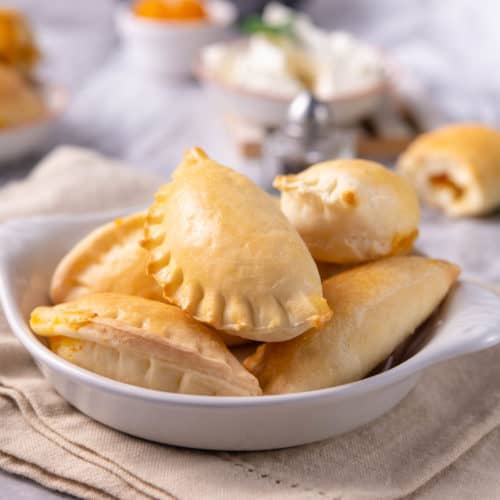 Savory Pumpkin Empanadas
Savory pumpkin empanadas stuffed with leeks, fresh pumpkin puree, and feta cheese. It's the perfect empanada recipe for fall and tastes great!
Print
Pin
Rate
Ingredients
For the filling:
1

tbsp

olive oil

2

cups

leeks

sliced, white and light green parts only

1

tsp

salt

¼

tsp

black pepper

¾

cup

pumpkin puree

3

oz.

feta cheese

crumbled
For the dough:
2 ¼

cup

all-purpose flour

1

tsp

instant yeast

1

tbsp

sugar

1

tsp

salt

¾

cup

water

1

tbsp

olive oil

1

egg

beaten, for brushing or more olive oil
Instructions
Make the Filling:
Heat olive oil in a skillet over medium-high heat.

Add leeks, salt, and pepper. Cook stirring for 7-8 minutes or until the leeks are softened.

Transfer the leeks in a bowl. Add pumpkin puree and stir to combine.
Make the Dough:
In a mixing bowl, whisk together flour, yeast, sugar and salt.

Add in water and olive oil.

Stir until the dough comes together. Start kneading dough until it is smooth. Cover the dough and let it rest for one hour.
Assemble the Empanadas
Roll out the dough to ⅛-inch thick on a slightly floured kitchen counter.

Cut out circles with empanada press. Gather the dough and roll it out again until it is all used. You should get 24 empanadas.

Place the circles of the dough on the empanada press. Brush the edges with some water. Fill each with a 1 tbsp of the pumpkin filling and place some crumbled feta on top.

Close the empanadas with an empanada press.

Arrange empanadas on two baking sheets. Brush each with beaten egg or olive oil.

Bake the empanadas for 15 minutes.
Nutrition
Calories:
76
kcal
|
Carbohydrates:
11
g
|
Protein:
2
g
|
Fat:
2
g
|
Saturated Fat:
1
g
|
Polyunsaturated Fat:
1
g
|
Monounsaturated Fat:
1
g
|
Trans Fat:
1
g
|
Cholesterol:
10
mg
|
Sodium:
239
mg
|
Potassium:
52
mg
|
Fiber:
1
g
|
Sugar:
1
g
|
Vitamin A:
1340
IU
|
Vitamin C:
1
mg
|
Calcium:
27
mg
|
Iron:
1
mg