A trifle is one of the most classic English desserts, and for good reason! Its layers create a dessert that is incredibly delicious and pretty to look at!
The best thing about trifles is how versatile they can be. Most traditional trifles feature fruit, sponge cake, and custard. But, not everyone loves those things (at least I don't!) Let these layers inspire you to create something different and delicious. Play with the layers and the flavors!
With Fall in full force, I decided to put a healthy and festive spin on the trifle. This means tons of spices and only natural sweeteners. It resulted in a fabulous pumpkin gingerbread trifle. With vegan gingerbread cookies, coconut whipped cream, and pumpkin cream, this dessert will have you falling in love with Fall all over again.
Full of Fall Flavor
This season is full of many wonderful (and sinful!) desserts. This pumpkin gingerbread trifle is a fun way to savor all those delicious fall spices.
When brainstorming this recipe, I hoped to make something absolutely simple and satisfying, without all the sugar trifles tend to have. Sugar does not have to be the defining factor of the dessert - the fall flavors do! I thought of all my favorites - cinnamon, ginger, nutmeg, and maple. I had to find a way to put them all together.
What resulted are layers of my two favorite seasonal desserts. I utterly adore gingerbread cookies. Their ginger 'zing' and toasty flavor brings me all the best holiday nostalgia. Yet, I wanted to make these cookies more healthy too.
This turned into an epic recipe adventure. I ended up developing a vegan alternative that tastes just as good as the classic. These vegan gingerbread cookies add awesome texture to the trifle, giving you a stellar cookie 'crunch' in every bite!
What other Autumn dessert is also hard to live without? Pumpkin pie! For the cream layers, I wanted the classic taste of pumpkin pie filling. With just enough maple syrup and cinnamon, simple pumpkin puree turned into just that! The best part is that it is free of all the refined sugars usually found in pumpkin pie. This way, you get a bite of a gingerbread cookie and pumpkin pie filling without all the guilt.
Great for Parties
This pumpkin gingerbread trifle is a solid pick for any Fall party dessert. Whether it is a small get together or an American Thanksgiving feast, this trifle fits the theme.
The best part about trifles is that you can change up the presentation. Traditionally speaking, they are served in large and clear trifle bowls. These make for excellent decoration, especially for a party. However, you can serve your trifle in any format you like. Individual trifles are a great idea and let you get more creative in your presentation. You can use any sort of glass you like, as long as you can easily add the layers inside.
I absolutely love serving my trifle in brandy glasses. It adds a touch of elegance to the trifle's presentation. It also shows off all those scrumptious trifle layers! Guests love digging into the glass to get every last bite.
How to Make Vegan Gingerbread Cookies
Before you do anything else in this recipe, you need to make your vegan gingerbread cookies. These can easily be made ahead of time. I always suggest doubling the batch. This way, you can have some to enjoy separately or freeze them to make more trifles in the future!
First things first: you need to preheat your oven and prep your baking sheets. Make sure to line your baking sheets with parchment paper to prevent sticking.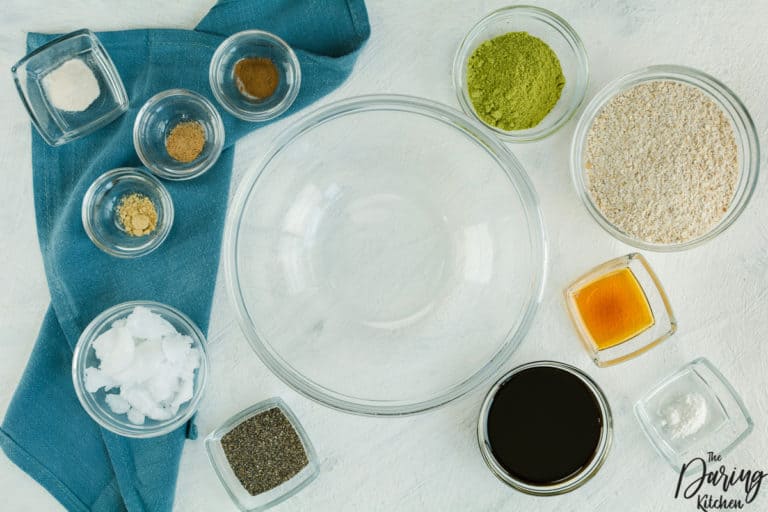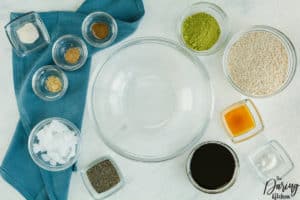 Now, assemble all your ingredients, separating wet from dry. For the mixing portion, it is best you use a hand mixer to best combine all the ingredients. You can also do this by hand, but it will take more time (and require a workout!)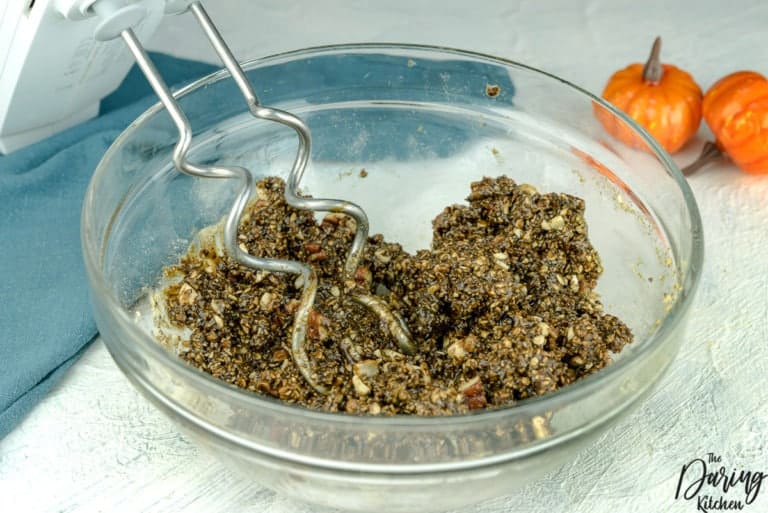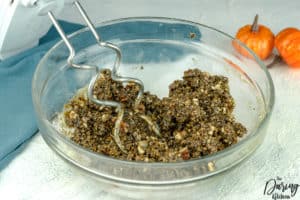 In your mixing bowl, mix together the dry ingredients until everything is well-combined. Then, with your hand mixer, slowly add in your wet ingredients (coconut oil, molasses, and vanilla extract.)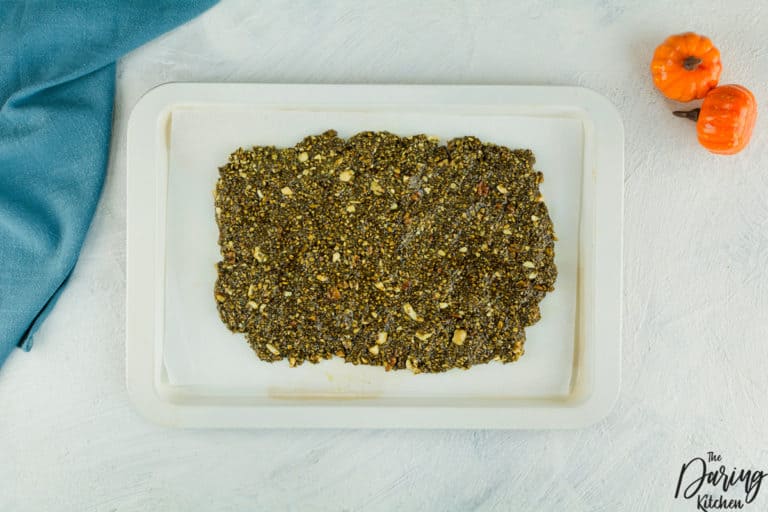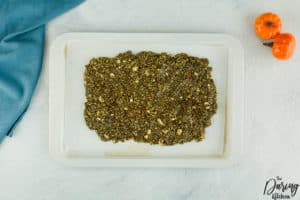 Take your newly formed cookie dough and place it on your baking sheet. Gently smooth out the mixture on the baking sheet until it covers it almost entirely. Your 'giant cookie' should be about ¼ inch thick. This will bake in the oven for only 15 minutes.
It is super important to let your cookie cool completely before using it in your trifle. The heat of the cookies will definitely alter your trifle. No one likes melted whipped cream!
Make the Layers Ahead of Time
I always believe in maximizing your time while you cook or bake. That's what is so great about this recipe - everything does not need to be done at once! The whipped cream and pumpkin puree can be made ahead of time as well. Both require ample refrigeration so that they keep their shape in the trifle.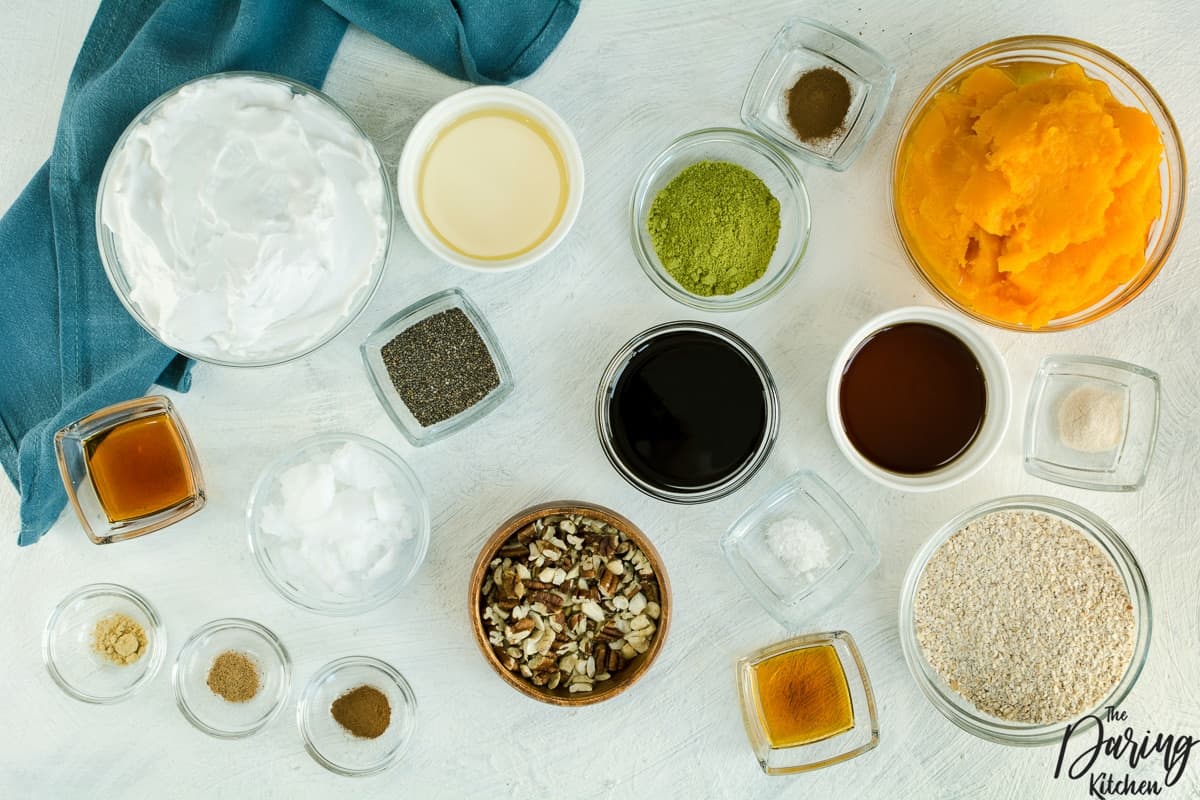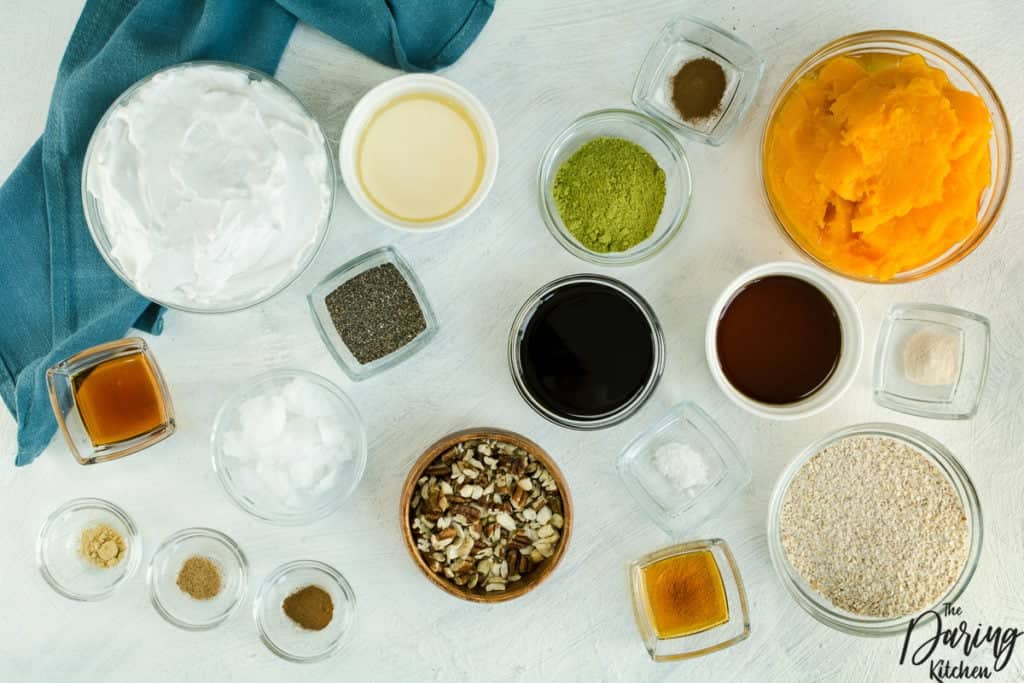 Alternatively, you can make these layers while your cookies are in the oven. You can start with either the whipped cream or the pumpkin puree. Both will need to rest in the fridge for at least one hour. Between the cookies baking and cooling, this gives you enough time to prepare everything.
For the whipped cream layer, you simply need to beat together all the ingredients with a hand mixer. Once the whipped cream is nice, fluffy, and delicious, place it in the fridge. Then, in a new bowl using only a baking spatula, combine the pumpkin cream ingredients. Make sure the maple and cinnamon are well-incorporated into the pumpkin puree. Then, send this off into the fridge as well.
Assembling your Pumpkin Gingerbread Trifle
Now, here is the fun part! Putting your trifle together lets you put your own touch on the dessert. You can choose what kind of glass to put it in. Whether small glasses or a large trifle bowl, this dessert will look festive and fabulous. You can decorate it with the toppings you love. I chose pecans for their flavor and texture.
When assembling your trifle, always remember to start with the solid and heaviest layer first. In this recipe, that's the gingerbread cookies. You may layer them in big pieces or break them up substantially. This will depend on the glass you choose.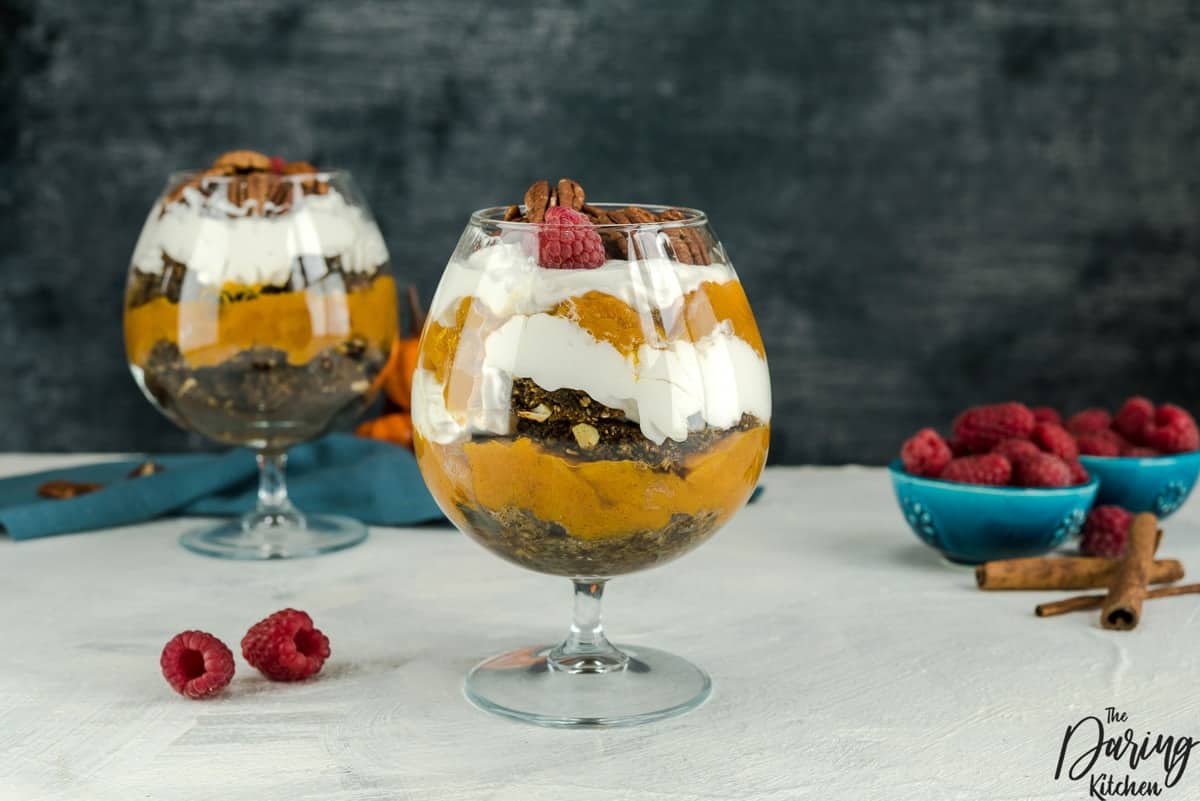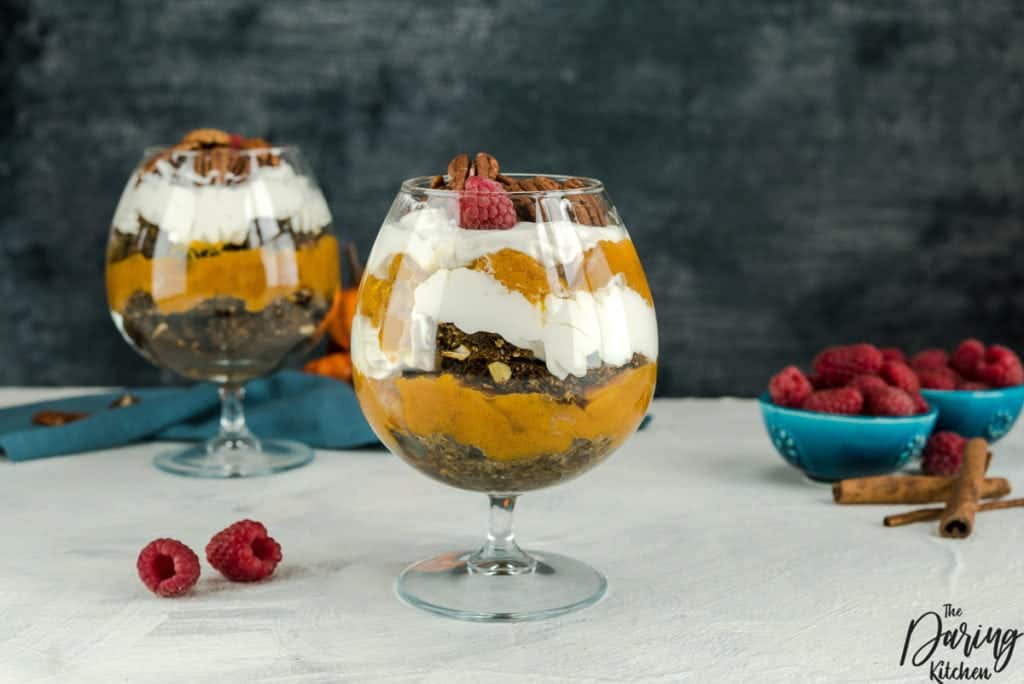 I used brandy glasses in this recipe. They just have such a divine presentation. This trifle can also work in an old-fashioned glass or even a small mason jar as well. Whatever you chose, guests will be so thrilled when they see this trifle. They will be even happier when they taste it!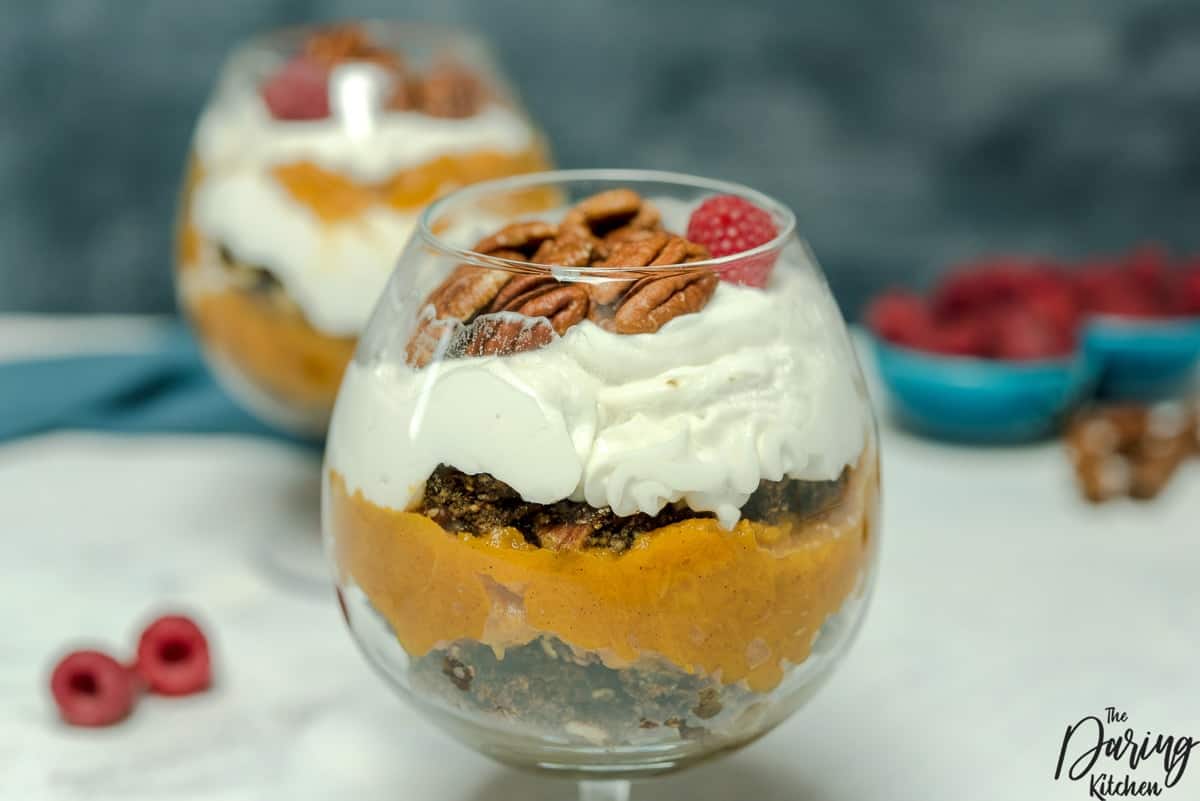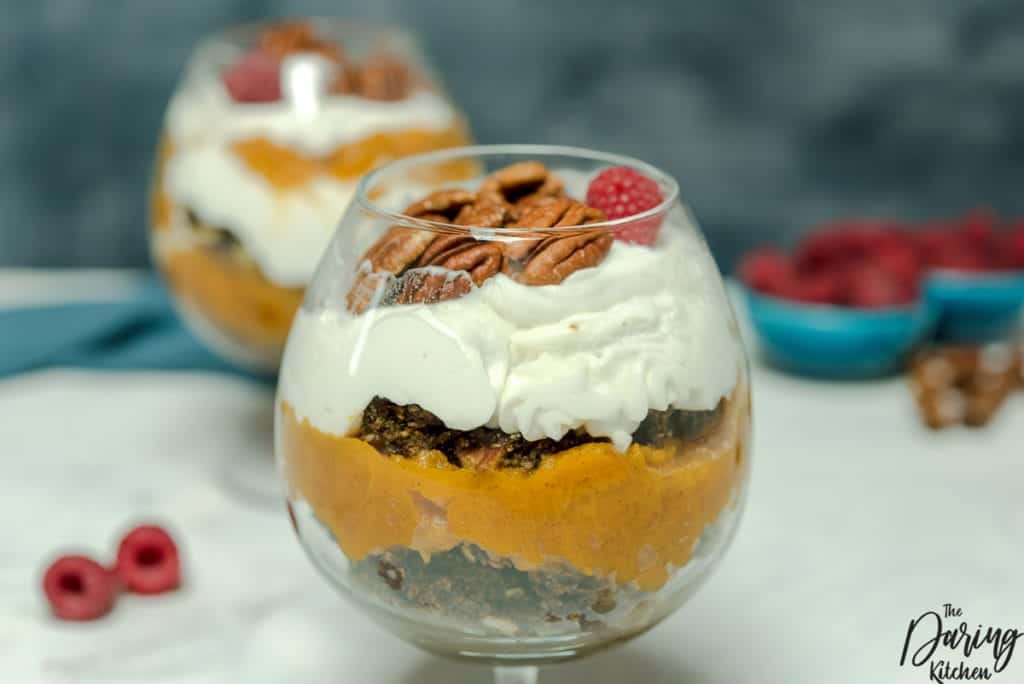 Don't forget to check out the video for extra guidance on how to make this lovely pumpkin gingerbread trifle!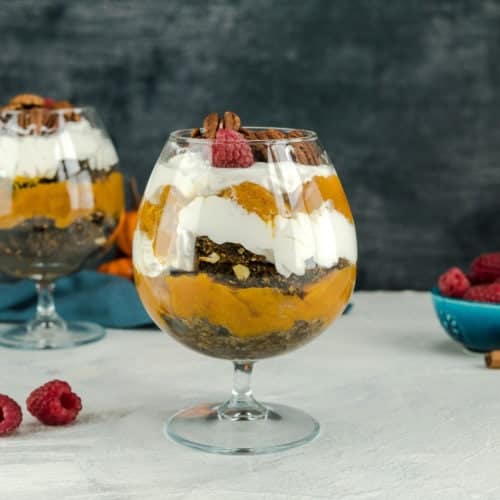 Pumpkin Gingerbread Trifle
This Pumpkin Gingerbread Trifle is the perfect dessert for Thanksgiving or any holiday.
Print
Pin
Ingredients
Gluten-free, Vegan Gingerbread Cookies
1

cup

Rolled Oats

minced

⅓

cup

Pumpkin Seed Flour

1

tbsp

Chia Seeds

½

tsp

Baking Powder

½

tsp

Psyllium Husk Powder

1

tsp

Ground Ginger

½

tsp

Ground Nutmeg

1

tsp

Ground Cinnamon

½

cup

Pecans

chopped

¼

cup

Coconut Oil

¼

cup

Molasses

1

tsp

Vanilla Extract
Dairy-free whipped cream
2

cups

Coconut Cream

½

cup

Agave Nectar

1 ½

tsp

Vanilla Extract
For the pumpkin puree mixture
Instructions
Preheat the oven to 400°F. Line a medium baking sheet with parchment paper and set aside.

In a medium bowl, add minced oats, pumpkin seed flour, chia seeds, baking powder, psyllium husk powder, ground ginger, ground nutmeg, ground cinnamon, and pecans. Mix all well and then add coconut oil, molasses, and vanilla extract. Using a hand mixer with dough hook attachments, mix until fully incorporated.

Transfer the mixture to the prepared baking sheet. Using your hands or a spoon, flatten the mixture into approximately ¼ inch thick. Bake for 15 minutes. When done, remove from the oven and cool completely.

Meanwhile, beat together coconut cream, agave nectar, and vanilla extract. Refrigerate the mixture for one hour.

Finally, prepare the pumpkin mixture. In a medium bowl, add pumpkin puree, maple syrup, and ground cinnamon. Mix all well and refrigerate for one hour.

Assemble trifle in a serving bowl or glasses. Serve!
Nutrition
Calories:
661
kcal
|
Carbohydrates:
66
g
|
Protein:
7
g
|
Fat:
45
g
|
Saturated Fat:
33
g
|
Sodium:
57
mg
|
Potassium:
743
mg
|
Fiber:
7
g
|
Sugar:
42
g
|
Vitamin A:
9532
IU
|
Vitamin C:
5
mg
|
Calcium:
139
mg
|
Iron:
4
mg