If you've been wondering how to make pumpkin pancakes, look no further than this both delicious and nutritious recipe that will give you that dose of fall flavor and a fuzzy feeling inside.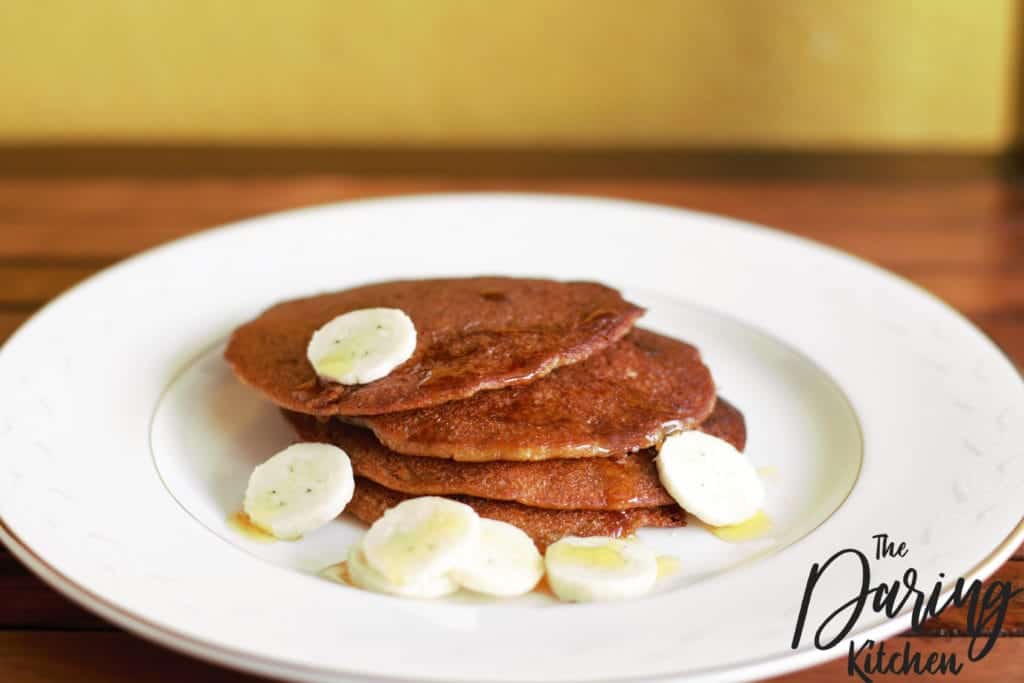 High Fibre Pumpkin Pancakes (Gluten-free and Vegan)
What could be better than a high fibre, protein packed pumpkin pancake to start your day with? Pancakes are fairly easy to make and loved by almost everyone. This recipe is specially designed to bring out a great taste with the nutritious ingredients and guess what! It's gluten-free and vegan too. Feel free to add or substitute with ingredients available in your pantry and give your suggestions so that others can try your recipes.
Let's talk about some special ingredients used in this recipe such as raw banana powder. Raw banana powder is known to contain resistant starch which has several health benefits such as promoting gut health and weight loss. The resistant starch is broken down into sugars as the banana ripens. Oats and pumpkin, both, are rich in dietary fibre and impart an amazing flavour and texture to the pancake. A single serving of this recipe will fulfil your recommended Daily Value of Vitamin A and a third of the fibre requirements for a day.
These pancakes are definitely not as fluffy as those made with flour and eggs. You can increase (double) the amount of baking powder in this present recipe to get softer pancakes but the sodium intake will be high which is not advisable.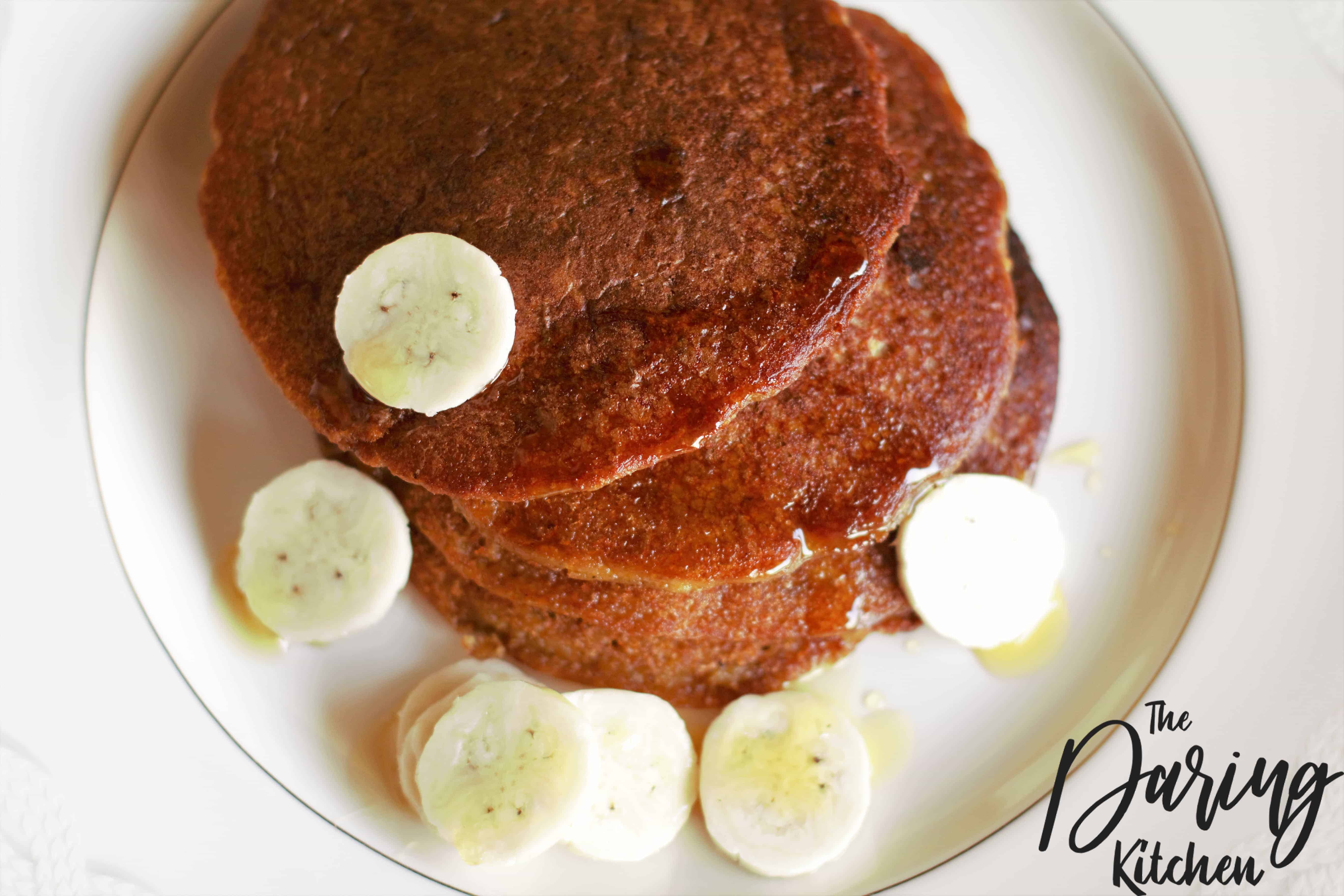 Ingredients
1 1/2

cups

Oats Powder

I ground rolled oats in a blender

1

cup

Soy Milk

Add 1 or 2 Tbsp. more if batter seems too thick

1/2

cup

Pumpkin Pure

2

tbsp

Apple Cider Vinegar

2

tbsp

Sugar

optional

2

tsp

Coconut Flour

2

tsp

Raw Banana Flour

2

tsp

Vanilla Extract

1

tsp

Baking Powder

1/2

tsp

Baking Soda

1/2

tsp

Salt

1/4

tsp

Cinnamon Powder

you can use any spice of your choice

3

Dates

cut into fine pieces

3

Dried Figs

cut into fine pieces

1

tbsp

Cooking Oil

can vary based of your pan
Instructions
Combine all the dry ingredients in large bowl. Mix the wet ingredients separately (except for vinegar). Add the wet mix to the dry mix and stir until fully combined.

Add Apple cider vinegar and mix. Let the batter sit for about 5 minutes.

In the meantime, heat a heavy non-stick griddle or well-seasoned cast-iron skillet over medium heat. Grease the pan with cooking oil/vegan butter. Wipe off excess oil with a paper towel if required.

Pour about ¼ cup pancake batter on the pan. Cover the skillet and cook for about 3 minutes and flip (the spatula should easily glide under the pancake). Cook for 2 minutes on the second side.

Remove the pancake from the skillet and repeat from step 3 until all the batter is used up.
Notes
Instead of oat powder, you could substitute pumpkin pancakes almond flour if you'd prefer to use that, or almond milk instead of soy if that brings you more joy. If you're looking for the perfect pumpkin pancake, odds are you'll want to use your favorite flour and milk, as that's what forms the bulk of it.
Also, if you wanted to substitute brown sugar for white, that would work, too. This recipe is versatile, so don't be afraid to risk take on substitutions.
This is a gluten free pumpkin pancake recipe that is tasty any time of year, but especially with a cup of warm pumpkin spice coffee.
quick to make, perfect for those that don't have much time in the morning, but still want to have a yummy homemade meal with maple syrup(other toppings)..if this still doesn't quench your pumpkin fix, consider some pumpkin pie later in the day.
If you are extra short on time, you can even blend up pumpkin puree in advance, tupperware it, and put it in the fridge for when you feel like whippin' up those cakes later!
Nutrition
Calories:
339
kcal
|
Carbohydrates:
55
g
|
Protein:
9
g
|
Fat:
10
g
|
Saturated Fat:
1
g
|
Sodium:
764
mg
|
Potassium:
442
mg
|
Fiber:
8
g
|
Sugar:
21
g
|
Vitamin A:
6664
IU
|
Vitamin C:
7
mg
|
Calcium:
233
mg
|
Iron:
3
mg