The perfect fall morning is just around the corner. These delicious pancakes have all the pumpkin spice you need to get you through the season. Plus, they are made with clean and nutritious ingredients.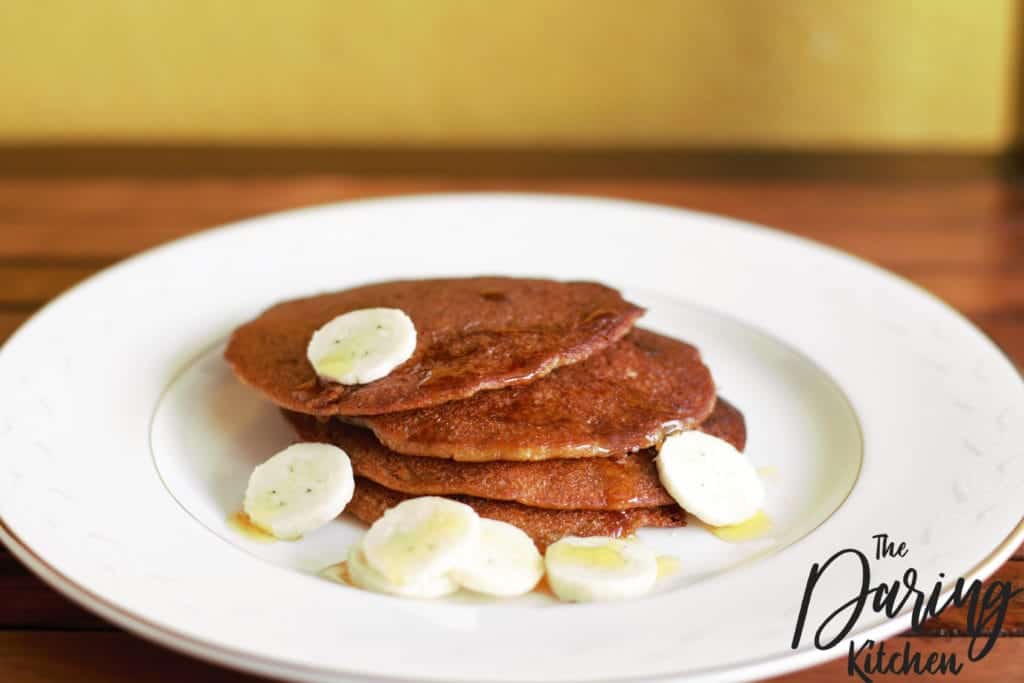 Healthy Pumpkin Pancakes: The Perfect Morning Treat
Sometimes, our morning breakfasts can get a little boring. These pumpkin pancakes are the ultimate Fall treat. The best part is that they include the nutritional boost your morning needs. Just one serving of these pancakes will provide you with your daily dose of vitamin A! They even have a third of the total fiber you need too.
Why start your morning on a boring note? With these pancakes, you get your day started on a bright and healthy foot, quickly. These pancakes take only 10 minutes to prep!
Did I mention they are both gluten-free and vegan, too?!
The Ultimate Gluten-Free Pancake Tip
These pancakes are as belly friendly as they get. Typical wheat flours found in most pancakes can weigh you down and make you feel tired. Who wants to be even more sleepy in the morning?
Making pancakes gluten-free is actually quite simple. In this recipe, we utilize oat flour. This not only eliminates gluten but adds in a mega dose of fiber. This helps you to feel full and satisfied all morning long.
The best part about oat flour is it will not break the bank as other expensive gluten-free flours do. In fact, you don't even need to buy oat flour. All you need is a few cups of regular oaks, which you may already have on hand. If not, the bulk section of your grocery store will be the best place to find them. Then, you throw them into a food processor (or blender) and grind them until they become a smooth flour. It is that simple!
The recipe does call for just a little bit of coconut flour too. This helps to thicken the pancakes and give them more flavor. Plus, coconut flour adds in some significant heart-healthy fats. This will give you additional energy to power through your morning.
It is important to note that these pancakes are less fluffy than traditional pancakes made with eggs. That does not mean they are any less scrumptious.
The Power of Raw Banana Flour
What makes these pumpkin pancakes unlike any other is the use of raw banana flour. Bananas as flour you say? Yes! It is quite a magical little ingredient.
Raw banana flour is actually not a sweetener. It functions like any other flour. It comes from green bananas. These bananas have yet to convert all their starch into sugar. Also, the flour doesn't taste like bananas. In fact, the flour becomes even milder and loses its banana essence when cooked.
The greatest part of raw banana flour is that it is totally starch resistant. It digests slowly and does not spike your blood sugar. This makes it one of the most gut-friendly flours. It is also super-rich in potassium, giving you an extra morning nutrient boost without having to chop up any bananas. But, we wouldn't hesitate to add some ripe bananas on top for extra natural sweetness and a pretty pancake decoration!
Get Your Serving of Fruit
These pancakes are naturally sweetened with the more delicious fruit around. These natural sugars keep your blood sugar leveled in the morning and boost your energy.
This recipe features yummy dates and dried figs. These fruits are chock full of vitamins and minerals essential for your diet. Both dates and figs are incredibly rich in fiber and iron. Plus, they add the perfect amount of sweetness.
There is just a bit of regular sugar in this recipe, which is completely optional. You can always substitute it with honey, maple syrup, or even coconut sugar. These are great natural sugar and low-glycemic options. Or, you can omit it entirely if you are watching your sugar intake entirely.
This Recipe is Flexible!
Sometimes, we are missing more than one ingredient to make a delicious recipe. The perk of this recipe is that it adapts to your pantry. Certain ingredients in this recipe are easy to substitute or even take out altogether.
You can also add delicious ingredients to this recipe. Any kind of fruit is always a stellar go-to for natural sweetness and added texture. I adore adding in berries for that extra burst of flavor. Apples are also a great addition for a little bit of crunch. Don't forget to add a dash of cinnamon to your recipe to enhance the flavor!
If you want to treat yourself, adding in chocolate chips to the batter is never a bad idea. With just a little bit of whipped cream, these pancakes can turn into dessert for dinner.
How to Serve Your Pumpkin Pancakes
These pancakes are delicious alone, but taste even better with some healthy toppings. Try any of these stellar combinations out to maximize your morning breakfast routine.
Chopped Bananas and Honey
Try this topping for an extra potassium boost and an extra sweet treat.
Plain Greek Yogurt and Granola
The creaminess of Greek yogurt is better than adding whipped cream or cool whip to your pancakes. Combined with crunchy granola, these two ingredients make for tasty (and pretty!) pancakes.
Coconut oil and Pecans* 
This combo takes your pancakes straight to the Thanksgiving table. The crunchy pecans make for the perfect pancake bite. If you are not vegan, you can simply sub coconut oil for grass-fed butter.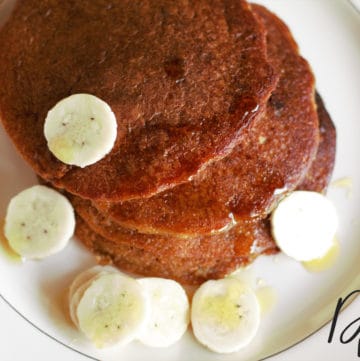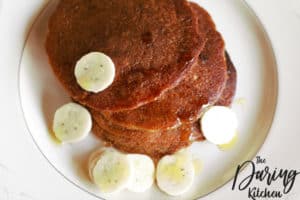 Ingredients
1 ½

cups

Oats Powder

I ground rolled oats in a blender

1

cup

Soy Milk

Add 1 or 2 Tbsp. more if batter seems too thick

½

cup

Pumpkin Puree

2

tbsp

Apple Cider Vinegar

2

tbsp

Sugar

optional

2

tsp

Coconut Flour

2

tsp

Raw Banana Flour

2

tsp

Vanilla Extract

1

tsp

Baking Powder

½

tsp

Baking Soda

½

tsp

Salt

¼

tsp

Cinnamon Powder

you can use any spice of your choice

3

Dates

cut into fine pieces

3

Dried Figs

cut into fine pieces

1

tbsp

Cooking Oil

can vary based of your pan
Instructions
Combine all the dry ingredients in large bowl. Mix the wet ingredients separately (except for vinegar). Add the wet mix to the dry mix and stir until fully combined.

Add Apple cider vinegar and mix. Let the batter sit for about 5 minutes.

In the meantime, heat a heavy non-stick griddle or well-seasoned cast-iron skillet over medium heat. Grease the pan with cooking oil/vegan butter. Wipe off excess oil with a paper towel if required.

Pour about ¼ cup pancake batter on the pan. Cover the skillet and cook for about 3 minutes and flip (the spatula should easily glide under the pancake). Cook for 2 minutes on the second side.

Remove the pancake from the skillet and repeat from step 3 until all the batter is used up.
Notes
Instead of oat powder, you could substitute pumpkin pancakes almond flour if you'd prefer to use that, or almond milk instead of soy if that brings you more joy. If you're looking for the perfect pumpkin pancake, odds are you'll want to use your favorite flour and milk, as that's what forms the bulk of it.
Also, if you wanted to substitute brown sugar for white, that would work, too. This recipe is versatile, so don't be afraid to risk take on substitutions.
This is a gluten free pumpkin pancake recipe that is tasty any time of year, but especially with a cup of warm pumpkin spice coffee.
quick to make, perfect for those that don't have much time in the morning, but still want to have a yummy homemade meal with maple syrup(other toppings)..if this still doesn't quench your pumpkin fix, consider some pumpkin pie later in the day.
If you are extra short on time, you can even blend up pumpkin puree in advance, tupperware it, and put it in the fridge for when you feel like whippin' up those cakes later!
Nutrition
Calories:
339
kcal
|
Carbohydrates:
55
g
|
Protein:
9
g
|
Fat:
10
g
|
Saturated Fat:
1
g
|
Sodium:
764
mg
|
Potassium:
442
mg
|
Fiber:
8
g
|
Sugar:
21
g
|
Vitamin A:
6664
IU
|
Vitamin C:
7
mg
|
Calcium:
233
mg
|
Iron:
3
mg