Homemade pumpkin puree from scratch is incredible. It outshines the canned stuff with its fresh, vibrant flavor. The creamy texture adds a touch of luxury to everything from soups to desserts!
Why You'll Love This Recipe
Simple- Anyone can make a homemade puree, and it's so easy. Even the kids can jump in and help.
Versatile– Pumpkin puree is a versatile ingredient used in various dishes. Appetizers, main courses, desserts, beverages, and even dog treats are just a few examples of foods you can make.
Less Wasteful- When using canned pumpkin purée, you are committed to the whole can, as leftovers don't last long. Homemade pumpkin puree can be stored in smaller pre-portioned containers creating less waste and saving money.
What Is Fresh Pumpkin Puree?
Pumpkin puree is an orange, smooth and creamy mixture of cooked pumpkin. It's a great ingredient in recipes from sweet to savory dishes. It can also be found in canned form in the baking aisle at most grocery stores. It's perfect for making pies, muffins, cakes, and bread and adding a unique flavor to soups and sauces. Pureed pumpkin can also be used as a substitute for butter or oil in vegan baking recipes, making it an excellent option for those who follow a plant-based diet. With the addition of fresh pumpkin puree, you'll experience more decadent flavors and brighter colors in your favorite pumpkin recipes!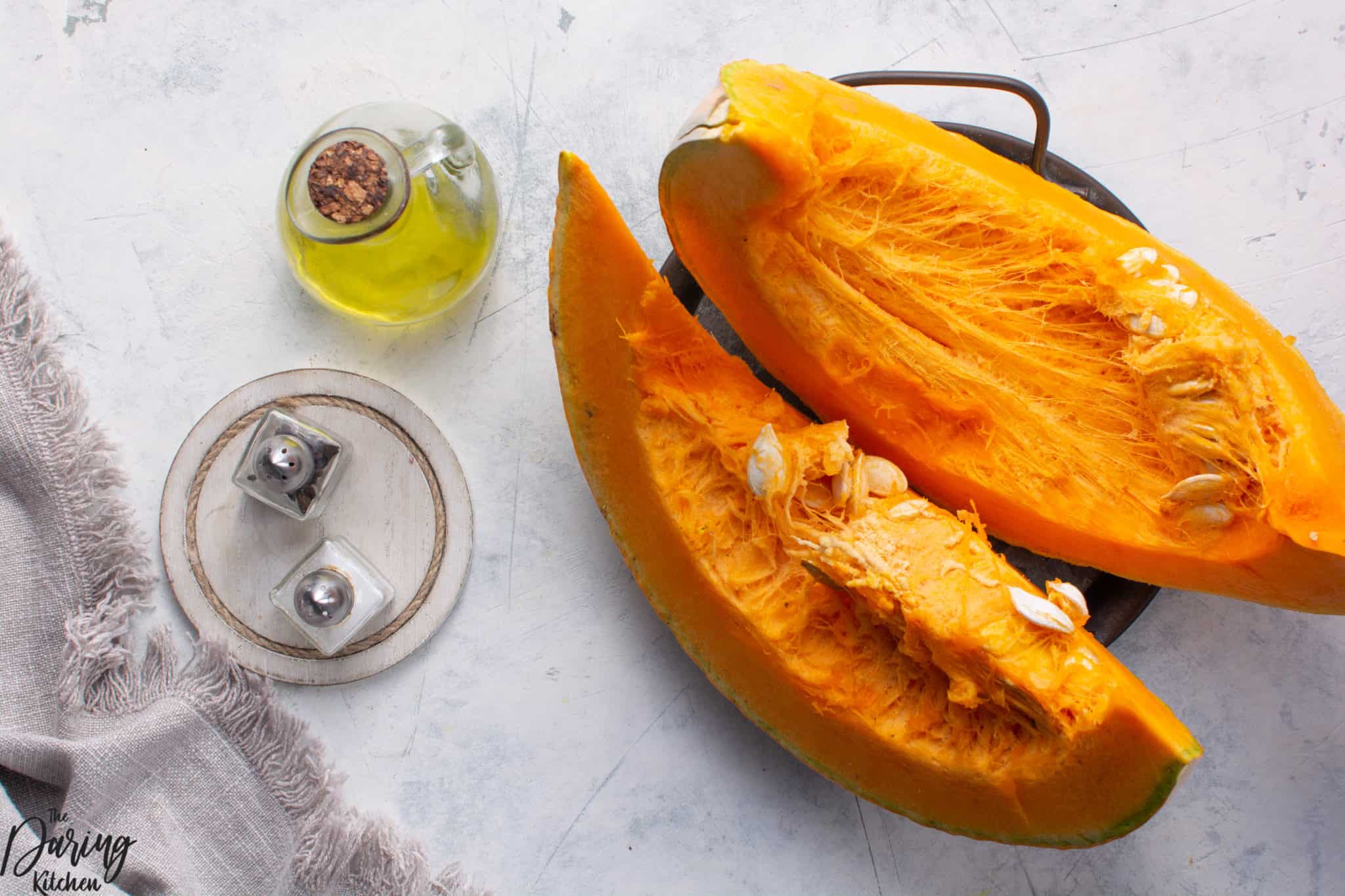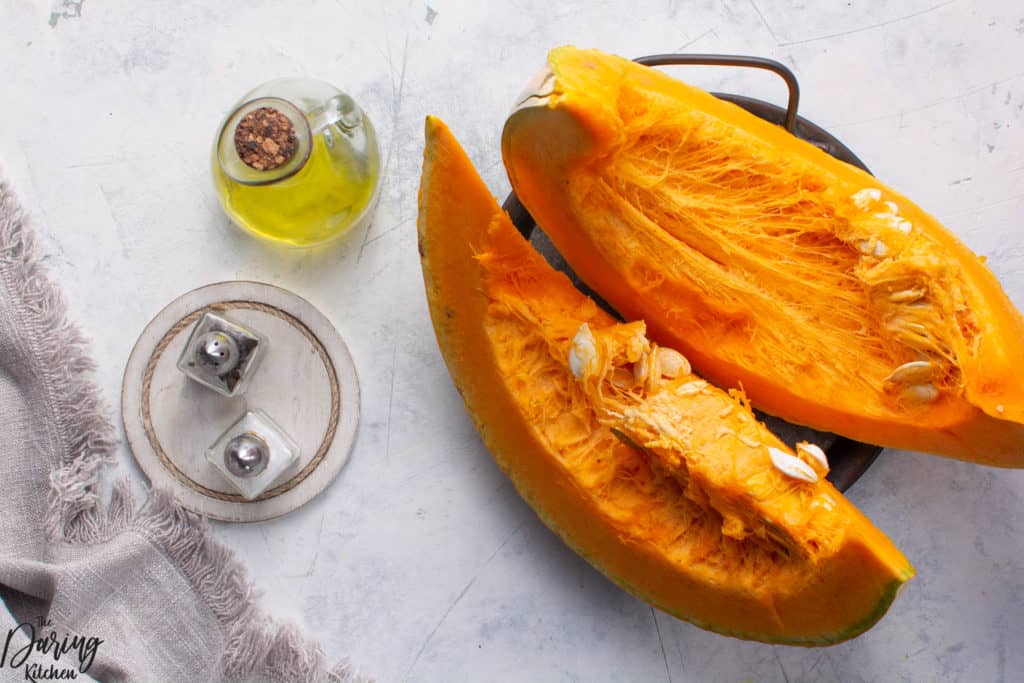 Equipment
Baking Sheet
Knife
Large Spoon for Scooping
Pastry Brush
Food Processor or Blender
Parchment Paper
Ingredients
Sugar Pumpkin- Also known as a pie pumpkin, it is the main ingredient that provides recipes with a unique texture and flavor.
Olive Oil- Used to help cook the pumpkin in the oven, giving it a light golden color.
Salt- Used for flavor and helps bring out the natural sweetness of the pumpkin.

 

How To Make Pumpkin Puree
Before you make homemade pumpkin puree, preheat the oven.
Cut the pumpkins in half or quarters and remove the pumpkin seeds before brushing them with olive oil and placing them on a baking sheet.
Bake pumpkins until soft and fragrant.
Remove the pumpkin flesh and blend the cooked pumpkins in the food processor until they are smooth and uniform in texture.
Note: You can discard the pumpkin seeds or use them for your other favorite pumpkin recipes later.
Substitutions & Additions
There are a lot of other vegetables out there that can be roasted and pureed to use in different recipes. Pureed vegetables make an excellent base for soups. Carrots, sweet potatoes, beets, butternut squash, leeks, and lentils are just a few examples.
Vegetables that have been pureed are also quite popular when making healthy homemade baby food. The possibilities with baby food are endless, and they're a fantastic method to get your kids to try different veggies.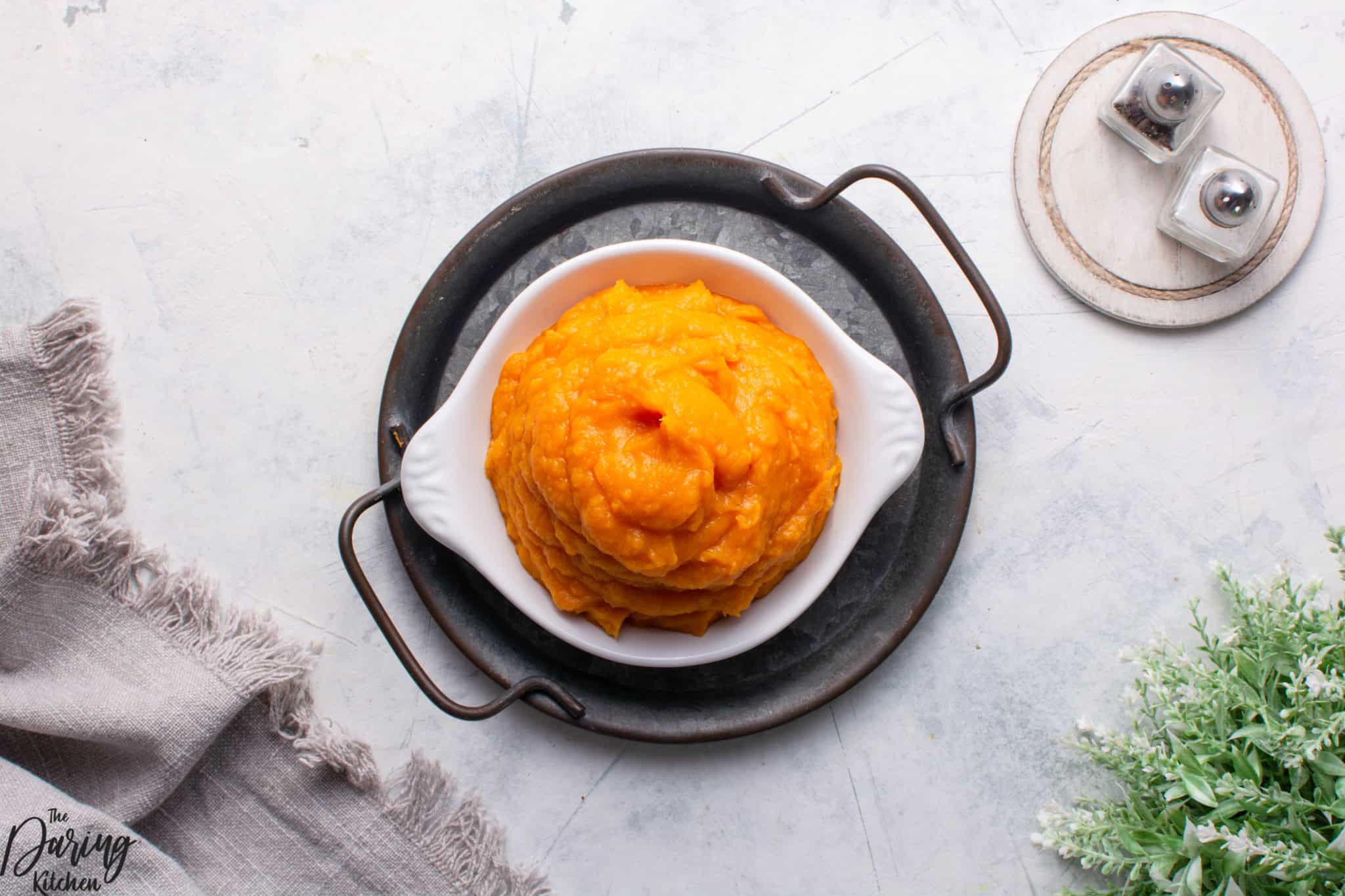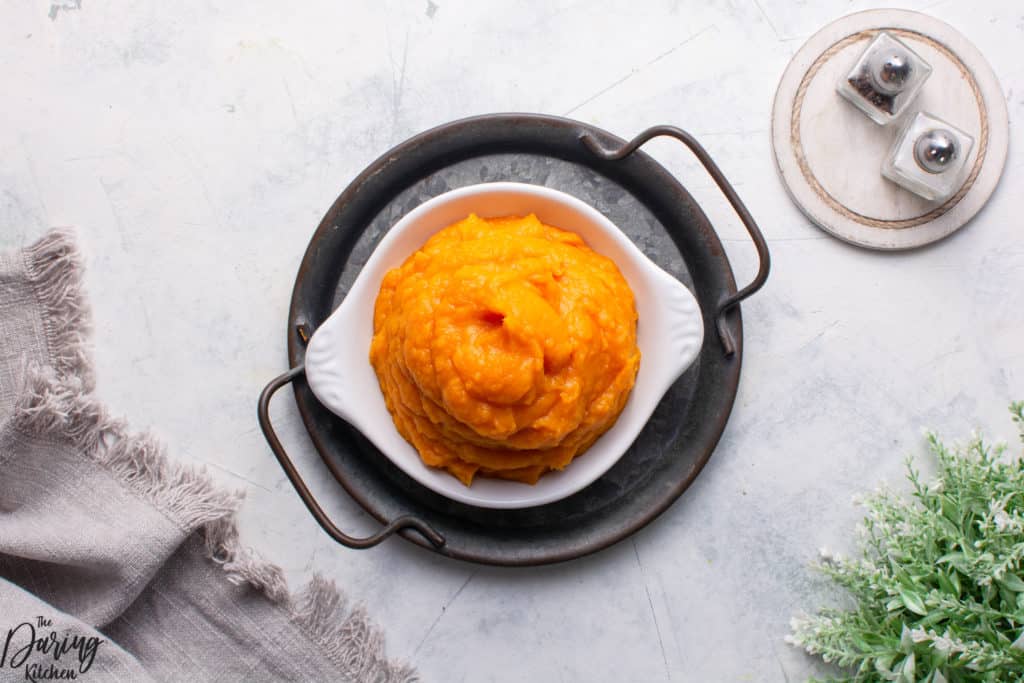 How To Use Pumpkin Puree
Pumpkin is a trendy fall dish that may be used in various meals. It may be utilized in both sweet and savory recipes.
Breakfast foods such as pumpkin bread, pancakes, or oatmeal.
Pumpkin soup or pizza for lunch are good options.
A pumpkin pasta dish or warm hearty chili would make excellent dinner choices with pumpkin rolls.
Cookies and the classic pumpkin pie are two excellent dessert options to end your meal with pumpkin.
Pumpkin-flavored beverages, such as coffee, tea, lattes, and smoothies, have become increasingly popular in recent years, and for good reason. They are so tasty!
Making puree is also very popular with dog owners. You can use it to make dog treats, and is an excellent addition to dog food to add moisture and extra flavor.
Can I Freeze Pumpkin Puree?
Yes, you can freeze your homemade pumpkin puree. I suggest freezing it in ice cube trays to have individual portions. Once completely frozen, transfer the cubes into an airtight container or freezer bag for storage. Pureed pumpkin lasts up to 6 months in the freezer.

FAQs
What is the best way to store leftover pumpkin puree?
The best way to store leftover pureed pumpkins is in pre-portioned airtight containers in the refrigerator or freezer. If you use an airtight container properly, it will last up to a week in the fridge.
Can I use a large pumpkin?
Yes, however, I suggest using "pie pumpkins" or "sugar pumpkins" instead. Pie pumpkins are smaller and easier to prepare and have much more flavor than carving pumpkins.
Do I need to remove the skin before roasting the pumpkin?
No, you do not need to remove the pumpkin skin before cooking. The raw skin is tough to remove. Once the pumpkin has been cooked, the skin comes off much easier!
Is roasting the pumpkin the only way to cook it?
No. Roasting a pumpkin in the oven isn't the only way to cook a pumpkin for your puree. You may also steam pumpkins on the stove or cook them in an instant pot or crockpot. Regardless of how you cook your pumpkins, you will still have a delicious pumpkin puree!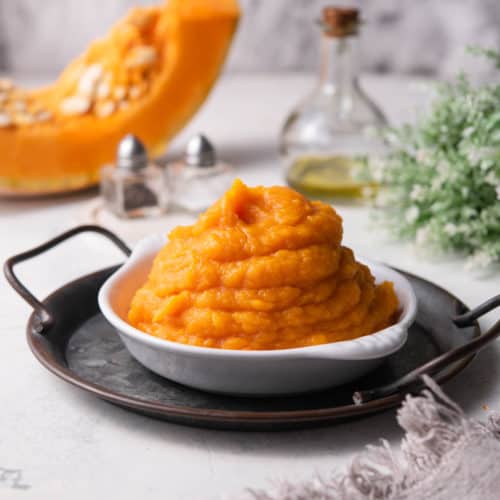 Homemade Pumpkin Puree Recipe
Homemade pumpkin puree is easy to make from scratch.
Print
Pin
Rate
Ingredients
1.5

lbs

pumpkin

Olive oil

as desired

Salt

if you want to use the puree just for savory meals
Instructions
Heat oven to 400F. Line a baking sheet with parchment paper.

Cut the pumpkin in half, if you are using a smaller one, or into wedges if you have a large pumpkin.

Brush the pumpkin with some oil.

Place the pumpkin cut side down on a baking sheet.

Bake the pumpkin until soft, for 45-60 minutes.

Place it in a food blender or processor.
Nutrition
Calories:
44
kcal
|
Carbohydrates:
11
g
|
Protein:
2
g
|
Fat:
1
g
|
Saturated Fat:
1
g
|
Polyunsaturated Fat:
1
g
|
Monounsaturated Fat:
1
g
|
Sodium:
2
mg
|
Potassium:
578
mg
|
Fiber:
1
g
|
Sugar:
5
g
|
Vitamin A:
14480
IU
|
Vitamin C:
15
mg
|
Calcium:
36
mg
|
Iron:
1
mg