Whoopie pies are absolutely delicious! These soft, cake-like cookies with creamy filling are perfect for any occasion. Add pumpkin puree, and you can enjoy a classic Fall flavor.
Why You'll Love This Pumpkin Whoopie Pie Recipe
Gluten-Free- This Pumpkin Whoopie Pie Recipe is perfect if you're looking for a delicious, gluten-free dessert. The pumpkin cookie dough and frosting are entirely gluten-free, meaning everyone can enjoy them.
No Refined Sugar- Pumpkin whoopie pies don't contain any refined sugar, meaning you can indulge without feeling guilty. It's sweetened instead with maple syrup making it a perfectly balanced treat.
A Family Favorite- Whoopie pies have been a family favorite for years. These pumpkin whoopie pies are sure to become one of your favorites too!
What Are Whoopie Pies?
Whoopie pies hold a special place in American culinary traditions. Although they bear the name 'pie,' they do not resemble a classic pie in any way. Instead, they resemble more of a delightful cookie sandwich. However, their texture is reminiscent of a moist and fluffy cake. Nestled between these two layers of cookie-cake hybrid is a delectable buttery whoopie pie filling.
Traditional whoopie pies are typically filled with buttercream or cream cheese frosting. However, this recipe achieves the same decadence and indulgence by substituting coconut cream. This alternative offers an unparalleled natural creaminess and sweetness, which we further enhanced with a touch of butter, adding a delightful richness to the filling.
Equipment
Oven
Large Bowl
Stirring Spoon or Whisk
Ice Cream Scoop
Baking Sheets
Parchment Paper
Electric Mixer
Medium Bowl
Measuring Cups and Spoons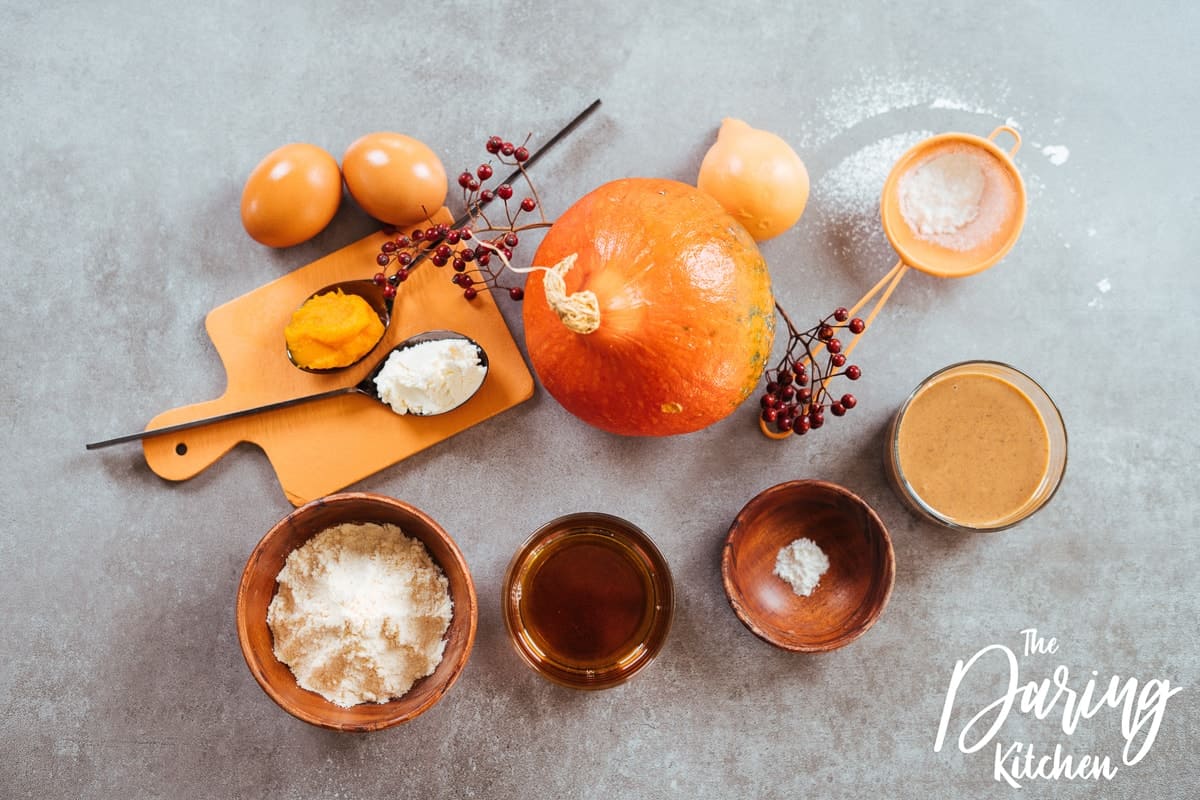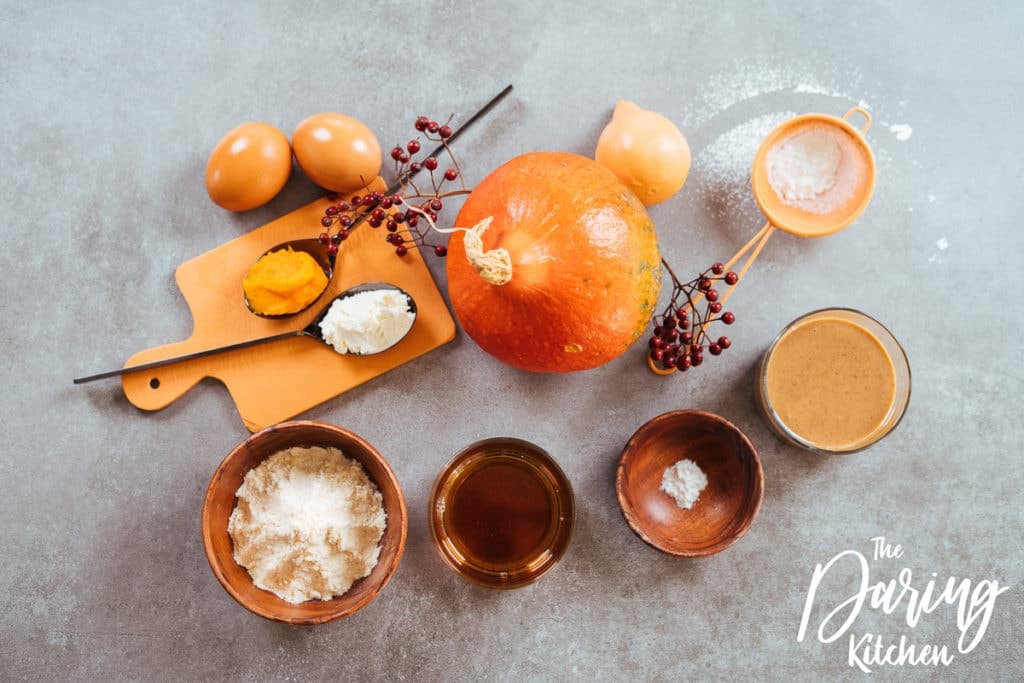 Ingredients
For The Cookies
Coconut Flour- Coconut flour is a gluten-free option and provides a light and fluffy texture to the cookie.
Cashew Paste- Gives the cookie an indulgent, buttery flavor without using actual butter.
Pure Pumpkin Puree- Adds moisture and a fantastic pumpkin flavor to the cookie dough.
Eggs- The eggs help to bind the dough and provide structure.
Maple Syrup- Sweetens the cookie dough without adding any refined sugar.
Baking Soda- Provides lift and helps to create a lightly textured cookie.
Cinnamon- Adds a warming and aromatic note to the dough.
Powdered Sugar- Finishes off each pumpkin whoopie pie and gives them an extra bit of sweetness.
For The Whoopie Pie Filling
Butter- Adds richness and flavor to the cream.
Coconut Cream- Provides an indulgent and creamy texture to the cream.
Maple Syrup- Sweetens the filling
Vanilla Extract- Enhances all the other flavors in the cream.
How To Make Pumpkin Whoopie Pies
First, preheat your oven to 350 degrees F (180 degrees C.) Then, Grab a large mixing bowl, spatula, and 1-2 baking sheets. Line the baking sheets with parchment paper or spray with nonstick cooking spray.
Assemble all your ingredients on the counter, separating your dough and cream-filling ingredients. Make sure you get all the things!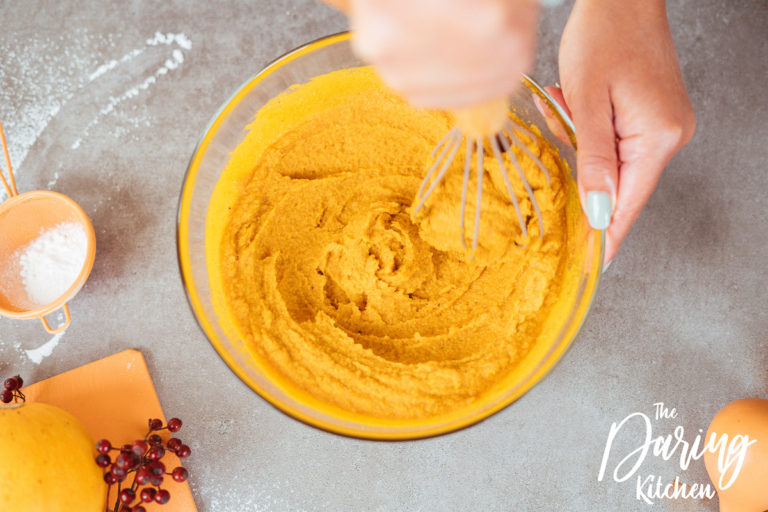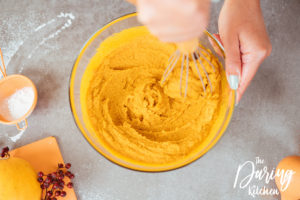 Mix the cookie dough together with the dough ingredients in the large bowl. Do not overmix.
Then, scoop and drop dough on the prepared baking sheets using a cookie dough scooper. Try to make sure you have an even number of scoops to make enough of an even number of pies! Bake for 15-18 minutes until the whoopie pie 'cookies' are cooked through.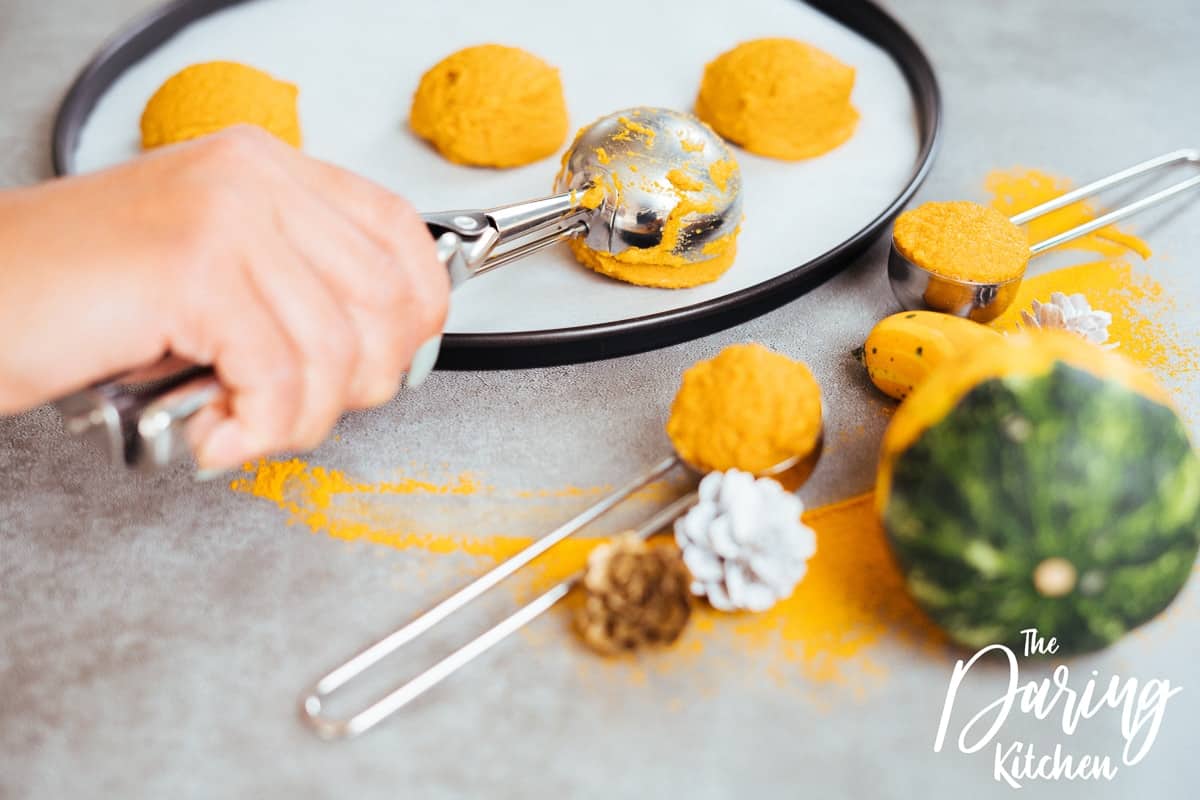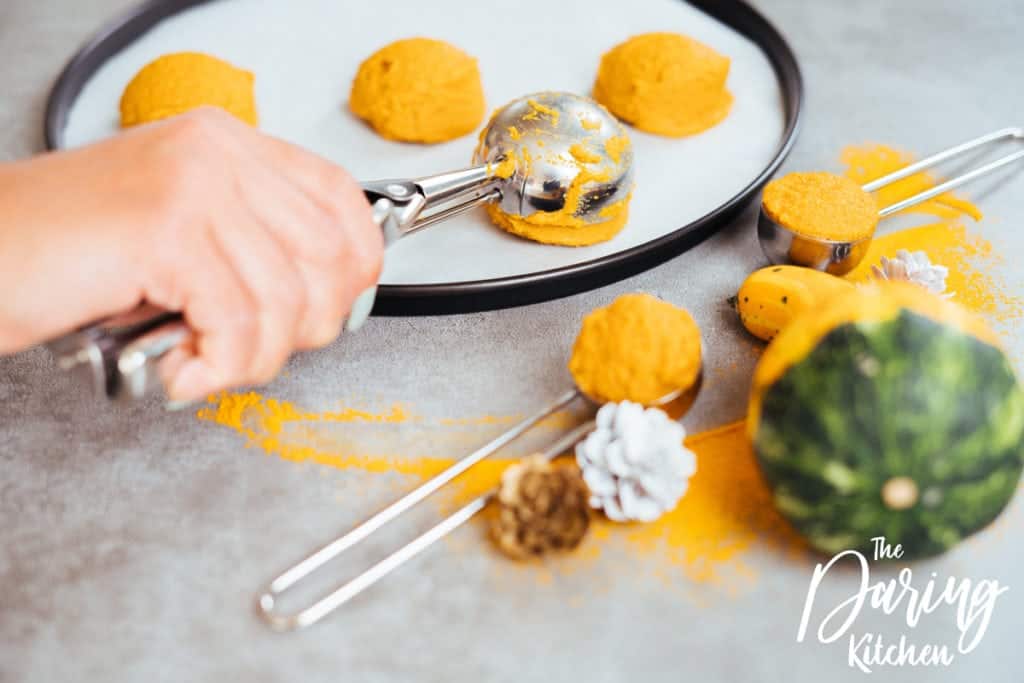 In the meantime, make your cream filling. Grab a hand mixer and another mixing bowl. Add your coconut cream, butter, and maple syrup to the bowl. Gently mix together until it becomes fluffy. Turn down the speed and slowly incorporate the vanilla extract. Then, set aside.
Now, here is the fun part! Once your pumpkin cookies cool, divide them into pairs. Spread even amounts of cream filling on each side of the two cookies. Then, press them together. Once you've filled all your whoopie pies, add powdered sugar for decoration (and some added sweetness!)
Note- Always take your eggs and butter out of the fridge early so they can come to room temperature. This will improve the overall dough for your pumpkin whoopie pies.
Popular Substitutions & Additions
Substitute the cashew paste with almond butter.
Add chocolate chips to the cookie dough for an even more indulgent dessert.
Replace the coconut flour with oat flour or any gluten-free flour if you can't access coconut flour. Baking powder can be used in place of baking soda.
Use vegan butter and an egg substitute to make your whoopie pies dairy-free.
Add a teaspoon of pumpkin pie spice to the cookie dough for extra flavor.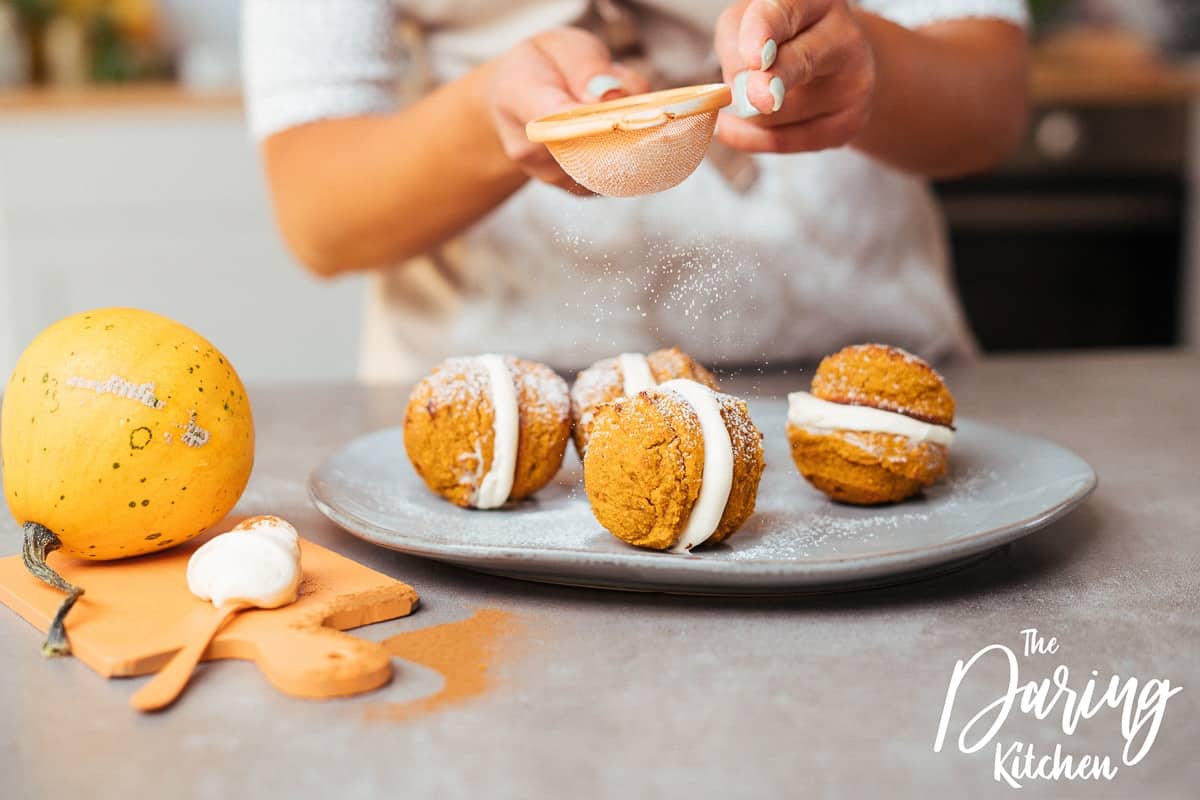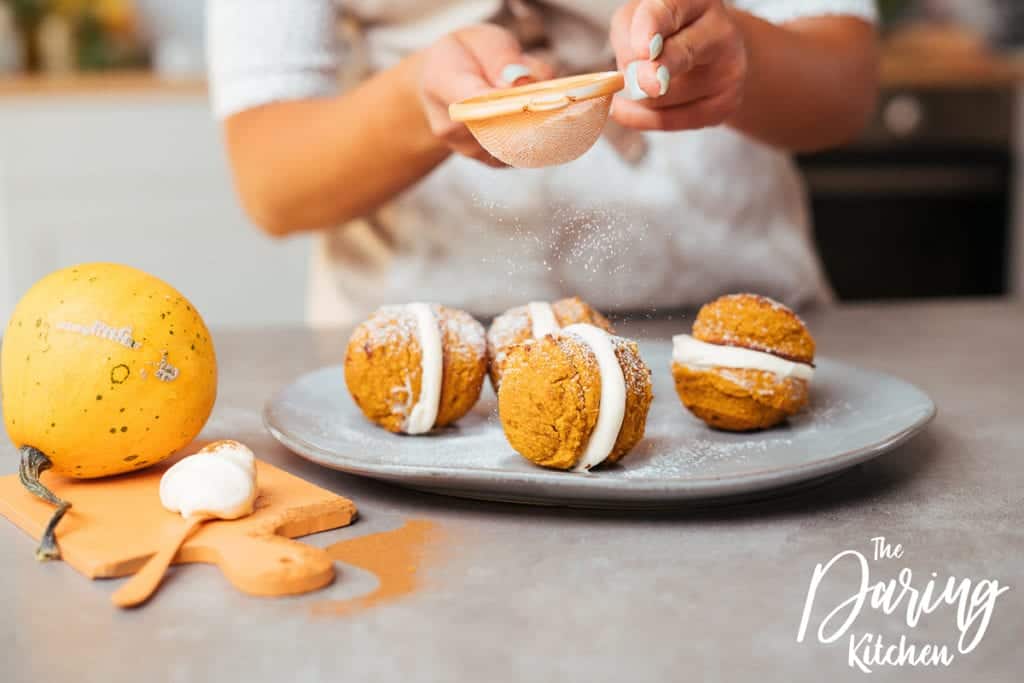 Can I Freeze Pumpkin Whoopie Pies?
Yes! Whoopie pies make a great frozen dessert. Make sure to wrap the individual whoopie pies in plastic wrap before placing them in an airtight container or bag and then pop them into the freezer. To defrost, take them out of the containers and let them thaw at room temperature until they are no longer cold to the touch.
Pumpkin Whoopie Pies Recipe FAQs
What is the best way to store leftover pumpkin whoopie pies?
The best way to store leftover pumpkin whoopie pies is in an airtight container. This will help to ensure that the whoopie pies stay fresh and delicious for as long as possible! They can be stored at room temperature or in the fridge for 3 days.
Can I make whoopie pies without pumpkin puree?
Yes, you can. Replace the pumpkin puree with an equal amount of applesauce or mashed banana. This will give you a delicious and slightly different flavor!
Do I have to have a cookie scoop to make this pumpkin whoopie pie recipe?
No, you don't need a cookie scoop for this recipe. You can use a small ice cream scoop or spoon to portion the cookie dough onto your baking sheets.
Can I use a different type of flour?
Yes! You can substitute coconut flour with oat or almond flour if you don't have coconut flour. Just note that the texture may change slightly.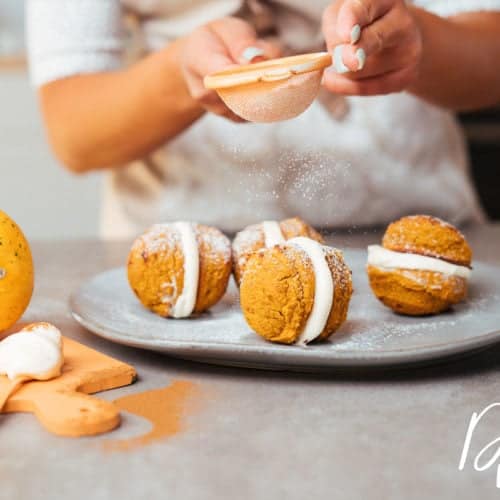 Pumpkin Whoopie Pies
These soft, cake-like pumpkin cookies with a luscious creamy filling are an absolute treat for every occasion. Savor the timeless flavor of Fall in every bite.
Print
Pin
Ingredients
Ingredients for the cookies
½

teacup

Coconut Flour

1

teacup

Cashew Paste

1

teacup

Pumpkin Puree

2

Eggs

⅓

teacup

Maple Syrup

½

tsp

Baking Soda

½

tsp

Cinnamon
Ingredients for the cream
¾

teacup

Butter

3

tbsp

Coconut Cream

½

tsp

Maple Syrup

1

tbsp

Vanilla
Instructions
Mix all the ingredients for the cookies in a bowl.

Shape the biscuits with an ice cream spoon and place on baking paper. Bake at 180 degrees for 15-18 minutes.

Leave to cool completely .

Mix butter, coconut cream, maple syrup and vanilla in a bowl. Beat with a mixer until a homogeneous mixture is obtained.

Coat the bottom of the cookies with cream and stick them to one another.
Nutrition
Calories:
337
kcal
|
Carbohydrates:
10
g
|
Protein:
13
g
|
Fat:
25
g
|
Saturated Fat:
17
g
|
Cholesterol:
327
mg
|
Sodium:
677
mg
|
Potassium:
268
mg
|
Fiber:
2
g
|
Sugar:
4
g
|
Vitamin A:
631
IU
|
Vitamin C:
1
mg
|
Calcium:
49
mg
|
Iron:
3
mg