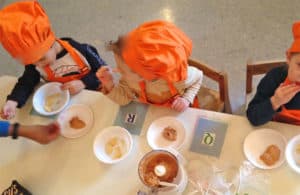 Throughout this past year, my life and my relationship with food have undergone significant changes. My career has shifted from years of being mainly classroom-based, to now taking on a whole new creative direction by teaching both art and cooking. It has been eye-opening, in every aspect.
Food education has become more accessible than ever before. Many of us are now exposed to an abundance of cooking programmes, teaching kitchens, sustainable living and farming education schemes, making it a truly exciting time to spark a young person's interest in food.
Or so I thought.
Despite the great progress we've made, I have to say that from what I've witnessed this past year, I'm struggling to not be disheartened. The direction of food culture is shifting and we need to start asking some serious questions. This became abundantly clear to me years ago when I taught a cooking lesson in a school classroom.
'Spud' you believe it
The young students in the class chose to prepare homemade chicken nuggets and French fries, and, despite it being the recipe of their choice, they had absolutely no idea which vegetable a French fry came from. They knew the origin of the chicken, but what was a French fry made of? The question bewildered them. There was an obvious problem!
Even with our expanding 'foodie' culture, I still find myself unsurprised whenever I discover that many people have never learnt basic cooking skills. With the increasing availability of fresh, local, and organic food, how can it be that preparing food still seems to fall so far down the list of priorities of the so-called food-conscious millennials?
The new foodies
There is so much more to the wonderful world of food and eating than ordering or cooking a meal, taking pictures of it, then plastering it all over social media. This is no way we should approach food.
Mark Bittman commented on this in his column for the New York Times in 2014, "As it stands, many self-described foodies are new-style epicures. There's nothing destructive about watching competitive cooking shows, doing 'anything' to get a table at the trendy restaurant, scouring the web for single-estate farro, or devoting oneself to finding the best food truck. The problem arises when it stops there."
Not long ago, going to a restaurant was something that people would do as a treat, once or twice a month. It's incredible how drastically that concept has changed. I love a good restaurant meal as much as the next person, especially in a vibrant and buzzing city like New York. However, is this the only measure by which we want to assess the state of our food culture? How can it be – when it is only reserved for those privileged enough to afford the lavish lifestyle?
Eat in the moment
So, how is it that we as adults (who should know better) can't get enough of sharing our meals on social media, rather than just enjoying and eating them? It seems that no matter how many photos we post, from bright garden vegetables to oozing chocolate, alongside the #foodporn, we are more obsessed with how many likes we get, rather than the actual experience.
There is a complete irony to what we're doing. After a while, the photos become irrelevant, and we no longer remember the actual meal, simply because we did not enjoy it in the moment. So how can we repurpose our intentions to benefit the 'foodie' culture? To benefit everyone, rather than just a fan base we feel we must maintain?
I attended the Food Revolution Day 2016 celebration in New York City, and witnessed a woman who stood up to express her opinion before the panel: "Food education should not just be in schools, but in the home." This is truly where I feel the importance of learning to cook comes into play. No one has to set out to become the next Thomas Keller or April Bloomfield. However, there is great potential in knowing where your food comes from, and how great it can be to create a dish from scratch.
A shared experience
My mission is to encourage people to see how food, and the arts, can provide a universally shared experience in people's lives, and also uncover individual voices. Chef Jacques Pepin has said of his work with food and as a painter, "both are different expressions of who I am, and both enhance my life considerably." We can offer each other a lot of insight to the common grounds of our lives, through how we manifest our energies in both.
I hope that people will acknowledge more of the emotional experience food can provide, rather than simply chasing 'the perfect shot'. Discovering how art and cooking can have their fair share of frustrations, can lead to a fuller and more rewarding life with food – geared towards the greater good, rather than an ephemeral one that seeks the 'best of' for that moment.
My parents came to New York in 1973 from South Korea and, needless to say, the availability of organic, let alone locally-sourced food was rare. A huge contrast to what we've got going on today. It is pretty amazing the innovative work that New Yorkers are putting into promoting the message that good and diverse food shouldn't be a privilege, but available and affordable to everyone. You get to tell your story through your own food choices, picture or no picture, to prove it.
I think the first step for change is to acknowledge that we actually can and want to make a change. Walking the walk, rather than talking the talk. Our hands aren't just good for holding a smart phones! We need to realise we are the smart devices, not the electronics in our hands. The sooner we embrace that fact, the faster we can shift our relationship with food and each other for the better.
Starting right in your own kitchen.