Have you ever taken a walk through the produce aisle and come across fruits and vegetables you've never seen before? What a great way to get inspired for your next meal or learn something about an exotic fruit or uncommon vegetable you've never tried before!
Rambutans and lychees are two such fruits, which while widespread in some cuisines and areas of the globe, remain undiscovered in others. Whether you have been lucky enough to experience one (or both!) of these amazing fruits or have yet to taste the unique flavors of rambutans and lychees, let this article be your guide to all things rambutan vs. lychee!
What is a Rambutan?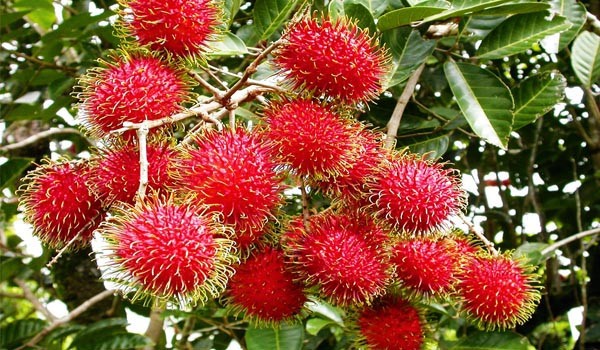 A rambutan is a type of tropical fruit from the rambutan tree, Nephelium lappaceum, on which it grows in bunches. Originally native to tropical southern Asia, the rambutan is now cultivated across the entire region and is a popular food in regions of Indonesia, southern Thailand, Australia, and Central America.
What Does a Rambutan Look Like?
In terms of appearance, rambutan fruits look more like something out of a sci-fi film than they do an edible fruit. Each rambutan fruit is about the size of a golf ball, sporting a dark red outer shell which is covered in stubby strands that resemble coarse hairs. The hairs are not at all spiny, rather they are soft and may be brilliantly colored in shades of neon green, bright orange, or red.
Based on this description, it's unlikely you'll be surprised by the fact that this outer shell is completely inedible–it's what's inside that we're after! Once peeled away, the shell will reveal a pale, almost pearlescent fruit which may be off white to pink in color. This central part of the fruit is what's known as an aril, a term you might recognize from another, more ubiquitous fruit, the pomegranate.
What Does a Rambutan Taste Like?
Rambutan has a creamy texture and a sweet taste with just a touch of tartness. Some people compare the flavor of rambutans to that of another exotic fruit, the dragon fruit, and it can be said to have a similar texture as well.
Where to Buy Rambutans
You can find rambutan fruits in most Asian grocery stores or specialty markets in the produce department. If you are unable to find fresh rambutans, check out the canned goods aisle or do some web searching for online stores! There are many companies which sell rambutans in a can (say that one five times fast) which are often preserved in syrup in a manner similar to canned peaches or pears.
How to Peel Rambutan Fruit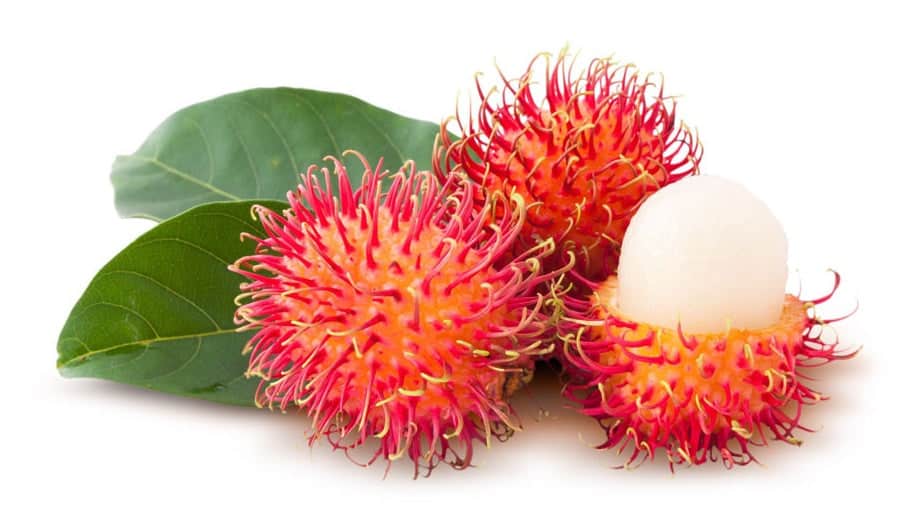 The best way to peel rambutan is to make a cut all the way around the circumference of the deep red outer skin, as if you were following an equator. Be sure not to cut too deeply as you may cut the fruit itself; the idea is simply to cut the outer skin. Once the shell is sliced, the halves should easily pull away from the fruit flesh itself.
Ripe rambutan will be the easiest to peel, with the fruit easily popping free from the shell, while under ripe rambutan may give you a bit of a challenge. You can eat rambutan whole, just be sure to eat around the big seed in the middle!
What is a Lychee Fruit?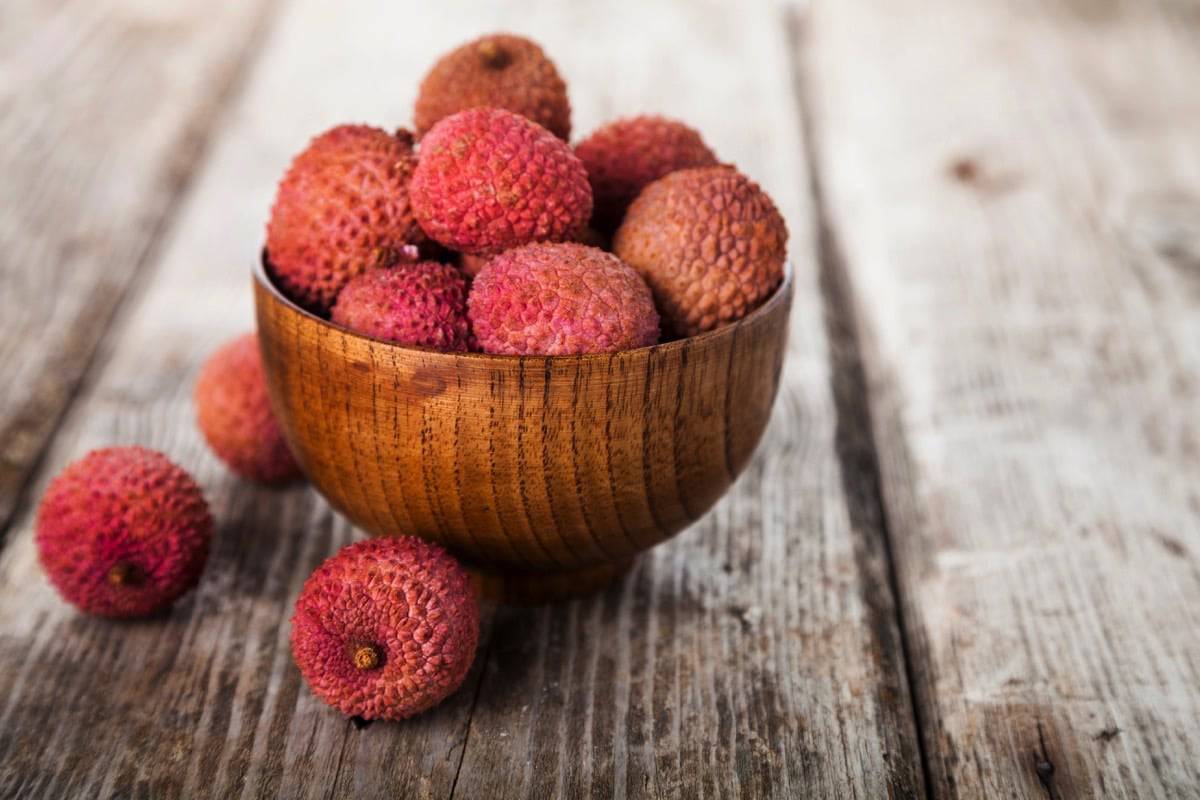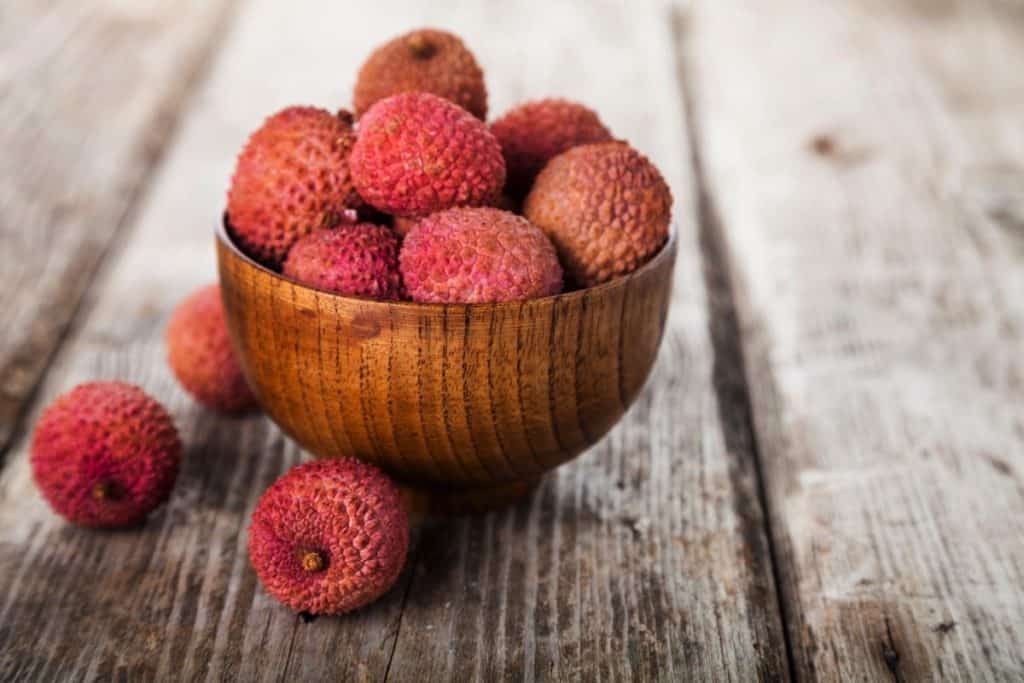 Lychee fruit is the product of yet another tropical tree, the Litchi chinensis. Also called evergreen lychee trees, these trees are native to the subtropical regions of southern China, but their reach has expanded and now they are found across the continent of India. Lychees have even made it all the way across the Pacific Ocean and now they grow in the Hawaiian Islands as well!
What Does a Lychee Look Like?
Similar to a rambutan, the lychee also has a shell which ranges from bright red to muted pink and is also completely inedible, however the texture of this exterior is vastly different.
Rather than being covered in soft spines, lychee fruits have a leathery skin and a very scaly appearance, almost like the texture of a dangerous looking lizard! But once you peel this scary looking shell away, you'll be rewarded with a sweet, pale colored fruit which looks quite similar to a rambutan aril, just smaller in size.
What Does a Lychee Taste Like?
Lychee flesh is less creamy and more crisp than rambutan, and it has a mild sweetness with a highly floral taste. Lychees also have a noticeable lack of acidity as compared to the flavor of rambutans.
Where to Buy Lychees
The lychee is a popular fruit, both in fresh form as well as is made into a wide variety of products. You can likely find fresh lychee fruits alongside rambutans in Asian markets, but sometimes they make an appearance in other grocery stores or produce vendors as well.
The flavor of lychee is used in a wide range of products from lychee juice and syrup to lychee ice cream and candy. Lychees often play a starring role in many cocktails these days, so next time you see a lychee martini on the menu, give it a try!
How to Peel a Lychee Fruit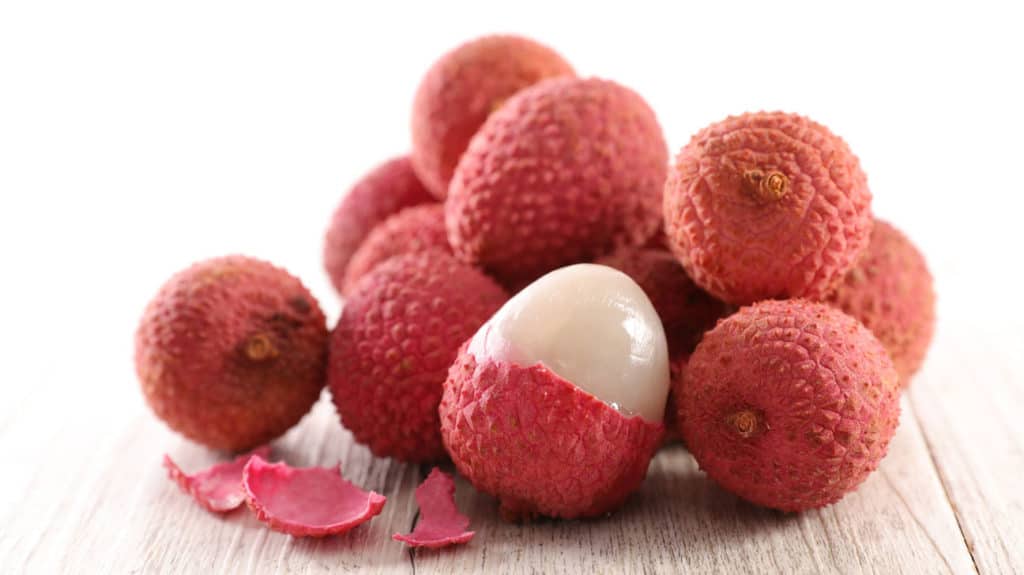 When it comes to peeling, do your best to go with fully ripe lychee fruits. Unlike rambutan, which requires a knife to remove the shell, you can easily peel lychee using your fingers as the skin is much thinner. The skin may come off in several pieces and that's just fine!
Once peeled, slice the fruit in half so that you can then remove the large central seed. These seeds have low levels of toxins which could cause stomach upset and therefore, eating around them, as you can with a rambutan, isn't the best idea.
Rambutan vs. Lychee: Similarities
Rambutans and lychees are both tropical fruits in the botanical family, Sapindaceae, also known as the soapberry family.
Despite their textural differences, both lychee and rambutan have a similarly colored red outer skin.
Once peeled, the two fruits have nearly identical characteristics. They both have a glossy, white flesh which may turn off white to pink in color depending on ripeness.
Both rambutan and lychee fruits have a single, large seed in the center. As is the case with peaches and other fruits with central stones, these seeds may be cling or freestone, depending on the variety.
In terms of health benefits, rambutans and lychees are quite similar as well. They both have a similar nutritional content, with excellent levels of vitamin c and antioxidants, making them both great tools in the healthy immune system arsenal!
Rambutan vs. Lychee: Differences
While sharing a similar color, the texture of the outer skins of these two fruits are quite different. Rambutans are covered in a coating of soft spines, giving them the appearance of messy hair. On the other hand, lychees are overall smoother but have a scaly, slightly bumpy appearance.
Both the unpeeled and peeled fruits differ in size. Rambutans are larger, about the size of golf balls while lychees are smaller, about the size of cherries or large grapes.
Once peeled, rambutans and lychees have a similar appearance, but are quite different when it comes to texture. Rambutans have a creamier texture while lychees are more crisp and juicy.
These two fruits are also quite different in terms of taste. Rambutans are sweet with a hint of tartness and have a creamier taste than lychees. Lychee fruits are less sweet, much more fragrant, and have floral notes throughout.
Rambutan vs. Lychee: The Takeaway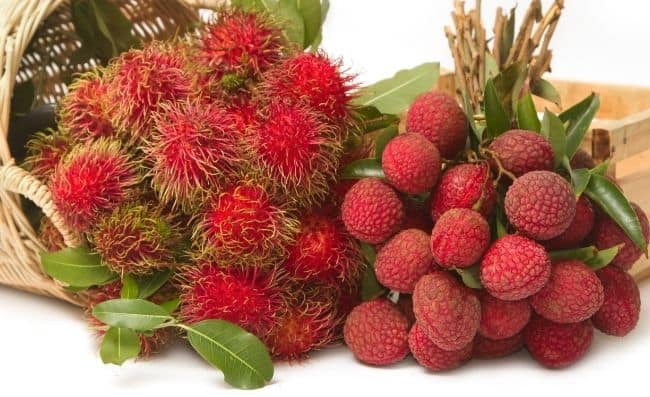 Next time you encounter one of these funny looking fruits, you'll know exactly what's hiding under their bright red and funnily textured exteriors! In order to have the best understanding of rambutans and lychees, it would be ideal to try them side by side. This would really allow you to experience the differences in size, texture, and flavor between the two fruits as well as make note of how they are alike as well.
If you have trouble finding the fresh versions of rambutans or lychees, get to googling and find the best source for shelf-stable canned versions, or products which are flavored by these fruits. After all, there's more than one way to eat lychee and rambutan fruits!