Range hoods or exhaust hoods are mechanical fans built above the stove. In essence, its main function is to suction smoke outside and into the open. Some models have filters that capture tiny airborne particles. In comparison, some other range hoods replace polluted air with clean air to improve indoor air quality.
Installing a range hood is a necessity. This is especially true if you live in small apartments with limited space. Cooking inside will not only spread the stench of whatever food you are making, but it will also distribute carbon monoxide, allergens, and heat. All of this can make your home stuffy and unhealthy. So, we have compiled the best range hoods for clearing and cleaning kitchen air.
The Best Range Hoods
There are five common types of range hoods: the under-cabinet, wall-mounted, kitchen island hood, cabinet insert, and downdraft. But what is the best range hood for your kitchen? Here are our examples, along with the top brands with their unique features.
Best Range Hoods-Under-Cabinet
As the name implies, under-cabinet range hoods are vents installed under the cabinet. This is the most common type and the best range hoods for the modern kitchen. Most of them employ cabinets that are necessary for organizing kitchen arsenals. The under-cabinet range hood types are either ducted or ductless. The ducted type connects to a pipe and directly releases smoke and particles outside of the kitchen, whereas the ductless model only needs an air filter. It sucks in dirty air and cleans it with the carbon filter. Then it releases the air back into the kitchen in its healthy form.
1. BV Range Hood - 30 Inch UnderCab Kitchen Range Hoods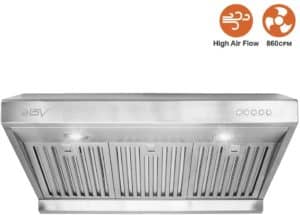 CFM, or Cubic Feet per Minute, is the amount of air that the hood can vent on full power. The higher the CFM, the more air that it can release. However, CFM is not the only basis when installing your range hood - the type and size of the cooking range matters too. Check out your manufacturer for the recommended CFM of your cooking range.
The BV range hood has a dual motor with 750 CFM airflow. It has a stainless steel design with 18 gauges. Stainless steel is the best material for range hoods in contemporary kitchens. They not only add to the kitchen aesthetics, but they are also easy to clean. BV range hoods have 430 stainless steel baffle filters. Baffle filters are like wire meshes that trap soot and grease. But unlike wire mesh, they are not prone to clogging. They are easier to clean and durable enough to withstand heat.
Key Features:
750 CFM powerful airflow
30-inch
Electric
174 watts
120 V
70 dB noise
With LED lights for extra lighting
Stainless Steel baffle filter
Stainless steel finish
2. Cosmo 5MU30 30 in. Under Cabinet Range Hood 

Even if you live in a small apartment or a condo, you should not compromise your indoor air quality. For a price below a hundred bucks, you can invest in an affordable yet reliable range hood like the Cosmo 5MU30. Cosmo has a range of products that fit all your range hood needs.
For example, the 5MU30 under-cabinet vent is a ducted range hood. It is convertible to ductless type using the CFK4 Conversion Kit. This is one of the best range hoods because it is versatile. It is suitable for either back or top venting. You can also install this under the cabinet or against the wall.
One of the best things about Cosmo is its lower noise operation. At 56 decibels, you can still go on with your work without interruption. Yet, that is already 3-speed motors in operation. It also has multi-layer reusable aluminum filters that are more effective in trapping grease and smoke.
Key Features:
200 CFM
30-inch
Aluminum mesh filters
120 V
146 watts
56 decibels
Brushed stainless steel finish
With LED lighting
3. Hauslane | Chef Series Range Hood C395  

Not everyone loves the idea of cleaning, especially when it comes to the dirtiest and messiest kitchen equipment. Surely if you could hire a cleaner, we bet you would. However, Hauslane makes life a bit easier for you with the best range hoods with an auto-clean function. This self-cleaning range hood has a built-in internal water system that operates at the touch of a button. And you won't even need a water line for it!
On the other hand, it has two powerful motors that provide quiet but powerful ventilation. It has an approximately 1.5 to 3.5 Sones noise level. A Sone is a fan noise that is equal to 40 decibels. Moreover, it has six variable speed settings from a quiet operation up to a powerful suction.
Key Features: 
30-inch
120 V
180 watts
1.5 to 3.5 Sones
Stainless steel finish
With 40w incandescent bulb
Self-cleaning
6-speed settings
4. Broan-NuTone F403004 Convertible Range Hood 

Broan-NuTone has the lineup of the best range hoods on the market. This innovative F403004 has 4-way convertibility so you can still use it for various applications. You can install this horizontally, vertically, 7-inch round, or non-ducted. You can decidedly buy the Broan 41F Ductfree Filter if you want it to go ductless. Furthermore, you may also buy a 75-watt incandescent lamp for the ready socket to provide effective lighting.
This stainless steel range hood has an aluminum mesh filter. This filter is dishwasher safe for convenient cleaning. Further, the fan and the light have a separate rocker switch for an added handiness.
Key Features:
30 inch
120 V
300 watts
6.5 Sones
Stainless steel finish
With socket for 75w incandescent (sold separately)
4-way convertible
Best Range Hoods- Wall Mounted
Wall-mounted range hoods or chimneys are some of the more common types of kitchen vent. These types don't usually have anything mounted on them. They accentuate the space above your cooking range. They also come in different hood styles to match your kitchen design. Examples are the pyramid and tapered pyramid range hoods, for instance. Sometimes they may also function as under-cabinet range hoods.
5. CAVALIERE SV218B2 Range Hood Wall Mounted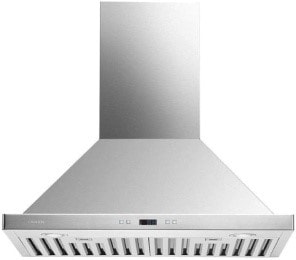 This range hood from Cavaliere has powerful 900 CFM ventilation that will not only fan the heat of the kitchen but also improve the indoor quality. In addition, it removes allergens to give you that literal breath of fresh air. This is ideal and one of the best range hoods even for heavy-duty cooking.
Cavaliere operates with a centrifugal blower. Unlike fans which have blades, it does not circulate air in every direction. Instead, it pushes the air to a specific direction using an impeller. It can produce more airflow than range hoods with fans.
When it comes to noise, this unit is adjustable. Its noise level ranges from 32 to 72 decibels depending on the speed setting. It also has six-speed settings that you can access from its touch-sensitive control panel.
Key Features:
900 CFM
30-inch
32 to 72 decibels
6-speed settings
110 V
218 watts
LED lighting
Brush Stainless Steel
Stainless Steel baffle filters
6. Cosmo COS-668WRC75 Wall Mount Range Hood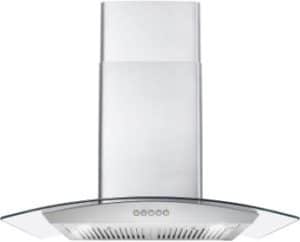 This ducted chimney from Cosmo has its signature Arc-Flow stainless steel permanent filters. These durable filters do not require replacement since they can withstand washing. The filters are good for unlimited uses, making them more cost-efficient. Moreover, what sets this chimney apart from other best range hoods is its modern design. It has a brushed stainless steel finish as well as a curved tempered-glass hood. This unit will surely make a stark addition to your kitchen's interior.
This range hood also produces 380 CFM for an efficient air-flow. Furthermore, it has a digital push-button control panel where you can adjust the settings. These settings include power control, lights, and 3-fan speeds.
Key features:
380 CFM
30-inch
120 V, three-prong plug
180 watts
65 dB
Arc-Flow permanent filter
3-speed
2-watt LED lights
7. CIARRA CAS75206P Wall Mount Range Hood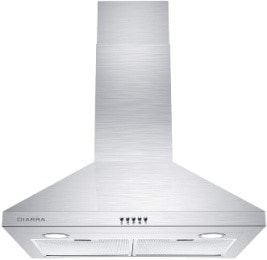 This 30-inch wall mount range hood from Ciarra has a maximum airflow of 450 CFM. Thus, it is perfect for burners with up to 45,000 total BTU. It is made from premium grade stainless steel, making it durable and long-lasting. This wall-mount range hood also has aluminum filters that are washable and economical.
Although these filters are dishwasher safe, we do not recommend doing so. These materials are not as durable as stainless steel since they are less ductile. They are prone to damage. Often, washing them with hands using vinegar and baking soda is the secret recipe.
Ciarra is a two-way chimney that can work as ducted or ductless. This pyramid-style range hood has two adjustable sections for fitting into the ceiling. Underneath the vent hood is the straightforward button control for setting the speed and light. There are also three-speed settings for this model.
The low speed is best for cooking that does not as much produce steam. The medium speed will cater to standard cooking, while the high speed is ideal for cooking with smokes and steams.
Key Features:
450 CFM
30-inch
65 dB
Aluminum filter
With LED light
3-speed
Best Range Hoods - Island Mount
If you have a larger kitchen space, installing a kitchen island for your cooking range is a great idea. It provides you with a more flexible and spacious cooking area without the hassle of walls and counters. The best range hoods do not only fan out polluted air. They also add a dramatic and bold statement to a kitchen island. Island Mount range hoods are decorative chimneys for these purposes.
1. Winflo 30 In. 520 Island Range Hood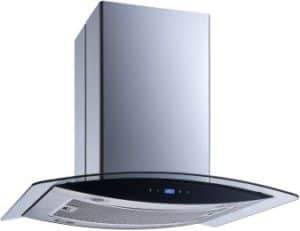 Installing a kitchen island chimney is a bit tricky. You need to adjust it with your ceiling and take care of the wirings. Your handyman can take care of that for you. But your concern is if its length will suffice. Winflo takes the worry off with this adjustable, telescopic, and best range hood. It will fit perfectly fine with ceilings 8 to 9 ft in height. If you need anything longer than that, you can buy the Winflo Chimney Extension to reach about 11 ft of ceiling height.
Winflo has a sleek and stylish design that will surely boost your kitchen island. It is made of stainless steel with a glass hood for that classy vibe. It also has an aluminum mesh filter as well as a unique curve panel. Moreover, the capacitive touch control has a sleek black readout screen. Each corner of the hood also has a soft white LED light for added functionality and design.
Key Features:
520 CFM
110 V
218 watts
54 dB
3-speed fan
4 LED lights
Adjustable and telescoping
Unique design
2. AKDY Embossed Copper Island Mount Range Hood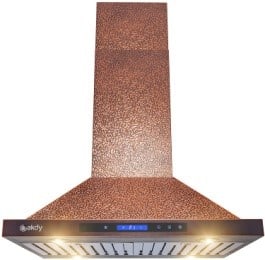 A rustic kitchen setup will not have to sacrifice its theme with this range hood from AKDY. The pyramid style chimney has a mild steel body embossed with copper! Aside from its vintage look, it also capable of a powerful performance. It has a metal sirocco fan blade that is excellent in isolating fumes and smoke. This sirocco is a system that is responsible for the quiet motor and surging power. In addition, it has a 4-speed fan for various cooking needs.
AKDY combines both the vintage and modern design with its black copper edging. This holds the touch control panel with a blue backlit screen. It has an auto-timer and delayed shut off from 1 to 15 minutes. It is also cost and energy-efficient as it is elegant and beautiful.
Key Features:
350 CFM
30-inch
4-speed fan
Touch control panel
4 LED lights
Auto-timer and delayed shut-off
Double layer baffle filter in stainless steel
With copper emboss
3. AKDY 30" Island Mount Black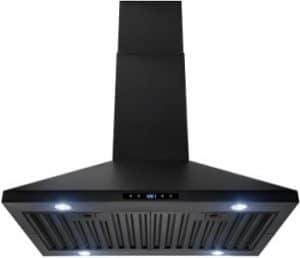 If you want something bolder for your kitchen, then consider this black island mount range hood. AKDY's 30-inch island kitchen mount has a black stainless steel finish. This color scheme is best for a kitchen with clinical white or gray colors. It creates a contrast that boosts the environment of your kitchen. Also, it is the best color for hiding smudges, especially if you are not very keen on frequent cleaning.
This kitchen island hood is also functional. It has about 335 CFM airflow for efficient ventilation. The capacitive front panel features four fan speed setting four corner lights. And for added versatility, it also features a 12-hour clock! No wonder why it makes a high rank on our list of the best range hoods!
Key features:
335 CFM
30-inch
120 V
198 watts
65 dB
4 LED lights
Touch control panel
Black Stainless Steel Finish
Stainless steel baffle filter in black
Cabinet Insert Range Hoods
Cabinet inserts are similar to under cabinet range hoods. The only difference is, they don't have the frame or hood. You can just install them under your cabinetry or customize a hood for it. Cabinet inserts are more versatile. If you want to get creative and stylish, you can create the best range hoods out of it. However, this can get a bit expensive if you do. In some homes that do not have cabinets, this can also be installed by the ceiling.
1. KOBE Range Hoods INX2936SQBF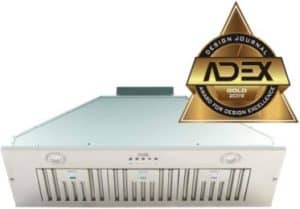 The Kobe cabinet insert range hood is designed to fit the bottom of any cabinet. It is made from commercial grade stainless steel for that durable yet stylish satin finish. It has a 550 CFM maximum airflow that's ideal for everyday stove work. The mechanical button features the three-speed fan for quiet mode, low and high. There are two 3-watt LED lights installed by the front panel for proper illumination of the cooktop.
Kobe also includes both an aluminum mesh and baffle filters for added filtering efficiency. This product has a design and quality excellence award as proof of durable and superior performance.
Key features:
550 CFM
36-inch
120 V
2.0 Sones
2 LED lights
Stainless steel satin finish
3-speed
Mechanical button
2. Broan-NuTone Power Pack Range Hood Insert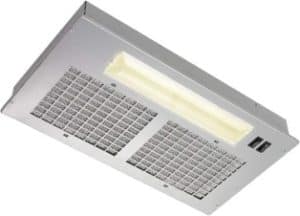 Broan's power pack is a safe and efficient hood insert for your cooking range. It has a two-speed motor for its ducted or ductless discharge. You can wire this on a wall switch for conveniently switching on or off of the appliance. This makes it more versatile and ADA (American with Disabilities Act) compliant.
This cabinet insert range hood uses an aluminum mesh filter for that optimum grease trapping and convenient cleaning. It also has a reserved space for a 40-watt incandescent for lighting your cooktops.
This model fits hood liners or cases like the Broan  LB30, LB36, LT30, and LT36. These liners will serve as a box to protect your custom cabinetry.
Key Features:
250 CFM
120 V
8.0 Sones
2-speed fans
Aluminum mesh filter
Durable steel with silver finish
Downdraft Ventilation System
If an overhead vent is not available in your home, you should still not sacrifice your indoor air quality; you can accomplish this with the use of the Downdraft range hood as an alternative. These types are often incorporated into the cooktop or near the burners. They work by sucking in smoke and fumes through the duct. However, they are not as effective as the other range hood systems. But it is a last resort if an overhead vent is impossible.
3. Broan Elite Rangemaster RMDD3004 Downdraft Vent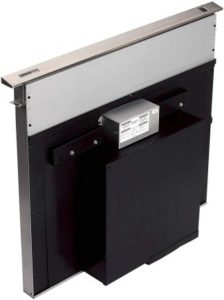 Downdraft systems may not be the best range hoods of all time, but one of its stand-out features is its ability to become unobtrusive and discreet. Like this compact and slim downdraft vent from Broan, it rises and disappears into the cooktop surface with a touch of a button. It has variable speeds that are adjustable from a slide control.
You can infinitely adjust the fan speed according to your choices. Additionally, it has a Heat SentryTrade that automatically adjusts the blower speed once it detects excessive heat making it one of the best range hoods in this category.
Broan's downdraft has 500 CFM interior blowers. Also, it has a brushed stainless steel filter for efficient filtering yet convenient cleaning.
Key features:
500 CFM
30-inch
120 V
Heat Sentrytrade
Stainless steel filters
Stainless steel finish
4. FOTILE JQG7522 Unique Side-Draft Design Range Hood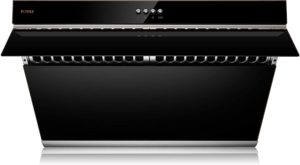 Fotile has a side-draft filtration with an open baffle plate. This baffle plate is excellent in improving airflow for up to 6 sq. ft. It has a dual-motor with three different speed settings. Best of all, Fotile has a memory function that keeps and suggests your air volume preference for next time.
This unit is also easy to maintain. It has a special impeller that separates grease and smoke. The grease is deposited into a tray, making it easier to remove and clean. At 58 dB or 2.64 Sones of noise level, it is good enough even for small apartments. This side-draft can also be used for under-cabinet or wall mount if you want.
Key Features:
30-inch
120 V
58 dB
3-speed settings
Speed memory function
Onyx Black tempered glass finish
Range hoods are excellent appliances in fanning heat and fumes off the kitchen. And most of all, they remove harmful and toxic pollutants from inside the home. Range hoods also cut down on the amount of carbon monoxide to create a cleaner and fresher environment. Range hoods are just one necessity that you should not overlook, no matter how big or small your home is.
Furthermore, in the real estate market, range hoods have something to do with increasing your home's value. Undoubtedly, range hoods are worth your investment if you want to increase your assets and bring comfort to your lifestyle.