Ravioli With Asparagus And Walnuts- Freshly cut asparagus stalks are sauteed in a fragrant lemon and butter sauce until tender. The asparagus and butter sauce is then tossed with cooked ravioli and topped with crushed walnuts for a satisfying crunch. Finish off the dish with grated parmesan cheese and a sprinkle of parsley for a meal so good that you'll be dreaming about it for days. 
Ravioli are small pieces of dough filled with various fillings, such as meat, vegetables, and cheese, then served with a delectable sauce. Mario Batali once said, "Ravioli are essentially little pillows of dough stuffed with anything your imagination desires." He's correct! Ravioli is one of the most adored and versatile dishes around.
Ravioli with asparagus and walnuts is a culinary masterpiece! These delicate ravioli go wonderfully with the fresh asparagus and crunchy walnuts for just the right amount of texture. The fresh ravioli is tossed in melted butter and lemon sauce; the various flavor pairings are guaranteed to satisfy your taste buds.
Why You'll Love These Raviolis With Sauteed Asparagus And Walnuts
Easy To Find Ingredients-

No trips to specialty stores are required for this recipe! The majority of the ingredients you probably already have at home or are readily available at a local supermarket.

Looks Fancy-

This dish has the looks of something you would order at an expensive Italian restaurant but with the price tag of a homemade meal.

Fresh-

Using fresh ingredients always make meals taste far more superior to frozen or premade foods, and this dish is no different. Adding fresh asparagus to this recipe makes the dish pop.

Simple To Make-

Don't let the pictures of the final product intimidate you; this ravioli with sauteed asparagus and walnuts is incredibly easy to make, and you won't spend all day in the kitchen trying to prepare it either!

Delicious-

Ravioli, asparagus, and walnuts pair together wonderfully, making for a dish worthy of drooling over. 
Equipment Needed To Make Ravioli With Sauteed Asparagus
Stove

Knife

Cheese Grater

Skillet

Medium Pot

Strainer

Measuring Spoons

Measuring Cups

Ingredients For This Ravioli And Asparagus With Walnuts Recipe
Asparagus

Lime

Water

Butter

Pepper

Ravioli

Walnuts

Parmesan

Parsley
How To Make Ravioli With Sauteed Asparagus 
To make ravioli with sautéed asparagus and walnuts, start by sautéing freshly cut asparagus in butter and lime juice. Boil the ravioli in salted water in a separate pot. Drain and toss with sautéed asparagus and lime and butter sauce. Top with crushed walnuts and grated parmesan. Serve and enjoy!
What to Serve/Pair with Your Raviolis With Asparagus And Walnuts
If you're looking for something a little more exciting than the Italian bread or side salads that are typically served with ravioli, give this Grilled Zucchini Salad or Parmesan Roasted Cauliflower a try. They're both fantastic ways to add more veggies to your diet while still tasting delicious!
For dessert, you'll want something sweet but not overly rich. This Apple Galette and Pan-Fried Cinnamon Bananas are both perfect options to satisfy your after-dinner sweet tooth while not being too heavy after a pasta dish.

Popular Substitutions & Additions
There are endless ways to make this recipe your own! 
Ravioli-

Ravioli comes in different sizes and with various fillings such as cheese, beef, spinach, and mushroom. Any combination of these would taste excellent with sauteed asparagus and walnuts.

Asparagus-

If you aren't a fan of asparagus or you want to change things up a little, try using sauteed green beans, zucchini, or even broccoli.

Lemon juice-

Try swapping lemon juice out for lime juice or use a combination of the two.  We prefer lemon but used lime in the recipe because it was in season locally.

Walnuts-

Pecans, almonds, cashews, or peanuts can take the place of walnuts in this recipe. Try adding a little salt and toasting them to add extra flavor.
How To Reheat & Store Ravioli With Sauteed Asparagus And Walnuts
Best Way To Store Ravioli With Asparagus?
In the refrigerator, ravioli is best kept in a shallow airtight container. To keep the pasta from becoming soggy, make sure it's completely cooled off before putting it away.
How Long Will Ravioli With Sauteed Asparagus And Walnuts Last In The Fridge?
If stored properly in an airtight container, ravioli will last up to 5 days in the refrigerator.
Can I Freeze Ravioli With Asparagus And Walnuts?
Yes. Ravioli with asparagus and walnuts leftovers can be frozen. Place leftovers in a shallow airtight container and freeze for up to 3 months.
How To Reheat Ravioli?
Leftover ravioli that has been refrigerated can be warmed in the microwave for roughly 2 minutes. Frozen ravioli may be thawed overnight in the refrigerator and reheated in a microwave or, if reheating from frozen, will take 5-6 minutes in the microwave.

Ravioli With Sauteed Asparagus and Walnuts FAQs
Can I use homemade ravioli for this recipe?
Of course! Homemade ravioli would make this recipe even fresher; however, premade ravioli is just as good and less time-consuming.
Is there a specific type of asparagus that works best?
Long, thin asparagus is the best option for this dish. Thicker asparagus can be tough to chew and it takes longer to cook.
Can I add extra butter to make a more buttery sauce?
Yes, you can add a little more butter if you like; I don't recommend using much more than 1 tbsp. Too much butter will overpower the citrus flavor of the sauce.
Will tortellini also work in place of ravioli?
Yes! If you don't have ravioli but do have tortellini, it will also work in this dish. In fact, it's a great way to change this recipe up a little bit.
Can I roast the asparagus instead of sauteeing it?
Yes, roasted asparagus will slightly change the meal's flavor but will still taste fantastic. 

Other Dinner Recipes You'll Love!
Mexican Quinoa Stuffed Sweet Potatoes
French Onion Soup With Puff Pastry Top
Don't Forget To Come Back And Let Me Know How Your Ravioli With Sauteed Asparagus And Walnuts Turned Out!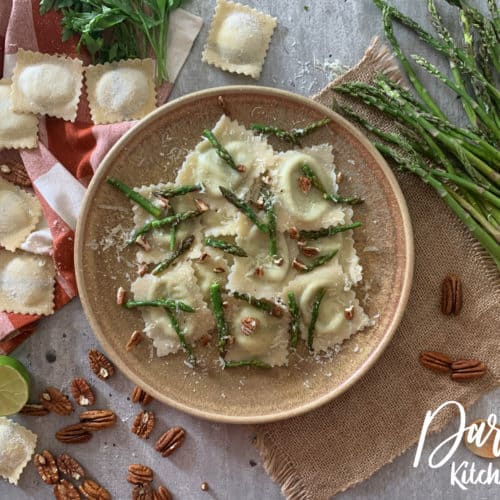 Ravioli with Sautéed Asparagus and Walnuts
Fresh asparagus sauteed in a fragrant lemon and butter sauce tossed with ravioli and topped with parmesan cheese and crushed walnuts for a satisfying crunch.
Print
Pin
Rate
Ingredients
1

lb

asparagus

½

lime juice

2

cups

water

2

tbsp

butter

½

tsp

pepper

8

oz

ravioli

fresh

¼

cup

walnut pieces

2

tbsp

parmesan

grated

parsley
Instructions
Saute' asparagus in butter for 3 minutes.

Boil ravioli in a pot with hot, salted boiling water according to package instructions.

Strain the ravioli and toss with asparagus and lime butter sauce.

Add the crushed walnuts and the grated parmesan cheese.
Nutrition
Calories:
321
kcal
|
Carbohydrates:
29
g
|
Protein:
13
g
|
Fat:
18
g
|
Saturated Fat:
7
g
|
Polyunsaturated Fat:
4
g
|
Monounsaturated Fat:
2
g
|
Trans Fat:
1
g
|
Cholesterol:
47
mg
|
Sodium:
443
mg
|
Potassium:
273
mg
|
Fiber:
5
g
|
Sugar:
4
g
|
Vitamin A:
1056
IU
|
Vitamin C:
8
mg
|
Calcium:
82
mg
|
Iron:
9
mg