Raw, Whole and Healthy 'Cheesecakes'
Hi! I'm Susan from The Kiwi Cook. I'm a born and bred New Zealander (as you can guess from my blog name!) and this is my first hosting experience for The Daring Kitchen (which is being run concurrently with another challenge for The Daring Bakers).
The theme of the challenges I am presenting this month is 'whole and healthy'. This theme is a very personal one to me – my whole adult life I've battled with health issues (not too bad thankfully) which have ultimately related back to my food choices. From food allergies and thyroid issues; from back problems and weight gain, I've had to become a food detective to figure out what's at the source of my health issues.
With all the research I've done, I started to become aware of a real shift in food awareness happening 'out there', much of which has been brought about by people who, like me, have been forced to eat differently for the sake of their health. This shift moves beyond simply eliminating or reducing 'unhealthy' ingredients from one's diet, and focuses instead on choosing foods that are inherently healthy and eating them in their raw, or 'whole', state in order to retain their vitamins, minerals and enzymes.
More and more I was seeing blogs and books dedicated to this way of eating and curiosity led me to try some of the recipes. In particular, I was intrigued (not to mention sceptical!) by the idea that desserts and treats could actually be both healthy and delicious. Well, having tried several such recipes now I can happily report that it is indeed possible.
And on that note, I'd like to introduce you to this month's challenge – creating raw, healthy and wholesome individual 'cheesecakes'. No, it's not cheesecake as you may be used to eating it, but it is nourishing and absolutely delicious in its own right and a wonderful substitute for those who have to, or choose to, avoid gluten and dairy. I reckon, even if you don't have any such dietary requirements, it might be interesting just to give it a try and see what you think!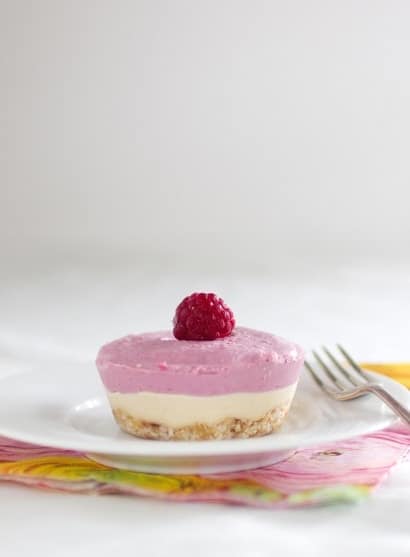 If you're new to this style of cheesecake, I can highly recommend this Vanilla & Raspberry Cheesecake recipe. I tried it on my 'absolutely not into health-foods' family and they all loved it. It's got a delicious chewy base and a lovely creamy vanilla and raspberry layered filling. And, it's all made with raw, nutritious ingredients.
If you're not fussed on the raspberry layer, swap it for any other fruit you prefer. Or make it a chocolate layer by adding in some raw cacao or high quality cocoa powder. Otherwise, you can just make vanilla cheesecakes (using the same recipe without the raspberries) and then swirl a raw fruit, chocolate or caramel sauce over the top (here's what they look like – if you're keen to try them, I've included the Caramel Date Sauce recipe below).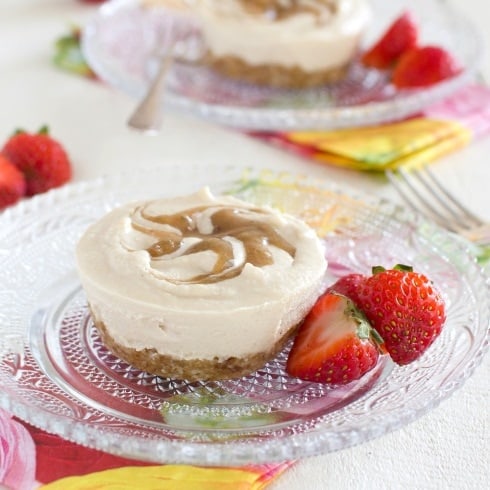 These are just two of many raw cheesecake possibilities out there in the blogging world. If you'd like to try something a bit different, feel free to go ahead and search out your own. I've included a bunch of links you might like to start with.
The particular recipe I chose (and slightly adapted) makes enough for 6 deep muffin-sized mini-cheesecakes. I thought this would be a good idea so that, should you not be overly fussed on the result, the ingredient wastage is kept to a minimum! However, if you're gung-ho to try a full sized cheesecake you can double or even triple the recipe and use an 8 or 9 inch (20 or 23 cm) spring-form pan.
Recipe Source: www.mynewroots.org (for Vanilla & Raspberry Cheesecakes) and www.bakingbackwards.blogspot.co.nz (for Date Caramel Sauce)
You can find the challenge PDF here
Notes:
The original recipe makes one full-sized cheesecake in a 7 inch (18cm) pan. As this is not a standard sized pan, I suggest that if you want to make a cheesecake in a standard 8 or 9 inch (20 or 23cm) pan, that you at least double, if not triple, the recipe.
If using a muffin pan, you can line the holes with strips of baking paper to help lever the cheesecakes out if you wish. Otherwise, I found it easier to simply slide a warmed knife around the outside of the cheesecakes and pop them out.
Adding a teaspoon of savoury yeast flakes (nutritional yeast) to your filling mixture adds a 'cheesy' taste as to your cheesecakes.
You need a powerful food processor or blender for mixing a smooth, creamy filling – a Vita-Mix or Nutri-bullet, or similar, is ideal.
When working with ingredients like nuts, dates and raspberries, there's always going to be a little variance in the resulting mixture, depending upon how dry or moist the ingredients are. I've made this recipe several times now and each time the mixture was a little different – either wetter, thicker, or more textured, etc. The key then is to adjust intuitively – for instance, adding a touch more coconut oil or water for more moisture, adding more nuts or dates to increase thickness, etc.
It's best if you remove the cakes while they're still frozen, rather than waiting until they soften or they may fall apart.
The recipe suggests you take the cheesecakes out of the freezer at least 30 minutes before serving. Personally, I found the cheesecakes were still a little frozen, so I suggest transferring the mini-cheesecakes from the freezer to the fridge about 2 hours before serving, then sit them at room temperature for about 30 minutes. This allows them to become creamier and softer, while still retaining a nice chill. Ensuring they have enough defrosting time is particularly important if you're making a large cheesecake. If you find the cheesecakes get too soft at room temperature, simply put them back into the fridge or freezer to firm up a little before eating.
Preparation time:
Preparation – about 30-45 minutes.
Freezing time – at least two hours.
Thawing time – at least 30 minutes.
Equipment needed:
Measuring cups and spoons
6-12 hole muffin pan (or similar style pan) or 8-9 inch (20-23 cm) spring-form cake pan
Optional: Baking paper (to make pull-out tabs for muffin pans)
High powered food processor and/or blender
Small saucepan or fry-pan
Dessertspoon
Spatula
Toothpick or skewer (for Caramel Swirl topping)
RECIPE 1: RAW VANILLA & RASPBERRY CHEESECAKES
Serves approx. 6-8 mini-cheesecakes (double or triple the recipe if you want a full-sized cheesecake)
Ingredients:
For the base: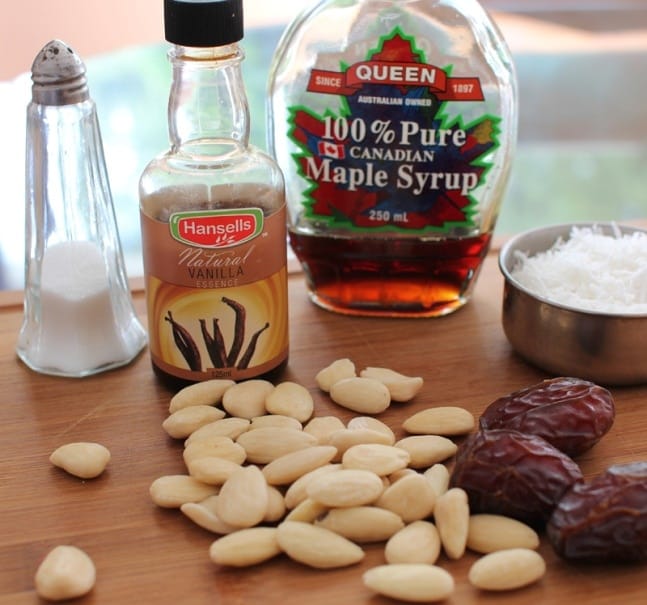 1/2 cup (120ml) (85 gm) (3 oz) raw almonds, either with skins on or blanched (pecans or walnuts will also work)
Optional: 1/2 cup (120 ml) (38 gm) (1.3 oz) flaked or shredded coconut
1/2 cup (120 ml) (77 gm) (2.7 oz) soft pitted Medjool dates
1/4 teaspoon sea salt
1 teaspoon (5ml) pure vanilla extract
1 tablespoon (15 ml) coconut oil, melted (or as needed)
For the filling: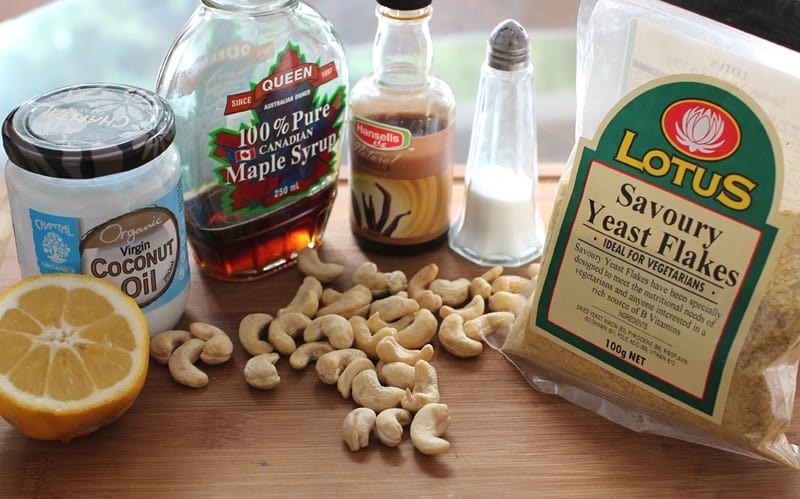 1½ cups (375ml) (225gm) (8 oz) raw cashews, soaked in water for at least 5 hours or overnight
Juice of 1 lemon (two tablespoons worth) (30 ml)
1 teaspoon (5 ml) pure vanilla extract
Optional: 1 teaspoon Savoury Yeast Flakes (Nutritional Yeast) – this adds a 'cheesy' flavour
1/3 cup(80 ml) raw coconut oil, melted
1/3 cup(80 ml) to taste of pure maple syrup, raw honey (solid or liquid), or agave nectar
Water: up to 6 tablespoons (90 ml)
1 cup (250 ml) (125 gm) (4 ½ oz)raspberries, fresh or frozen (thaw completely if using frozen)
Directions:
For the Base:
Place all the ingredients (except the coconut oil) in a food processor and pulse to chop until they are to your desired texture (process longer for a finer texture).

Test the base by spooning out a small amount of mixture and rolling it in your hands. If the ingredients hold together, your base is perfect. If it's not quite there yet, add up to a tablespoon of coconut oil until the texture is right.
Divide base mixture into a lightly greased 6 or 12 hole muffin tin (I made six cheesecakes as my muffin pan holes are quite deep). Otherwise, if you have doubled or tripled the recipe, pour the mixture into an 8 or 9 inch (20 or 23 cm) spring-form cake pan.
Press the mixture firmly, making sure that the edges are well packed and that the surface is even. If making ahead, you can pop the bases into the freezer.

Rinse your food processor well (if you're not using a separate blender for the filling).
For the Filling:
Warm coconut oil in a small saucepan or fry-pan on low heat until melted (if you're using solid honey, add it to the coconut oil at the same time and then whisk to combine).

In your most powerful food processor/blender place all filling ingredients, including the melted coconut oil (and melted honey, if using).
Pulse initially to break down the nuts, then blend on high until very smooth (this make take a couple minutes and you may need to stop occasionally and scrape down the sides of the blender). If the mixture is too thick and it's not blending smoothly, add a little water (up to 6 tablespoons (90 ml) may be necessary) and continue to process until smooth – the end result should be thick and gloopy (not runny). Give it a taste to check on its flavour and adjust as needed.

Now, pour roughly two-thirds (just eyeball it) of it onto the base/s and level off the surface with the back of a spoon or a spatula. If you think your mixture is a little wet, it's best to put the cheesecake into the freezer at this point to firm up the vanilla mixture before adding the next layer. Otherwise, if your mixture is nice and thick, you can add the next layer directly on top without chilling first.
Add the fresh or thawed raspberries to the remaining filling and blend on high until smooth.

Spoon the raspberry mixture over top of the first layer of filling and level off the tops with the back of a spoon or spatula.

Place the pan into the freezer for at least two hours until the cheesecakes are solid.
To serve, remove cheesecake/s from freezer at least 30 minutes prior to eating (see notes about thawing times) and remove from the muffin or cake pan (see notes about removing cakes from pans).
Serve the individual cheesecakes on separate serving plates. Or, if you have made a full-sized cake, run a smooth, sharp knife under hot water and cut into slices.
ALTERNATIVE RECIPE: VANILLA CHEESECAKES WITH DATE CARAMEL SAUCE
Make the cheesecakes as per the above recipe (you won't be needing the raspberries).
Instead of dividing the filling into two layers, simply pour the entire amount of vanilla filling into your pans.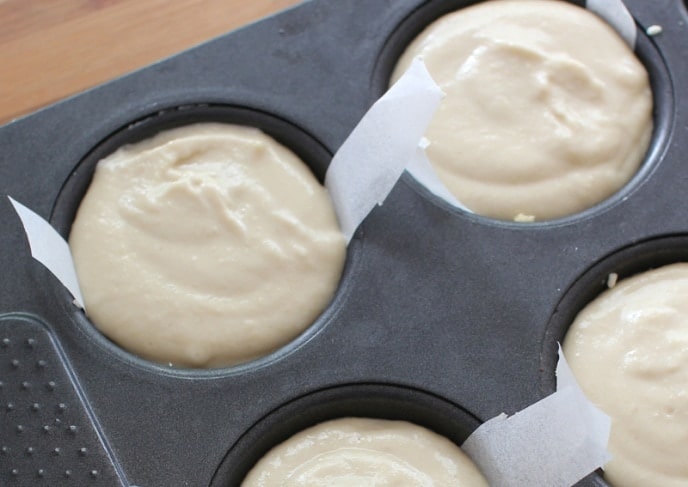 Make the Date Caramel Sauce (see recipe below), then dollop a small amount of caramel sauce onto each mini-cheesecake (or several tablespoons of it onto a large cheesecake), then using a skewer or toothpick swirl the mixture through the vanilla filling.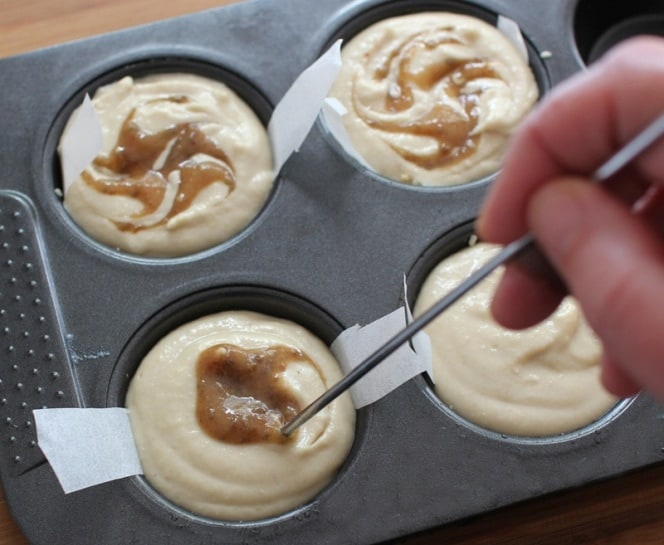 Place in freezer until solid.
DATE CARAMEL SAUCE
Ingredients:

Makes more than enough for your cheesecake/s with extra to spare.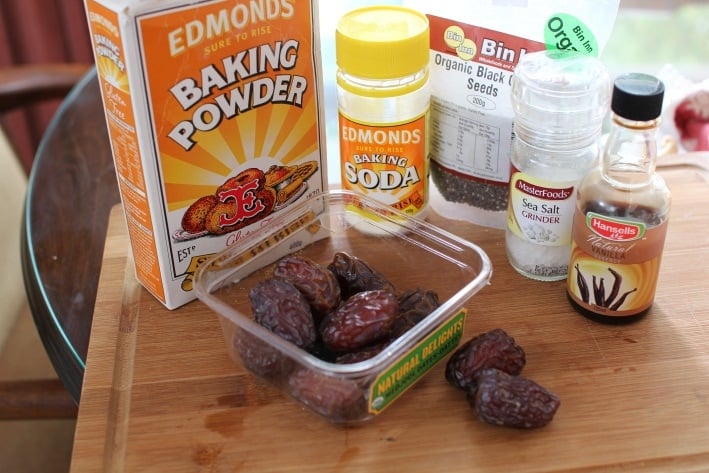 1 cup (240 ml) (154 gm) (5.4 oz) loosely packed pitted Sayer or Medjool dates
1-1/4 cup (300 ml) water (warm or hot is best)
1/4 teaspoon sea salt
2½ to 3 teaspoon (12 to 15ml) pure vanilla extract
1 teaspoon (5 ml) (5 gm) baking soda
1 teaspoon (5 ml) (3.8 gm) baking powder
(Optional): 1 tablespoon (15 ml) (10 gm) (1/3 oz) chia seeds (don't add if you want a very smooth sauce)
Method:
Pulse then blend all ingredients together in a food processor until very smooth (a few minutes). Scrape down sides and blend again for 30 seconds.

Taste to ensure there's a good contrast between sweet and salty. Adjust seasoning as needed.
If not using straight away, transfer to an airtight container and store container in the fridge until ready to use.
Storage and freezing instructions
For the cheesecake/s: You can store the cheesecake/s in a sealed container or wrapped in plastic wrap in your fridge for up to 5-6 days. Or you can keep them in your freezer for up to 6-8 months – just keep them sealed in plastic wrap and then wrapped in a double layer of foil for extra protection.
For the date caramel sauce: You can store any sauce in your fridge where it should last for about 3 weeks. If you have any left-over sauce you can divide it into individual plastic freezer bags and freeze for several months (they can then be defrosted and used as a healthy sweetener in smoothies, etc.).
Alternative raw cheesecake and raw sauce recipes:
http://chocolatecoveredkatie.com/2014/06/26/raw-cheesecake-recipe/
http://www.fettlevegan.com/recipes/orange-chocolate-cheesecake
http://www.bloglovin.com/blogs/delighted-momma-2649906?blog=2649906&post=2239728555&viewer=true
http://mydarlingvegan.com/2014/09/mixed-berry-vanilla-cheesecake/
http://minimalistbaker.com/7-ingredient-vegan-cheesecakes/
http://www.onegreenplanet.org/vegan-food/recipe-raw-mini-chocolate-cream-cakes/
http://www.savvyvegetarian.com/vegetarian-recipes/chocolate-vanilla-swirl-raw-vegan-cheesecake.php
http://comfybelly.com/2013/02/raw-chocolate-cheesecake/#.VXPOvNKqqko