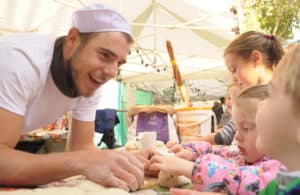 So, which of the ten great dishes will you be cooking up for Food Revolution Day?  Whichever you choose, Real Bread is the perfect companion.
You probably don't need convincing of just how great it is to tear into freshly-baked Real Bread, hear the crackle of its crust, inhale its aroma, slather it in butter or olive oil and bite into its chewy, delicious crumb. But how much more satisfying is it when you've baked that loaf yourself?
By fine coincidence, Food Revolution Day falls in Real Bread Week. Coordinated by the Real Bread Campaign, part of the food and farming charity Sustain, the theme this year of the annual celebration of additive-free loaves and the people who make it is doughing it for the kids.  Of course, the Campaign wouldn't dream of being ageist: everyone is welcome to get involved in Real Bread Week!
Whether you take children along to a baking class or pass the skills on yourself, the week is an ideal time for nippers to get their digits doughy to discover the delicious delights of Real Bread. Just think of their (and even your) wonder at the alchemy of it: the process of taking three or four simple and not exactly delectable ingredients, coaxing them into life and transforming them into a mouthwatering, golden loaf is little short of magical.
If you're lucky enough to have an independent Real Bread bakery near you, then the week is also a great time to give some extra love to the craftspeople supporting more local jobs per loaf and helping to keep your high street alive.
You might be tempted to grab a loaf advertised as 'artisan bread' or 'sourdough' from somewhere not on the Real Bread map. If you do, please be sure that what you're paying a premium for are quality, all-natural  ingredients and the skills of a genuine artisan baker who makes genuinely fresh bread locally with time and care, rather than artful marketing of a loaf made to look 'a bit rustic' but quickly and using artificial additives.
Back to the baking, you might not feel you can make time every week to bang out a loaf, so adopting an unloved bread machine is an easy alternative way to very affordable loaves, while ensuring you know exactly has (and, importantly, hasn't) gone into your family's food.
However you choose to slice it, you can find a basketful of events, classes, recipes, schools' baking guide and even aprons and tee-shirts for Real Bread Week and beyond on the Campaign's website. That's also the place to find details of how to join the Campaign and in return enjoy a range of discounts on ingredients, classes, equipment and more.
Check out the EXCLUSIVE Kitchen Garden Project bread recipes available for Food Revolution Day here and share your images online with #realbreadweek and #foodrevolution.