When it comes to cooking, it's not just the ingredients you should be concerned with. The type of cookware you use is equally important!
It can not only have a great impact on your cooking experience, but can also affect the quality of your food, and in turn, your overall health.
Many home cooks have been struggling to get an answer to a common kitchen question: What is the best cookware material?
If you've been looking for new cookware, you may have come across the debate between Gotham Steel and Red Copper as these are some of the most popular brands on the market. So, which one should you choose?
Both the Gotham Steel and Red Copper look similar in appearance, with a copper-colored surface. They also both act as a non stick pan and can slide all types of food easily out of the pan after cooking.
These similarities often lead people to believe they are essentially the same, but they do have some differences.
Our informative guide on Gotham Steel vs Red Copper will not only help you understand their similarities and differences but also help pick the right one for your perfect cooking. Let's dive in!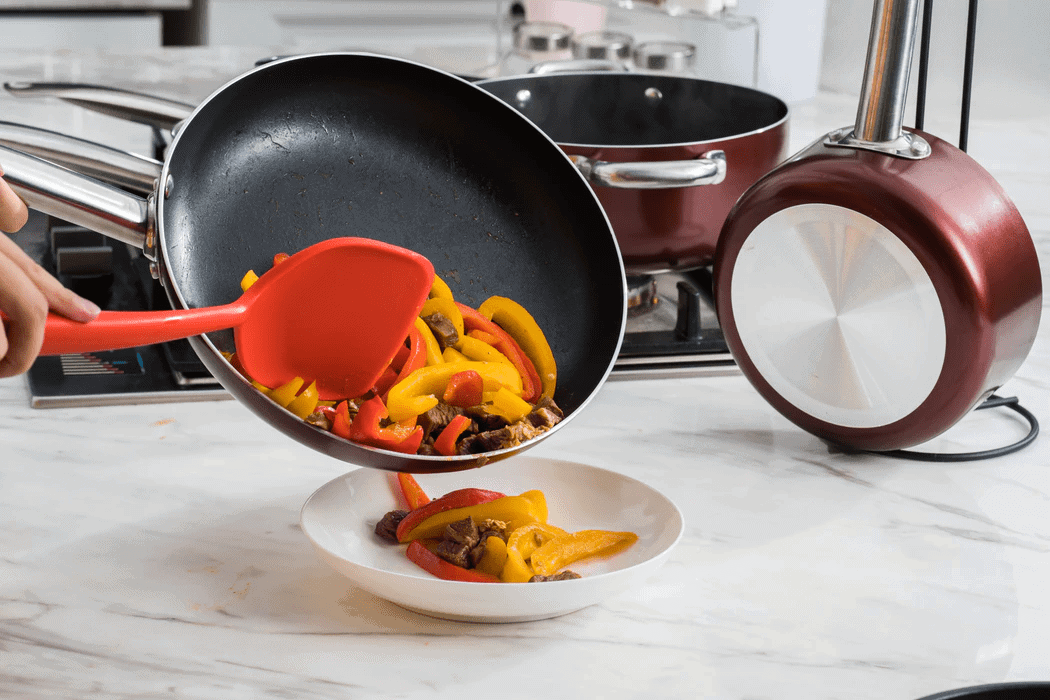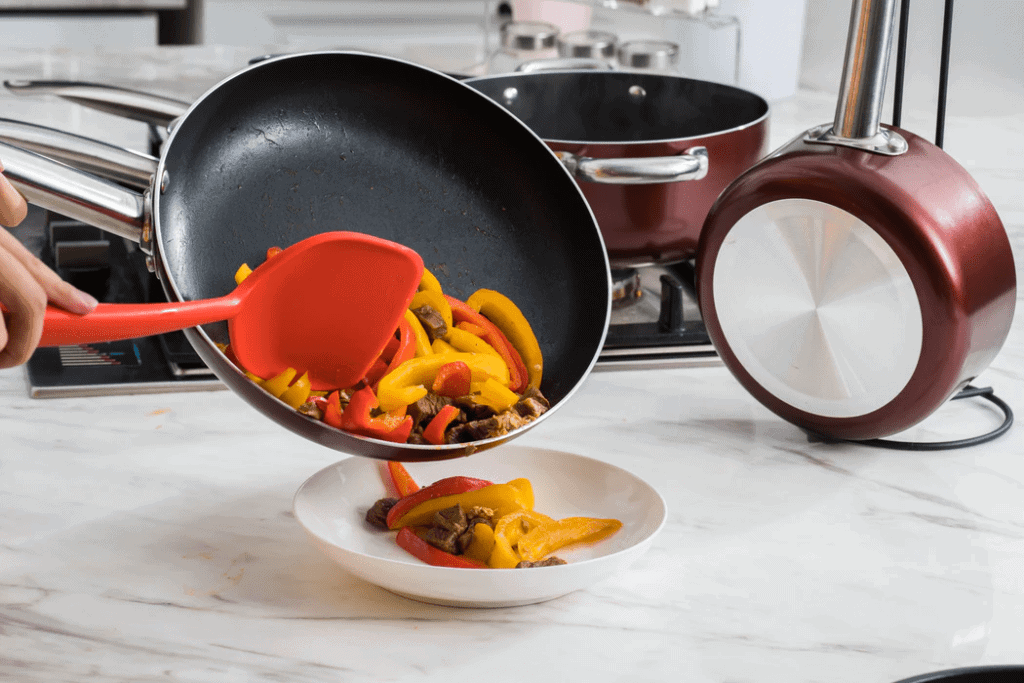 What is Gotham Steel?
Many people confuse Gotham steel with stainless steel but try not to confuse the two. The main difference between them is that stainless steel is not non stick, but Gotham steel is. (You can learn more about the difference here - choosing between non-stick and stainless-steel cookware.)
Gotham Steel pans fall under the category of premium-quality cookware. They are made with a combination of reinforced ceramic and titanium.
Cooking and cleaning Gotham Steel is a breeze with the use of these materials, as they provide a complete package including supreme durability, great aesthetics, and a perfect non stick cooking surface.
Let's take a quick look at both of the materials that make up this nonstick cookware:
Reinforced Ceramic
This material provides one of the best cooking surfaces, as it is non-stick, scratch-resistant, and totally non-reactive.
Above all, the non-stick properties of ceramic are natural, so you can ensure food is free from any harmful chemicals.
Titanium
Titanium is a great material for cookware!
This material is compatible with both gas and electric stoves. Its thickness also provides necessary sturdiness, a feature that is important to consider while buying cookware.
Advantages of Gotham Steel
Exceptional Non-Stick Properties
As Gotham Steel uses reinforced ceramic, it has excellent non-reactive and non-stick properties. This, in turn, allows you to cook anything you want that too without using oil or fats.
You can use your Gotham Steel cookware once the ceramics are properly seasoned and ready to be used.
Good Heating Properties
With these pans, heat is well conducted and evenly distributed due to the aluminum core. This allows you to have evenly cooked food - not undercooked or overcooked in different parts.
Sturdy and Scratch-Resistance
Titanium isn't the most conductive metal available on the market, but it comes with an amazing feature - sturdiness. This will allow you to use your pans for quite a long time with minimal bumps or warps.
Titanium is also scratch-resistant, so using metal spoons on the surface won't cause any scratches to the cookware. This durability feature is beneficial for home cooks, especially those who like to cut their food into portions while it's still in the pan.
Versatile
You can use Gotham Steel pans for anything from simple day-to-day cooking to executing gourmet culinary techniques that you've watched on your favorite cooking shows.
Whether you want to use your Gotham Steel pans for stir-frying your vegetables, making omelets or baking cakes, pizzas, and other baked goods in the oven, this pan can get the job done! They have the properties to withstand temperatures as high as 500 degrees F, making them extremely versatile.
Great Aesthetics
Not everyone values aesthetics when it comes to cookware, but if you do, Gotham Steel pans have the charm to please you right away.
These pans look as good as they perform and are sure to make an excellent addition to a beautiful cookware collection.
Disadvantages of Gotham Steel
Resistance
While some brands advertise that Gotham Steel cookware is both oven and dishwasher safe, keep in mind that it's not always the case.
Sometimes, while the pans are oven safe, the lids aren't. It's also good to remember that ceramic typically needs to be cleaned with warm water, mild soap, and a soft sponge to reduce the damage, meaning dishwashers should be avoided.
If you're unsure about kitchen utensils that are not dishwasher-friendly, you might want to read this: 11 items that you should never put in the dishwasher.
Ceramic Sturdiness
Titanium provides sturdiness to the exterior of the cookware, but the ceramic in the interior isn't as resistant.
This means you have to be careful while using Gotham Steel cookware. While the exterior is strong enough to survive if dropped, the interior ceramic cooking surface needs to be handled with care.
Weight
Both ceramic and titanium are heavy materials. Combining them gives great cookware qualities, but at the same time, they also make it heavier.
People generally prefer cookware that is light in weight, as they are easier to transfer and you don't need to handle them with extreme care and caution.
Are Gotham Steel Pans Safe to Use?
Safety is one of the biggest concerns when it comes to picking up cookware.
If you have concerns, be rest assured that Gotham Steel pans are safe to use as they are free from harmful chemicals like PTFE and PFOA. Moreover, they feature a coated surface that prevents the risk of toxic particles mixing with your food.
As titanium is not a healthy metal, people have some doubts concerning this issue. However, most Gotham Steel cookware is made of aluminum, and are simply titanium-infused to enhance its features like durability and scratch-resistance. It does not react with the human body, making it safe to use for cooking.
What is Red Copper?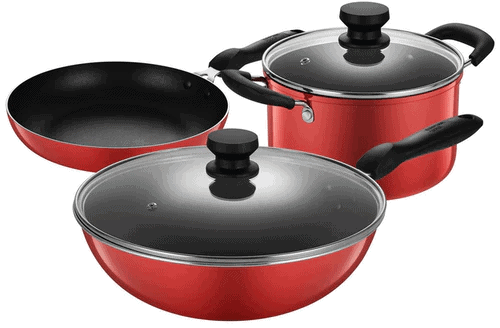 Red Copper pans are made from two popularly used materials in cookware - copper, and ceramic. These two materials when combined create oven-safe cookware that enables you to cook all types of recipes with minimal effort.
Red Copper pans are premium-grade and known to be one of the best cookware pieces for gas stoves.
Some additional information on copper and ceramic:
Copper
Due to its unparalleled heat conductivity feature, copper is commonly regarded as one of the best materials to be used for cookware.
It reacts to temperature changes efficiently and quickly, making a perfect material for cookware.
Ceramic
Ceramic has properties that make it ideal for cooking, being both non-reactive and non-stick. If you're a person who dislikes using oil in your recipes, ceramic will turn out to be an excellent choice.
Advantages of Red Copper
Conductivity
As copper is the base of this cookware, these pans get hot very fast. This can be both - time-saving and money-saving, as you can go light while using gas.
This conductivity also proves great for cooking delicate recipes where you need to control changing temperatures often.
Heat Resistance
Most Red Copper pans are oven-safe and can withstand temperatures up to 500 degrees F. This feature makes it a perfect choice for people who love to transfer from stovetop to oven cooking to give the final touch to their baking recipes.
Non-Reactivity
Certain metals can make unwanted changes in your food, including taste and color. For example, you cannot use copper-based cookware to cook tomatoes as they are acidic and can react with the copper, producing off-flavors.
As the Red Copper pans are PFOA and PTFE-free, there's no such issue as no toxic chemicals are released while cooking. With Red Copper, you get all the advantages of copper while ensuring there are no reactions whatsoever to the food ingredients you use while cooking in these pans.
Non-Stick and Easy to Clean
Almost all cookware claims to be non-stick, but Red Copper cookware is leading the race. Food can easily slide out of the pan onto the plate without the need of poking or scrubbing it. These non-stick features also make cleaning quick and easy.
Less Oil
The naturally non-stick surface of the Copper Red pans means you can use very little oil or fats when cooking. However, be careful that these pans are properly seasoned before use.
Disadvantages of Red Copper
Stainless Steel Handles
The handles of Red Copper cookware are usually made of stainless steel, which can easily get hot while they are closer to the heat source. This can make these pans difficult to maneuver while cooking.
More Maintenance
The ceramic layer can be exposed from scratching utensils if the Red Copper cookware is not maintained properly.
Once scratched, it can even bring a metallic taste to your cooked food. If your acidic food comes in contact with copper, it can cause a reaction and can even be harmful to your health.
To retain the shine and overall aesthetics, and keep your pans safe for use, Red Copper pans require regular maintenance.
More Expensive
Pure copper is more expensive than other cookware materials like stainless steel and iron. This makes the Red Copper cookware range a bit on the expensive side.
Are Red Copper Pans Safe to Use?
Red Copper manufacturers claim their cookware is the safest cooking option for you. However, one of the biggest concerns people have is the copper component.
Copper is a toxic heavy metal that can cause chronic illnesses and mental disturbances when it builds up in your body. It can easily be dissolved in the food when heated, especially when the food is acidic.
Red Copper pans that come with a ceramic cooking layer work to prevent food from coming into direct contact with copper. This coating can bring peace of mind.
Ceramic is known to be the safest and most environment-friendly cookware components. It doesn't release any toxic chemicals, even when exposed to high temperatures.
Additionally, Red Copper cooking surfaces are PTFE-free, which nullifies the possibilities of toxic chemicals being mixed into your food.
In short, copper cookware has some risks, but with proper maintenance, it is perfectly safe to use.
Safety is a primary concern for all cooks. Our guide on the safest cookware will give you an overview of the materials that are safe for cooking.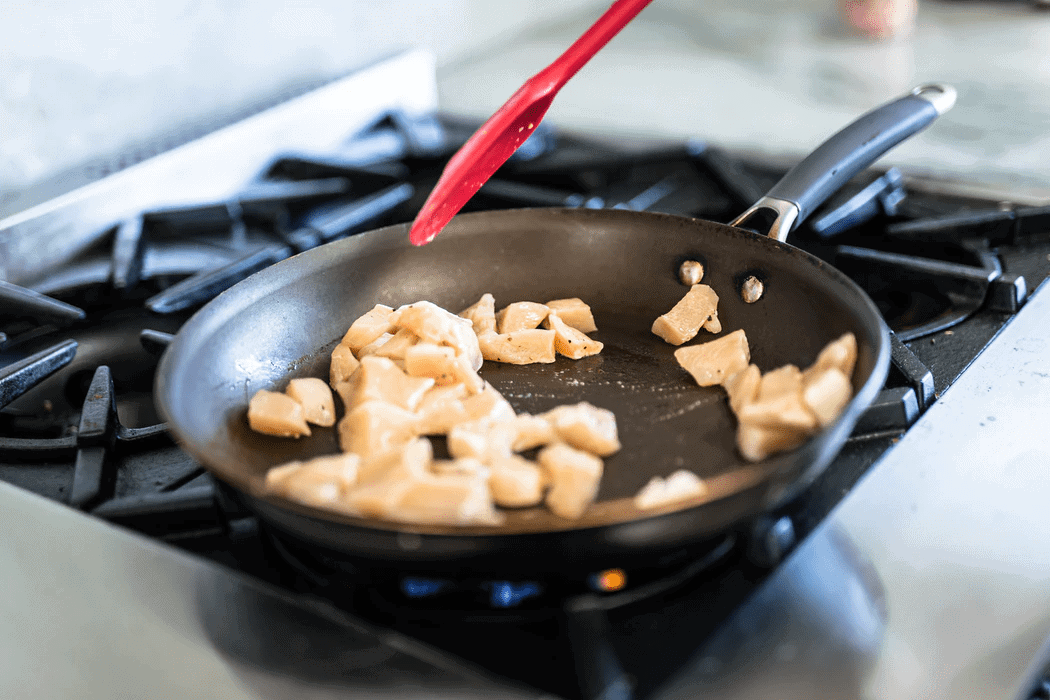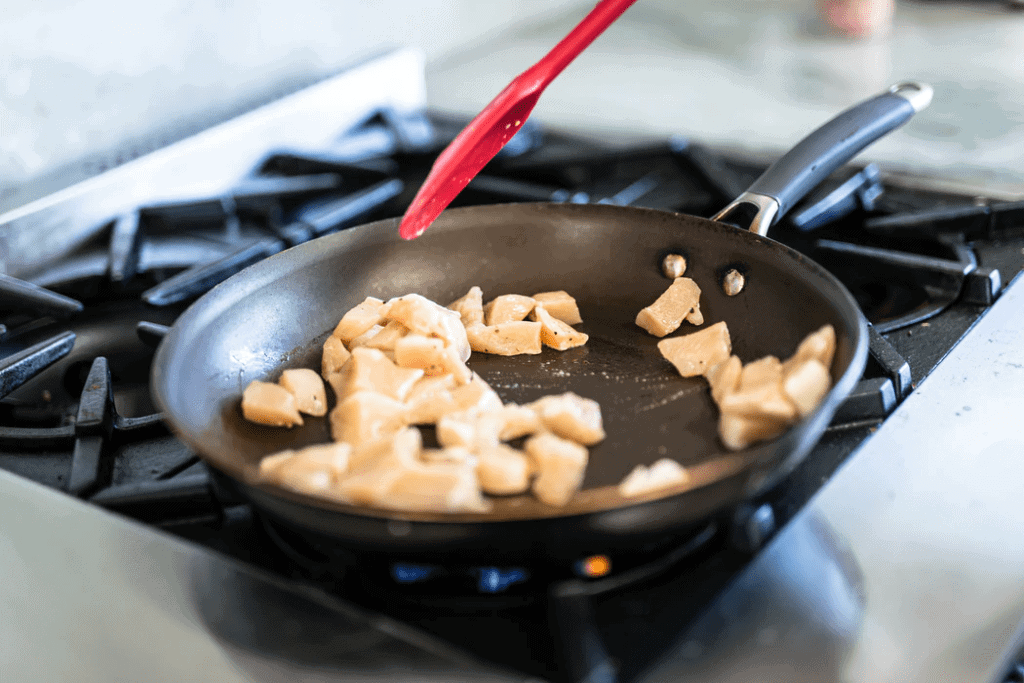 Gotham Steel vs Red Copper - Which is Better?
Still unsure of which material is best? Let's break down the features of both cookware materials to give you a clear idea:
Pan Basics
Gotham Steel: It is non-stick cookware made up of a combination of a non-stick ceramic surface and high-quality titanium.
Red Copper: It is a revolutionary non-stick ceramic cookware that is made up of a combination of copper and ceramic.
Type of Material Used:
Gotham Steel: Ceramic, titanium, and stainless steel
Red Copper: Ceramic and copper infusion
Type of Coating Used
Gotham Steel: Non-stick ceramic infused with high-quality titanium
Red Copper: Non-stick ceramic with ultra-tough copper
Bottom Layer
Gotham Steel: Metal scratch guard ring
Red Copper: Copper
Working Mechanism
Gotham Steel: The cookware is non-stick and non-scratch, as it is coated with titanium infused ceramic. Also, you get fast and even heat distribution due to the aluminum core.
Red Copper: The cookware gives great cooking results as the superb heat-absorbing surface helps in distributing the heat evenly. The ceramic pan ensures that no food sticks to your pan and slides easily.
Cooking Capacity
Gotham Steel: The non-stick cooking surface in Gotham Steel cookware is able to cook foods in fairly large quantities. Even the stickiest food ingredients like condensed milk or delicate recipes like flaky salmon can slide off easily from the surface due to its exceptional non-stick property.
Red Copper: With a wider cooking surface, you can cook bacon or any high splatter food easily in Red Copper cookware with the no-to-minimum use of oil or fats.
The Face-Off
Looking at the above features, it is clear that Gotham Steel and Red Copper cookware have few features that make them different. Let's dive into their differences further:
The first and the main difference is in the element infusion and non-stick coating. Gotham Steel cookware has a coating of titanium-infused ceramic whereas the Red Copper has a coating of copper-infused ceramic.
The major difference is their metal properties. While the red copper pans allow you to cook with accurate heat, the titanium pans provide you with more durability.
The second difference is the heat time and heat retention. As Red Copper uses copper for both base and ceramic coating, it will heat faster. It will also retain more heat while spreading it evenly to ensure faster cooking.
On the other hand, Gotham steel pans will heat up and provide good cooking. However, it may take a little longer to get the ideal cooking temperature. Their materials do not promote even heat distribution as readily, so chances of getting hot and cold spots are more possible.
The third difference is the cooking surface. The Red Copper pan has a slightly wider cooking surface as compared to the Gotham Steel pan.
The fourth difference is their induction cooktop compatibility. Most of the Red Copper pans are induction top-compatible as they are made up of copper.
You may have a hard time finding the Gotham Steel pans with the same compatibility. However, there are few solutions on the market like induction cookware converter disks that can make them compatible.
The fifth and last difference is their price. The Gotham Steel pan is comparatively more expensive than the Red Copper pan.
Other than this, the features of both these pans are almost the same. Both are non-stick, scratch-resistant, and oven safe.
Whether you choose Gotham Steel or Red Copper, you'll come across many different options available on the market, which can make for a confusing buying process. To help you with this, explore our comprehensive buying guide on some of the best non-stick cookware.
The Final Verdict
Gotham Steel pans and Red Copper pans are both effective, have great properties, and are oven safe. Considering their convenience, features, and overall cooking abilities, both can be an excellent addition to your kitchen cookware collection.
Choose Gotham Steel if:
You want a heavy-duty cookware
You want cookware that is more resistant to chipping and peeling
You want to avoid the risk of copper coming into contact with your food
You want to get cookware that does not require high maintenance
Our Top Picks for Gotham Steel Products
Gotham Steel 10-Piece Cookware Set with Non-stick Ceramic Coating
Gotham Steel Non-Stick Fry Pan with Lid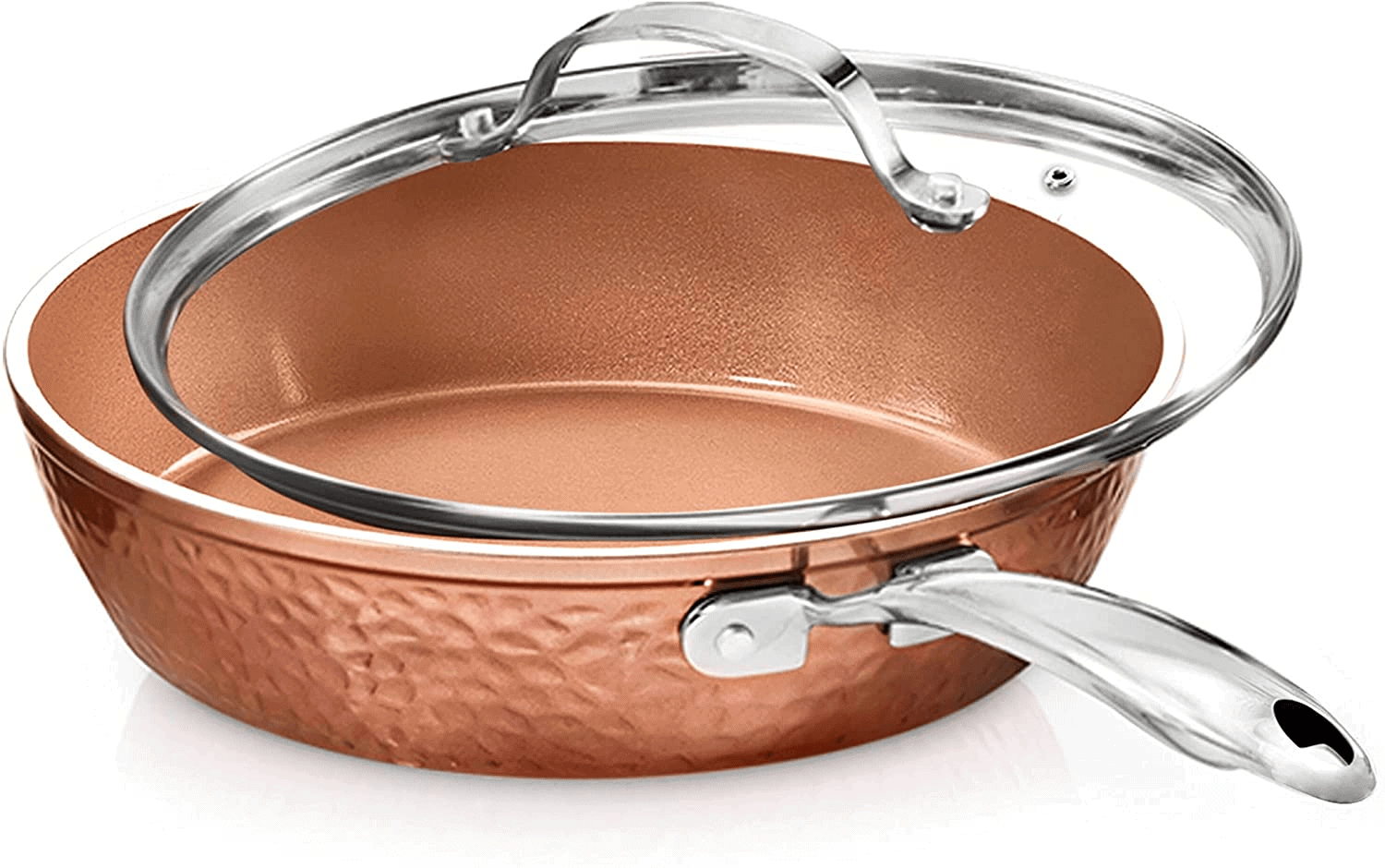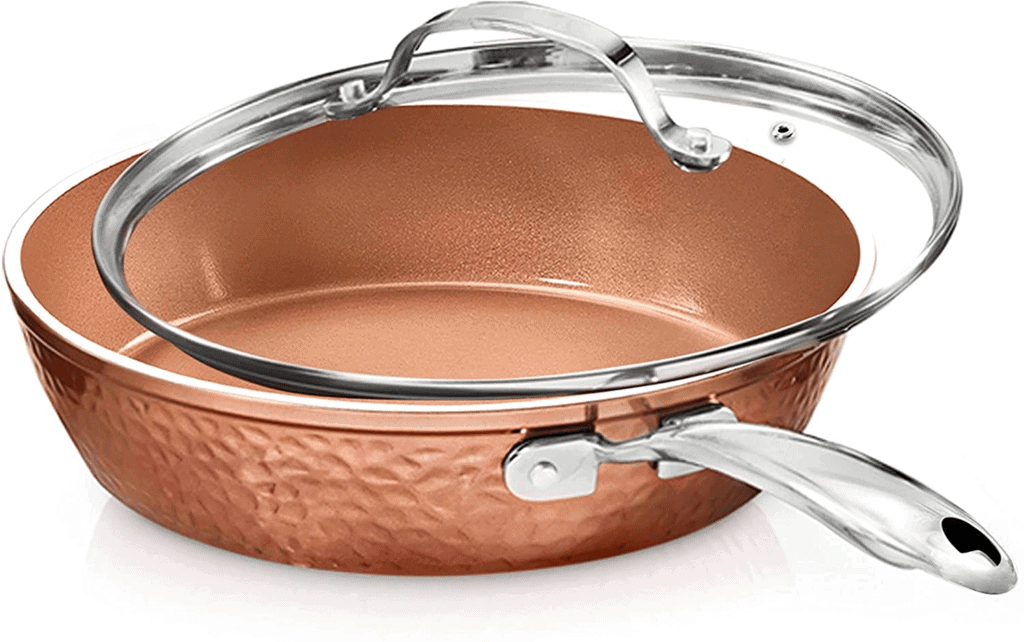 Check Latest Price
Choose Red Copper if:
You want cookware that aids in even heat distribution whilst cooking
You want a wider cooking surface i.e. a bigger heating plate
You want a lightweight and less expensive cookware
You want cookware that is compatible with an induction cooktop
Our Top Picks for Red Copper Products:
BulbHead Red Copper 10 Pc Copper-Infused Ceramic Non-stick Cookware Set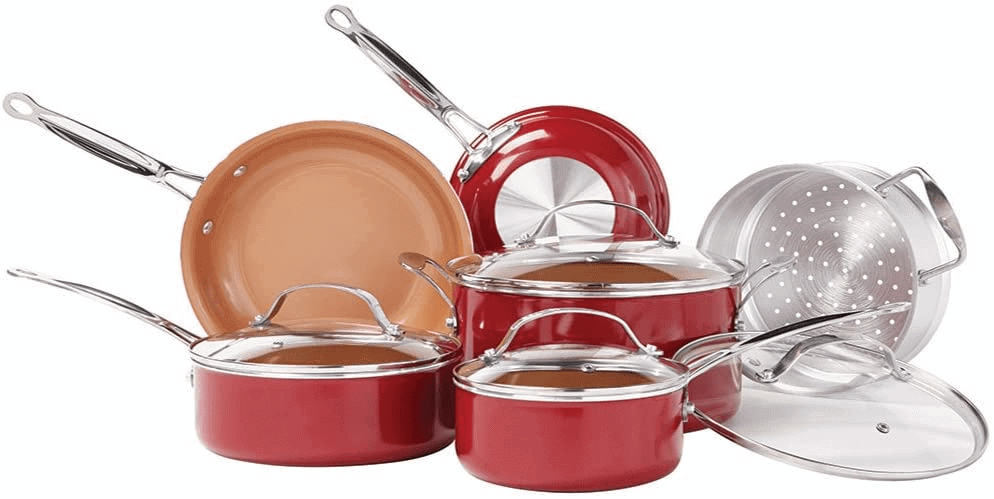 Check Latest Price
Red Copper 8-Inch Fry Pan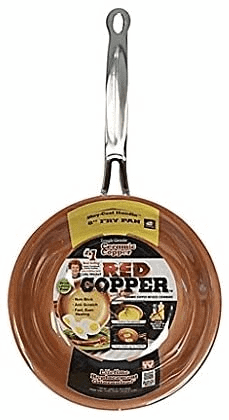 Check Latest Price