Could refined sugar be making you sick, sad and stupid?
Lurking beneath the surface of its sweet image is a dark and deceptive underworld of private sugar trading, protected subsidization, and human sickness. The not-so-sweet story of our relationship with sugar includes modern day slavery, consumer deception and immoral industry influence.
Sugar is highly addictive, aggressively marketed to children, and linked to virtually all of our modern lifestyle diseases. Attempts at reforming our sugar-sickness are thwarted by the billion dollar industries profiting from its drug-like effects. Fortunately, sweetness comes in many forms; empowering alternatives are available. Discover how to stay sugar-safe and enjoy some more innocent sweet pleasures.
What is Sugar?
For over 6,000 years humans have been extracting the sweet-tasting and calorie-dense substances produced by plants from sunlight. Sugar cane was one of the first and continues to be the most popular source of this highly prized and tasty substance. Sadly, modern advances in production and refinement processes, combined with all-encompassing marketing, have evolved this enjoyable treat into a highly addictive drug that is literally killing us.
The most worrying issue is our perception and knowledge of the extent to which sugar is causing damage, which is kept very much beneath the public radar of awareness thanks to catchy slogans, distorted science, and extensive lobbying.
"This [sugar] industry seems to be manipulating contemporary scientific processes to create controversy and advance their business interests at the expense of the public's health". - Annals of Internal Medicine (2016)
Unrefined vs Refined Sugar: What's the Difference?
Technically, sugar refers to any sweet-tasting carbohydrate, made by plants, often rich in vitamins, minerals, enzymes, and other beneficial elements like fibre. This is far removed from the processed, bleached, and super-concentrated crack-like white table sugar or high fructose corn syrup routinely added to 70% of the foods available in our supermarkets today, even those that should never be sweet!
Food manufacturers have developed a multitude of different names for these added-sugars, claimed to promote shelf-life, moisture retention and "consumer appreciation". The Food Science Industry conveniently claims that sugar is added to improve texture and flavour while increasing bulk and preserving food. But, the main reason is pretty obvious when you understand exactly how the human brain reacts to the highly concentrated sweetness added to everything from tomato sauce to baby food.
Sugar directly stimulates pathways in the brain which drive a pseudo-pleasure that we quickly get addicted to. Even subtle-sweetness makes us crave more, yet never feel satisfied. Since we can't seem to trust food producers, or even the regulators, to limit our exposure to this hidden addiction it's critical that the public arms itself with the neurological and biochemical knowledge needed to comprehend and steer clear of the epidemics of disease caused by sugar.
Fact: The effects of added sugar intake include: higher blood pressure, inflammation, weight gain, diabetes, and fatty liver disease, which are all linked to an increased risk for heart attack and stroke. Harvard Health (2017)
Not All Carbs Are the Same
Nature builds in blocks, a bit like LEGO®. Just a few small units can be joined together, in a variety of patterns, to create an amazing array of biological substances with very different properties. Plants are 'primary producers' because they take in the raw ingredients of sunlight, water and carbon dioxide to manufacture the fuel we call carbohydrates. Humans don't produce their own fuel – instead, we must consume what plants produce, or eat animals that have consumed fuel-producing plants.
Some carbohydrates taste sweet, for example the flesh of a juicy peach, while others, like potatoes, are savory. Some carbohydrates are so complicated that our guts simply can't digest them at all and they pass right through us, like fiber (which actually feeds the good bacteria in our guts instead!)
The Chemistry of Carbs
There are very precise naming conventions used to describe carbohydrates, and understanding what they are called will help you pick through the quagmire of food labelling to understand what you are considering consuming! The scientific names are derived from Latin and the base-unit, a 'saccharide' means 'sweet-sand'.
When there is just one unit by itself, it is called a mono-saccharide.
Join two together and it becomes a di-saccharide.
When there are between 3 and 9 we call it an oligo-saccharide.
When there are more than 10 saccharide units the pre-fix poly is used.
There are 3 common mono-saccharides which make up our carbohydrate fuel sources:
Glucose.
Fructose.
Galactose.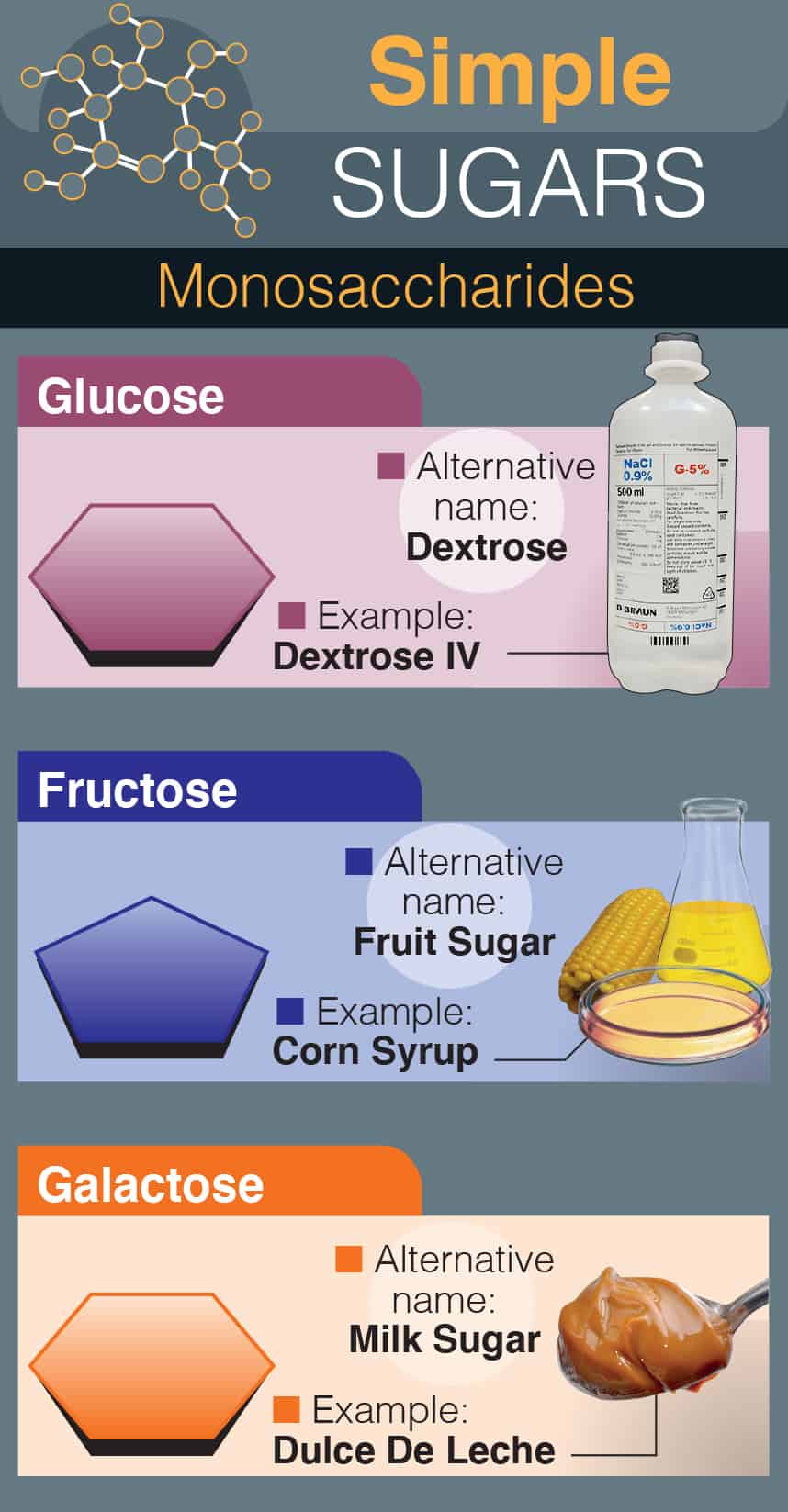 Each unit of sugar is made from carbon, hydrogen, and oxygen, which come from the raw ingredients used by plants, together with sunlight, to manufacture the naturally sweet substance.  They consist of just slightly different arrangements of the elements essential for life and when we digest them we are simply breaking apart the bonds, that the plants made, to release the energy from sunlight. Pretty miraculous really, it's a very simple and clever process until humans started interfering with it!
When you combine the building blocks you get the next level of complexity and names that are better known:
Glucose + Fructose is the di-saccharide sucrose; the sweet-tasting substance in sugar cane.
Glucose + Glucose is the disaccharide maltose, found naturally in fermented grains called malt.
Galactose + Glucose is the di-saccharide lactose; naturally occurring in milk.
There are other combinations that occur in nature or can be synthesized in the laboratory, but these are the most common ones you will encounter. Notice how they all end in '-ose'? This is another clue is you are playing food label detective! If it ends in '–ose,' it is a sugar, another Latin throwback.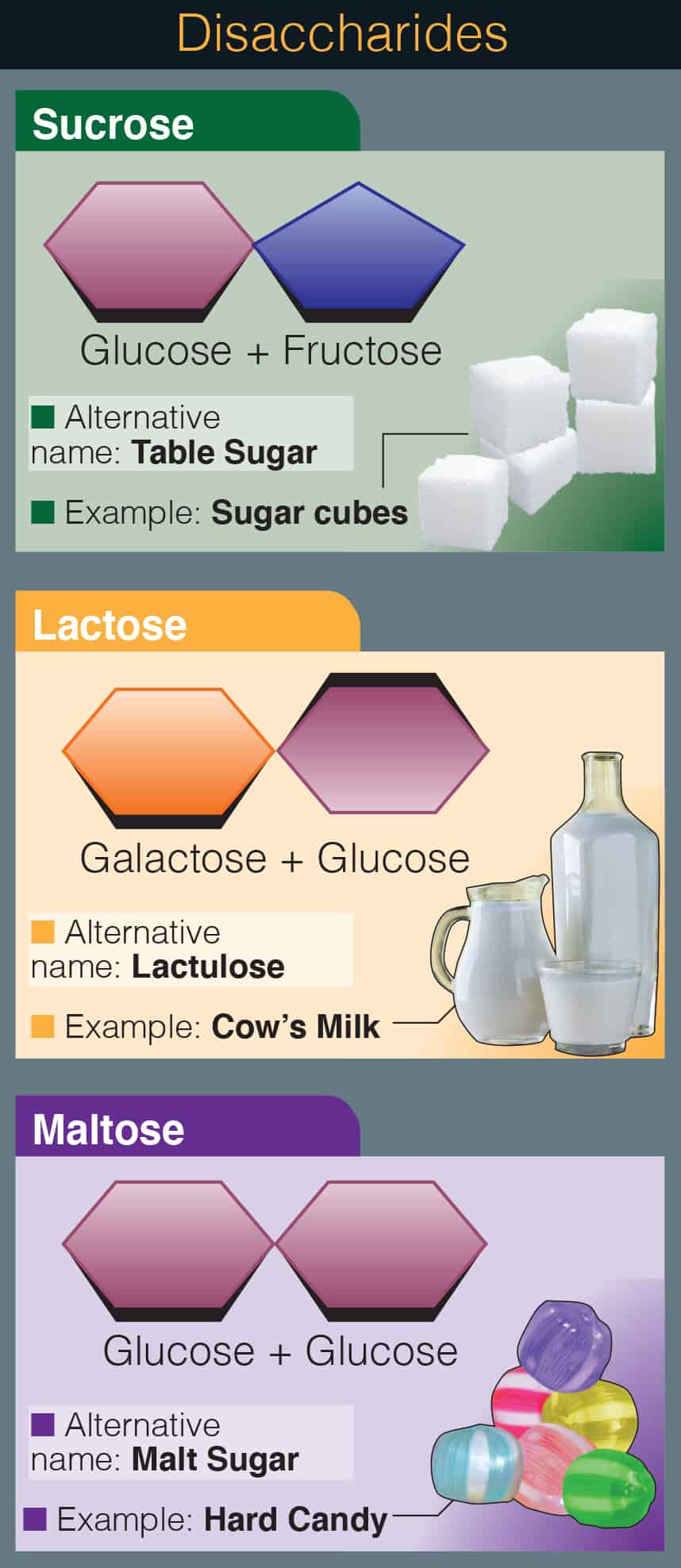 Complex Sugars
So that's the basics of the most common sugars you will encounter in food. The longer poly-saccharides and oligo-saccharides have a more complex structure and a different role in both plants and the human body. Oligo-saccharides are often found on the outside of cells and are used to help cells identify each other or bind together; they also have an important role in our immune response.

Poly-saccharides are often used for energy storage, like starch. Many plants save their fuel to last through long winters without sunshine by joining together units of glucose. These long starch chains are more stable and often found under the ground - think potatoes, yam, and carrots. These are the savory carbohydrates that are also added to food to increase our desire to eat them.
While they may seem innocent, the body treats them just like sugar, and the bonds between glucose units are broken down really quickly in the mouth by an enzyme called amylase. Using 'savory sugars' is another way food producers increase the added-sugar without us knowing.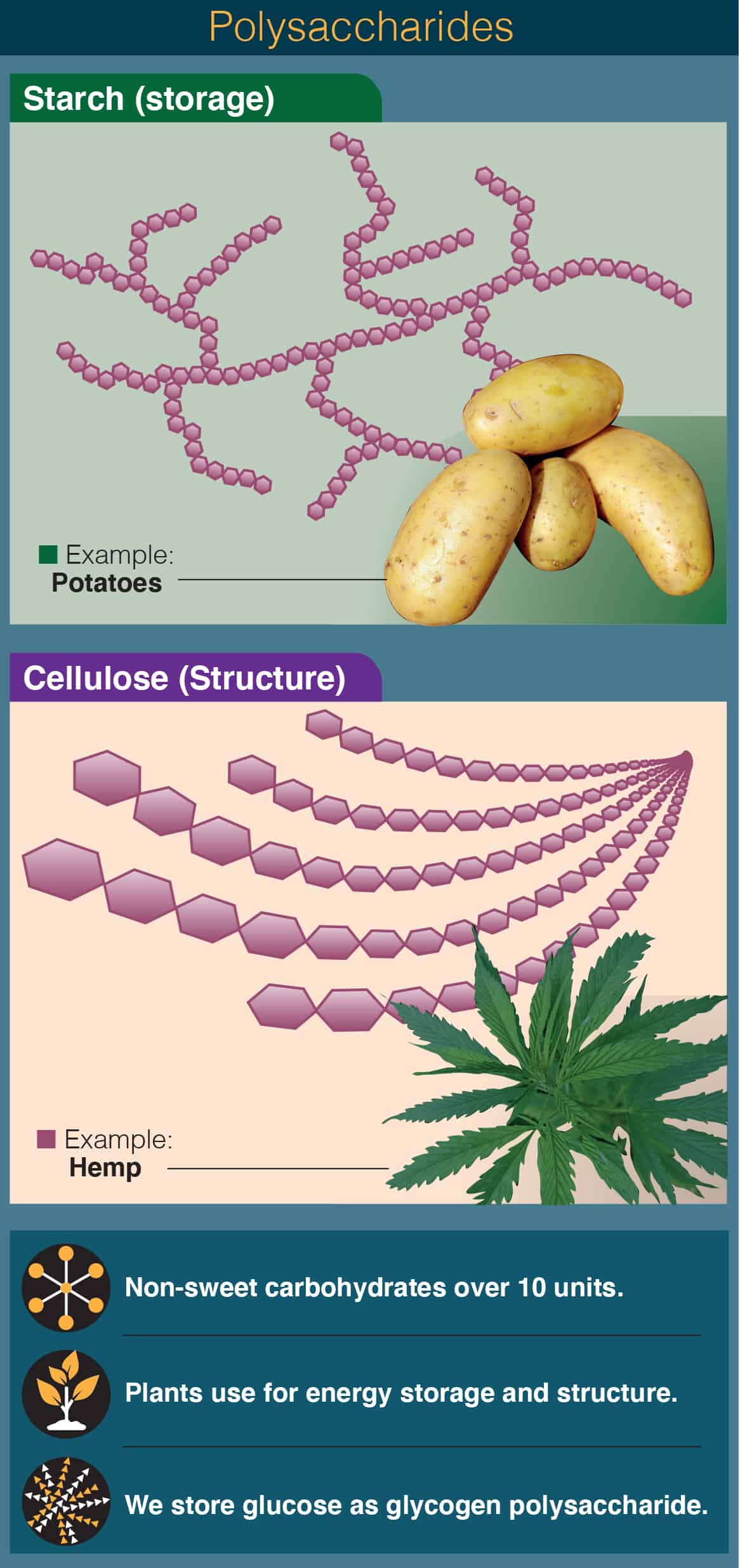 Is Sugar Toxic?
There is a common and understandable misconception that if something is available to purchase, in a supermarket or elsewhere, it is safe. While small amounts of sugar won't kill you immediately, a toxic and lethal dose of table sugar (sucrose) is surprisingly low.
The 'LD50' (the dose proven to be lethal for 50% of test subjects, usually rats) for table sugar is only 30g per kg body-weight. So for a group of average adults weighing 200lb (90kg), consuming 6lb (2.7kg) of sugar at once will kill half of them. The rest will experience reduced physical activity, gastrointestinal disturbances, heart disease, blindness, nerve damage, and kidney damage.
It would take a super-human effort to eat all that sugar at once, but what if it was eaten over a longer period — like a few months? Unfortunately, the chronic and continued consumption of sugar, in relation to its safety, is simply not regulated or studied. We are in midst of the largest, and possibly most dangerous, unregulated clinical study of the effects of the long-term effects of sugar on the body. The early results are in and it's not looking good. The average American diet includes 3lb of sugar per week. This is double the LD50 consumed every single month. People are eating a lethal dose of sugar twice a month; no wonder we are getting so sick.
How Does Your Body Digest Sugar?
Now you understand the types of sugar and its potential toxicity, you can get to grips with how they affect different organs, systems, and processes in the body. When you understand what is going on internally you can make informed choices about your sugar own consumption.
The body processes natural and refined sugars quite differently. Despite the sugar industry's attempts to persuade us that "a calorie is just a calorie," the reality is quite different. Your body is not a furnace; it's a complex biochemical system that processes and uses different fuels very differently.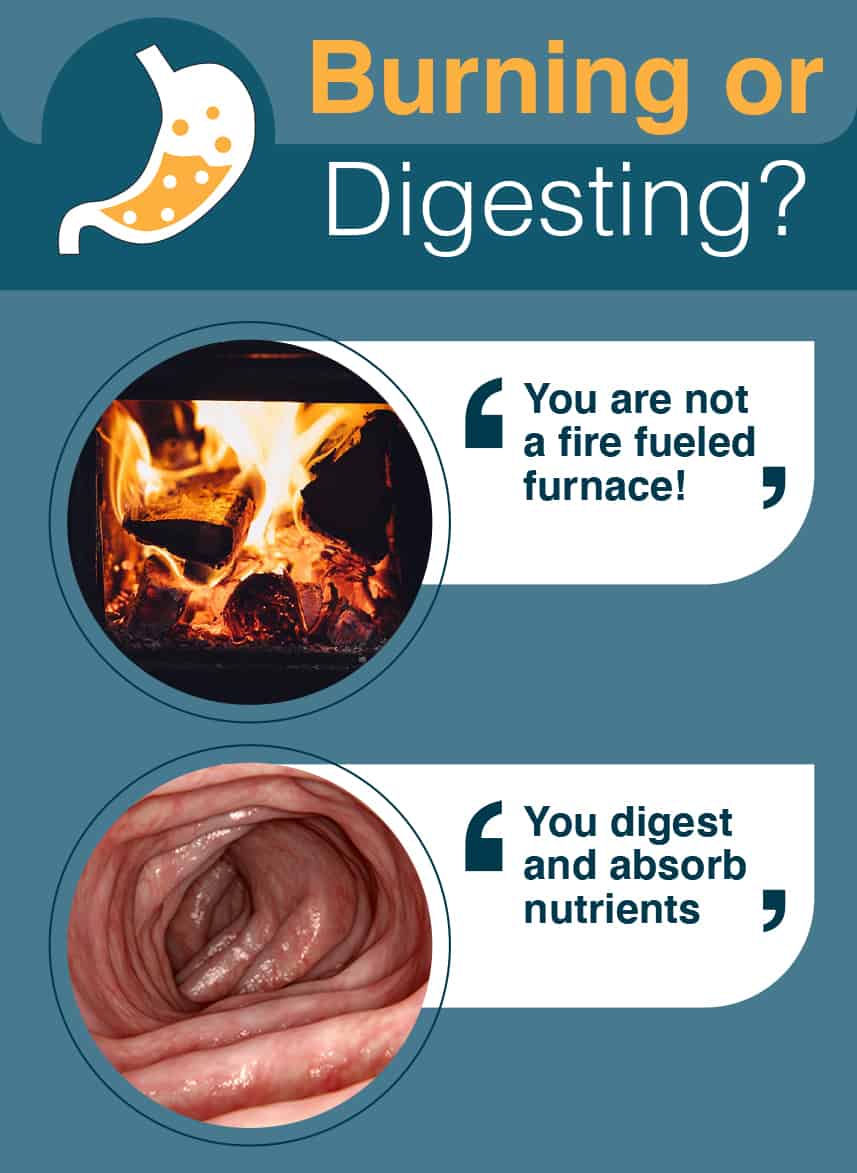 Scent Is the Gateway!
The first stage in the metabolism of sugars starts way before they even enter your mouth. An amazing process called the 'cephalic phase' of digestion responds to the sight, smell, and even the sound of food. The anticipation of eating something, or just smelling something tasty, initiates gastric secretions in the stomach and metabolic hormones that stimulate your appetite.
This natural digestive response has been capitalized by supermarkets and food stores who pump in artificial smells of things like freshly baked bread, milk chocolate, or cinnamon while you are shopping - they know it will make you hungry, and therefore spend more money. It's not real bread you smell baking, it's highly secretive and lucrative food-scents designed to trick your nose, brain, and appetite.
Biting Into Something Sugary
The next stage of metabolism involves the mouth and tongue where we perceive sweetness and start to break down the long poly-saccharides into units of mono-saccharides. The tongue is also involved in the cephalic phase response and artificial (zero-calorie) sweet-tastes stimulate the same response as eating sweet carbohydrates.
This discovery has come as a significant blow to the food and weight-loss industries, who heavily promote non-caloric sweetness as being 'healthy' for diabetics and supporting weight-loss. The reality is that if your body perceives you are eating sugars it has the same biochemical response, so there is literally no benefit in artificial sweeteners. In fact, some artificial sweeteners are even neurotoxic, causing damage to the brain, while others actually make you eat more!
Digestion and Absorption
Insulin is one of the key metabolic hormones involved in the digestion and absorption of sugars, glucose specifically. It is produced in the pancreas and is responsible for helping glucose get into cells to provide energy. It also triggers appetite and fat storage.
When humans lived nomadically and seasonally, relying on natural foods like fruit to give us energy, insulin was key to our survival. If we found some sweet ripe fruits to enjoy, the secretion of insulin increased our appetite so we could eat as much as possible, binging on the high energy food source. Fat storage is also triggered by insulin so any surplus energy was saved and stored in the body for cold dark winters without food.
This hunger response and storage process worked well until relatively recently - we now live in a time of food excess rather than scarcity, the food-winters never come, and instead we binge, pile on the pounds and wear out the body. The evolutionary drive to eat energy-dense foods was so critical it was hard-wired into our brains to be pleasurable; this is why we very easily get addicted to sweetness.


Insulin Resistance
The human body has an innate intelligence that modern medicine is gradually beginning to understand. When we eat way too much sugar the body has something to say about it. It starts becoming 'resistant' to the signals from insulin – entering a stage that doctors call pre-diabetes. If we assume that the body 'wants' to be healthy and is not dysfunctional then insulin resistance makes a lot of sense.
Imagine the following conversation between you and your body:
Body: "You are eating too much sugar and we don't need it, please stop."
You: "Shut up, I like it; I am going to eat more!" [Said your addicted brain]
Body: "All this sugar is causing damage, its making your blood sticky, I can't cope."
You: "I will eat and drink what I like!" [Downing a liter of cola to wash down a donut]
Body: "Well, that's great, ignore my advice….right I will stop this myself."[stops responding to insulin]
You: "Hey, what's going on, the Doctor says I am developing diabetes."
Body: "I did warn you, I had to take drastic action to stop your cells filling with sugar!"
Unfortunately, we can't have this conversation, but it plays out regardless. The body only needs a very minimal about of carbohydrates, compared to how much we stuff in when we are bored, lonely, irritated, celebrating or just grazing the fridge.
To manage its own safety, and stop sugars overloading the cell, the body has to change its hormonal reactions. Instead of responding to the insulin signal and transporting glucose into the cell it gets left in the blood and passes out in the urine.
This causes multiple side-effects and after a trip to the doctor and a few blood tests people get the diagnosis of: insulin resistance; pre-diabetic, or diabetic – depending on how long and how much the body has been suffering.
Doctors have to follow pre-defined treatment protocols that are heavily influenced by pharmaceutical science and largely ignore the critical, and obvious, role of nutrition (doctors get just 20-hours of nutritional training).
So, after briefly mentioning the role of diet, doctors move on to prescribing a drug that will 'force' your body to respond to the insulin, when it doesn't really want to. Severe or poorly managed diabetes patients are given insulin to inject, which confounds the problem even more. The highly profitable diabetes drugs (worth $45 billion annually) designed to 'treat' the condition actually make the matter worse by causing weight gain and even more insulin resistance. They don't tackle the real problem - sugar toxicity - a slow form of food poisoning.
Reversing Diabetes in a Different Way
Fortunately, forward thinking doctors and the latest scientific studies have spotted the fatal flaw in this logic, and intensive dietary management programs can reverse diabetes in just a few months, or even weeks with clinically proven results.
They also realized that when you ask a sugar-addicted patient to change their diet the immediate response is "No way!" but if you gradually withdraw the 'drug' and increase healthy fats, the mind and body quickly adapts and, as if by magic, the 'disease' goes away. In fact it's not a disease at all, in the true sense of the word, you don't 'catch' diabetes you create it.
There are rapid and exciting developments in the treatment of this devastating and lethal condition destroying the lives of billions of people (in the US 9.4% of the population have diabetes and 26.3% are pre-diabetic, many more are insulin resistant and beginning to develop diabetes).
As doctors, governments and the public get wise to the pharma-propaganda (over $725 million annually in Direct to Consumer Advertising just for diabetes in the US) and extensive pharma-lobbying ($30 million annually in the US) the truth about diabetes becomes clear: sugar is toxic, eating too much causes disease, and if you stop eating it your health quickly returns.
Sadly, most diabetes charities and official advisory boards still promote the profit-driven pharmaceutical paradigm, which is not surprising considering their main funding comes from corporate partnerships with the pharma and the food industries.
The public perception of diabetes is very different from the reality; the natural 'cure' of simply abstaining from sugar is simply not marketed because it's not profitable. Instead corporate greed drives the food and pharma industries to distort results, pay off experts, and influence regulators in an effort to dismiss dietary treatments to keep the public sick and in the dark.
How Sugar Can Hurt Your Liver
The sad sugar story has yet another painful twist and one that has actually made it into the (pharmaceutically-sponsored) news. The only major media outlet without a pharmaceutical industry board-member, CBS, reported that High-Fructose Corn Syrup (HFCS), a staple ingredient in many processed foods, significantly increases the risk of Heart Disease.
The high-quality study reported in the American Journal of Clinical Nutrition found conclusive evidence that "the risk of cardiovascular mortality is positively associated with consumption of increasing amounts of added sugars". The study was done in young adults and critically demonstrated a 'mechanistic link' between added sugars, like HFCS, and cardiovascular risk. So, not only do we know that added-sugars are dangerous based on the number of people who are getting sick, but we also know why.
When the most common type of sugar, sucrose, is eaten it is quickly broken down into units of glucose and fructose. Excess glucose messes with your metabolism and forces your body to become insulin resistant. Excess fructose specifically damages the liver and the heart while causing a whole host of other dangerous conditions and metabolic disturbances. The consumption of fructose is directly linked to non-alcoholic fatty liver disease, and is being seen in children as young as three years old. The liver damage resembles years of alcoholic abuse, but it's from processed sugars, and it can happen very quickly.
The liver is primarily a detoxing organ, but, it also has a major role in transforming various metabolic substances into other forms, for either storage or immediate use. If you imagine that your body has two different compartments, a 'fridge' for immediate fuel (glucose) and a 'freezer' for longer term storage (fat), it's the liver's job to transform the two fuels back and forth. When the fridge is empty (e.g. you've gone 12 hours without food), the liver turns some fat into 'ketones' which are an alternative fuel source that both your body and brain can use. When the fridge is full (e.g. you've just devoured a big meal) the liver turns the spare sugars into fat.
In between the two types of fuel is another storage 'container' that holds glycogen (which is a quick access glucose deposit). The ability to move backwards and forwards between these fuel types ensures we don't die when we skip a few meals. The switchover can be slow. Athletes experience this when they hit 'the wall,' but we can train the body to be more metabolically fit and better adapted to using our own fat reserves.
Fructose can't be used directly by the body; the liver is the only organ that can actually use or process it. A 12oz (335 ml) glass of orange juice has 31g of sugar, 50% of which is fructose, so that's 15.5g of fructose for the liver to process. Compare this to a can of cola which has 38.4g of sugars, with 65% fructose (sweetened with Really High Fructose Corn Syrup) resulting in 24.96g of fructose for the liver to deal with. Same amount to drink, nearly double the amount and effort for the liver to process the cola.
Trying hard to do its job, and use or store energy, the liver turns it all into fat, which gets dumped in the liver (hence the fatty liver disease) and floats around the body with no place to go (getting deposited around the heart and other danger zones).


Sweet Immorality
Manufacturers prefer using high fructose syrups as they are cheap to produce (partly due to $1.28 billion annually in US government subsidies paid for by your tax dollars) and it tastes sweeter than regular syrups.
The ratio of fructose to glucose is actually getting worse, and while official limits are 55% fructose, in reality, 65% fructose is more common and profitable; the sweeter taste makes you consume more. When a whopping 7% of the average American family food budget (the single biggest expenditure) goes on sugar-sweetened beverages it is no wonder they are causing severe health problems.
Fortunately, trends in consumption of sugar-sweetened beverages are in decline, for both adults and children, but they are still the biggest source of added sugars, fructose in particular.
For a good laugh, read the Sugar Research Advisory Services (SRAS) article about the 'bad name' being given to sugar, and fructose specifically. Once you know the facts it's easy to see through the lies and conclude for yourself who the sponsor of the research might be. Their attempt to influence public perception sounds much like a child whose face is covered in chocolate cake telling you that they did not eat the cake!
Fact: The Sugar Industry (now valued at over $100 billion annually) has a dark history and relies on immoral practices. The 1794 Sugar Act used the power of the addictive substance to gather taxes to fund war. Sugar was the 'white-gold' that fueled slavery, and modern-day slavery ('bonded workers') continues in sugar plantations around the world.
Sugar and "Lifestyle Diseases"
While the most significant, and often immediate, issues caused by sugar stem from its impact on our metabolism there are even more reasons to avoid long-term exposure to what is ultimately a toxin. There is a growing list of what are laughably called 'lifestyle diseases,' which at their root implicate sugar. More precisely the high-strength super concentrated refined and processed sugars used to drive industry profits. Renaming this unfortunate set of conditions to 'greed diseases' would be more appropriate for two critical reasons:
Food producers greedily increase profits in any way possible, regardless of the consequences.
Sugars mess with your mind and make you want more (and more, and more!)
Is it really a lifestyle disease when people are misled about the impact of added-sugars or the addiction that keeps them eating?
From cancer to Alzheimer's, diabetes to dementia, obesity, depression, anxiety and even arthritis, these diseases are all traced back to a diet that is unsupportive to human health: full of sugar, laced with additives, and devoid of actual nutrition.
While the blame gets put on individuals for 'not exercising enough' or 'making bad choices,' the real culprits are essentially drug dealers with billions in profits and a mastery of the marketing needed to maintain an endless supply of addicted customers.
How Sugar Changes Your Brain and Behavior
Sugar activates regions of the brain that motivate us to do something in return for a pleasurable experience, this is known as the reward response. Sex and food both drive the primary reward response as they are critical to our survival. Unfortunately, it is remarkably easy to get addicted to this inner pleasure, specifically when the substance driving it is much more concentrated than found in nature, like pornography or candy.
The intense sweetness stimulated by sugar has been found to be physically more addictive than cocaine, even in individuals addicted to narcotics. This supranormal sugar response is because our brains evolved in environments where sugars were rare, so we have a relative hypersensitivity to sweetness. Like most narcotics, sugar stimulates dopamine, the neurotransmitter responsible for our motivation to take action in return for a reward. This pleasure-driven pathway easily becomes over-stimulated, with a crossover between other narcotic addictions, making sugar the true gateway drug.
In an attempt to reduce excess stimulation the brain down-regulates the response to dopamine so we 'need' more to get the same pleasure hit. The same drive to consume more over time is experienced by drug and alcohol addicts who gradually increase the amount they take. The experience of pleasure rapidly diminishes as the brain recalibrates and eventually the drug is needed to just feel normal. Addiction, to any substance, changes the physical architecture of the brain and reduces the experience of pleasure and motivation to do anything. When the drug is removed symptoms of withdrawal appear and we experience pain (the opposite of pleasure) until we get our fix.
Dopamine dysregulation is implicated in major depressive disorders and modulation of anxious behavior. So it really should come as no surprise that these conditions are reaching epidemic proportions, impacting the lives of 20% of the US population, and are the leading cause of disability.
The naturally derived sources of pleasure (such as social activities) pale to insignificance compared to the neurological impact of sweet substances and artificial dopamine hits (like Facebook). Most people have experienced medicating their mood with food (ice-cream and Netflix, anyone?) and it's the same for depressed and anxious people, further confounding the dysregulation. Consuming the equivalent of two cans of soda per day, or six donuts (67g of sugar), increases your risk of depression by 23%.
We experience the highs and lows of sugar very rapidly – check in with how you feel (what your emotional state is) two hours after eating a big dose of refined sugars. You might be surprised how quickly sugar reduces both mood and motivation.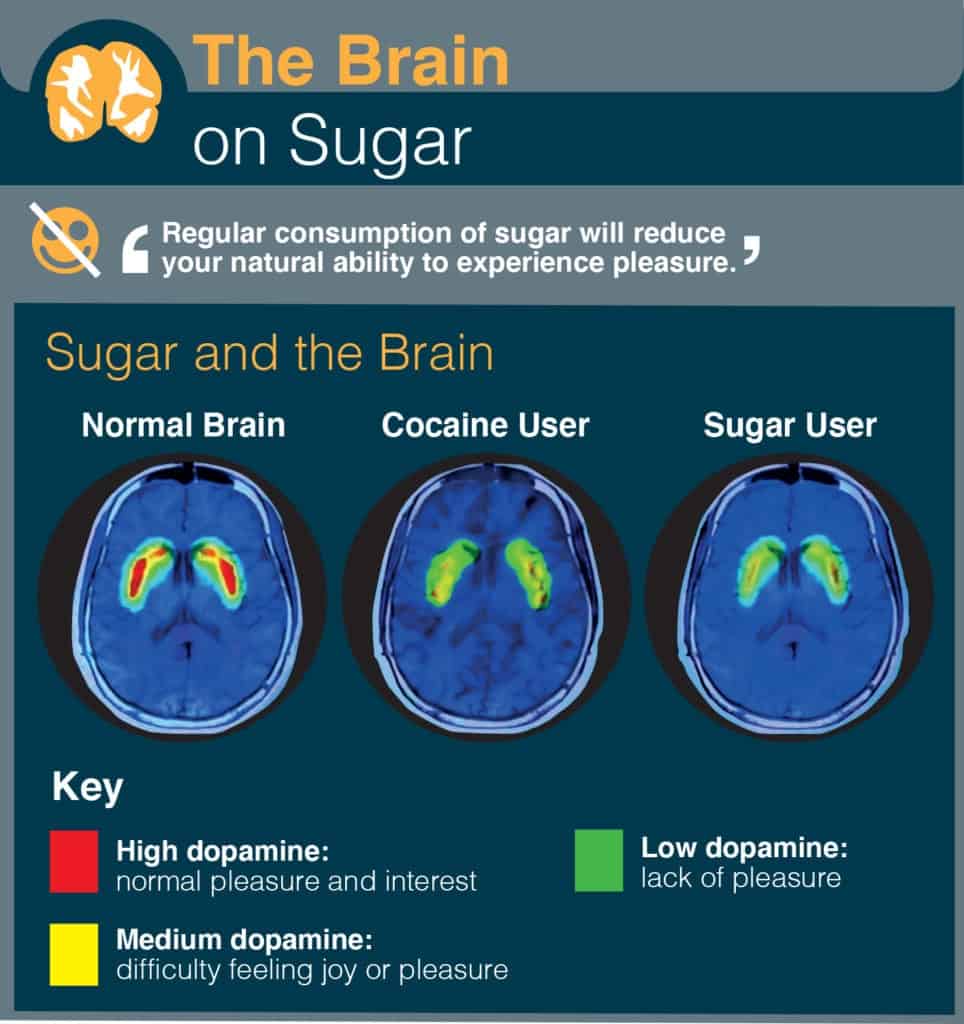 Why Do We Eat So Much Sugar?
We are largely unconscious of the motivational pathways driving our behavior so the conscious brain supports our actions by rationalizing (reverse engineering) using flawed logic and hiding discrepancies with reality. This is why we are able to ignore health warnings on cigarettes, becoming obese, and abuse alcohol without it ringing alarm bells. The brain hides the addiction from our conscious mind and we continue with behavior that is destructive or dangerous. The motivation reward pathways are so deeply ingrained in the brain that they take precedent over other conscious choices.
The brain's ability to creatively construct reality is what makes sugars added to our food so dangerous. We persuade ourselves that we enjoy just the odd cake, cola, or cookie. We feel like it's just occasional, a treat, a little pleasure, and not doing any harm. But the reality is that this choice is not a choice at all: it's an instinctive drive more like sneezing or scratching an itch.
Adding sugars to food changes our behavior, period. It is outside of our control unless we get strict and recalibrate the brain to natural sources of sweetness.
The problem is made even worse by both marketing and the use of flavor-enhancing ingredients added to all processed foods. Emotional marketing was championed by the tobacco industry to help sell products they knew were lethal. Instead of focusing on facts, they focused on feelings, which we crave beneath conscious awareness. Think of slogans like "taste the rainbow" (Skittles) which uses bright colors to make the sweets look like berries - the different colors trick the brain into thinking it is a selection of nutritional bio-flavonoids. Or "once you pop, you can't stop" (Pringles) which seems to be overtly boasting about its addictive nature.
"Commercially sold cookies now share many of the same reward-giving properties as crystal meth. That's because they contain highly palatable and highly profitable ingredients, often forms of sugar or salt. These are not your grandmother's salt and sugar – they are complex formulations engineered by food scientists to be irresistible. They're psychoactive compounds that meet the definition of an addictive substance." Kima Cargill, The Guardian (2017)
Sugar Damage and Disease
Sugar does damage to the entire body. In some organs, like the pancreas, the damage and resulting disease is more obvious, while other organs and cells simply age before their time. Sugar is 'sticky' and gets fused to proteins in the blood (measured with an HbA1c test commonly done by your doctor) and creates additional stress for other cells too. When sugar is metabolized and used as a fuel it creates oxidative stress, this is like the sooty smoke produced when you burn wet wood in a fire. The reactive oxygen species, and inflammation they cause, age the body and damage the skin. Smokers and sugar addicts specifically have the same premature aging of the skin. Internally the damage is even worse. The inflammation caused by sugar makes it harder for your body to detect actual issues and repair them.
Changes in gut bacteria as a result of excess sugar can cause immediate bloating and in the long run reduce your ability to absorb nutrients and produce the neurotransmitters needed to feel happy (namely serotonin). Nerves, especially in the eyes, are highly sensitive to excess sugar and easily damaged. Loss of vision, ulceration, pain, numbness, and other symptoms of reduced nerve function arise before diabetes develops. Sugar interferes with the nerve's ability to send signals and increases pain perception.
The damage from excess sugar in the brain extends beyond the nervous, neurotransmitter, and signaling pathways it interferes with. Alzheimer's has been nicknamed Type 3 diabetes because the patterns of brain degeneration are virtually identical to those seen in diabetic patients with poor sugar control. The risk of both dementia and stroke (blood clot on the brain) are increased with the consumption of excess sugar.
The thyroid gland, which performs critical metabolic, digestive and cardiovascular regulatory functions, is also under attack from sugar. Thyroid problems are common in diabetics and the number of non-diabetics also struggling with an under and overactive thyroid is increasing (12% of people in the US will develop a thyroid problem in their lifetime).
The immune system has a double whammy of issues related to sugar. Firstly the oxidative stress causes systemic low-grade inflammation (inflammation without injury), so real issues can't be detected. Secondly, (due to similarities in its shape), glucose competes with the Vitamin C  needed to dampen down oxidative stress and put out the 'fire' of inflammation. This competitive inhibition is so bad that just a few spoons of sugar can knock-out critical immune antioxidant functions for several hours. The combined inflammation and inhibition effectively disables the body's ability to repair the damage sugar is doing, making the problem worse, and allowing toxins to accumulate.
Could Sugar Promote Cancer?
The final and maybe most devastating impact of sugar is that it supports the growth of cancerous cells with their hallmark metabolic disturbances. This may come as a shock, especially considering many cancer charities promote sugar-laden bake-sales to raise funds, but this is old news in the scientific community.
In the 1920s, scientists discovered that cancer cells rely on a very different system of energy metabolism to sustain their extensive growth and proliferation. Normal cells take-in and then oxidize glucose in a two-stage process to release its energy, cancer cells can only complete the first stage so they rely on fermenting glucose to meet their energy needs. The fermentation process and increased glucose uptake found in cancer cells is called The Warburg Effect and has been extensively studied for over 90 years.
The recently discovered autophagy immune response, which scavenges damaged cells and cell structures, is silenced as a result of our modern eating patterns – it's only turned on when the body is low in both protein and carbohydrates after 12-16 hours without food. The metabolic changes found in cancerous cells cause the build-up of lactic acid, preventing immune cells from detecting and removing tumors. The high rate of glucose uptake is a metabolic signature of cancer cells, and exciting developments in dietary treatments for cancer have reached the pre-clinical stages.
The ketogenic diet (high-fat, low-carb) forces cells to use fat metabolized by the liver (instead of glucose) for fuel. Since cancer cells rely on glucose (and some proteins) to meet their energy needs it makes sense that depriving them of glucose alters their progression and growth. Early results in animal studies concur with individual experimentation demonstrating that the ketogenic diet actively slows cancer cell growth and reduces inflammation, helping the immune system locate and tackle cancer itself.
"Both the ketogenic diet and the pharmacological restriction of blood glucose by themselves inhibited the further growth of squamous cell carcinoma tumors in mice with lung cancer," Dr. Jung-Whan, Professor of Biological Sciences, University of Texas (2019)
Dietary modifications to support traditional chemotherapy are also gaining popularity as growing evidence suggests that when the body fully rests (from the processes of digestion and metabolism) it allows the immune system to work more effectively. The nutrient deprivation impacts cancer cells much more than normal cells and increases their susceptibility to chemo-toxic drugs. Short terms fasts quickly reduce inflammation and increase autophagy (scavenging of damaged proteins), both of which support immune effectiveness.
Longer, extended fasts, are also gaining support for their ability to resolve a wide variety of health complaints by supporting our natural rejuvenation mechanisms and reducing oxidative stress and inflammation in the body. It would seem that the most pressing modern diseases, of the body and mind, are made much worse, or even triggered by an excess of food - specifically sugar. Spending more time in a fasted-state gives the body greater opportunity to repair itself and focus on healing rather than digestion. Time-based dietary restrictions like intermittent fasting (IF) restrict eating to time-windows of 6 to 10 hours, and offer significant health benefits; the body quickly adapts to a new state of increased metabolic fitness and improved immune response.

Testing for Sugar-Related Health Problems
Medical tests of your blood and urine can detect both excess sugars from your last meal and your glucose history over the last two to three months. The HbA1c test detects physical damage to red blood cells caused by sugar. Since red blood cells stay in circulation for about three months they act as a measure of longer-term dietary patterns, so you can't trick the test by eating just salads for the week before! Sugar in the blood causes glycosylation, 'stickiness', of specific proteins in this essential oxygen-transporting machinery making it work less effectively.
When there is an immediate excess of sugar blood glucose levels go up and the excess is spilled out into urine via the kidney. Urine test strips can be used to quantify the excess or pocket-sized blood glucose machines which can immediately tell you how much glucose there is in your blood.
Normal blood glucose levels (tested when fasting) should be between 3.9 and 7.1 mmol/L (70 to 130 mg/dL). When we eat, the body releases insulin to lower blood glucose. In diabetics, these processes are disturbed, mainly due to insulin resistance and blood. When blood glucose levels exceed 160-180 mg/dL, glucose is excreted during urination. The Latin medical term, diabetes mellitus, means 'sweet urine,' and frequent trips to the toilet and sweet fruity smelling urine can be an early warning sign that blood glucose management is disturbed.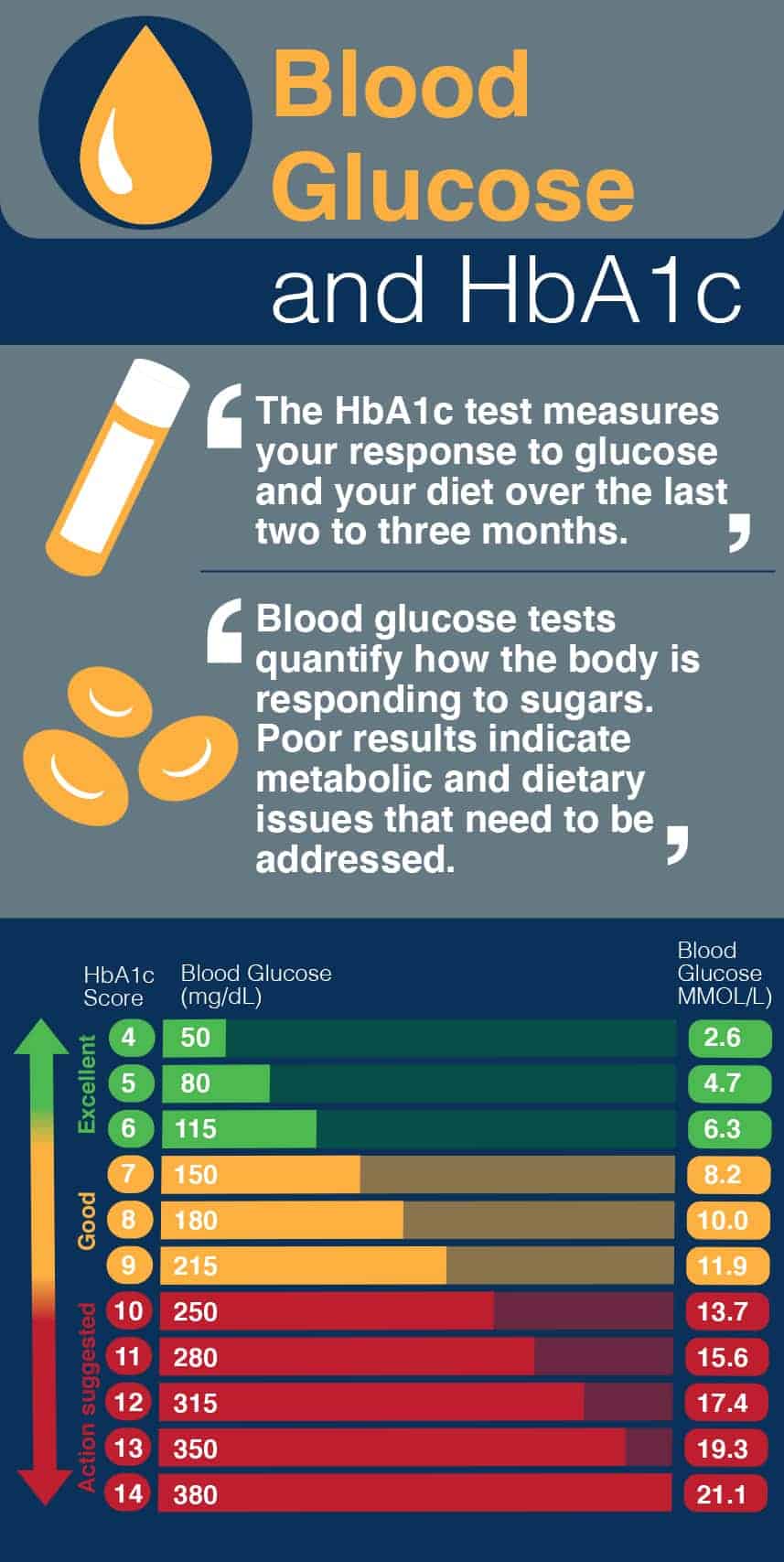 When we fast, the body uses a process called gluconeogenesis to make glucose from protein. A healthy person consuming enough protein with adequate fat stores doesn't need to eat any glucose, or sugar, because the body can make its own and the brain can use the alternative fat based fuel - ketones. This is the main way the keto diet works; no glucose means no appetite and no insulin (and it eliminates virtually all processed foods!) so weight loss is easy and rapid.
So, when people ask how much sugar we 'should' be eating, the answer is simple: you don't need any! The choice to make something sweeter, by adding sugar, is one of taste (addiction?) and is only needed to satisfy the mind, not the body. Fruit and vegetables provide quality plant-based carbohydrates which add variety, nutrition, and energy to our diet, but sugar is not needed at all.
Main Symptoms of Excess Sugars
While weight gain and obesity are two obvious symptoms of excess sugar, as the fuel surplus is converted to fat, there are other warning symptoms that many people experience. Brain fog and fatigue are common symptoms of a diet high in sugar, a combination of inflammation and low-nutrient density (common in sugar-containing foods) that contributes to reduced cognitive ability, memory loss, and confusion as we can't think clearly. The body also gets tired quicker when we eat an excess of sugar, sometimes known as the post-prandial slump (falling asleep after a big meal). After we eat, blood, and therefore energy, is diverted to the digestive processes and away from the brain.
When a meal is high in sugars, this natural diversion of resources is made worse: blood glucose levels and insulin go up and down rapidly, like an uncontrolled roller coaster ride. As the sugar hit wears off quickly (because the body panics to deal with the toxicity), the blood sugar drops too quickly and we feel drowsy and a few hours after eating people find themselves reaching for coffee and sugar to overcompensate. Complex carbohydrates, like starchy vegetables, are absorbed much more slowly and provide a slower and more sustained release of fuel. If you put rocket fuel in your car you would expect it to go super-fast, but also to run out of fuel before you get to your destination.
Other symptoms of excess sugar, sugar detox, and sugar withdrawal include heart palpitations, cold sweats, dizziness, rashes, and nervousness, all caused by the long lists of physiological disturbances from consuming sugar. Fortunately, when you can gradually reduce sugar, and chemical-laden processed foods from your diet, these symptoms all go away. Mistaken for heart attacks and a cause of much alarm, sugar could be making you feel tired, irritated, unhappy, and confused. Retrain your brain and body with the moderate natural sweetness from fruits (not fruit juices), and your symptoms will rapidly resolve themselves.
Politics and Progress
The evidence that sugar is literally wrecking our health is pretty overwhelming, so why it is still allowed? Sadly, it all comes down to the immense profits involved, coupled with the slow progress of translating scientific discoveries into public health action (which takes on average 17 years). The public is essentially left to fend for itself trying to understand the 100 different names for sugar routinely used on food labels.
Fortunately, some countries and even US states are implementing their own guidelines, labelling, and taxation systems to try and curb the destructive influence sugar is having on our health and happiness. The World Health Organization is recommending a Sugar Tax on soft-drinks, specifically because these contribute more sugar than any other source. Mexico implemented a sugar tax of just 1 peso per liter on soft drinks with added sugar (a 10% consumer price increase) which reduced sales by nearly 8% in the first year, and the $2.6 billion tax revenue is being re-invested into projects like school water fountains.
In 2015 San Francisco was the first state to introduce a Warning Labels Bill regarding sugar to go on outdoor advertising boards. Naturally, the American Beverage Association tried to block implementation and even sue the legislators over lost profits. Fortunately, sense and science seemed to prevail and Federal Judges concurred that the warnings were: "factual and accurate and that sugary drinks are a significant source of calories that contribute to health problems." The industry went to the court of appeals in 2017 who sided with them, agreeing that the requirement to warn the public stymied the lobbyist's rights to commercial freedom of speech! Warning label bills have been proposed in five states, but none have been passed yet. Research conducted by the Harvard School of Public Health found that graphic images of the damage sugar causes (from diabetes to tooth decay) reduced purchase by over 14%, while text warnings actually had minimal impact.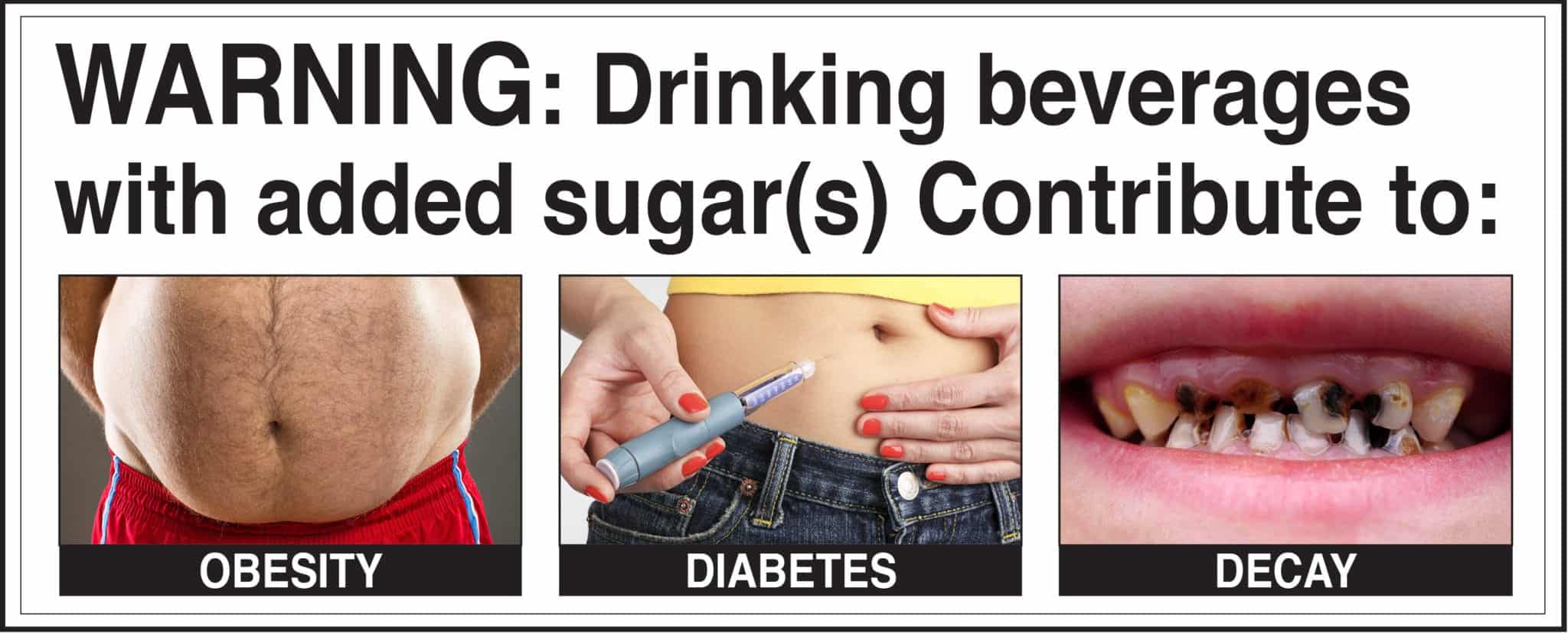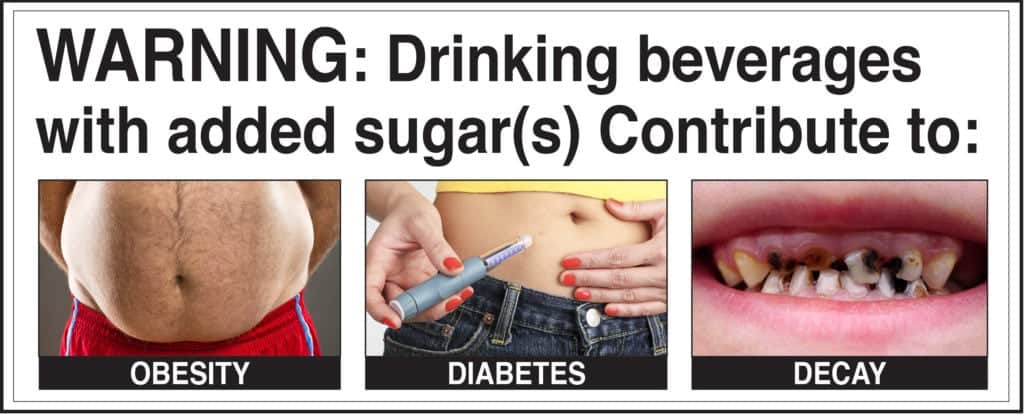 Sweet Solutions: Getting Over the Sugar Problem
The good news is that despite its destructive nature, the impact of sugar is reversible - as soon as you stop eating it. Your body has a remarkable ability to self-repair and the brain will recalibrate to appreciate natural sweetness when you cut refined sugars out of your life. Essentially, that means no more processed food, no more adding sugar, no more pop, sodas, or other commercial drinks including bottled fruit juices. Unless it's actually made from fruit, and you saw the fruit being juiced yourself, then ideally it's to be avoided. This hard-line zero-tolerance approach is needed for at least a one-month sugar detox to give your brain and sense of taste time to adjust and re-set your metabolic hormones.
For some people, detoxing from sugar is associated with withdrawal symptoms as the addicted brain cries out for its fix. Ignore it. You will try and trick yourself into delaying the detox, and like a true addict your mind may come up with lists of excuses why it would be better to start tomorrow, next week, next year, or never! If you can battle through just 3 to 4 weeks and 'just say NO,' you will notice a remarkable and rapid difference in your mood, energy, motivation, and relationship to food.
If you are a heavy sugar addict then reducing the dose gradually might suit you better; going cold turkey can induce symptoms similar to alcohol withdrawal like shakiness, nervousness and heart palpitations. If you have diabetes, then you may need medical supervision to adjust medication. When cutting something out it will naturally leave a vacuum, so plan to replace the sugar with something else that you consider a treat, which might be food or something else. Plan other ways to get your fix of fun from life, including hobbies, social circles or even a shopping spree – anything to keep your mind occupied and naturally increase dopamine levels.
Raw food cakes (made from fruit and nuts) are a surprisingly tasty alternative as they are packed with healthy fats that are satisfying and tasty. It doesn't take long to return to a more natural appreciation for sweetness and after just four days you will find fruit starts tasting sweeter. Plan how to replace soda drinks with things like fizzy water flavored with lemon, lime, or a few drops of food-grade essential oil — available in an amazing range of flavors, many of which have therapeutic properties. Ice-cream is super easy to make at home by simply putting frozen fruit in a blender with coconut cream or dairy cream, buzz it up and in 5 minutes you have delicious, healthy, tasty ice-cream.
Unfortunately, you are unlikely to get true sugar-free food from the store, despite what the labels say. Sugar is usually snuck in somewhere, disguised with another name. Inulin is probably the only exception here, it is actually a form of fiber that tastes sweet and it will pass straight through your gut, sometimes very quickly, (you have been warned!). Inulin based sugar-free dark chocolate is often available in larger stores.
For the time you are detoxing, avoid even natural sugars like honey or maple syrup as you want to give your body and brain the best chance to fully reset. After the first month gradually re-introduce sweet natural ingredients and you will be amazed at how different they taste. The first month is like giving up any drug or smoking, it will feel uncomfortable, but it will be so worth it in the long run for your health, mood, and your ability to moderate food. The bi-product of banishing sugar is removing processed food from your diet - it is devoid of nutrients and packed with toxins. Once you have restored a natural appreciation for sweetness and detoxed from the drug, you can enjoy naturally sweet foods, packed with vitamins, minerals, and phytonutrients, and you won't need very much to enjoy it again:
Dates – as sweet as sugar but packed with fiber, soak in hot water to make a sweet spreadable paste.
Honey or Manuka Honey – rich in nutrients, vitamins, and minerals, plus it's naturally anti-bacterial.
Fresh or Dried Fruit – puree, blend, eat with something creamy, make your own jam; delicious and nutritious.
Maple Syrup – the real kind, made from maple trees, more expensive than the fake maple-flavored corn-syrup!
Stevia – a leaf which incidentally tastes sweet; an acquired taste that some people dislike.
Monk Fruit – like stevia, this Chinese mystery fruit tastes sweet but is not sugar. It can be difficult to get hold of.
Chocolate date sauce – blend dates, cocoa powder, and coconut oil; amazingly tasty!


It only takes a few new go-to treats to restore your appreciation and enjoyment for desserts, like raw cakes, homemade treats, and even sweet sauces. It requires some research, planning, and effort — but that's the trade-off for health. If something is cheap, quick, and made industrially, it's almost always unhealthy.
Take your time, make it yourself, and you will be rewarded with nutrition and a tasty sense of achievement – your brain will naturally dose you up with dopamine to reward you for being creative and successful in a kitchen quest!
Personal Choice
The aim of this article is to share the truth about our hidden addiction to sugar and just how dangerous it is for virtually every organ and vital system of the body. When you are kept informed about the action of this toxic drug, which has transformed the nature of our relationship to food, you can choose how much, if any, you want to consume. Sadly, most people are under-informed due to the tactics and influence of the powerful industries which seek to keep us addicted.
If you are serious about protecting your long term health, or your children's, then there really is only one option. You can't 'moderate' your use of sugar (just as an addict can't moderate their use of heroin!) it simply doesn't work like that. Due to the immensely powerful effect sugar has on the brain and regulatory systems controlling motivation and mood, it's all or nothing,. But, if you are brave enough to push through a month-long detox then you will be quickly rewarded. In just a few days people notice anxiety-reducing and their mood-lifting and find freedom from food never known before.
We are in the midst of a modern health epidemic and no medicine can turn the tide of sickness that sugar is creating. The only solution is your personal power and choice to quit. Join the voices of millions of other health-conscious people who are choosing to put long term wellness before instant gratification. Share this article with people who need to know the truth about our secret addiction to sugar. Let us know in the comments below if you are ready to give up the deception and are prepared to take affirmative action. Here's to your sweet success.