Eco-friendly rules are starting to take stronger holds in various cities across the world. One of the ways which this comes into play in our everyday lives is in the use of reusable grocery bags. Plastic bags are gradually phasing off – and that's a good thing for the environment. Reusable bags limit waste and cut down hassles, making them a smart choice.
However, what might be challenging is choosing a reusable grocery bag that will suit your shopping need. We've reviewed some of the top options and present you with the 9 best reusable grocery bags. Get any of these bags to transform all of your shopping experiences into eco-friendly activities.
1. BAGGU Standard Reusable Shopping Bag – Best Overall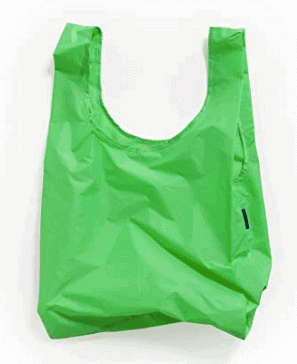 This tote bag from BAGGU is no doubt one of the best reusable grocery bags on the market. It is designed to be tough and highly durable – lasting more than many other options. With a 50 lb capacity, the bags are more than able to carry different loads, including groceries and everyday needs.
BAGGU reusable carryalls are sold individually at a higher cost than many options sold in sets. But the durability and capacity of these bags make them worth every single dollar. Besides, their nylon lining makes it easy to wash them. The bags' carrying-capacity notwithstanding, they are incredibly lightweight and can foldable into a mere 5 by 5 square inches.
The Standard reusable shopping bags come in a wide range of beautiful colors. You can even find some with fun prints. And best of all, these bags are not just for grocery shopping. They can be used anywhere and to carry just about anything!
Many of these colors consist of about 40% recycled material, making them environmentally safe options. Buying one of these bags is not just an investment in a shopping tote that will last for several years, but it is also a way to promote eco-friendly products.
2. Earthwise Reusable Grocery Bags With Reinforced Bottoms – Best Foldable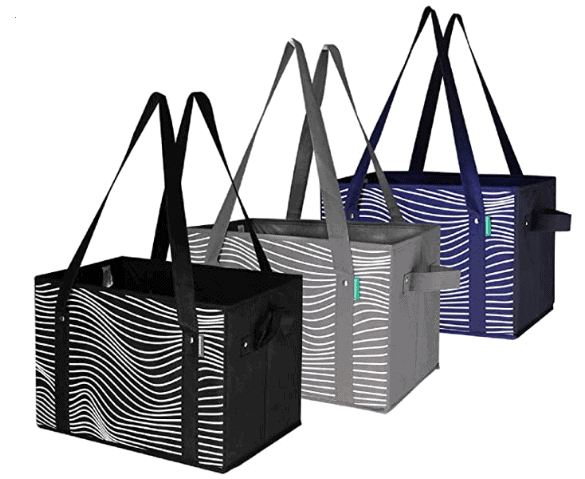 From Earthwise comes this 3-pack set of box-shaped reusable bags with multiple uses. It is suitable for groceries, laundry, boating activities, picnics, going to the beach, general shopping, and just about anything that will require a durable bag.
To make the bag more environmentally friendly, Earthwise built the walls of the bags with recycled cardboard, which gives it a rigid structure that stays open during loading. The durability of this bag is not in doubt as it is made from a heavy-duty, non-woven polypropylene material that can withstand harsh conditions.
Whether you want to lift the bag by the sides or hang it on your shoulders, the short side handles and the additional long shoulder straps are perfect for both options. The bottom is rigid enough to keep items from sliding inside the trunk of your car. The bag is easy to store when not in use. Simply fold flat and store.
Overall, this is an excellent option for carrying various items all at once because it is large enough to hold quite a lot. Plus, it is a lot easy to clean.
3. BeeGreen Reusable Nylon Grocery Bags – Best Washable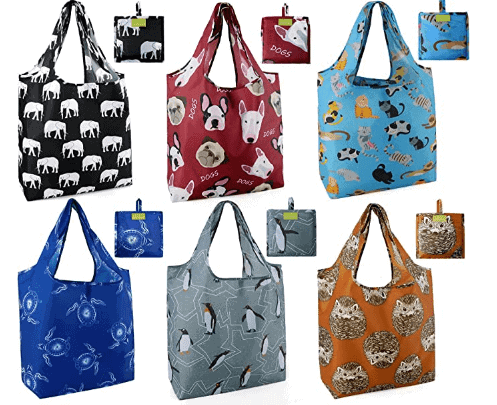 Keeping your reusable bag clean is important, which is why the best washable tote bag is a smart investment. And if you want a reusable grocery bag that won't shrink or get damaged due to washing, consider this set of bags from BeeGreen. The bags are made with durable 210-T rip-stop nylon, making them ideal for washing.
You can hand wash these bags under a running tap or faucet, or you can machine-wash them, and they'll be all set for your next shopping. They come in various colors and six cute animal pattern prints, including dog, turtle, penguin, hedgehog, elephant, and cat. The bags can also fold and fit into the pocket-sized pouch that comes with them.
Besides being cute, water-proof, machine-washable, and durable, these bags are designed to hold up to 50 lbs of groceries. That's more than most people usually shop for at once. But it's not limited to carrying groceries alone. You can use this for carrying heavy books and even going to a party!
With an impressive 4.8/5.0-rating and nearly 7,000 reviews on Amazon, you can be sure that this is an excellent choice.
4. Ecowaare Reusable Mesh Produce Bags – Best Option for Produce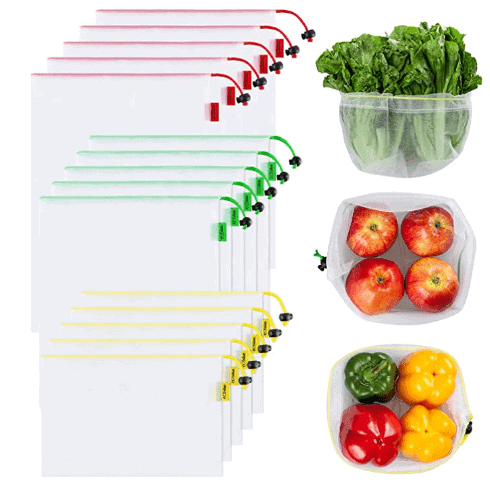 Single-use produce bags are as harmful to the environment as plastic grocery bags. For this reason, Ecowaare offers environmentally-friendly produce bags that can keep your delicate produce fresh and last longer. These transparent mesh bags don't only make it easy to see what's in the bags at checkout; they also allow for easy bar-code scanning without removing the items from the mesh bags.
The reusable produce bags come in a set of 15-packs of multiple sizes, including five small, five medium, and five large bags for storing your favorite fruits and veggies. You can be sure that your produce will stay fresh in the fridge with these mesh bags.
These bags are made from BPA-free polyester materials that are completely safe to come in contact with food. They are super lightweight and can be used for a long time. And because they are handy, it makes them easy to carry about in your purse, so you can use them any time the need arises.
5. Lotus Trolley Bags – Best for Organizing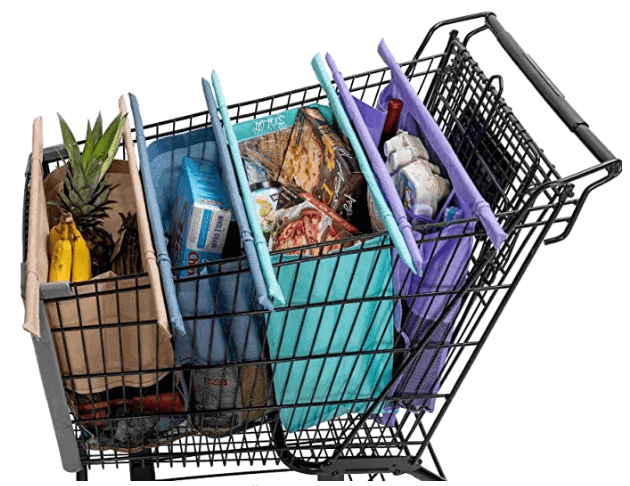 The trolley bags from Lotus could be your best option if you want the best reusable grocery bags that keep your items well-organized. The bags are designed to resemble file drawers and fit nicely inside shopping carts.
These reusable grocery bags are made from heavy-duty fabrics that are double-stitched to prevent tears and rips. They are durable, and each bag can hold items of up to 50 lbs. You can rest assured that spills won't accumulate at the bottom of these bags because they come with a mesh.
These multipurpose bags can be washed in a washing machine after removing the rods at the top. Although they are made from heavy-duty materials, they are very lightweight and fold easily. These bags are designed to be reused hundreds of times, so you can be sure they will last you for a very long time.
6. BagPodz Reusable Grocery Bags – Best Durable Option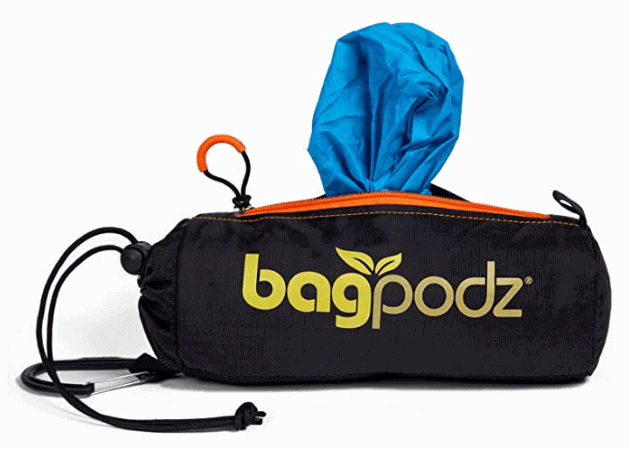 Here is one bag of bags that you'll easily like. BagPodz offers 10 foldable reusable bags inside a portable pod. The reusable grocery bags might look flimsy at first, but don't be fooled by their appearance. They are made from rip-stop nylon material that is highly durable, and each bag can carry items of up to 50 lbs at once.
The portable pod is highly useful as it practically eliminates the problem of forgetting your grocery bags. It is small enough to fit nicely into a glove compartment or even your purse, making it very handy. Simply open the zipper of the pod and pull out the bags one at a time as needed. The reusable bags are suitable for machine wash. After they are washed and dried, you can return them to the pod using pulling the drawstring, balling up the bags, and fitting them into the pod until next use.
These bags are suitable for a variety of purposes, including going for grocery shopping, carrying laundry, carrying beach supplies, and many more.
7. NZ Home Insulated Reusable Grocery Bags – Best Insulated Option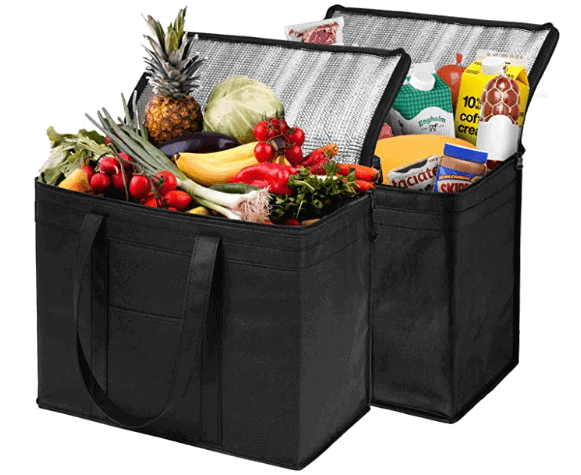 Some grocery bags are suitable for perishable items. These bags from NZ Home stand out in this category. Each bag is an insulated reusable grocery tote with a reinforced bottom that allows it to stand upright. It comes with everything you would expect of a carryall designed to keep your items from going bad. They are spacious water-proof bags that are suitable for keeping your food cold or warm.
The heavy-duty bags come in a 2-pack set and are built with extra-strong and thick thermal materials, with each featuring reinforced non-rip handles and refined dual-slide zipper designed to be durable. Whether you want to buy a couple of large items or several small multiple groceries, you'll find this pair practical for your shopping needs. And when not in use, you can fold them completely flat for easy storage.
With close to 5,000 reviews on Amazon, it is easy to see why this bag makes the list of best reusable grocery bags. Investing in a pair of this sturdy bag will not cost you more than a few dollars, but you'll be pleased with its long-term quality.
8. BeeGreen Reusable Grocery Bags – Best Machine Washable Option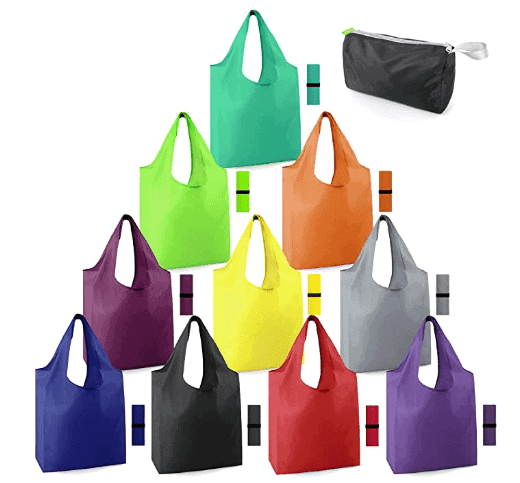 From BeeGreen comes this 10-pack set of colorful bags considered as one of the very best reusable grocery bags that can be thrown into a washing machine. You can expect it to last for a long time because it is made from durable rip-stop polyester fabric. This material makes the bag lightweight yet sturdy. Whether you use it for heavy groceries like gallons of milk or canned goods, you can rest assured that the seams won't come apart because they are reinforced with bias tape.
With a 50 lbs carrying-capacity, these bags can hold the content of up to two or three average-sized plastic grocery bags. The bags are easy to store. Simply wrap them into a small roll, and they'll fit into your purse, backpack, or even your pocket. You can also put them in the separate pouch included, and carry it wherever you go. They are perfect as birthday giveaways and are suitable for both men and women.
9. Household Essentials 2214 Krush Canvas Utility Tote – Best Extra-Large Option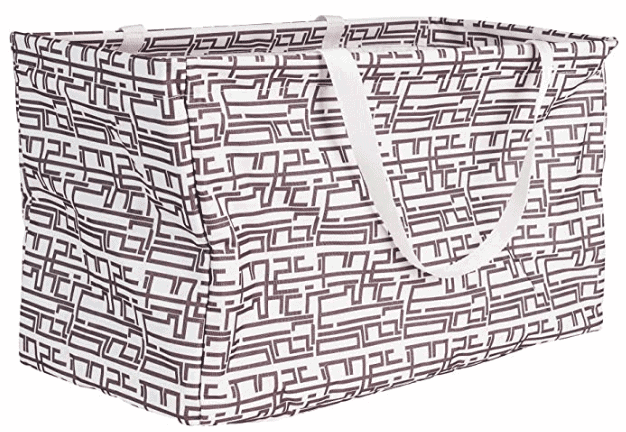 From Household Essentials comes this extra-large carryall that is suitable for those who prefer to have all their groceries in one bag instead of dragging tons of reusable bags around. You're going to like this bag if you're tired of making multiple trips carrying groceries from your car to your house. The bag measures 13-inch x 22-inch x 11-inch – that's large enough for just about any size of grocery. It is also a suitable tote for laundry. This massive bag really exemplifies a true "carryall."
Although it is an oversize bag, it doesn't take up storage space. You can completely collapse the bag when not in use and bring it along in your car or safely store it in the house. Carrying the extra-large bag is not difficult with its two mid-length handles. The bag is made with a durable canvas material, but to set customer's minds at ease, the bag comes with a 1-year warranty.
Cleaning this large bag is surprisingly easy because of the water-resistant nylon lining. So, whether you are packing supplies for a family picnic at the beach or heading to the mall for a major grocery shopping, this bag will give you enough room for all your purchases.
Choosing a Reusable Grocery Bag – What to Look for
Every shopper has their unique needs and will pick a grocery bag that suits those needs. However, keep these three important attributes in mind before you choose a shopping tote.
Capacity
Durability is a highly sought-after quality, but even the best reusable grocery bags will buckle under a weight that is beyond their capacity. The hands might come off, or even worse, the bag might rip open if you overload them. Ensure that you pay attention to the capacity of a bag before you buy it.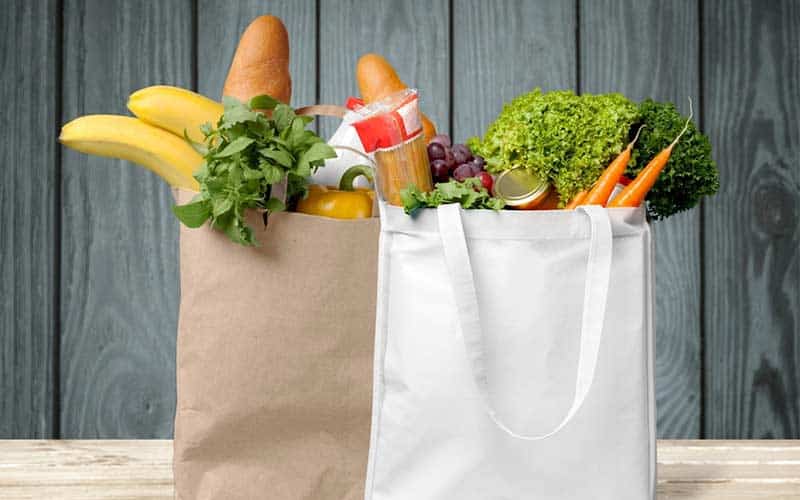 Material
Reusable grocery bags are available in a variety of materials. Their durability depends on the type of material from which they are designed. The most common material is nylon, and even some with other types of material can still have nylon lining.
The most durable bags are made from 210T polyester material. Other options include coated canvas bags that can last for many years. Another option is the insulated grocery bags that work best for transporting foods and cold goods over a long distance.
Washability
Regardless of how careful you are, it might be impossible to rule out leaks and spills in your grocery that can stain your bag, cause odor, and even bacteria buildup. For this reason, the best reusable grocery bags are not just those that can be spot-cleaned, but those that can be washed thoroughly without the risk of damage or shrinking.