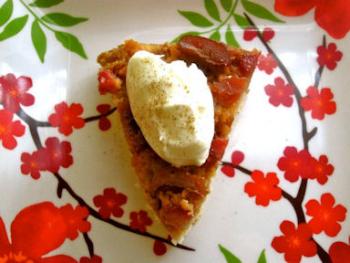 Hi Daring Kitchen readers!! My name is Kara from Happy When Not Hungry. I am honored to share a tasty, seasonal recipe with you. Hope you enjoy!
Spring has officially arrived here in the Washington, D.C. Metro Area and so have the farmer's markets!! The farmer's market I go to in Old Town Alexandria is actually open year-round, but I just went this past weekend for the first time this season to check out what they have. When I saw the beautiful red/pinkish stalks of rhubarb I knew I had to bake something delicious with them. I love rhubarb and I owe this love to the fact that my parents have a gigantic rhubarb bush at home. Every year, my Mom makes rhubarb jam, strawberry rhubarb pie, etc. I decided to bake a Rhubarb Cardamom Upside Down Cake.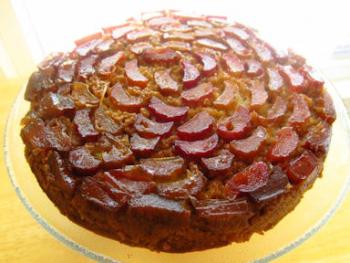 This cake came out moist and delicious! Since cardamom complements the rhubarb so nicely, I decided to place a gigantic dollop of whipped cream sprinkled with cardamom on top. If you're looking for a down-home dessert to wow your family and friends, this is the perfect recipe. Rhubarb will be in season for the next several months, so be sure to enjoy it while you can!
For topping
•¼ cup unsalted butter
•¾ cup plus 2 tablespoons packed light brown sugar
•1 pound trimmed rhubarb, cut into ½" slices
For cake
•1 teaspoon ground cardamom
•1 ½ cups all-purpose flour
•1 ½ tsp baking powder
•1 tsp baking soda
•½ tsp salt
•1 stick (½ cup) unsalted butter, softened
•⅔ cup granulated sugar
•½ tsp vanilla
•2 large eggs
•1 cup sour cream
•Whipped cream for topping
Directions:
Coat a 9" circular cake pan with cooking spray and set aside.
In a small saucepan, melt butter and brown sugar over low heat until melted. Pour melted brown sugar and butter on the bottom of coated cake pan. In a circular pattern around the pan, arrange slices of rhubarb over brown sugar.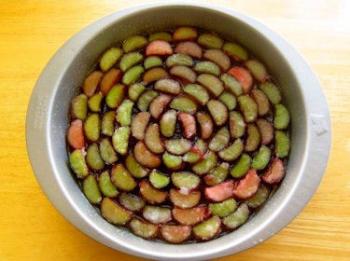 Preheat oven to 350°F.
In a bowl, mix together the cardamom, flour, baking powder, baking soda, and salt.
In the bowl of a stand mixer, beat together butter and sugar until light and fluffy and beat in vanilla. Add eggs 1 at a time, beating well after each addition.
With mixer on low-speed, add flour mixture alternately in batches with sour cream, beginning and ending with flour mixture and beating until just combined (do not over beat).
Spoon batter over rhubarb, spreading evenly (be careful not to disturb rhubarb), and bake cake in middle of oven until golden, about 45 minutes, or until a tester comes out clean.
Cool cake in cake pan on a rack 15 minutes. Run a thin knife around edge of pan and invert a serving plate over pan, keeping the plate and pan tightly together to invert cake onto plate.
Carefully remove pan and serve cake with a dollop of whipped cream, mascarpone, or ice cream.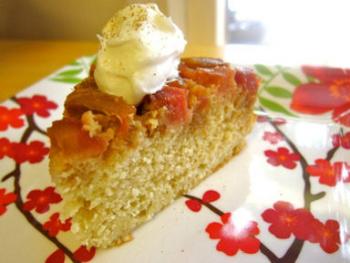 *Adapted from Gourmet