Cooking rice isn't hard, but it can get a lot easier. That is, once you get the hang of it. But until then, getting the best rice cooker is the next best thing. It's much easier whipping up a fluffy batch with one of these appliances than making rice on the stove. After all, this gadget is popular in many Asian households for a reason.
Rice is one of the best staple foods you can master. It's so versatile. For instance, you can serve it as a side to a rich dish like honey-balsamic chicken. Or make it the star of the dish by whipping up Chinese takeout-inspired egg fried rice. The possibilities are endless.
No matter the recipe you're preparing, a rice cooker will come in handy. It takes the hassle out of cooking rice and churns out perfect rice every time. No need to keep a hawk-eye on the pot or worry about the rice burning and sticking to the bottom. It's one of those convenient kitchen appliances that complement every smart home!
Today, we're looking at the eight best rice cookers on the market. Believe us, there are so many out there. We have also put together a rice cooker buying guide, to help you choose the best gadget for your kitchen. With so much to choose from, we're certain you'll find one you love.
1) Overall Top Pick: Zojirushi NS TSC10 Rice Cooker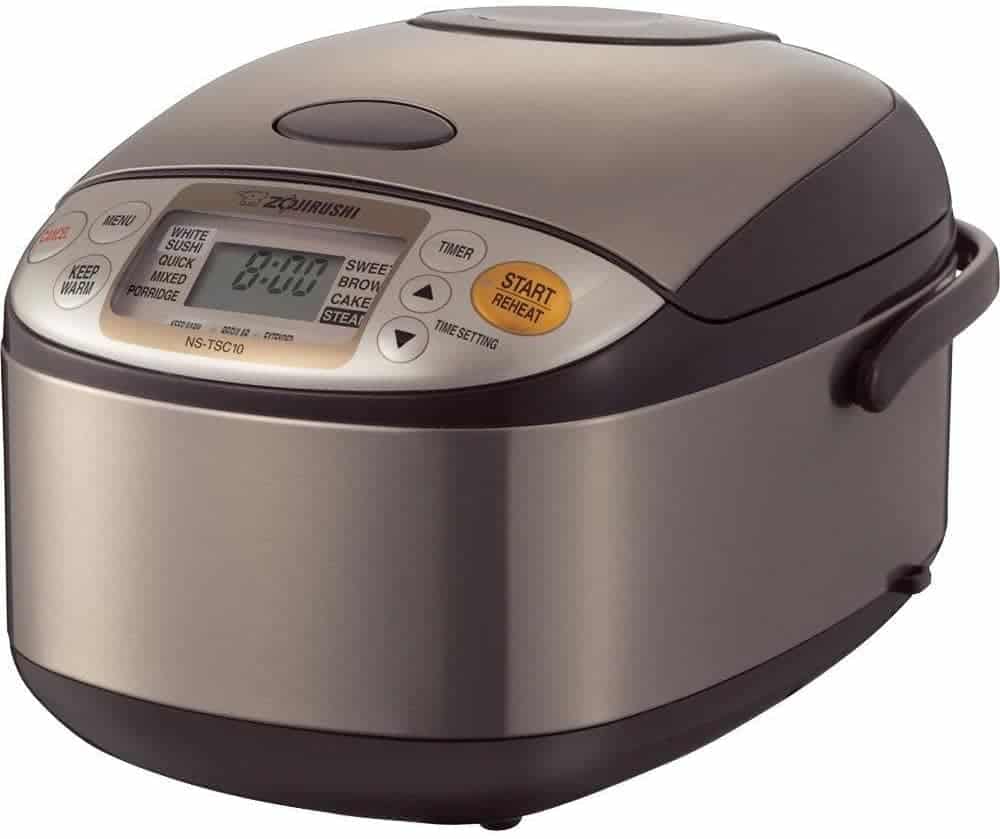 We're starting this list off strong with the best food steamer you'll find. Zojirushi is a Japanese giant and probably the most trusted manufacturer out there. This sleek stainless steel unit does not disappoint. 
You can cook up to five-and-a-half cups of uncooked rice with this food steamer. That means it yields almost eleven cups of steamed rice—enough to feed a battalion.
Even if you don't eat all the rice in the same meal, you can safely store it inside the steamer for several days. The extended keep-warm feature ensures your food stays not only warm but also bacteria-free.
This unit is incredibly reliable. Every single time you use it, you'll get rice that's cooked to perfection consistently. Moreover, all rice grains will be evenly cooked. None of that burned-on-top, raw-under mess.
Use any of the six grain presets to cook white rice and brown rice, as well as rice porridge and quinoa. You can also steam fish and veggies using the steamer basket that's included and the steamer preset. There's even a preset for cake making!
Despite having so many features, you won't be bogged down by them. This is a surprisingly easy food steamer to use. It even has a built-in timer and whistle to let you know when your food is done cooking.
Lastly, we love how easy it is to clean. The detachable lid can be washed with warm water and gentle soap. And most importantly, the inner pot has a nonstick coating. This means you don't get that sticky layer at the bottom that's hard to scrub.
All in all, this unit is definitely worth the investment. It may be more expensive, but it's certainly excellent at its job.
2) Runner-Up: Oster 6-Cup Cooker and Steamer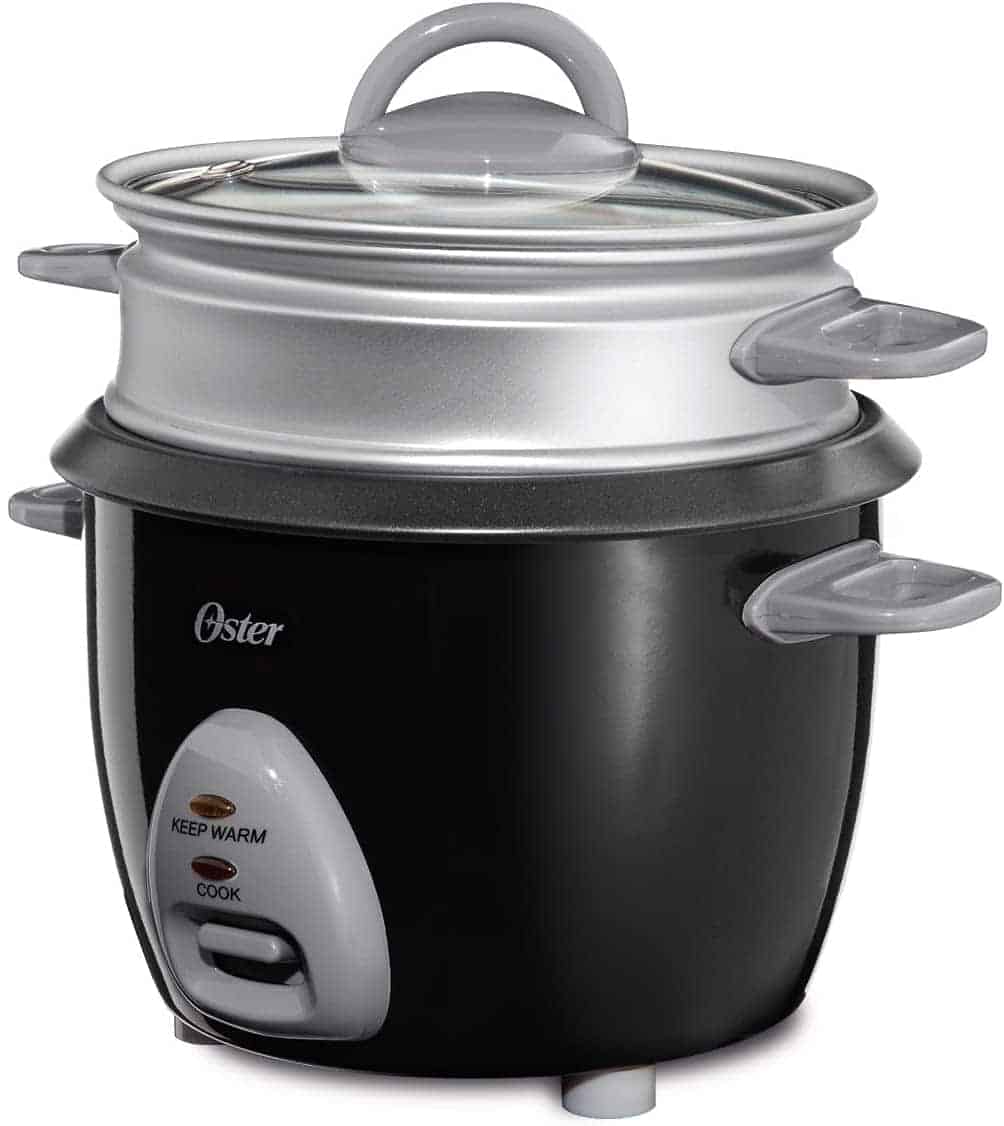 Another awesome rice cooker is the Oster 6-Cup Steamer. It's worlds different from the Japanese model we've just reviewed. But it's the classic old-timey look we're all used to and makes cooking rice the easiest task in the kitchen.
The Oster is the definition of a no-frills approach. It's such an easy model to use. Measure the rice with the plastic cup the gadget comes with, add water, pop the lid, and let it do its magic.
While there is no whistle for when the rice is done, you'll hear the switch go back to the "off" position. When that happens, fluff up the rice with the paddle and let it sit, turned off, for ten more minutes. You'll get up to six cups of perfectly cooked grains.
Unless you plug off the unit, it will keep your rice warm until it's time to eat. This will keep the rice fresh and delicious for the whole day.
Try cooking white and brown rice using this steamer. The only thing you'll need to do is change the ratio of water to rice. Additionally, you can also steam veggies while your rice is cooking using the steamer basket.
Luckily, the cooking pot is removable and is lined with non-stick coating. This makes cleanup a lot easier. The lid is also removable, so you can hand wash it easily.
3) Best Affordable Rice Cooker: BLACK+DECKER 6-Cup Food Steamer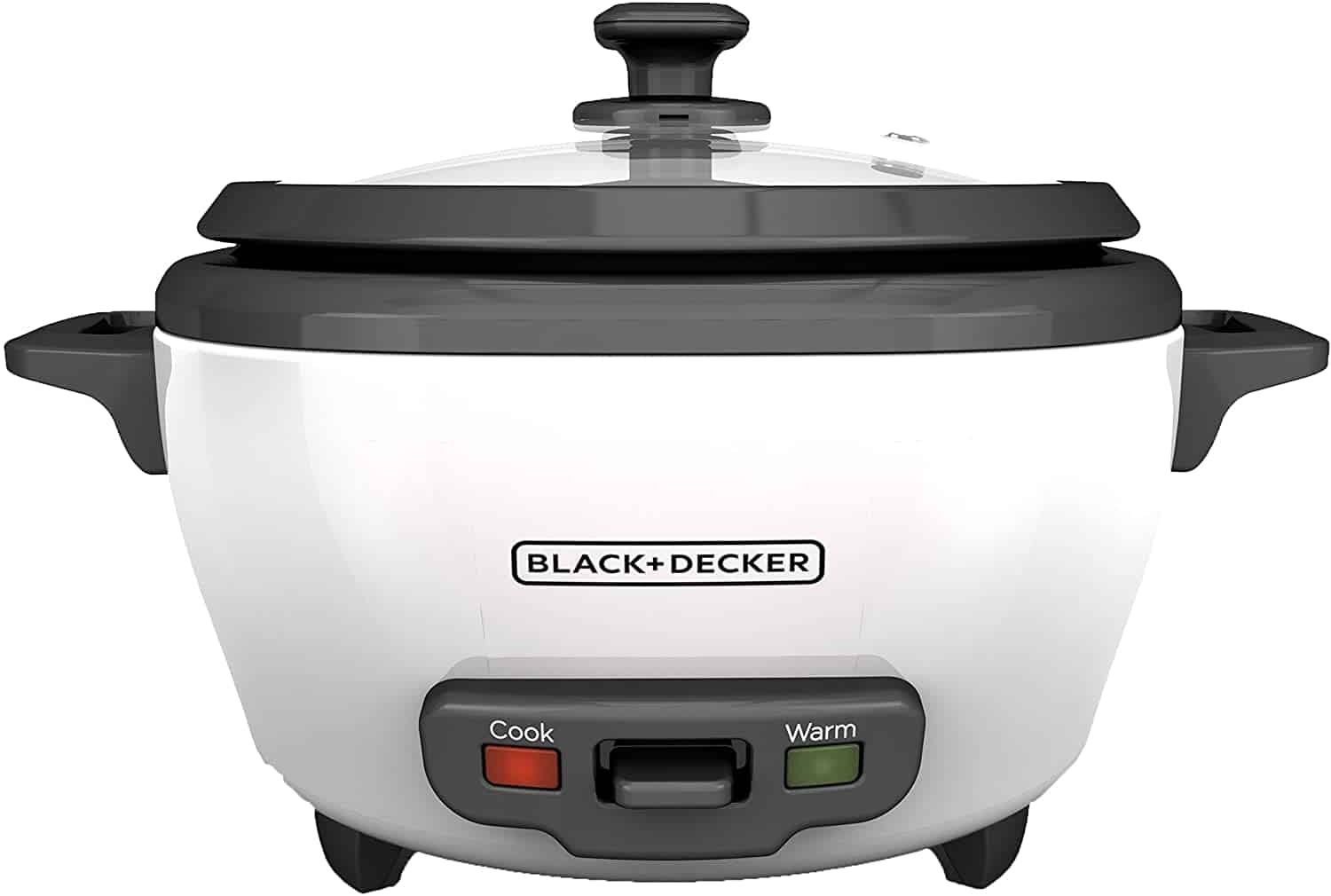 But what if you're on a budget: can't you have delicious, perfect rice? Of course, you can. This BLACK+DECKER unit gives you restaurant-quality rice at the lowest price you'll find.
This rice cooker can handle up to three cups of rice uncooked. Once it's all fluffy and ready to eat, it yields roughly six cups of rice.
But rice isn't all you can make with this unit. You can prepare all kinds of grain, for example, quinoa. You can also steam vegetables and fish, for a well-rounded meal.
The keep-warm function is also very handy. It keeps the rice hot, fresh, and safe to eat for days on end. Or for a few hours, if one portion just isn't enough.
As you can tell by the minimalistic design, this food steamer is ridiculously easy to use. There are no fancy settings: just a cook-warm switch. It's also very convenient to clean. The inner pot is removable and has a non-stick coating, preventing the rice from burning to the bottom of the pot. And the best part? The pot, steamer basket, and lid are all dishwasher-safe.
4) Best Rice Cooker Money Can Buy: Zojirushi Neuro Fuzzy Logic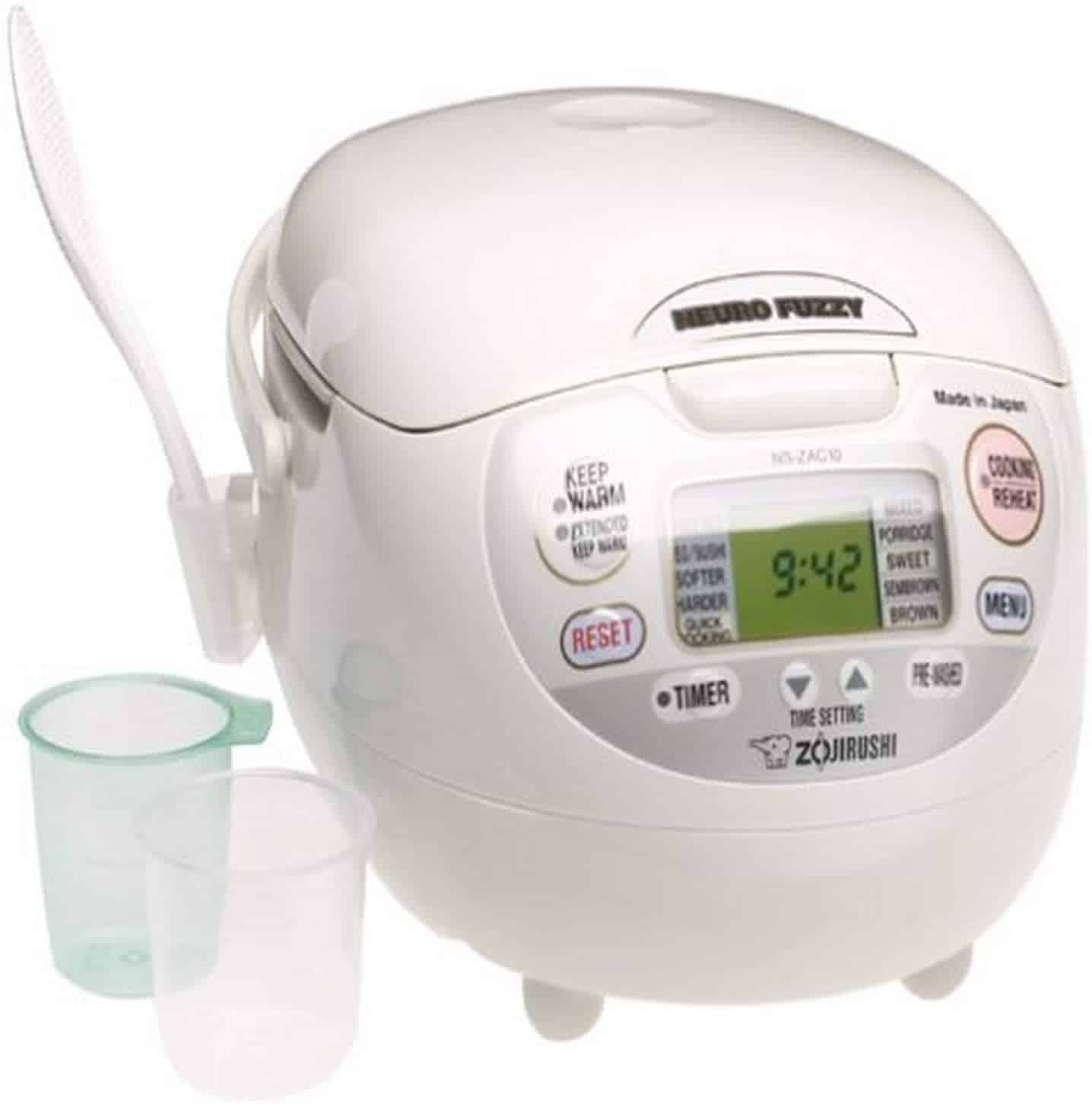 We have another Zojirushi rice cooker on our list. This time, it's a more high-end model hailed as one of the best kitchen appliances you can get. Once you see all the features it boasts, the price tag will make sense.
You can make a large batch of up to eleven cups of steamed rice at once. Always use the plastic measuring cup that comes with your machine. Then, fill the inner cooking pot with water up to the mark. This system makes getting the perfect rice-to-water ratio every time a breeze.
There are ten presets for you to choose from. Whether you're thinking of making rice soft and fluffy, tougher brown rice, or creamy rice porridge, the Zojirushi Neuro Fuzzy Logic will calculate all cooking times for you. You can even select the "quick cooking" feature if you're in a hurry and need your rice as soon as possible.
What makes this rice cooker stand out from the competition is how "smart" it is. The Neuro Fuzzy Logic steamer can detect how long your rice needs to cook for. By doing adjustments by itself, the steamer lets you focus on other things. Plus, it consistently churns out the most delicious rice.
Another awesome feature is the Fuzzy Logic's triple heaters. This means that the rice gets cooked from the bottom, sides, and lid of the steamer. Thus, all grains get evenly cooked.
Once your rice is cooked, the steamer will automatically switch over to the "keep rice warm" mode. If you don't eat it all in one meal, you can let it sit inside the machine for up to twelve hours. It'll be ready to enjoy at any moment.
Lastly, the unit couldn't be easier to clean. The removable cooking pan has stay-cool handles, which protects your hands. On top of that, its nonstick coating ensures there's no rice burned at the bottom.
5) Best for Small Kitchens: Dash Mini Rice Cooker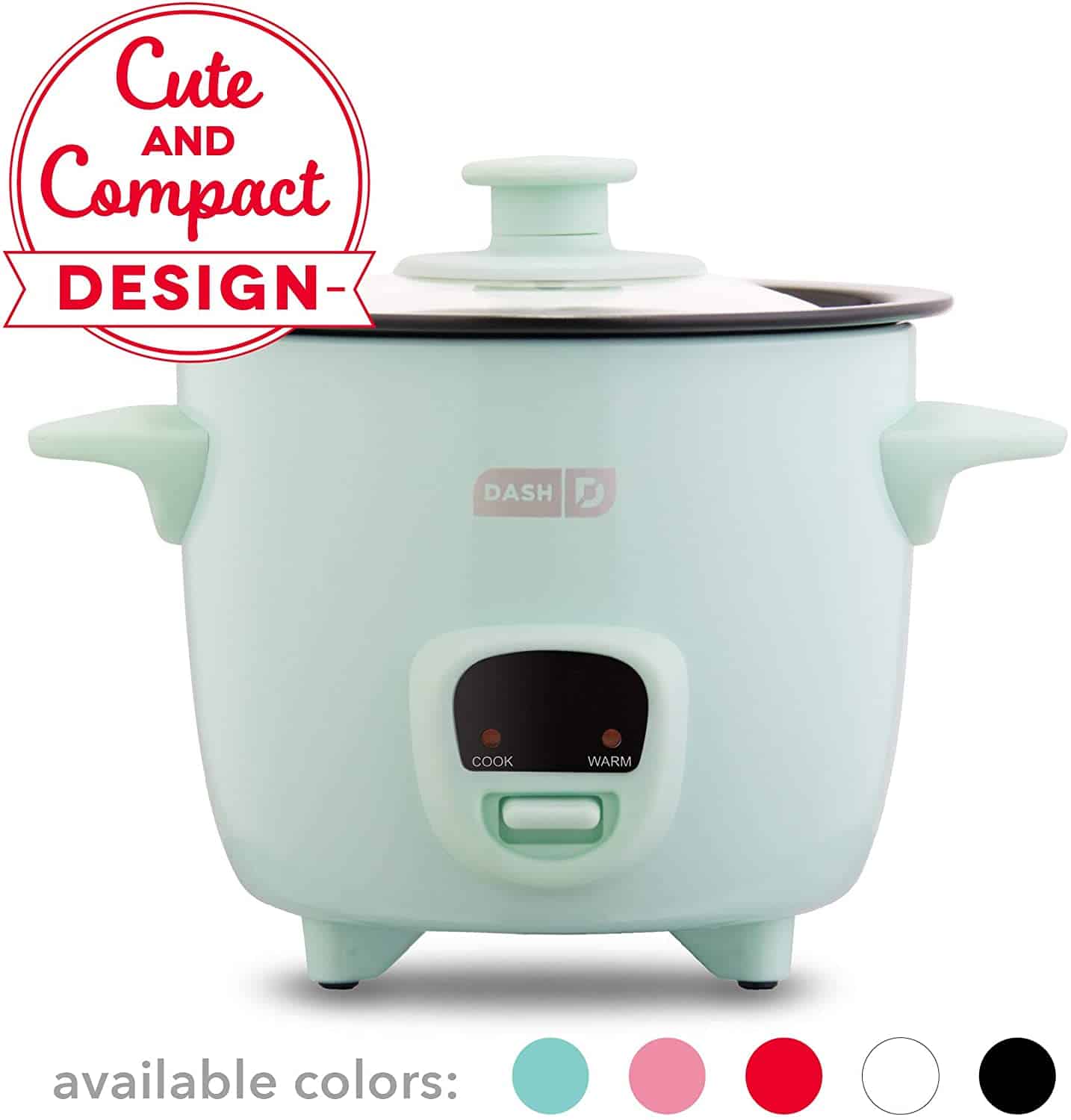 The best grain steamer for one person is this Dash Mini unit. It's compact, easy to use, easy to store, and lets you avoid waste. If you only make small batches of rice, this one is perfect for you.
This cute little rice cooker can make up to two cups of rice. That's just enough for two servings.
The Dash interface is a breeze to use. There's only one switch: cook, and keep warm. What could be more convenient and straightforward than this?
Once the rice is done cooking, this unit takes over and automatically switches to "keep warm" mode. Not only will this prevent the rice from burning, but it will also keep your food fresh until you're ready to eat it.
This rice cooker also doubles as a cereal cooker. You can prepare cuscus and quinoa following similar directions. The only adjustment you'll need to make is the water-to-grain ratio. You can find the ideal proportions on the Dash cookbook you'll get with your unit.
The removable lid makes cleanup a lot easier. While it's not suited for the dishwasher, you can handwash it with gentle soap and hot water. The same goes for the removable pot. Plus, since it has a nonstick coating, it'll be even easier to clean.
6) Best for Families: Aroma Housewares Professional 20-Cup Digital Food Steamer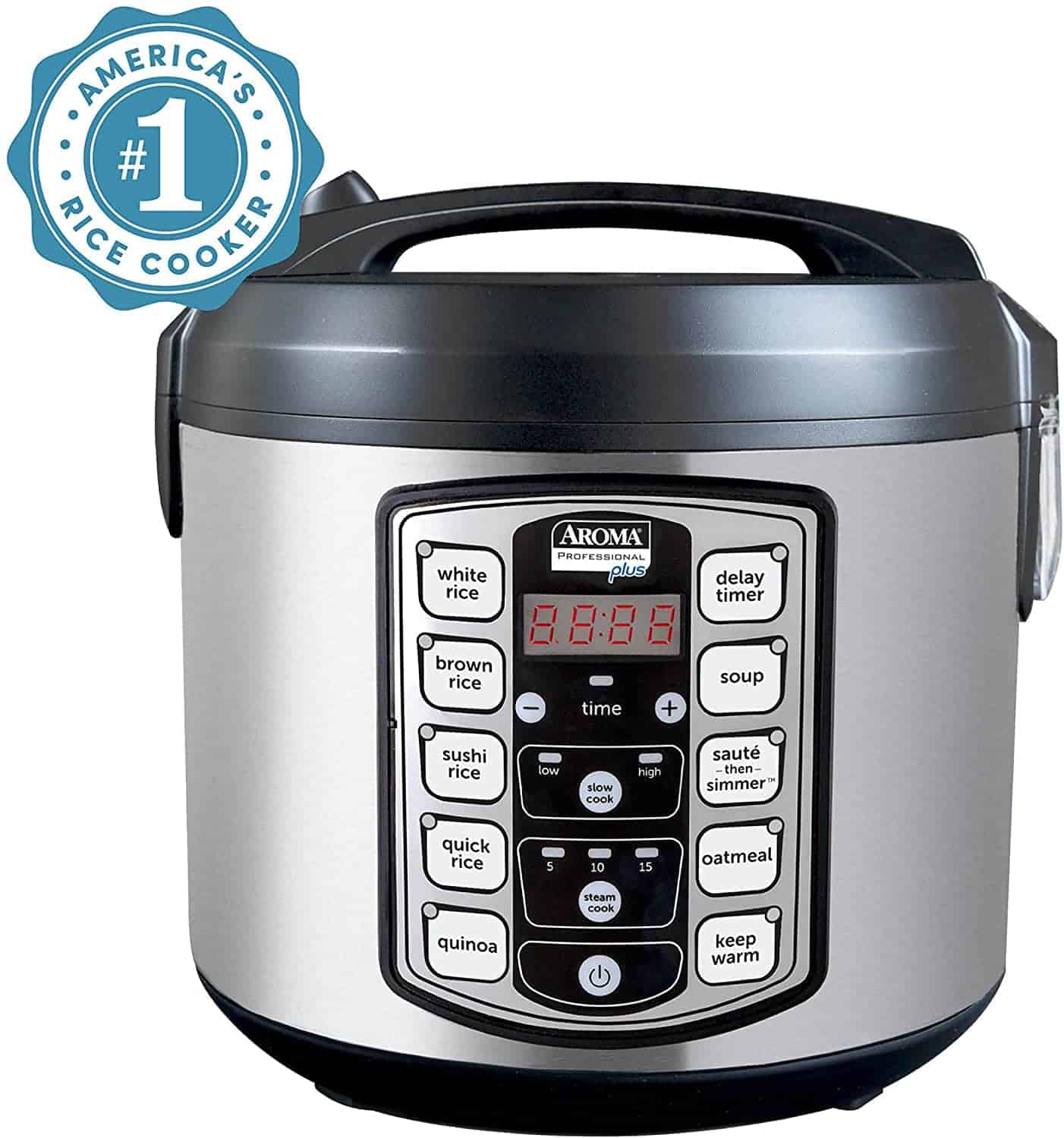 If you need to make large quantities of rice, we recommend you pick this Aroma Housewares Professional steamer.
The inner cooking pan can be filled with up to ten cups of uncooked rice. That's roughly twenty cups of cooked rice, enough to last you a whole week of meal prep! Goodbye, long days of making several batches of rice.
Additionally, you can also steam veggies and fish. Place them in the steamer basket, on top of your rice, and close the lid. It's that simple.
You'll find six grain cooking presets. From white and brown rice to quinoa and oatmeal, this is a pretty versatile steamer. The Aroma Housewares unit will set a timer for you, as well as make adjustments as your food cooks. The result? Perfect fluffy rice and grains every time.
On top of all that, the steamer also comes with two extra functions to give you more to work with in the kitchen: soup, and sauté-then-simmer. This latter one is perfect to make decadent risottos, stews, stir-fries, and pilafs! Make the most of your investment by utilizing them.
The cooking pot has a nonstick coating and is fully removable. Plus, since it's dishwasher-friendly, you'll have no trouble cleaning it up quickly and efficiently.
7) Best Microwave Rice Cooker: Red Sistema 2.6-Liter Food Steamer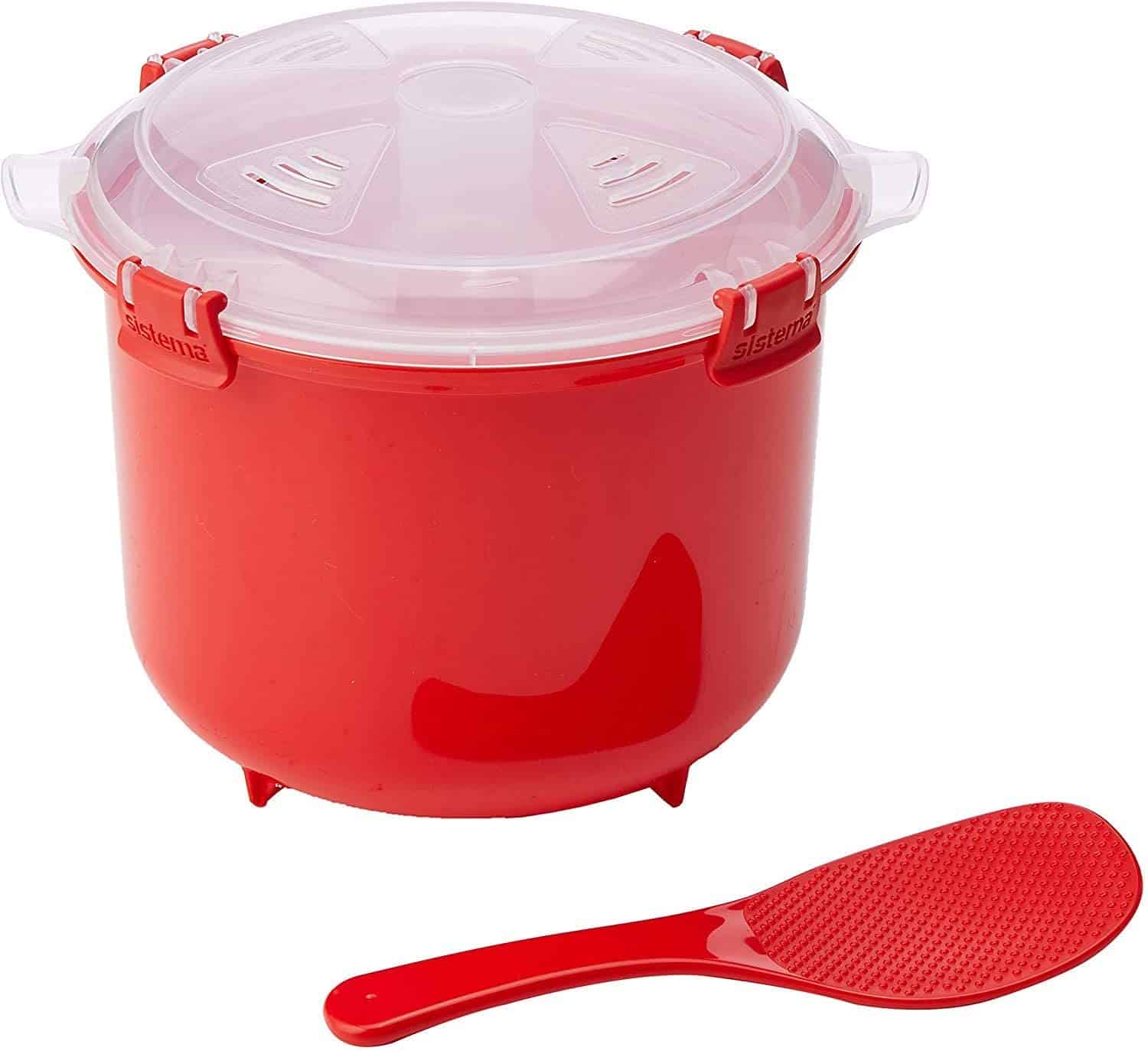 An alternative to electric rice cookers is getting a microwave rice cooker. The Red Sistema is the best of its kind out there. It's easy to use, reliable, and very affordable.
This is possibly the most straightforward take on any food steamer we've seen so far. Simply use the measuring cup to add rice to the pot, add water, pop the lid, and put the steamer in the microwave. In a normal microwave, one cup of rice will cook in around 15 minutes. Then it's ready to enjoy.
You don't have to just stick to white rice. This appliance lets you make rice of other kinds (such as wild or brown rice) as well as grains: polenta, cuscus, quinoa, barley!
This steamer is made of BPA-plastic, which is perfectly safe for your health. Yes, it can go in the microwave without harming you in any way. It can even go into the fridge and freezer while still maintaining its shape.
The Red Sistema rice cooker is manufactured in New Zealand. This means you can trust not only the food-grade quality of the plastic but also that no harmful chemicals go into making it.
Opening the rice cooker is easy. The cool-to-the-touch tabs on the lid keep your fingers safe from burns.
Luckily, all parts are dishwasher-safe. Disassemble your microwavable rice cooker and chuck it in the top rack for ease of cleanup. Convenient, right?
8) Most Versatile Pick: Instant Pot Duo 7-in-1 Multi-Purpose Cooker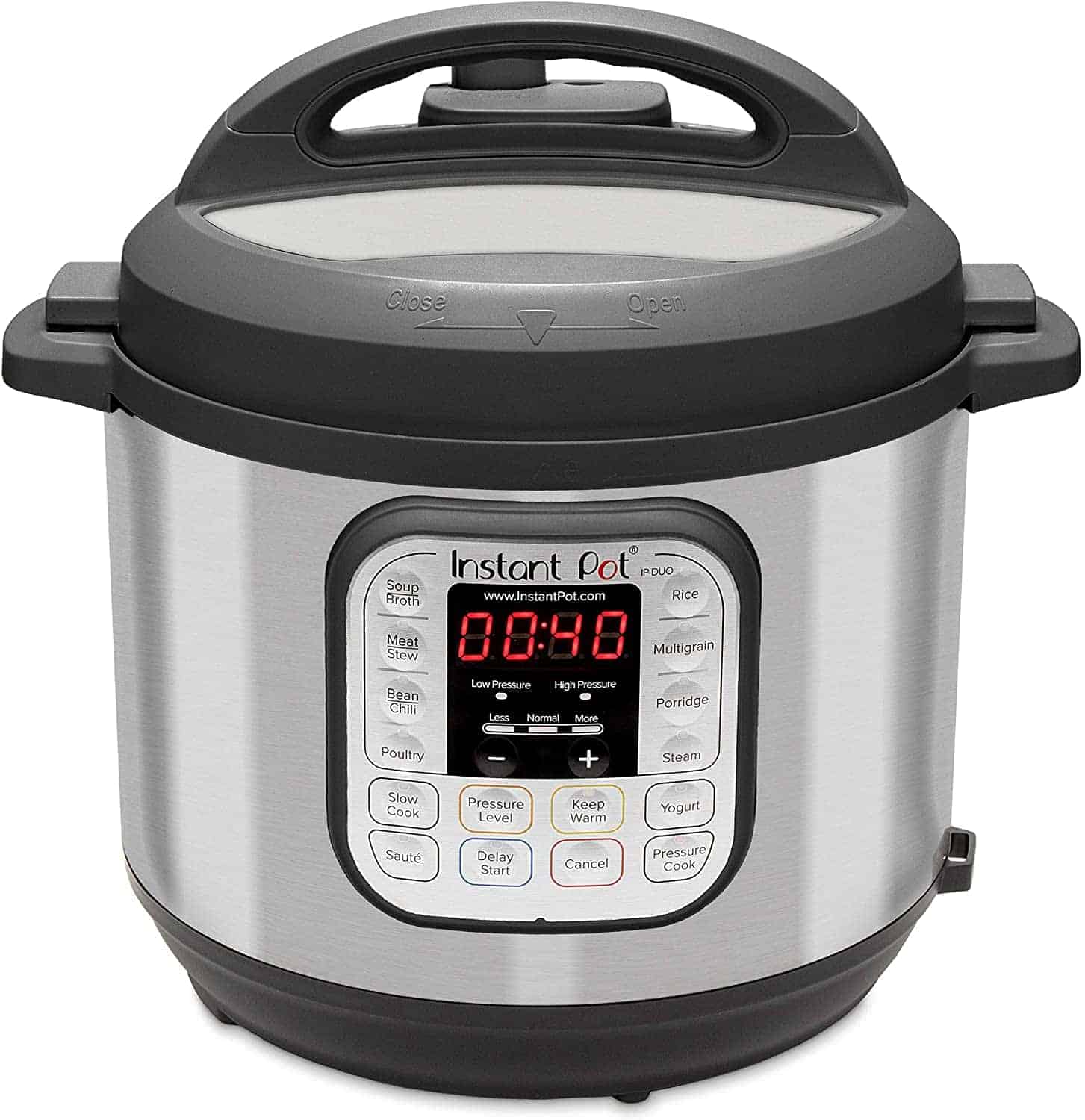 You're getting a lot more than a regular rice cooker when you get the Instant Pot Duo 7-in-1. It's stellar at making perfectly fluffy rice and grains, but as a bonus, you unlock a whole realm of delicious recipes to try at home.
You can whip up a large batch of rice using this food steamer. It has a capacity of six quarts, meaning it's perfect for making family meals.
There is only one rice preset, but it works wonderfully. When you want to cook different types of rice (for example, wild or brown rice), all you have to do is adjust the water-to-rice ratio. No need for other presets.
If you are feeling adventurous, why not try one of the other nine presets? They play the part of a pressure cooker, steam veggies, make chilis and stews, and even homemade yogurt. 
Having this many features ends up being a great thing. After all, if you have this Instant Pot, you don't need additional clunky kitchen appliances. It's a multi-tasker master. It even replaces a pressure cooker! All while still getting delicious and consistent rice every single time.
The stainless steel pot is removable, which makes it super easy to clean. You can even chuck it in the dishwasher if you want to save time.
Lastly, this product is incredibly well-built. The robust design makes your investment worth it because you will keep this unit for years on end.
Different Types of Rice Cookers
Rice cookers were invented in Japan after World War I. Since then, they've come a long way. Now, you'll find three types of rice cookers. They're all great in their own way, so it's completely up to you to choose which one is best for you and your kitchen.
Electric Rice Cooker
There are actually several kinds of electric rice cookers. Some use a rudimentary heating system (they're called "standard rice cookers"), while others are more advanced (they go by the name of "induction heat rice cookers").
Either way, they work in a similar way: you plug them into an outlet, put the rice and water in the cooking pot, close the lid and wait. The heating element will quickly boil the water and steam the rice. It's a straightforward and very effective way of getting a perfect batch of rice.
It's also important to point out that some electric rice cookers are analog and others are digital. The former usually only have an on-off switch and an indicator light. The latter comes with a display screen and boasts many more additional features you can play around with.
Of course, this means that analog rice cookers are much cheaper than the digital ones, but they're also more limiting.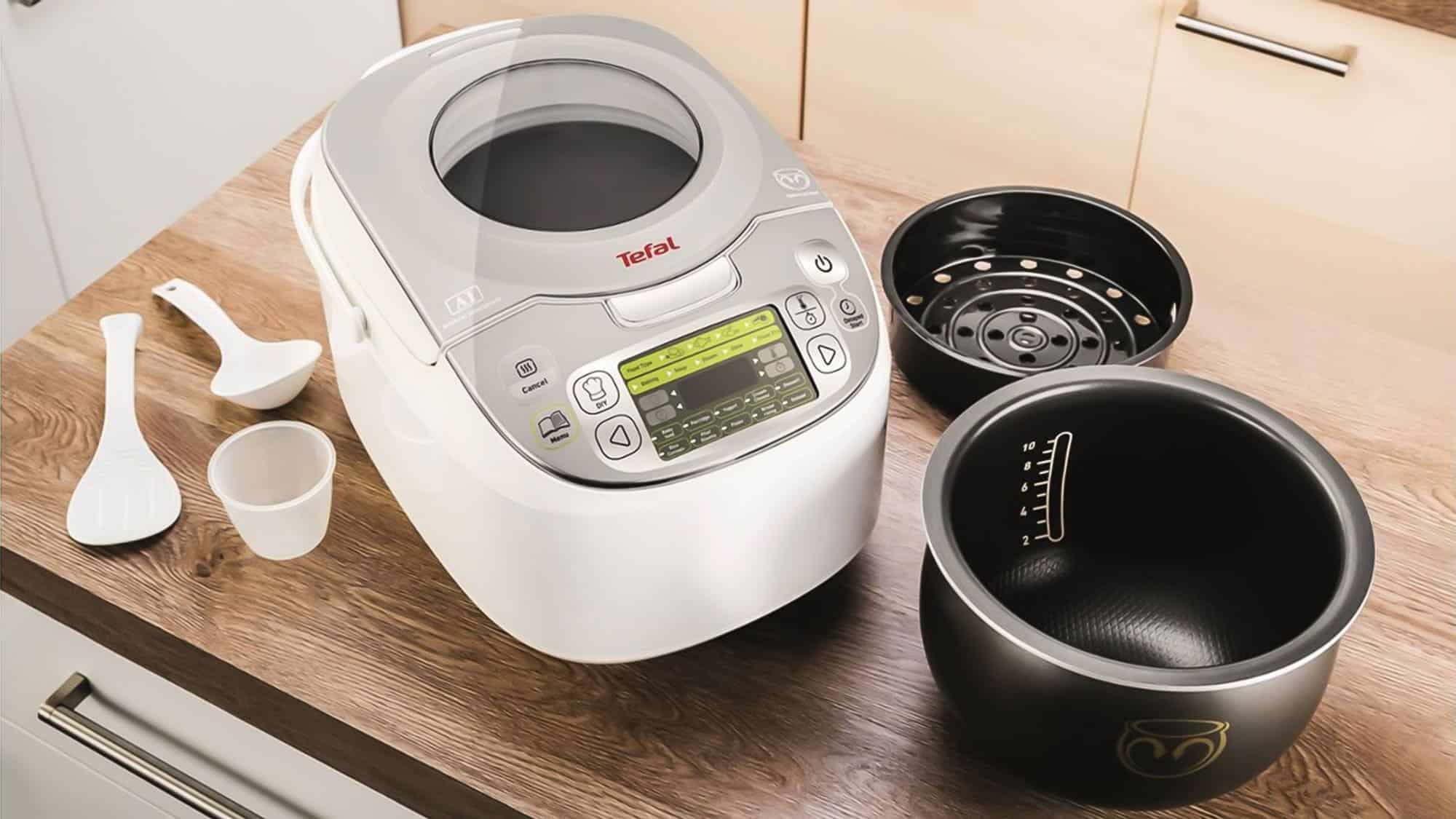 Microwave Rice Cooker
A completely different appliance is the microwave rice cooker. It looks just like a normal pot, but it's made from food-grade plastic and doesn't run on electricity. Instead, you mix the rice and water, close the lid, and put the pot in the microwave for some minutes.
Although this is a less "sophisticated" model, it still gives you beautifully cooked grains. And the best part? It costs a lot less than its electrical counterparts. It's a good way of saving money if you don't need a ton of added features.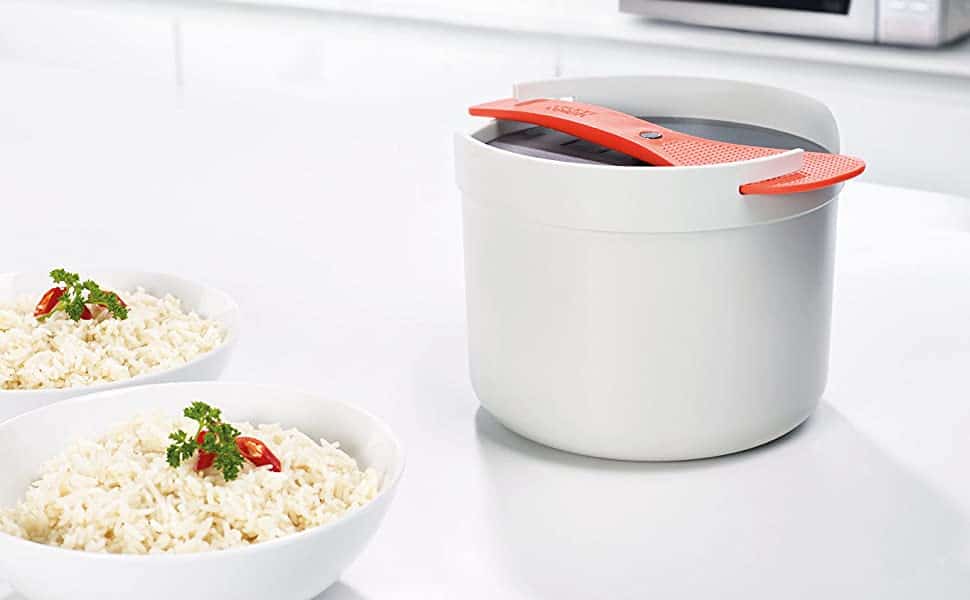 Multi-Function Cooker
Lastly, there are also multi-function cookers. You might know them by the name crock-pot or slow cooker. Pressure cookers can also double as rice steamers. These appliances are pretty expensive, but they're incredibly versatile. Rice cooking is only one of the things they do. You can also steam veggies and prepare delicious stews. When you consider this, the price tag immediately seems justified.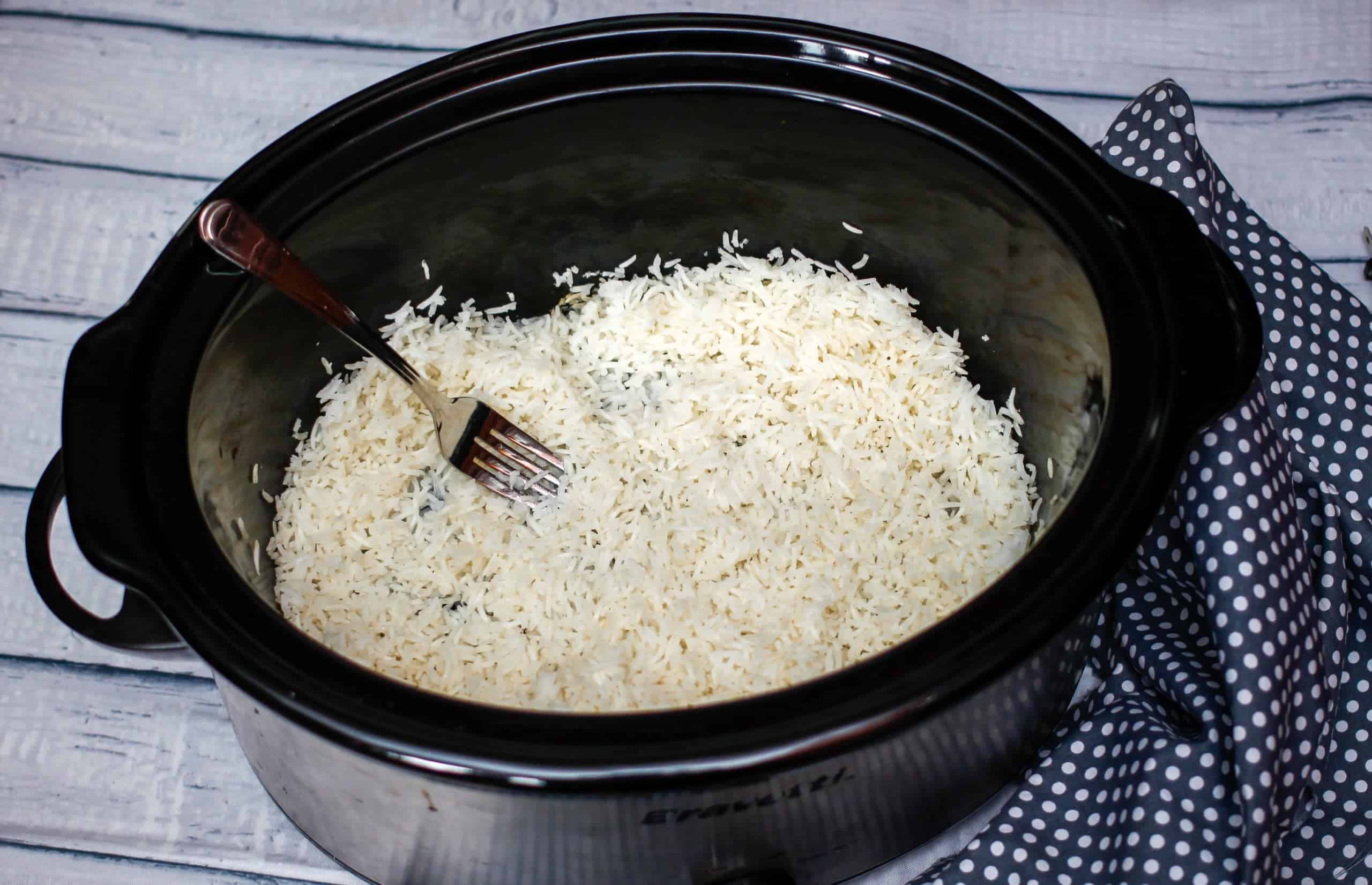 Still curious about how rice cookers work without burning rice? We wrote an informative guide on this topic!
Buying Guide: How to Choose the Best Rice Cooker?
There are hundreds of rice cookers available on the market today. Choosing one may seem overwhelming. That is if you don't know what key features to look for. The ones we're highlighting here are the most important to keep in mind. The best unit will check most of these off.
Capacity
First things first: think of how much rice you'll need. Every rice cooker says how many cups of uncooked rice it can comfortably handle. The smallest model we've seen cooks two cups of uncooked rice. The largest prepare up as many as ten cups of uncooked rice. Keep in mind that one cup of uncooked rice equals two cups of it cooked. That's a lot!
If your family eats a lot of rice, you'll need to spend a bit more to get a large-capacity model. It's worth the splurge, as you won't need to cook several batches. On the other hand, if you're cooking for just one or two, a smaller model will be cheaper and probably the best option.
Best Rice Cooker Size
Rice cookers come in all sizes. Some units are pretty compact and easy to store in a cramped cupboard or pantry. Other units, on the other hand, are so large and clunky take up a lot of counter space and room in your pantry. Work with the kitchen you have, not against it.
Handy Presets
There are many ways to cook rice. From brown rice to white rice, sticky rice to loose rice, long grain to short grain—each calls for a specific cooking method. If you're not familiar with it, your batch could turn out disastrous.
Presets take the guesswork out of cooking. They set a different timer and temperature depending on what you're cooking. Thus, you don't have to rely on trial and error to always get perfectly cooked grains.
You can see how great having built-in presets is. The best steamers usually have them, but they don't come with a low price tag.
Versatility
Versatility in the kitchen is always a good idea. Most models can prepare all types of rice. But only some can also prepare other foods, such as steamed veggies. A slow cooker, a crockpot, and a pressure cooker are great investments because they let you do more things in the kitchen. For instance, they let you tenderize meat, cook beans quickly, and prepare delicious stews.
Additionally, having one appliance that can prepare a lot of different foods is also good because it saves you counter space. Instead of needing one crockpot and one food steamer both taking up space, you can have them two-in-one!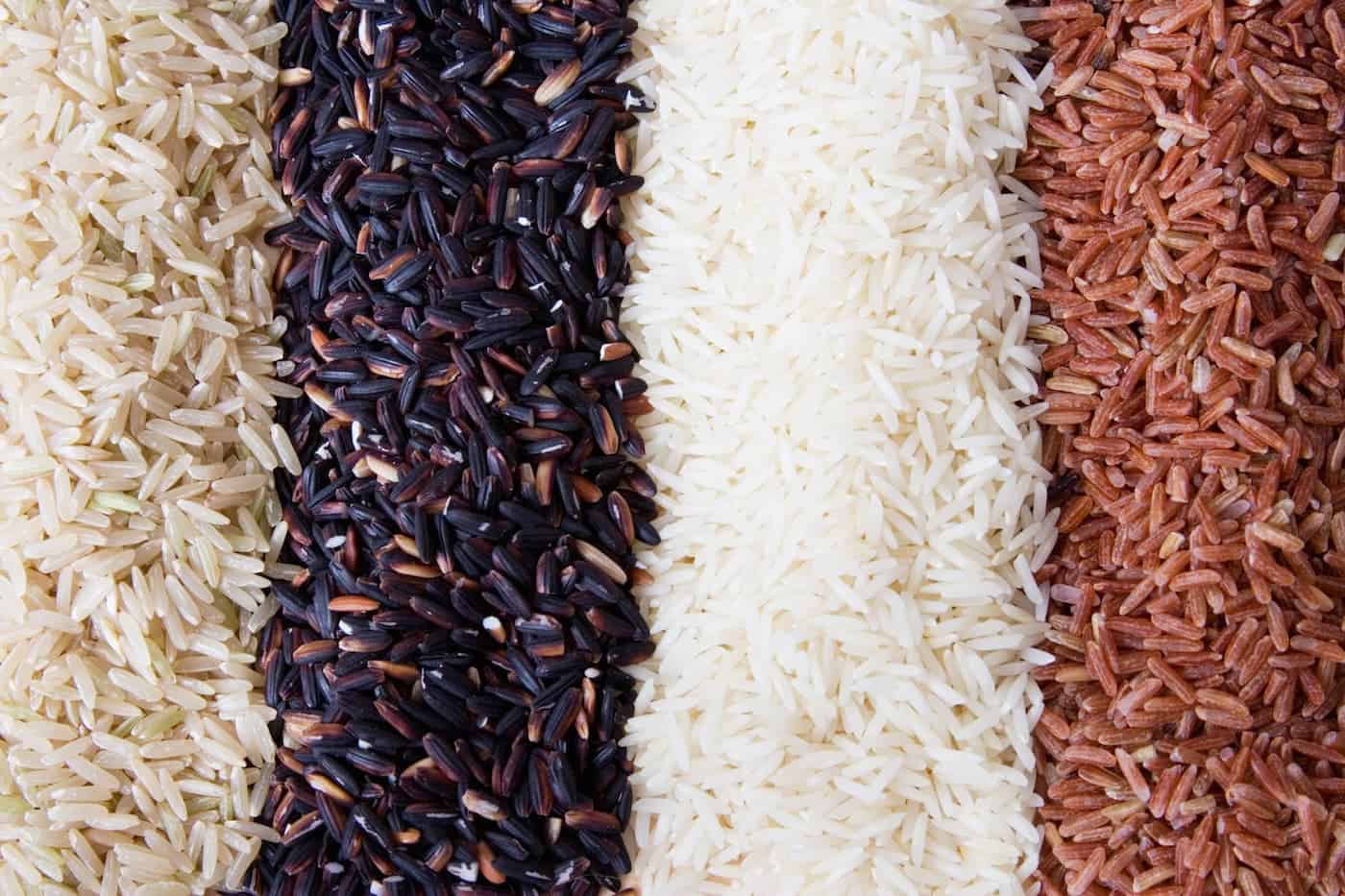 Materials Used
There are mainly three kinds of rice cooker inner pots: those made of plastic, those made of stainless steel, and those made of ceramic.
You'll find plastic pots in microwavable models. They tend to raise red flags, since so many of us grew up hearing that hot food + plastic = bad combo. But that's not always true. The FDA has said countless times that BPA-free microwave-safe plastic is not harmful in any way to your health. Plus, they're the most affordable. So, as long as the model you're looking at says it's microwave-safe, there's no reason to chuck it aside.
Stainless steel, on the other hand, is the most popular material. It's easy to clean and heat up quickly, making it an obvious good choice for rice cooker manufacturers. Since they're also not too expensive, they don't have any downsides.
Lastly, ceramic pots are harder to find because they're heavy, pricey, and tend to be more fragile. But you'll certainly find them! Once again, they're very easy to clean and cook rice safely, so they're also something to consider.
Sturdiness
Look for a robust model that will last you a long time. You should check if the lid seems fragile, if the handles could easily break, and if the pot could crack without much use. The best way for you to judge how sturdy any given model is is by reading customer reviews. They never lie.
Easy to Use
When you're in a hurry, you surely won't want to spend precious minutes trying to figure out how to work your rice cooker. Save yourself the frustration by getting a no-frills approach appliance. The ones that only have an on-off switch are the most straightforward and easy to use. Great for those who don't care for fancy added features.
If, however, you don't mind taking your time learning how to work your brand new appliance, you should go for a more complex model. You'll be able to make rice in several different ways, perfect for a big variety of rice dishes from all over the world. Tech-savvy chefs, this is for you.
Easy to Clean
Of course, you must also think of how you're going to clean your kitchen appliance after you've used it. Picking a model with dishwasher-safe parts and a removable lid is a sure-fire way of speeding up cleanup time.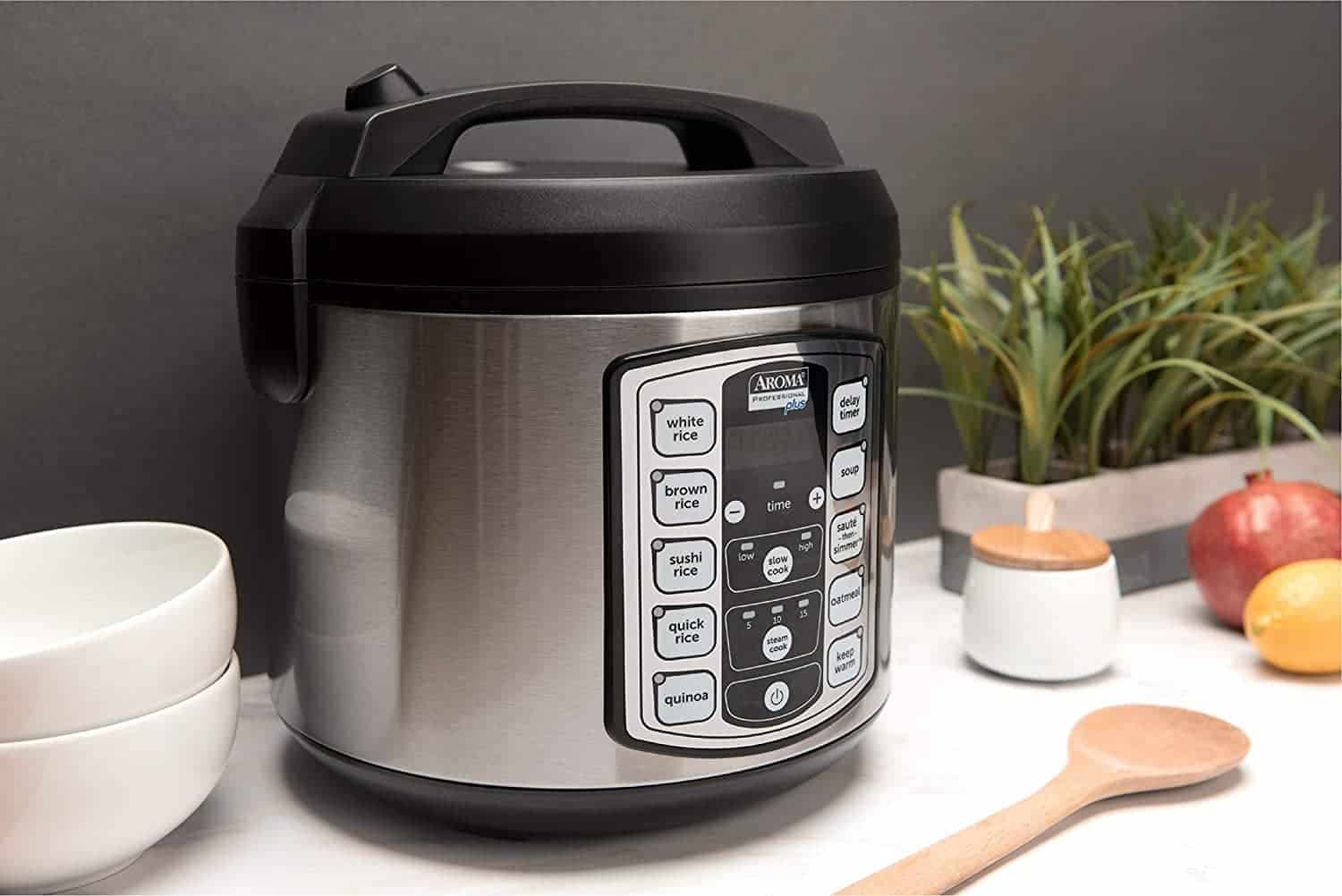 Frequently Asked Questions on Rice Cookers
Q: What kind of rice can you make in a rice cooker?
You can make all kinds of rice: wild rice, brown rice, black rice, red rice, and white rice. You can also cook all types of grains, from long grain rice (such as Jasmine) to short grain (for example, sushi rice). Additionally, you can make both loose and sticky rice.
Q: Is a rice cooker worth the money?
If making rice regularly and without a hassle is a priority for you, then of course it is worth it! Even though it will cost you money upfront, you'll have one less thing to worry about in the kitchen. While the rice is cooking, you can dedicate your attention to something else.