Cauliflower piccata is light, flavorful, and ready in 45 minutes. It's the perfect healthy and delicious side dish. The capers, garlic, and butter create a creamy zing that is simply irresistible.
Why You'll Love This Cauliflower Piccata Recipe
Mouthwatering- This roasted cauliflower piccata recipe will surely be a hit with your family. The flavors are bright, rich, and comforting. It's the perfect side dish for any occasion!
Vegetarian- Cauliflower piccata is the perfect meal for those looking for a vegetarian dish. It's easy to make and packed with flavor! You won't even miss the meat!
Simple to Make- You don't have to be a professional chef to make this impressive dish. All you need are a few fresh ingredients and 45 minutes of your time.
What Is A Cauliflower Piccata?
Cauliflower piccata is a vegetarian version of the classic dish, chicken piccata. It's an Italian side or appetizer with capers, white wine, and garlic. It usually includes breaded cauliflower florets pan-fried until golden brown and served with a zesty sauce. The combination of the cauliflower's crispy texture and the sauce's tangy flavor make this an irresistible dish!
Equipment
Steaming Pot
Large NonStick Skillet (Oven-Safe)
Sharp Knife
Cutting Board
Basting Brush
Large Rimmed Baking Sheet (If the skillet is not oven-proof)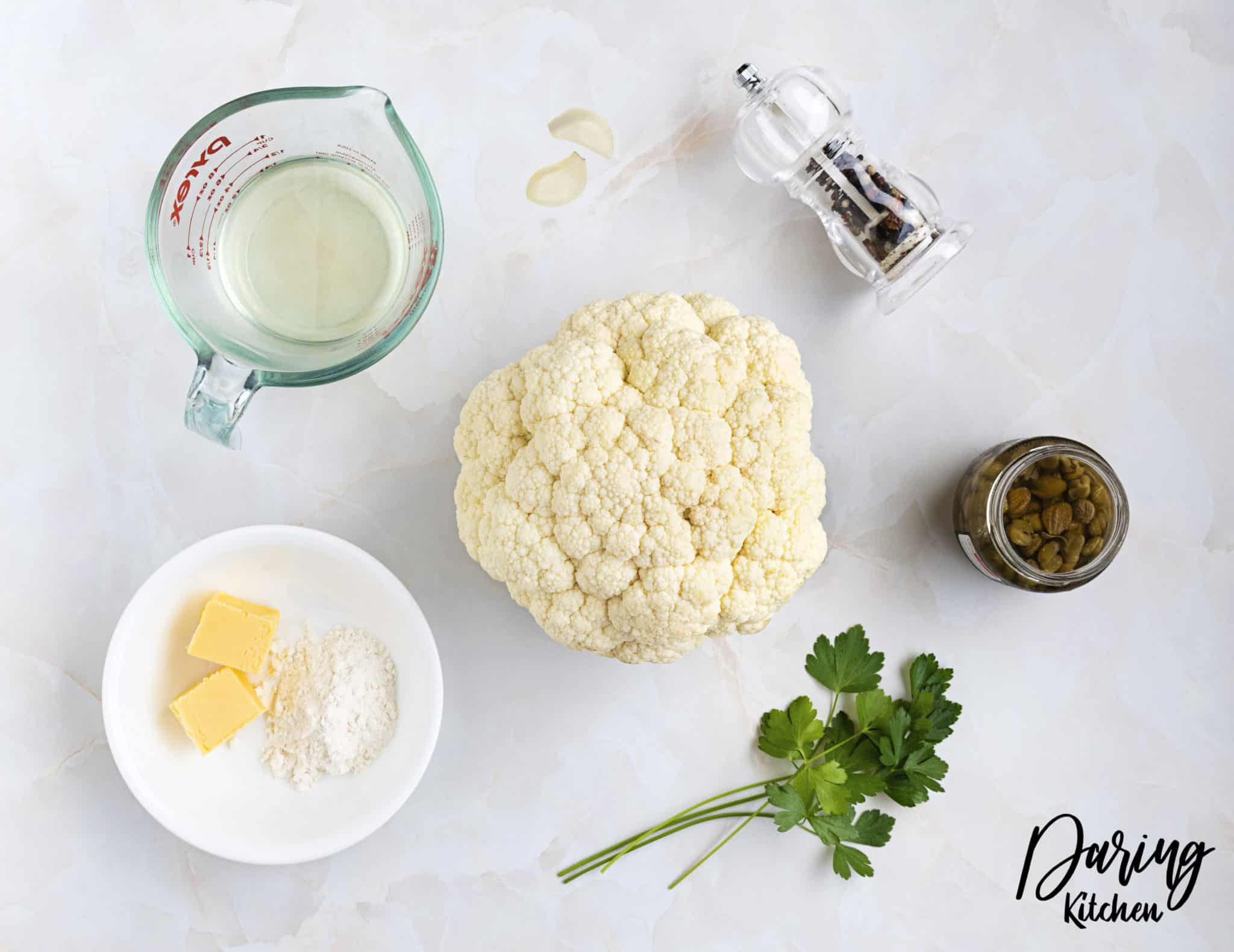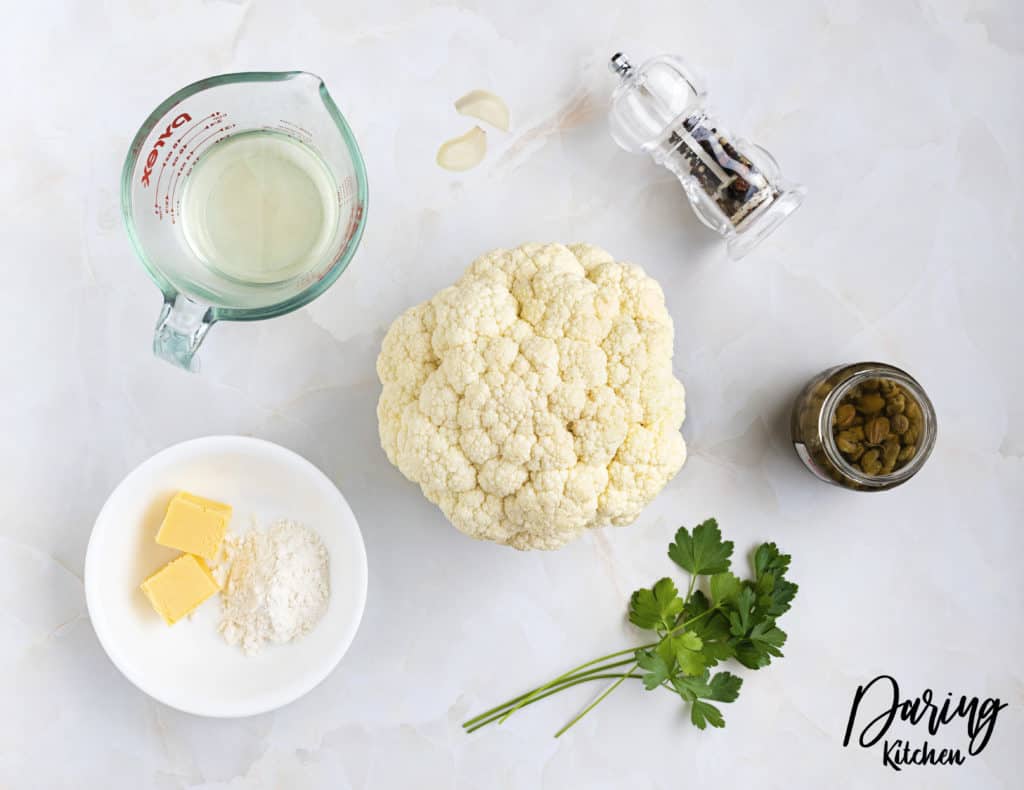 Ingredients
Cauliflower- Use cauliflower steaks or cauliflower slices. I prefer to use the whole head because it makes an incredible presentation. Cauliflower florets would work well for an appetizer.
Butter- Assists in making the sauce, along with the flour. You can use vegan butter or olive oil to make a vegan version. If you use vegan butter, my only recommendation is to make sure you adjust the salt as needed. Some vegan alternatives can be saltier than regular butter.
All-Purpose Flour- The thickening agent in your sauce. If you want to make this recipe gluten-free, I suggest corn flour or corn starch.
Garlic- An essential in Italian cuisine, garlic adds a kick to the sauce.
Capers- Gives the cauliflower more texture and flavor. You can find capers in oil or covered in salt. Whichever you use, make sure you rinse your capers first. If you don't, you risk making your meal too salty.
Dry White Wine- I love white wine when cooking. It aromatizes the ingredients, such as garlic and capers, while also deglazing the pan!
Freshly Ground Black Pepper- Simply for seasoning and can be omitted if you do not like pepper.
Fresh Parsley- A classic Italian garnish that adds freshness.
Kosher Salt- When is salt not in a savory recipe?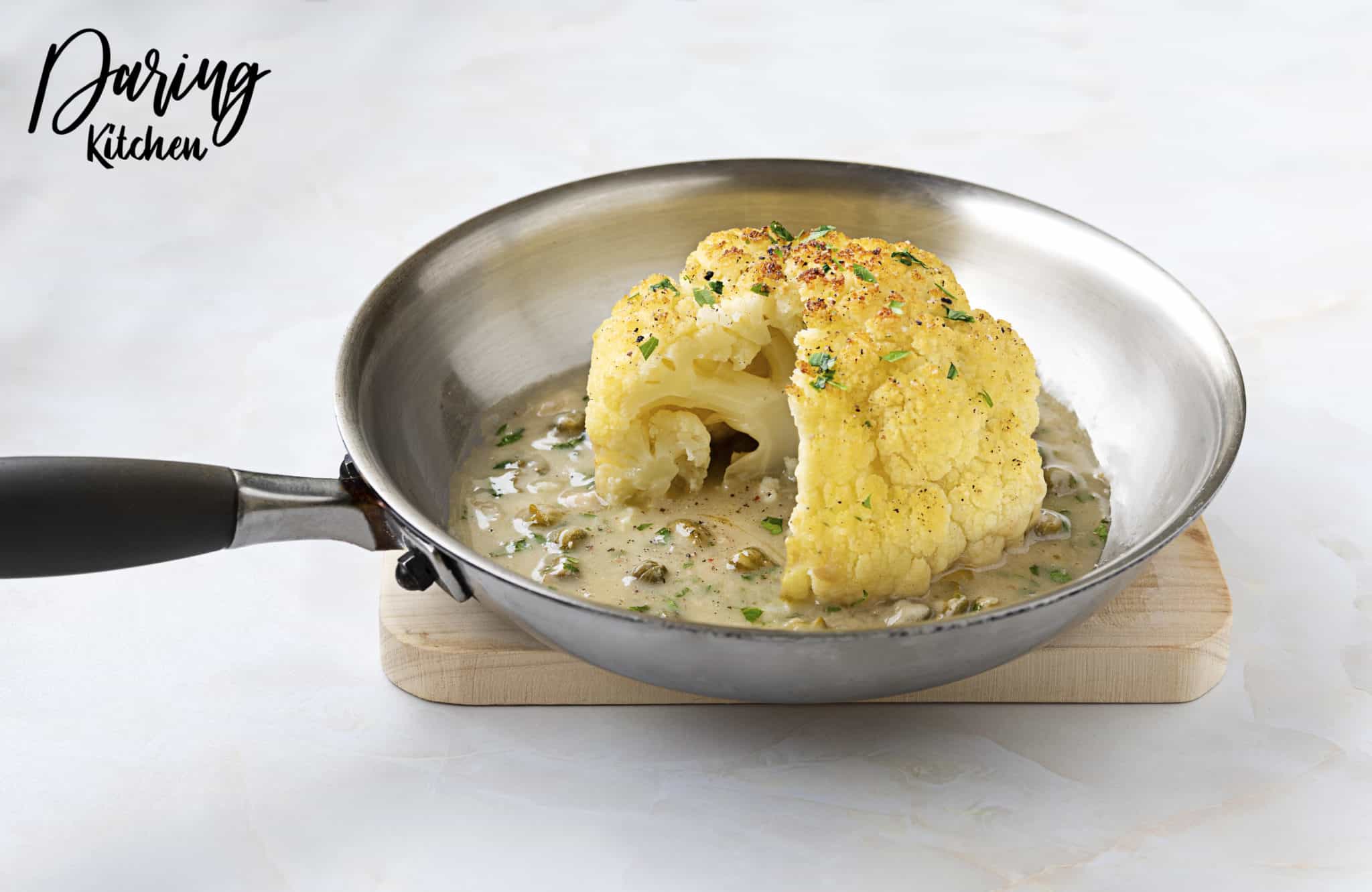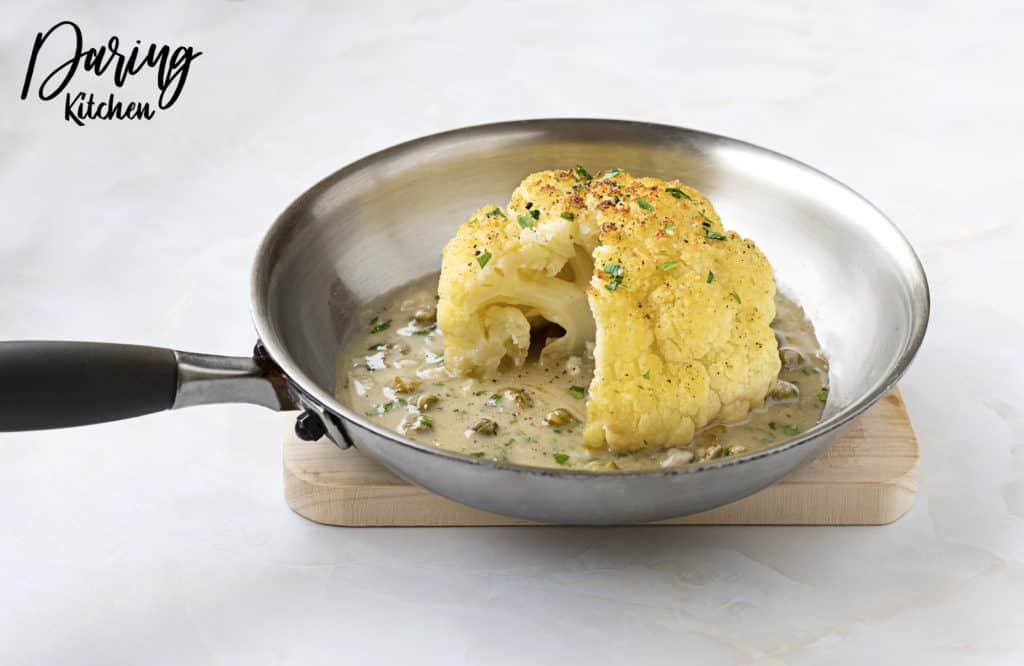 How To Make A Cauliflower Piccata
Get ready to steam your delicious cauliflower! Start by arranging your steaming pot. Next, prep your cauliflower on a cutting board by trimming the outer leaves and stem. Place the whole cauliflower in the steamer basket and cook for 18 minutes. If you're a fan of cauliflower steaks, slice your cauliflower before steaming.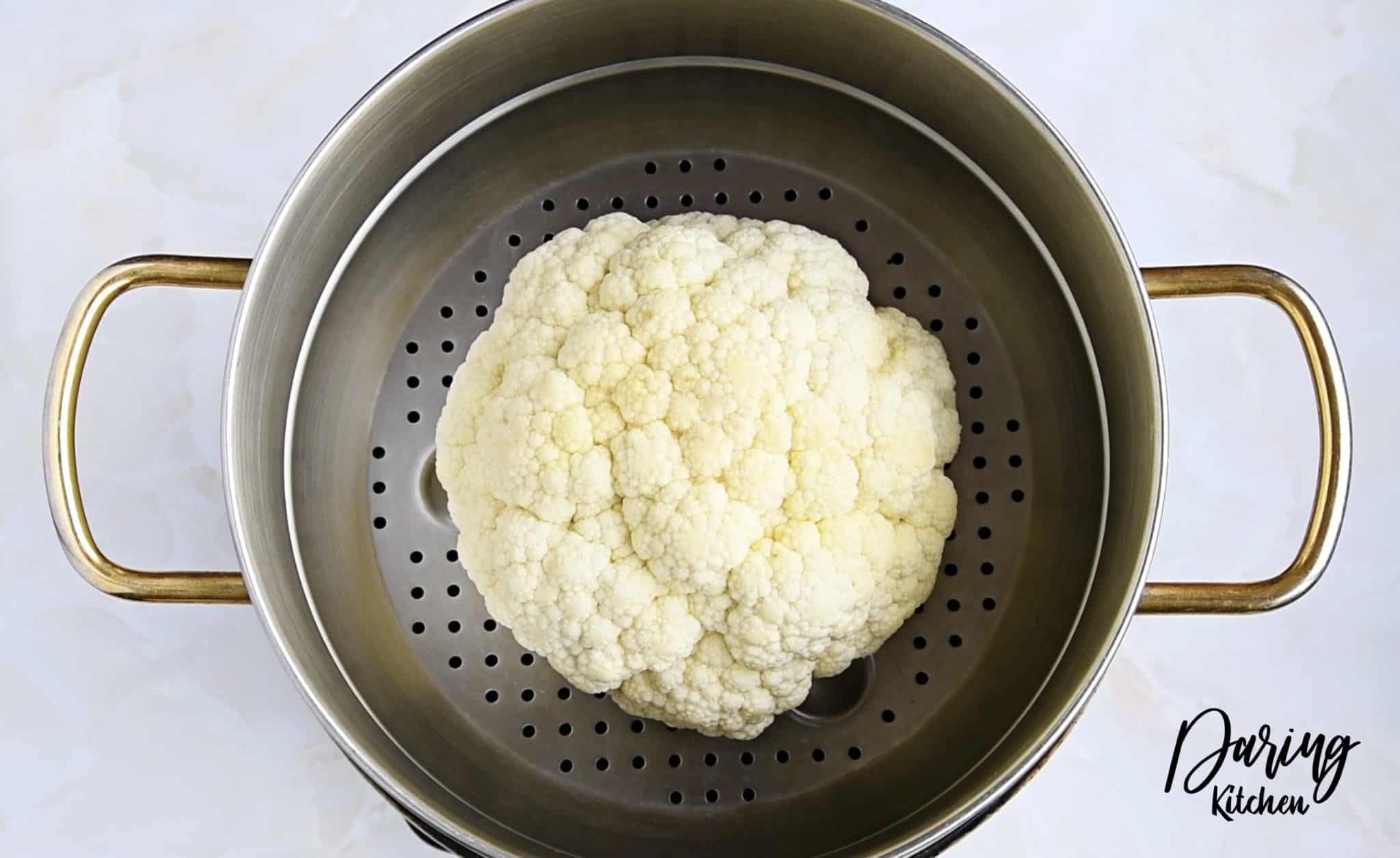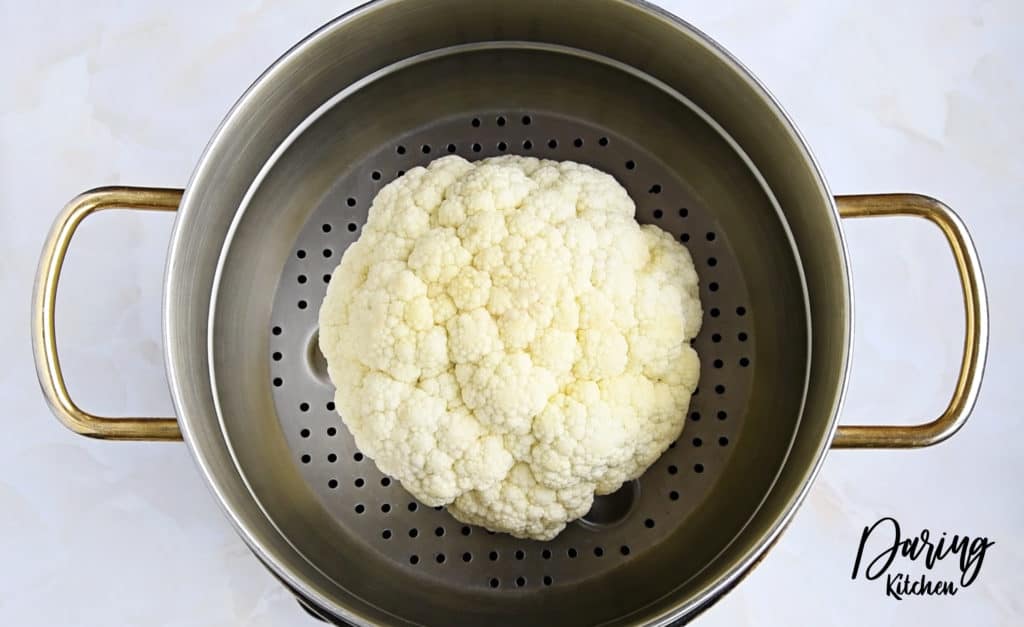 As your cauliflower is steaming, preheat the oven to 400 degrees. As we wait, it's time to prepare the sauce! In a pan over medium heat, melt two tablespoons of butter. You can add a drizzle of olive oil if you like. Add the crushed garlic cloves and cook until they become tender and beautifully browned on all sides.
Add your capers and let them brown, too! Once the capers release their juice, carefully add the flour. Give everything a good mix and cook for just a minute. Then, gently pour in ⅓ cup of dry wine and watch it all come to a boil.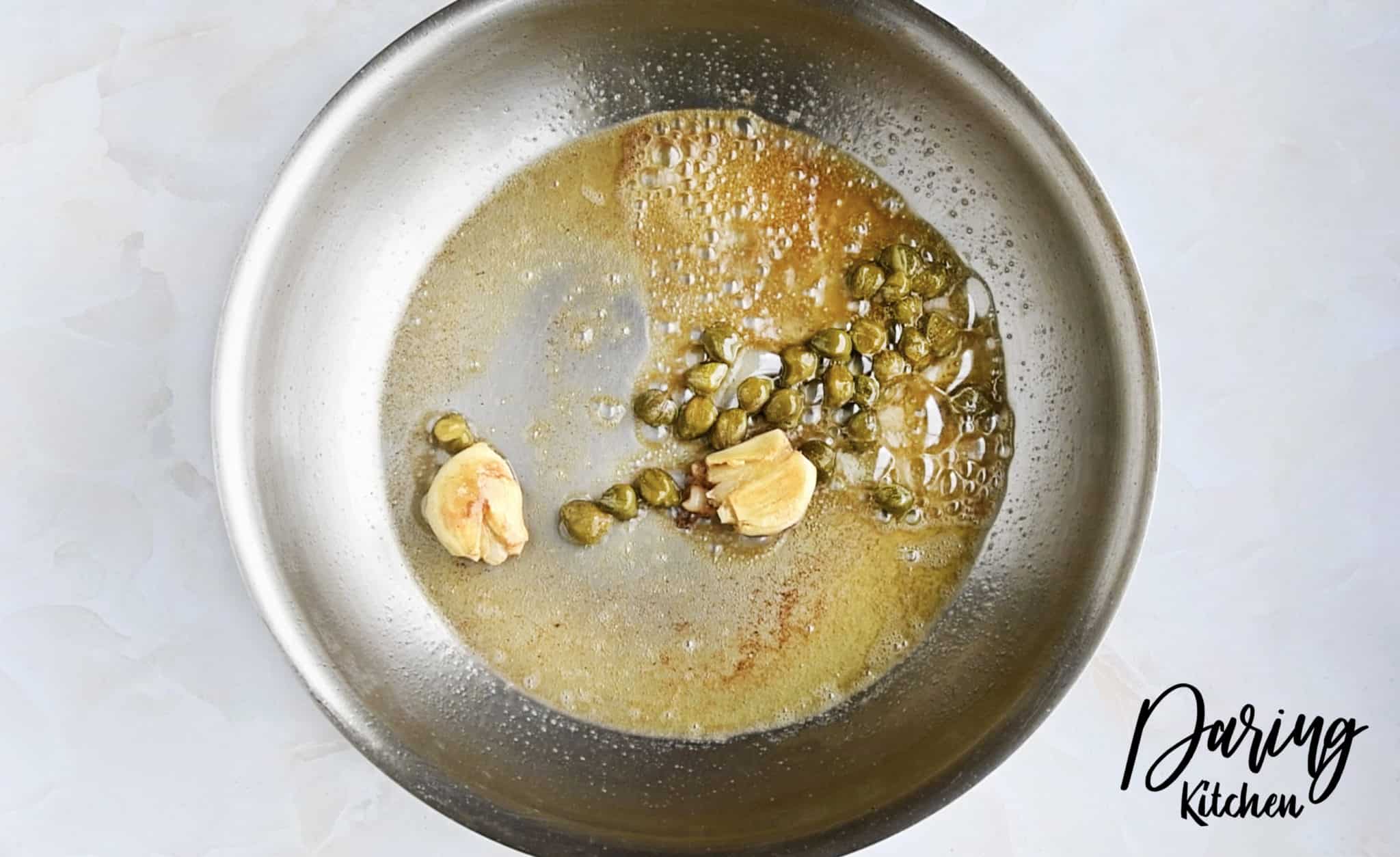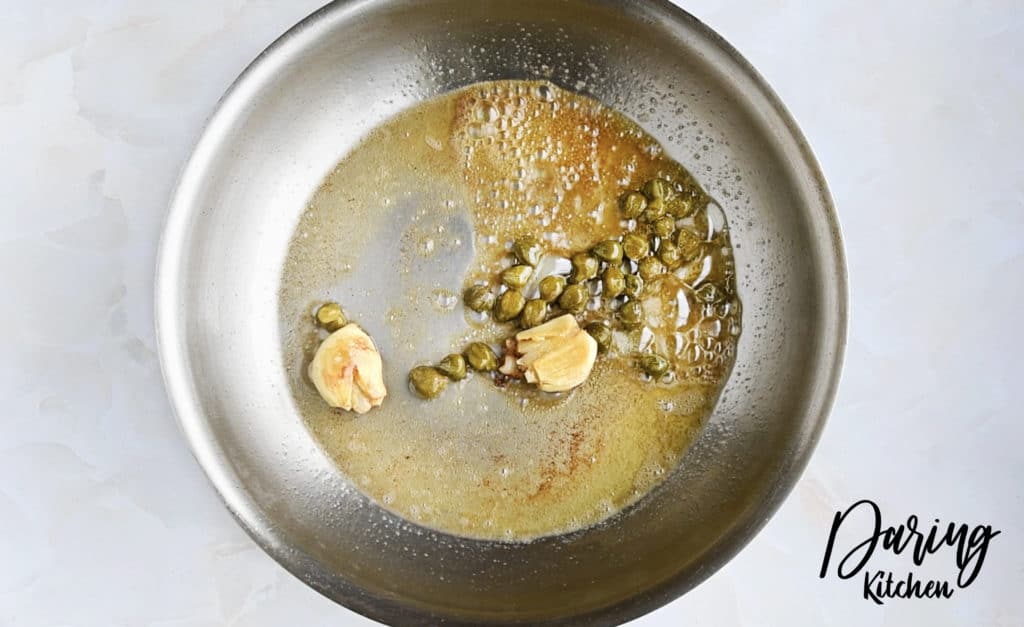 Once the alcohol has evaporated and the liquid reduces a bit, add a cup of water. If you want to add fresh lemon juice, now's the perfect time. Let the sauce simmer for about 4 to 5 minutes until it thickens up nicely. Once that's done, take out the garlic cloves. Finally, season your sauce with salt and pepper to taste.
Put your thoroughly steamed cauliflower steaks or head in the piccata sauce. Give it a good brush of butter. Then, season with salt and ground black pepper.
If you use a prepared baking sheet, spoon sauce first, then place cauliflower steaks on top before seasoning.
Pop everything in the oven and cook for 10 to 15 minutes or until your cauliflower turns golden brown. Serve hot, garnished with fresh parsley, lemon slices, or lemon zest.
Popular Substitutions & Additions
Swap out regular butter with olive oil or vegan butter for a vegan version.
If you want to add even more flavor, add some herbs like thyme or oregano. Add lemon juice to make a delicious lemon caper butter sauce.
Make this cauliflower piccata gluten-free by using corn flour instead of all-purpose flour for the sauce.
If you are not a fan of cauliflower, you can substitute it with cooked Brussels sprouts or asparagus.
For an extra kick, add some freshly grated Parmesan cheese on top before serving.
Can I Freeze Cauliflower Piccata?
Yes, you can freeze cauliflower piccata. To do so, allow the cauliflower to cool completely before packaging it in an airtight container or bag and freezing it for up to 3 months. When you are ready to eat, thaw it overnight in your refrigerator before reheating in a preheated oven until warm.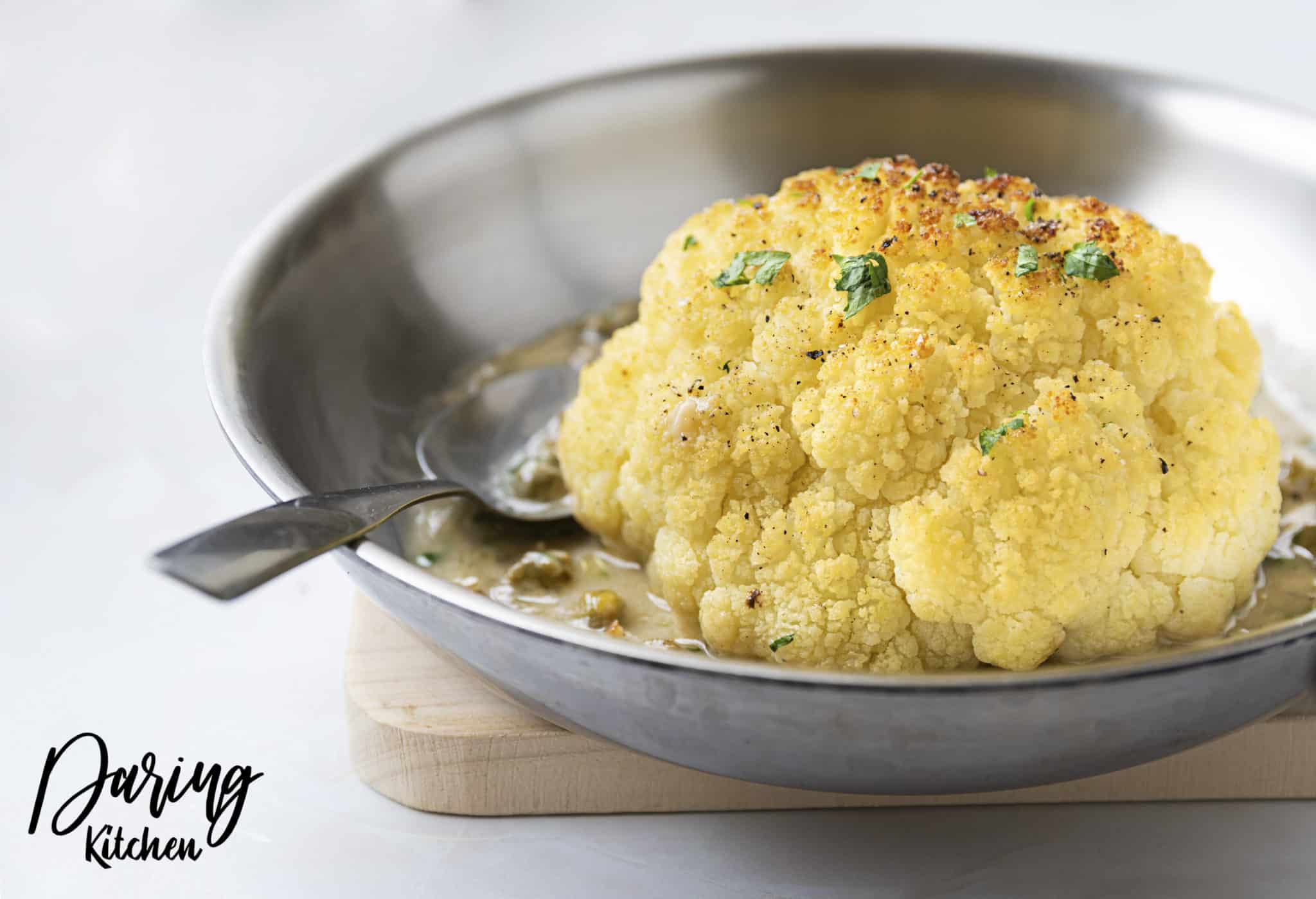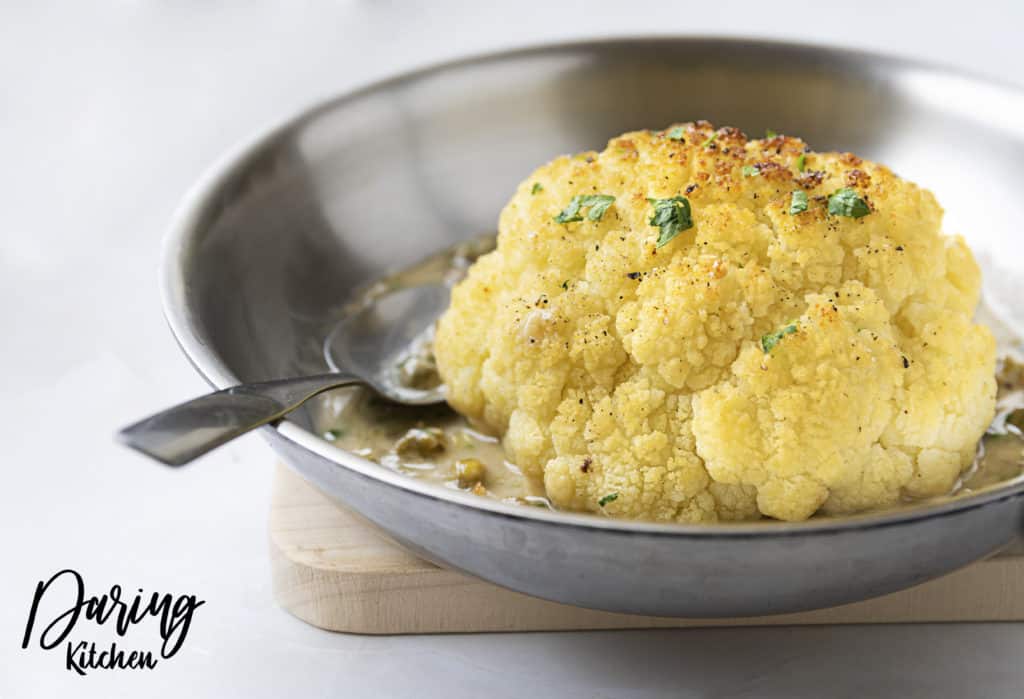 Cauliflower Piccata FAQs
What goes well with cauliflower piccata?
Cauliflower piccata pairs flawlessly with roasted potatoes, baked pasta dishes, or a light salad. It also makes an excellent appetizer served alongside crusty bread.
How do I store leftover cauliflower piccata?
It's best to store cauliflower piccata in an airtight container in the refrigerator for up to 3 days. To reheat, place it on a baking sheet and heat it in the oven at 350 degrees Fahrenheit for 15 minutes or until warmed.
Can I make cauliflower piccata ahead of time?
Yes, you can prepare the sauce and the cauliflower ahead of time. Store the steamed cauliflower and piccata sauce separately in airtight containers in your refrigerator until you are ready to bake.
What is the best dry wine to use in this cauliflower piccata?
The best dry white wine for this cooking is Sauvignon Blanc. It adds a crisp and tart flavor that perfectly complements the capers' tanginess and the buttery sauce. Other good options include Pinot Grigio and Chardonnay.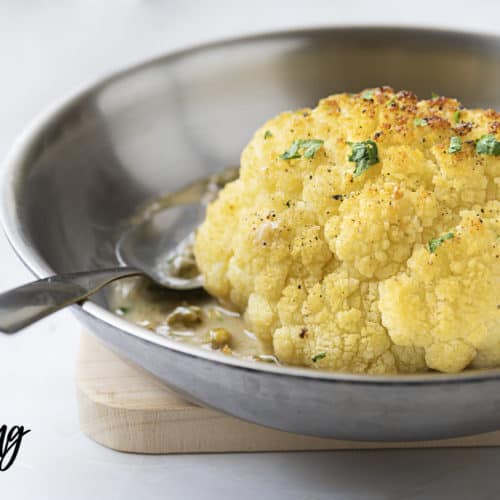 Roasted Cauliflower Piccata
Steamed cauliflower, seasoned and roasted in a creamy white wine sauce with butter, garlic, and capers. This savory dish is a perfect way to enjoy your veggies!
Print
Pin
Rate
Equipment
Steaming Pot

Medium-sized skillet

Knife
Ingredients
1

Cauliflower head

3

tbsp

butter,

divided

2

garlic cloves,

smashed

1 ½

tbsp

drained capers

1

tbsp

all purpose flour

⅓

cup

white wine

1

cup

water

1 ½

tsp

salt

freshly cracked pepper

Capers and chopped parsley for serving
Instructions
Trim the bottom of the cauliflower and remove all the leaves and most of the stem.

Steam the cauliflower for 18 minutes or until a toothpick enters easily when pressed into the cauliflower.

Meanwhile, preheat the oven to 400ºF (200°C).

Heat 2 tablespoons butter in a medium skillet over medium heat. Add the crushed garlic cloves and allow them to cook until they are golden brown on both sides. Add the capers and cook until they begin to brown and have released their juices, then mix in the flour and cook for 1 minute. Add the wine and cook until it boils for about a minute, to release the alcohol. Add the water and reduce the sauce for 4-5 minutes. Add ½ teaspoon salt and mix. Take garlic cloves off the pan.

Place steamed cauliflower on top of the sauce and brush with 1 tablespoon of melted butter. Season with 1 teaspoon salt and freshly cracked pepper.

Roast for 10-15minutes, depending on the size of your cauliflower, until golden.

Finish the cauliflower with extra fresh capers and chopped parsley.
Nutrition
Calories:
93
kcal
|
Carbohydrates:
5
g
|
Protein:
3
g
|
Fat:
6
g
|
Saturated Fat:
1
g
|
Sodium:
876
mg
|
Potassium:
25
mg
|
Fiber:
1
g
|
Sugar:
1
g
|
Vitamin A:
6
IU
|
Vitamin C:
1
mg
|
Calcium:
19
mg
|
Iron:
1
mg