A vegetarian spin on the Italian classic - this healthy roasted cauliflower piccata features a WHOLE roasted cauliflower head. It is one of the most delicious ways to eat your veggies and fill your taste buds with happiness. Plus, it only takes 45 minutes to make!
The Best Roasted Cauliflower Piccata Recipe
Growing up with an Italian grandmother, I was exposed to so many different dishes. From pasta to main courses, my grandmother always had a secret sauce recipe. One of those recipes was for chicken piccata.
Chicken piccata is a super Italian dish. In Italy, they typically use veal rather than chicken. No matter what you choose, the method is pretty much the same. Sliced meat is lightly floured, seared, and then pan-fried. The slices are then served in a delicious sauce that consists of butter, lemon and capers.
I aspire to eat as plant-based as possible. One day, while dreaming of piccata, I realized - all the ingredients in the dish would taste amazing with cauliflower! I already made a similar dish at home, with chopped cauliflower, capers, and olive oil. I was too excited to try to make it!
After a few tries, I finally mastered the recipe. Now, it's one of my favorite dishes. I eat it with my family every week. Even kids love it! They don't even realize that most of what they're eating is a vegetable.
Sometimes, I add in some sliced mushrooms to this dish to up the veggie game. In the sauce, the mushrooms taste just like meat! Especially when put on top of roasted cauliflower steaks, it's like you aren't even having a vegetarian dinner.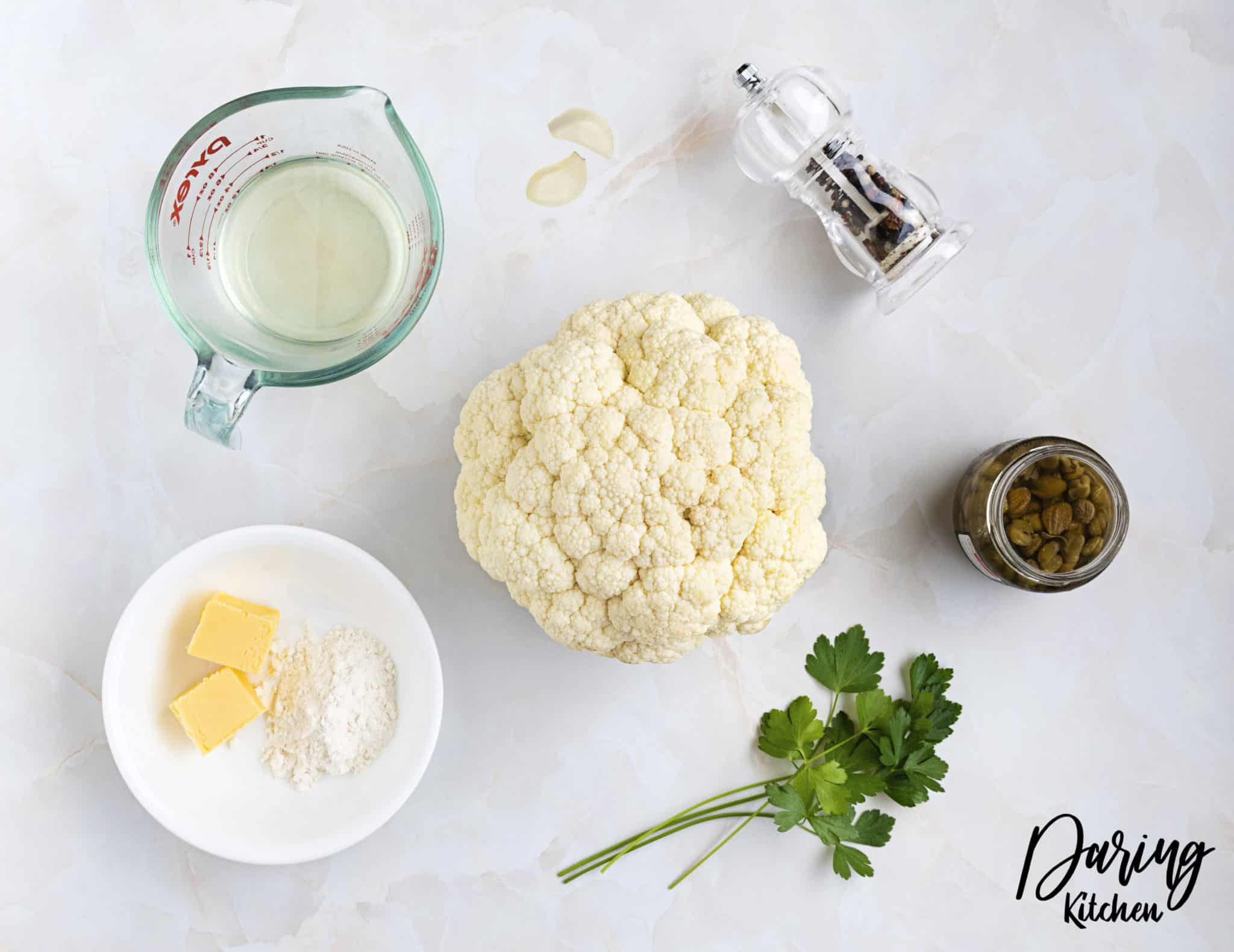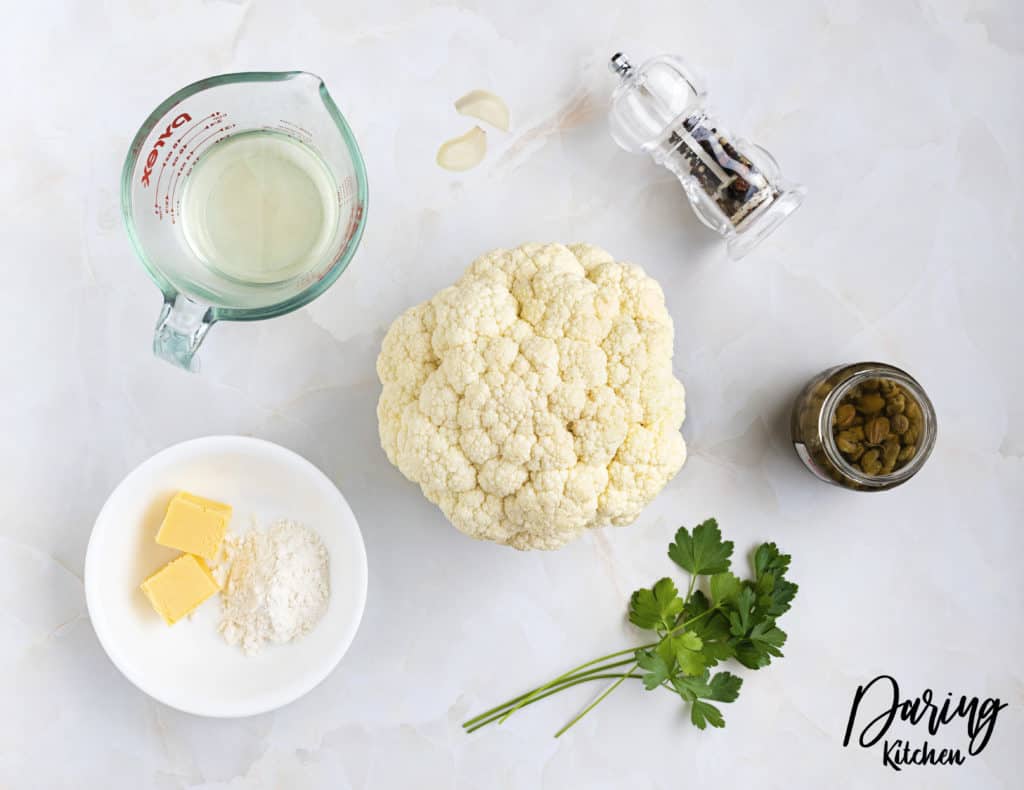 Ingredients in Roasted Cauliflower Piccata
So, what makes this roasted cauliflower piccata recipe awesome? It's quality ingredients. They are actually very simple.
I listed all the ingredients so that you can see just why each matter in the dish. Also, I included potential substitutions, especially if you hope to make this dish vegan or gluten-free!
Cauliflower - you can use cauliflower steaks or cauliflower slices. I prefer to use the whole head because it makes an awesome presentation.
Butter - this is what is going to make the sauce, along with the flour. You are welcome to use vegan butter or olive oil if you aspire to make a vegan version of the dish. My only recommendation, if you use vegan butter, is that you make sure you adjust the salt in the dish as needed. Some vegan alternatives can be saltier than regular butter.
All-purpose flour - this will be the thickening agent in your sauce. If you want to make this recipe gluten free, I suggest using corn flour/starch instead.
garlic - an essential in Italian cuisine, garlic adds a kick to the butter sauce.
capers - this gives the dish salt and flavor. You can find capers in oil or covered in salt. Whichever you use, make sure you rinse your capers first. If you don't, you risk making your dish too salty.
dry white wine - I love white wine when cooking. It aromatizes the ingredients (in this case garlic and capers,) while also deglazing the pan!
freshly ground black pepper - This is simply for seasoning and can be omitted if you do not like pepper.
fresh parsley - this is a classic Italian garnish that adds freshness to the dish.
Cooking salt - When is salt not in a savory recipe?
Along with these ingredients, you can also add in others if you like. I love incorporating lemon juice. It makes the dish a little zestier. Sometimes, I even add some mushrooms atop.
Although I tend to astray from dairy, some of my friends like to add sour cream to make this dish creamier. Personally, I am not a fan of sour cream, BUT I always encourage experimentation! I only suggest you try the original recipe first!
I hope that the ingredient breakdown is helpful! As someone who loves to cook, knowing just how each ingredient plays a role is super important to me.
What Appliance Do I Need for Roasted Cauliflower Piccata?
Before you start any flame, you should always make sure you have your kitchen appliances for your recipe.
What you need for this roasted cauliflower piccata recipe is simple. The main appliances are a steaming pot and an ovenproof medium sized skillet. If you do not have an oven-proof skillet, you can use any large rimmed baking sheets. Make sure to use cooking spray or butter on your sheets to prevent sticking.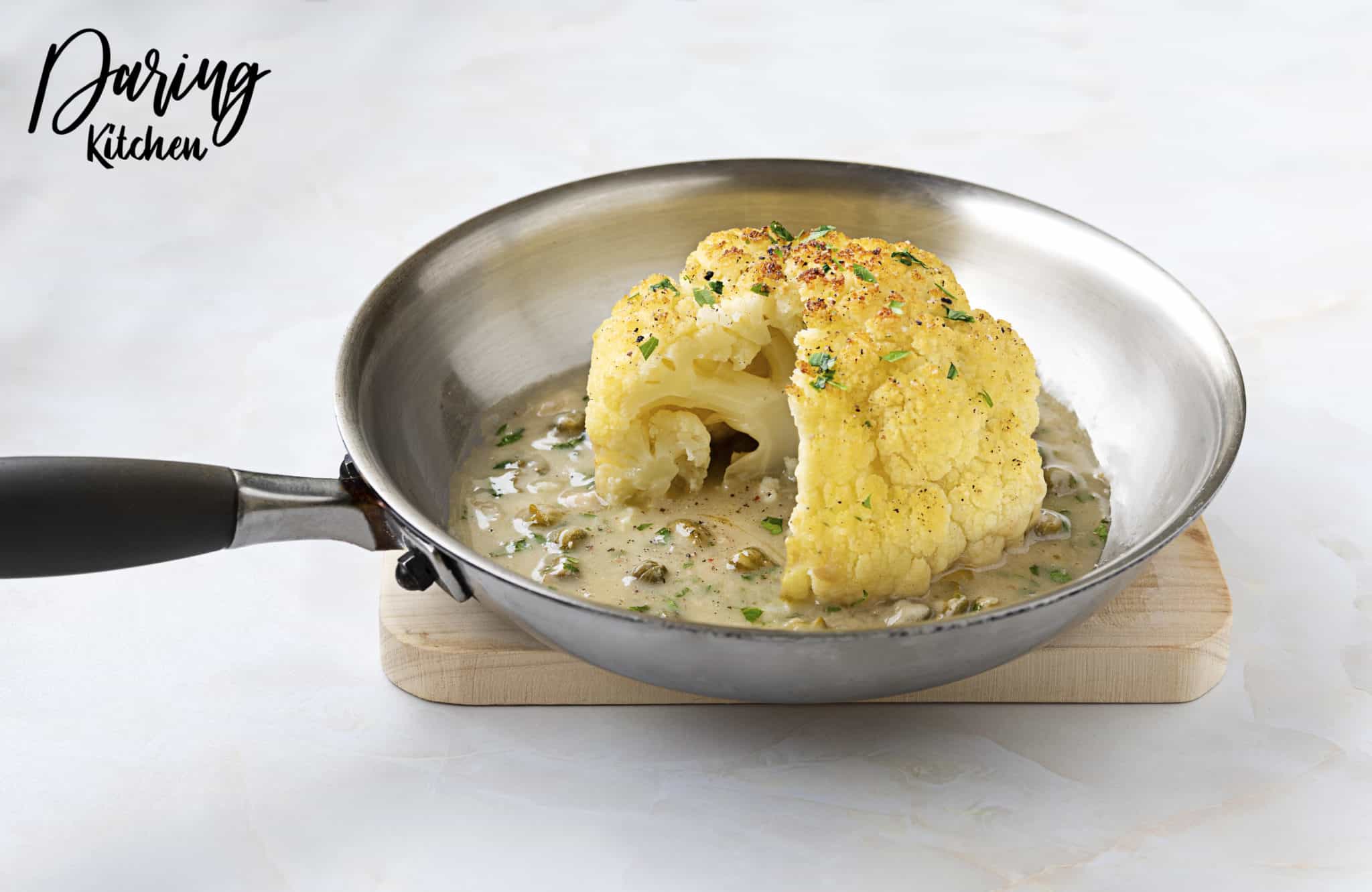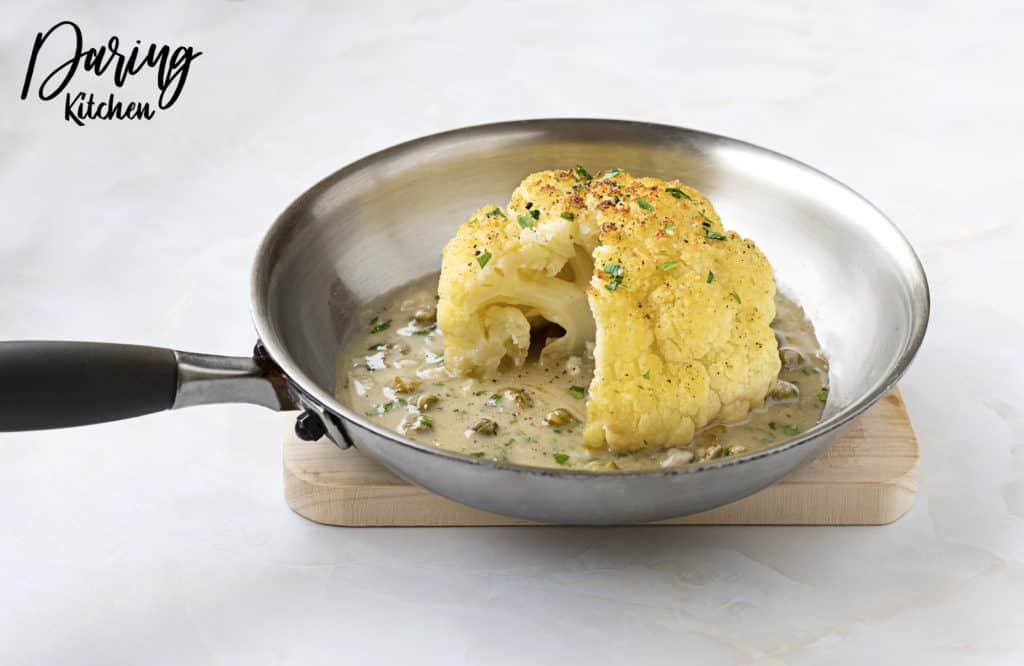 How to Make Roasted Cauliflower Piccata
Ok, time to get cooking! Let's dive into this recipe.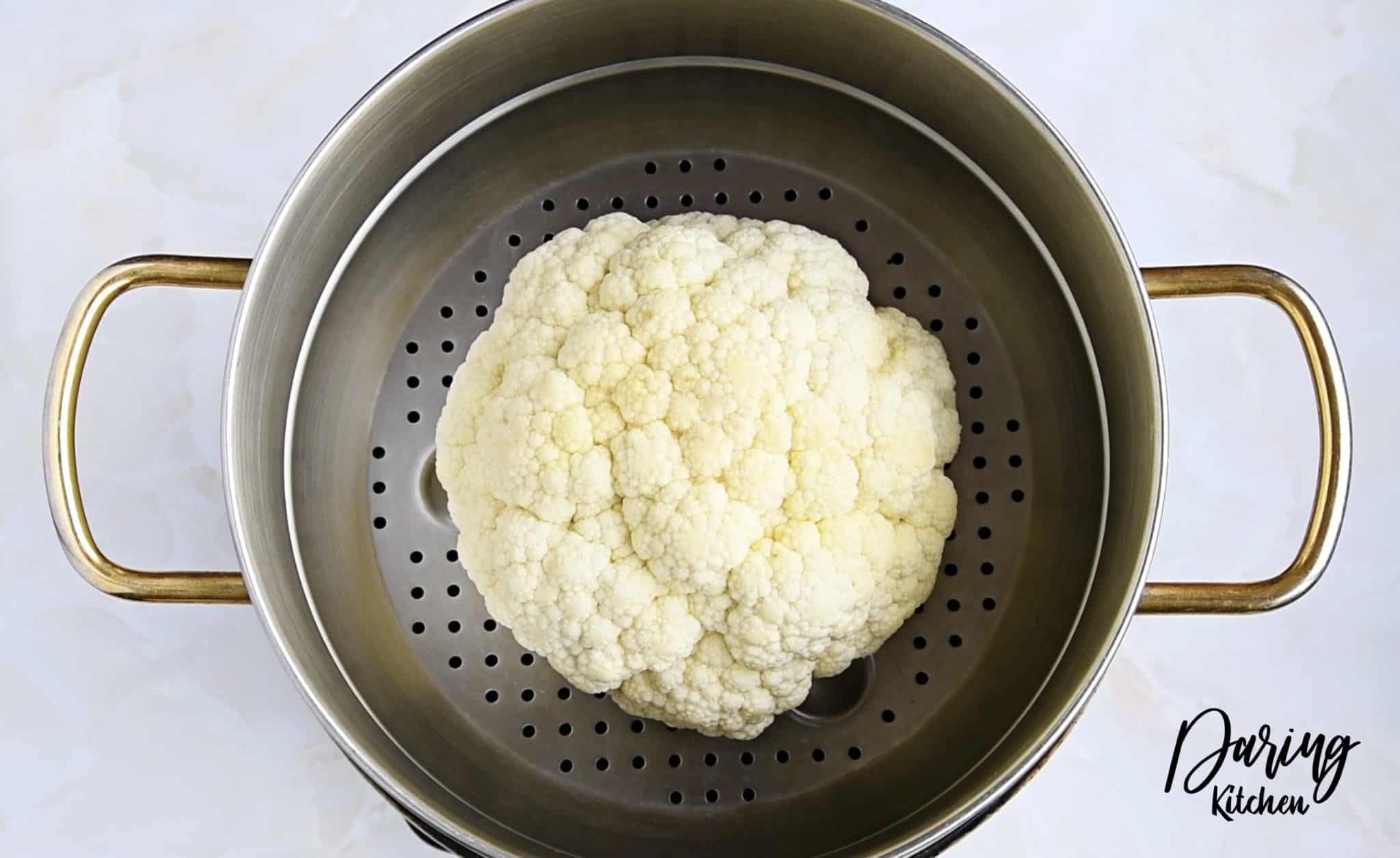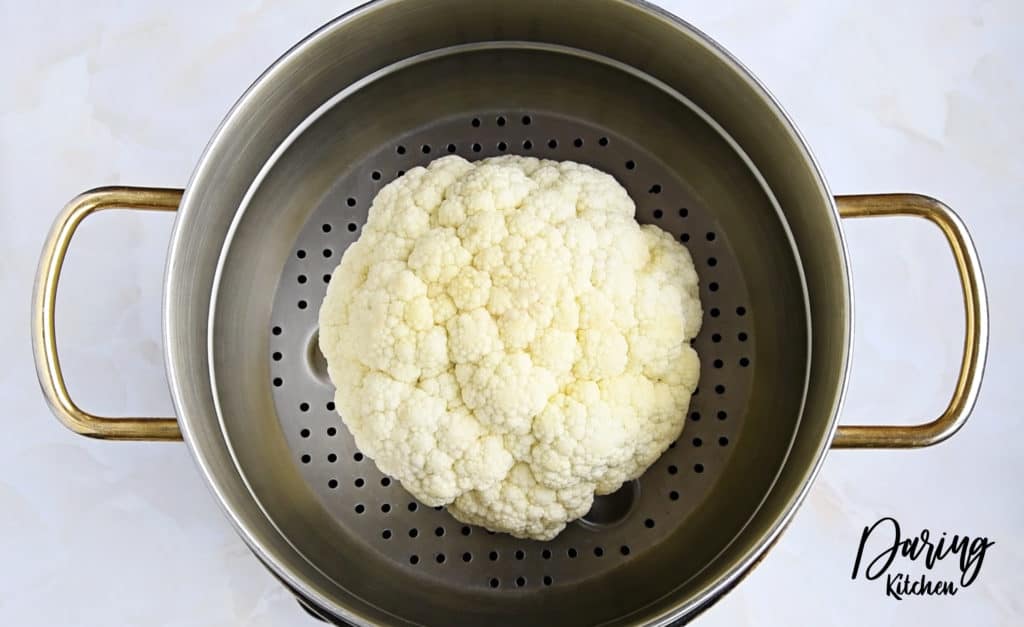 Arrange your steaming pot. Prep your cauliflower on a cutting board by trimming the leaves and stem. Place the whole cauliflower in the steamer basket and allow to cook for 18 minutes. If you prefer cauliflower steaks, slice your cauliflower before steaming.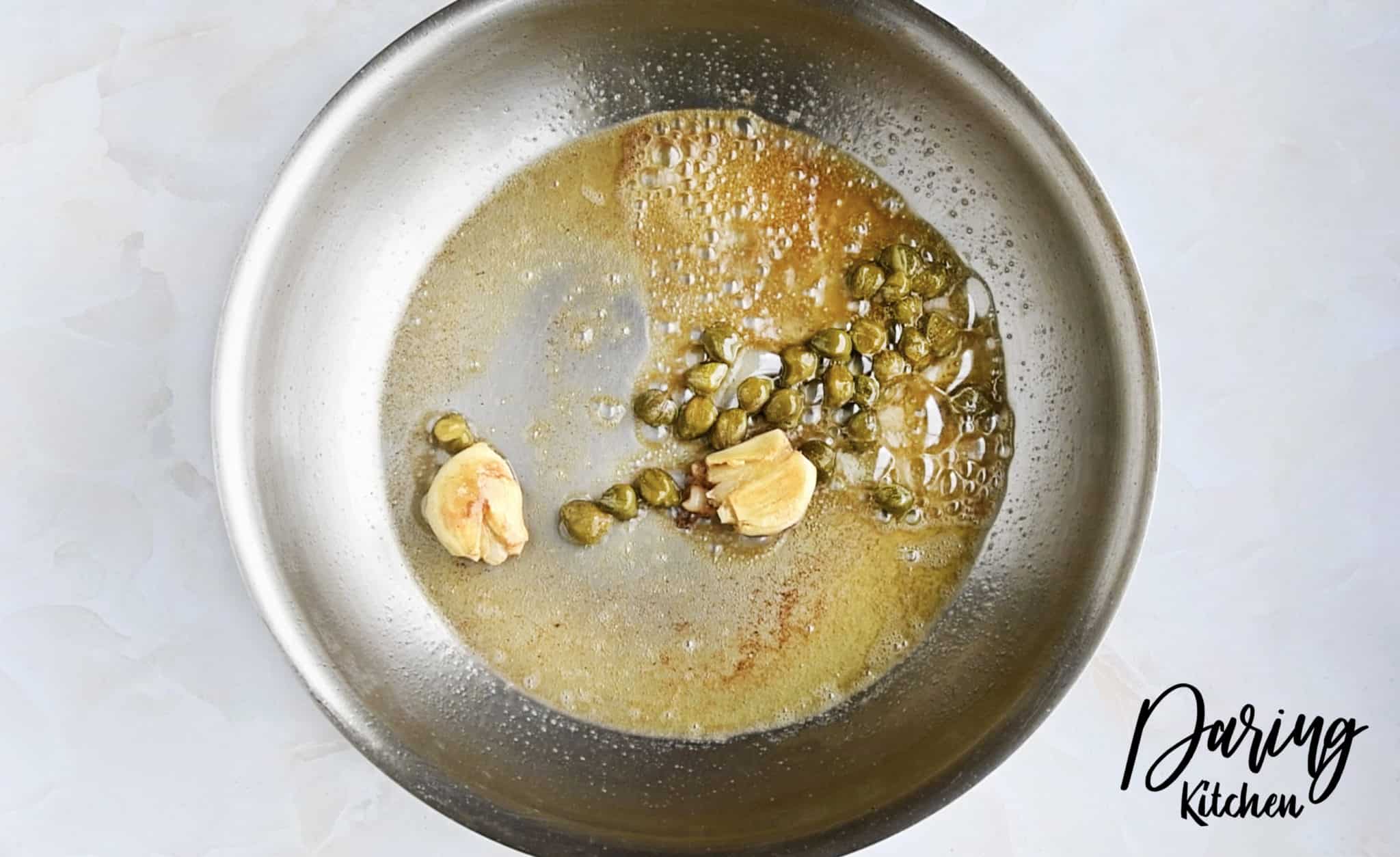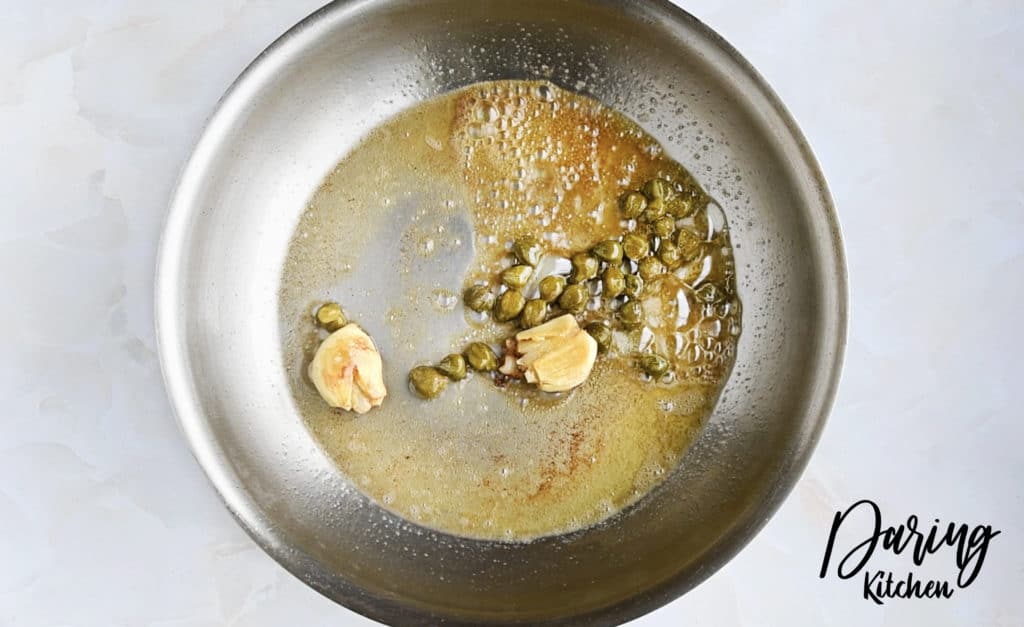 As your cauliflower steams, preheat your oven to 400 degrees. While you wait for your oven, it is time to make your sauce. Heat two tablespoons of butter (with a little olive oil if you like) in a pan over medium heat. Throw in your crushed garlic cloves. Allow them to cook until tender and nicely browned on all sides.
Toss in your capers and let these brown too. After all the capers' juice is released, carefully add in your flour. Mix everything and cook just for a minute. Then, gently at in a ⅓ cup dry white wine and watch everything boil.
Once the alcohol has evaporated and the liquid reduces slightly, add a cup of water. (If you want to add fresh lemon juice, now is that time.) Reduce your sauce. This will take around 4 to 5 minutes. When your sauce is nice and thick, remove your garlic cloves. Then, salt and pepper your sauce to taste.
Place your fully steamed cauliflower steaks or head in the sauce. Brush it with butter. Then, season it with salt and pepper. Place everything in the oven to cook for 10 to 15 minutes, or until your cauliflower is golden.
If you are using prepared baking sheets, transfer your sauce to the sheet first. Then, top with your seasoned cauliflower.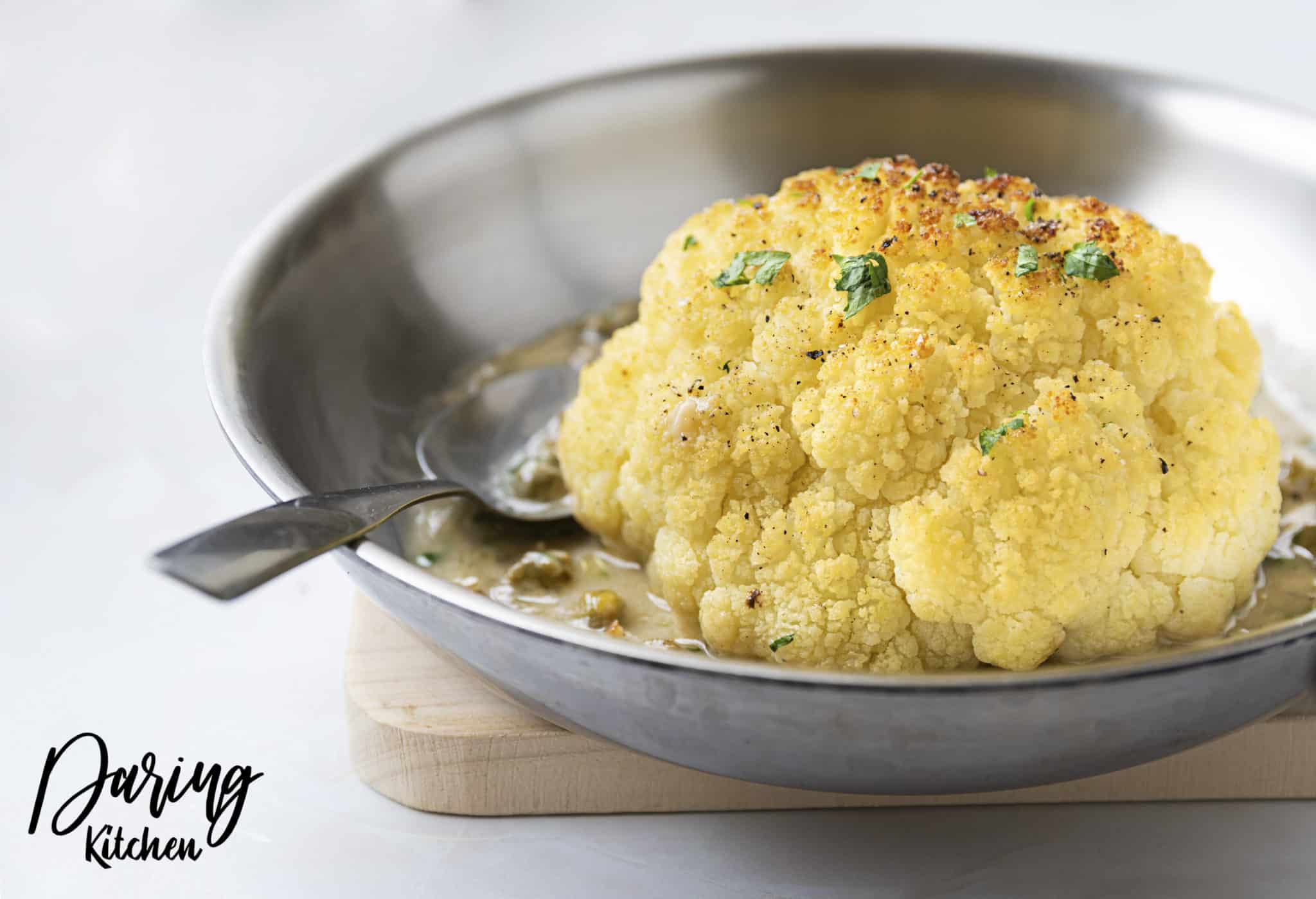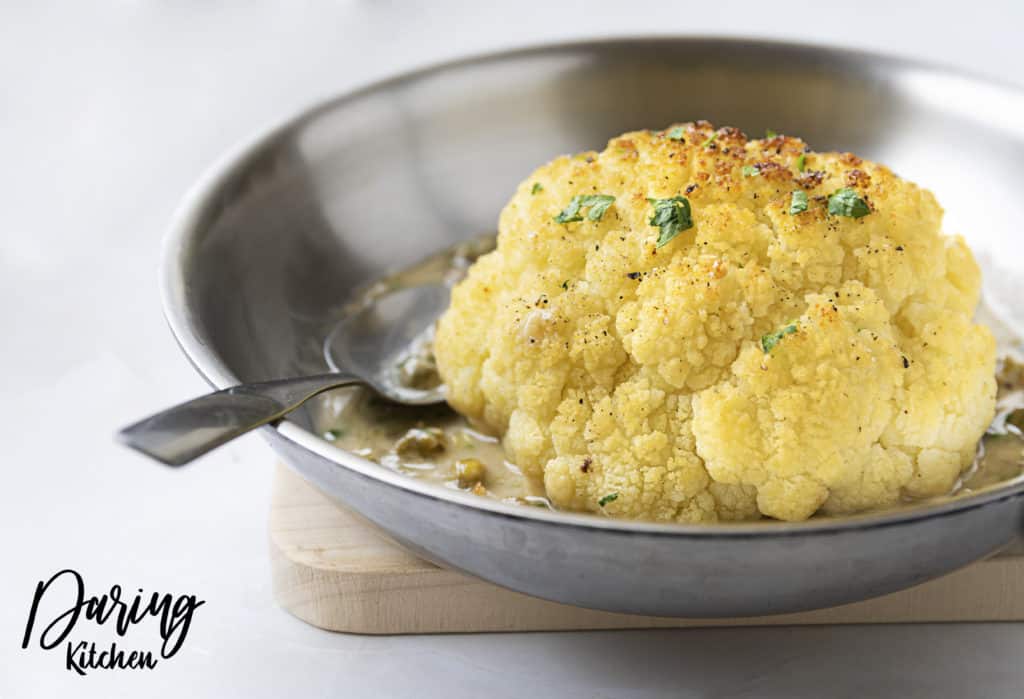 How to Serve your Roasted Caulifower Piccata
Presentation is everything!
I love presenting the whole cauliflower in the pan with more capers and chopped parsley. It always catches people's eye to see a beautifully roasted whole cauliflower in front of them.
If you prefer slices, then I love to arrange the cauliflower slices elegantly on a plate with a few tablespoons fresh lemon juice and capers for a zesty kick. You can also plate each cauliflower steak, with a garnish of its own.
I hope you enjoyed this recipe! Enjoy it by itself, with more veggies or even luscious mashed potatoes - the choice is up to you!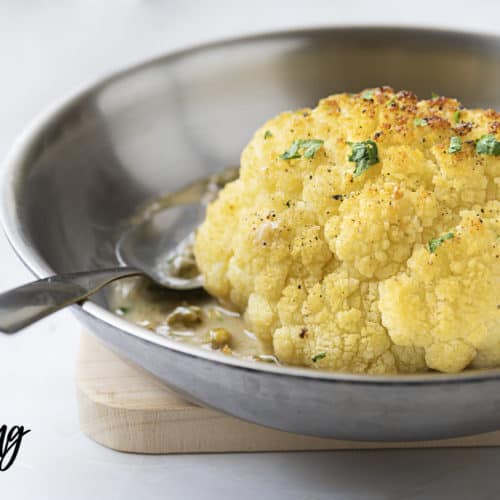 Roasted Cauliflower Piccata
Caulliflower tastes better than ever in this deliciously buttery piccata sauce!
Print
Pin
Rate
Equipment
Steaming Pot

Medium-sized skillet

Knife
Ingredients
1

Cauliflower head

3

tbsp

butter,

divided

2

garlic cloves,

smashed

1 ½

tbsp

drained capers

1

tbsp

all purpose flour

⅓

cup

white wine

1

cup

water

1 ½

tsp

salt

freshly cracked pepper

Capers and chopped parsley for serving
Instructions
Trim the bottom of the cauliflower and remove all the leaves and most of the stem.

Steam the cauliflower for 18 minutes or until a toothpick enters easily when pressed into the cauliflower.

Meanwhile, preheat the oven to 400ºF (200°C).

Heat 2 tablespoons butter in a medium skillet over medium heat. Add the crushed garlic cloves and allow them to cook until they are golden brown on both sides. Add the capers and cook until they begin to brown and have released their juices, then mix in the flour and cook for 1 minute. Add the wine and cook until it boils for about a minute, to release the alcohol. Add the water and reduce the sauce for 4-5 minutes. Add ½ teaspoon salt and mix. Take garlic cloves off the pan.

Place steamed cauliflower on top of the sauce and brush with 1 tablespoon of melted butter. Season with 1 teaspoon salt and freshly cracked pepper.

Roast for 10-15minutes, depending on the size of your cauliflower, until golden.

Finish the cauliflower with extra fresh capers and chopped parsley.
Nutrition
Calories:
93
kcal
|
Carbohydrates:
5
g
|
Protein:
3
g
|
Fat:
6
g
|
Saturated Fat:
1
g
|
Sodium:
876
mg
|
Potassium:
25
mg
|
Fiber:
1
g
|
Sugar:
1
g
|
Vitamin A:
6
IU
|
Vitamin C:
1
mg
|
Calcium:
19
mg
|
Iron:
1
mg