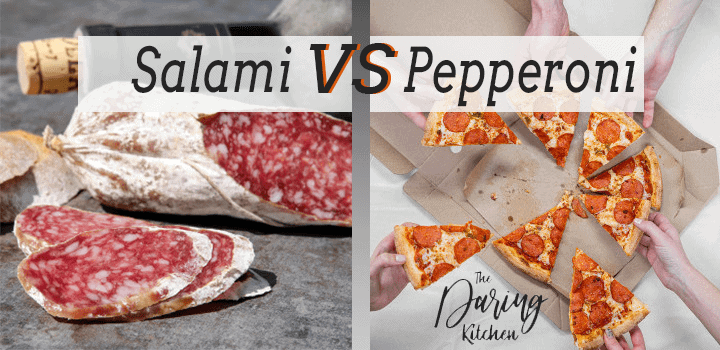 America's most beloved pizza topping, pepperoni, is a type of salami, so what's the difference of salami vs pepperoni? While they are both cured dry sausages, they have some distinct differences including the ingredients used, taste, textures, ways to enjoy them, and even their historical origins.
Before biting into your next slice of spicy pizza goodness or savoring the richness of a salami antipasto bite, let's get to the specifics of each one of these delicious foods.
What Is Salami?
As an Italian originated food, salami is used to describe any type of cured, salted and sometimes spicy mixture of encased meats. Its history dates back to ancient times when people needed a way to preserve meat for long periods and prevent germ fermentation.
Quickly it became clear that the curing method did not only serve a preservation purpose but it could also work to enhance the flavor of the product. It was the variety of ingredients used in the recipes, the different preparation techniques, and the type of meat used that led to the discovery of different salami variations.
Depending on the country of origin and other characteristics, there are different types of salami including Genovese salami, Cacciatore, Lardo, Chorizo, Soppressata, and Pepperoni.
The main difference between salami and pepperoni is that while pepperoni refers to a specific type of salami (more on this soon), salami is a generic name that is used to describe different types of salami.
A Glimpse To Pepperoni History
The name sounds Italian but if you ask for a pepperoni pizza in Italy, a pizza topped with bell peppers and no trace of salami is what you will get. You see, peperoni (with one 'p') is an Italian word for a large pepper - funny, right?
While the word pepperoni has an Italian origin, the pepperoni salami itself is said to be an American invention or, in all fairness, an Italian immigrant invention made in a butcher shop in the USA in the early '90s.
It was at this time that pepperoni made its appearance as an American pizza topping although even until the '50s, it was regarded as an ethnic Italian plate. After the second world war, things started changing. Different factors contributed to making this dish popular in the wider American society.
Today, the popularity of pepperoni as a pizza topping is indisputable and is still blasting upward. Sources say that 36%-50% of all pizzas ordered across the USA include this spicy yummy ingredient. This doesn't come as a surprise. From TV ads to artistic forms of expression and emoji food ideas, pepperoni seems to have conquered the heart or stomach of America.
The Differences Between Salami And Pepperoni
Ingredients
Pepperoni is made of pork and beef meat trimmings blended with various spices including paprika, chili pepper, garlic, fennel, cayenne pepper, white pepper, and anise seed. Salt and sodium nitrite are also added to the mixture to serve as curing agents.
The latter is also responsible for the bright red color of pepperoni. In some cases, turkey meat can be also used but should be labeled as 'turkey pepperoni'. If the product is made with 100% beef, it should be labeled as 'beef pepperoni'.
On the other hand, salami is made with pork, beef, veal, and in some cases poultry. Commonly used spices include grainy black pepper, powdered garlic, vinegar, or white wine and salt. Nitrates are also added to protect the meat from going bad.
Depending on the type of salami you choose to buy, there may be smaller or bigger differences in terms of the taste, texture, and fat content.
Taste & Texture
The taste of pepperoni is usually spicier than salami which in some cases can be almost spiceless. It has similarities to the spicy salamis of the southern part of Italy.
It is also lightly smoky whereas salami doesn't always come in a smoked version. Pepperoni has a fine-grained texture that is softer than salami.
Ways To Eat
Salami is a popular part of a cold antipasto platter but it can also nicely supplement a wide variety of recipes from soups to pasta sauces, eggs, pizzas, and even salads. Pepperoni is mostly popular for its use as a pizza topping which might have to do with a combination of factors - its wondrous crispy and curly edge is surely one of them.
Finally, Salami Or Pepperoni - What's Best?
While both can be used on pizzas, salami is a much more versatile ingredient than pepperoni. You can also find it in a lot more different types, a simple visit to an Italian salumeria will help you discover how an authentic Italian artisan salami looks like and tastes.