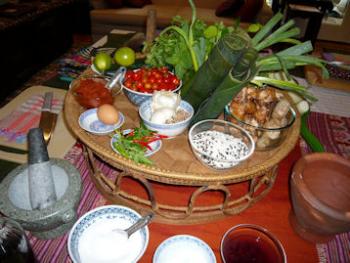 One summer I came home from college to learn that Chinese take-away dinners in my family had been replaced by my 13-year-old brother's cooking — more specifically, his stir-fries. He had become an expert at chopping vegetables, squeezing lemon juice and combining ginger root, sesame oil and soy sauce. He soon tried his hand at fried rice too and quickly became the go-to chef of the family and still barely a teenager. This left me as the designated baker of the family, and as one who fears the stovetop much more than the oven, I have no desire to change this. But a recent trip to Lao P.D.R. has given me a few tricks up my sleeve.
Lao restaurants are not very common in the United States, mainly I think because the food would not be easily recognizable — it being a small and fairly unknown country — to customers passing by. Too often, Lao specialties are served under the guise of Thai or Vietnamese restaurants. But in Laos, these specialties are still served from small stands on the street front, where woman spoon out hot, spicy broths from large metal containers and fry up tiny coconut custard patties, stuffed with corn kernels. At one stand, we picked out stuffings —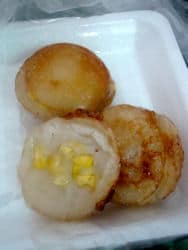 fried pork rolls, with crisp, crackling skin, and roasted meats — which would be sliced into small pieces and served alongside fresh herbs and chopped ginger, large lettuce leaves and peanut and black bean dipping sauces. We retreated to the back room to use our hands to stuff fried pork into lettuce leaves, alongside which we sipped on Lao iced coffee, a strong, espresso like brew, excessively sweetened and topped with a generous pour of condensed milk.
But some of my favorites came from the sit-down restaurants and are more likely to be re-created at home for my pescatarian family. In particular, I fell in love with a specialty called Mok Pa. (Recipe below) I have seen several variations, some which are more of a simple steamed white fish and others that come out more as a soufflé with chunks of white fish. But, generally speaking, Mok Pa is a generous heap of white fish, usually catfish or tilapia, though I reckon most types of fish would work, marinated in a puree of sticky rice, salt, sugar and green spring onions, and topped with pin-thin slivers of Kaffir lime leaves and lemongrass and a small very hot chili pepper. This is then stuffed inside a banana leaf. Then the little packets are placed in the steamer for about twenty minutes and served with rice. It is very easy to make, once you have scored the ingredients and get the wrapping technique down, and a great way of breathing life into the tired baked and fried fishes you have been serving.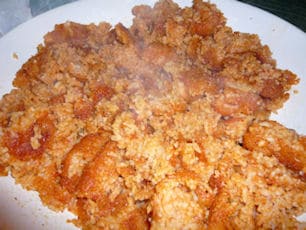 Another favorite was Nam, (Recipe below), a rice dish made by deep frying balls of rice, which has been coated in red curry and fish sauce. The balls gain a crispy skin, and you crush them between your fingertips and toss the pieces with lime-fish sauce vinaigrette, chopped fresh mint and fermented pork, or another type of meat. I learned how to make this at a Sap Lai Lao Cooking Class hosted by Legacies of War in Washington D.C. In the class, we made the rice salad dish with chopped shrimp, but using pork is much more common and traditional. Nam photo at right by Diane Greene Lent.
The crispy pieces of rice, created in the deep fryer, add a great texture to the salad, though I suppose it is hard to call this a salad as we face our New Year's resolutions. However, deep fryer or no, I urge you all to give this dish a shot; it is certainly a dish unlike anything else you have ever made and one that I think will become one of your favorites too.
Mok Pha – Steamed Fish in Banana Leaf
Recipe courtesy of Channapha Khamvongsa
Serves: 2-4
Ingredients:
1 lb Catfish or Tilapia
½ cup sticky rice, soaked overnight
3 shallots, peeled
2 lemongrass stalk, slice into thin round pieces ½ cup green spring onions
10 kaffir lime leaves, finely sliced
4 tablespoons fish sauce
1 teaspoon salt
1 teaspoon sugar
6-8 chili peppers (optional)
Banana leaves, cut into 10-inch pieces (4-6 pieces) wipe, not wash
Note: You can marinate the fish in the sauce overnight.
Catch a giant catfish from the Mekong River or buy fish from your local grocery market or fishmonger.
Rinse and cut the fish into 2-inch pieces and put in mixing bowl. Put aside.
Make the Mok Pa cocktail (sticky rice, lemongrass, shallots, chili pepper, green onions). Mix all ingredients into blender, add ½ cup water to loosen the mixture. Puree ingredients together. Add sugar and salt.
Pour the Mok Pa cocktail sauce over the fish in a large bowl. Mix so the sauce is evenly distributed. Add Kaffir lime leaves and whole chili peppers if desired.
Wrap the fish into a triangle shape. Secure with toothpicks.
Steam for 25 minutes. Serve hot with sticky or jasmine rice.
________________________________________
Nam Kao – Spicy Red Curry Rice Salad with Shrimp
Recipe courtesy of Channapha Khamvongsa
Ingredients:
2 cups of cooked jasmine rice, cooled
½ cup of fish sauce
½ cup fresh lime juice
1/3 cup red curry (Maesri brand)
¼ cup of coarsely chopped mint
1 egg
¼ cup finely chopped green onions
½ lb shrimp, peeled, blanched, and coarsely chopped ½ gallon of oil in wok
Optional: finely chopped 2 teaspoon roasted peanuts, whole or crushed dry chilies
Shrimp cocktail:
Mix shrimp and ¼ cup lime juice and ¼ cup of fish sauce in bowl
Set bowl aside in refrigerator
Making the rice balls:
Cook jasmine rice, cool in large mixing bowl.
Add red curry to rice; gently mix.
Add egg and 2 tablespoons of fish sauce; mix thoroughly until sticky. Should be burnt orange in color.
Roll 2 inch round balls, set on tray and repeat for remainder of rice.
Heat oil at medium-high. Deep fry the balls until golden brown.
Place cooked balls in strainer and drain; cool rice balls.
Bringing it all together:
In large mixing bowl, CRUSH the rice balls into 1/4 inch pieces.
Add remainder fish sauce and lime juice.
Add shrimp, herbs, and optional items of your choice; mix thoroughly.
Serve with endive or lettuce.