How well do you know your canned fish? Would you be able to spot the difference between sardines vs anchovies if you didn't have to rely on a label? If the answer is no, then you're certainly in the right place to eliminate the confusion once and for all.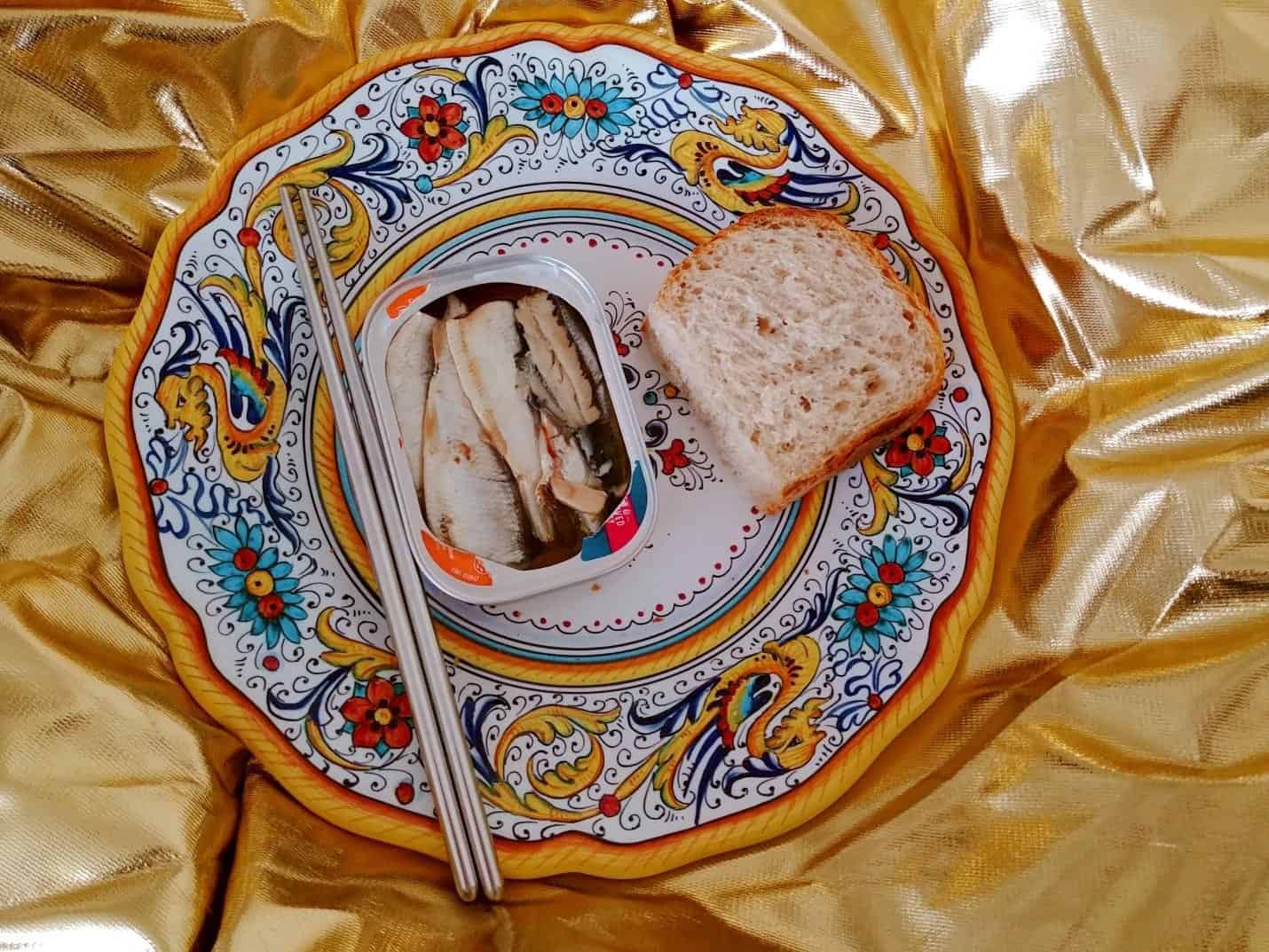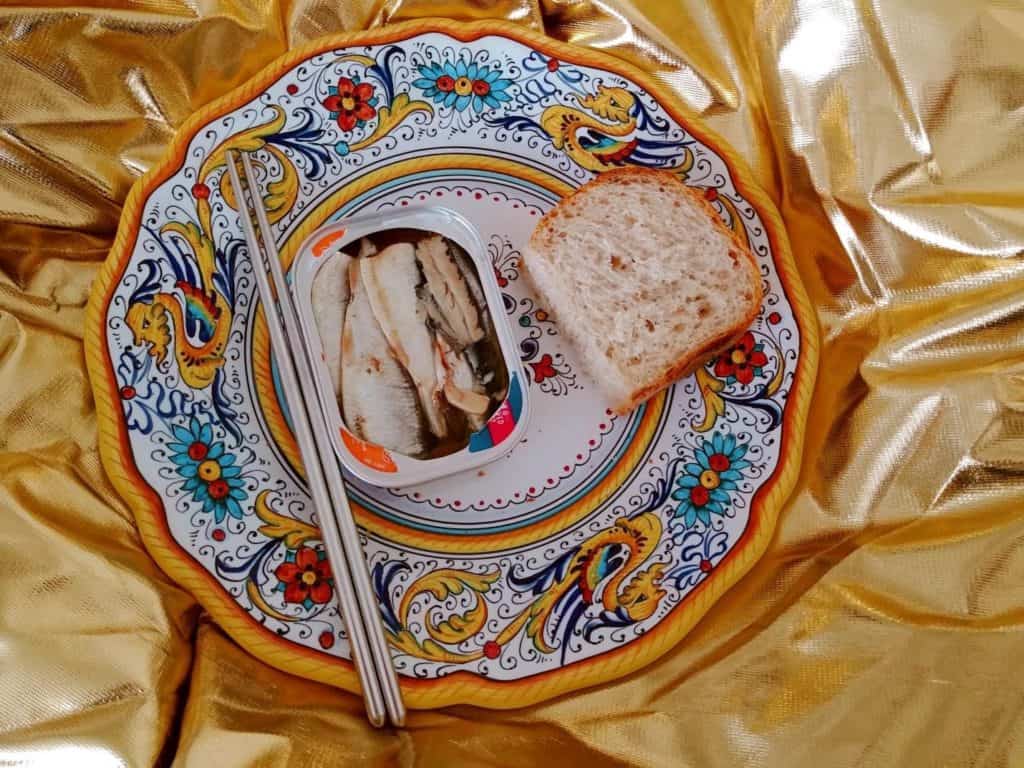 For most people, it can be quite difficult to tell them apart. One thing is for sure, though – these tiny fish are the most underrated nutritional powerhouses in modern times.
This article explores everything you need to know about them and why you should make them a regular part of your diet.
What Are Anchovies?
An anchovy is a tiny, slender, oily fish found in the Pacific and the Atlantic Ocean and the Mediterranean and the Black Sea. If you come across anchovies in your local grocery store, you're more likely to find them preserved than fresh.
They are known to have low mercury content, fast reproductive cycles, and short lifespans, making them a highly sustainable food source and with exceptionally high nutritional value.
All About Anchovies
Are Anchovies Healthy?
Yes, they are. They are packed with loads of nutrients and health benefits, which we explore in detail in the next section.
What Do Anchovies Taste Like?
These tiny fish have a distinct, savory, and somewhat aggressive taste. Their characteristic umami-like flavor can be attributed to the fact that they are often cured in salt before being canned in tins with olive oil.
Does Caesar Dressing Have Anchovies?
Legend has it that Caesar Salad as we know it was first invented in 1924 by an Italian chef named Caesar Cardini, who immigrated to the US before finally settling in Mexico.
One day, Caesar was running short on supplies in his restaurant kitchen. He decided to use what was available – lettuce, eggs, croutons, cheese, Worcestershire sauce, and olive to create what would later become the famous Caesar's salad.
In another version of the legend, Caesar's brother Alex decided to create a dressing for an appetizer. The main ingredient of the dressing was anchovies. However, not every dressing has to have Anchovies. There are plenty of recipes that don't have it in their list of ingredients.
Are Anchovies Kosher?
Some brands are, while others are not. Make sure you pay attention to the labels when you're out shopping to make sure you get the right one.
Why Are Anchovies So Salty?
As mentioned before, these tiny fish are usually cured in salt before getting packed into olive oil-filled cans. That explains their salty taste.
Can Dogs Eat Anchovies?
Fish are generally a great addition to your pet's diet. They're rich in omega-3 fatty acids, which is great for their brain development. It also improves overall function in older dogs suffering from cognitive dysfunction.
Do Anchovies Have Bones?
Yes, they do. However, the oil-packed variety you find in cans is usually filleted, leaving nothing to worry about there.
Anchovy Nutrition
The nutritional content of canned anchovies is as follows:
| | |
| --- | --- |
| Calories | 160 |
| Carbohydrates | 0 mg |
| Protein | 19 g |
| Vitamin D | 2% Daily Value |
| Calcium | 20% Daily Value |
| Iron | 8% Daily Value |
In addition to this, they are also rich in omega-2 fatty acids. Each two-ounce serving contains a whopping 1,200mg of the nutrient.
Best Anchovies
Here are our top three picks of the best anchovies around.
1. Wild Planet White Anchovies in Extra Virgin Olive Oil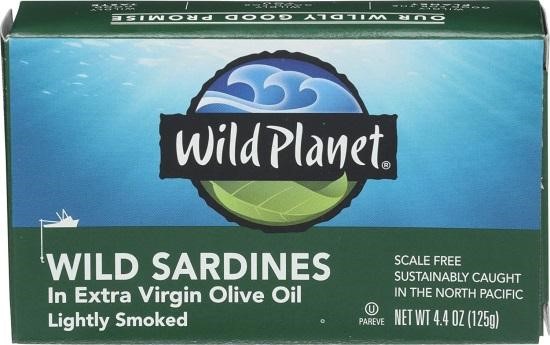 2. Crown Prince Anchovy Fillets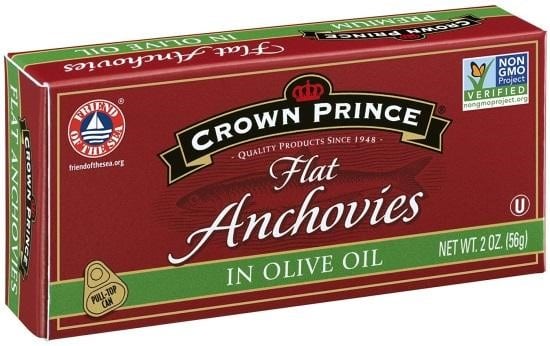 3. Crown Prince Anchovy Paste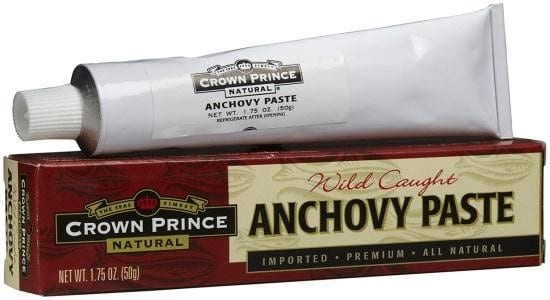 Cooking With Anchovies
Anchovies may be small but make no mistake about it. These tiny fish are big on flavor and extremely versatile, allowing you to use them in a wide variety of recipes. Here are three amazing recipe ideas you can use.
Anchovy Pizza – A gluten-free pizza with a cassava dough base topped with lemon, arugula, caramelized onions, and anchovies
Whole Cauliflower Braised in Tomato Sauce – This features braised cauliflower simmered in a layered tomato sauce with olives, paprika, chili pepper, and anchovies
Pan-Roasted Broccolini With Anchovy Sauce – Sautéed broccoli drizzled with garlic, parsley, olive oil, and anchovy sauce
What Are Sardines?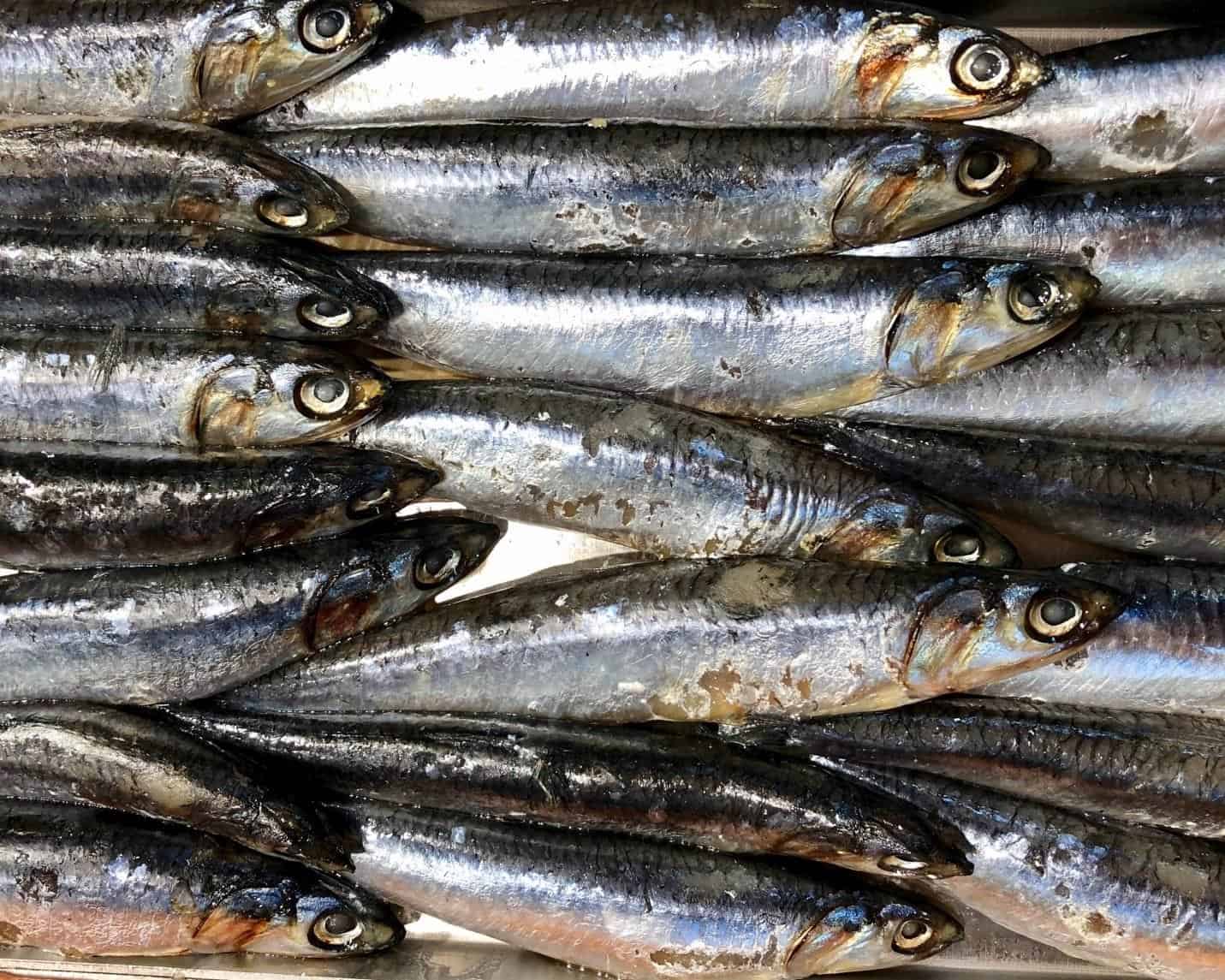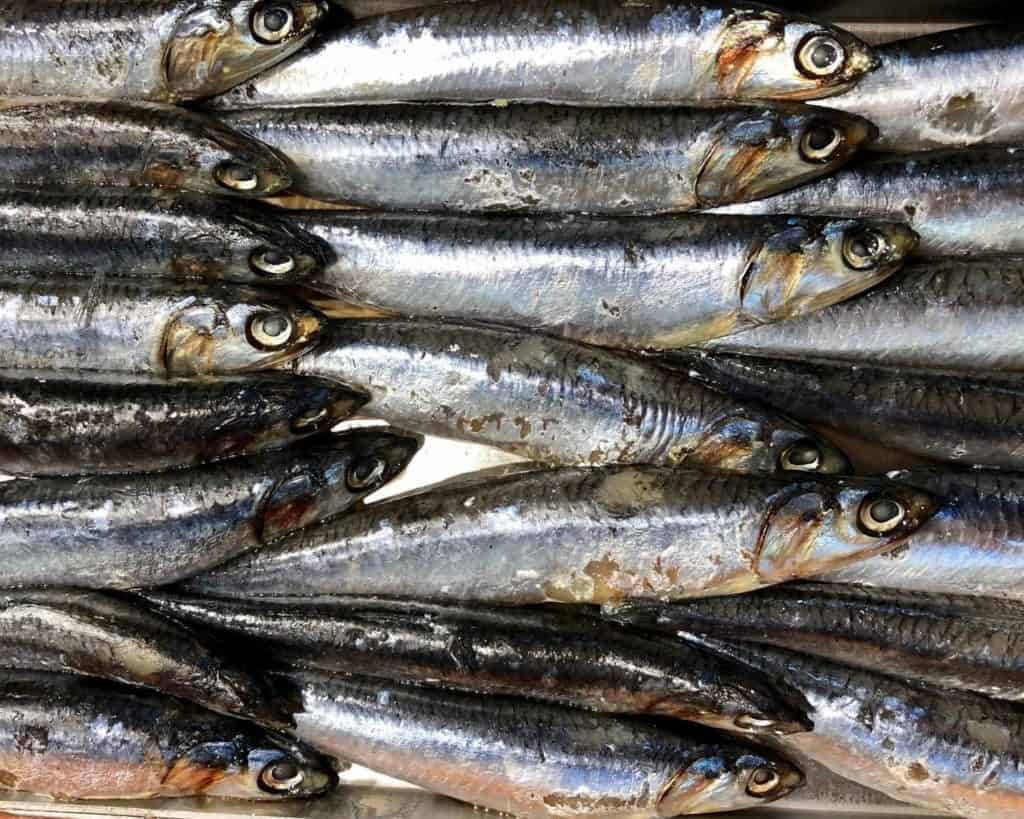 Sardine is a generic term that applies to a wide range of tiny saltwater fish known as herring. They are typically white with a meaty texture and can grow up to eight inches long. There are at least 18 different species of small fish classified as sardines.
All About Sardines
What Do Sardines Taste Like?
Sardines vs anchovies have a much milder flavor compared to anchovies, although they are still a little briny.
How to Eat Canned Sardines?
The possibilities are endless. You can use them in a salad, toss them with pasta, or serve them on a platter with olives, cured ham, and grilled tomatoes. You can have them in any way you like.
Can Cats Eat Sardines?
Yes, they can. Ensure you chop up the sardines before adding them to their meals.
Benefits of Sardines
Here's a breakdown of the nutritional content of sardines:
| | |
| --- | --- |
| Calories | 140 |
| Carbohydrates | 0 mg |
| Protein | 15 g |
| Calcium | 20% Daily Value |
| Iron | 8% Daily Value |
Best Sardines
Below are our top three picks of the best sardines on the market right now.
1. King Oscar Sardines in EVOO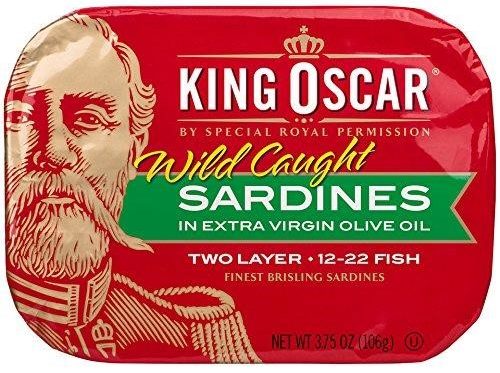 2. Crown Prince Skinless Boneless Sardines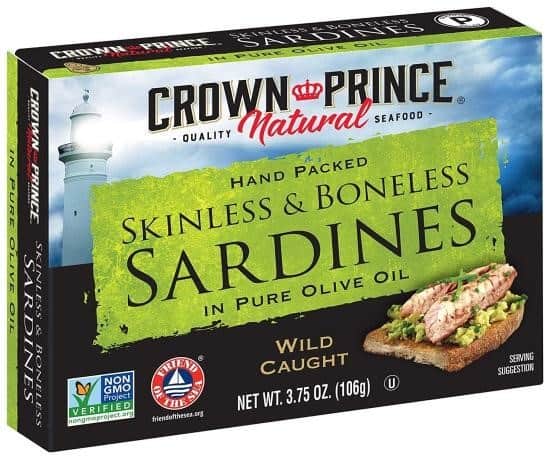 3. Lightly Smoked Wild Planet Sardines in EVOO