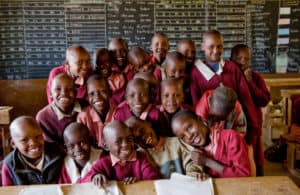 What's the food situation like in Kenya?
One of the biggest problems we face is climate change. In the arid areas in the north and west there's often not enough food. The people there depend on rain for pasture and farming. Also, in Kenya there's still a big difference between rich and poor. It's going to take time to get to the point where everyone has enough nutritious food all year round. But things have improved a lot since I was a kid.
What was it like when you were growing up?
I grew up in a remote village on the slopes of Mount Kenya, central Kenya. It was a poor community and there wasn't much to eat. My parents were illiterate peasant farmers and very few people in my village went to school. I went to school but it was a struggle, because it was so difficult to study at home. There was no electricity and we would either read by the open fire or outside using moonlight.
What did you eat in those days?
Our meals were based on cereals, corn for the most part. If we were lucky, our mother had gone to the fields to get some vegetables, mainly to change the colour of the food. Occasionally there were some beans. But these were so few that you could actually count them as they floated in the pot. I remember eating this porridge made out of corn flour. Occasionally we also had sweet potatoes, which we would roast on an open fire.
What do you eat now?
Nowadays I eat rice, bread, meat, vegetables. I have the same breakfast as anyone in other parts of the world. I might have, bread, fruit, cornflakes, tea with milk. But there are still plenty of people who don't, just as I didn't as a child. One of my favourite dishes is maize and beans mixed together and boiled. We call it githeri. We ate it when I was a child and it is still my favourite meal. I like just adding a pinch of salt and eating it like that.
Did people think about good nutrition when you were young?
My parents had a traditional idea of how to feed the family. The first thing was simply to make sure that that we had eaten something. They didn't think too much about a balanced diet – because it was hard to provide. You could find yourself eating only yams for a few days. Or just cassava.
Was there malnutrition? Did people know what to do?
My parents' ideas about nutrition were based on the evidence they saw with their own eyes. They knew it was good to eat fruit when they could. They saw that children were healthier when they did. But as I said, we all tended to eat what was available. If a child showed signs of malnutrition, people knew what to do. If they saw their child's hair was going brown for example – showing a lack of protein – the child would be fed on mole meat.
Do today's children in Kenya know about good nutrition?
Nowadays children in Kenya have much more knowledge about food and the importance of a balanced diet. It's actually taught in schools as part of 'home science'. But getting food is still sometimes a problem. People know vegetables are important, for example. But they are often not available, especially in dry areas of the country.
How did you get involved in humanitarian work?
I joined the World Food Programme in 2003 and I went to work in refugee camps. My experience in the Kakuma camp (ed – northern Kenya) was very powerful, very touching. I saw so many children there who were the same age as my own children. I felt a real connection. The poverty of these people is physical, you can touch it. We provide assistance that makes a visible difference.
Why do you do this kind of work?
You can't be a humanitarian worker for the salary, or because you think it'll get you good accommodation or security. It won't! It has to come from the heart. I have had other job opportunities but I haven't taken them because of this connection I feel. In this type of work you see results.
What's your job in WFP now?
Now I work in Nairobi and a big part of my job is to organise programmes that ensure children from poor communities get nutritious food in school every day. The meals we provide encourage parents to enrol their children in school and to keep them there. It means the children get nutritious food – at least once a day – but they also get an education.
What gives you greatest satisfaction?
My greatest satisfaction is to see that children are coming to school regularly. I know that this is largely a result of what we do through school feeding. The children from the poor communities will often only go to school when they see smoke billowing from the chimney of the school kitchen. They know it means they'll get good food.  I'm always happy to see kids in school because I know from my own experience how important it is.
If you're interested in finding out more about the work WFP do, visit www.wfp.org
Lead photo: WFP/Rein Skullerud | Smiling school children in Kenya who receive a daily, nutritious school meal from the World Food Programme.