Once relegated to the mundane task of decorating a bagel, sesame seeds have since developed quite a reach for such a tiny seed! Now starring in countless dishes, products, and ingredients, sesame is everywhere.
Sesame paste and tahini are two such products, which while often being thought of as the same thing, are truly distinct. While both sesame paste and tahini are made from sesame seeds, they are processed differently, giving them each a unique appearance, taste, and usefulness. The key difference between these two ingredients lies in one thing: raw sesame seeds vs. roasted sesame seeds.
We're about to take a deep dive into the world of sesame paste vs. tahini, discovering how each of these products is made, and how you can put them to work in your own kitchen. We'll even go through a quick recipe on how to make your own homemade tahini. Let's get to know everything there is to know about these tiny little seeds we call sesame!
What is Sesame Paste?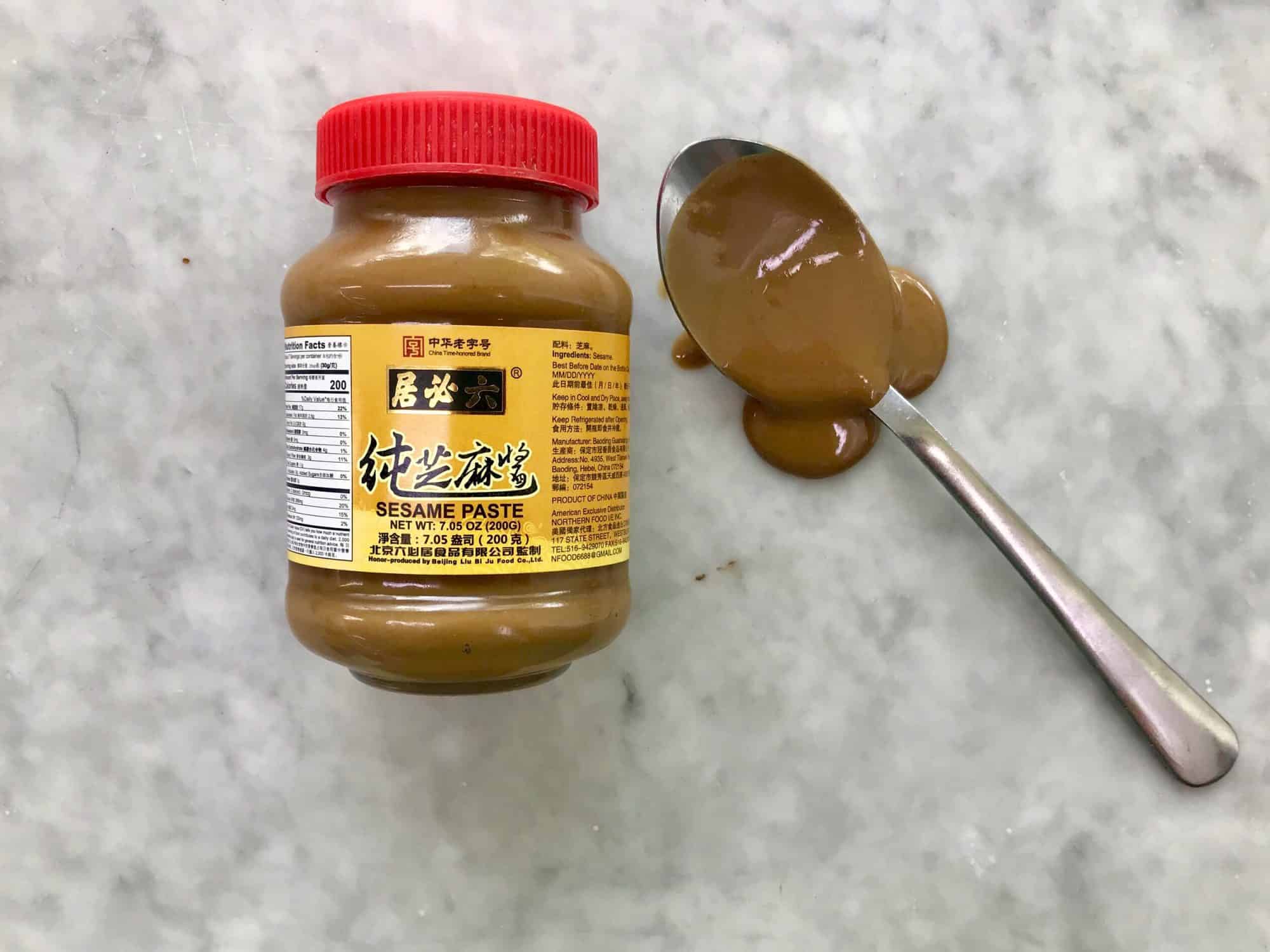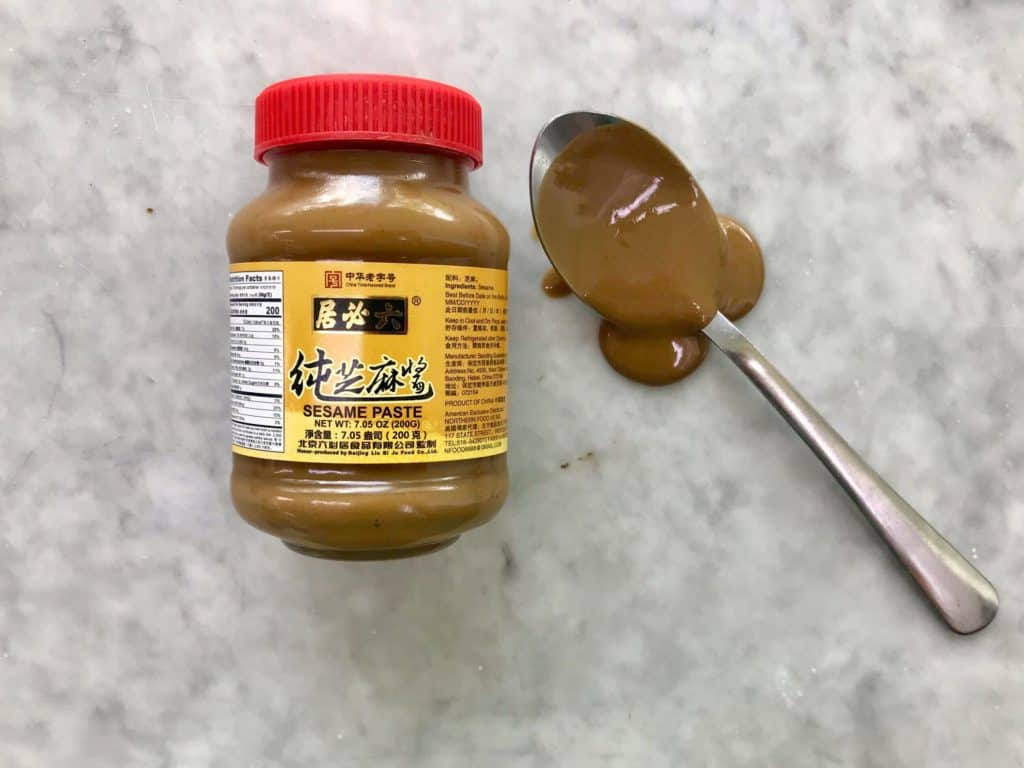 Often referred to as "Chinese sesame paste", sesame paste is a thick puree made from roasted sesame seeds. The texture is comparable to that of a nut butter such as peanut butter or almond butter. The seeds are most often cooked in a frying pan or wok before being blended with sesame oil into a smooth puree.
The seeds take on a darker color as they toast, therefore the resultant product is much more richly colored than tahini. Sometimes, other nuts such as peanuts are incorporated into the mixture in order to bring additional texture to the paste and add a more rounded flavor. Combination blends such as these will usually be labeled as "sesame sauce" to avoid confusion.
Sesame paste comes in 2 main versions: black sesame paste and white sesame paste. The color difference lies not in the degree to which the seeds are roasted, rather it depends on what type of sesame seeds are used to produce each. White and black sesame pastes are made with toasted white sesame seeds and toasted black sesame seeds respectively.
Due to the fact that black sesame seeds frequently maintain their outer hull through processing, black sesame paste tends to have a rougher, slightly less homogenous texture as compared to white sesame paste.
How Does Sesame Paste Taste?
With a main ingredient like toasted sesame seeds, you can expect sesame paste to have a deeply savory, extremely nutty flavor. The taste is quite similar to that of toasted sesame oil, which as you may know, has a dramatically different taste from regular sesame oil.
The act of roasting or toasting seeds (and nuts for that matter) serves to intensify the inherent "nuttiness" within them, as well as reducing the natural bitterness and astringency these foods possess. Therefore, sesame paste will have a less bitter and overall warmer, nuttier taste than raw sesame seeds or tahini.
Black sesame seeds and white sesame seeds have a fairly similar flavor, with black sesame being slightly more intense in flavor, with a crunchier texture than softer and more mild white sesame seeds.
How is Sesame Paste Used?
Sesame paste is widely used in Chinese cuisine, playing a key role in cold noodle dishes, spreads, dipping sauces, and even forming the base of some soups.
Since sesame paste has a thick texture which is a similar consistency to natural peanut butter, it is therefore easier to use it as if it were a nut butter, as opposed to tahini which is typically too runny to be used in this way. With the addition of just a few other flavor ingredients, sesame paste can easily be turned into an all-purpose sesame sauce for dipping, or a spread for sandwiches and wraps.
What is Tahini?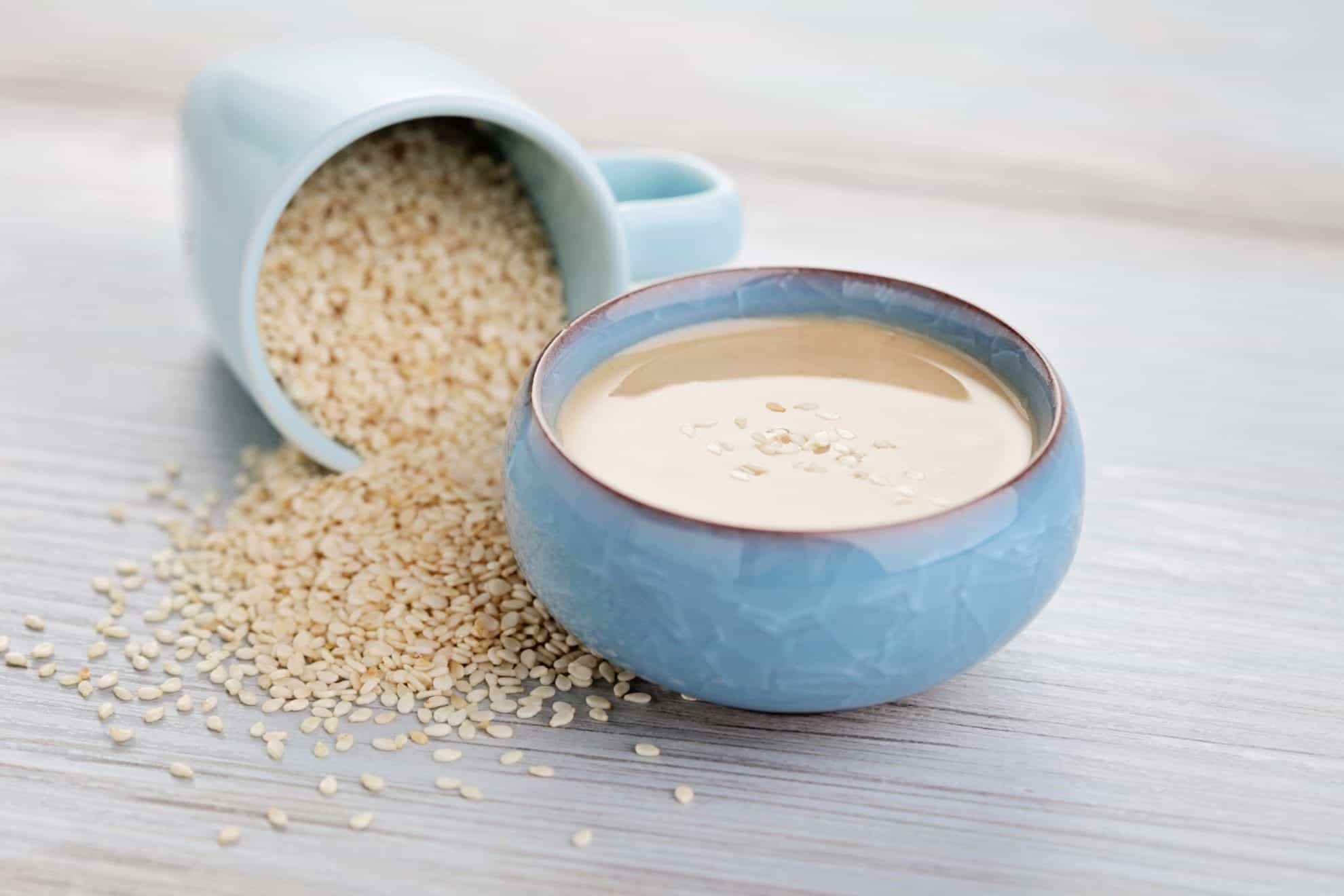 Unlike sesame paste which is made from toasted seeds, tahini is made using raw, hulled sesame seeds which are not cooked at all before blending. Tahini is most commonly made using white sesame seeds, however there are versions which use black sesame seeds instead!
Since the seeds are uncooked, tahini which is made from white sesame ranges from off-white to beige to light tan in color rather than the rich brown coloring of sesame paste.
One look at tahini and you'll notice that it is much more liquidy than other nut and seed butters. Straight tahini will contain very minimal ingredients: sesame seeds, sesame oil, and sometimes salt. Be aware though that there are many products out there that appear to be and are labeled as "tahini" which may already contain other ingredients or flavorings. In addition, the tahini which is served at restaurants will often have other ingredients already added. No wonder the tahini you get at your favorite Greek or falafel spot is always so good!
How Does Tahini Taste?
You can certainly expect plenty of rich sesame flavor from tahini, however, with an overall less nutty flavor than sesame paste. This is due to the fact that the seeds have not been roasted. Therefore, they still contain some astringency and have not experienced the flavor development that comes along with the cooking process. That said, tahini delivers pure, slightly bitter sesame flavor all the way.
How is Tahini Used?
Originating in and frequently seen in the cuisines of the Mediterranean and Middle East, tahini is an iconic flavor in well-known dishes such as hummus, baba ganoush, and falafel. The unique taste of tahini also makes an ideal base for salad dressings and when it is mixed with other flavorings such as garlic and lemon juice, it makes for one amazing dipping sauce!
The uses for tahini don't stop at savory though, it can also be a great flavor profile for sweet dishes and baked goods such as cookies, breads, cakes, and tarts.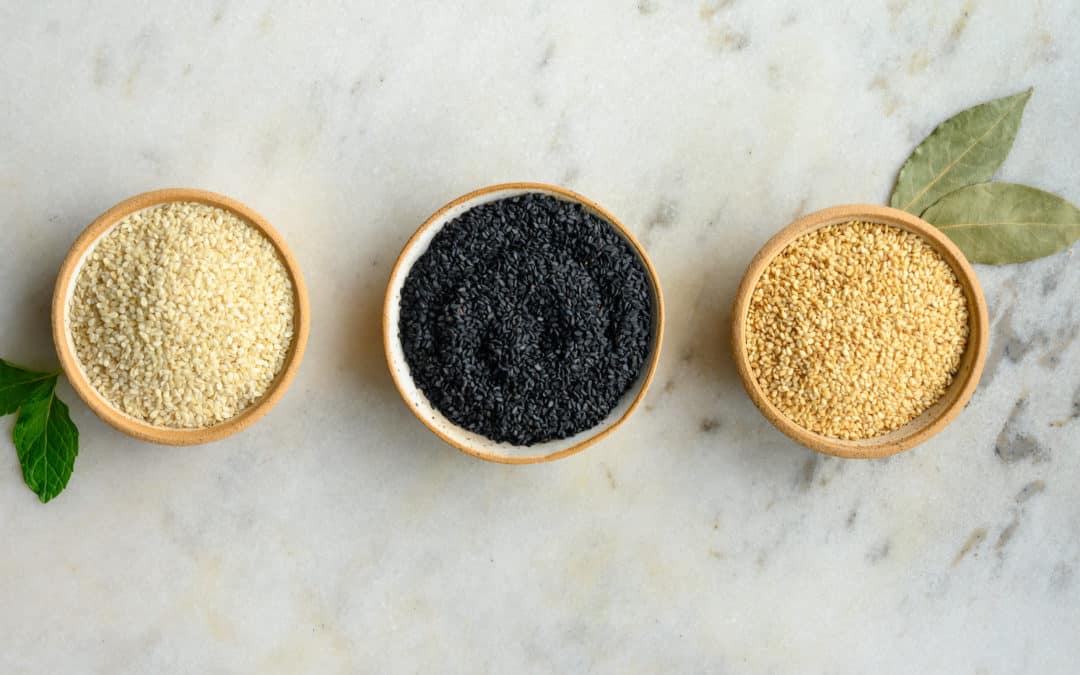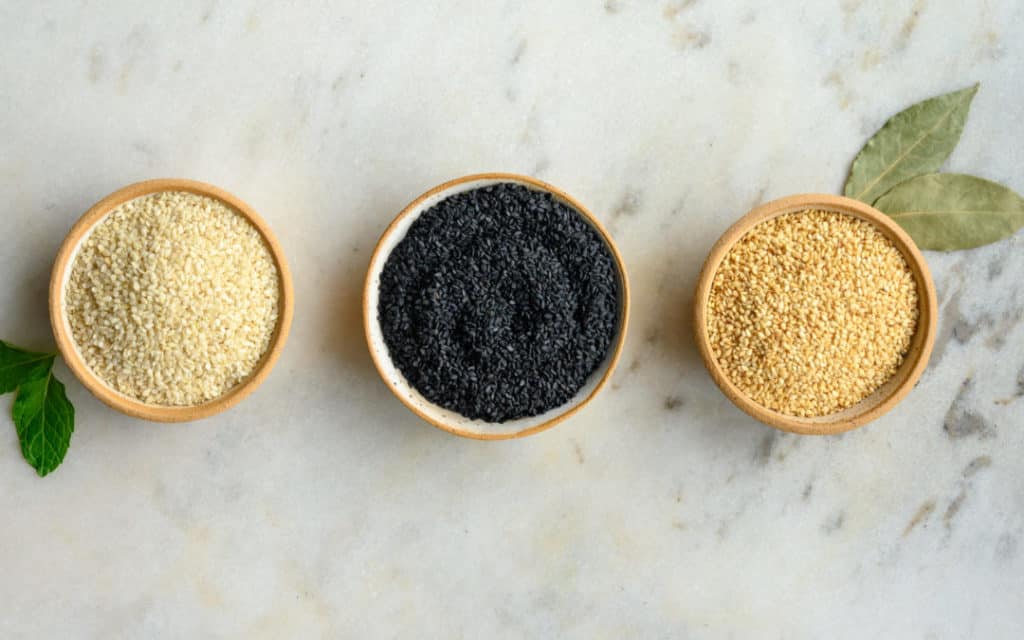 Sesame Paste vs. Tahini: Allergen Info
Nut Allergies
Since they are so similar in both flavor and texture to peanut butter and other nut butters, one question that comes up a lot is are sesame products such as sesame paste and tahini suitable for those with nut allergies?
In short, yes, sesame paste and tahini both are great choices for anyone with a peanut allergy and other specific nut allergies, but care must be taken to ensure that these products have been processed in a cross-contamination free manner. Many facilities that make seed products such as sesame paste and tahini also make a variety of nut products and therefore exposure to these items is certainly a concern.
Gluten Intolerance
For anyone that has a gluten intolerance or sensitivity, we are happy to report that both sesame paste and tahini are totally gluten free! Whichever product you have, just be sure to double check that there are no added ingredients which might have hidden sources of gluten, such as soy sauce.
Can You Use Sesame Paste and Tahini Interchangeably?
These two sesame products don't quite make a perfect substitute for one another. While both will certainly deliver sesame flavor to the equation, the difference between roasted sesame seeds and raw sesame seeds is pretty vast in terms of taste. If you attempt to use tahini where sesame paste is called for, you'll be missing out on the depth of nutty flavor and will end up bringing in that slightly bitter taste instead.
One option is to use tahini in conjunction with another roasted nut or seed butter you may have on hand, just be sure to take any allergies into account! Or, add a few drops of toasted sesame oil into the tahini to give it another layer of deep flavor. This type of sesame oil is made from toasted seeds and while it won't have the same viscosity of sesame paste, it will be comparable in terms of flavor.
Can You Make Tahini at Home?
Yes! There's no need to rely on store bought tahini when it's really quite simple to make your own tahini at home. Making tahini in your own kitchen is a great way to make a dollar go even further and last longer, as even the best tahini has a limited shelf life by the time it arrives in your shopping basket at the market. Here is a simple recipe for homemade tahini:
Step 1
Gather your ingredients. To make tahini at home, you need white sesame seeds, neutral flavored oil (such as grapeseed or very light olive oil), and salt if you wish. For every ½ cup of sesame seeds, plan on using about 1 tablespoon of oil.
Step 2
Place the seeds in the bowl of a food processor, or you may use a high powered blender. Pulse the seeds until they are broken up and crumbly, but don't expect them to be forming a puree just yet!
Step 3
Add the oil to the food processor or blender and continue blending until the seeds are fully broken down and the mixture is smooth, runny, and has a uniform consistency. You should stop the machine frequently in order to give the mixture a good stir, ensuring that all of the tahini blends evenly. Add salt to taste, stir, and you're done!
Sesame Paste vs. Tahini: Recapping the Differences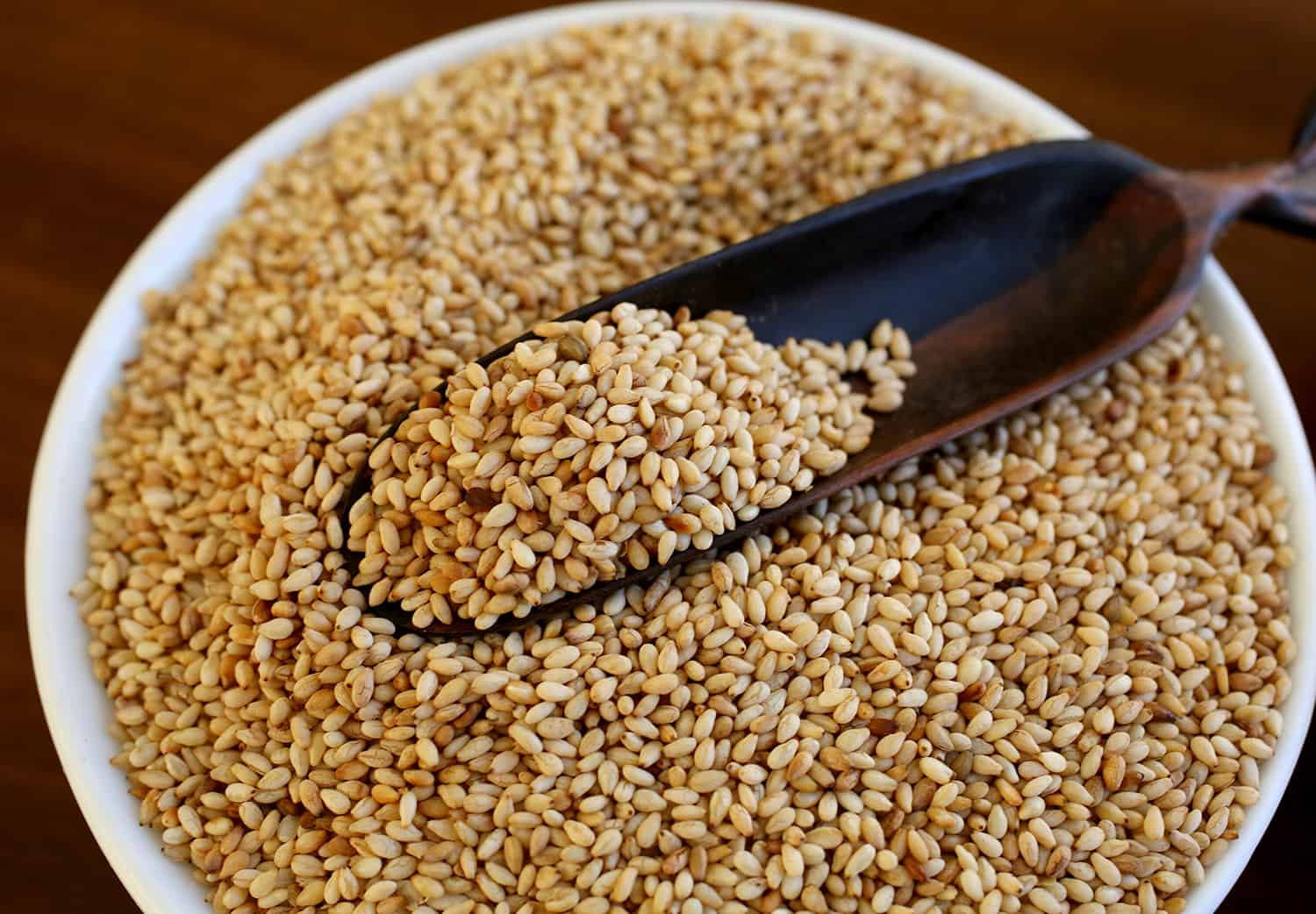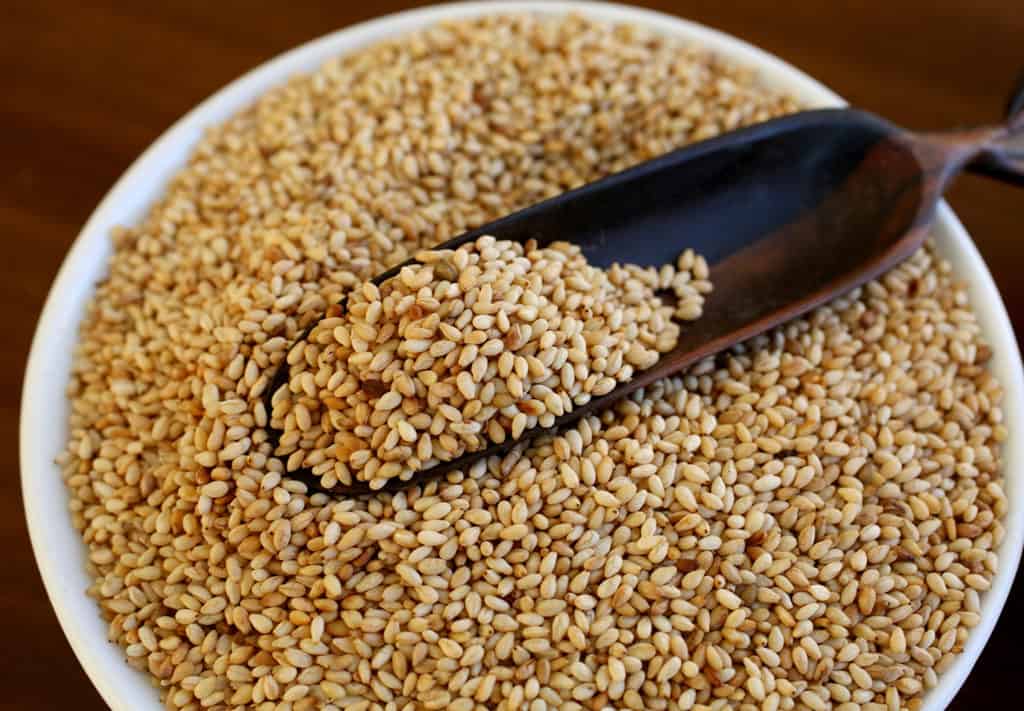 Despite the fact that both sesame paste and tahini are made by blending sesame seeds, they do have different tastes and applications! Let's sum up the main distinctions:
Sesame paste is made from cooked (roasted or toasted) sesame seeds, while tahini is made from raw sesame seeds.
Sesame paste is thicker, darker, nuttier, and richer, while tahini is lighter, runnier, and slightly more bitter.
Sesame paste tastes rich, warm, and nutty while the flavor of tahini is more that of pure sesame seeds.
Sesame paste can be used as a standalone ingredient like nut butter, as opposed to tahini, which is usually used as an ingredient in recipes or is seasoned and used as a sauce.
Sesame paste is more widely used in Chinese cuisine and available in Asian markets, while tahini is a key flavor component in Mediterranean and Middle Eastern dishes.
Whichever sesame product you have on hand or end up picking up at the store, know that you're in for a treat as the flavor of sesame is a special one and well worth introducing into your cooking routine.