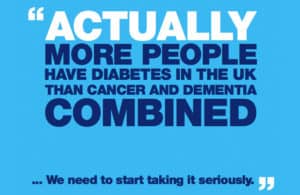 The number of people diagnosed with diabetes in the UK passed the 4 million mark at the beginning of this year. A lack of resource and care for people with diabetes could mean that many people with the condition end up experiencing serious complications, such as amputation, that would otherwise potentially be preventable.
Diabetes Week 2016
Diabetes UK is a national charity that cares for and campaigns on behalf of anyone affected by diabetes. They cover everything from care and support, to research and prevention, and run an annual week-long campaign to raise awareness of the condition. Diabetes Week runs from Sunday 12 June to Saturday 18 June, and this year the theme is "Setting the record straight".
Throughout the week, Diabetes UK will be calling on people to share their stories using the hashtag #actuallydiabetes, in an effort to debunk some of the myths surrounding the condition. Here are some that we think we can help clear up:
Myth 1: People with diabetes cannot have sugar
Contrary to public opinion, having diabetes does not mean that you should have a sugar-free diet. Like the general population, those with diabetes need to follow a healthy balanced diet and keep physically active. Broadly speaking, a healthy balanced diet should be made up of one-third vegetables and fruit, one-third wholemeal carbohydrates and one-third protein, low-fat dairy and unsaturated fats. Limiting salt, sugar and saturated fats is recommended for any healthy diet. Everyone, including those with diabetes, can eat a wide variety of foods, and good blood glucose control can still be achieved when sugar is consumed. It's all about getting the balance right!
Myth 2: People with diabetes should eat "diabetic" foods
"Diabetic" food labels can be unhelpful and misleading, as people can often see them as a stamp of approval signalling that they are OK to eat if you are diabetic. But diabetic food labels are commonly assigned to products that are often high in saturated fat and calories, such as biscuits and sweets. Diabetic foods will still affect your blood glucose levels and can sometimes have other side effects such as diarrhoea, due to the levels of sweeteners in them. The key is to understand what you are eating, the nutritional value of it and to treat more indulgent foods responsibly. Diabetes UK is calling for an end to the use of terms such as "diabetic" or "suitable for diabetics" on food labels, to prevent people being mislead by a food label that could imply some sort of health benefit.
Myth 3: People with diabetes are more likely to get colds and other illnesses
There are certain illnesses that are more common in people with diabetes, and it may alter how long a person is ill for or how unwell they feel, but there is nothing that conclusively proves that people with diabetes are generally more likely to become ill than someone who doesn't have diabetes. The best way to prevent and beat a cold is to eat nutritious foods that help to keep our immune systems strong and healthy.
Myth 4: People with diabetes can't eat grapes, mangos and bananas
Fruit, by nature, contains sugar. As a result, people think that if they have diabetes then they can't eat these sweeter fruits. You can include these foods and still achieve good blood glucose control. Fruit is full of essential vitamins and minerals that have a whole host of health benefits, and 80g counts towards one portion of your 5-a-day.
To help raise awareness throughout Diabetes Week and beyond, Diabetes UK have created graphics, videos and posters for people to download and share, and will be encouraging people to share their stories via blogs and vlogs.
They are calling for a greater focus on preventing Type-2 diabetes and the NHS Diabetes Prevention Programme has been created to deliver behavioural interventions for those at risk of developing Type-2 diabetes. This and more needs to be done if we are to reduce the £10 billion annual budget that is spent on diabetes in the UK.
Join the conversation online with #FoodRevolution.